These Oven Baked Chicken Tenders are juicy and packed with flavor. Dipped in yogurt and coated with a deliciously seasoned Panko breading, these crispy chicken strips have an irresistible crunch! The perfect easy dinner recipe.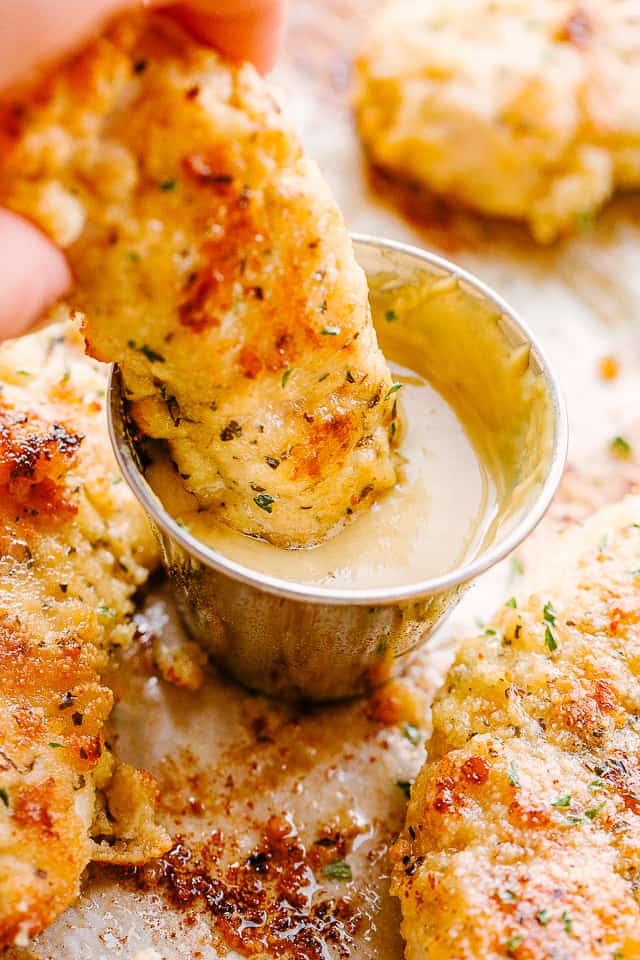 Crispy Oven Baked Chicken Tenders
Who doesn't love chicken tenders? They are a constant kid pleaser with their crispy crunch and endless dipping opportunities. There's a reason you'll find them on just about every kid's menu in town. And, ya know what? The kids are onto something! Us parents love chicken tenders, too.
The only downside for me is that too much fried food doesn't always sit well in my tummy. But with this recipe, you can oven bake without sacrificing that crunch we all crave.
What Are Chicken Tenders?
Technically, the tenderloin is the part of the chicken located just beneath the breast. If you are strolling through the market, you may find them labeled as fillets or fingers. You could also grab some boneless skinless chicken breasts and cut them into tender-sized strips yourself.
What's the Difference Between Chicken Tenders and Chicken Nuggets?
The main differences between nuggets and tenders are the size, shape, and quality of meat. Nuggets are composite chicken meat while tenders are solid meat. Nuggets can be made from breast or tenderloin meats but they are not whole meat. Because nuggets are made of composite chicken meat, they can come in any shape – like dinosaurs! Tenders, on the other hand, are mostly found as strips.
Additionally, tenders are considered the healthier option since they are less processed.
The Ingredients You'll Need
Whenever I make my oven baked chicken tenders, I'm always surprised by how simple the ingredient list is. It's a rare day when I don't have each of these ingredients on hand in my kitchen.
The only things you'll need are:
Panko breadcrumbs
1 egg
plain yogurt
salt & pepper
chicken
That is all. No joke.
Why I Use Yogurt When Making Chicken Tenders
I love using yogurt in the batter for my chicken tenders. The yogurt is multi-functional – it acts as a tenderizer and it makes the chicken super juicy. The yogurt also adds flavor and acts as a binding agent for the coat of Panko bread crumbs.
This is a fabulous alternative to buttermilk. It offers a similar texture and moisture with far less calories.
How to Make Crispy Oven Baked Chicken Tenders
Are you ready to make the best chicken strips of your life? Let's get into it with this easy recipe.
Prep: First, you're going to want to get yourself ready. Preheat the oven to 400F and grab a baking sheet. For easy cleanup later, line it your baking sheet with parchment paper or foil.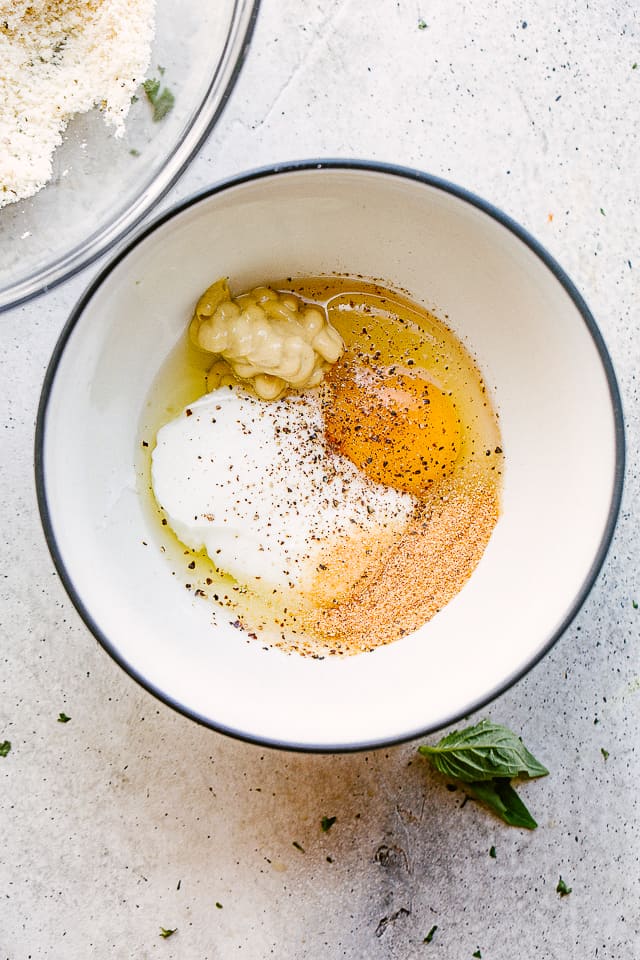 Breading Station: Next, we need to set up our breading station. Place your Panko in a bowl. In another bowl, mix the egg, yogurt, and S&P. On your counter, place the batter bowl to your left, the Panko bowl in the middle, and your lined baking sheet to your right. Get ready to dredge!
Bread that Chicken: Dredge the chicken pieces in the batter, one at a time. Next, pick up the tender and place it in the Panko bowl. Sprinkle with breadcrumbs, and then press the breadcrumbs down to adhere.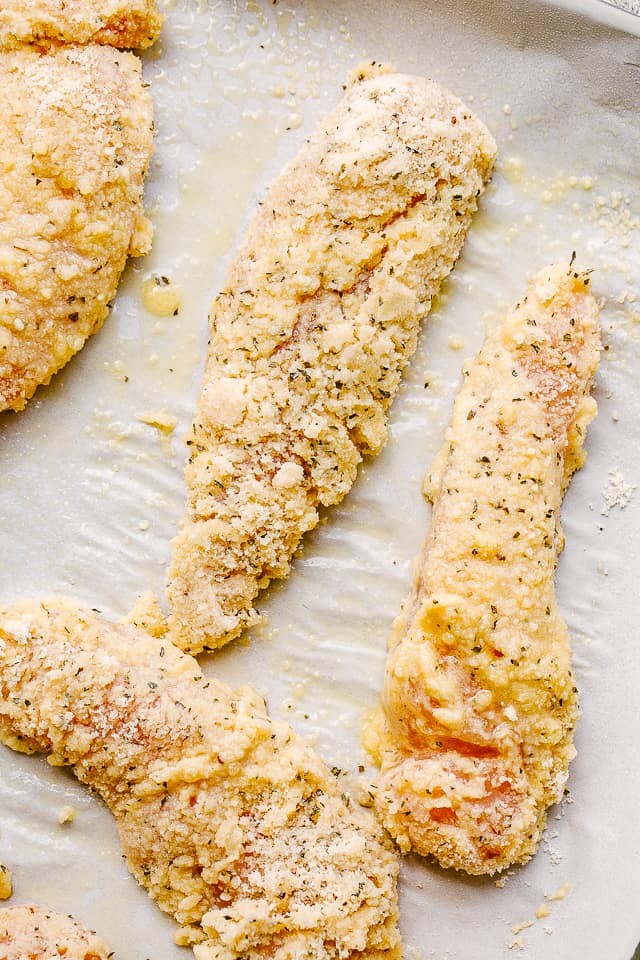 Repeat: Transfer your chicken tender to your baking sheet and then repeat with your remaining pieces of chicken.
Bake Time: Spray your tenders with oil spray. Pop them in the oven and bake for about 15 minutes. They are done when the internal temperature measures 165F. Be sure not to overcook your chicken tenders!
Serving Suggestions
Usually, my kids are waiting for these as soon as they come out of the oven. They prefer them with my smooth and creamy homemade
Honey Mustard Sauce
.
They are also great to throw over a bed of lettuce with your favorite yummy salad toppers or to serve with these killer oven baked seasoned french fries.
How to Store Chicken Tenders
Leftovers aren't likely when you make these juicy oven baked chicken tenders. But, if you do have leftovers you can store them in the refrigerator in an airtight container for 3-4 days.
Chicken tenders are a great make ahead meal to freeze and grab on a busy night. In the freezer, you can store them for up to 2 months.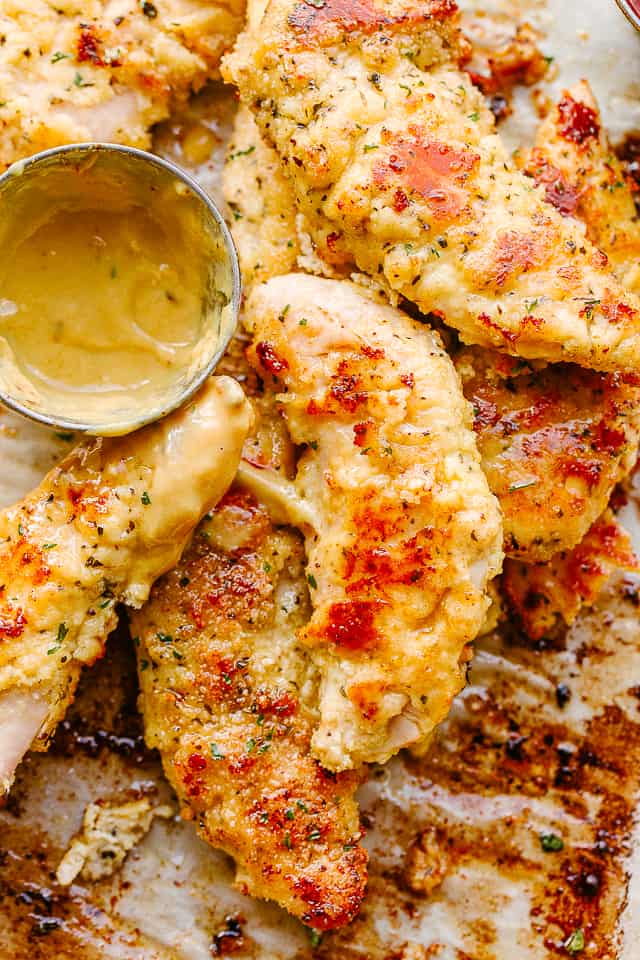 How to Reheat Chicken Tenders
To reheat, simply thaw (if frozen) and bake at 350F until heated through (approximately 15 minutes). If the tenders were stored in the fridge, simply place them on a baking sheet and reheat at 350F in the oven for 10 minutes.
Don't microwave to reheat, that will dry them out and no one likes dry chicken tenders.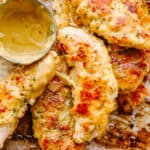 Print Recipe
Oven Baked Chicken Tenders
These Oven Baked Chicken Tenders are juicy and packed with flavor. Dipped in yogurt and coated with a deliciously seasoned Panko breading, these crispy chicken tenders have an irresistible crunch! The perfect easy dinner recipe.
Ingredients
1½

cups

Panko breadcrumbs

keto pork panko crumbs work too

1

large

egg,

lightly beaten

¼

cup

plain yogurt

1/2

tablespoon

dijon mustard

1/2

teaspoon

garlic powder

½

teaspoon

salt

1/4

teaspoon

fresh ground pepper

1

pound

chicken tenderloins

oil spray
Instructions
Line a sheet pan with foil or parchment paper and set aside.

Place panko crumbs in a bowl.

In a bowl combine lightly beaten egg, yogurt, dijon mustard, garlic powder, salt, and fresh ground pepper; whisk with a fork until thoroughly combined.


Add chicken tenders (working with one chicken tender at a time), into the egg batter and toss to coat.


Pick up chicken and place it into the panko bowl.



Sprinkle chicken tenders with breadcrumbs, then press down to adhere.

Transfer to prepared baking sheet; repeat with remaining chicken.



Spray chicken tenders with oil spray.

Bake for 15 minutes; check for doneness with an instant read thermometer – chicken is baked when thermometer registers at 165˚F. Don't overcook. 


Nutrition
Calories:
248
kcal
|
Carbohydrates:
17
g
|
Protein:
29
g
|
Fat:
6
g
|
Saturated Fat:
2
g
|
Cholesterol:
121
mg
|
Sodium:
633
mg
|
Potassium:
505
mg
|
Fiber:
1
g
|
Sugar:
2
g
|
Vitamin A:
117
IU
|
Vitamin C:
1
mg
|
Calcium:
72
mg
|
Iron:
2
mg