This Creamy Baked Pasta with Zucchini and Mushrooms is made with a blend of sautéed mushrooms, onions, and zucchini. The traditional red sauce is given a creamy twist with cubed cream cheese, and the whole dish is melty and delicious thanks to oodles of mozzarella. Yum!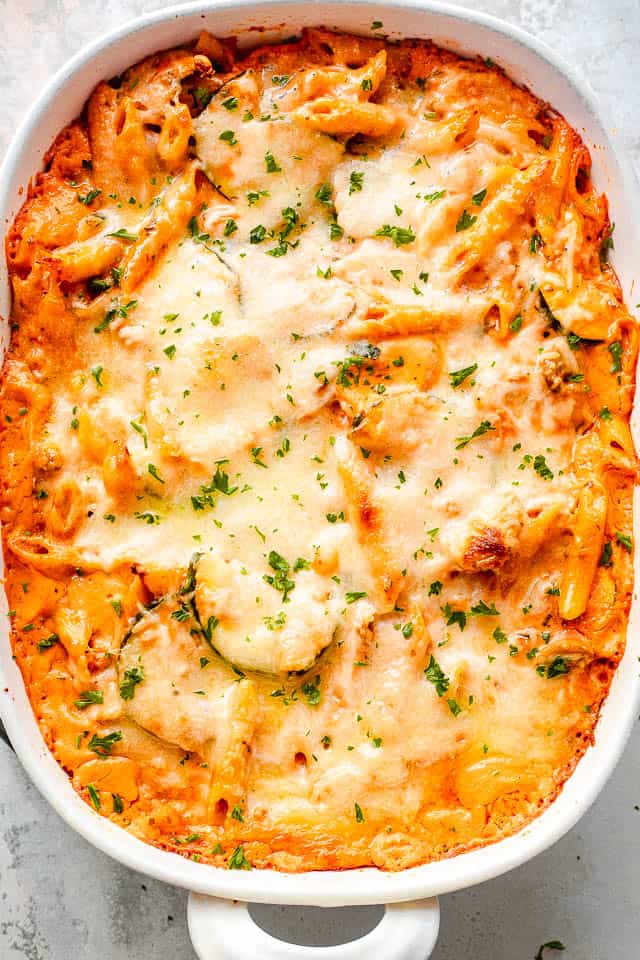 Creamy Baked Pasta is the Ultimate Comfort Food
Baked pasta is just so comforting! I'm a big fan of baked spaghetti, macaroni, ziti, and of course lasagna.
This delicious bake is so easy to prepare, and serves a whopping 8 people with just some pasta, sauce, cheese, and veggies! It's economical, easy, and utterly fantastic.
Fresh veggies are gently sautéed with garlic and olive oil, and then blended with a whole jar of red sauce (I like marinara), tender penne pasta, cream cheese, and mozzarella. It's gooey, tangy, savory goodness in a 9×13 pan! Definitely a crowd-pleaser, and definitely easy on the cook. Win-win!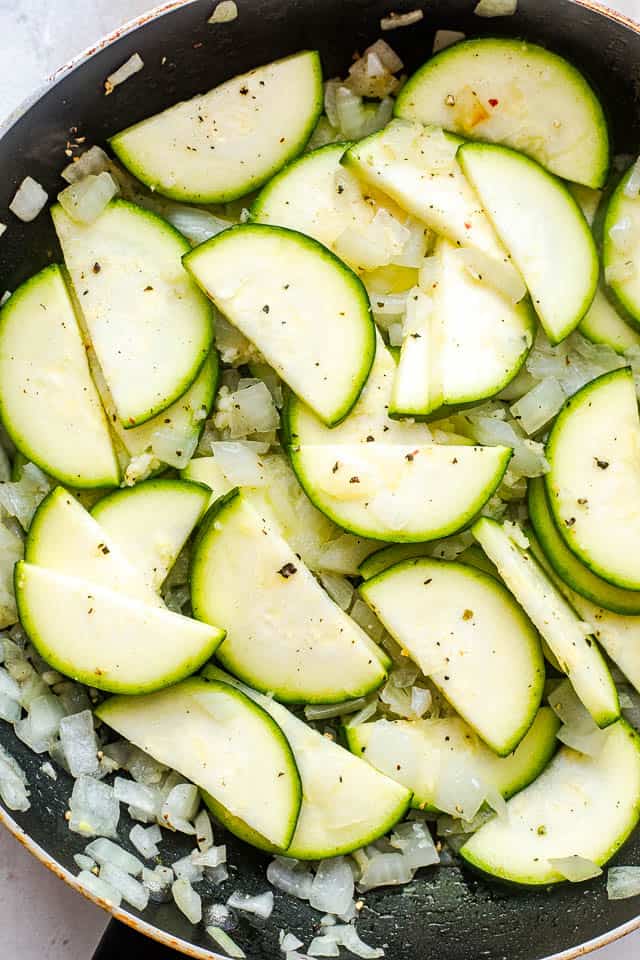 Recipe Ingredients
Penne Pasta: You'll need 3 cups, or 8 oz (½ lb).
Olive Oil: For sauteing the veggies, so choose a light or medium olive oil
Yellow Onion: Dice one small yellow onion.
Garlic: Mince or put through a garlic press.
Zucchini: Cut up one zucchini into thin half-moons.
Mushrooms: I like to use Baby Bella or button mushrooms. Either way, wash and slice.
Salt and Pepper
Cream Cheese: About 8 oz, cubed.
Sour Cream: One 8 oz package.
Shredded Mozzarella: I like to shred my own fresh mozzarella, but you can also use pre-shredded.
Italian Seasoning and Dried Basil
Salt and Pepper
Chopped Fresh Parsley: For garnish.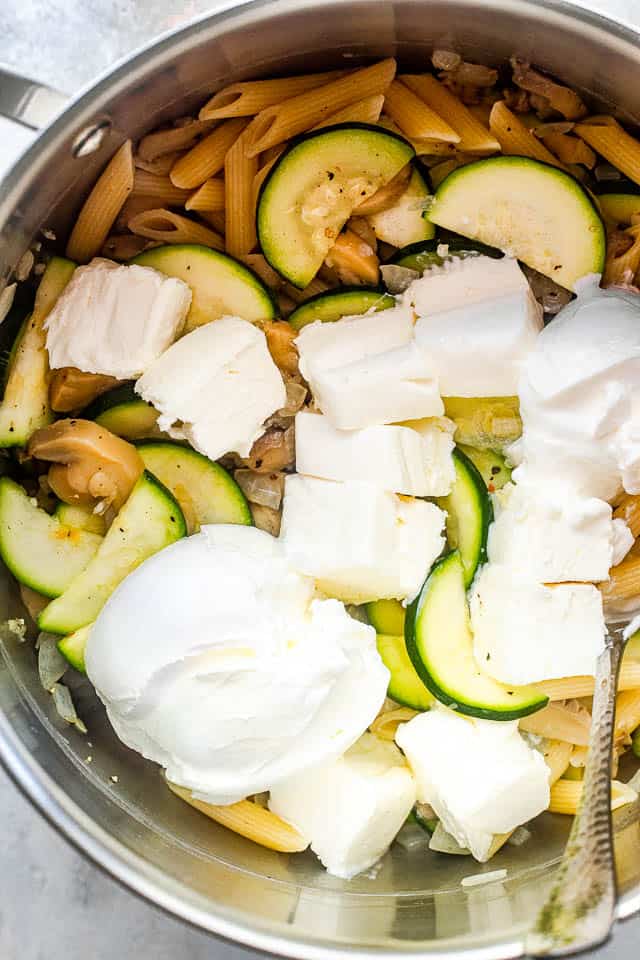 How to Make this Creamy Baked Pasta
Prepare the Pasta and Sauté the Veggies: Cook the pasta in boiling water according to the package directions. In the meantime, heat the oil in a 12-inch skillet and saute the veggies, starting with the onions and then adding garlic, zucchini, and mushrooms.
Combine All Ingredients: When the pasta is done cooking, drain it well and return it to the pot. Add the sauteed veggies, cream cheese, sour cream, pasta sauce, seasonings, and half the mozzarella. Stir well to combine. Taste for salt and pepper.
Bake: Pour the mixture into a greased 9×13 baking dish or pan. Top with the remaining mozzarella, and bake at 375˚F for 20 minutes or until the cheese is bubbly and golden brown. Let stand 10 minutes before serving.
Serve and Enjoy!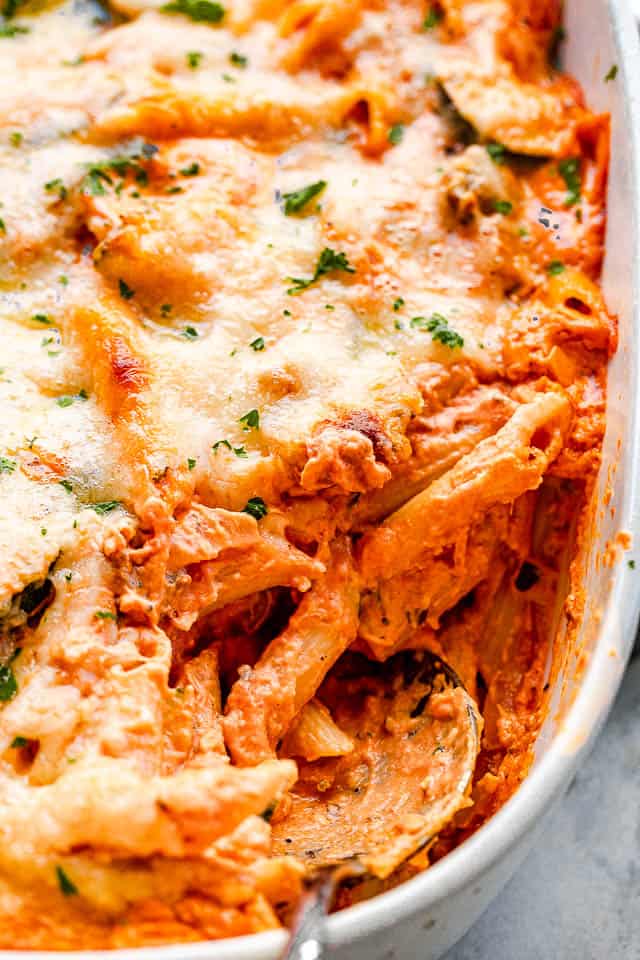 Tips for the Best Baked Pasta
Watch the Time: If you're concerned about soft pasta, and would prefer a more al dente finished product, you can undercook the pasta in the boiling water. Simply shave off a minute or two of the cook time recommended on the package. Then, after the pasta has baked in the sauce, it will be al dente.
Use the Broiler: If you're having trouble getting a really golden top to your bake, try turning on your oven's broiler at the end of the baking time. Broiling is a great way to brown any baked item – but be careful! The intense heat can take your food from perfect to burned very quickly.
Add Protein: This dish is quite flexible– if you'd like to make it a meaty entree, try adding ½ lb of browned ground beef, or some grilled chicken pieces, before baking. Yum!
What Goes with Baked Pasta?
If you need to put dinner on the table fast, this recipe works perfectly with some simple breadsticks and a prepared salad. Dinner? Done! I have an entire collection of salad recipes to choose from too.
Have a little more time? Then do serve with bread– but make it a warm and homey Spinach and Feta No-Yeast Bread.
Finish this dish with a simple sampler of fresh fruit – think grapes, melon chunks, and maybe some pineapple. So good, and good for you!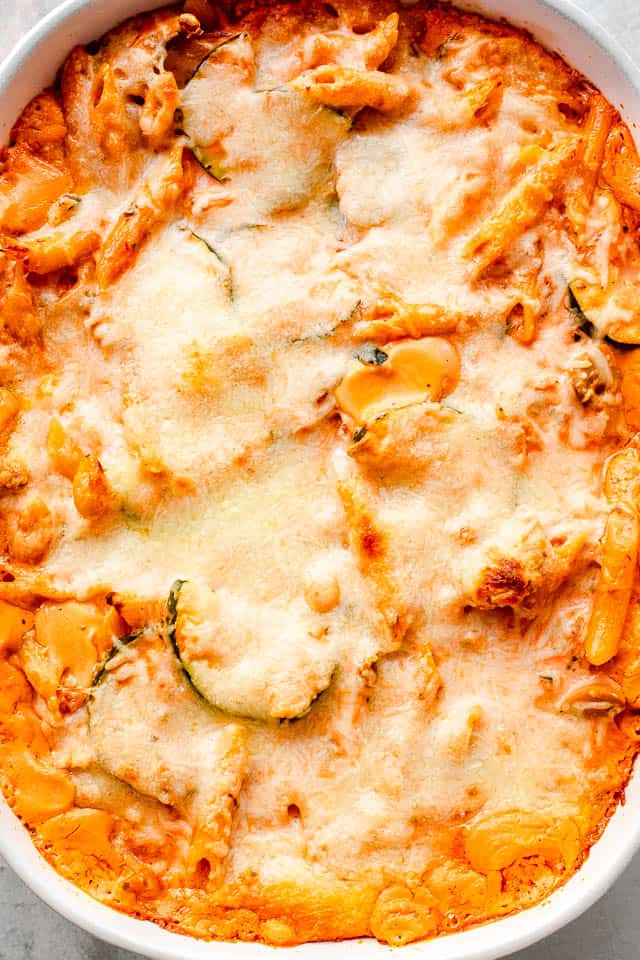 How to Store and Reheat Leftovers
Leftovers can be stored in the refrigerator, tightly covered, for 3 to 5 days.
If you would like to freeze this dish, first cool it completely. Then place individual portions in plastic freezer bags, pushing out as much air as possible before sealing, and freeze for up to 2 months.
To reheat, first thaw the portions (if frozen). Then place in the oven, covered with foil to trap steam. Bake at 350˚F for 15-20 minutes, or until heated through.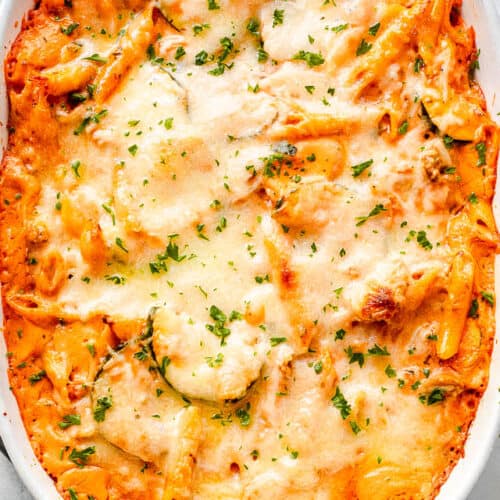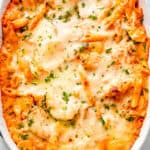 Print Recipe
Creamy Pasta Bake with Zucchini and Mushrooms
A crowd-pleasing dish of penne pasta, tender sauteed veggies, pasta sauce, and melted cream cheese.
Ingredients
3

cups

dry penne pasta

1

tablespoon

olive oil

1

small yellow onion,

diced

3

cloves

garlic,

minced

1

zucchini,

cut into half moons

2

cups

sliced mushrooms

Salt and fresh ground pepper,

to taste

8

ounces

cream cheese,

room temperature, cut into smaller cubes

8

ounces

sour cream

1

jar (24 ounces)

tomato-based pasta sauce,

(use your favorite tomato pasta sauce)

8

ounces

shredded mozzarella cheese,

divided

1

teaspoon

dried Italian Seasoning

½

teaspoon

dried basil

Salt and fresh ground pepper,

optional, to taste

Chopped fresh parsley,

for garnish, optional
Instructions
Preheat oven to 375˚F.

Grease a 9×13 baking dish with cooking spray and set aside.

Prepare pasta according to the directions on the package.

In the meantime, heat up olive oil in a 12-inch skillet set over medium-high heat.

Add diced onions to the hot oil and cook for 3 minutes.

Stir in garlic and cook for 15 seconds.

Add zucchini and mushrooms; season with salt and pepper, and cook for 5 minutes, or until just tender. Stir frequently.

Drain pasta and return it to the pot.

To the pasta, add the cooked vegetables, cream cheese, sour cream, pasta sauce, half of the mozzarella, and seasonings; mix and stir until everything is incorporated and cheeses are melted.

Taste mixture for salt and pepper, and adjust accordingly.

Pour mixture into previously prepared baking dish.

Top with remaining mozzarella cheese.

Bake for 22 to 25 minutes, or until bubbly, and cheese is completely melted.

Remove from oven and let stand 8 to 10 minutes.

Top with fresh parsley and serve.
Nutrition
Calories:
447
kcal
|
Carbohydrates:
42
g
|
Protein:
16
g
|
Fat:
24
g
|
Saturated Fat:
13
g
|
Cholesterol:
68
mg
|
Sodium:
744
mg
|
Potassium:
641
mg
|
Fiber:
3
g
|
Sugar:
8
g
|
Vitamin A:
1166
IU
|
Vitamin C:
12
mg
|
Calcium:
237
mg
|
Iron:
2
mg