The ultimate simple comfort food is a bowl of Egg Drop Soup. Made with just chicken broth, eggs and seasonings, this dish will make you feel comfy and warm!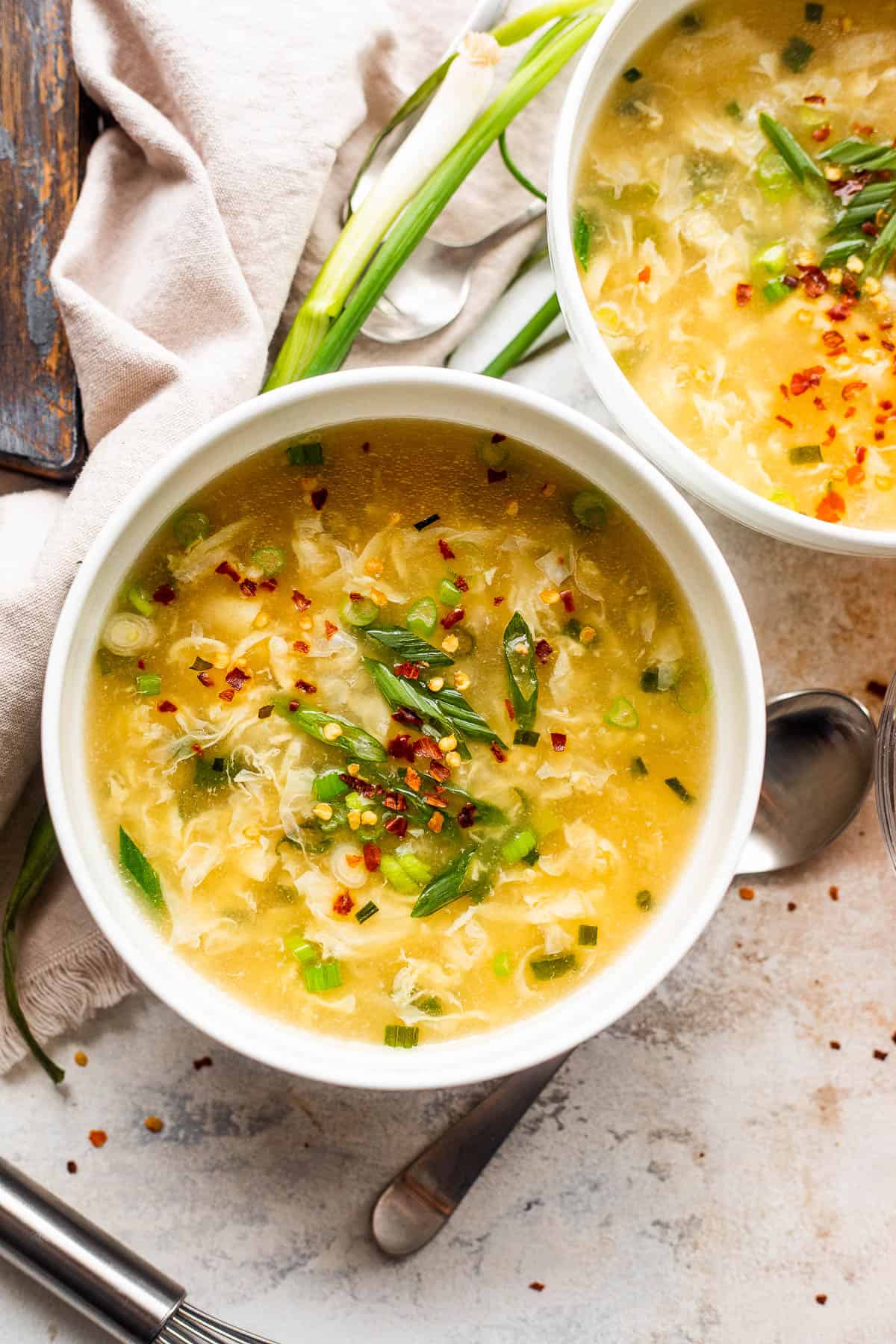 A Quick and Easy Egg Drop Soup Recipe
I don't know about you, but soup is one of my favorite things to eat. On hectic, chaotic days especially, I crave the warmth and comfort of a tasty cup or bowl of hot soup, and so I've always made it regularly for my family.
These days, though, I'm more pressed for time than ever. So I'm always on the lookout for truly fast, truly easy, and truly comforting dishes! That's why I'm so happy to share this simple, super delicious recipe for one of my favorite Chinese dishes: egg drop soup!
Basically, if you're looking for a simple soup recipe, this is it, you guys. It's so quick and easy, it's almost like making ramen! But much, much healthier, and so much more delicious. I hope you'll give it a try! I promise you'll love it.
What Is Egg Drop Soup?
Egg drop soup is a wonderful and easy Chinese dish that is so simple and fun to make. The base of the soup is chicken broth, lightly seasoned with ginger and other seasonings. Gently beaten eggs are dropped into the boiling broth, usually through a slotted spoon, strainer, or other utensil. This causes them to drizzle into the soup and form ribbons or wisps. It's a comforting, light dish that's great for lunch or dinner, or as a simple side dish.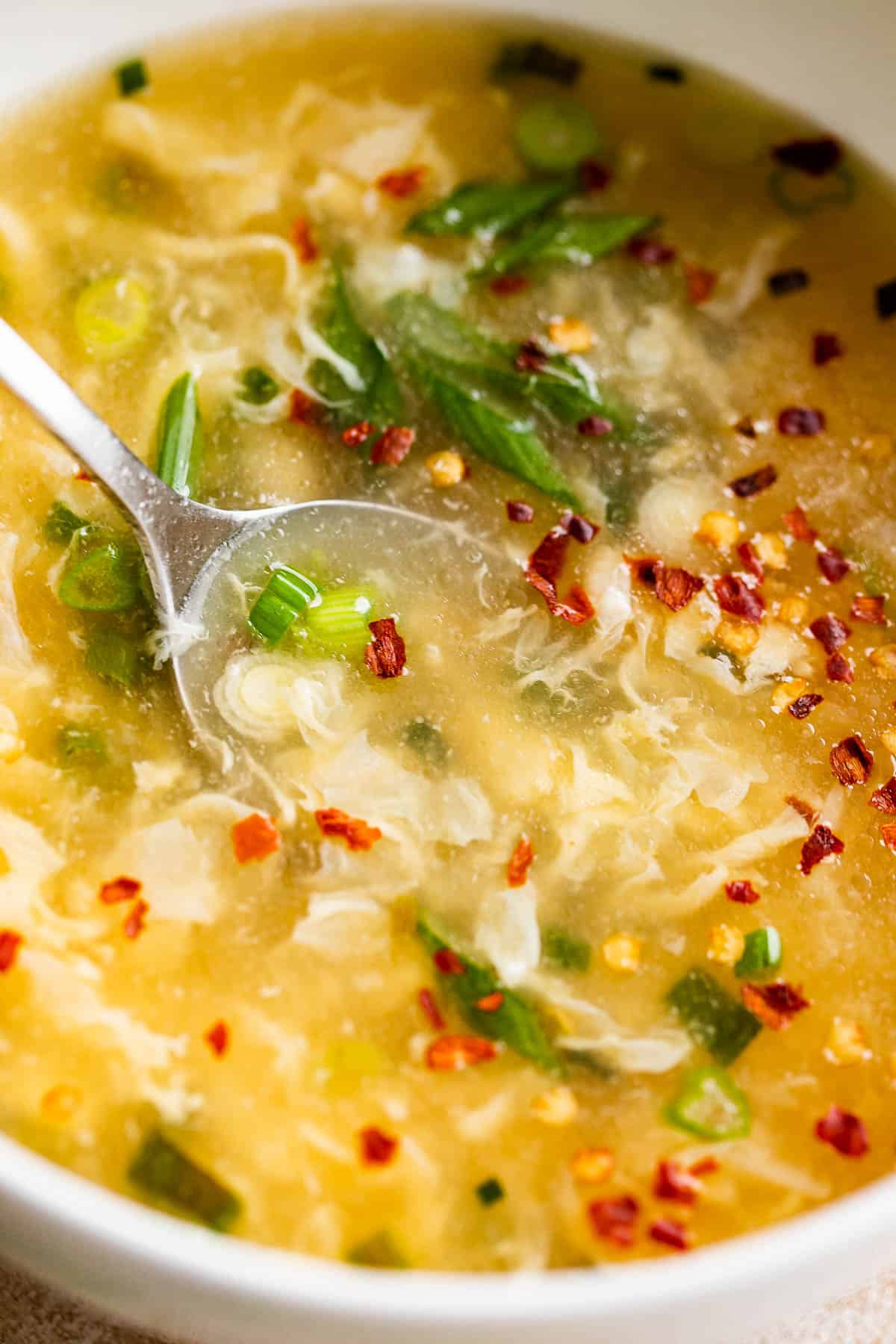 Is Egg Drop Soup Healthy?
Yes! This is a healthy, low-calorie dish, and it's an especially good option for those who are trying to lose weight. The chicken broth and eggs are wholesome, simple ingredients, and the soup has only a few carbs from the cornstarch.
Recipe Ingredients
Just a few basic ingredients are needed to make this delicious soup. I love how easy and healthy it is!
Chicken Broth: The chicken broth is the base you're building upon. I prefer to use low-sodium chicken broth, but you could also use regular chicken broth or even make your own.
Cornstarch: This helps to give the soup its famous silky texture.
Garlic Powder: I find that using garlic powder gives a quick and easy intensity of flavor to the dish.
Ground Ginger: You'll need half a teaspoon of ground ginger. Now is a good time to check the label and make sure it's not expired! Old and expired spices tend to have duller, heavier flavors.
Eggs: Lightly beat two large eggs.
Green Onion: To me, egg drop soup just isn't complete without some chopped green onions!
Salt & Pepper: To taste.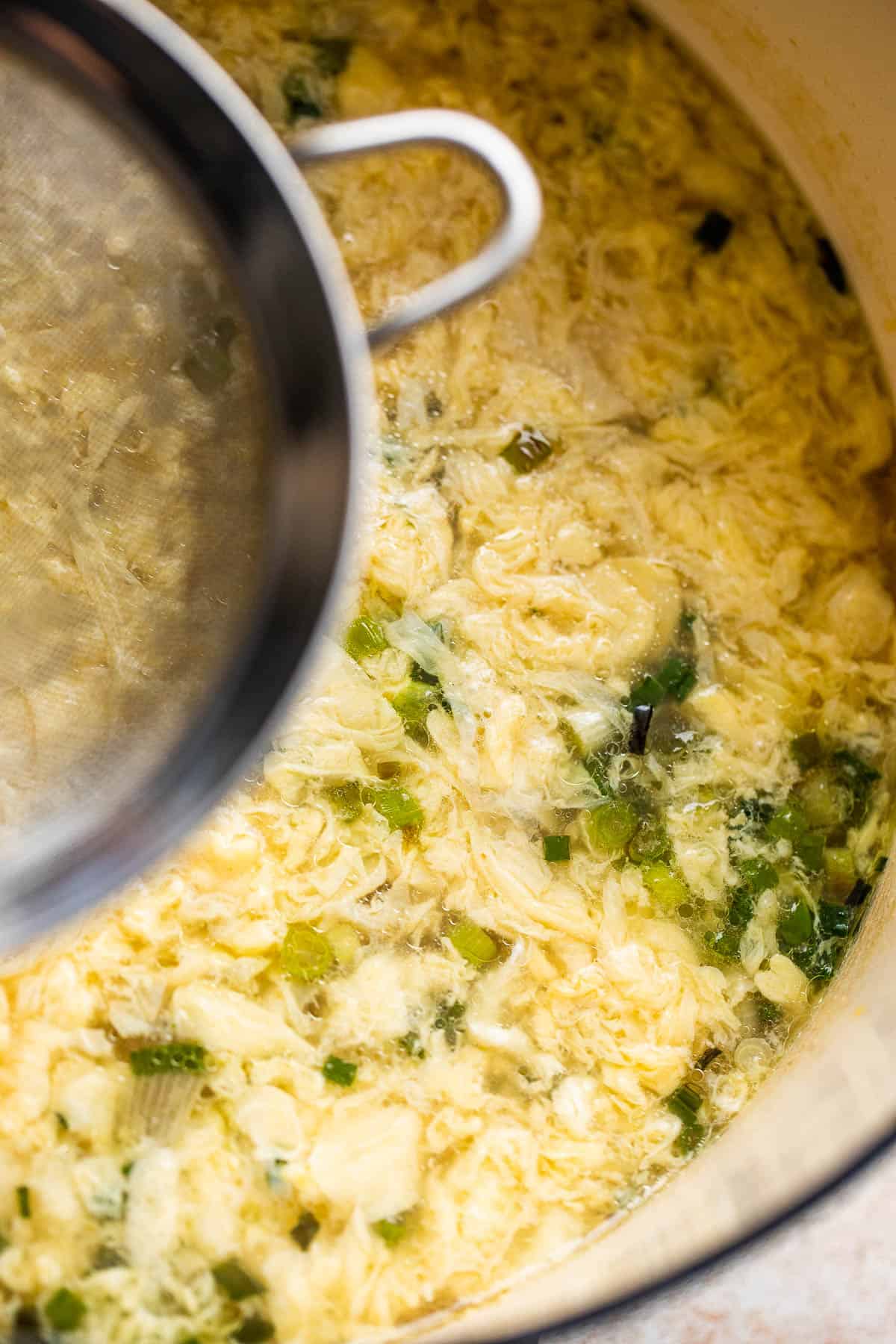 How to Make Egg Drop Soup
This is the fun part! I like to have the kids watch as I pour in the eggs; they turn into "ribbons" before your eyes!
Fry the green onions with a tablespoon of vegetable oil.
Make Broth: Place your chicken broth in a medium saucepan and whisk in the cornstarch, garlic powder and ginger. Place the saucepan over high heat, and bring the mixture to a steady simmer, stirring occasionally.
Add Eggs: Reduce the heat to low. Then place a wire mesh sieve over the saucepan. Slowly strain the beaten eggs through the sieve, and into the pan. Cook for 1 minute.
Season & Serve: Remove the saucepan from the heat and stir in the salt and pepper. Taste for salt and adjust accordingly.
Enjoy!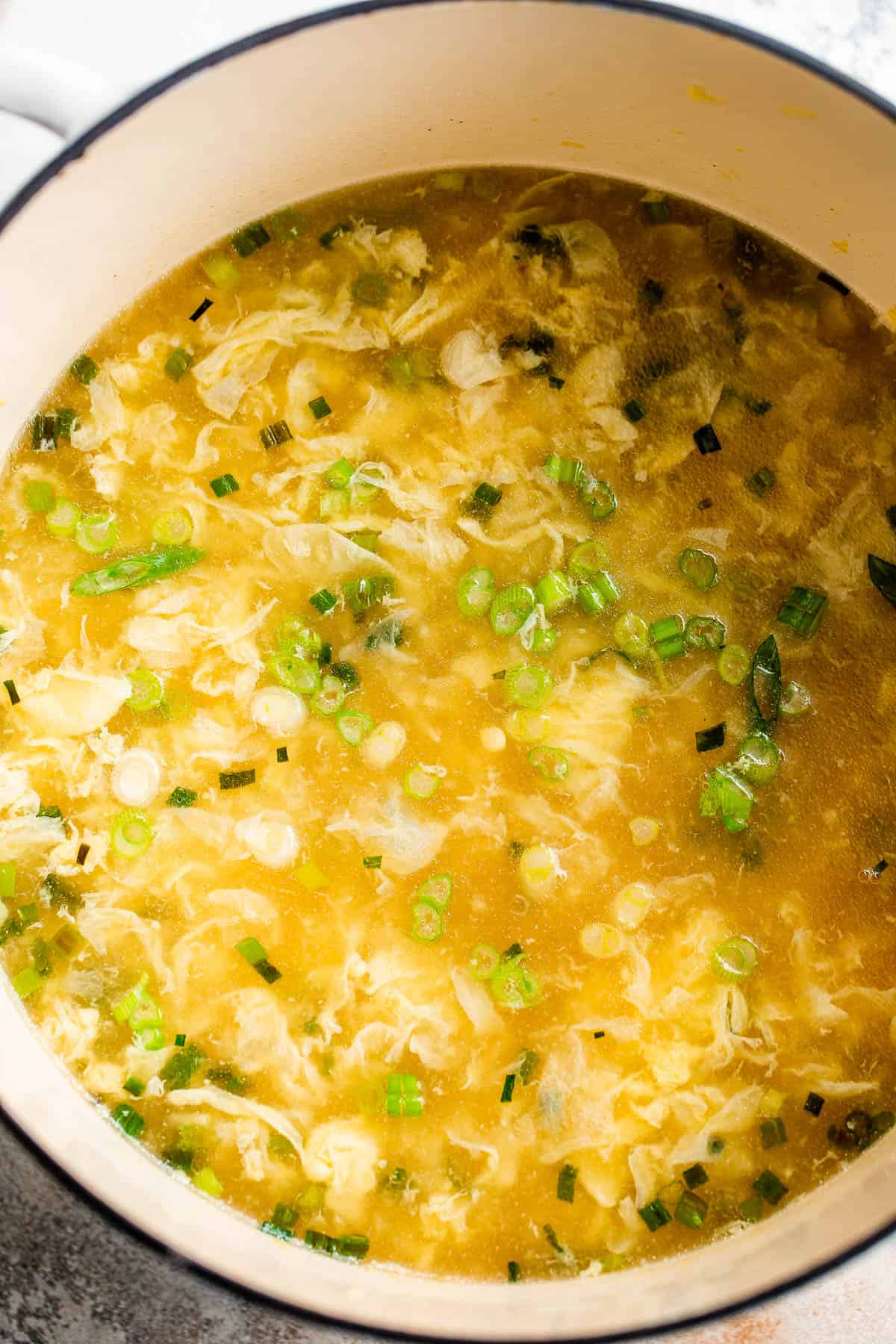 Tips for Success
Here are a few tips I'd like to share for making the very best bowl of egg drop soup. Read on, friends!
Add Cornstarch to the Eggs: If there's a possibility that you might have leftovers, try adding a tablespoon of cornstarch to the eggs as you whisk them together. The eggs will have a silky texture that lasts longer, and reheats better than plain eggs.
Add Sesame Oil: If you'd like an additional punch of flavor, just a few drops of sesame oil or toasted sesame oil give a take-out-style edge to the dish.
Make It an Entree: You can add shiitake mushrooms, baby bok choy, and even leftover chicken to this soup to boost the nutrition and turn it into a hearty meal!
Serving Suggestions
Another great thing about this soup is how many different dishes you can serve it with! Here are some of my tastiest suggestions.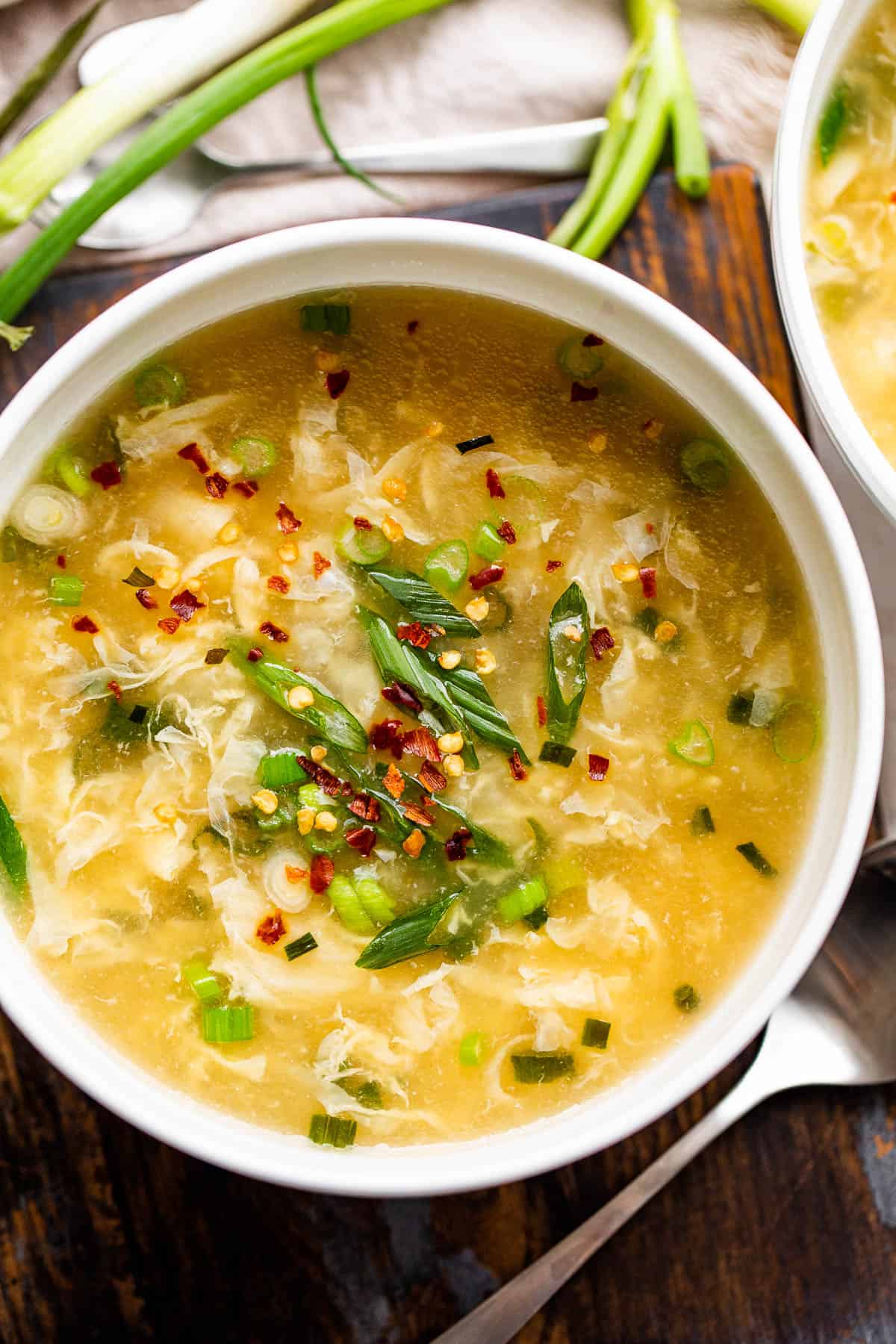 How to Store and Reheat Leftovers
You can store any leftovers in airtight containers in the fridge. It will keep for up to three days.
To reheat, place leftover soup in a saucepan and heat on low for a few minutes, until heated through. Stir occasionally for even, safe heating.
Can You Freeze Egg Drop Soup?
Freezing this soup, once the eggs are added, unfortunately won't work out very well, since the eggs will lose their texture during the freezing and thawing process.
However, you can make and freeze the broth for up to 3 months. When you're ready to cook, just defrost the broth over medium-low heat until it simmers, and then follow the rest of the recipe.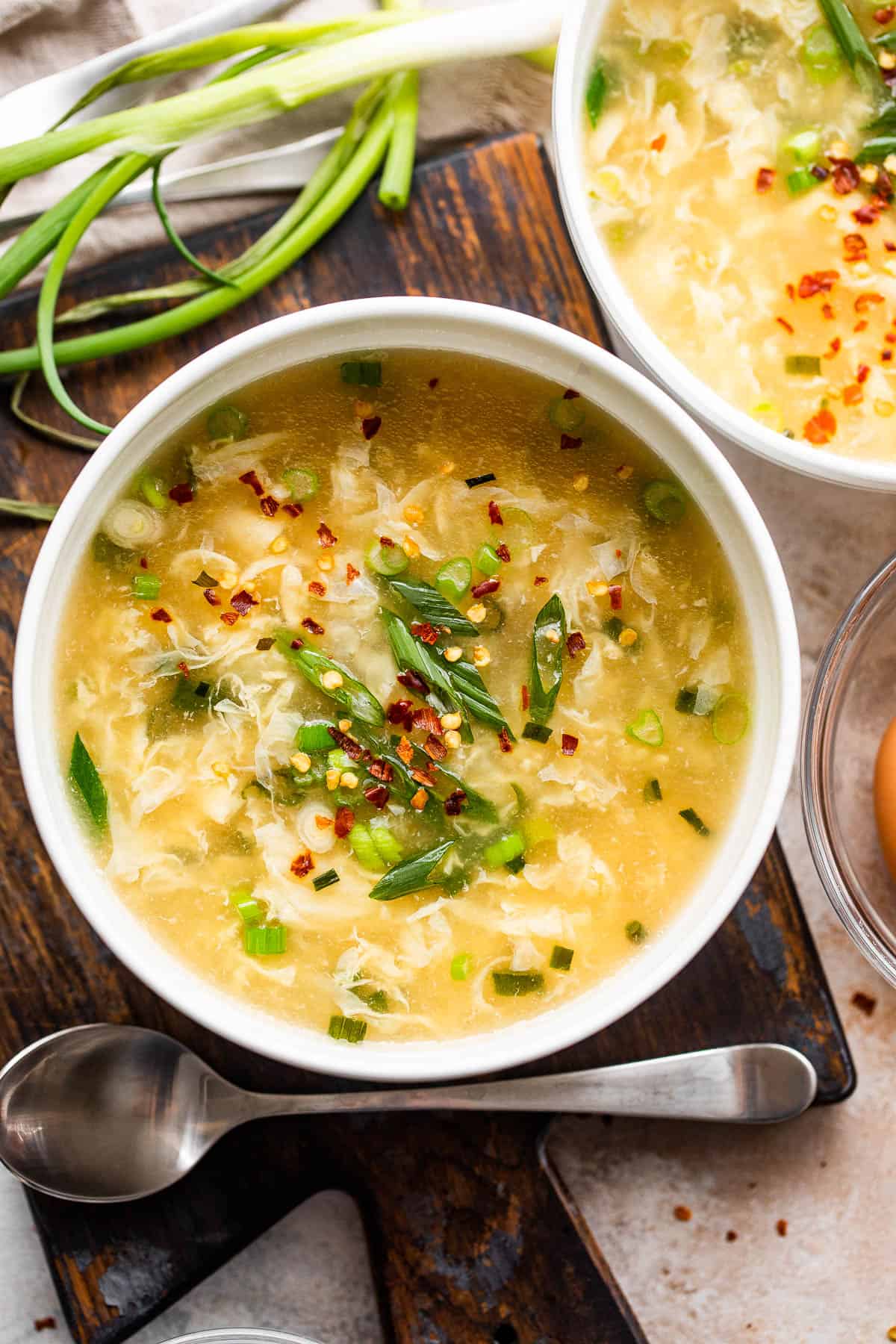 ENJOY!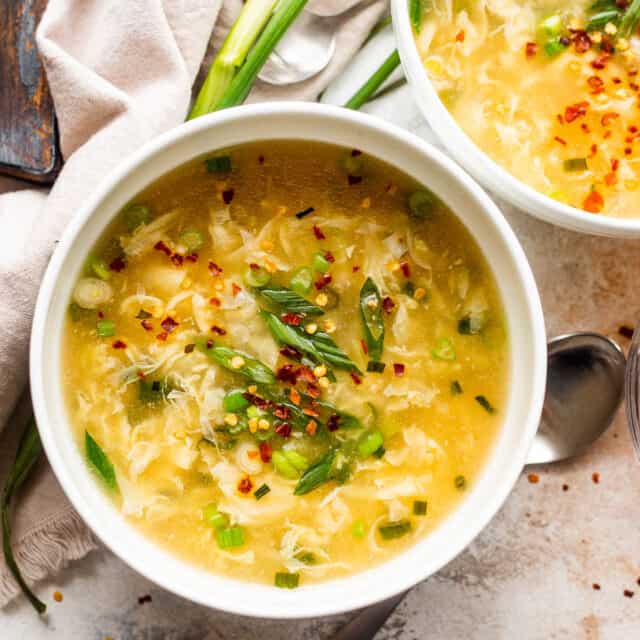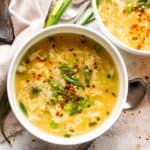 Print Recipe
Egg Drop Soup
The ultimate simple comfort food is a bowl of Egg Drop Soup. Made with just chicken broth, eggs and seasonings, this dish will make you feel comfy and warm!
Ingredients
1

tablespoon

vegetable oil

¼

cup

chopped green onions,

plus more for garnish

5

cups

low sodium chicken broth,

divided

2 to 3

tablespoons

cornstarch

½

teaspoon

garlic powder

½

teaspoon

ground ginger powder

2

large eggs,

lightly beaten

½

teaspoon

salt,

or to taste (if using low sodium chicken broth, add less salt; you can always add more later)

¼

teaspoon

Freshly ground black pepper,

to taste

red pepper flakes,

for garnish
Instructions
Heat 1 tablespoon vegetable oil in a soup pot or saucepan set over medium-high heat.

Add chopped onions to the hot oil and cook for 1 minute, stirring frequently.

Add 4 cups chicken broth to the pot and stir.

In a mixing bowl combine remaining 1 cup chicken broth and 1 tablespoon cornstarch; whisk until well incorporated. If you prefer a thicker soup, add 1 more tablespoon cornstarch.

Add cornstarch slurry to the soup; whisk well and until incorporated.

Whisk in garlic powder and ginger.

Increase heat to high and bring to a steady simmer. Stir occasionally.

Slowly strain beaten eggs through the sieve and into the pan. Cook for 1 minute.

Remove from heat.

Taste for salt and seasonings, and adjust accordingly.

Garnish with chopped green onions and red pepper flakes.
Nutrition
Serving:
1
cup
|
Calories:
86
kcal
|
Carbohydrates:
6
g
|
Protein:
6
g
|
Fat:
5
g
|
Saturated Fat:
3
g
|
Trans Fat:
1
g
|
Cholesterol:
55
mg
|
Sodium:
275
mg
|
Potassium:
207
mg
|
Fiber:
1
g
|
Sugar:
1
g
|
Vitamin A:
121
IU
|
Vitamin C:
1
mg
|
Calcium:
20
mg
|
Iron:
1
mg
More Soup Recipes
Want some more savory and delicious soup recipes to keep you cozy this winter? You have to check out these dishes!