These easy, homemade Crepes are the ultimate breakfast option! Delicate and thin, buttery and light, they're amazing with any filling you can imagine. No need for special equipment or ingredients!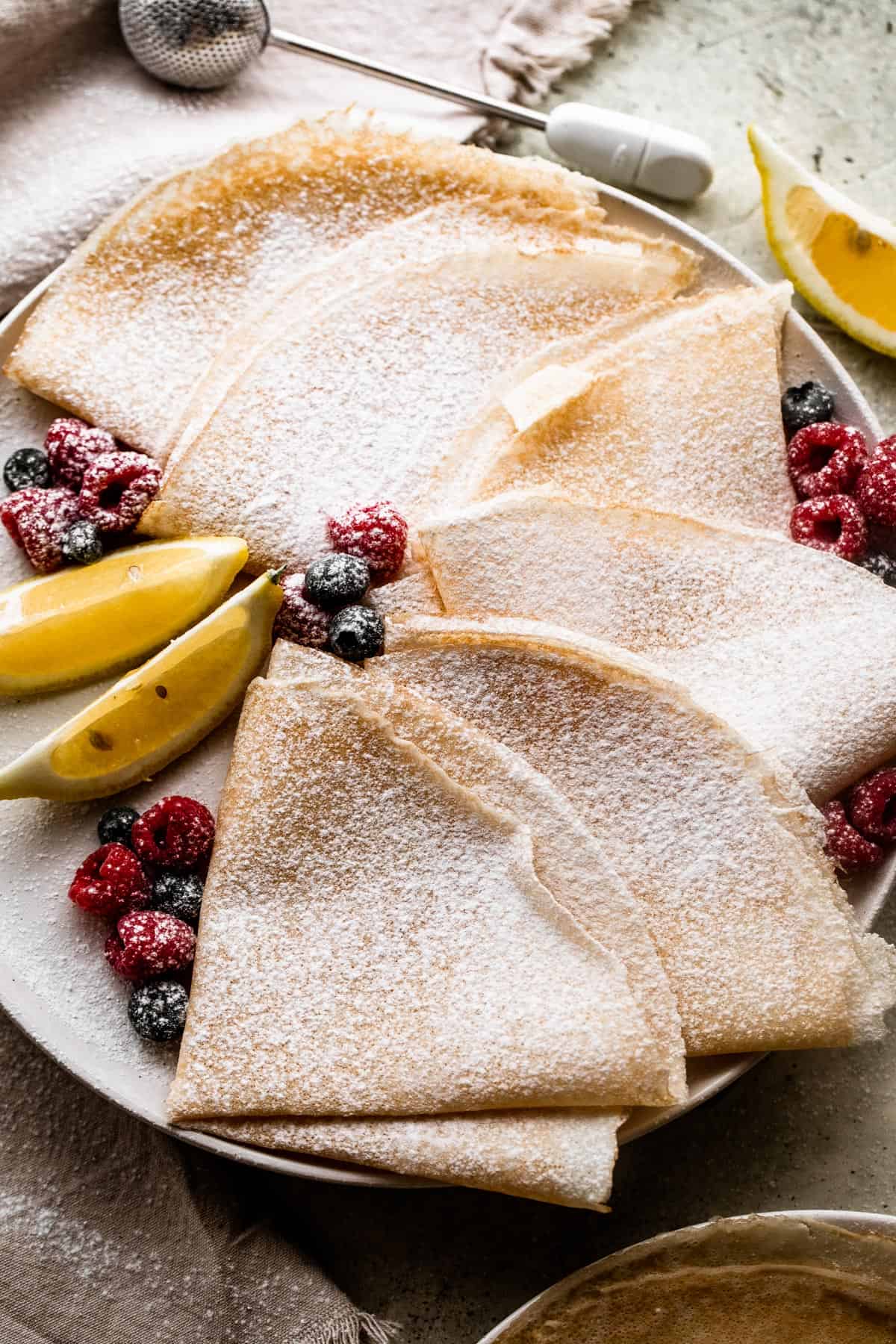 Golden Crepes – From Scratch!
Silky, golden crepes are a favorite breakfast (or lunch, or dinner) the world over. Each thin crepe is made with a simple pancake-like batter, cooked to perfection in minutes, and then rolled around fillings that range from liqueur-spiked whipped cream to savory eggs and cheese.
Many home cooks are intimidated by making crepes, though – they seem like a classic of haute French cooking, and therefore, difficult. But that couldn't be further from the truth!
Crepes are actually really easy to make, and once you get the hang of it, you'll be whipping them up on the regular. That's why I've created this easy tutorial. It takes all the mystery out of the process. Sound good? Let's go! 👍
What Is So Special About Crepes?
Crepes are often described as a type of pancake, and technically, that's true. So what makes them so different, so elegant, and so beloved? Unlike their plainer cousin the pancake, crepes are not puffy, and they are quite large.
Each crepe is made by swirling a thin batter around a large, buttered skillet (or a special crepe pan, in restaurants) to make an ultra-thin "pancake" with lacy, crisp edges. It's important that the crepe not stick to the pan – which of course used to be really difficult in the days before nonstick!
Perfect for special occasions, crepes are both versatile and fragile. This makes them easy to pair with all kinds of indulgent fillings and toppings, from simple to complex. The lacy texture of the crepes makes them extra unique.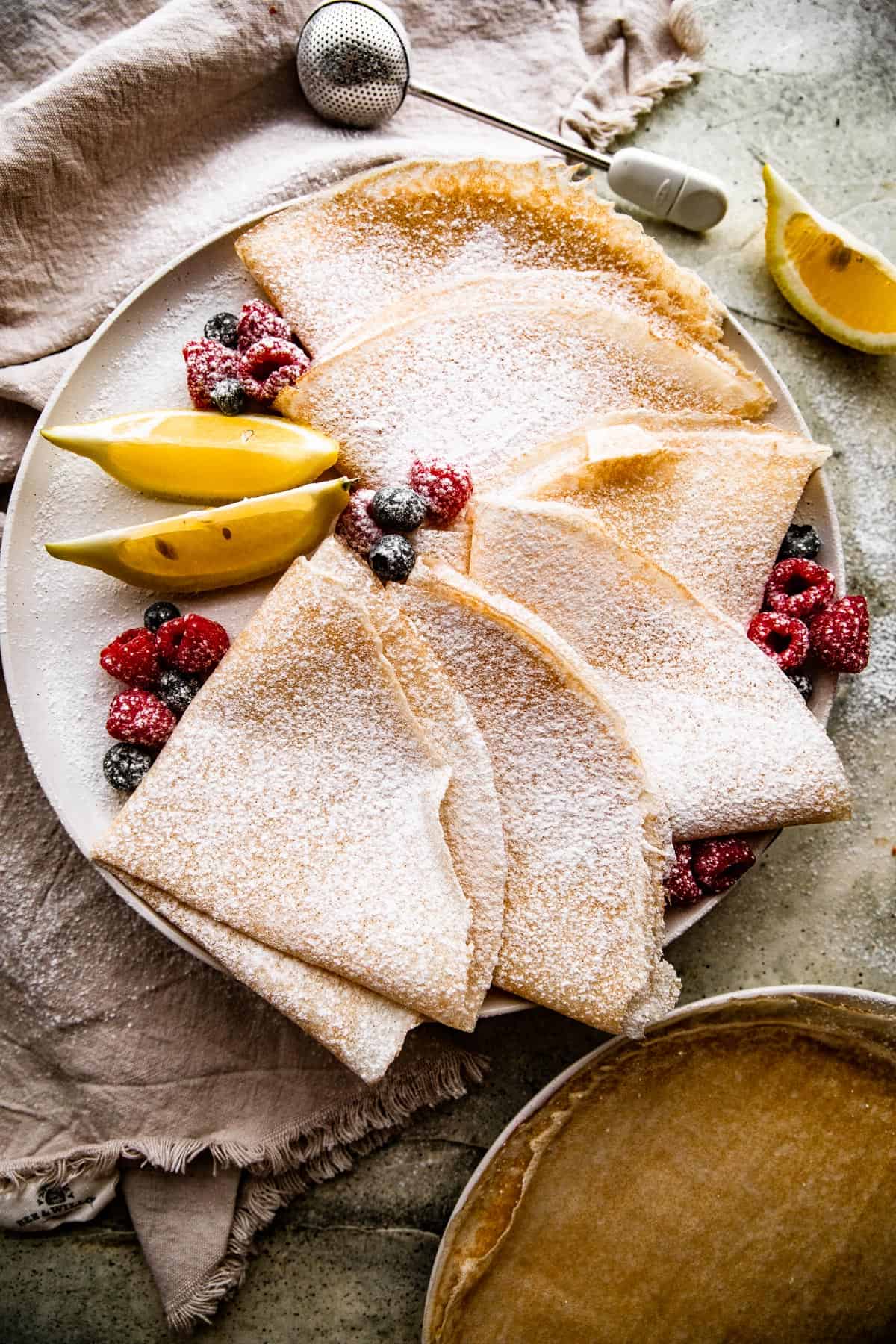 The List of Ingredients
If you look at the ingredients for crepes, you might be a little bit surprised! This "fancy" dish only contains a few basic pantry staples, like flour, milk, and salt. Another reason to love making crepes – you don't have to run to the grocery store!
Flour: All-purpose flour is just right for this recipe – the gluten will activate enough to keep the crepes from falling apart. As always, though, make sure not to overmix!
Salt: Just a pinch of salt seasons the crepe batter perfectly.
Milk: You need quite a lot of liquid here – two whole cups – to make the batter thin enough. Whole milk gives the most flavor to the crepes.
Eggs: Whole eggs, to bind the batter together and give it richness and a good flavor.
Lemon Juice: Not all crepe recipes call for lemon juice, but it adds a wonderful hint of freshness and brightness! You only need a smidge.
Vanilla: Pure vanilla extract gives the best flavor.
Cooking Spray: You could also use butter, but cooking spray is super convenient and works well in this recipe.
Is Crepe Batter the Same as Pancake Batter?
The two batters are definitely very similar, but since pancake batter is designed to make sturdy, risen cakes, it is much thicker. It also contains a rising agent, like baking soda or baking powder, to get a puffy texture. Pancake batter can also be left somewhat lumpy, while crepe batter should be smooth.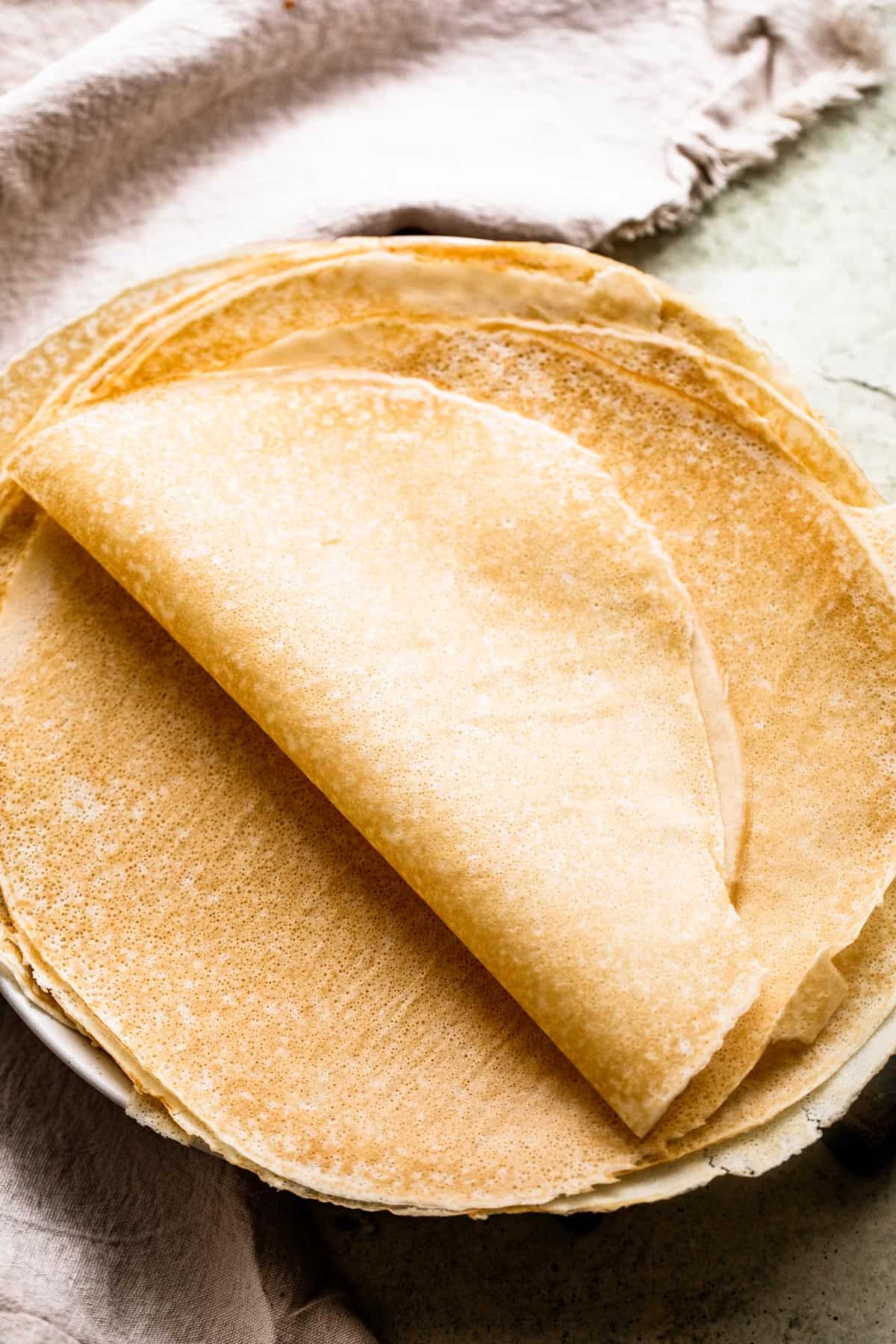 How to Make Crepes
How exactly do you make your own crepes at home – the right way? 🧐 Here are the step-by-step instructions. Happy cooking (and eating)!
Mix the Dry Ingredients To avoid a lumpy batter, pre-mix the flour and salt in a medium mixing bowl. A quick whisk is all you need. Set this aside for now.
Mix the Wet Ingredients. In a separate, large mixing bowl, whisk together the eggs, milk, lemon juice, and vanilla. Make sure to get this mixture nice and incorporated.
Combine the Dry and Wet Ingredients. Now you'll add the wet ingredients to the dry. Gradually pour the milk mixture into the flour mixture, whisking well until the batter is completely smooth. Just keep whisking until no lumps appear, and then set the batter aside.
Rest the Batter. Lightly cover the mixing bowl, and set the crepe batter aside for about 15 to 20 minutes. You can also cover it tightly, and refrigerate it overnight.
Heat the Pan. When you're ready to cook, lightly grease a 10-inch nonstick frying pan, or a crepe pan if you have one. Heat this over medium heat. To test the heat, drop a little bit of the batter in. It should lightly sizzle, but not scorch. If it just sits there without any sizzling at all, the pan is not hot enough. If it sizzles rapidly or scorches, the pan is too hot.
Make the First Crepe. Measure and pour ¼ cup of the batter into the hot pan. Pick the pan up by the handle, tilt it to one side, and then swirl it in a diagonal circular motion, so that the batter completely covers the bottom of the pan in a thin layer. Place the pan back on the heat, and cook the crepe for 1-½ minutes, or until the edges start to curl up and the bottom of the crepe is a light golden brown. (You can use a spatula to carefully lift the edge of the crepe and look underneath.) Flip, and cook for one more minute to lightly brown the other side.
Repeat. Remove the first crepe from the pan, and place it on a plate. Cover it to keep warm, and continue making crepes with the rest of the batter.
Enjoy! When all the batter has been used, serve your fresh crepes with your favorite fillings and toppings!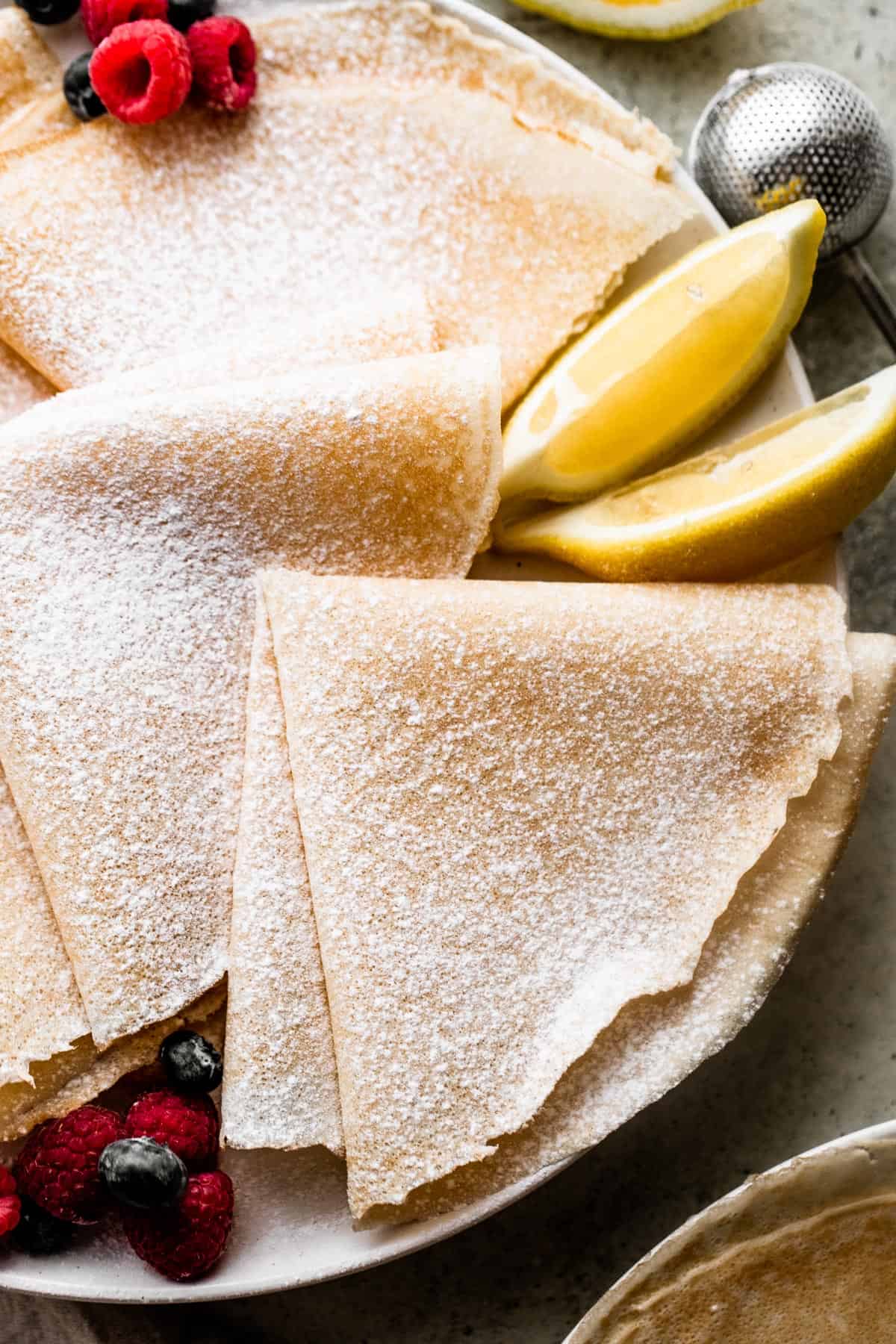 Tips for Success
I hope you are feeling inspired to try this easy crepe recipe! You won't regret it, I promise – these are simply addictive. The balance of vanilla and lemon makes them truly special. And, before you go, I hope you'll also take a second to look over these helpful tips!
Blender: If you want a shortcut, try making your batter in a blender! It does a quick, thorough job of mixing the ingredients smoothly.
Rest the Batter: The recipe already says this, but it's worth repeating: let the batter rest for at least 15 minutes before you cook it! This will make your crepes extra flavorful and extra tender.
Coat the Pan: Between crepes, wipe down the pan with a paper towel and coat with fresh cooking spray. This will help make sure that the crepes don't stick or scorch.
Don't Overfill: You might think that ¼ cup of batter isn't enough, but the thinner the crepe, the better the texture! Just swirl the pan gently but persistently to spread the batter out before it can solidify.
Make-Ahead: If you'd like to get ahead of the game, you can make the batter up to 1 day in advance, cover it tightly, refrigerate, and cook the next day! Let the batter sit at room temperature for 20 minutes before starting the crepes.
Easy Fillings for Crepes
The sky is the limit when it comes to filling your crepes. You can go as simple as a teaspoon of your favorite jam, or as complicated as beurre Suzette – a sauce made with caramelized sugar and butter, tangerine or orange juice, citrus zest, and Grand Marnier! Here are a few of my favorites, that fall right in the middle.
Savory Eggs: Skip the vanilla in the batter, and fill the cooked crepes with soft scrambled eggs, crumbled bacon, and melted Gruyere cheese.
Blueberry Sauce: My blueberry sauce is the best-est!!
Chunky Monkey: Spread Nutella over the crepe, and sprinkle chopped nuts and chopped bananas on top. Roll and enjoy! 😋
Classic Berry Crepes: Whipped cream and fresh berries are a winning combo. Dust with powdered sugar for a pretty finish.
Smoked Salmon: Whipped cream cheese or chevre, smoked salmon, and snipped fresh dill make a mouthwatering crepe! More whipped cheese and a paper-thin slice of fresh cucumber make a beautiful garnish.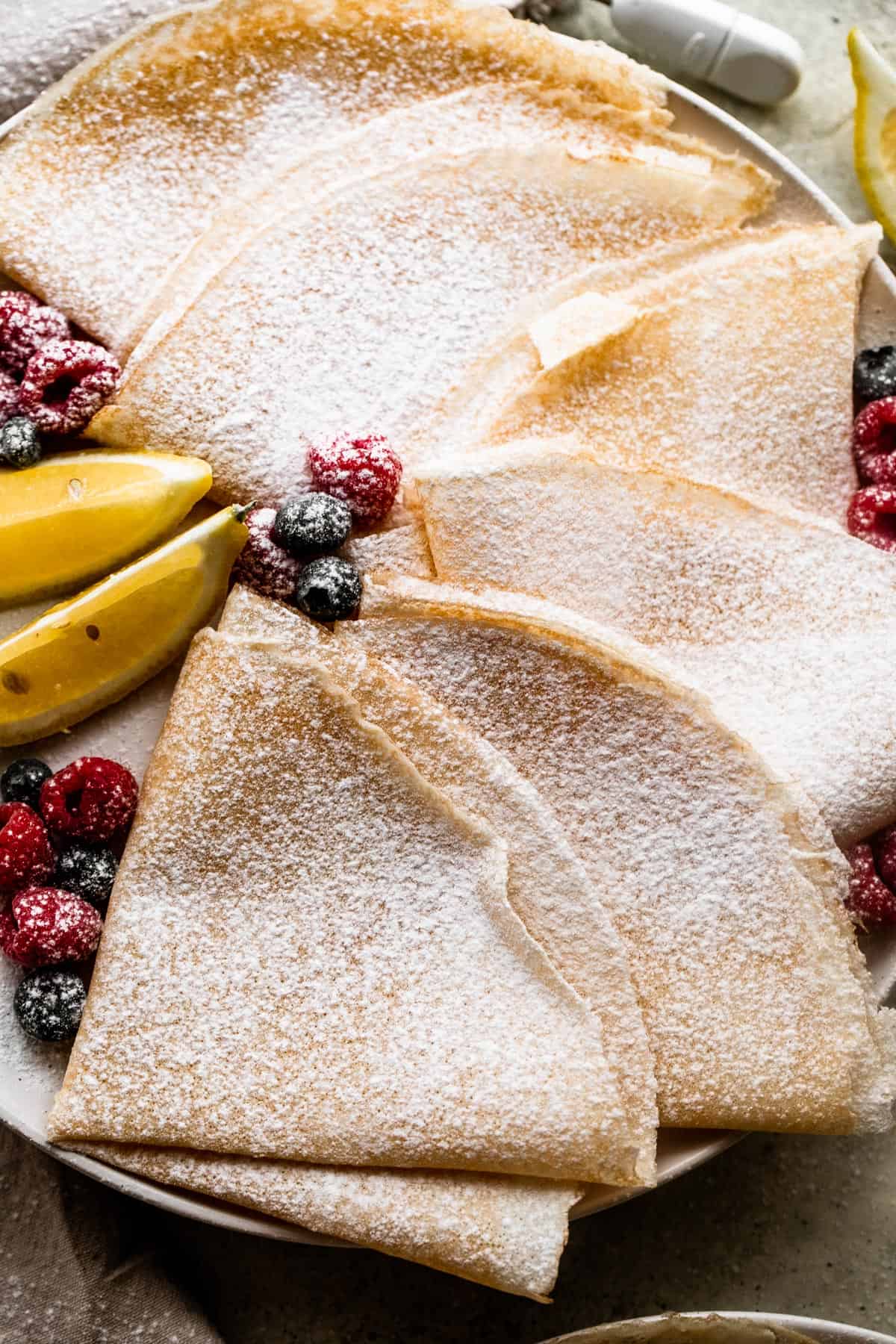 Storing and Reheating Leftover Crepes
I recommend serving your crepes right away for the best result, but they can definitely be stored and enjoyed later. Just cover them well and refrigerate for one or two days.
To reheat, microwave for a few seconds, or warm up in a covered skillet over low heat.
Can I Freeze Crepes?
Yes, you can! In fact, you may want to make extras to freeze and serve another time. I recommend layering parchment between the crepes so they don't stick.
Stack them up with parchment in between, and then pop them into an airtight container or freezer bag.
Freeze for up to 1 month, and thaw in the fridge before reheating.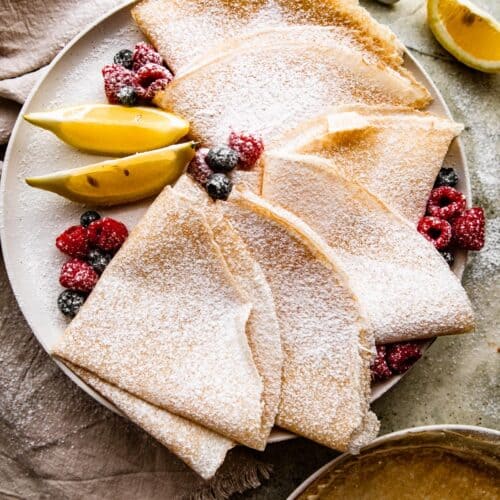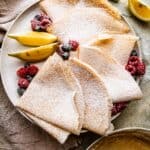 Print Recipe
How to Make Crepes
Delicate, buttery and light, these easy, homemade Crepes are the ultimate breakfast option!
Instructions
In a medium mixing bowl whisk together flour and salt; set aside.

In a larger mixing bowl, whisk together beaten eggs, milk, lemon juice, and vanilla.

Gradually add the milk mixture to the flour mixture, whisking until completely smooth and no lumps appear.

Set aside for 15 to 20 minutes. You can also cover and refrigerate overnight.

Add 1/4-cup batter to the heated pan and swirl to completely cover the bottom of pan.

Cook for 1-½ to 2 minutes, or until edges of crepe start to curl up and the bottom of the crepe is a light golden brown.

Flip the crepe and continue to cook for 1 more minute, or until lightly browned.

Remove crepe from skillet; transfer to a plate and keep covered while working with the remaining batter.

Continue working with the remaining batter, wiping down the pan with a paper towel AND coating with cooking spray in between each crepe.
Notes
Wipe down the pan with a paper towel AND coat with cooking spray in between each crepe.

Whole milk is best, but if you want, you can also use 2% or even skim milk.
Nutrition
Serving:
1
crepe
|
Calories:
95
kcal
|
Carbohydrates:
14
g
|
Protein:
4
g
|
Fat:
2
g
|
Saturated Fat:
1
g
|
Polyunsaturated Fat:
1
g
|
Monounsaturated Fat:
1
g
|
Trans Fat:
1
g
|
Cholesterol:
32
mg
|
Sodium:
26
mg
|
Potassium:
91
mg
|
Fiber:
1
g
|
Sugar:
2
g
|
Vitamin A:
106
IU
|
Vitamin C:
1
mg
|
Calcium:
57
mg
|
Iron:
1
mg
More Irresistible Breakfast Recipes