Warm, cozy, and decadent, these Pumpkin Cream Cheese Muffins are the perfect fall baking recipe! Each bite is a heavenly mix of cinnamon spiced pumpkin cake and ultra smooth cream cheese swirl, topped with a buttery, streusel-like topping.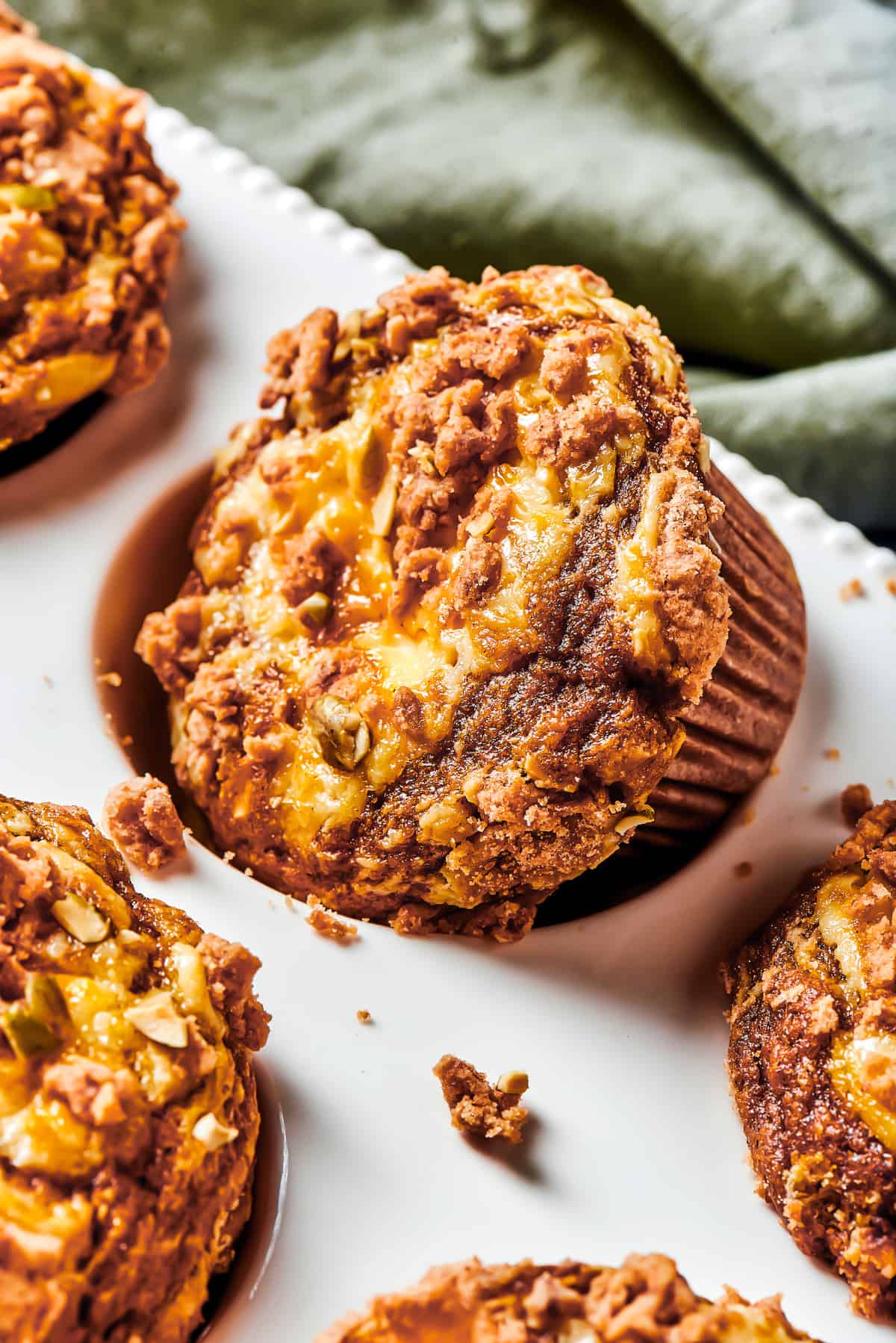 Spiced, Swirled Pumpkin Muffins with a Crumble Topping
As much as I love making cakes, bars, cheesecakes, and other desserts, it's really fun to make muffins now and then, too. Each perfect, individual muffin is like a little piece of sweetness, perfect for an afternoon snack, a midmorning coffee break, or to tuck into someone's lunchbox. Muffins also work great for a grab-and-go breakfast!
This recipe for pumpkin cream cheese muffins is an autumn inspired, sweet and spicy delight. There's plenty to love: moist and fluffy treat made with pumpkin, brown sugar and cinnamon, a rich vanilla-cream cheese swirl, and a crumbly topping that gives it a finishing touch.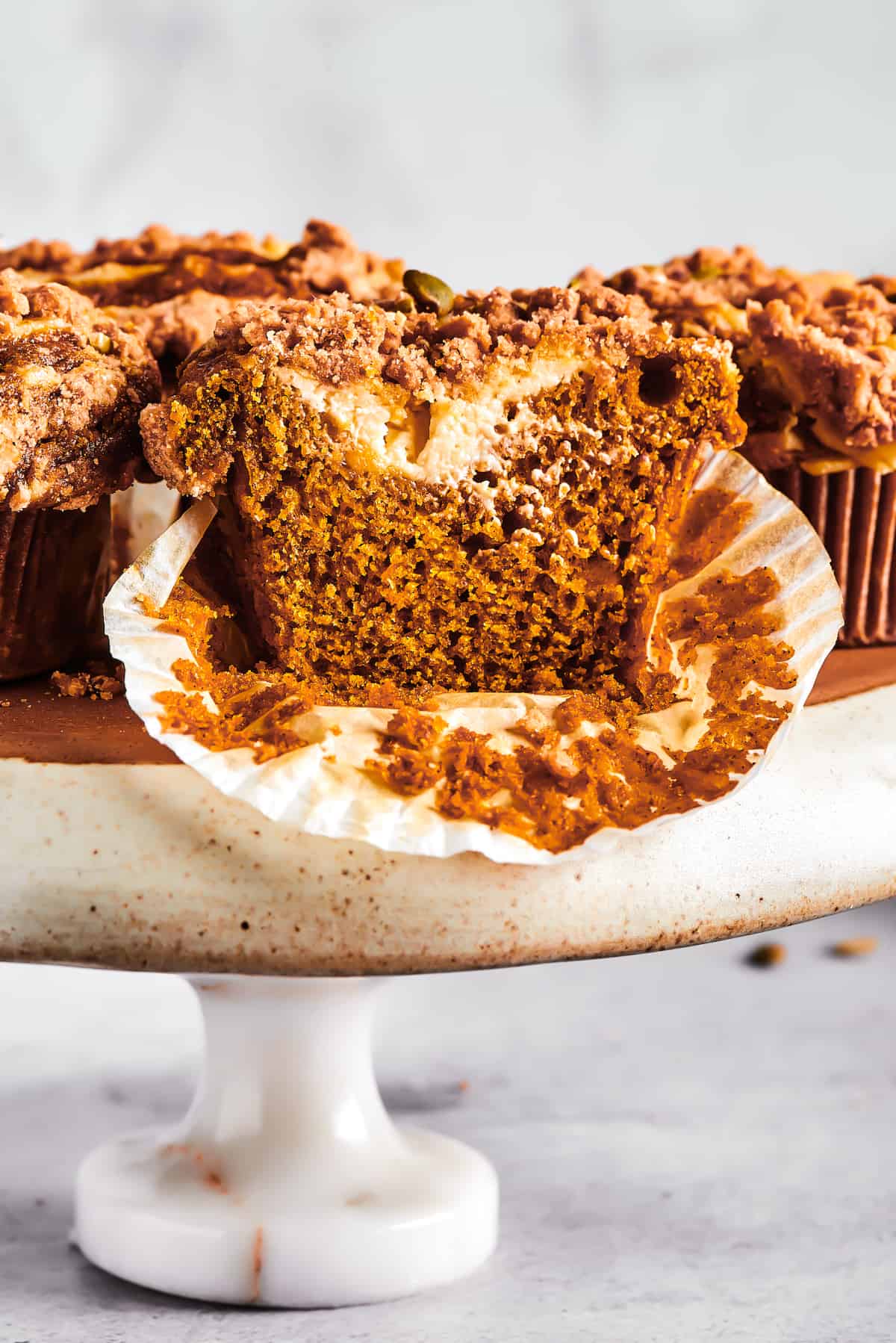 You'll Love These Muffins Because…
They are easy to make. You won't need any fancy equipment or special techniques.
The mild, home-like taste of pumpkin spice goes perfectly with a soft, smooth cream cheese swirl.
With the swirl and the crumble, these bakery-style muffins are sure to wow anyone who sees them.
This recipe uses wholesome, ordinary kitchen ingredients, nothing processed or artificial.
They're a perfect seasonal treat to look forward to every fall/holiday season!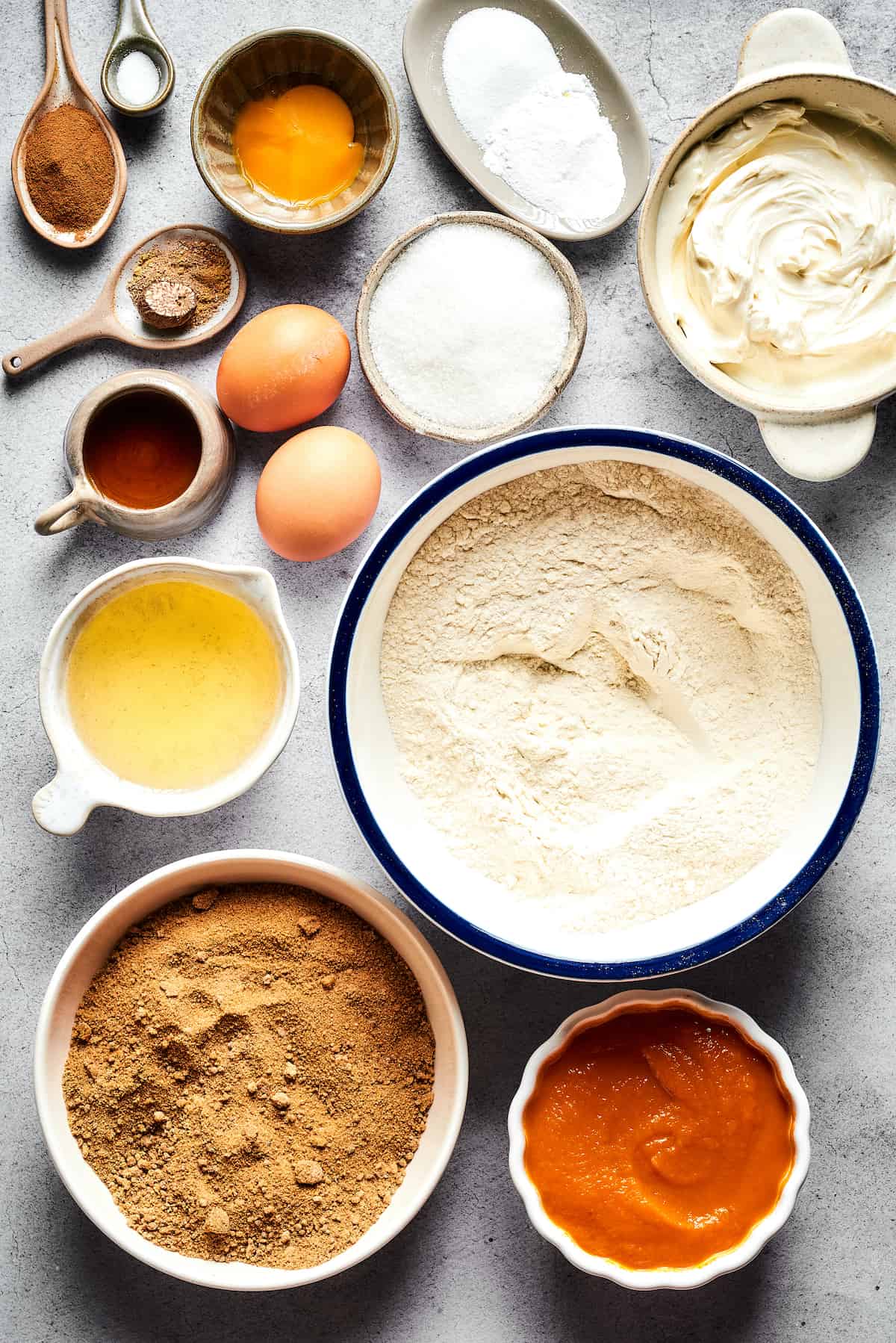 What You'll Need
This is a good recipe to plan ahead, since several of the ingredients should be set out to come to room temperature before you bake. Let's take a closer look:
For the Pumpkin Muffins
Flour: All-purpose flour is my flour of choice for this recipe.
Baking Powder and Baking Soda: Using both will make sure you have light, fluffy muffin batter.
Salt
Eggs: For a smooth, well-baked result, have your eggs and other ingredients at room temperature.
Light Muscovado Sugar and Light Brown Sugar: Muscovado is a special brown sugar that is not as refined as ordinary brown sugar. It's moist and has a complex, toffee-like taste. If you don't have it, you can use all light brown sugar.
Pumpkin Puree: Canned or homemade is fine.
Vegetable Oil: Or another neutral cooking oil of your choice.
Cinnamon
Salt
For the Cream Cheese Swirl
Cream Cheese: At room temperature, for smooth mixing.
Sugar: Granulated sugar is fine.
Egg Yolk: Adding an egg yolk helps bring the cream cheese swirl together, and adds richness.
Vanilla: Pure vanilla extract.
For the Crumble Topping
Brown Sugar: I used light brown sugar for the topping, but you could swap in muscovado here, too.
Butter: Unsalted, chilled.
Flour: To make the topping crumbly.
Cinnamon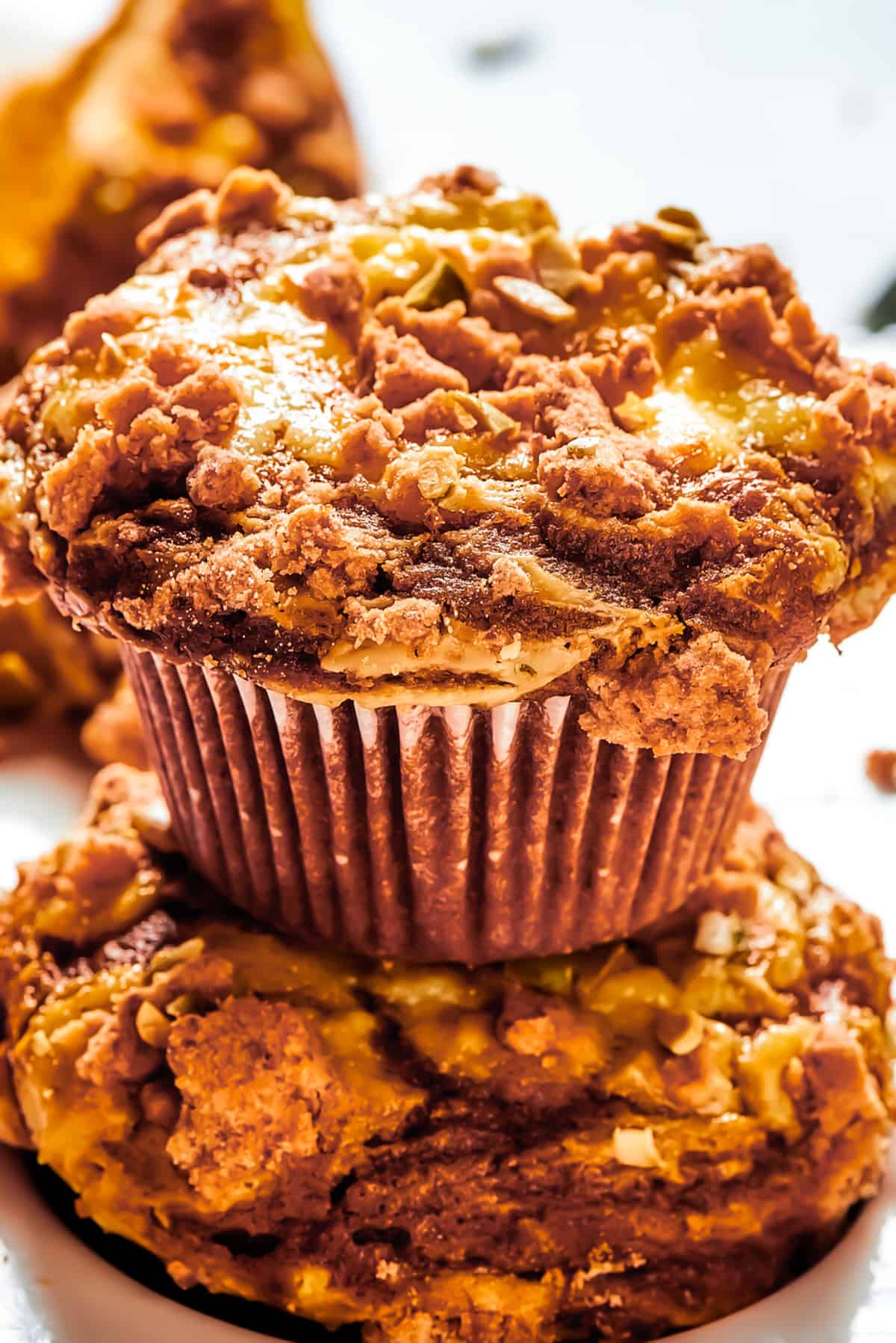 Is Canned Pumpkin Really Pumpkin?
Yes, if you buy a can of pumpkin puree, it is the real deal – as long as it's not pumpkin pie filling. Pie filling includes added sugar, dairy, and other ingredients. Check the ingredients on the label, and make sure there's just one ingredient listed 👉 pumpkin.
Let's Bake Some Muffins!
So how do you make bakery-style pumpkin cream cheese muffins? As impressive as they look, they are actually not hard to make at all. These simple instructions will give you the scoop.
Get the Oven and Muffin Tin Ready. To begin, set your oven to preheat to 375°F. Set out a muffin tin with 12 wells, and line each well with a paper baking cup. You can spray the cups lightly with baking spray, if you like.
Make the Topping. Next, combine the topping ingredients in a bowl: brown sugar, flour, cinnamon, and chilled butter. Mix and mash to make a crumbly mixture. Set aside.
Mix Up the Batter. In a medium bowl, whisk the dry muffin ingredients together: flour, cinnamon, baking soda, and salt. In a separate larger bowl, beat the eggs, and then beat in the sugar, oil, and pumpkin puree.
Now dump the dry ingredients into the wet ingredients, beating on low just until they're combined. Don't overbeat though, or your muffins will be dense and chewy. Pour this batter into each baking cup, filling them ¾ of the way full.
Make the Cream Cheese Filling. In a clean, medium-sized bowl, beat the softened cream cheese until it is creamy. Add in the sugar, egg yolk and vanilla, beating until the filling is completely combined and smooth.
Pipe the Cream Cheese Filling into the Muffins. Now you'll need a piping bag, or a large zip-top bag with one corner snipped off. Spoon the cream cheese filling into the bag, and squeeze it down so that it's ready to pipe. Dip the dip into each unbaked muffin, and pipe cream cheese filling all the way from the base of the muffin to the top.
Swirl, Top, and Bake! Use a toothpick to swirl the cream cheese and muffin batters together, making a marbled design. Sprinkle some of the crumbly topping over each muffin, and gently press it into the batter a bit so that it sticks. Slide the muffin tin into the oven, and bake for 20 – 23 minutes. When the muffins are done, the topping should be golden-brown and the muffin batter should be fully baked, not wet. The cream cheese will still be somewhat soft.
Enjoy! Remove the muffins from the oven, and allow them to cool slightly. Then take them out of the muffin tin, let them finish cooling on a baking rack, and serve.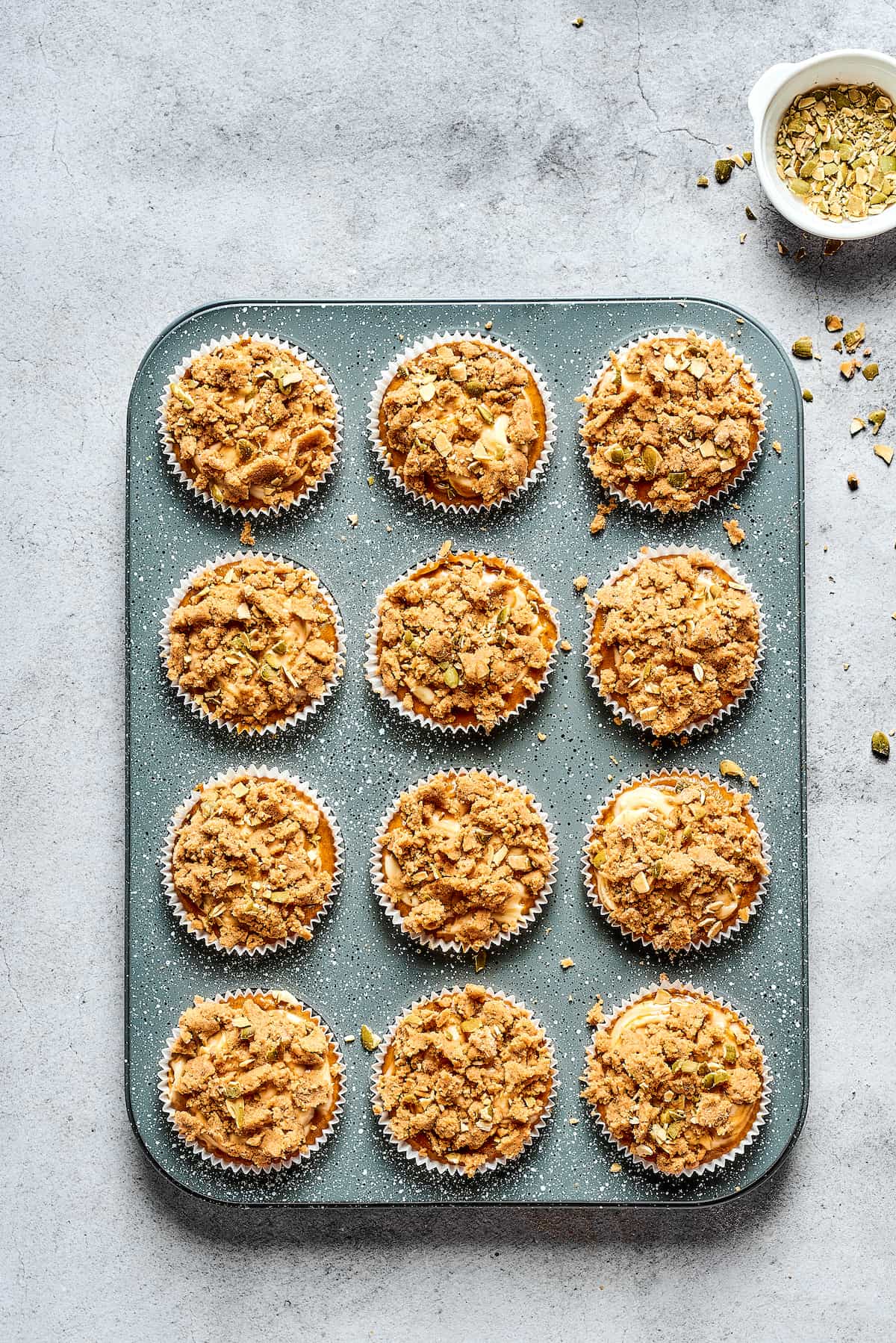 Tips and Variations
As with any baking recipe, there are a few helpful tips, additions, and substitutions you should know. Read on for my best baking tips, to make the perfect pumpkin cream cheese muffins.
Muffin Liners, or Not: Paper muffin cups come in cute designs, and make removing muffins from the muffin tin really easy, so I highly recommend them. However, you can still make great muffins without them. Just be sure to grease the muffin wells thoroughly, and use extra caution when removing the baked muffins from the tin. Be sure to let them cool for 5 minutes or so before you try (ideally, set the muffin tin on a wet kitchen towel while it cools). Then run a knife carefully around the edges of the muffins to loosen them, and use an offset spatula to detach the bottom of each muffin from the tin.
Homemade Pumpkin Puree: If you use homemade pumpkin puree, I recommend straining it for a while through a cheesecloth, so that it's not too watery.
Spice It Up: I have gone the simple route here and just combined pumpkin with cinnamon, but if you want a more complex taste, feel free to play with the spices! Pumpkin pie spice, allspice, cloves, nutmeg, ginger… it's all good. 👍
Add Nuts: You can use chopped pecans, walnuts, or other nuts in place of (or in addition to) the crumble topping, if you like.
Dried Fruit: Not everyone loves dried fruit in their baked goods, but if you do, go for it! Think golden raisins, chopped dried dates, or even bits of candied fruit/peel.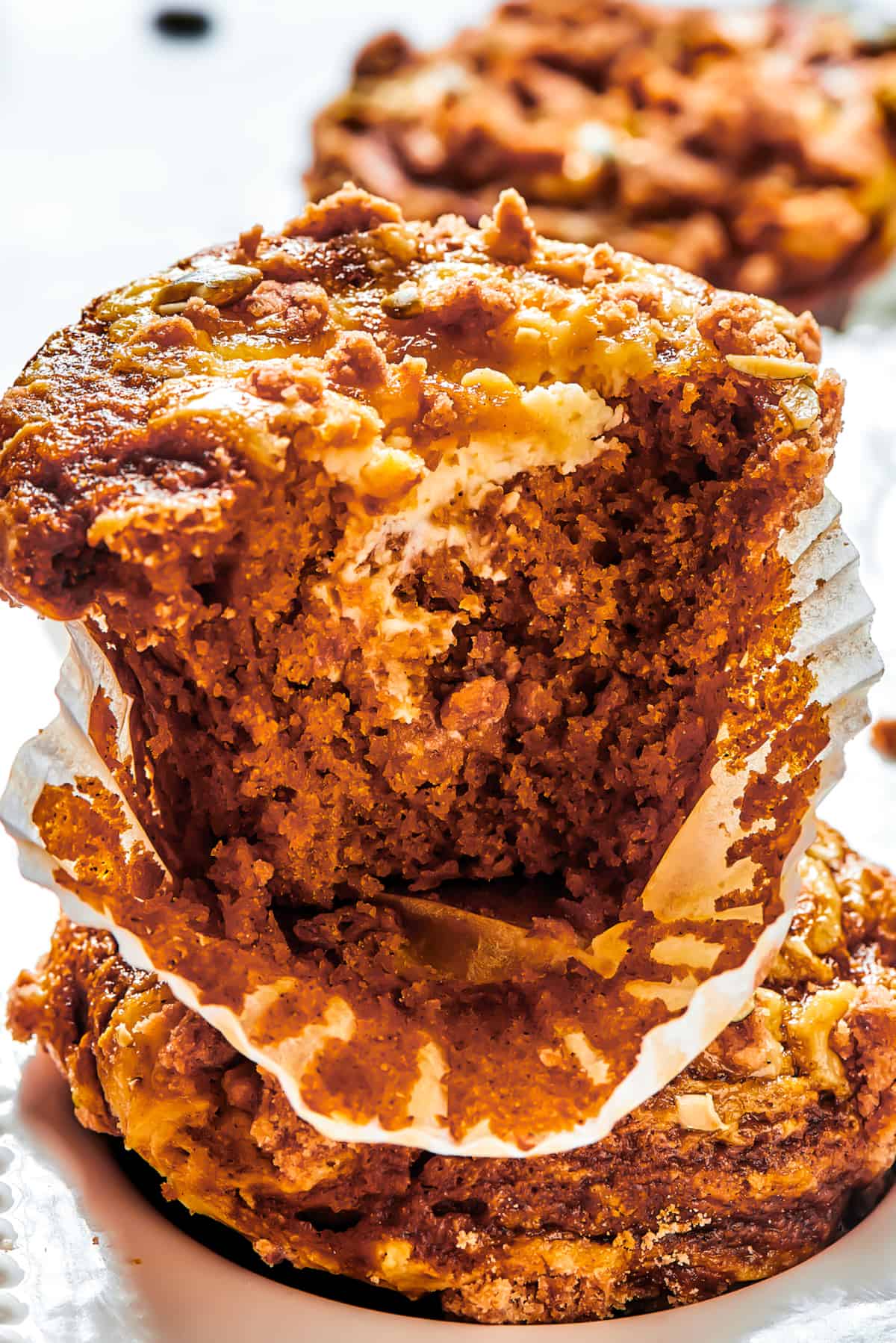 Storing Your Muffins
Make sure you store pumpkin cream cheese muffins in the refrigerator, for food safety reasons – that cream cheese swirl will not stay fresh on the counter!
Wrap them in plastic wrap or put them in an airtight container, and use them within about three days.
Do Pumpkin Cream Cheese Muffins Freeze Well?
While some muffin recipes freeze perfectly, I can't recommend freezing these because of the cheesecake swirl. It doesn't hold up as well as the cake portion during freezing and thawing. Instead, it's best to make them fresh, and you can even cut the recipe in half if you don't think you can use all twelve muffins.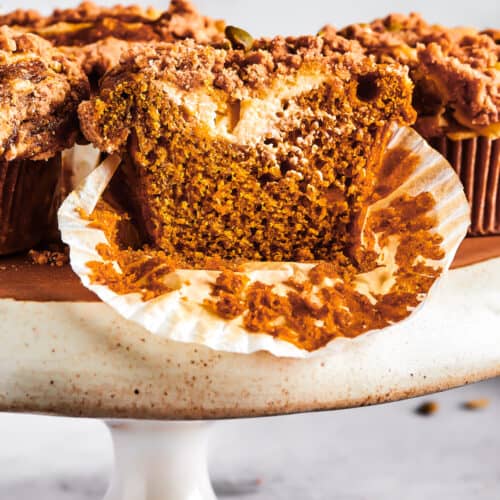 Print Recipe
Pumpkin Cream Cheese Muffins
Pumpkin Cream Cheese Muffins are a heavenly mix of spiced pumpkin cake and smooth cream cheese swirl, with a buttery, streusel-like topping.
Ingredients
For the Crumble Topping
4

tablespoons

all-purpose flour

3

tablespoons

light brown sugar

1

teaspoon

ground cinnamon

⅓

cup

unsalted butter,

chilled, cut into pieces
For the Cream Cheese Swirl
8

ounces

cream cheese,

at room temperature

3

tablespoons

sugar

1

egg yolk

2

teaspoons

pure vanilla extract
Instructions
Preheat oven to 375°F. Place paper baking cups into a muffin pan. Set aside.

Make the crumble topping by mixing the brown sugar, flour, cinnamon, and chilled butter together to make a crumbly mixture. You can use a pastry cutter or just your fingers to crumble it. Set aside.

Make the muffin batter. In a medium mixing bowl, whisk together the flour, cinnamon, baking powder, baking soda, and salt.

In a separate large mixing bowl, using an electric mixer, beat the eggs. Mix in the sugars and oil, followed by the pumpkin puree and pinch of salt.

Add the dry batter ingredients to the wet batter ingredients, and beat on low until just combined. Do not overbeat or the muffins will be chewy.

Fill each muffin liner ¾ full.

Prepare the cream cheese filling. In a medium bowl, beat the softened cream cheese until completely smooth, about 5 to 8 minutes. Beat in the sugar, egg yolk and vanilla extract until well combined.

Spoon the cream cheese filling into a piping bag, dip the tip of the piping bag into the muffin batter, and slowly pipe cream cheese filling into each unbaked muffin, from the bottom to the top. Use a toothpick to swirl the filling into the batter.

Sprinkle the crumb topping over each muffin, and press it lightly to help it stick.

Bake the muffins for 20 to 23 minutes or until the crumble topping is golden-brown and the muffins are fully baked.

Remove from the oven, and allow to cool slightly. Finish cooling on a wire rack.
Nutrition
Serving:
1
Muffin
|
Calories:
319
kcal
|
Carbohydrates:
46
g
|
Protein:
5
g
|
Fat:
13
g
|
Saturated Fat:
8
g
|
Polyunsaturated Fat:
1
g
|
Monounsaturated Fat:
4
g
|
Trans Fat:
0.2
g
|
Cholesterol:
80
mg
|
Sodium:
304
mg
|
Potassium:
159
mg
|
Fiber:
2
g
|
Sugar:
26
g
|
Vitamin A:
5246
IU
|
Vitamin C:
1
mg
|
Calcium:
80
mg
|
Iron:
2
mg
More Sweet Pumpkin Treats