This easy Apple Pie Filling is made with tender, juicy apples, warm spices, and brown sugar. It's a classic recipe you'll love.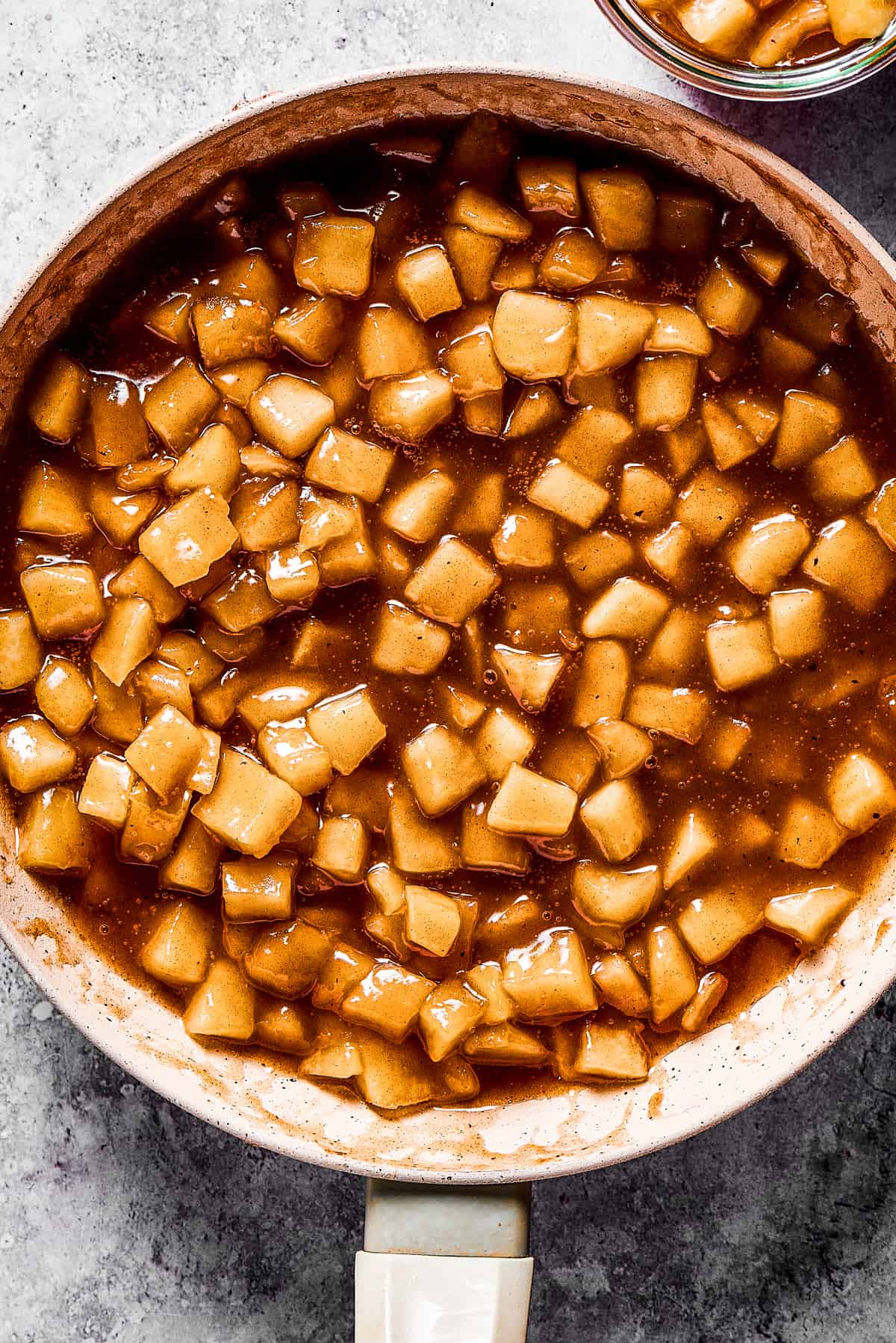 You'll Want to Eat This Apple Pie Filling Straight from the Jar!
While I sometimes like to make my own pastry, I admit the frozen stuff is pretty good, too, and it's so convenient! Frozen pie crusts are especially suitable. You can buy them made for rolling and cutting, or you can buy them already cut and arranged in a disposable pie tin. 🥧
I like to get the pie crusts that you roll and cut. Depending on your taste, you can make a deep-dish pie or a regular pie. Filled with homemade apple filling, it's a delicious dessert that's welcome any time of year. This apple filling is my favorite, and I'm excited to share it with you!
Should You Cook Apples Before Putting Them in a Pie?
Actually, you don't have to cook apples before baking them in a pie. For instance, in this recipe for The Best Apple Pie from Scratch, you start with raw apples and they cook right along with the pie crust in the oven. Dutch Apple Slab Pie is also made with raw apples.
However, pie filling is typically cooked before you store it. That makes it usable and eatable right out of the jar, whether you put it in a pie crust or use it in another recipe. Speaking of which, be sure to check out the serving suggestions below!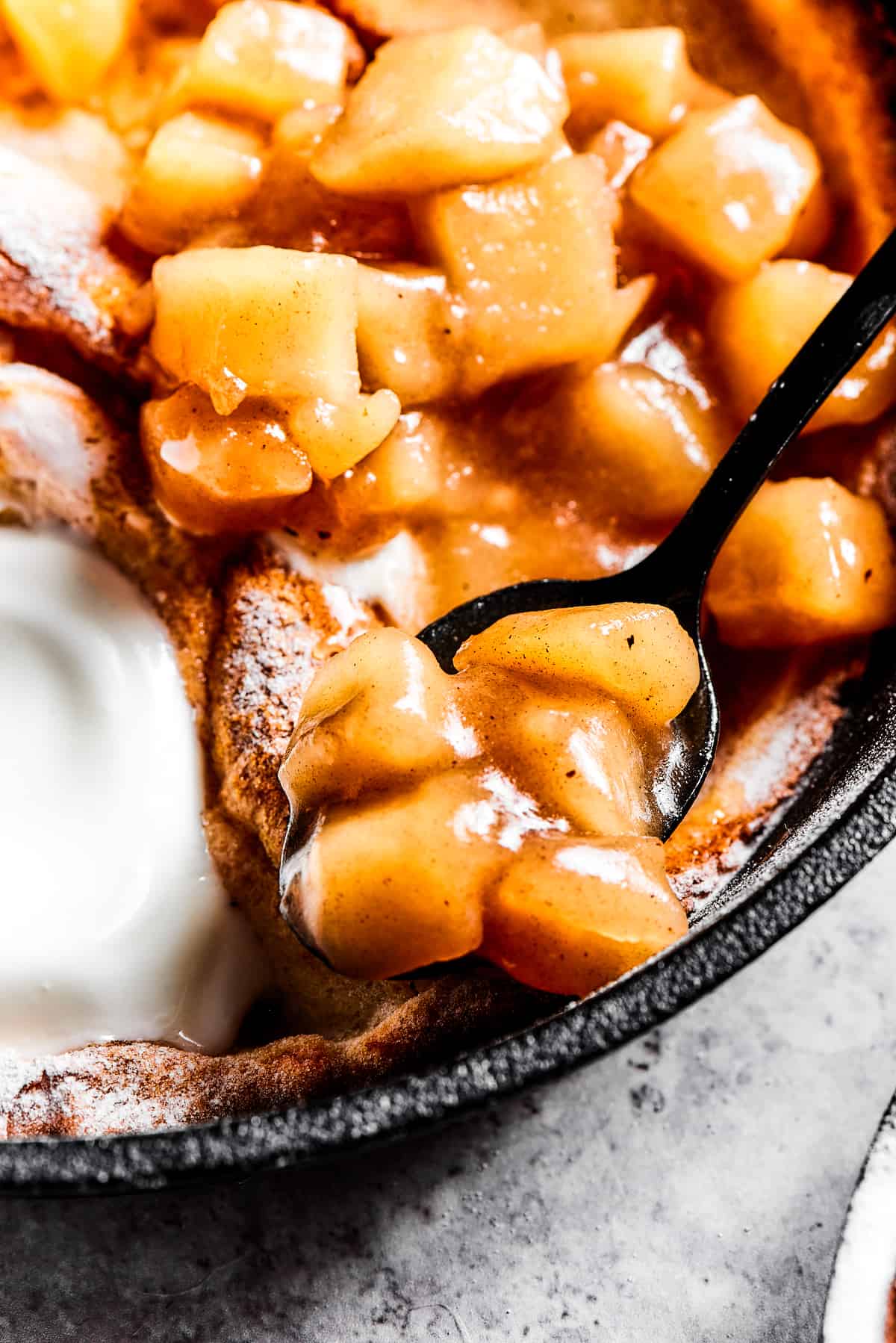 What Is Apple Pie Filling Made Of?
So what goes into a traditional apple pie filling? Here's the list of ingredients:
Butter: I use unsalted butter, and add salt to my taste. However, you could definitely use salted butter and adjust the salt as needed.
Sugar: I use a bit of light brown sugar and a bit of granulated sugar. You could use all brown sugar if you like, but I don't recommend using just granulated sugar – it doesn't have the warm, molasses flavor that makes apple pie filling extra good.
Spices: Ground cinnamon and ground nutmeg.
Apples: Peeled, cored, and cut into cubes.
Lemon Juice: To bring out the flavors of the apples, and balance the sweetness of the sugar.
Salt
Water: To get the filling to the right consistency.
Cornstarch: For thickening the pie filling.
Vanilla: Pure vanilla extract. You could also use vanilla bean paste or a scraped vanilla bean.
What Are the Best Apples for Pie Filling?
The best apples for apple pie filling are cooking apples: the firm, tart, juicy ones! Avoid apples that are more on the bland or grainy side. Some good cooking apples include:
Granny Smith
Pink Lady
Northern Spy
Jonathan
Braeburn
Honey Crisp
Is Flour or Cornstarch Better for Apple Pie?
Flour and cornstarch work beautifully to thicken the pie filling and create that syrupy texture. They behave slightly differently, though. Cornstarch makes a shinier, more transparent filling. Flour creates a more cloudy or milky-looking filling; you'll need more to thicken the mixture.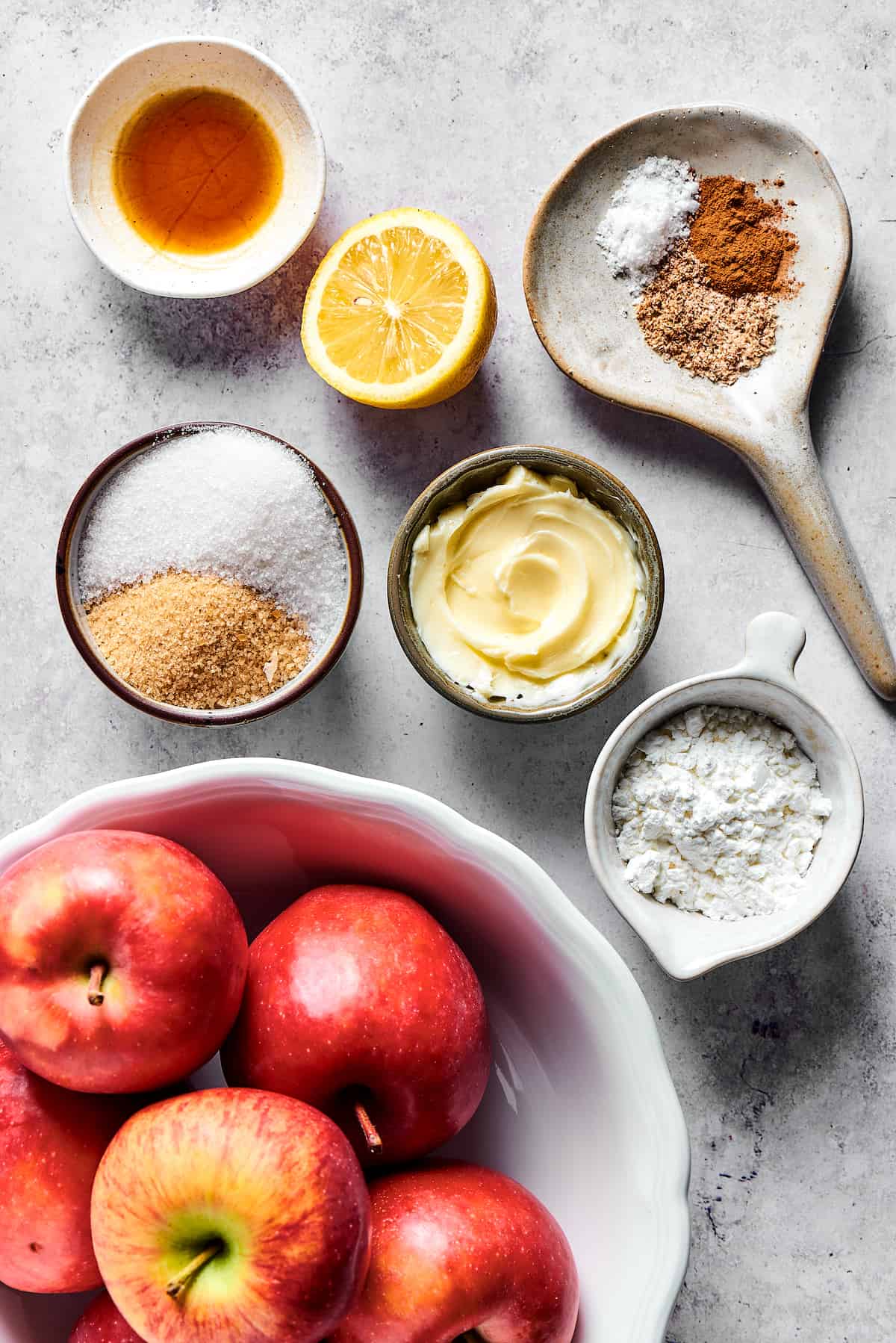 How to Make Homemade Apple Pie Filling
Making homemade apple pie filling is a breeze. It's basically a matter of mixing and lightly cooking the ingredients. Here's how to do it:
Prep the Apples. To get started, peel, core, and chop the apples into cubes. Drizzle them with a little bit of lemon juice.
Make the Butter and Spice Mixture. Next, get out a large skillet or pan, and melt the butter in the skillet. Add the cinnamon and nutmeg.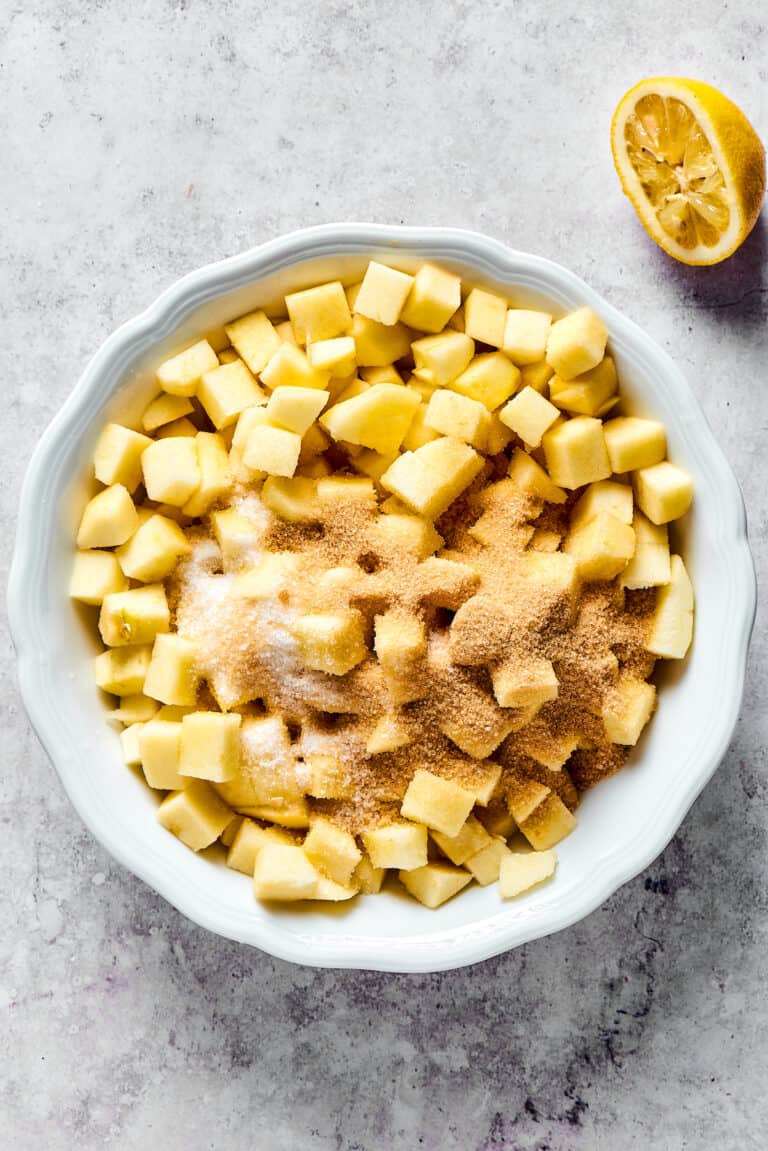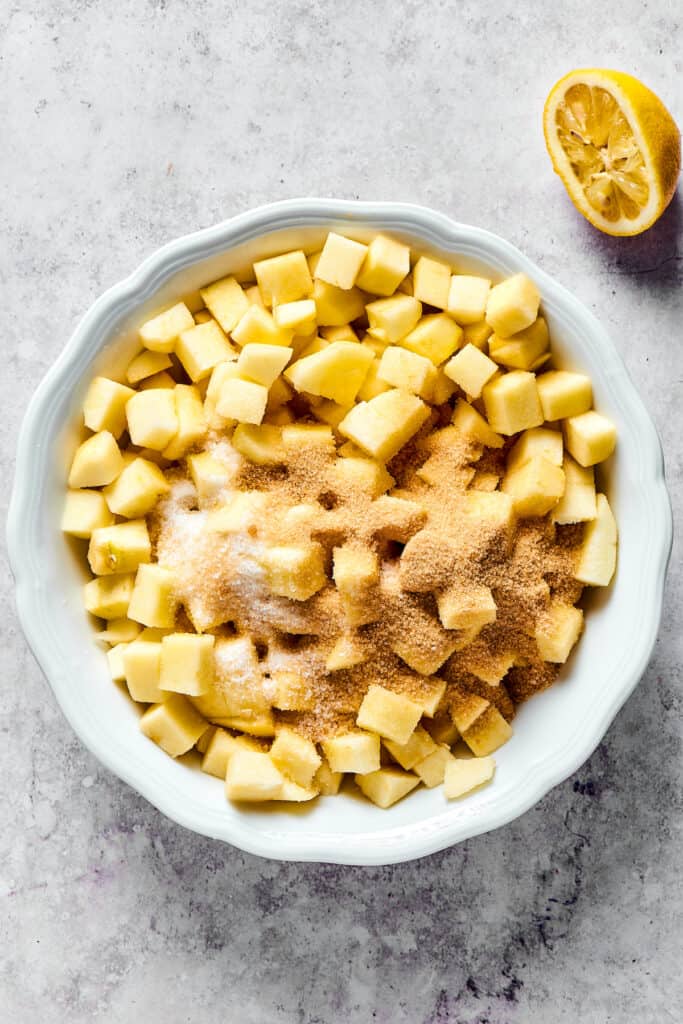 Add Apples, Sugar, and Water. Place the apples, sugar, and half a cup of water into the butter mixture in the pan. Stir to combine, cover, and let the filling cook for about 6 or 7 minutes. Stir the apples occasionally as they cook.
Add the Cornstarch Slurry. Once the apples have softened slightly, mix the cornstarch with two tablespoons of water in a small dish. Stir to make a smooth paste, then stir it into the apples as they cook.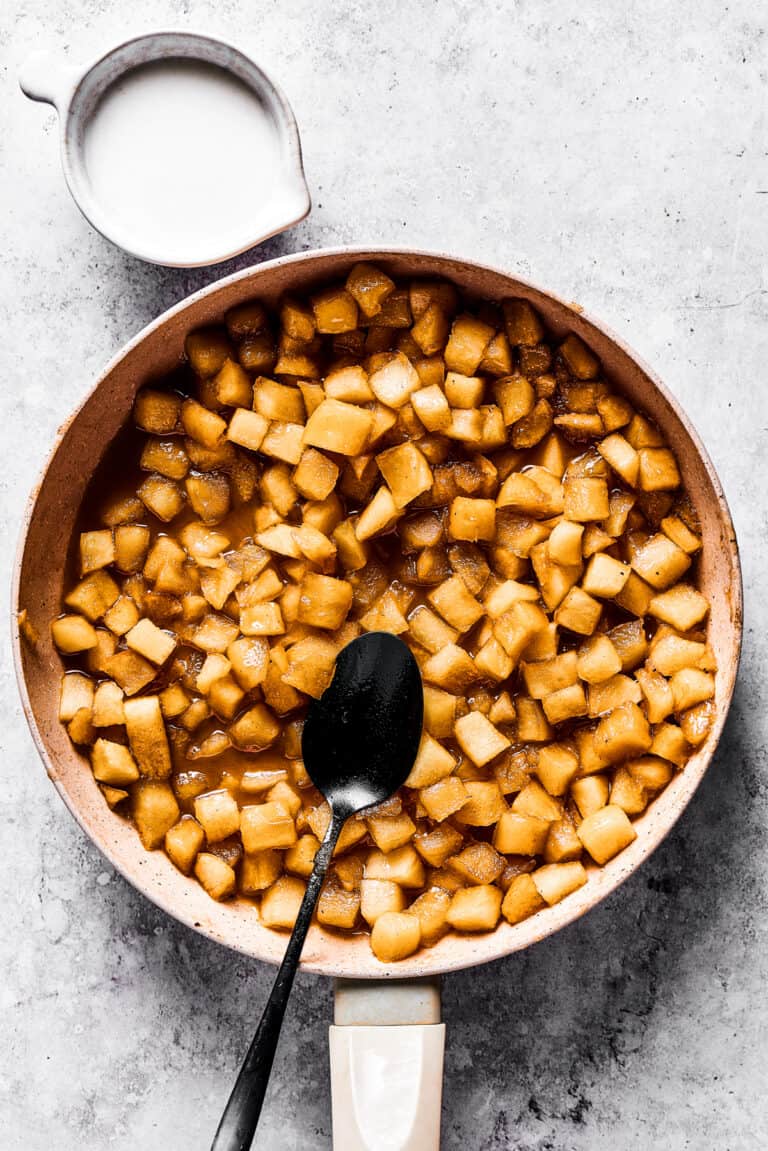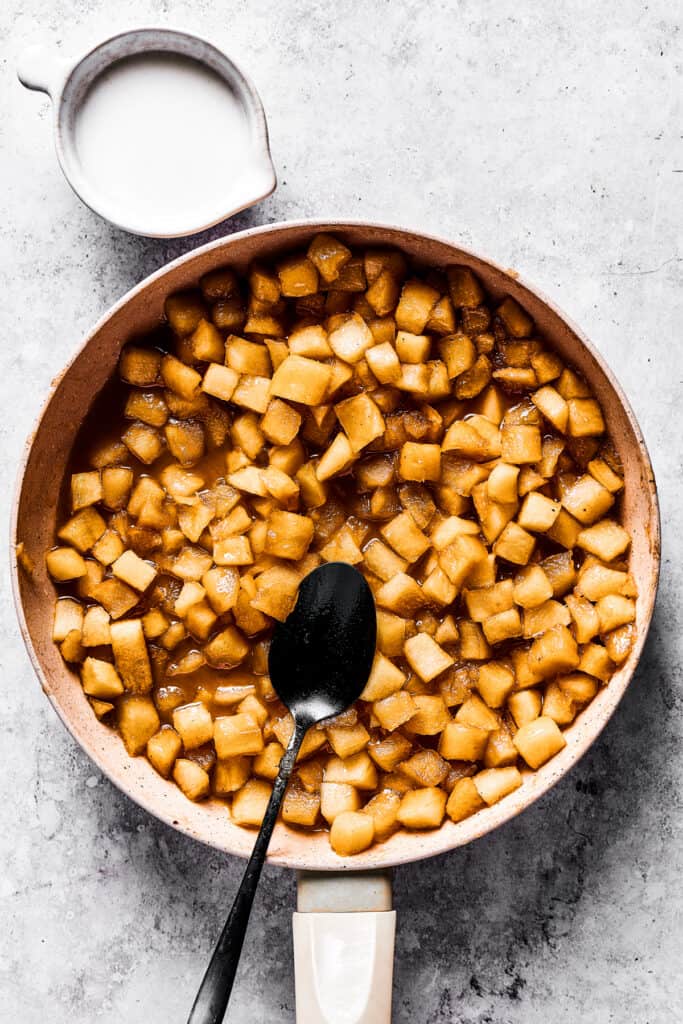 Cook to Thicken. Continue to cook the apples until the mixture bubbles – about 2 minutes. It will thicken as it cooks. Remove the pan from the heat, and let it cool. It will thicken more as it cools.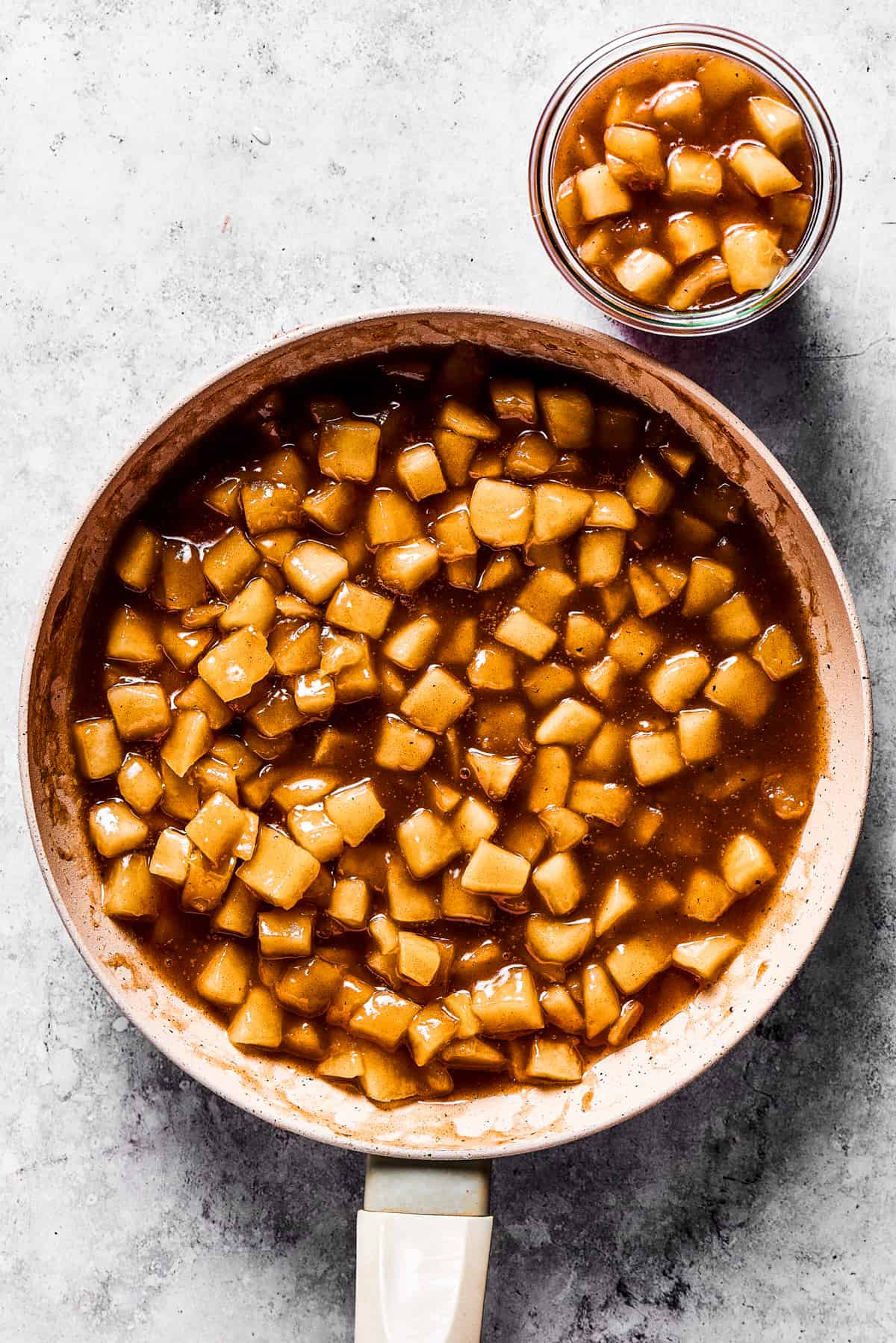 Recipe Notes
Want to know more about making homemade apple pie filling? You're in the right place! Here are some helpful tips for making this sweet recipe even easier.
Sliced Apples: Some people prefer sliced apples in pie, rather than cubed. If you like, you can easily slice the apples instead of chopping them into cubes. Thin slices won't take as long to cook, so be aware of that.
Spices: You can tweak the spice blend to your taste, adding whatever you like. Pre-made apple pie spice is nice, or you can use the cinnamon and nutmeg called for here, but add some extras like ginger, cardamom, or allspice.
Use a Mix of Apples: If you want to add more interest to your pie, try using more than one variety – for example, you can use half Granny Smith and half Pink Lady.
More Ways to Use Apple Pie Filling
Aside from filling pies (and eating bites right out of the jar in the middle of the night), there are many tasty ways to use homemade apple pie filling. Add it to breakfast, make more desserts, stir it into a smoothie bowl, etc…
Breakfast: Add an extra touch of coziness to your favorite breakfast, like Fluffy Pancakes or French toast!
Snacks: Spoon some of the filling over your favorite ice cream, or serve it with Monkey Bread for a perfect fall treat.
Outside the Box: You can serve apple pie filling with latkes as a spin on plain applesauce. Place a tiny amount over perfect Baked Pork Chops. Eat it as-is, with a good sprinkle of your favorite granola and a dollop of yogurt.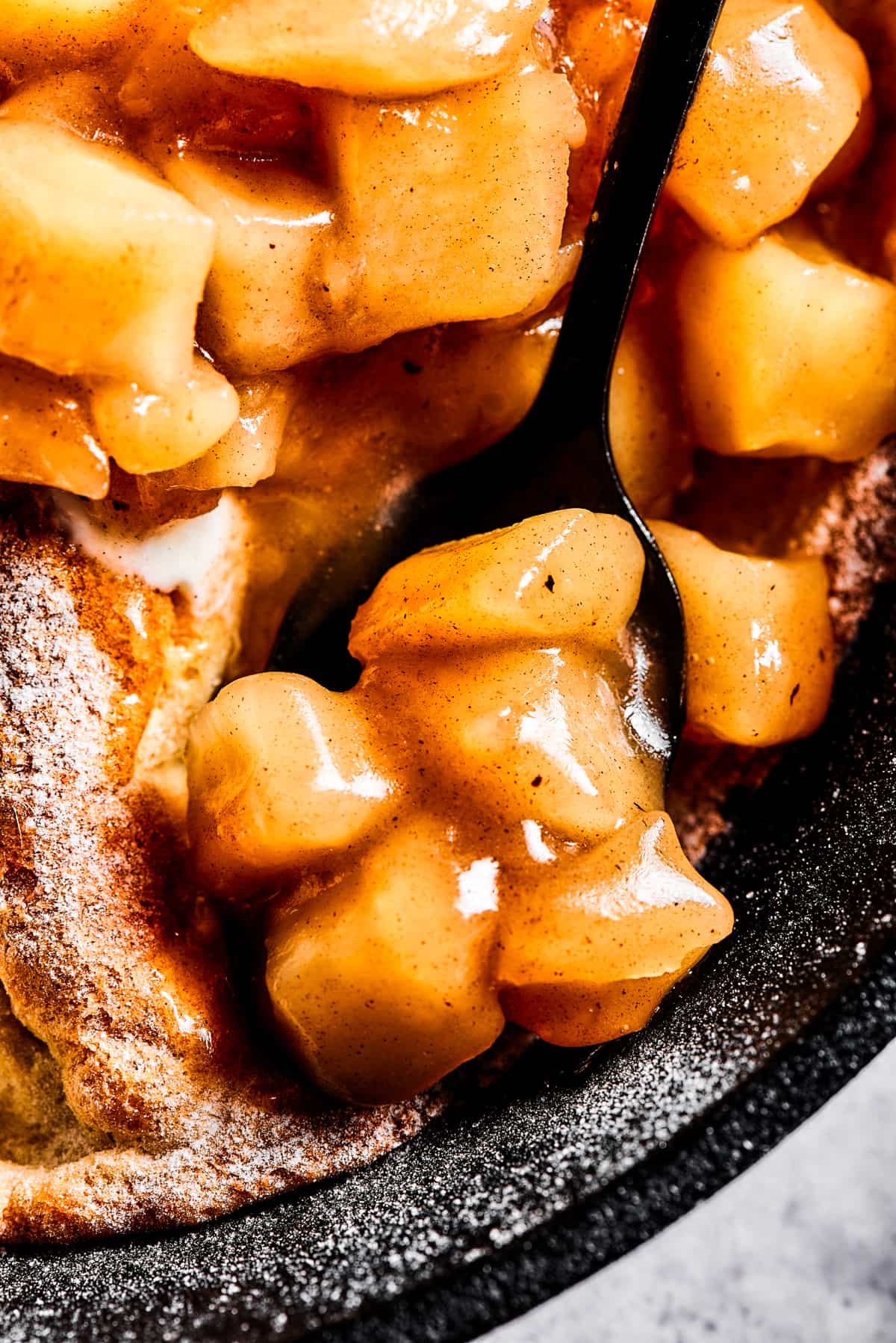 Storing and Freezing
Apple pie filling should be refrigerated in an airtight container – a big, clean jar is perfect. It will keep for up to four days. To serve, you'll want to reheat it and stir it a bit before using it.
Alternatively, try freezing the apple pie filling. Just place it in a freezer bag or container (be sure to cool it down first), mark it with the date, and freeze it for up to three months.
Thaw it in the fridge before using it.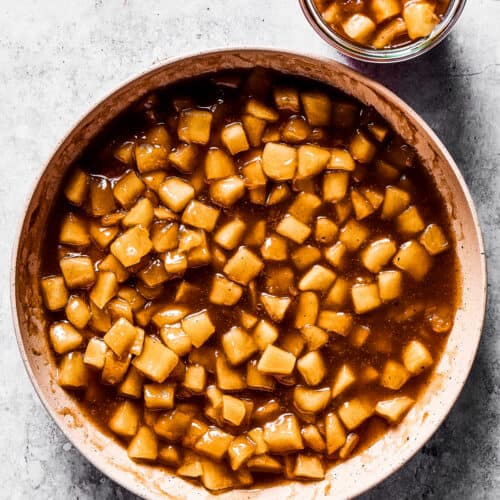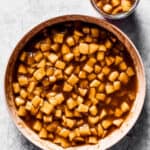 Print Recipe
Apple Pie Filling
This easy Apple Pie Filling is made with tender, juicy apples, warm spices, and brown sugar. It's a classic recipe you'll love.
Instructions
Peel, core, and chop the apples into cubes. Drizzle with lemon juice.

In a large skillet or pan, add the butter, cinnamon, and nutmeg, and melt over medium heat.

Add the apples, sugar, 1/2-cup water, and vanilla extract to the pan. Stir to combine.

Cover the pan and cook, stirring occasionally, for 6 to 7 minutes or until the apples are slightly softened.

In a small dish, combine the cornstarch and 2 tablespoons of water. Stir until smooth.

Add the cornstarch mixture to the pan while stirring.

Continue to cook until the mixture bubbles about 2 minutes. Remove from heat and let cool.

Store or serve.
Notes
Cooking Apples include Granny Smiths, Honey Crisp, Pink Lady, Jonathan, and Braeburn, to name a few.
This Apple Pie Filling makes enough filling for one standard, 9-inch diameter pie.
Spices: You can tweak the spice blend to your taste, adding whatever you like.
Aside from filling pies, there are other ways to use homemade apple pie filling. Stir it into a smoothie bowl, make other desserts, use it as a pancake topping, etc…
Nutrition
Calories:
182
kcal
|
Carbohydrates:
37
g
|
Protein:
0.4
g
|
Fat:
4
g
|
Saturated Fat:
3
g
|
Polyunsaturated Fat:
0.2
g
|
Monounsaturated Fat:
1
g
|
Trans Fat:
0.2
g
|
Cholesterol:
11
mg
|
Sodium:
7
mg
|
Potassium:
147
mg
|
Fiber:
3
g
|
Sugar:
32
g
|
Vitamin A:
194
IU
|
Vitamin C:
6
mg
|
Calcium:
25
mg
|
Iron:
0.3
mg
More Apple Dessert Recipes