If you're looking for an autumn-themed dinner, this easy recipe for Baked Pork Chops with Apples and Vegetables is it! Thick-cut pork chops are seared and cooked in apple juice, with a colorful collection of apples, garlic, and winter veggies.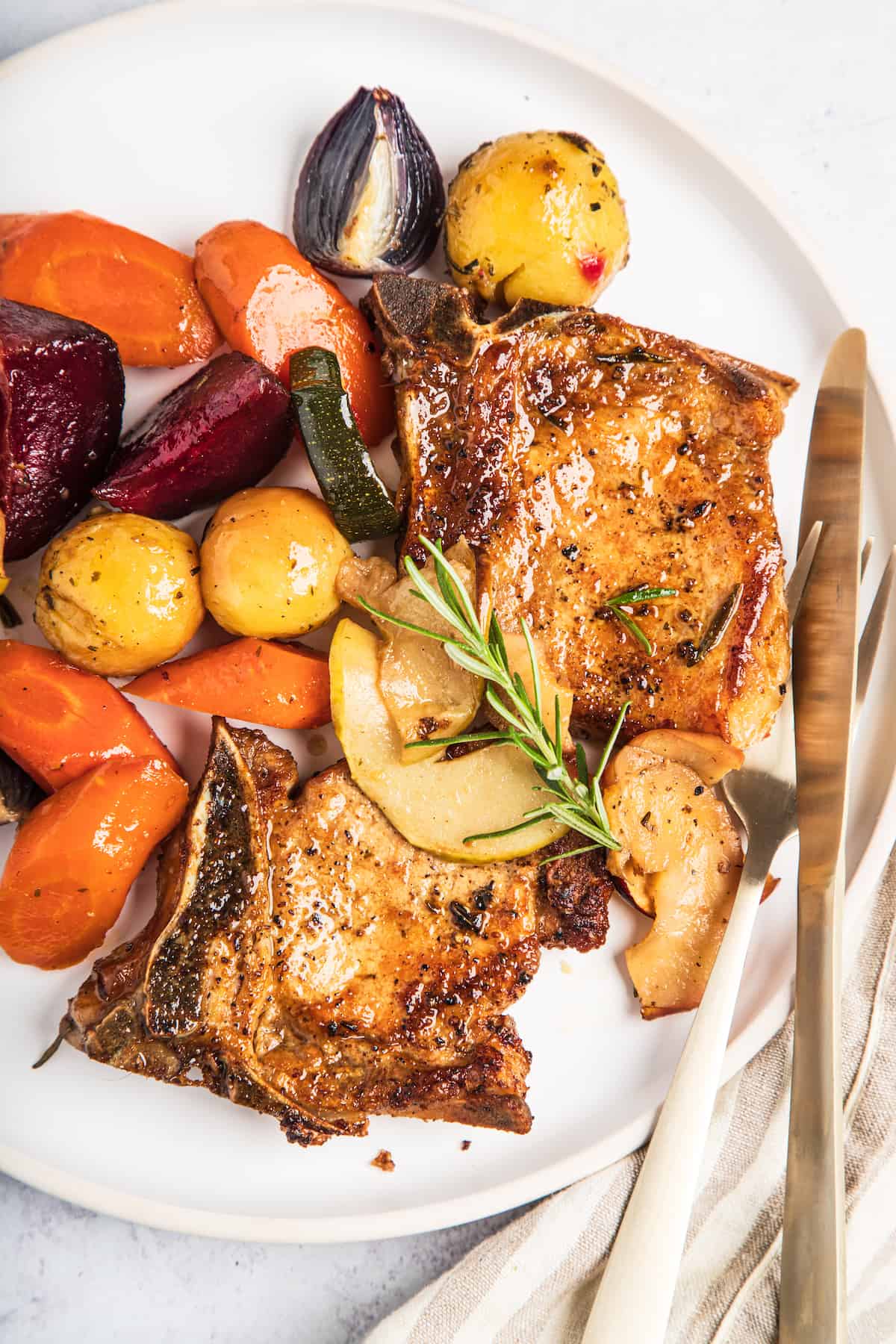 An Easy Baked Pork Chop Dinner
It's fall, and you know what that means! It's time for all things apple, and for me, that has to include pork chops and apples. Pork chops cooked with apples are basically a requirement for a good fall, right up there with scarves, leaves, and pumpkin spice everything!
Of course, it's super easy to serve pork chops with a side of applesauce, and that's a great way to do it. But, I think this recipe is a little more interesting, and it's practically just as easy.
Thick cut bone-in pork chops are seared with garlic and rosemary, and then gently cooked in apple juice or apple cider. Fresh sliced apples and a medley of veggies are tossed in there as well.
This is an all-in-one dinner recipe that doesn't take long to cook, and is so simple that even beginning cooks can pull it off easily.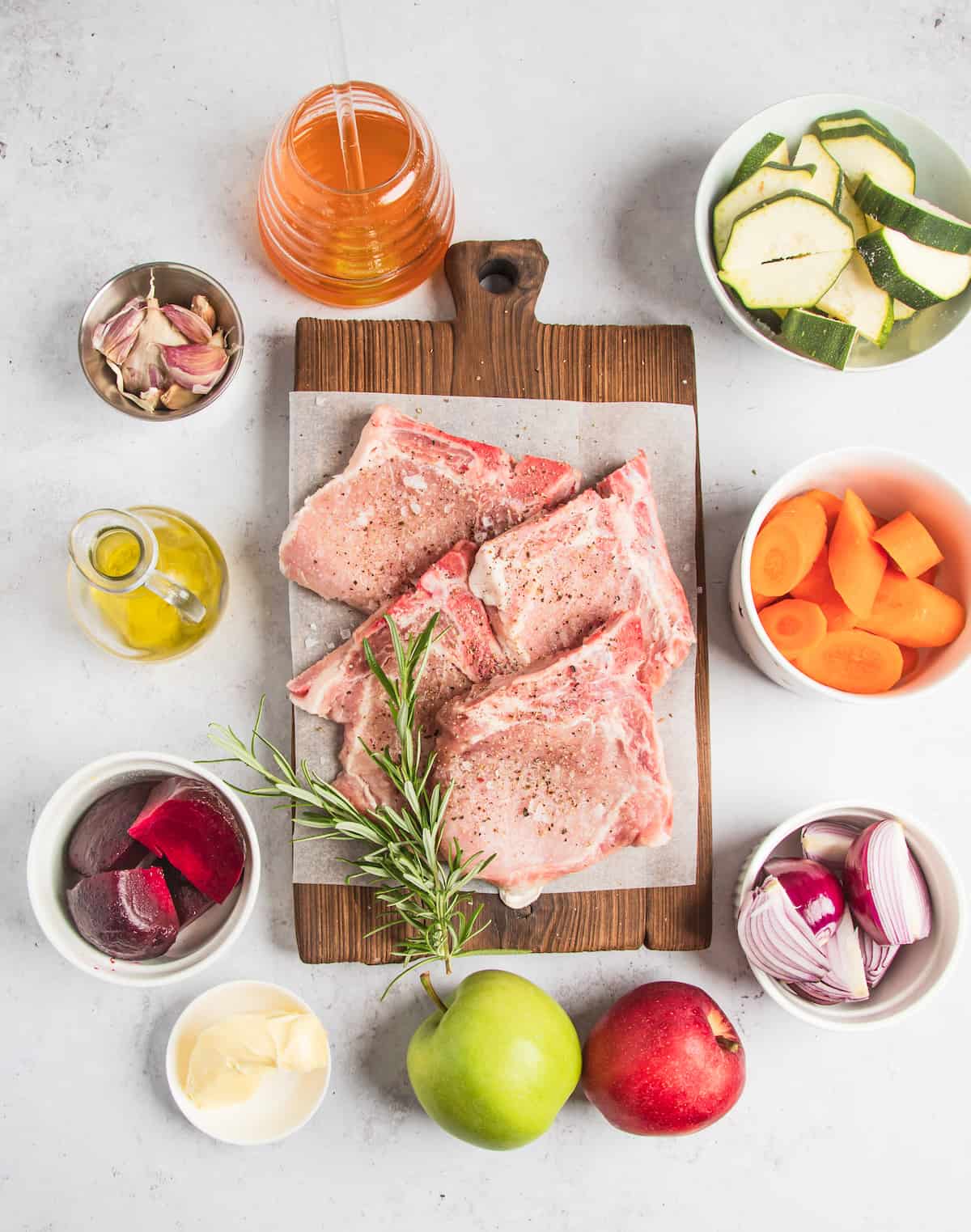 Recipe Ingredients
The ingredients for this recipe are simple and wholesome, plus flexible! Feel free to make substitutions depending on what's fresh, seasonal, or just what fits your family.
Pork Chops: I use bone-in pork chops for extra juiciness and flavor.
Oil and Butter: A little of each for sauteing.
Apple Juice: Apple juice or fresh apple cider would work fine.
Apples: Slice up two cored and peeled apples.
Garlic: I prefer to use fresh garlic here, but garlic powder is also great!
Honey: For a touch of sweetness, add a spoonful of honey to the pan sauce. Pure maple syrup is also great.
Onions: Any kind of onions will work! My favorite are red onions. Chop them up in chunks.
Carrots: Wash and peel the carrots, and then roughly chop them.
Beet Roots and Baby Potatoes: These should be pre-cooked, or they won't be done when the pork chops and other veggies are done.
Fresh Rosemary: Dried is also fine.
Salt and Pepper
What is the best apple to bake with pork?
You can use almost any apple, although a firm apple holds up best during baking, and a slightly tart apple will shine through the most at the end of the cook time. Here are some good options:
Granny Smith
Lady Alice
Braeburn
McIntosh
Jonathan
Honeycrisp
Pink Lady
How to Make Baked Pork Chops with Apples and Vegetables
This recipe starts out on the stovetop before going into the oven, so you may want to use an ovenproof skillet, like cast iron or stainless steel (with an ovenproof handle). Of course, it's also fine to just transfer the pork chops and other ingredients from the skillet to a roasting pan.
Preheat the Oven and Sear the Pork Chops. Preheat your oven to 450°F. While the oven heats, set a large skillet over medium-high heat and melt the butter in the skillet with the oil. Rub the pork chops generously with salt and pepper, and then sear on each side for 2-3 minutes. Add the garlic and rosemary to the skillet while the pork is searing.
Add the Remaining Ingredients. When the pork chops are browned on both sides, pour in the apple juice or cider along with the honey, and bring it to a simmer. (At this point, if you're using a separate roasting pan, transfer everything in the skillet to your roasting pan.) Add the veggies and apples to the pork and pan juices, and toss carefully to coat.
Roast. Roast the pork chops uncovered for 20 – 25 minutes, until the pork is done. Serve hot.
Enjoy!
Do you cover pork chops when you bake them in the oven?
That depends! If you're baking the pork chops from start to finish, it's often a good idea to cover them at the beginning in order to trap steam and keep the meat moist. They are then finished in the oven, uncovered.
In this recipe, however, the chops are started on the stovetop. By the time they go in the oven, they need to be uncovered, to finish them properly and get some good color on the pork and other ingredients!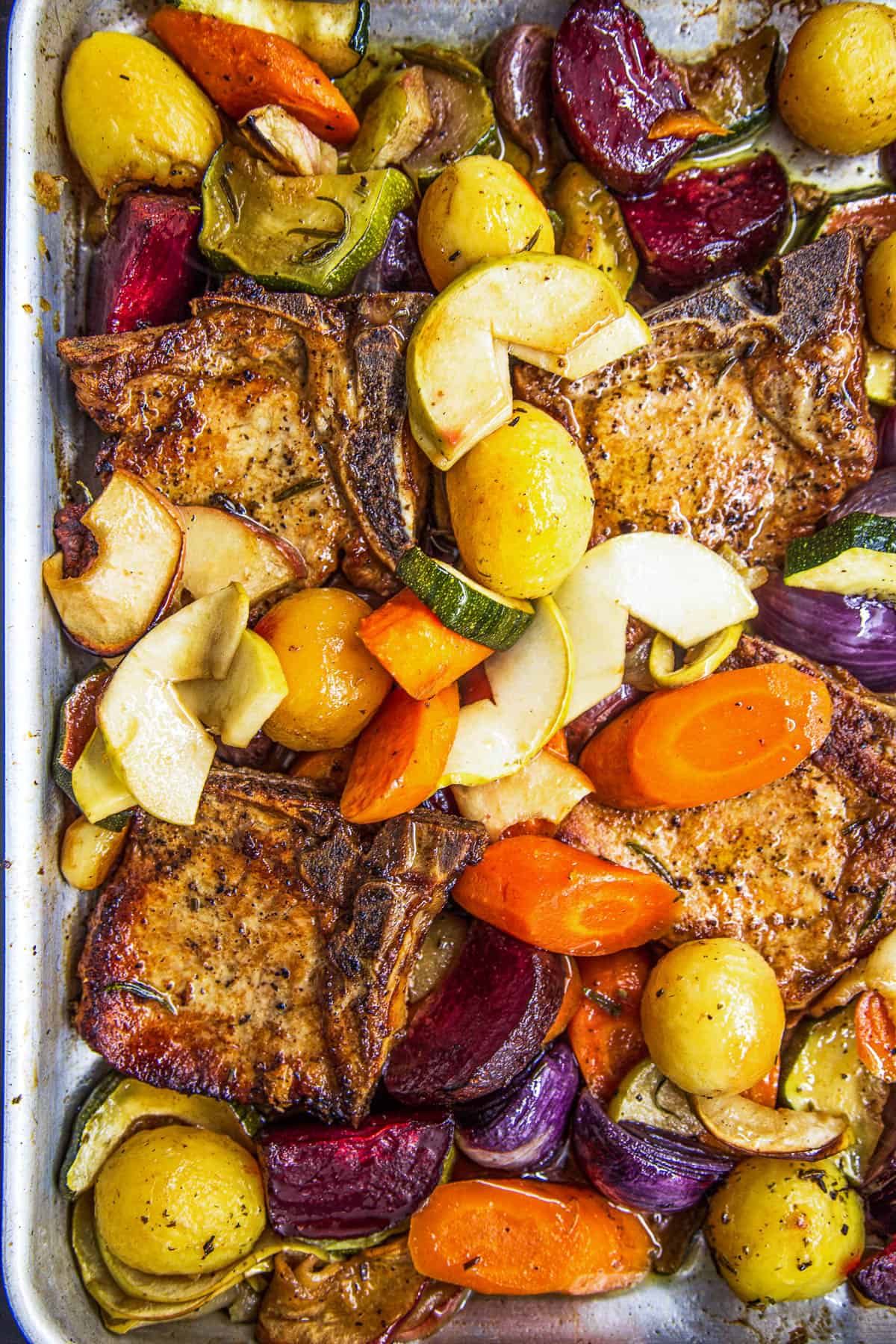 Tips for Success
What else should you know about baking pork chops with apples and veggies? As a matter of fact, I do have a few helpful hints to share! Here are my best tips for making this beautiful autumn recipe a success in your own kitchen!
Thicker Cut for Juicer Chops: While it's often easy to find half-inch pork chops, I recommend using bone-in 1-inch or thicker pork chops for the juiciest results. Thinner chops are easy to dry out in the oven.
Test for Doneness: It's important to test the pork chops for doneness. My favorite way to do this is by using an instant-read thermometer. The pork should register 145°F with the thermometer not touching the bone.
Rest: Resting the chops after cooking for about 5 minutes is a helpful step in making sure they're juicy and flavorful! That rest time allows the juices to redistribute through the meat, and results in a better texture.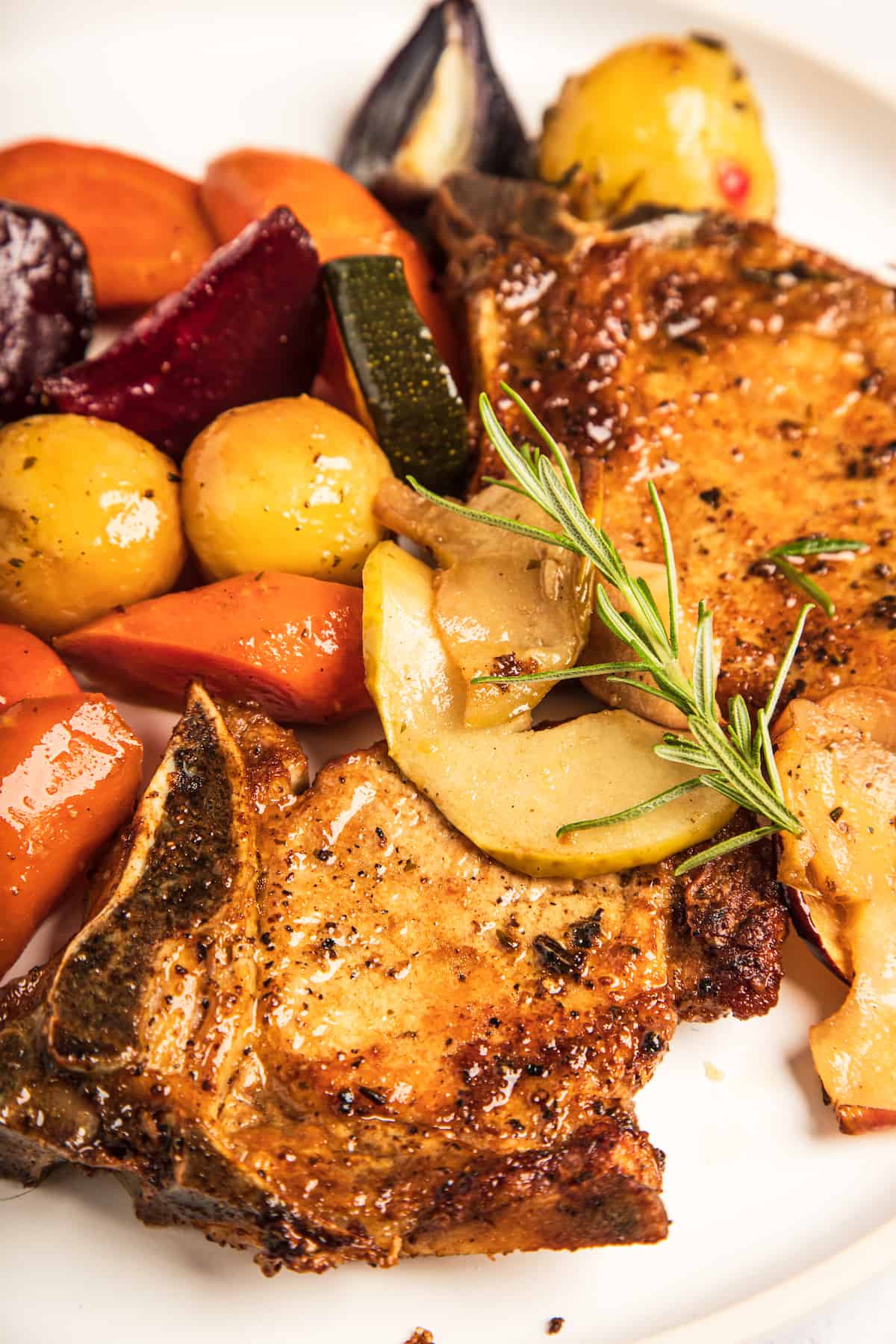 Serving Suggestions
This is truly an all-in-one dinner, thanks to the vegetables, the apples, the pork, and the pan sauce. However, if you'd like to add an extra dish or two to the menu, these recipes are easy options that go perfectly with pork chops!
Stuffed Avocados: Bursting with flavor and full of healthy fats, these Caprese Stuffed Avocados are a fresh and colorful appetizer or "salad" option for this robust dinner.
Garlic Knots: These Garlic Knots are pretty to look at, and crazy good to eat! You'll love the tender, buttery dough seasoned with plenty of herbs and fresh garlic.
Asparagus Fries: Add some crispy crunch to the meal with a serving of cripy Parmesan Panko Asparagus Fries! They're super easy to make and pack an extra serving of veggies.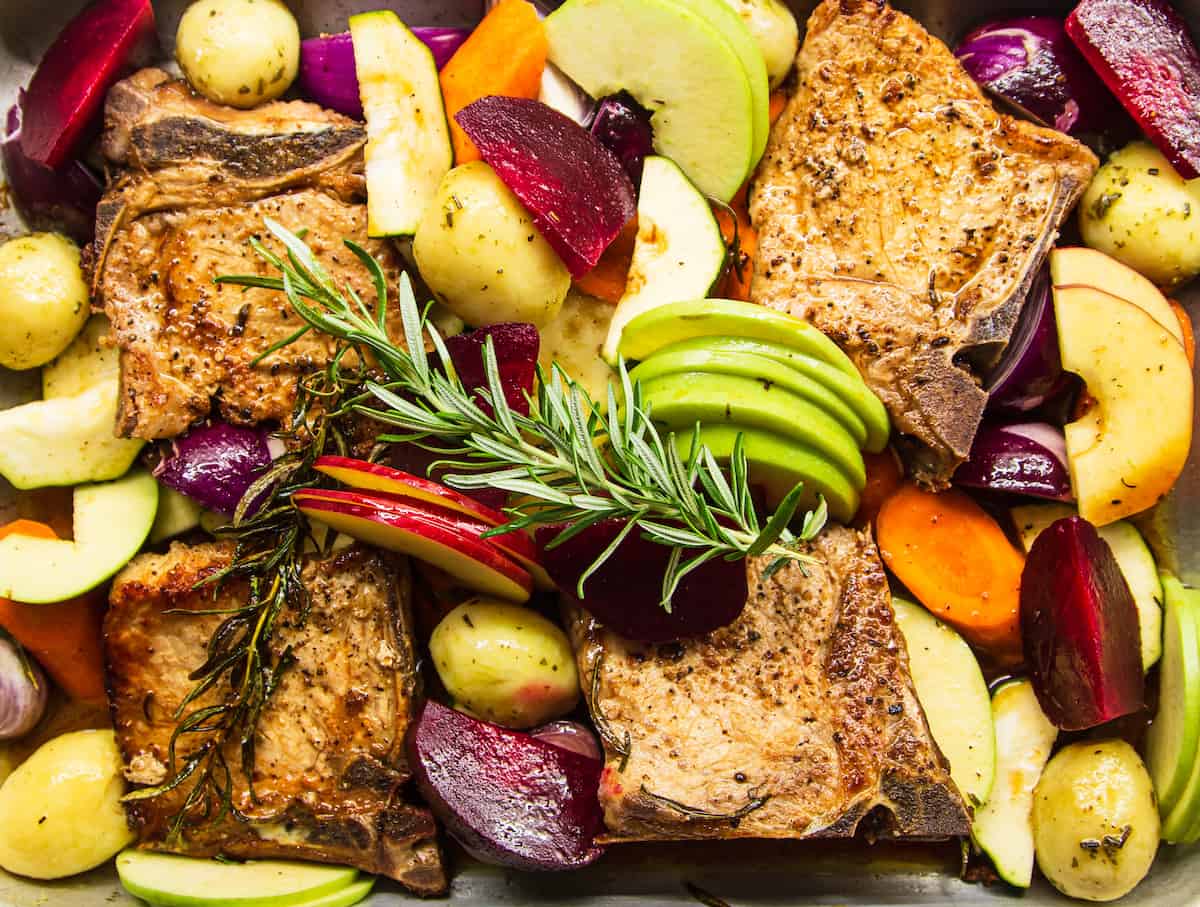 How to Store and Reheat Leftovers
To refrigerate, place leftovers pork chops with the apples, veggies, and pan juices in an airtight container. Store in the refrigerator for 3 to 4 days.
To reheat, place the leftovers, including pan juices, in a covered skillet over low to medium heat. Allow to heat until the pork chops reach a safe internal temperature again. Do not overcook, or the pork chops will be dry.
To freeze, remove any vegetables and apples and discard (they turn mushy after freezing and thawing). Freeze the pork chops in any pan juices in airtight containers for up to 2 months. Thaw in the refrigerator before reheating.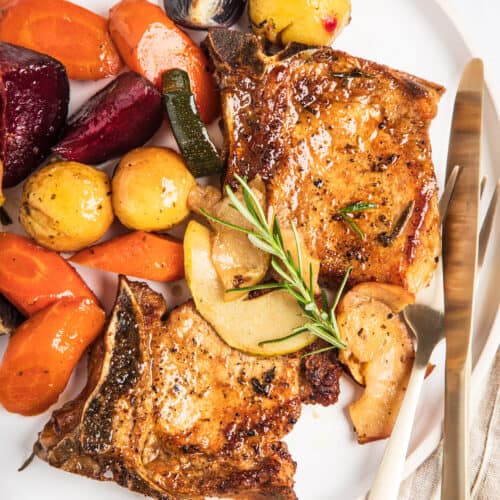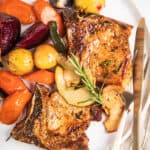 Print Recipe
Baked Pork Chops with Apples and Vegetables
Thick-cut pork chops are seared and cooked in apple juice, with a colorful collection of apples, garlic, and winter veggies.
Ingredients
4

bone-in pork chops

3

tablespoons

vegetable oil

½

cup

apple juice, or apple cider, NOT apple cider vinegar

4

tablespoons

butter

2

apples,

sliced

3

garlic cloves

1

tablespoon

honey

2

red onions,

each cut into 4 to 6 wedges

2

carrots,

cut into 1/2-inch pieces

2

beet roots,

thinly sliced

1

cup

baby potatoes,

quartered

Fresh rosemary

Salt and Pepper
Instructions
Preheat the oven to 450°F

Heat a large skillet over medium-high heat. Add the oil and butter.

Rub the pork chops with a generous amount of salt and pepper.

Once the skillet is hot, add the pork, garlic, and fresh rosemary, and sear the chops on each side for 1 to 2 minutes, or just until browned.

Pour the juice/cider and the honey in the skillet, and simmer for a minute.

Transfer the pork chops and juices to a roasting pan, and add the chopped vegetables and sliced apples. Toss to coat everything in the pan juices.

Roast for 20 to 25 minutes, or until the pork is done, and veggies are tender. Pork is done when internal temperature registers at 145˚F. Do not cook longer than that or you'll end up with dry chops.

If the pork chops cook up faster than the veggies, simply take out the pork chops, transfer to a plate, and keep covered while the veggies continue to cook.
Notes
You can use whatever vegetables you like.
As the dish roasts, the juices will reduce. The reduced juices can be drizzled over the vegetables before serving.
Nutrition
Calories:
550
kcal
|
Carbohydrates:
40
g
|
Protein:
38
g
|
Fat:
27
g
|
Saturated Fat:
12
g
|
Polyunsaturated Fat:
3
g
|
Monounsaturated Fat:
9
g
|
Trans Fat:
1
g
|
Cholesterol:
147
mg
|
Sodium:
253
mg
|
Potassium:
1194
mg
|
Fiber:
6
g
|
Sugar:
24
g
|
Vitamin A:
5520
IU
|
Vitamin C:
20
mg
|
Calcium:
82
mg
|
Iron:
2
mg
More Pork Chop Recipes