This easy recipe for Chicken Fettuccine Alfredo is made with tender white meat chicken, sauteed mushrooms, parmesan cheese, heavy cream and parsley. It's so delicious and so easy, perfect for a weeknight dinner!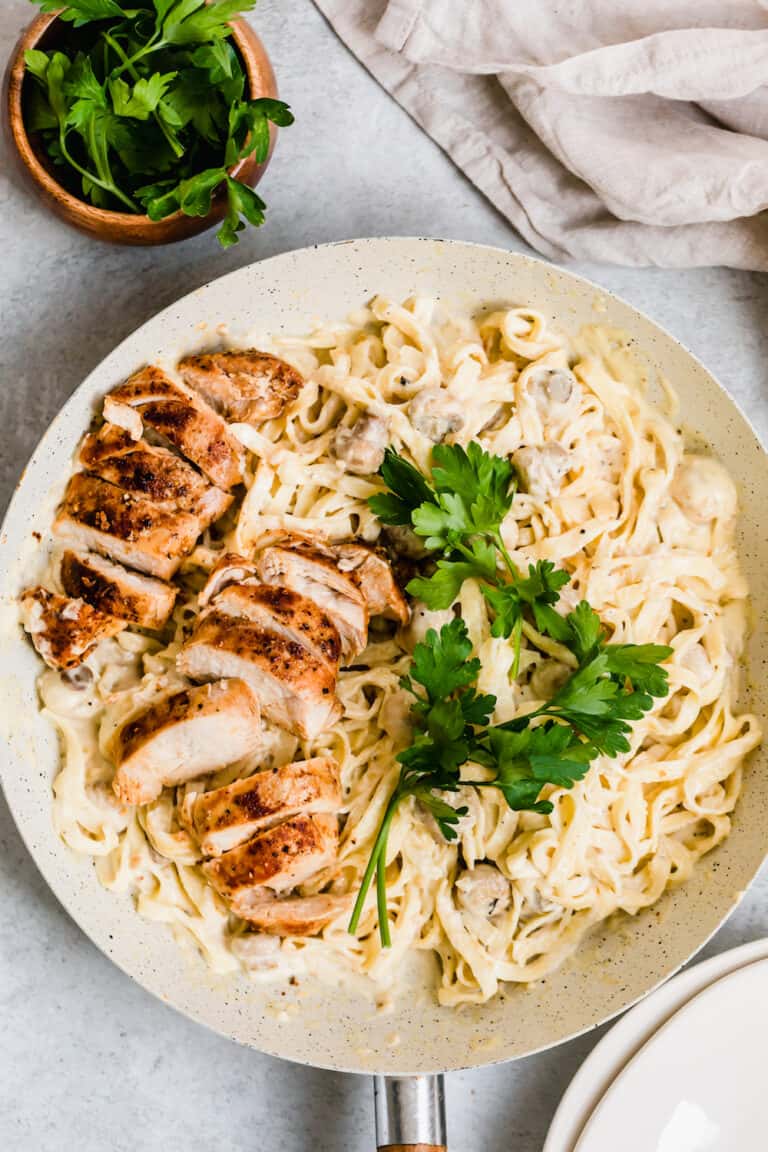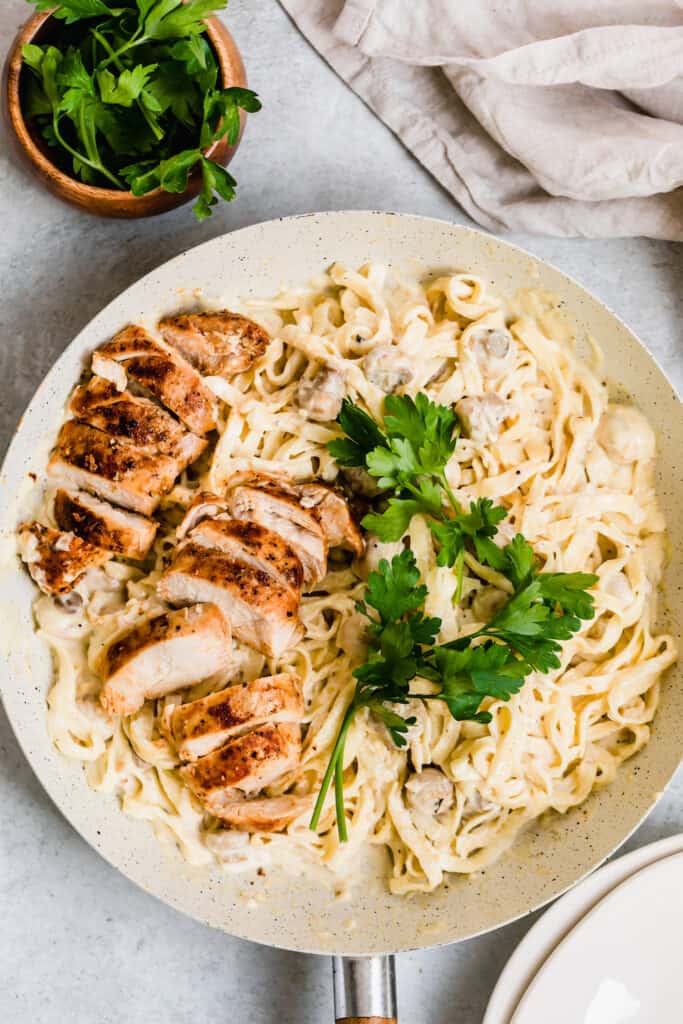 30-Minute Creamy Chicken Fettuccine Alfredo
Everyone loves spaghetti (including me), but I think a good chicken fettuccine alfredo is right up there with it. Somehow, though, it doesn't seem quite as popular. Maybe because people think that making the sauce will be time consuming? Whatever the case, this super easy recipe is a hit every time.
And, guess what? It only takes thirty minutes to make! Move over, spaghetti — there's a new family favorite in town.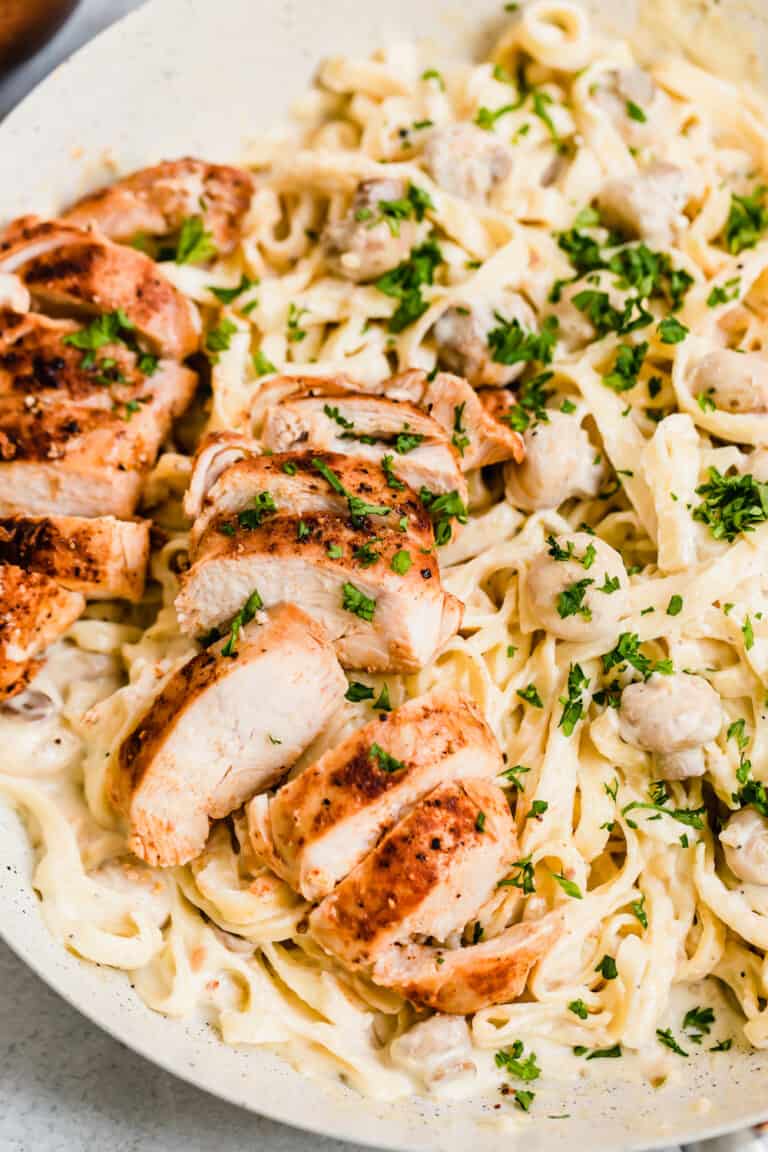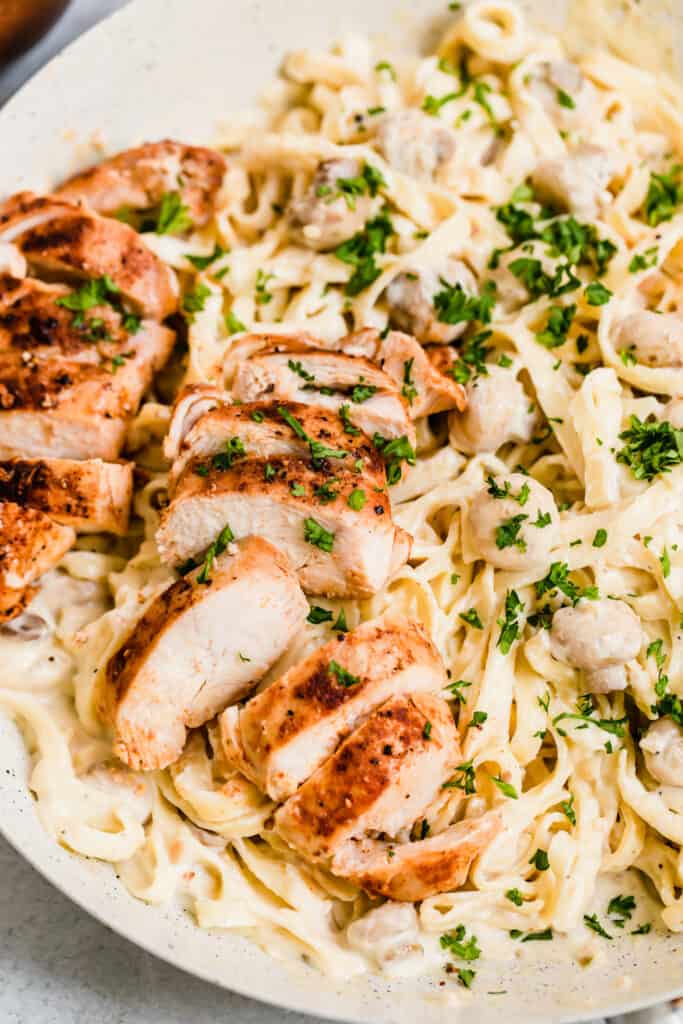 Why I Love This Recipe
One thing I love about this pasta is that it's so comforting, with its velvety, cheesy cream sauce. On a cold night (or really any night), the scent of the garlic, mushrooms and chicken fills the kitchen, and makes the whole house feel relaxed and cozy.
It's also comfort food you can really feel good about; all of the ingredients are natural, unprocessed, real food!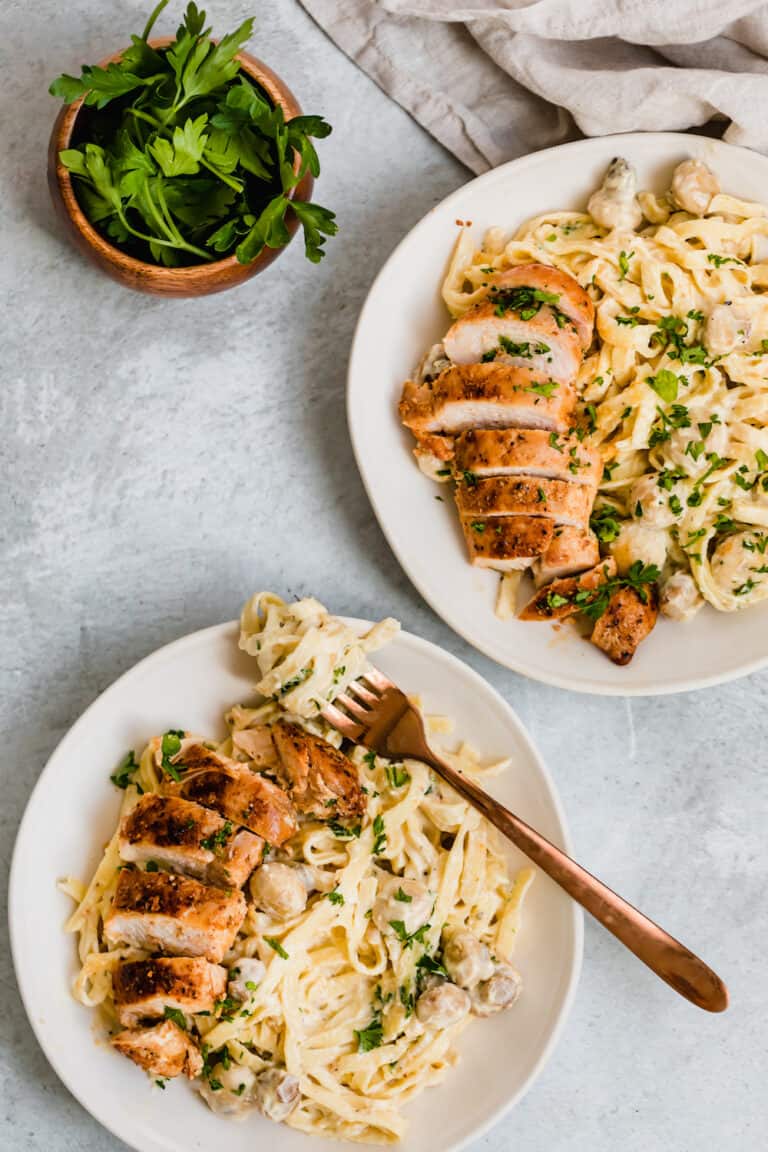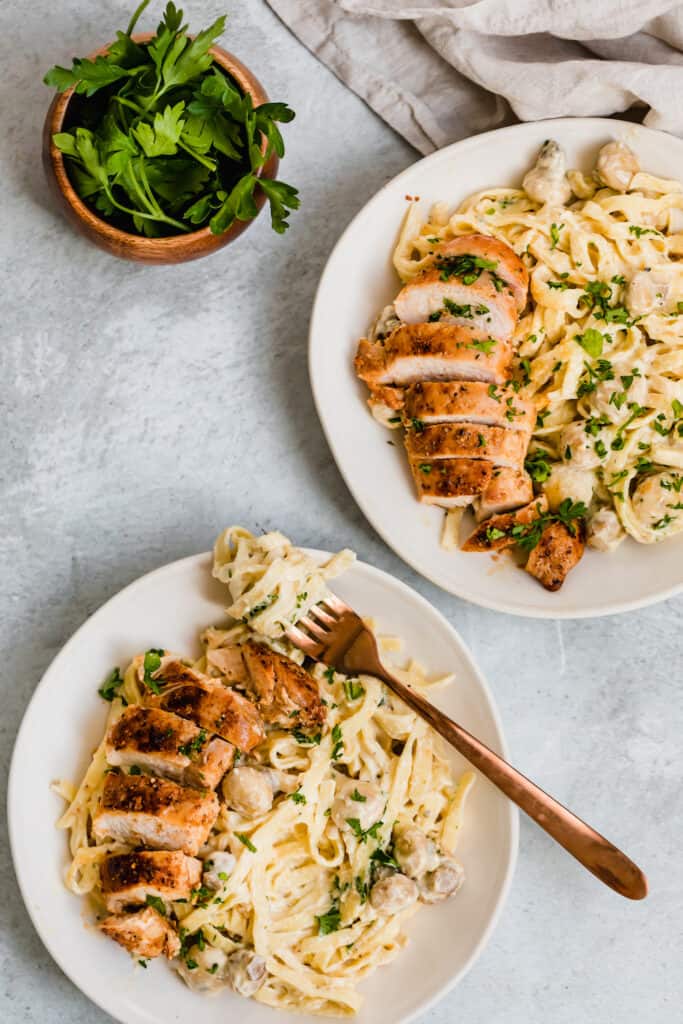 Recipe Ingredients
Talk about a little making a lot! This big, hearty meal comes together with just a few common ingredients, including chicken, cheese, pasta and cream. With those ingredients and half an hour, you'll be sitting down to a feast!
Chicken Breast: You'll need about four boneless, skinless chicken breasts. If you'd like, you can substitute boneless, skinless thighs, which are a bit more fatty and rich.
Salt, Pepper, & Paprika: A classic trio of spices to cook up the chicken nicely.
Oil: For sauteing the chicken. You don't really want butter for this, because it can't handle a longer, high-heat sauté.
Butter: For sauteing the mushrooms.
Mushrooms: I use an 8-ounce package of baby button mushrooms. You can substitute quartered porcini, or other mushrooms of your choice, in bite-sized pieces.
Fresh Garlic: Mince or press four garlic cloves. If you can't use fresh garlic, substitute half a teaspoon of powdered garlic.
Heavy Cream: You'll need just over 2 cups of heavy cream.
Parmesan Cheese: Choose finely shredded parmesan cheese, or shred your own.
Pasta: I use one pound of fettuccine pasta, cooked according to the package directions. If you need to, you can substitute fusilli, linguine, etc.
Fresh Parsley: For garnish.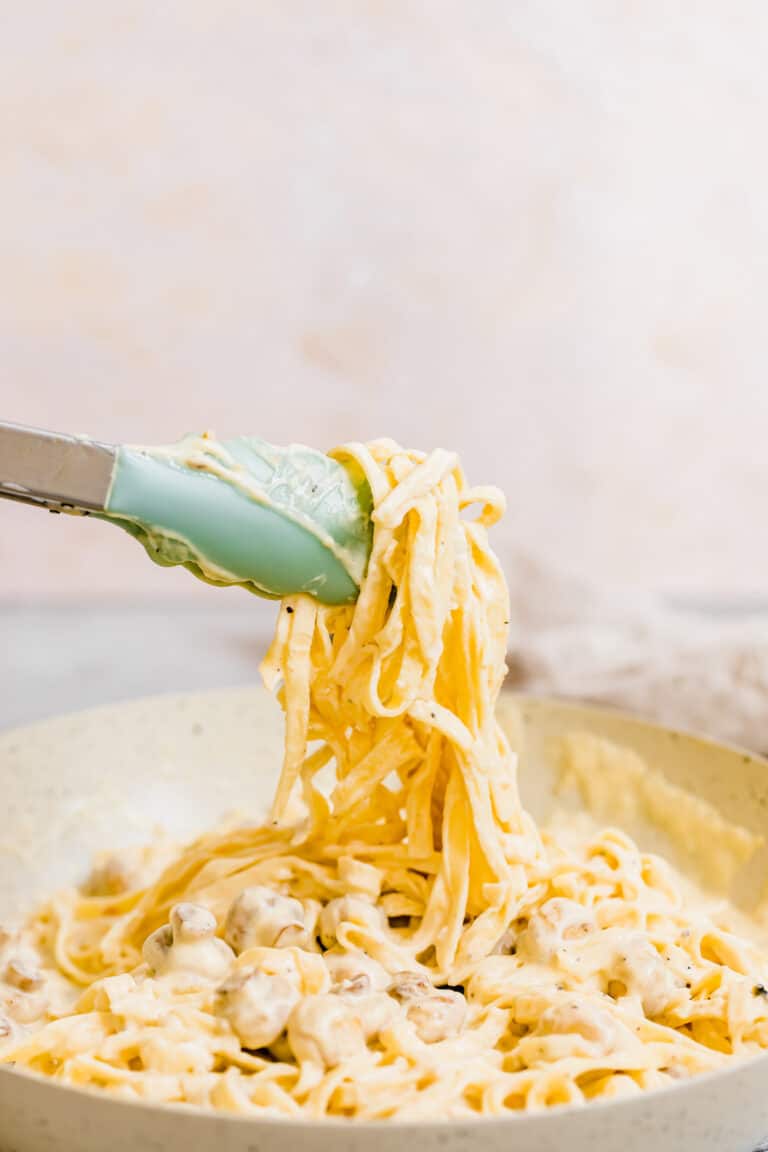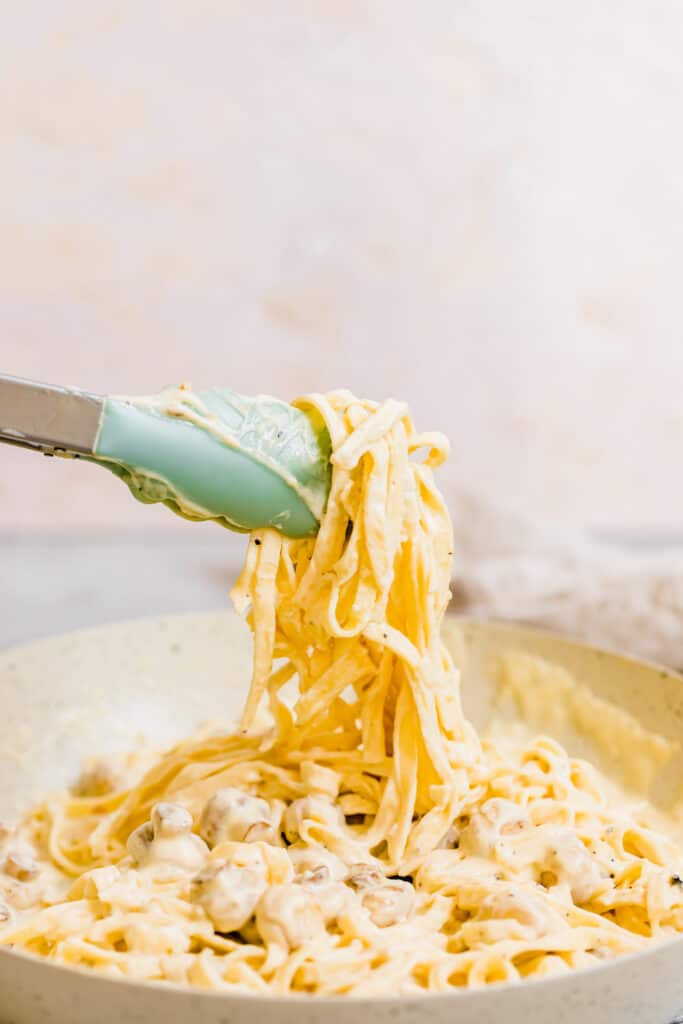 How to Make Chicken Fettuccine Alfredo
This recipe is very simple, making it perfect for busy cooks and hectic mealtimes. Just cook the chicken and slice it, then make the sauce in the pan you cooked the chicken in. Finally, add pasta. Sound good? Great! Let's get cooking!
Cook Chicken: Lightly pound the chicken breasts with a meat mallet to make even, slightly flattened portions. Season with a teaspoon of salt, half a teaspoon of pepper, and the paprika.
Heat oil in a large skillet over medium heat, and then add the chicken breast and cook until the chicken is golden brown and cooked through (about 6 to 7 minutes per side).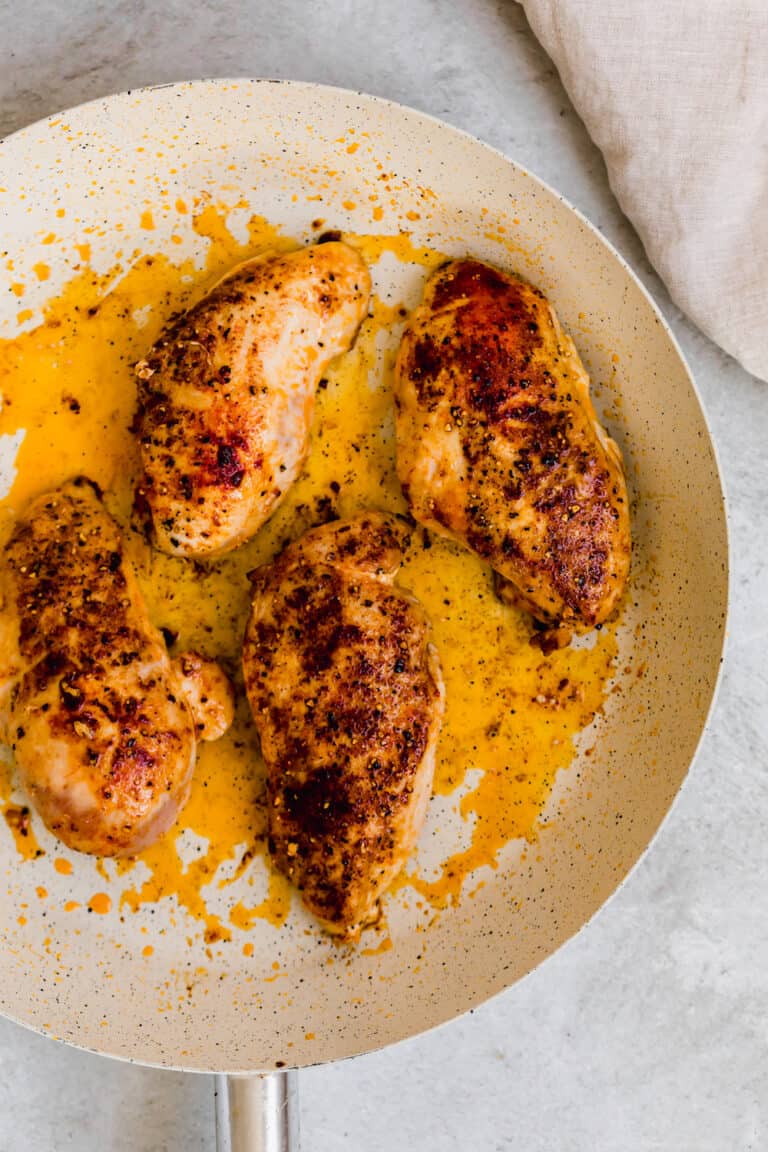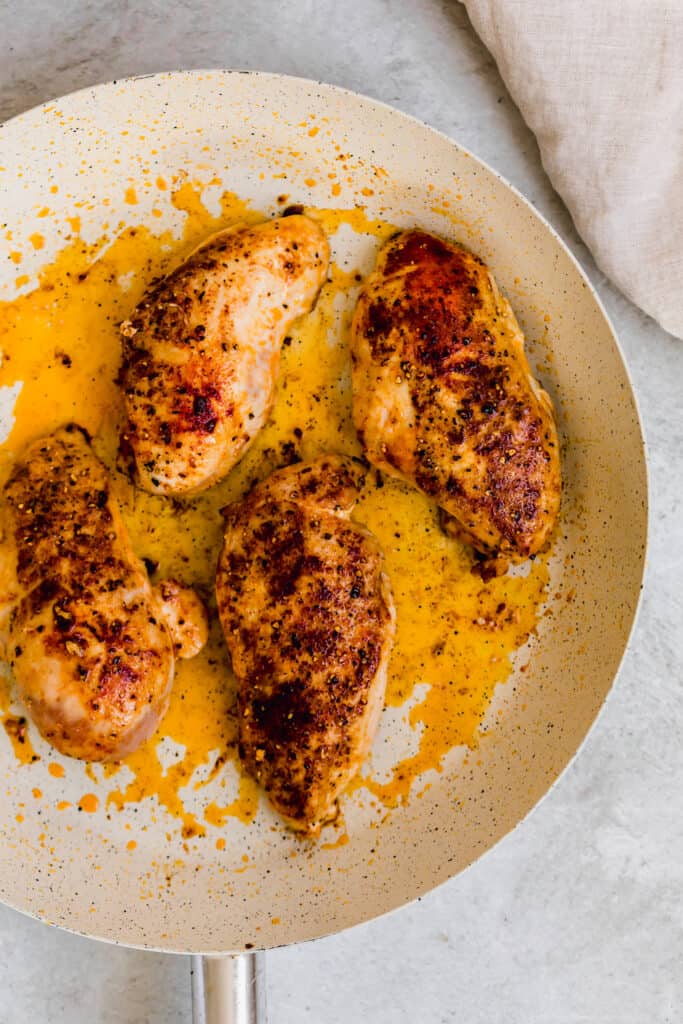 Slice Chicken: When the chicken is done, remove it from the pan and allow it to rest for five minutes. Then, cut it into 1/2-inch thick slices.
Make Sauce: Add the butter to the skillet. Once melted, add your garlic and mushrooms and cook for about five minutes. Then pour in the heavy cream, parmesan cheese, and the remaining salt and pepper. Allow it to simmer until the sauce is reduced by a third.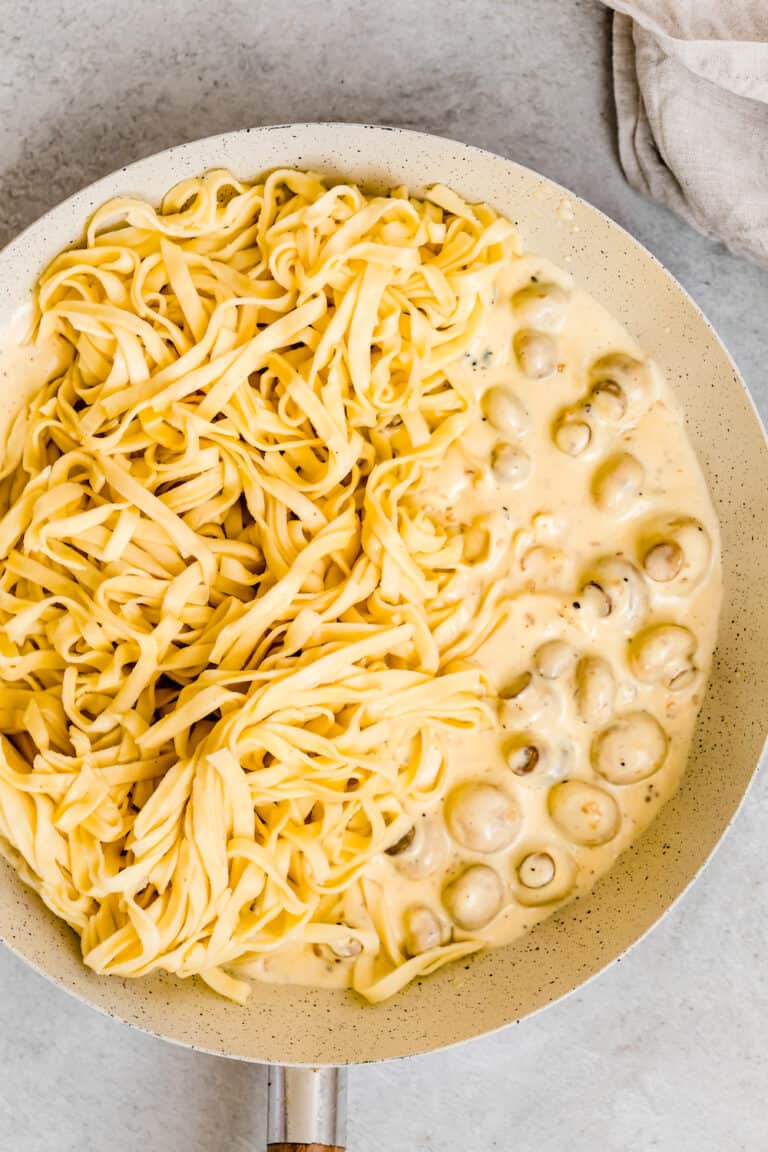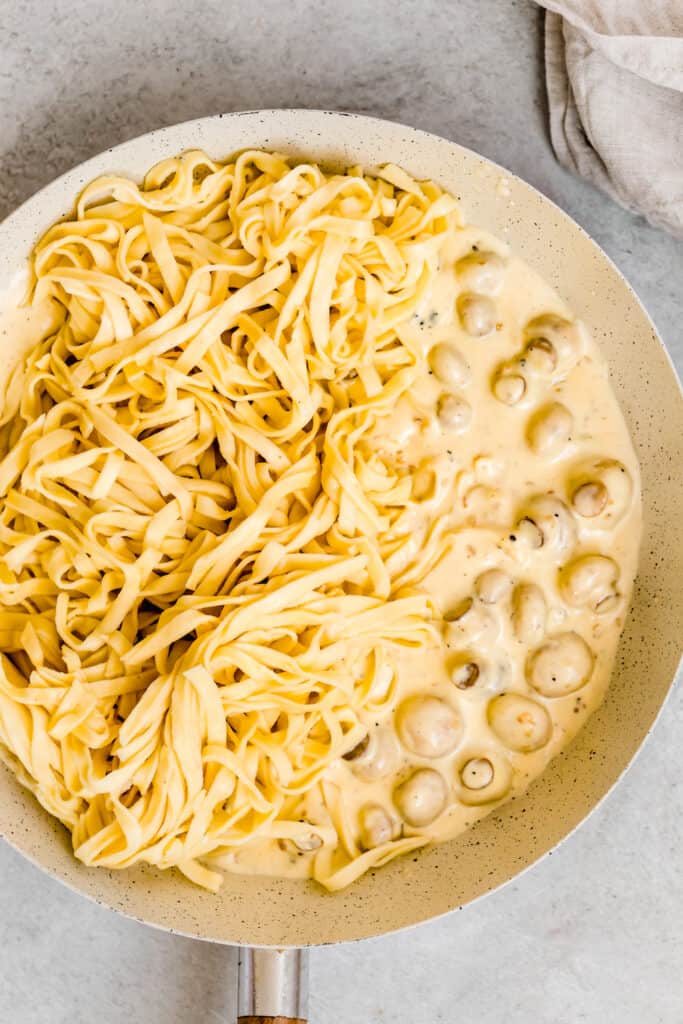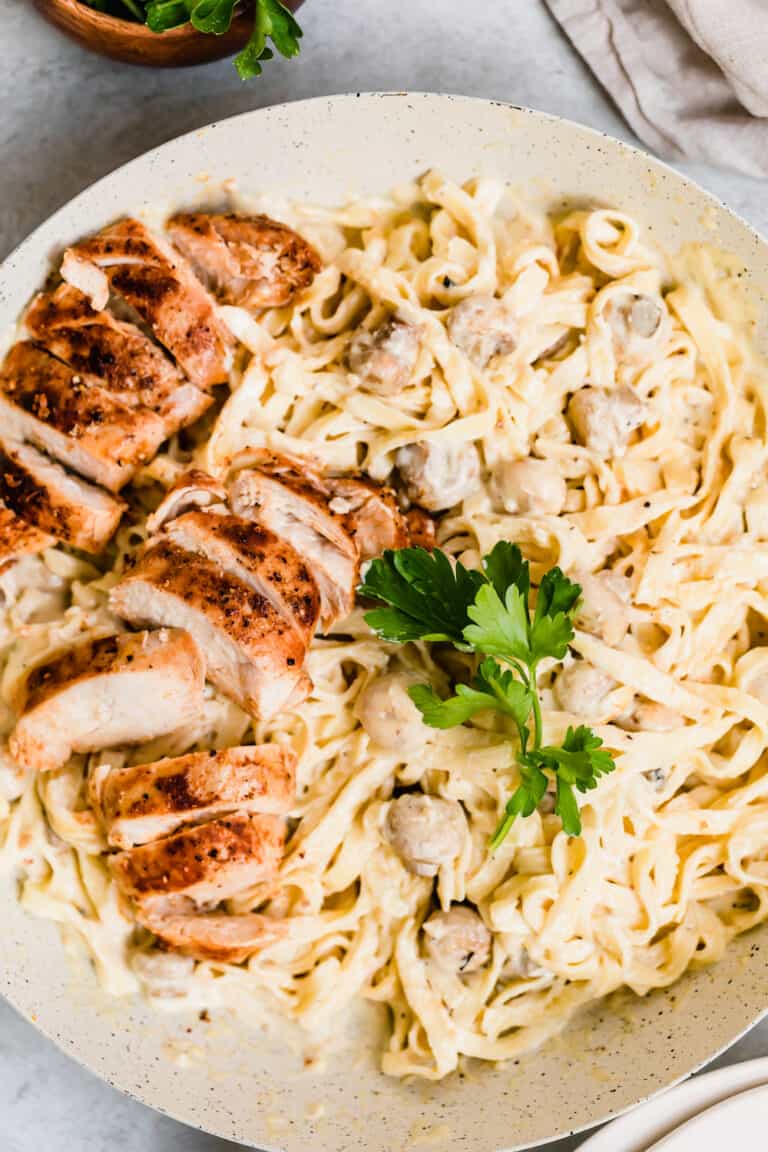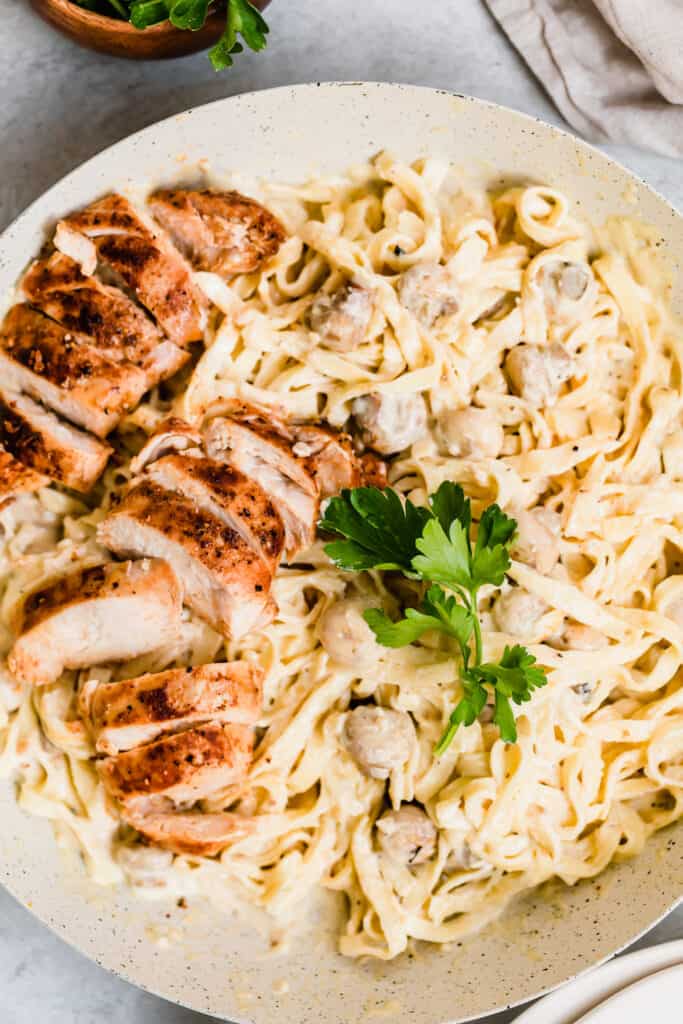 Stir in Pasta: Add the cooked pasta to the thickened sauce and mix together gently to coat. Divide into serving bowls, and top with the sliced chicken and a sprinkle of chopped fresh parsley.
Enjoy!
Tips for Success
Need a little more info? No problem! Follow these helpful tips and tricks to make the most of your ingredients and time.
Allow Time for the Pasta: Remember to start the pasta before you begin making the chicken and the sauce. It takes time for a large pot of water to come to boil, and for the pasta to cook through.
Test the Chicken: Want to make sure you get the chicken right? You can use an instant-read thermometer to see when it's cooked perfectly. Insert the thermometer carefully into the cooked chicken pieces; the temperature should be between 140°F and 150°F.
Add Veggies: Want to add a little variety? It's super easy! When you cook the pasta, just throw in some frozen peas, broccoli florets, green beans, etc., 5 minutes before the pasta is done cooking. And, don't forget to add a shake of salt!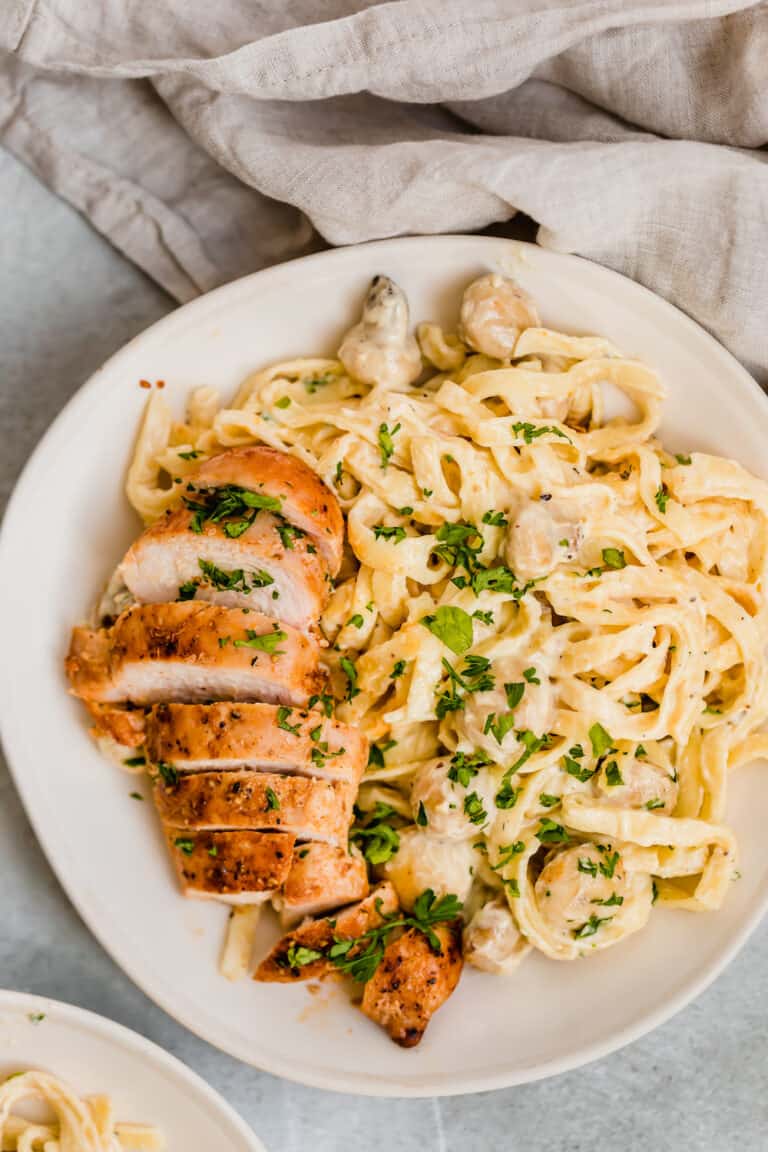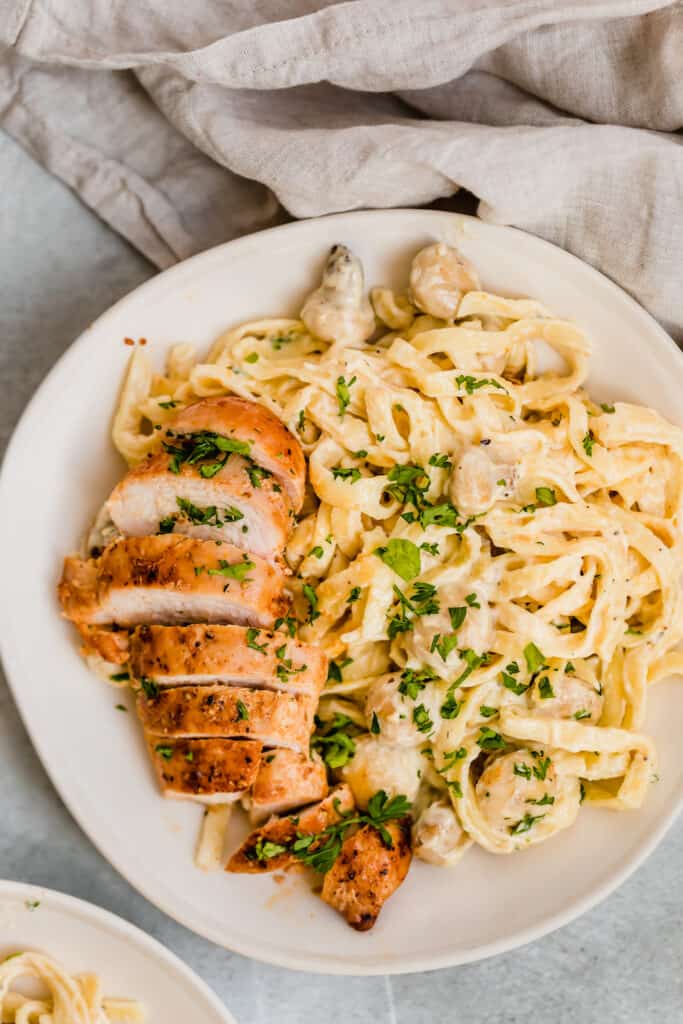 Serving Suggestions
Chicken fettuccine goes with basically everything! I personally love pairing it with other Italian recipes. You just can't go wrong with comfort food. 🥘
Bruschetta: Love basic garlic bread? Me too! I also love taking garlic bread and amping it up with this Easy Garlic Bread Bruschetta recipe! It goes perfectly with pasta, and it's so easy to make!
Soup: Keep the Italian theme alive with a bowl of this Italian Sausage Butternut Squash Soup! It's a big serving of deliciousness, especially with bruschetta and chicken alfredo. I'm getting hungry just thinking about it.
Apple Pie: Oh, guys, this is one of my favorite desserts. It's just so easy and comfy! You'll love a large square of my Dutch Apple Slab Pie as a way to round out this warm and cozy menu.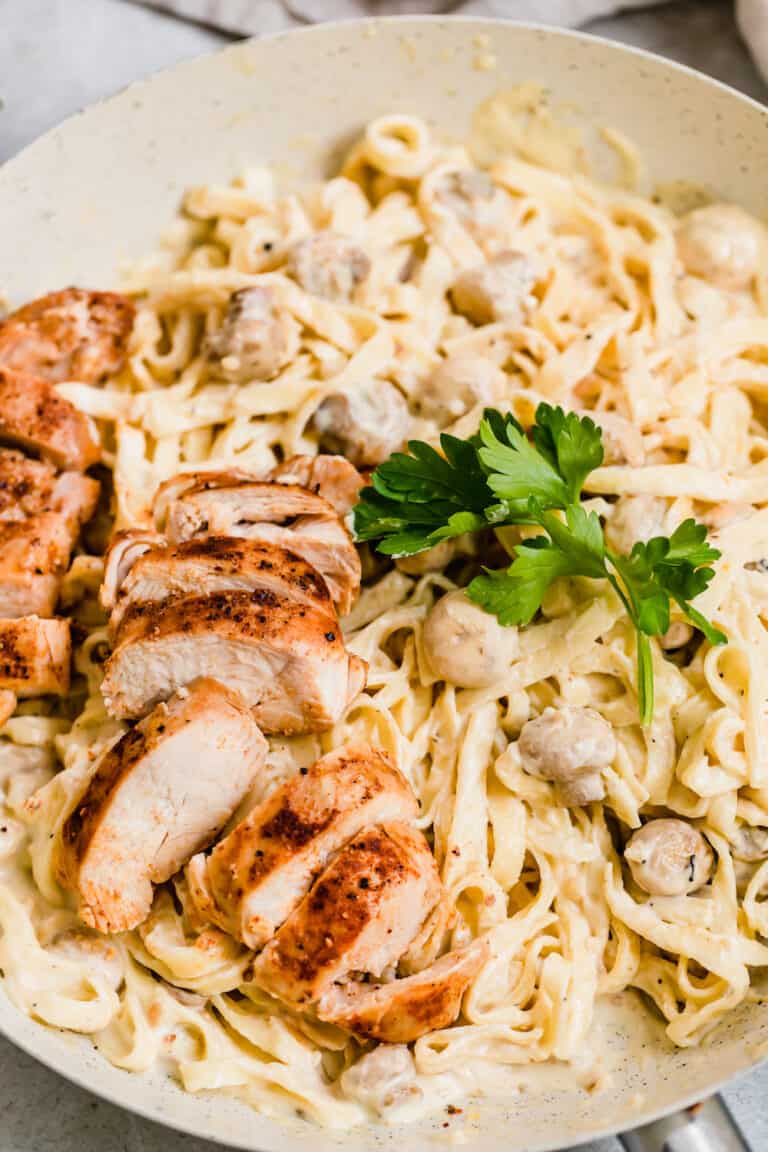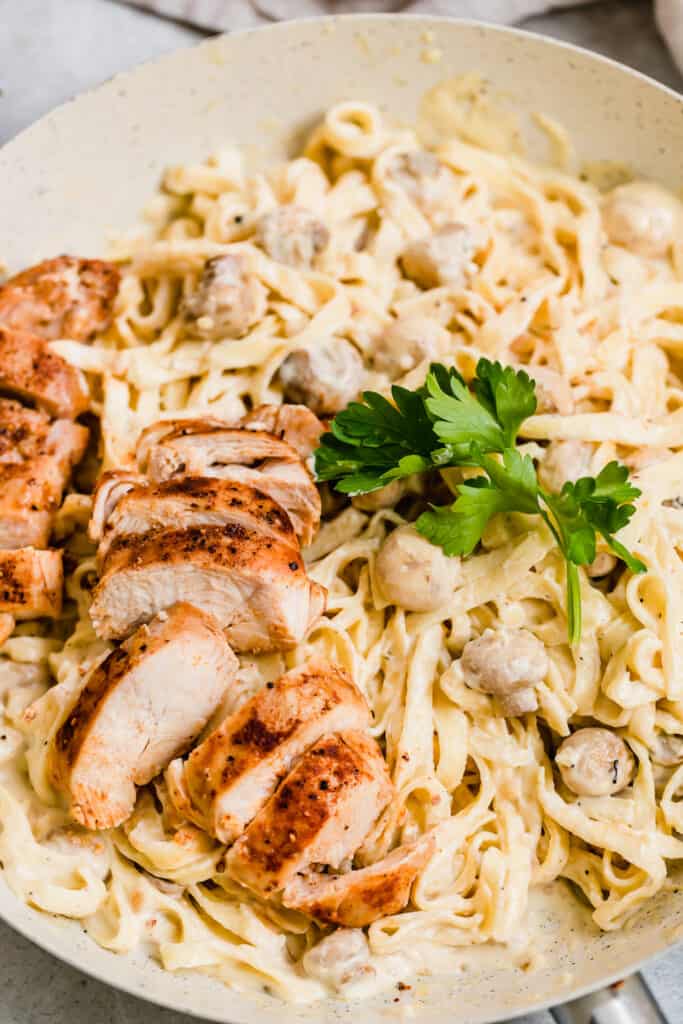 How to Store Extra Chicken Alfredo
Wondering how to store your leftover pasta? Pop it in the fridge and reheat it later! Here's how:
To Refrigerate: Place the leftovers in an airtight container, and keep it in the refrigerator for up to two days.
To Reheat: Place the desired portion in a skillet over low heat, along with a splash of cream. Reheat gently, stirring often, until heated through. You can also do this in a double-boiler.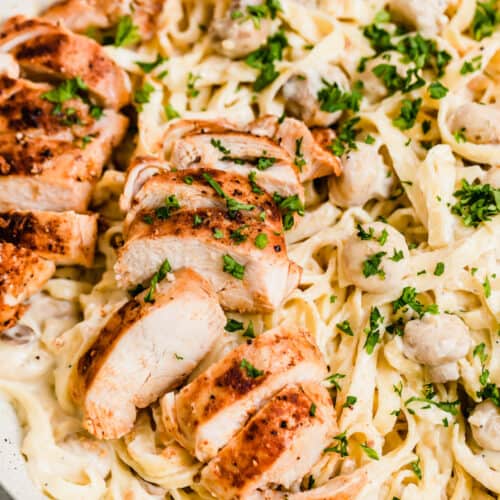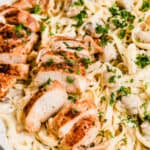 Print Recipe
CHICKEN FETTUCINE ALFREDO
This easy recipe for Chicken Fettuccine Alfredo is made with tender white-meat chicken, sauteed mushrooms, parmesan cheese, heavy cream and parsley.
Ingredients
1

pound

fettuccine pasta,

cooked

4

(1 pound, total)

boneless, skinless chicken breasts

2

teaspoons

salt,

divided

1

teaspoon

black pepper,

divided

1

teaspoon

paprika

1

tablespoon

olive oil

2

tablespoons

butter

8

ounces

baby button mushrooms

4

cloves

garlic,

minced

2 1/4

cup

heavy cream

1 1/2

cup

finely shredded Parmesan cheese

chopped fresh parsley, for garnish
Instructions
Cook pasta according to the directions on the package.

Meanwhile, lightly pound chicken breasts with a meat mallet to flatten slightly; I aim for about 1/3-inch thickness.

Season chicken breasts with 1 teaspoon salt, 1/2 teaspoon black pepper, and the paprika.

Place a large skillet over medium heat and add the olive oil.

Once oil has heated, add the chicken breasts and cook for 6 to 8 minutes on each side, or until chicken is golden brown and cooked through. The thinner the chicken, the faster it will cook.

Remove chicken breasts from the skillet and allow to rest for 5 minutes; then, cut into 1/2-inch thick slices.

In the meantime, add butter to the skillet and set it over medium heat. Once melted, add mushrooms and garlic; cook for 5 minutes, or until mushrooms are tender.

Pour in the heavy cream and add parmesan cheese; season with remaining salt and pepper.

Mix together and allow sauce to simmer and reduce by 1/3. Sauce should be thickened slightly and coat the back of a spoon.

Add the pasta to the thickened sauce and gently mix together to coat.

Divide the pasta into serving bowls and top with the sliced chicken; add a sprinkle of chopped fresh parsley and serve.
Nutrition
Calories:
859
kcal
|
Carbohydrates:
60
g
|
Protein:
40
g
|
Fat:
52
g
|
Saturated Fat:
29
g
|
Cholesterol:
266
mg
|
Sodium:
1331
mg
|
Potassium:
698
mg
|
Fiber:
3
g
|
Sugar:
3
g
|
Vitamin A:
1879
IU
|
Vitamin C:
3
mg
|
Calcium:
369
mg
|
Iron:
2
mg
More Pasta Dinner Ideas
Want more yummy pasta recipes? These ones are the best of the best!