This perfect white pizza balances tender white meat chicken, vibrant and healthy spinach, and cheesy alfredo sauce for a meal the whole family will crave. Plus, Chicken Alfredo Pizza is super simple and quick to make!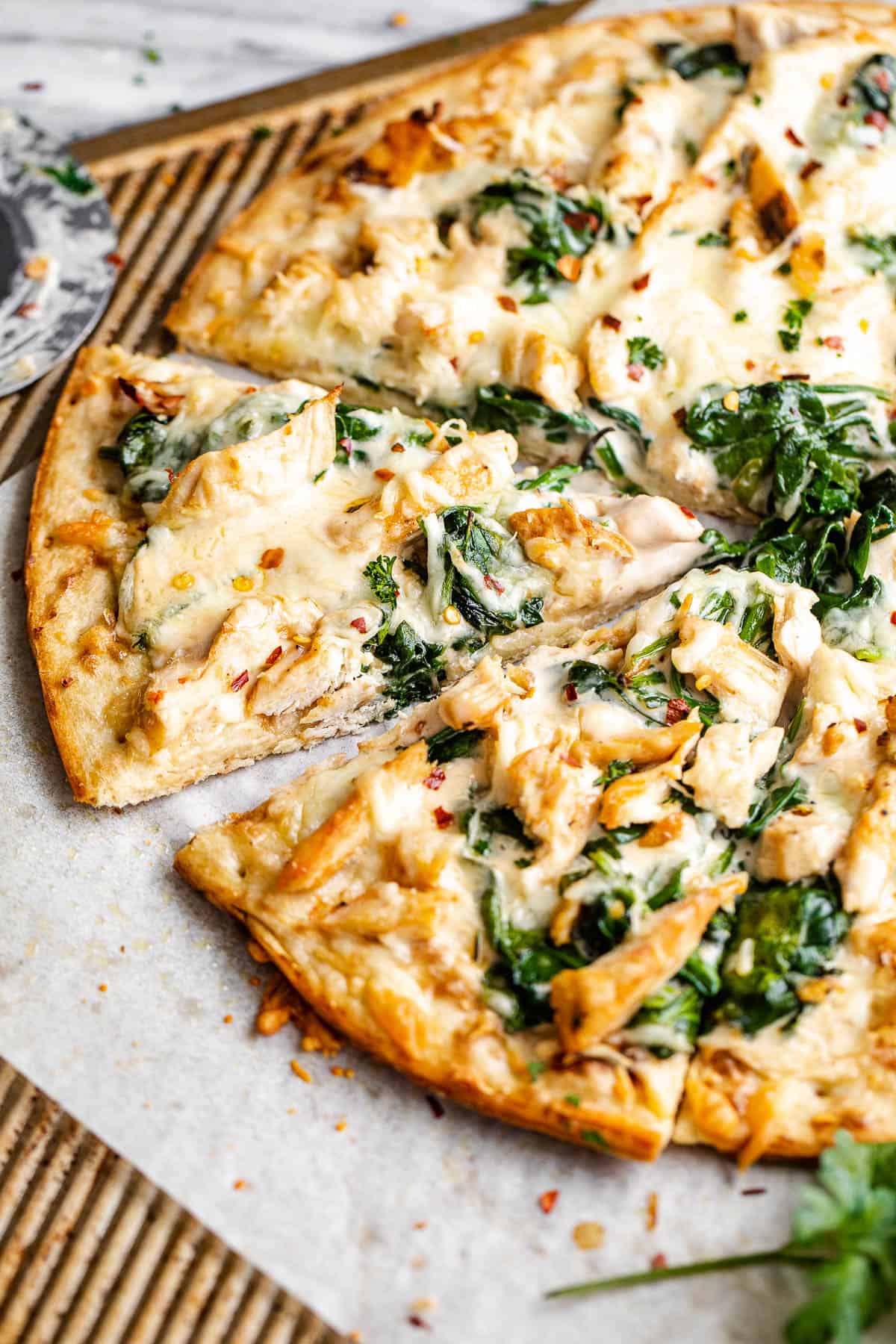 An Easy White Pizza Recipe with Chicken
When I make pizza, I almost always use red sauce, but lately I've been getting more into white pizzas! These delicious versions of more traditional pizza are "white" because they use an alfredo-like sauce in place of ordinary tomato-based pizza sauce, and they're absolutely delicious.
A white pizza can have just about anything on it, from caramelized onions to fresh tomato slices to Italian sausage, but a combination I've seen often in restaurants is simply the white sauce, some cheese, and a sprinkling of sauteed spinach. It's a simple and tasty combination, when done right!
For this recipe, I decided to add shredded white meat chicken to a white pizza with spinach. Shredded chicken is something a lot of people like to keep on hand, to put in salads, sandwiches, or soups. Well, I'm here to say that it's also ah-mazing on pizza!
And, when you make this chicken-topped pizza with alfredo sauce, fresh sauteed spinach, and a melty layer of white cheese, you've got yourself a perfect homemade chicken alfredo pizza!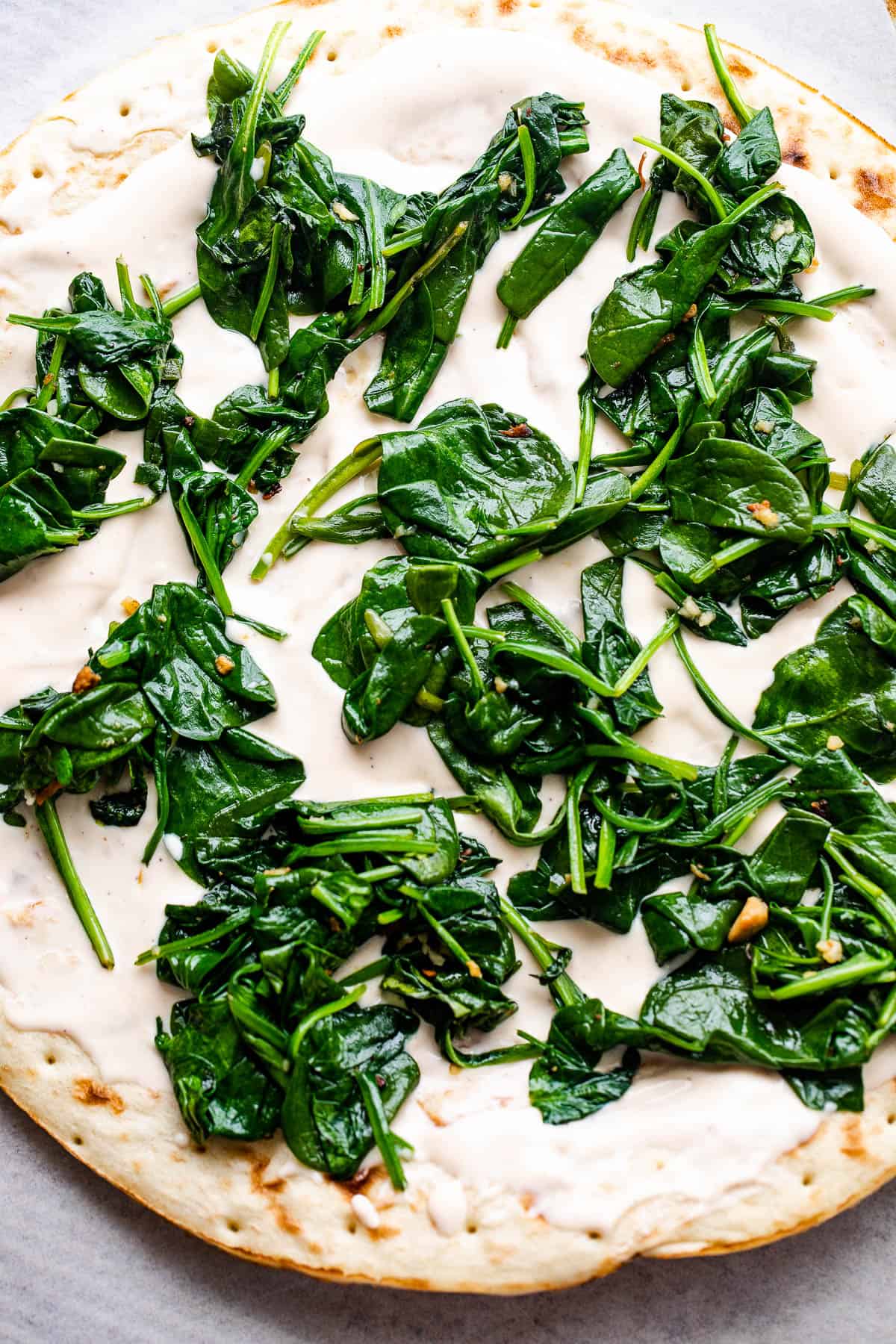 Recipe Ingredients
You'll notice that I use a standard prepared pizza crust here, as well as prepared Alfredo sauce. This keeps things simple and allows me to make this pizza at a moment's notice. But, if you would like to make your own crust, or sauce, or both, go for it!
Pizza Crust: I use a 12-inch prebaked pizza crust, like the unrefrigerated Boboli brand. They're usually sold near the pizza sauce.
Alfredo Sauce: You'll need about ¾ a cup prepared alfredo sauce.
Olive Oil: For sauteing the spinach, just about ½ a tablespoon.
Fresh Spinach: I use a large container of baby spinach, about 8 to 10 ounces. It looks like a lot, but it cooks down to just a fraction of its volume.
Fresh Garlic: Press or mince two cloves of fresh garlic. It's so delicious in this recipe!
Salt and Pepper
Shredded Chicken Breast: You can use leftover rotisserie chicken, or just make some ahead. Either way, you'll want about two cups' worth.
Cheese: Mozzarella or Parmesan will work — or you can use a combo of both. Best of both worlds!
Crushed Red Pepper Flakes: I like to sprinkle these over for a tasty (and slightly spicy) garnish, but you can omit them if you wish.
How to Make Chicken Alfredo Pizza
Guys, this is seriously such an easy recipe! If you can make grilled cheese, you can definitely make this. And, it all comes together very quickly, so it's a great option not only for a weekend pizza night, but also for busy school nights.
Prep Oven & Crust: Preheat your oven to 425˚F. Then, place the pizza crust on a baking sheet, and spread ½ cup of your prepared alfredo sauce evenly over it. Set aside.
Sauté Spinach: Heat the olive oil in a skillet over medium-high heat. When the oil is hot, add the spinach to the skillet and cook until wilted. You may have to add the spinach a cup or two at a time as it wilts down, in order for all of it to fit in the skillet. Stir in the garlic and cook for 15 seconds, or until fragrant; then season with salt and pepper and remove from the heat.
Finish Assembling Pizza: Distribute the spinach mixture evenly over the pizza crust. Follow with the cooked shredded chicken, spoonfuls of the remaining alfredo sauce, and the cheese. Try to distribute all the toppings evenly.
Bake: This pizza needs to bake for around twelve minutes, or until the cheese is melted and starting to turn golden brown in places. When done, remove it from the oven and garnish with red pepper flakes (if using). Let cool slightly, then cut and serve.
Enjoy!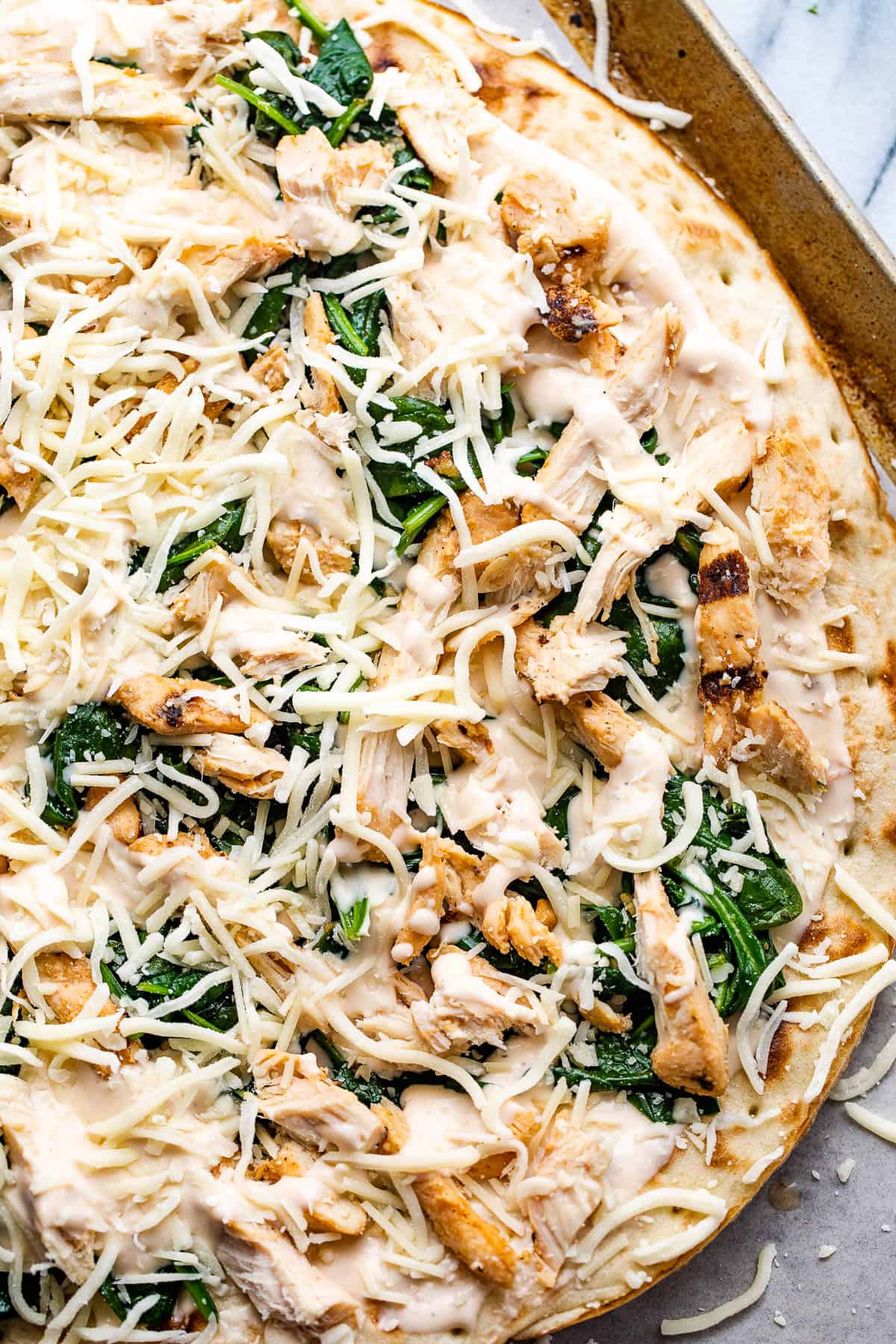 Tips for the Best Homemade Pizza
Want more ideas for making amazing homemade pizza? Don't forget about these helpful tips.
Flavor the Crust: Did you know you can flavor your pizza crust? It's so easy, and it adds so much flavor. I like to brush mine with butter, and then sprinkle it with spices. You can also brush it with olive oil or avocado oil. For the spices, you can use garlic and onion powders, homemade dry ranch seasoning, Cajun spices, or whatever you love.
Bake on a Stone: Even with a prepared crust, I find that pizza comes out crispier and tastier if you can bake it on a pizza stone. No stone? Try using a large cast-iron skillet or griddle instead. Place it in the oven for a couple minutes before you bake the pizza so it can heat up.
Top with All the Things! If you're willing to do a little pre-sauteing, you can add all kinds of delicious toppings here. From mushrooms to onions to peppers to fresh zucchini or tomato, the options are endless. And don't even get me started on teaspoons of pesto, or marinated banana peppers, or black olive slices… I'm drooling just thinking about it!
Serving Suggestions
As satisfying as pizza can be, sometimes you need a tasty side to supplement it! Here are some simple serving ideas for your next pizza night.
Salad: The fresh crunch of salad just goes so well with pizza! Most of the time, I go with a simple chopped salad or garden salad, but a fruity alternative like this Fruit Salad with Honey Lime Dressing would also be scrumptious!
Soup: I've said it before and I'll say it again: if you like breadsticks with soup, you are gonna love pizza with soup! This alfredo pizza goes amazingly with my Italian Sausage Butternut Squash Soup; the flavors were just meant to be. Plus it's super healthy and filling!
Dueling Pizzas: Just one pizza usually isn't enough for my family, so I'll often make a couple of pizzas for dinner. This Grilled Pizza Capricciosa uses a red sauce, ham, cheese, and a medley of veggies. Healthy, flavorful, and the perfect contrast to our creamy Alfredo version here.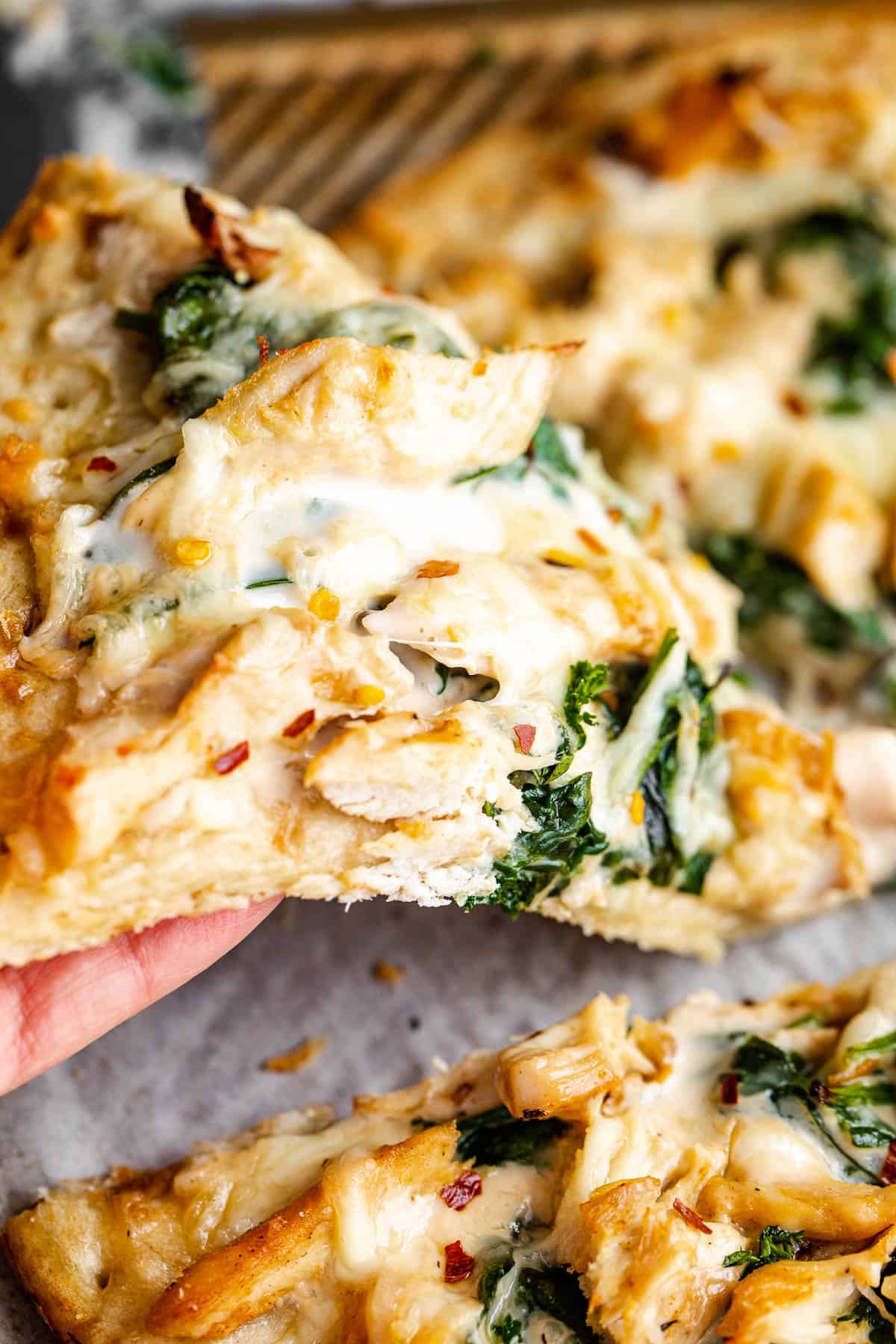 How to Store and Reheat Leftovers
Storing leftover alfredo pizza is not a problem, and it's easy to reheat your leftovers!
To Refrigerate: Wrap or cover tightly and place in the refrigerator for up to three days.
To Reheat: Place slices on a baking sheet or heated pizza stone in a 425˚F oven. Bake until just heated through. Try not to overbake, or the chicken will dry out.
Can You Freeze Chicken Alfredo Pizza?
Definitely freeze your leftovers! It's great to stash pizza slices in the freezer for a quick lunch or snack. I like to wrap mine in plastic wrap, slice by slice, and then place the slices in a large food storage bag.
They'll keep for up to two months, and can be reheated from frozen in the oven following the instructions above.
You can also freeze the whole pizza before baking; just assemble it, and place it in the freezer until frozen solid. Wrap well in a layer of plastic wrap, followed by foil. The pizza will keep for up to three months in the freezer, and can be cooked directly from frozen.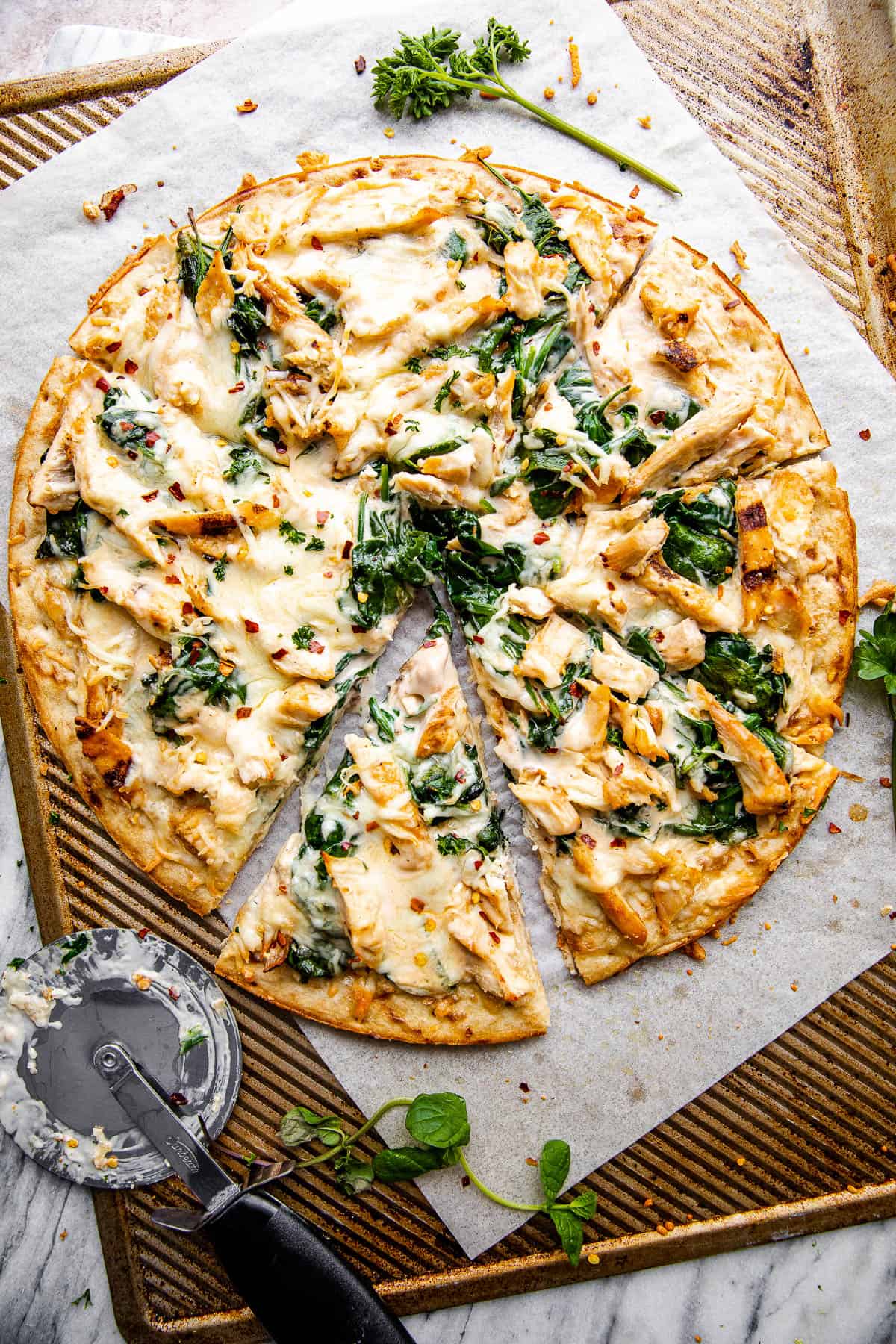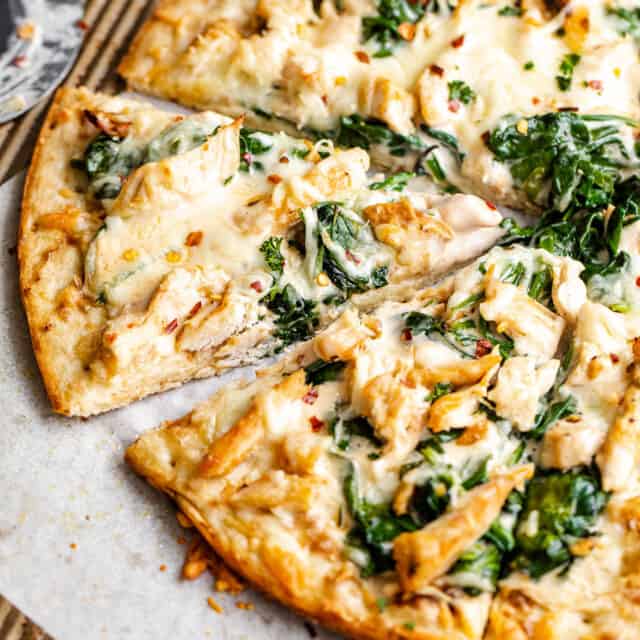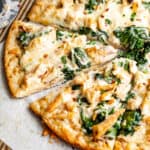 Print Recipe
Chicken Alfredo Pizza
This perfect white pizza balances tender white meat chicken, vibrant and healthy spinach, and cheesy alfredo sauce for a meal the whole family will crave. Plus, this Chicken Alfredo Pizza is super simple and quick to make!
Instructions
Preheat oven to 425˚F.

Place the pizza crust on a baking sheet (or a pizza stone) and spread ½ cup alfredo sauce over the crust; set aside.

Heat olive oil in a skillet set over medium-high heat.

Add spinach to the skillet and cook for 2 minutes, or until wilted.

Stir in the garlic and cook for 15 seconds, or until fragrant.

Season with salt and pepper; stir and remove from heat.

Add the spinach mixture evenly over the pizza crust.

Add the shredded chicken.

Top with remaining alfredo sauce.

Sprinkle shredded cheese over the top.

Bake for 12 minutes, or until cheese is melted and crust is lightly browned on the edges.

Remove from oven.

Garnish with red pepper flakes.

Cut and serve.
Nutrition
Calories:
359
kcal
|
Carbohydrates:
35
g
|
Protein:
22
g
|
Fat:
15
g
|
Saturated Fat:
6
g
|
Cholesterol:
66
mg
|
Sodium:
936
mg
|
Potassium:
334
mg
|
Fiber:
2
g
|
Sugar:
5
g
|
Vitamin A:
3659
IU
|
Vitamin C:
11
mg
|
Calcium:
116
mg
|
Iron:
3
mg
More Easy Dinner Ideas
Want more easy weeknight meals to feed your family? The following recipes are always a hit at our house!