Thick, creamy, and sweet, with an undeniable tangy taste, this Cream Cheese Frosting is the perfect partner for your favorite cake! Plus, it comes together in minutes, and is practically foolproof.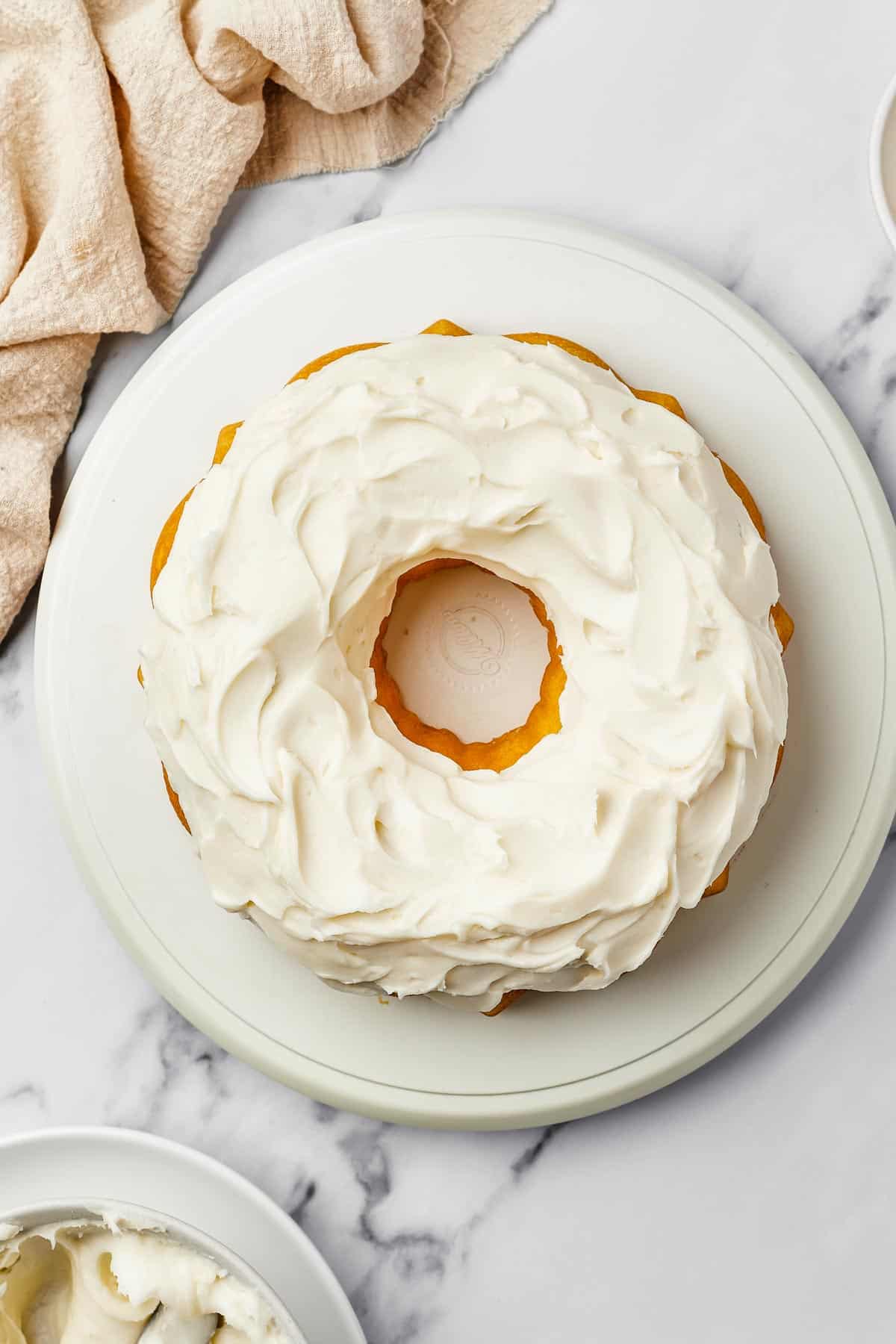 The Perfect, Fluffy Frosting, from Scratch!
There are frosting people, and there are cake people. Which one are you? I think we all know someone who would gladly give up their share of cake to get more frosting, and vice versa. For my part, I'm a major fan of both! But, once you taste this sweet cream cheese frosting, you might just join Team Frosting. It's that good!
Made with a handful of simple, wholesome ingredients, this frosting is a breeze to pull together, arguably easier than buttercream and definitely simpler than a boiled icing or tricky glaze. All you have to do is beat the ingredients together until smooth, and you're good to go. So, are you ready to make some cream cheese frosting? Me too! 🙋‍♀️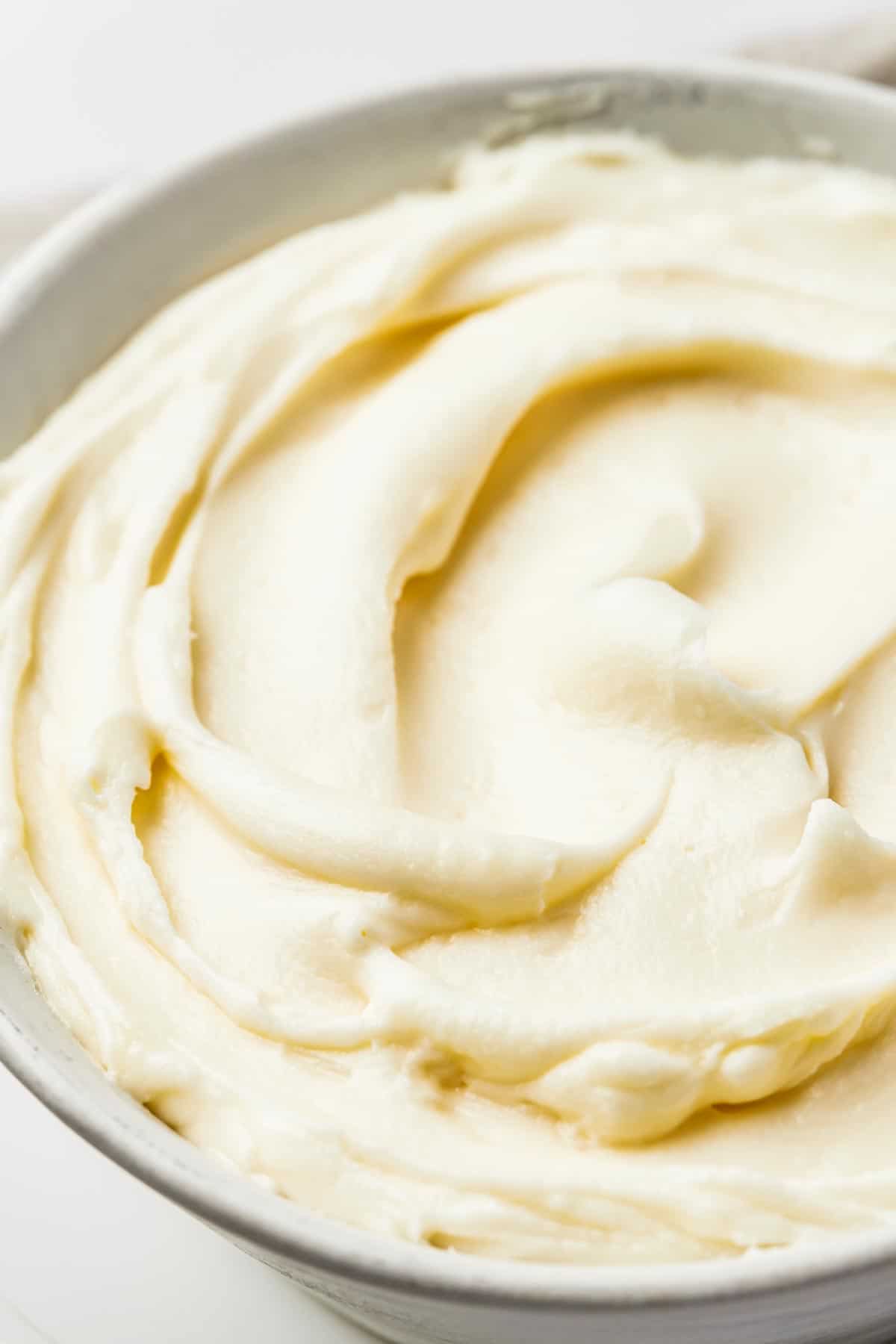 Is Cream Cheese Frosting Less Sweet Than Buttercream?
You may be wondering if cream cheese frosting is as sweet as traditional buttercream. It really depends on how much sugar you add, but I will say that the tangy freshness of the cream cheese and vinegar (or lemon juice, if you go that route) gives this recipe a lift, and makes it seem less sweet than buttercream.
Thus, if you feel that traditional buttercream is a bit much, you may find that cream cheese frosting is just what you were looking for.
This Recipe Is…
Ultra-smooth and rich
An fun change from regular buttercream
Tangy and refreshing
A natural complement to rich, flavorful cakes and cupcakes like red velvet, lemon cake, spice cake, and more
Quick and easy to make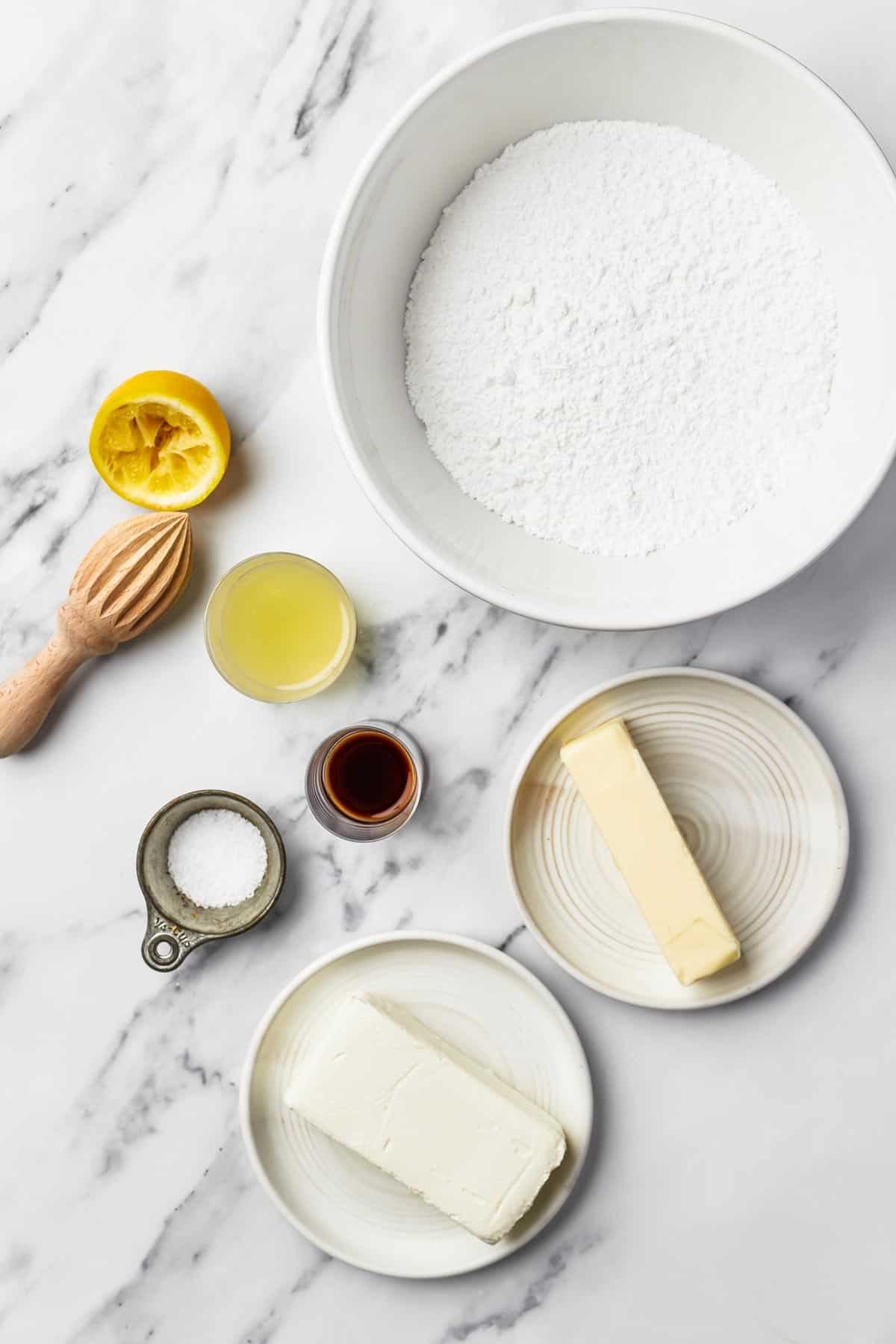 What Is Cream Cheese Frosting Made Of?
To make your own fluffy cream cheese frosting, all you need are six basic ingredients. Keep in mind that you'll need full-fat cream cheese for the recipe to work best! Substitutions may have slightly different results, so be sure to test them out ahead of time if you're experimenting.
Cream Cheese: Full-fat cream cheese is usually sold by the "block," but it can also be sold by the tub. Avoid cream cheese labeled "spread" or "whipped." Bring the cream cheese to room temperature before using.
Butter: I like to use unsalted butter, but salted is fine, too. You may want to reduce the ¼ teaspoon of salt in the recipe, if you use salted butter. Bring the butter to room temperature as well.
Vanilla: Pure vanilla extract gives the best flavor.
Vinegar: Plain white vinegar.
Salt
Powdered Sugar: This makes the frosting light and gives it the right texture and, of course, sweetness.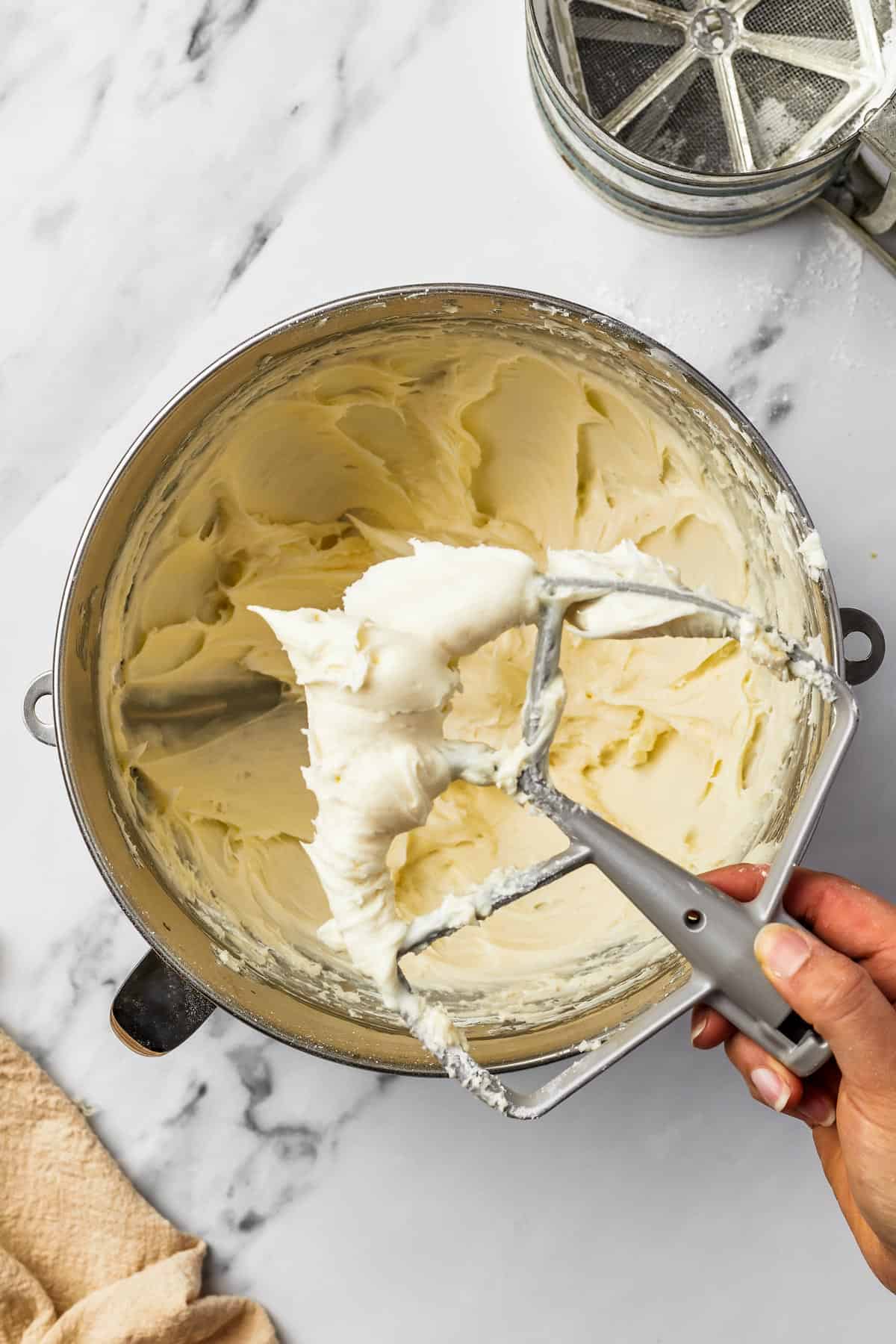 How to Make It
Making your own frosting couldn't be easier! This recipe doesn't include any special techniques or cooking methods – just mixing. I like to make it in a stand mixer, but a hand mixer and bowl would do just fine.
Cream the Butter and Cream Cheese. Attach the paddle attachment in your stand mixer, and place the softened cream cheese and butter in the bowl. Beat these on medium speed, until they are smooth and creamy.
Add the Remaining Ingredients, Except Sugar. Next, mix in the vanilla, vinegar, and salt. Beat on low speed to combine.
Add the Powdered Sugar. Finally, mix in the powdered sugar. Do this one cup at a time, using low speed. Once all of the sugar is added and the mixture is smooth, the frosting is ready.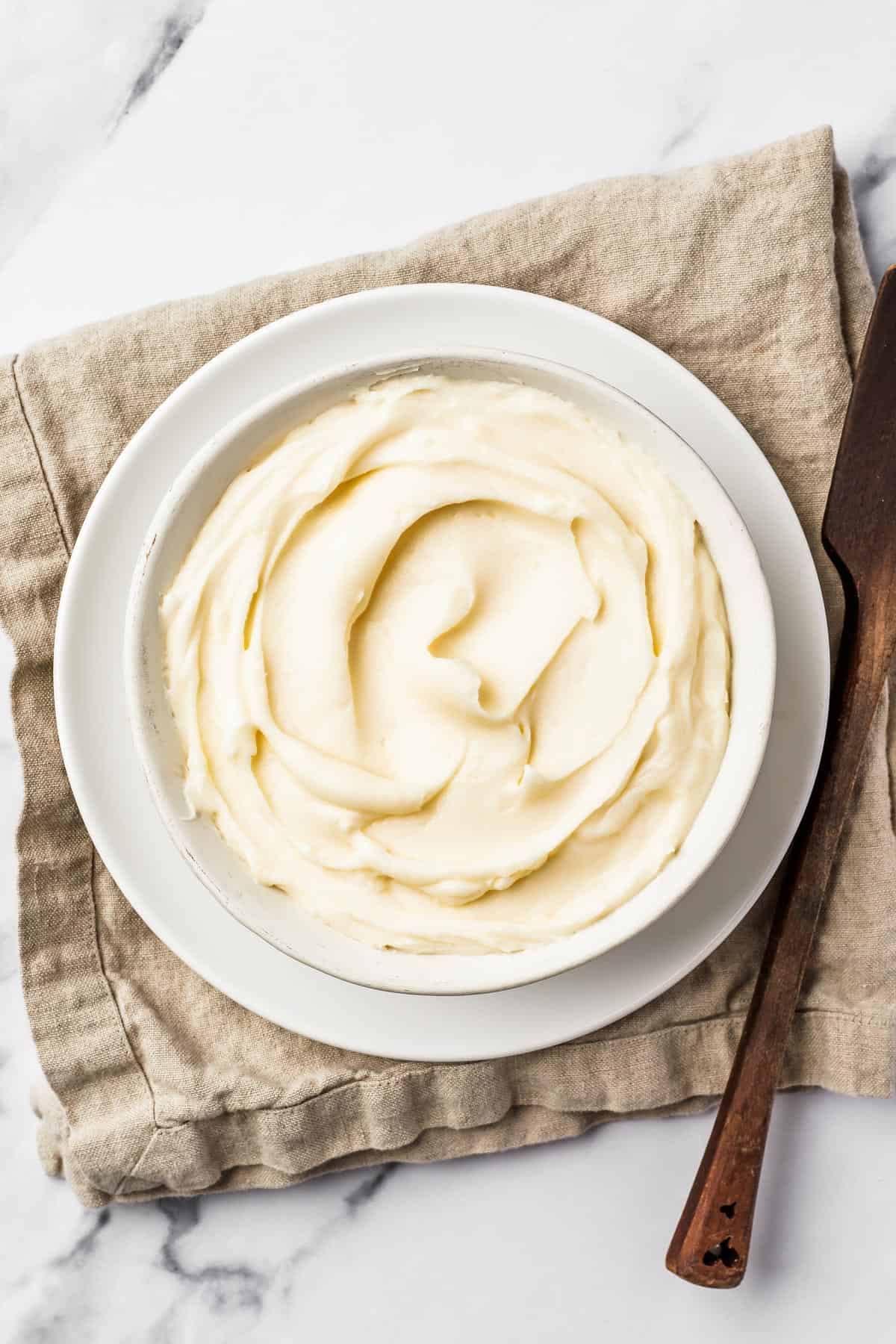 Easy Tips and Variations
Of course, you can do more than just make plain cream cheese frosting with this recipe! A tweak here or there can help bring out the best in these simple ingredients, and create more flavors for more recipes. Here are just a few tips and variations you can try!
Balancing Act: While the frosting will already have a slight tang from the cream cheese, the vinegar adds a noticeable tangy flavor that balances the sweetness of the sugar. Don't skip it!
Full-Fat Cream Cheese: Full-fat cream cheese (usually sold in a "block) is best for a thick, fluffy frosting. If you use low-fat or "spread" cream cheese, the frosting may turn out too thin to spread.
Lemon Variation: To make lemon frosting, substitute 1 or 2 tablespoons of lemon juice for the vinegar.
Spice Variation: Beat in half a teaspoon of pumpkin pie spice or cinnamon to make a creamy, fall-spiced version.
Key Lime Variation: Use fresh key lime juice instead of the vinegar for this variation, and skip the vanilla entirely. Feel free to add flaked coconut, too!
Kahlua Variation: Try a little kahlua liqueur in place of the vanilla.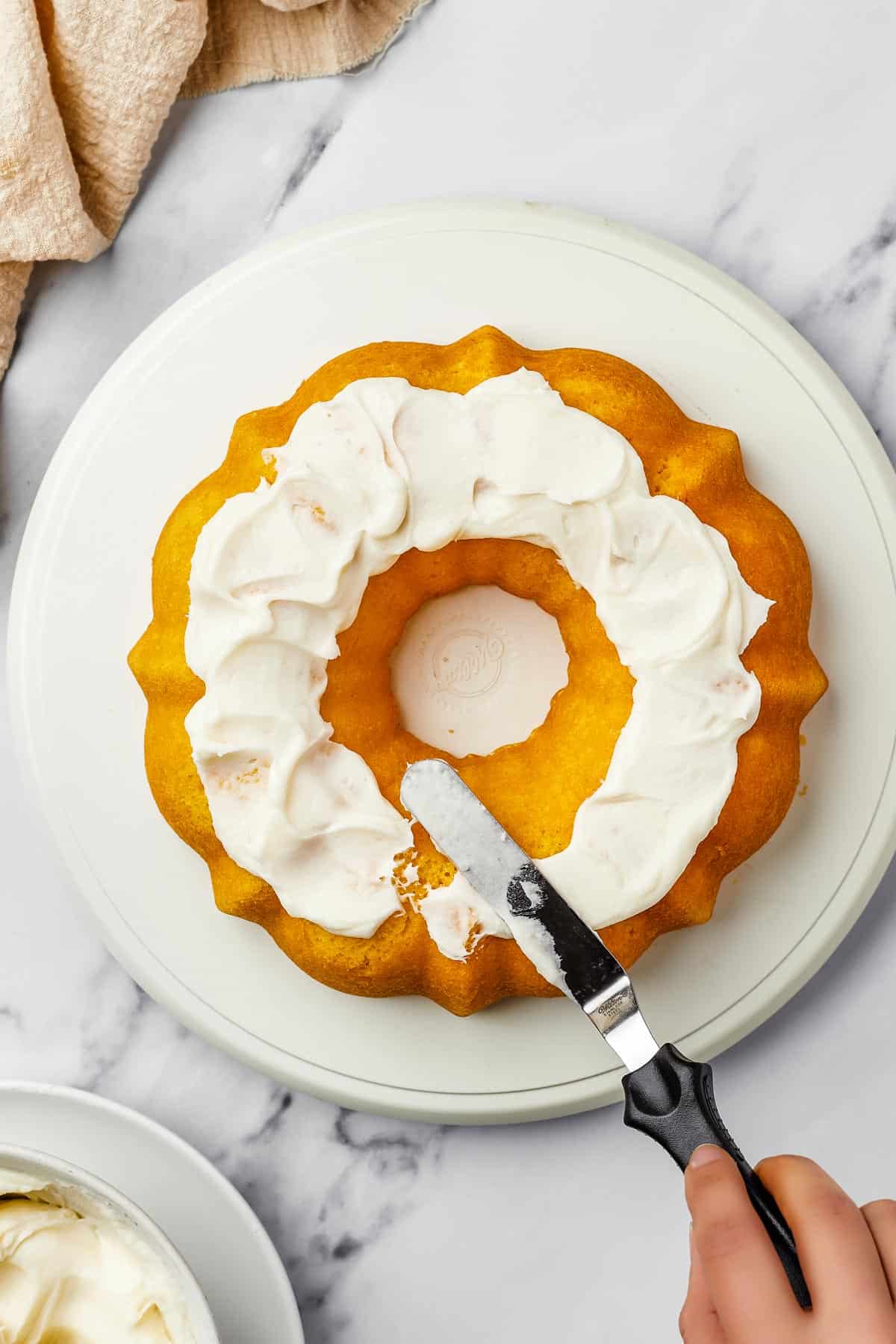 How to Store Cream Cheese Frosting
To store the frosting, just place it in a zip-top bag or airtight container, and refrigerate. It will keep for about 3 days.
If you are having trouble spreading the frosting, let it come to room temperature, first.
Can I Freeze This?
Cream cheese frosting actually does freeze fairly well, so if you have extra or you just want to get ahead of the game, pack it into a freezer bag or airtight container and freeze for up to 3 months.
Thaw in the fridge and re-whip before using. You may want to bring it to room temperature for easier spreading and whipping.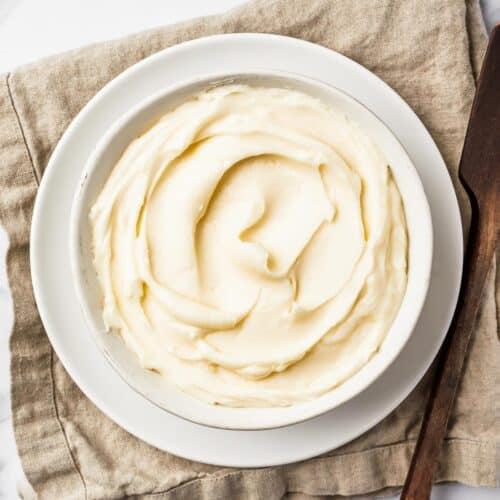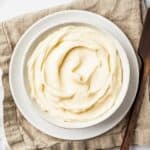 Print Recipe
Cream Cheese Frosting
Thick, creamy, and sweet, this Cream Cheese Frosting is the perfect partner for your favorite cake!
Instructions
In a stand mixer fitted with the paddle attachment, beat the cream cheese and butter together on medium speed until smooth.

Add in the vanilla extract, vinegar, and salt; mix on low speed until well combined.

Continuing on low speed, add in the powdered sugar, one cup at a time, and mix until creamy and completely smooth.
Notes
The vinegar gives the cream cheese frosting a noticeable tangy flavor and balances the sweetness of the sugar.
To make lemon frosting, substitute 1 to 2 tablespoons lemon juice for the vinegar.
Make sure to use full-fat cream cheese, not low-fat cream cheese or cream cheese spreads. Full-fat cream cheese (usually sold in a "block) is best for a thick, fluffy frosting.
The icing can be covered and stored in the refrigerator for up to 3 days.
The nutrition facts are estimates only, and reflect the approximate nutrition information for 1 cup (16 servings) of frosting.
Nutrition
Calories:
218
kcal
|
Carbohydrates:
31
g
|
Protein:
1
g
|
Fat:
11
g
|
Saturated Fat:
7
g
|
Polyunsaturated Fat:
1
g
|
Monounsaturated Fat:
3
g
|
Trans Fat:
1
g
|
Cholesterol:
30
mg
|
Sodium:
82
mg
|
Potassium:
21
mg
|
Sugar:
30
g
|
Vitamin A:
368
IU
|
Calcium:
16
mg
|
Iron:
1
mg
More Sweet Treats