Tangy, sweet, and fresh, this Creamy Coconut Fruit Dip is a crave-able, tropical treat! The smooth, fluffy dip is made with cream of coconut, cream cheese, real tangerine zest, and other goodies. Served with fresh fruit, it's sure to please a crowd!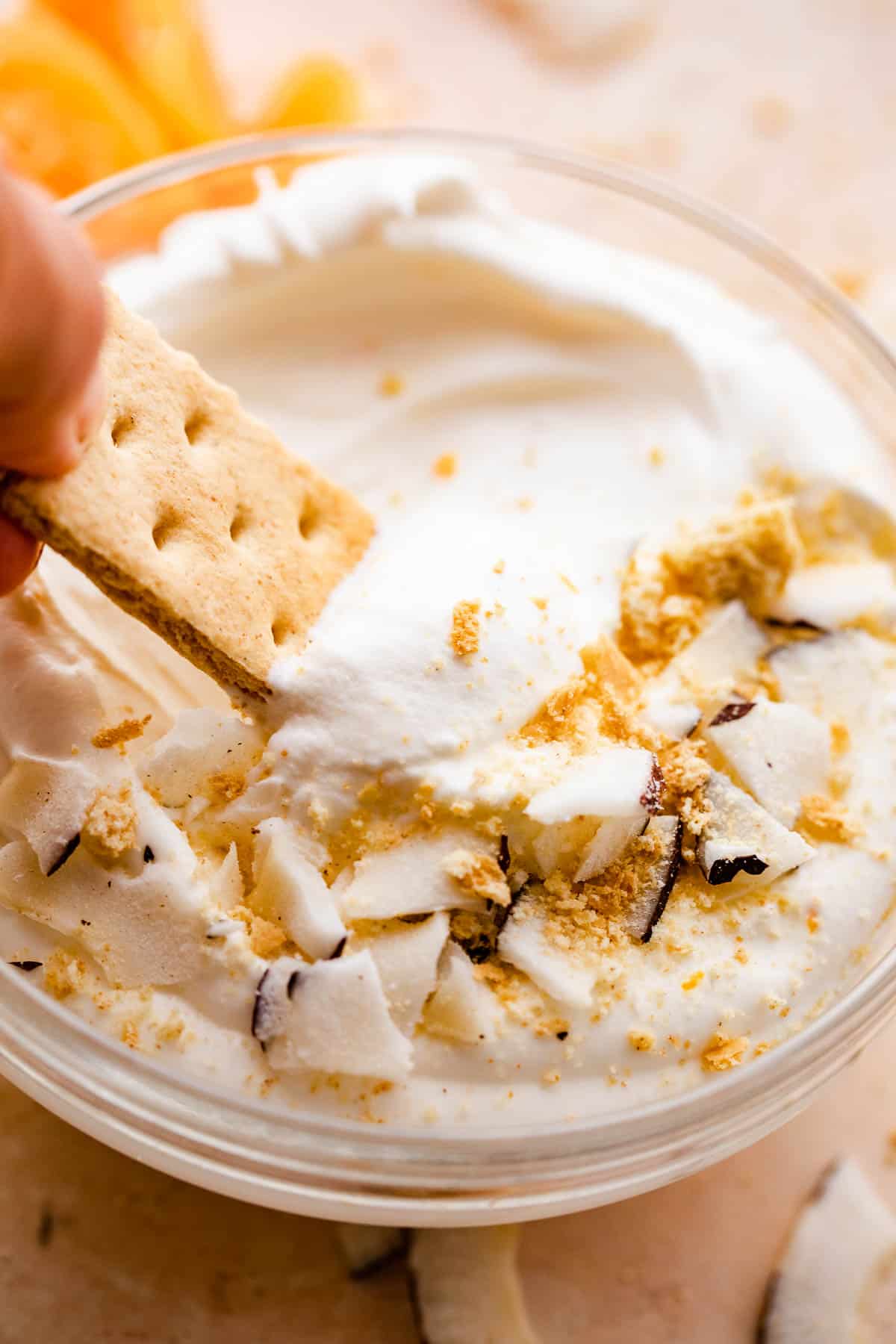 A Sweet and Fluffy Fruit Dip with Coconut
It's important to me that my family eats plenty of fresh fruit, and this easy coconut fruit dip is one of my favorite ways to serve it! True, this is more of a treat than just a snack, so we don't have it all the time… but it is very easy to make, and so scrumptious, you'll look forward to making and eating it on the regular.
I mean, there's just something festive about a platter of fruit, whether it's sliced apples, pieces of melon, juicy grapes, or maybe some mango and pineapple! Even if you don't feel like you're in the mood for fruit, once it's cut and ready, it's hard to turn down a bite. Or two. Or three. Basically, freshly cut fruit is the potato chip of nature. (Or something like that.)
So you can imagine the excitement when you serve not only a pretty arrangement of fruit, but also a big bowl of this creamy, coconut-flavored dip! This recipe is made with cream of coconut, cream cheese, whipped topping, and some fruit juice and zest for a little added zing. It comes together in no time, and it's worth it, big time!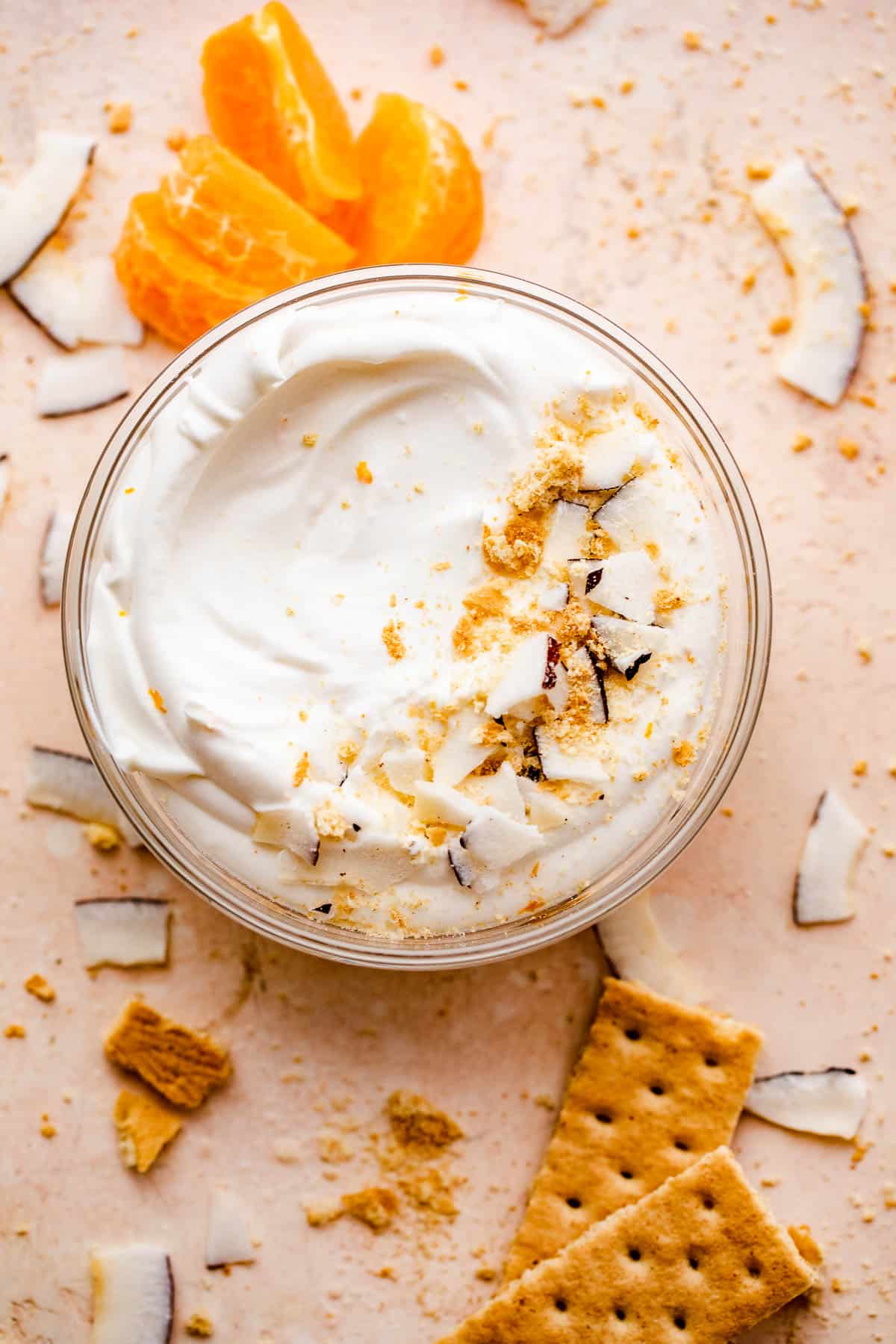 What You'll Need
Let's take a closer look at the ingredients for this recipe (note: for the full recipe card with specific amounts, scroll to the bottom of this post). If you're not sure about using cream of coconut, check the sections below to find out what cream of coconut is, and substitutions you could use instead!
Cream Cheese: The cream cheese should be softened to room temperature, so that you can whip it together with the other ingredients.
Cream of Coconut: This comes in bartender-friendly bottles, as well as cans. You'll find it near the margarita ingredients in the grocery store.
Whipped Topping: The whipped topping should be thawed to room temperature before using, or you can whip your own whipped cream. If you use whipped cream, the dip may be less thick.
Powdered Sugar: I add a small amount of powdered sugar to the dip to get the right texture and a little more sweetness.
Tangerine Zest and Juice: You can also use orange zest and juice, or mandarin zest and juice. Whatever you have on hand!
Fruit: For serving. Apple slices are great, and so are chunks of pineapple, banana, mango, papaya, and other tropical fruits on skewers or toothpicks!
What is the difference between coconut cream and cream of coconut?
If you've never worked with cream of coconut before, you might be wondering if it's similar to coconut milk or coconut cream. The answer is, sort of! Coconut milk and coconut cream are both creamy with a great, tropical, coconut taste. But, cream of coconut goes a little further: it's mixed with cane sugar, giving it a syrupy texture and lots of sweetness. It's very similar to sweetened condensed milk.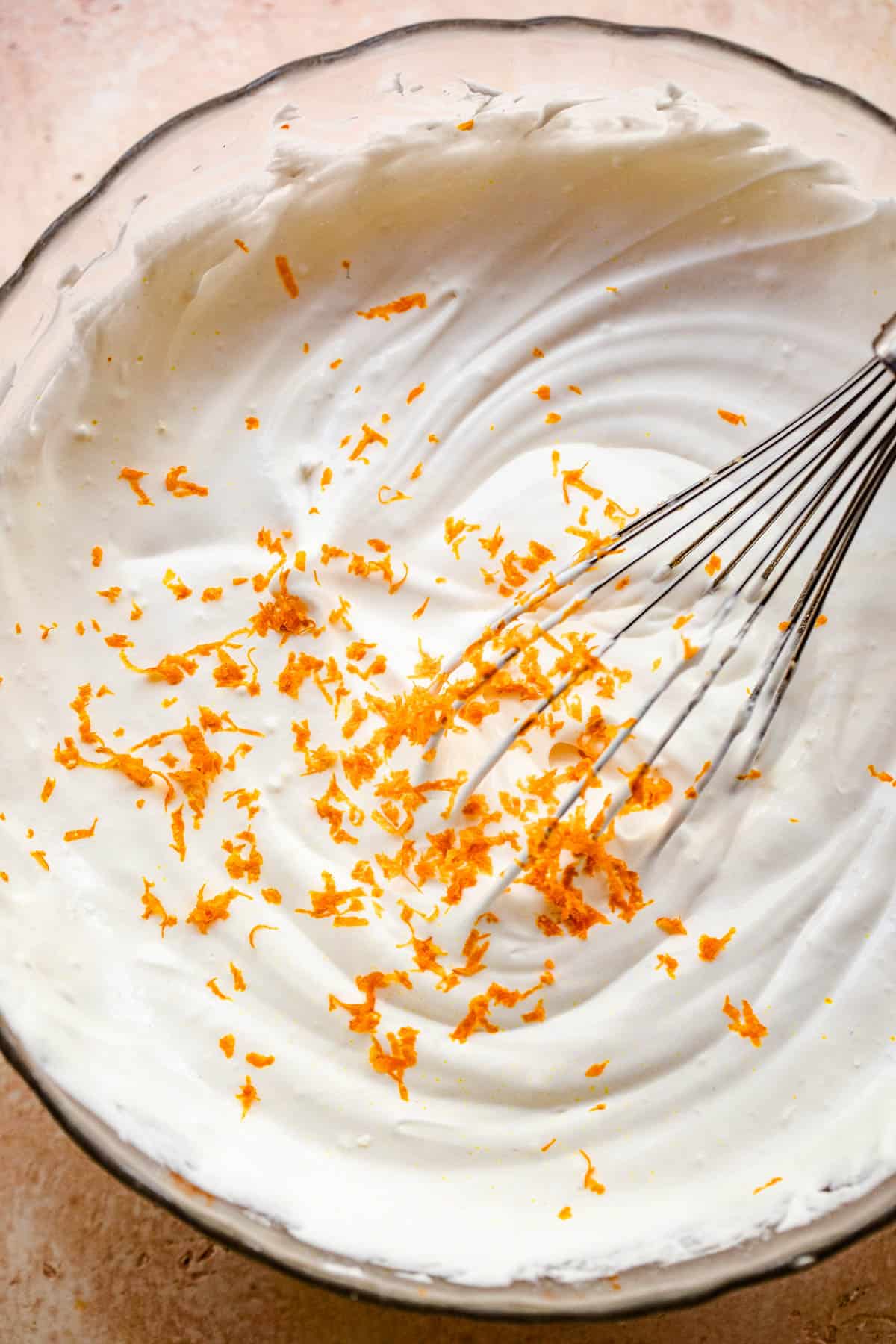 What can I use as a substitute for cream of coconut?
To get a similar thick, syrupy result, I recommend using an equal amount of sweetened condensed milk, with a splash of coconut extract for that tropical flavor.
How to Make Creamy Coconut Fruit Dip
So just how do you make this yummy treat? It's super easy! All you have to do is whisk everything together. You can use a hand mixer, stand mixer, or just a whisk for this. Here's how:
Mix the Cream Cheese, Coconut, and Whipped Topping Together. In a large mixing bowl, combine the softened cream cheese with the cream of coconut and whisk or mix until blended. Then add the whipped topping, and give it another mix until smooth.
Add the Powdered Sugar, Juice, and Zest. Now it's time to boost the flavor of the mixture a little bit! Add the powdered sugar and mix it in well (it helps if you sift it in, but you don't have to). Mix in the tangerine zest and the juice.
Taste and Adjust. Now taste the dip for a good flavor balance. Does it need more citrus? More sugar? Adjust it to your taste. You can even add milk to thin it out, or a tiny bit of coconut extract for a stronger coconut taste.
Chill and Serve. Once the dip is made, cover it and chill it for a couple of hours before serving with fresh fruit.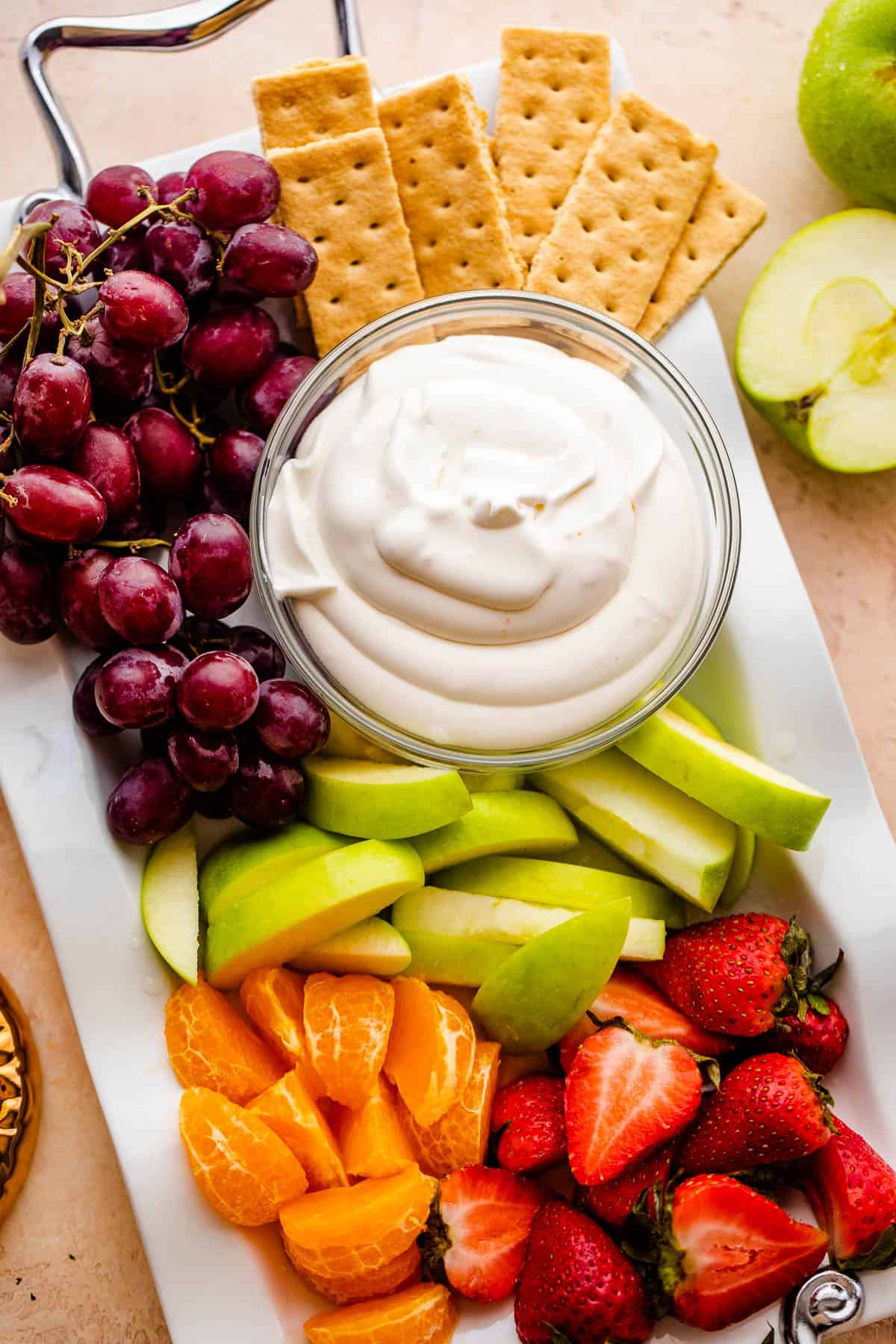 Variations
This fruit dip is really very customizable—you can do a lot with it! Some additions will go beautifully, mixed right in with the recipe as written, like these:
A small amount of rum flavoring
A small amount of vanilla
Grated toasted coconut, sprinkled on top of the dip
Chopped, toasted macadamia nuts, sprinkled on top of the dip
Other variations would work best if you omit the tangerine zest and juice, and instead add one of these indulgent items:
A splash of Kahlua
A chocolate and/or caramel drizzle on top of the dip
Mini chocolate chips
Cookie crumbles
Chopped pecans
Serving Suggestions
To serve fruit dip, you can go way beyond just fruit! It's wonderful with a lot of different dippers, both savory and sweet. Here are just a few ideas to get you started—but the sky's the limit!
Pretzels
Banana chips
Plantain chips or strips
Dried apricots
As a topping for ice cream or sherbet
As a topping for pound cake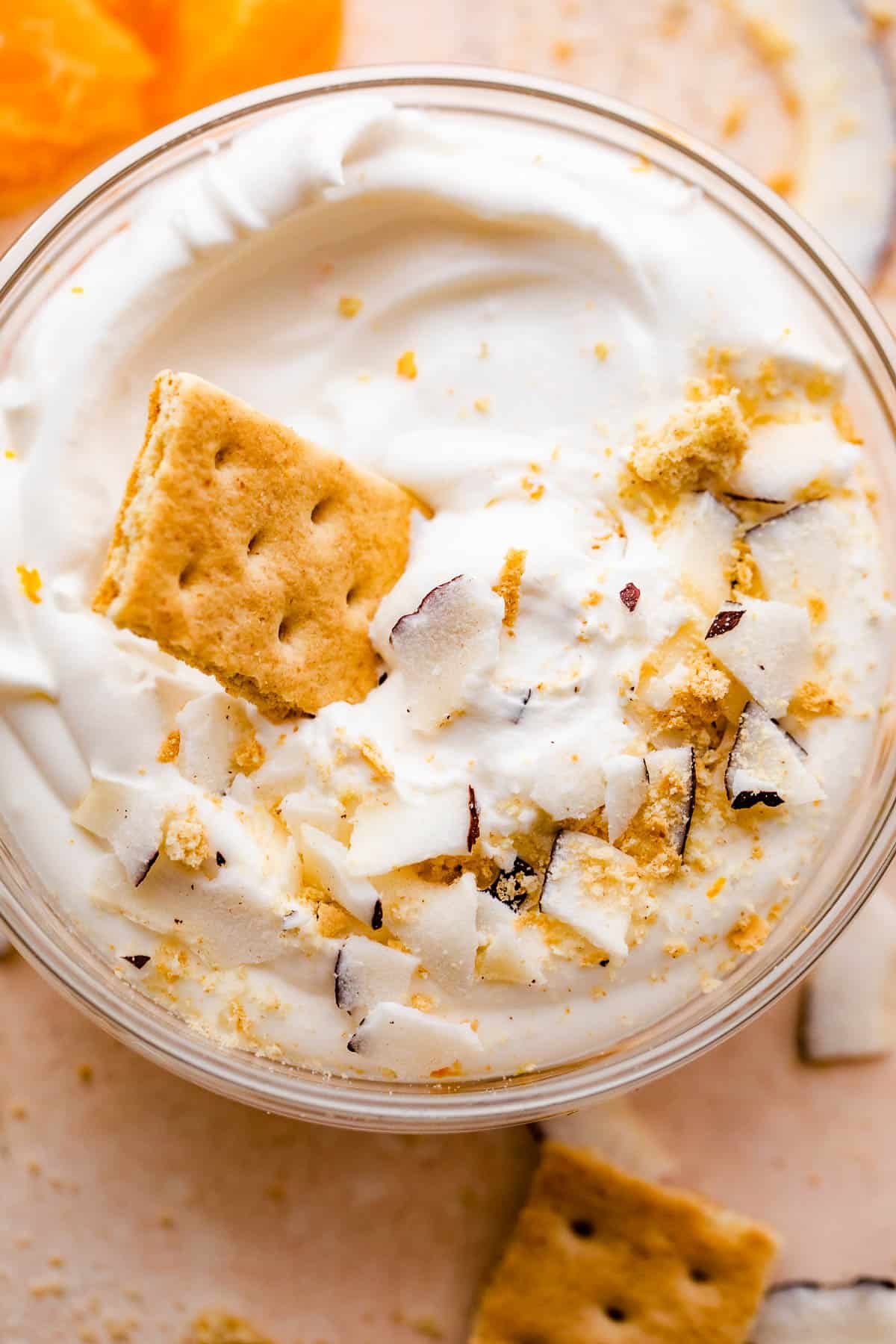 How to Store Leftover Fruit Dip
You can store leftover coconut fruit dip in the fridge for up to one week! Just pack it into an airtight container and store it in the refrigerator until ready to serve.
Give it a good whisk before serving, for the best texture.
Can I Freeze This?
Unfortunately, I don't recommend freezing this one. Creamy coconut dip, like many dairy-based dips, doesn't handle the freezer very well! The process of freezing and thawing is likely to turn the texture wet and grainy.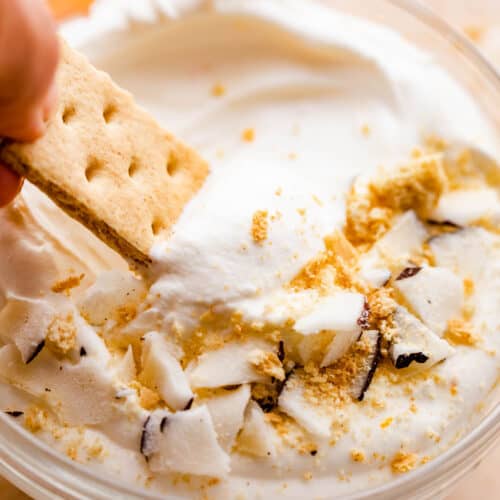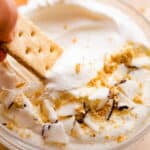 Print Recipe
CREAMY COCONUT FRUIT DIP
Tangy, sweet, and tropical, this Creamy Coconut Fruit Dip is a droolworthy treat! The smooth, fluffy dip is made with real tangerine zest and juice, cream of coconut, cream cheese, and more sweet goodies.
Ingredients
1

block (8 ounces)

cream cheese,

softened

1

can (15 ounces)

cream of coconut, NOT coconut milk

1

tub (16 ounces)

whipped topping,

thawed and at room temperature

¼

cup

powdered sugar

1

tablespoon

tangerine zest,

(Note: You can also use oranges or mandarins)

1

tablespoon

tangerine juice

Fruit,

for serving
Instructions
In a large mixing bowl combine softened cream cheese and cream of coconut; whisk until well blended.

Add the whipped topping to the cream cheese mixture and continue to whisk until well combined.

Whisk in the powdered sugar; then whisk in the tangerine zest and juice; whisk until mixture is smooth.

Taste the dip and adjust accordingly. If you like a stronger citrusy taste, add more tangerine juice. If you like a sweeter dip, add powdered sugar. Taste as you go.

If the dip is too thick, add some milk to thin it out.

Cover and refrigerate for a couple hours.

Serve with fruit.
Notes
Make sure that the cream cheese is softened, and the whipped cream is thawed and at room temperature.
2 tablespoons = 1 serving
Nutrition
Serving:
2
tablespoons
|
Calories:
94
kcal
|
Carbohydrates:
11
g
|
Protein:
1
g
|
Fat:
5
g
|
Saturated Fat:
4
g
|
Polyunsaturated Fat:
1
g
|
Monounsaturated Fat:
1
g
|
Cholesterol:
6
mg
|
Sodium:
32
mg
|
Potassium:
20
mg
|
Fiber:
1
g
|
Sugar:
11
g
|
Vitamin A:
86
IU
|
Vitamin C:
1
mg
|
Calcium:
14
mg
|
Iron:
1
mg
More Easy Snacks