These Creamy Baked Mashed Potatoes are the quintessential holiday side dish. Seasoned with thyme and flavored with plenty of melty white cheddar cheese, they are the best mashed potatoes you'll ever make!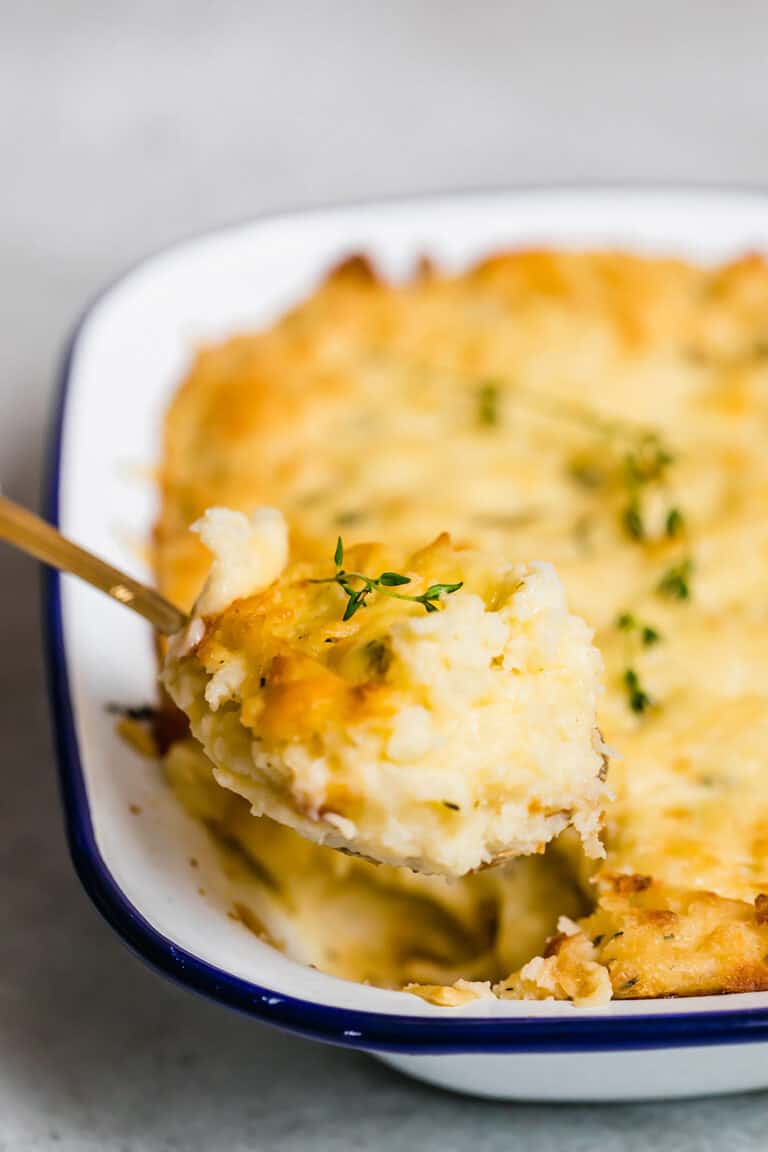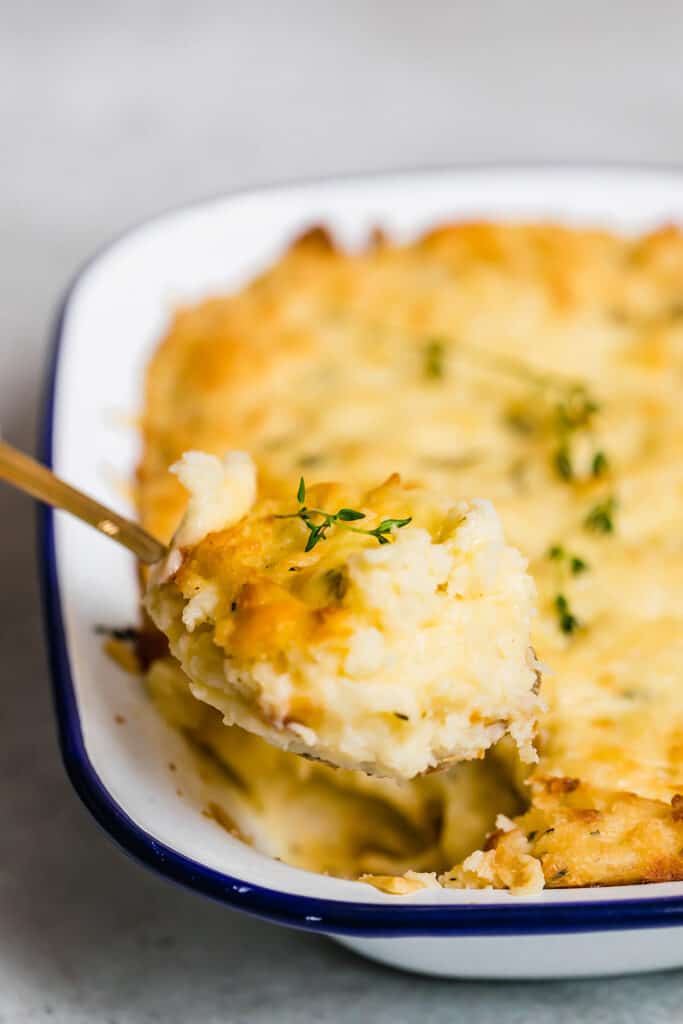 The Easiest Way to Make Mashed Potatoes
It's really easy to make great mashed potatoes, and this recipe in particular really pays off in terms of flavor, texture, and overall deliciousness. It's a foolproof and easy recipe that's just perfect for the holidays, but is easy enough for anytime!
Why I Love this Recipe
One word: Flavor! The wholesome and comforting flavor of creamy mashed potatoes is enhanced and amplified with chives, sour cream, white cheddar, and a hint of earthy thyme. All of these delicious and seasonal flavors just blend so well together, and create such a satisfying and home-y dish.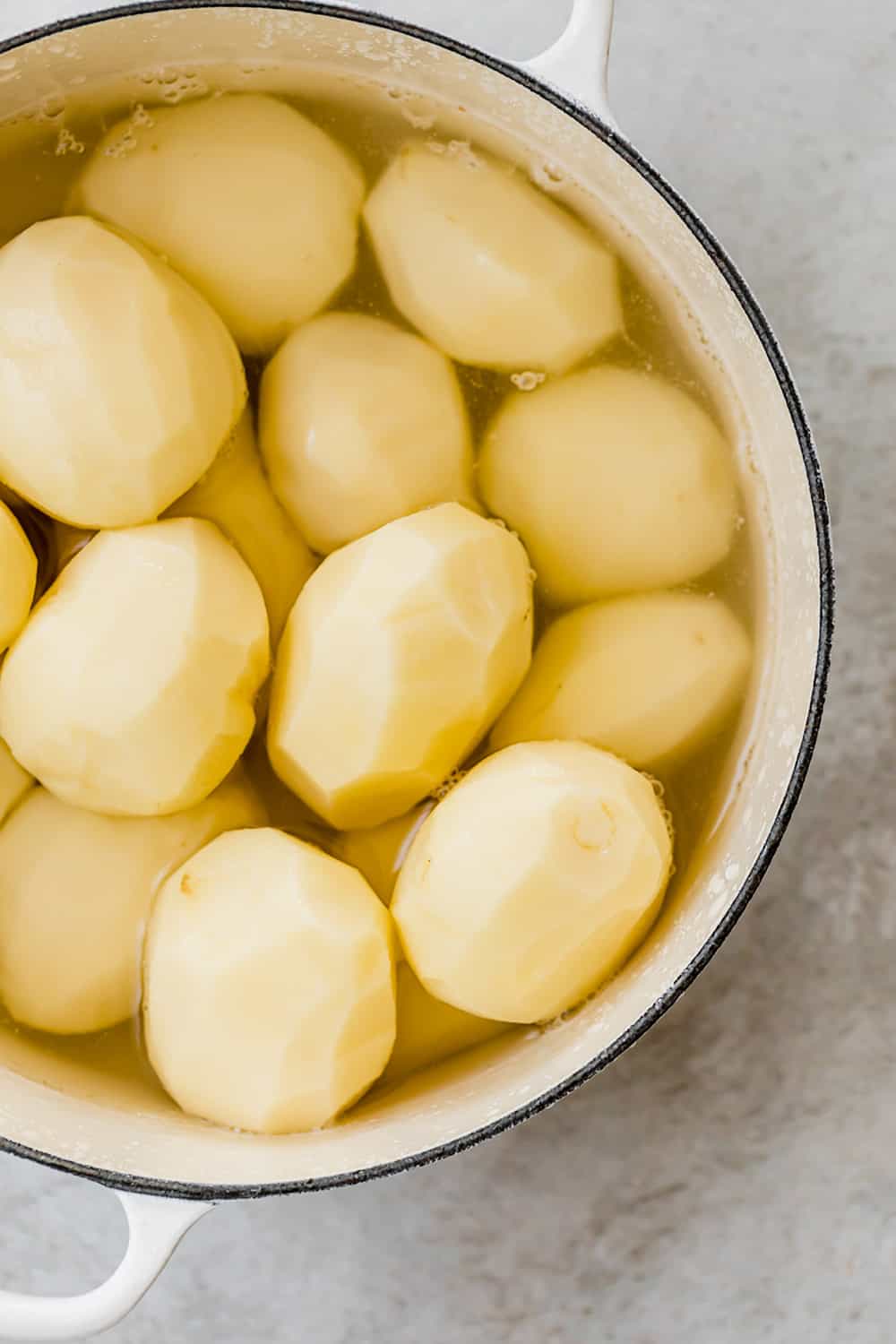 Recipe Ingredients
Potatoes: You'll need three pounds of fresh potatoes, peeled and cut in half. I like to use Russet potatoes for mashing, because they are soft and mealy. Waxy potatoes will also work, although the texture might not be quite as soft and smooth.
Butter: One stick, or half a cup, of butter. Unsalted is best, so that your dish doesn't end up overly salty, but you can also use salted butter, keeping in mind that you may need to reduce the amount of salt you add.
Sour Cream: This makes the final dish so creamy! I prefer to use sour cream without added stabilizers.
Milk: You can use your favorite kind of milk here, although dairy alternatives may add different flavors of their own to the final dish.
Shredded White Cheddar: You'll need a total of four cups of shredded cheese: three to mix into the potatoes, and one for topping. If you'd like to substitute regular cheddar, feel free to do so.
Salt and Pepper
Garlic Powder, Onion Powder, and Thyme: These dried spices really make the dish, with their fragrant and earthy flavors. Remember to check the dates on your spices and herbs to make sure they are fresh!
Fresh Chives: Chopped, for garnish.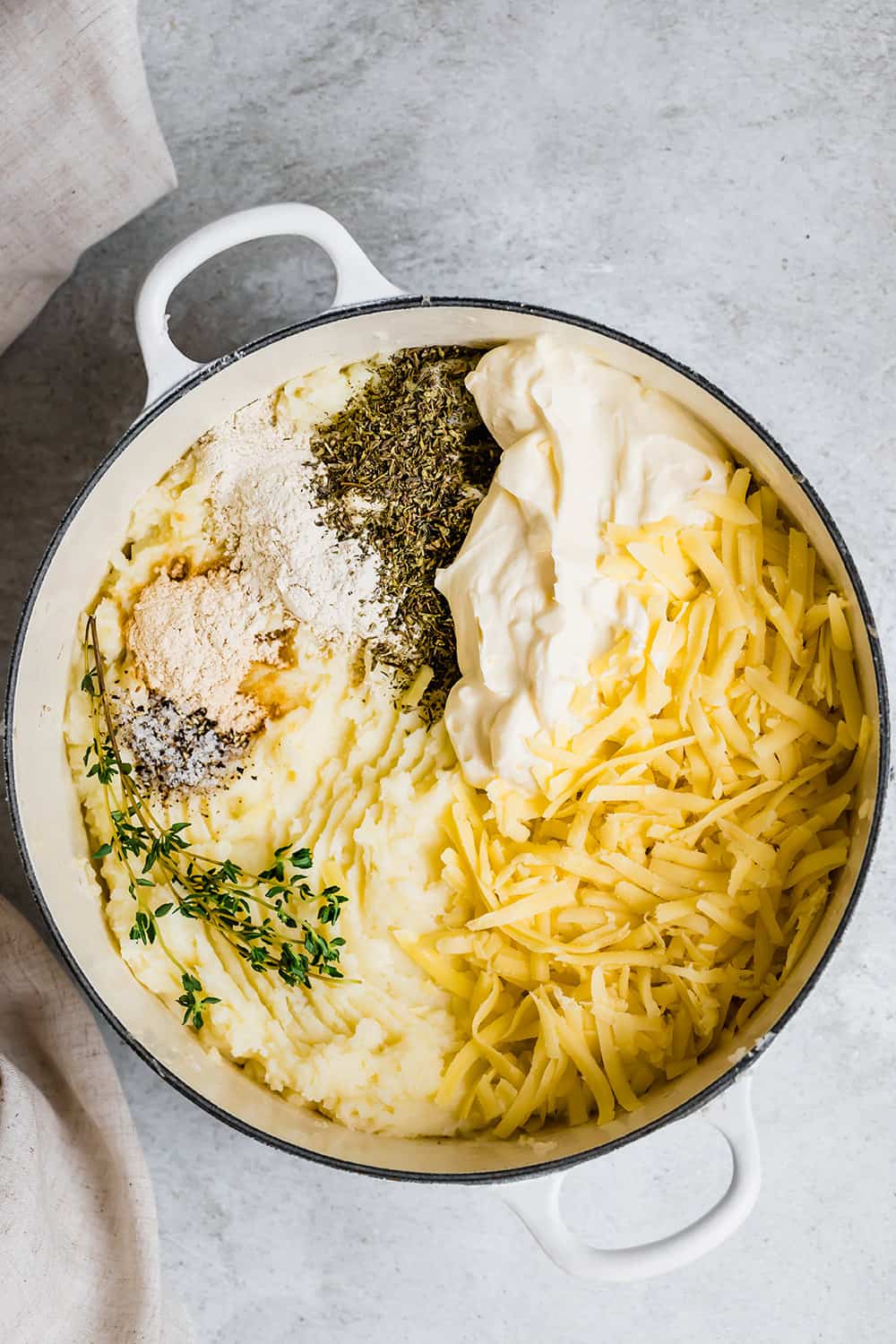 How to Make Baked Mashed Potatoes
Boil the Potatoes. In a large pot, cover the potatoes with cold water. Bring to a boil, reduce heat, and simmer the potatoes until cooked, about 30 minutes. Drain the potatoes, and add them back to the pot.
Mash and Season the Potatoes. Add the butter, sour cream, milk, and three cups of the white cheddar to the cooked potatoes. Mash over a low heat. Once smooth and creamy, add the salt, pepper, garlic powder, onion powder, and dried thyme.
Bake the Potatoes. Transfer the potato mixture into a greased 9 x 13 inch oven proof dish. Top with the remaining cup of white cheddar, and then cover the dish with foil. Bake for 30 minutes. Then remove the foil and continue baking for 15 minutes, or until the cheese is golden.
Enjoy! Serve this dish warm, garnished with chopped chives.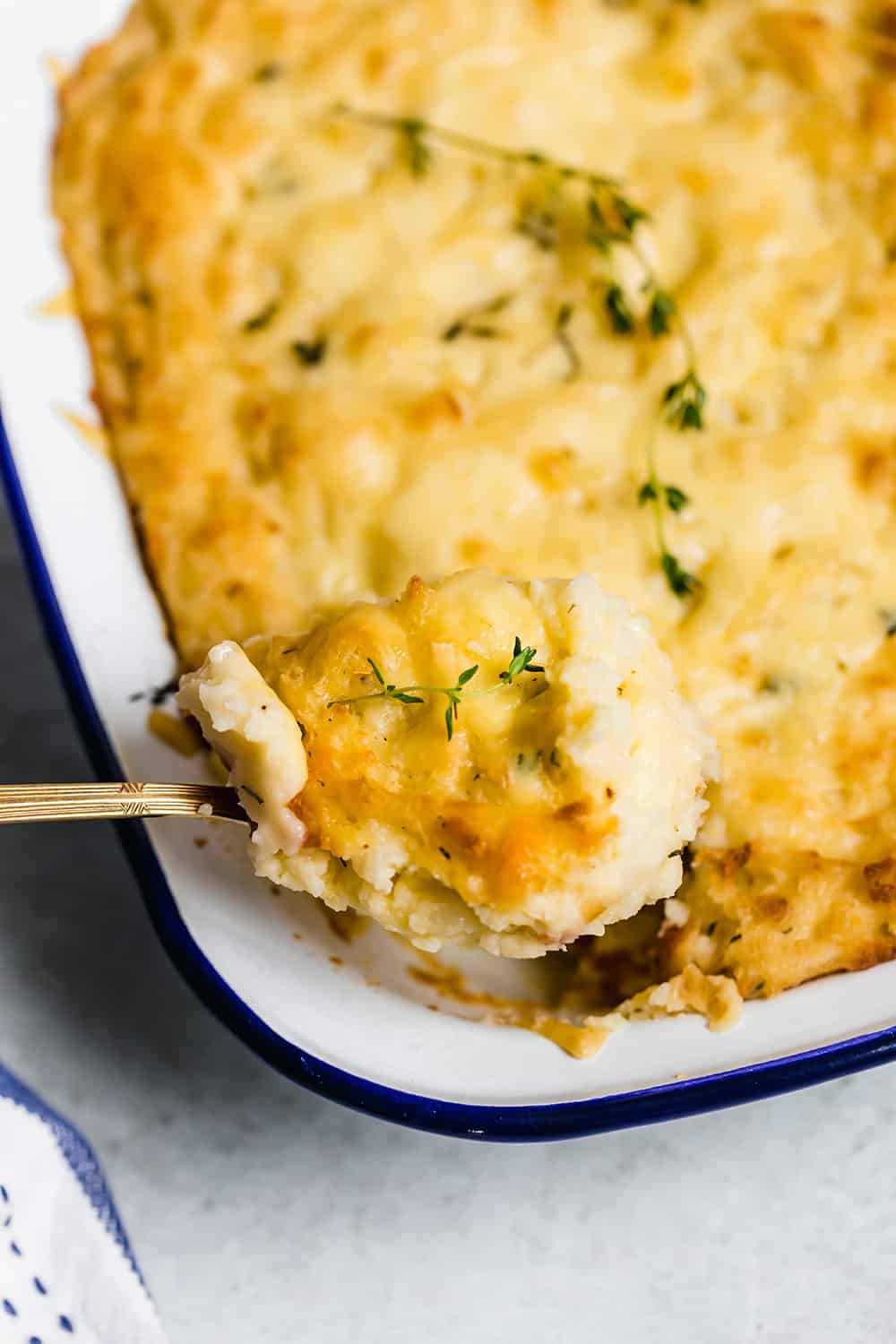 Tips for Success
Adjust Seasoning with Care. You'll be adding quite a bit of dairy to this dish, so be sure to adjust the seasonings carefully. The potatoes, milk, butter, and sour cream are all somewhat bland, but the cheese will add certain level of salt, as will the butter if you use salted. Definitely taste before and after salting to make sure it's working for ya.
To Soak, or Not to Soak? Some chefs recommend a quick soak of your peeled and cut potatoes before cooking. This is supposed to release extra starch, resulting in a less sticky mash. Personally, I don't soak the potatoes for this dish, but if you would like to, go for it! A 5-minute soak in cold water is the recommended method.
Use Broth for Extra Flavor. At this time of year, you may find that you have extra broth on hand, whether from making and saving your own, or because your local grocery store has a good sale. And that's great! For this dish, cooking the potatoes in chicken or vegetable broth instead of water is a great way to add even more flavor.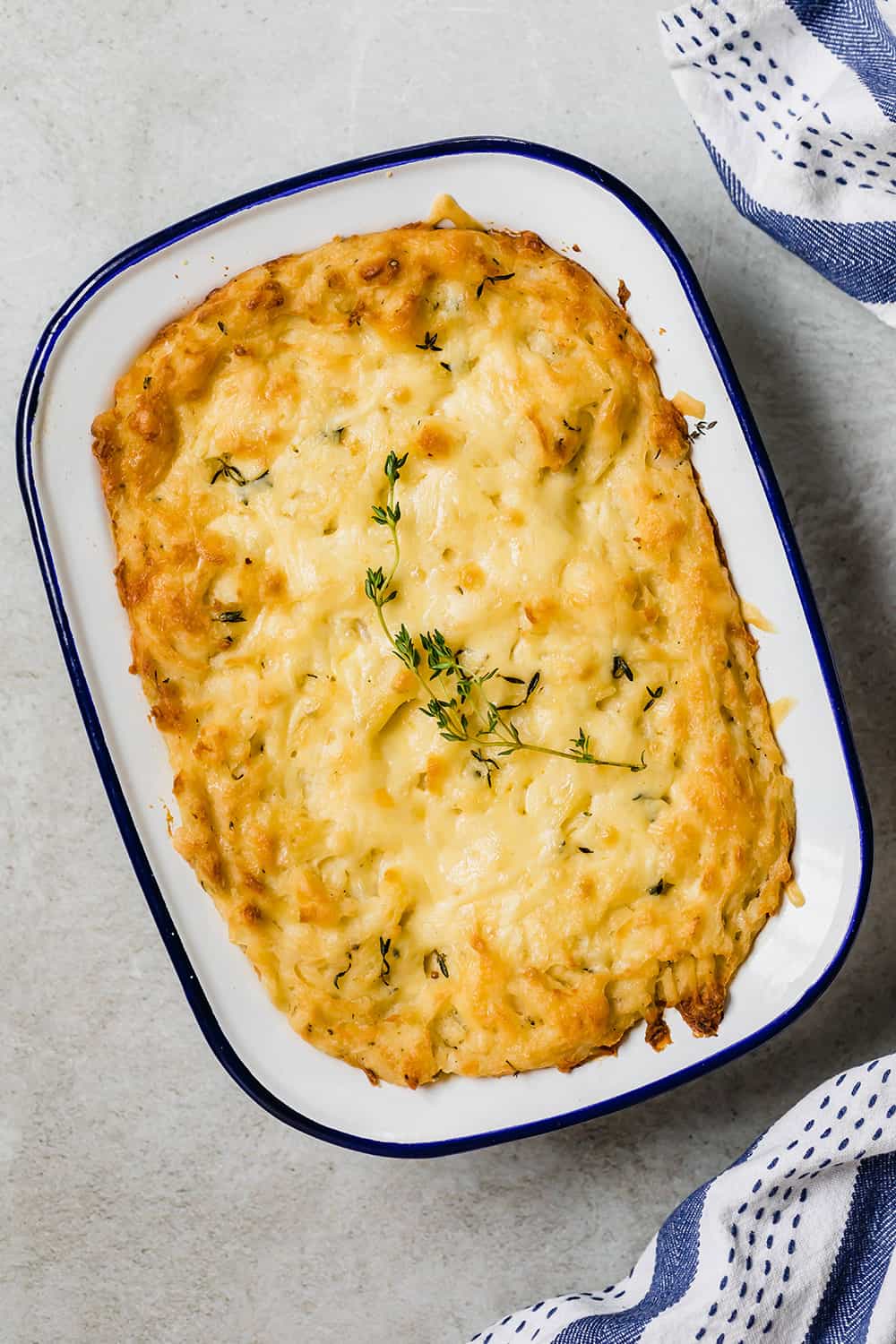 Can Baked Mashed Potatoes Be Made in Advance?
Yes! You can make the mashed potato mixture and place it in the casserole dish and refrigerate it for up to 24 hours before topping and baking. So easy!
How to Store and Reheat Leftovers
To refrigerate, store leftovers in airtight containers. Mashed potatoes will keep in the refrigerator for up to 3 days.
To freeze, place portions of cooled mashed potatoes in freezer bags, squeezing as much air out of the bags as possible before sealing. Keep in the freezer for up to a month.
To reheat, place the potatoes in an ovenproof dish and bake, covered, at 350˚F until heated through.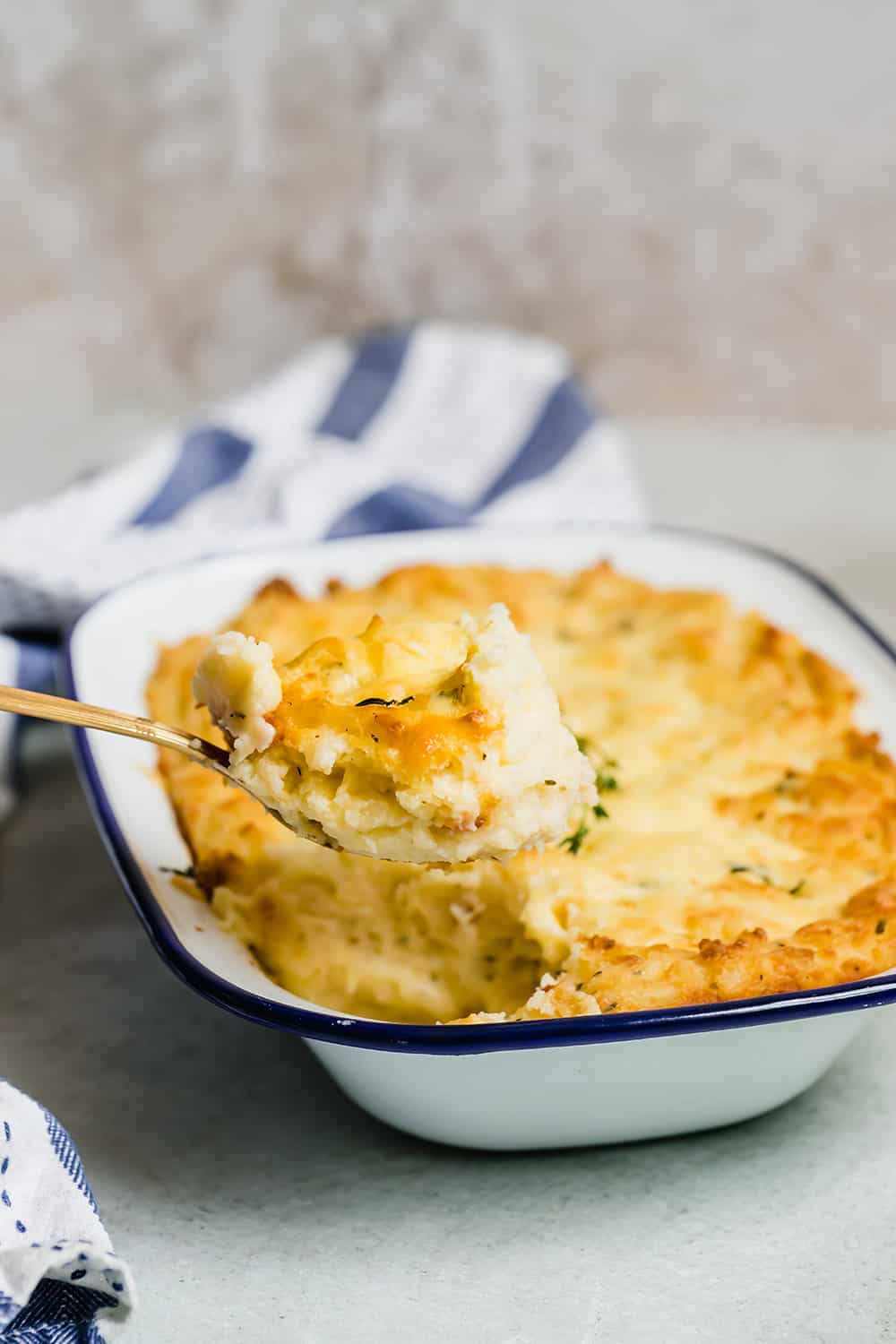 Serving Suggestions
Turkey: What could be better with creamy, cheesy potatoes than a beautiful Whole Roast Turkey? Not much, that's for sure! I love this easy turkey recipe so much, and it pairs beautifully with this yummy casserole.
Brussels Sprouts: A delicious green side dish is just what you need to go with a mashed potato casserole, don't you think? My easy Slow Cooker Parmesan Brussels Sprouts are delicious, healthy, simple to make, and take full advantage of this yummy seasonal veggie.
Pumpkin Bars: Before we say goodbye to all things pumpkin (and hello to all things candy cane!), make a quick batch of these oh-so-tasty Pumpkin Bars. They're a wonderful sweet treat for Thanksgiving… or any day, really!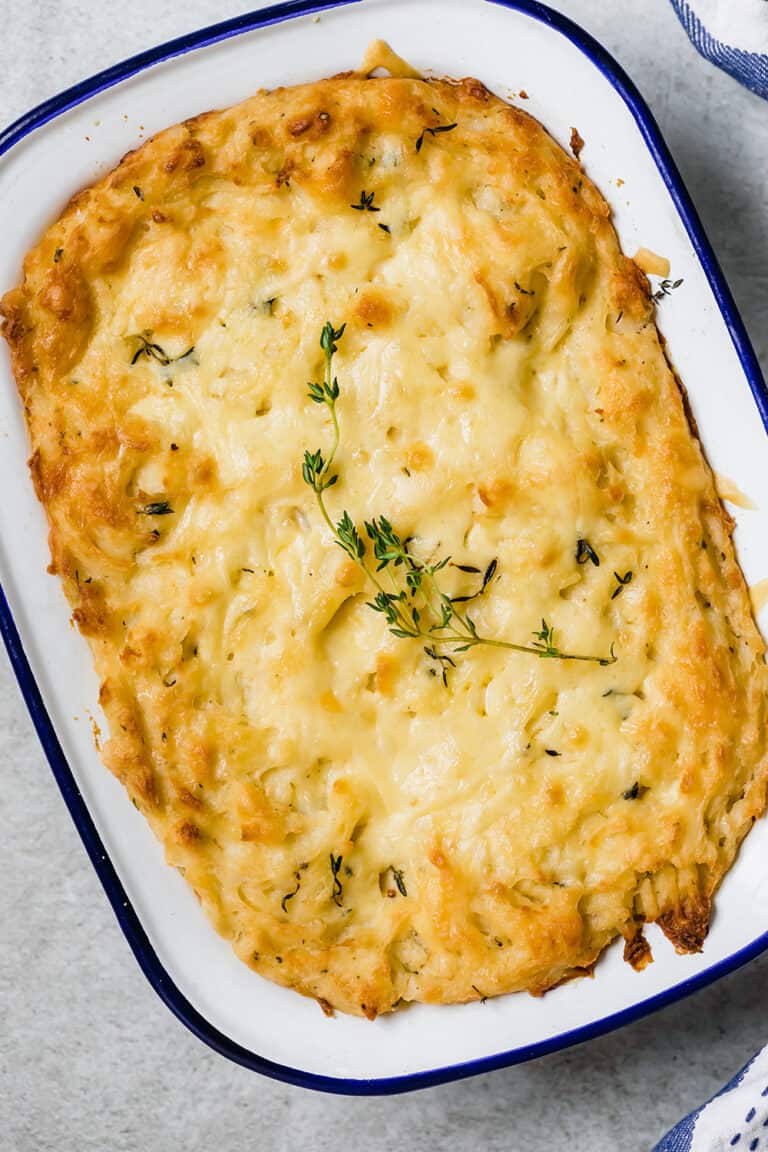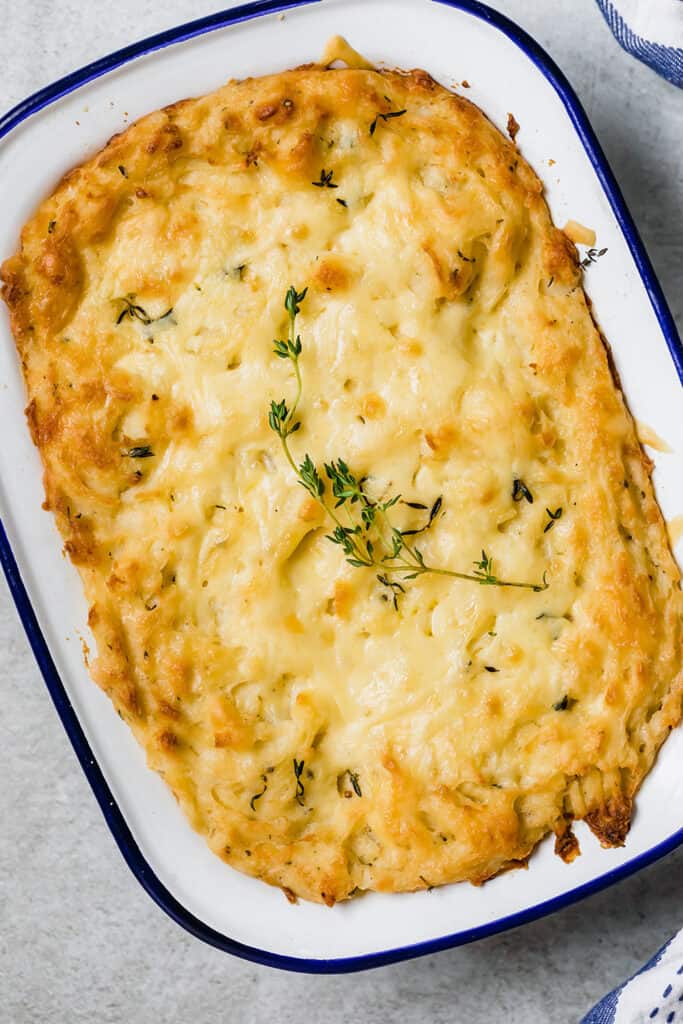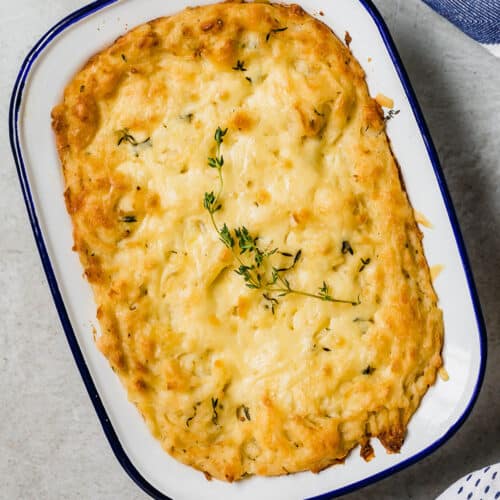 Print Recipe
Creamy Baked Mashed Potatoes
These creamy mashed potatoes are seasoned with garlic, onion, and thyme, and filled with melting white cheddar. A topping of the same melted cheese sets them off to perfection!
Ingredients
3

pounds

russet potatoes,

peeled and halved

1/2

cup

butter

1

cup

sour cream

1/2

cup

milk

3

cups

shredded white cheddar,

plus 1 cup for topping

1

teaspoon

salt

1/2

teaspoon

cracked black pepper

1

teaspoon

garlic powder

1

teaspoon

onion powder

2

teaspoons

dried thyme

Fresh chopped chives for garnish
Instructions
In a large pot, add the potatoes and cover with cold water. Bring to a boil and simmer the potatoes until cooked and tender, about 30 minutes.

Drain the potatoes and add them back to the pot.

To the potatoes, add the butter, sour cream, milk, and white cheddar, and mash over a low heat.

Once smooth and creamy, add the salt, pepper, garlic powder, onion powder, and dried thyme.

Combine well; taste and adjust accordingly.

Spoon the mashed potatoes into a greased 9×13-inch oven proof dish.

Top with the white cheddar and cover in foil.

Bake for 30 minutes, remove foil and continue baking for 15 minutes – or until cheese is golden.

Serve warm, topped with chopped chives.
Nutrition
Calories:
425
kcal
|
Carbohydrates:
27
g
|
Protein:
15
g
|
Fat:
29
g
|
Saturated Fat:
18
g
|
Cholesterol:
85
mg
|
Sodium:
625
mg
|
Potassium:
664
mg
|
Fiber:
2
g
|
Sugar:
2
g
|
Vitamin A:
907
IU
|
Vitamin C:
8
mg
|
Calcium:
389
mg
|
Iron:
2
mg