My Easter Charcuterie Board is a gorgeous, fun appetizer sampler! From cheese to fruit, prosciutto to deviled eggs, it's a beautifully balanced array of snacks with something for everyone.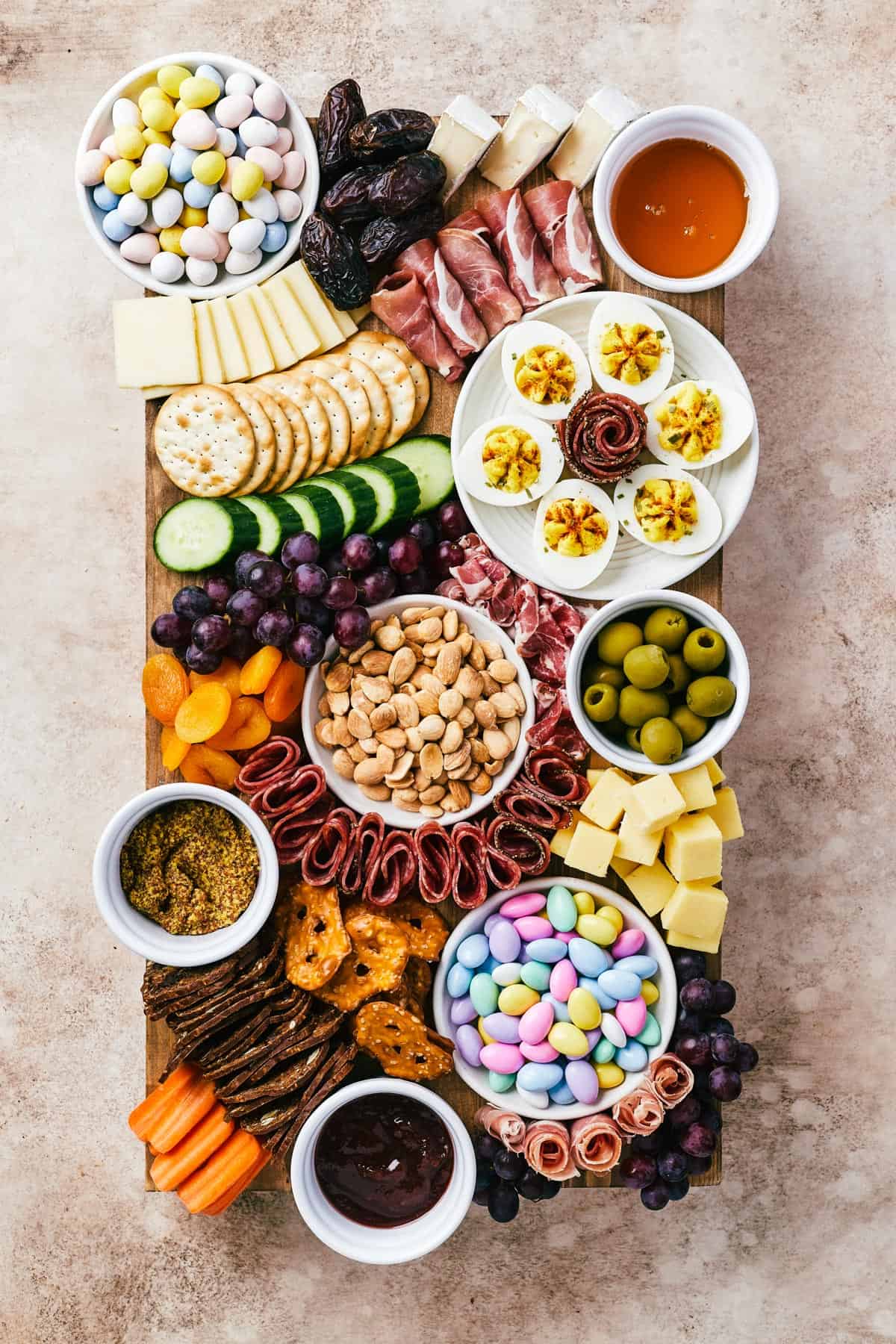 A Festive, Spring-Inspired Charcuterie Board
Planning an Easter brunch, but don't know what to serve? No worries! Charcuterie is the perfect thing to make, especially for anyone who wants to bring their own, unique spin to the celebration. A beautiful array of classic foods that everyone will enjoy, charcuterie is always a hit.
In addition to being super-easy and ultra-tasty, this appetizer is fun to pull together! Whether you're making it ahead or last-minute, you're going to appreciate the simplicity and variety of this easy charcuterie board, full of diverse tastes, textures, and colors.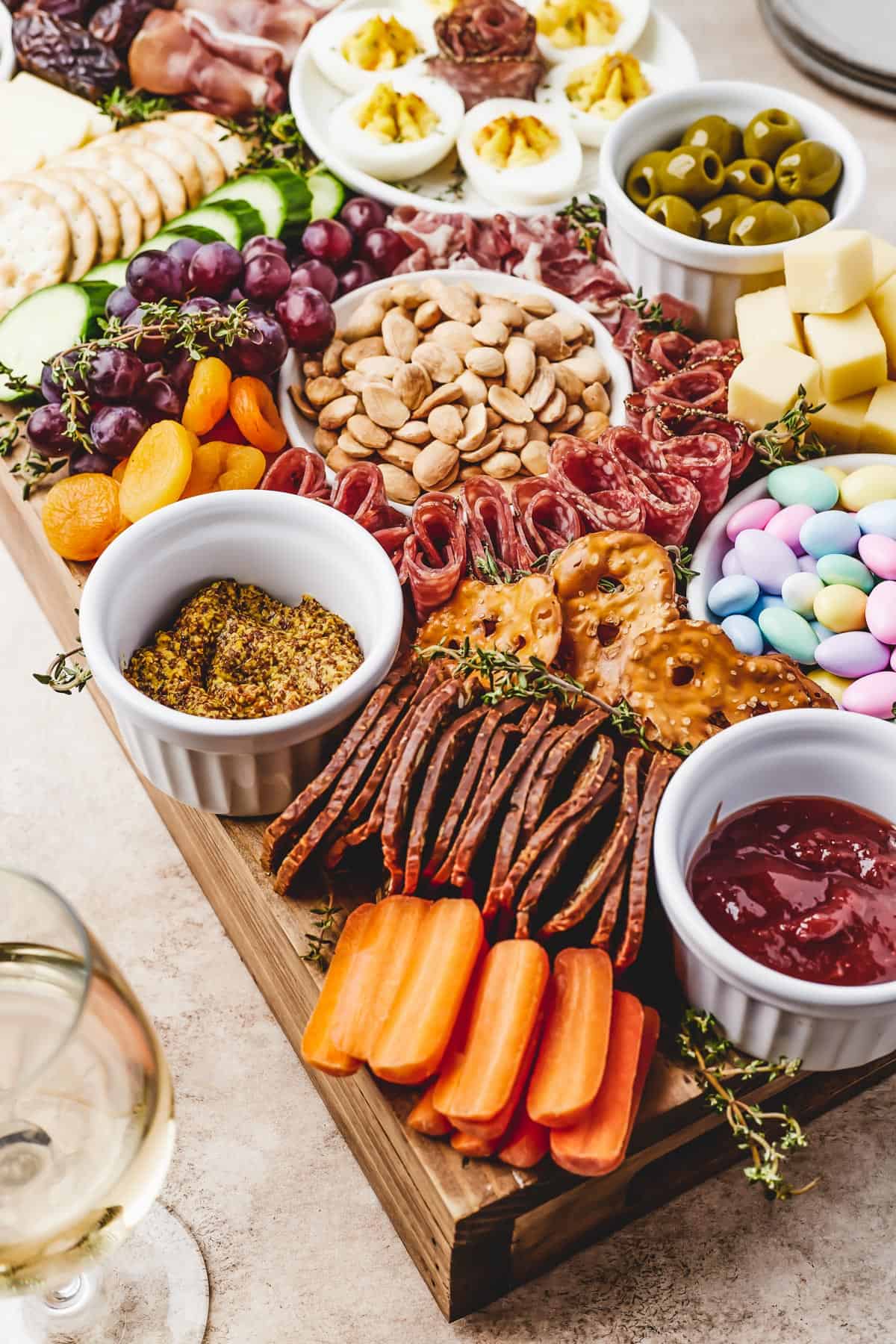 What Is Typically on a Charcuterie Board?
A charcuterie board is simply a board loaded with an array of different finger foods, including sliced cured meats, such as salami. The selection typically includes cheese, meat, nuts, fruit, vegetables, olives, and the like.
For this spring-themed charcuterie, I'm adding homemade deviled eggs, dried apricots, and even chocolate eggs, among other goodies! This special selection of delightful finger foods creates a perfect addition to your Easter meal, or any special day you'd like to celebrate!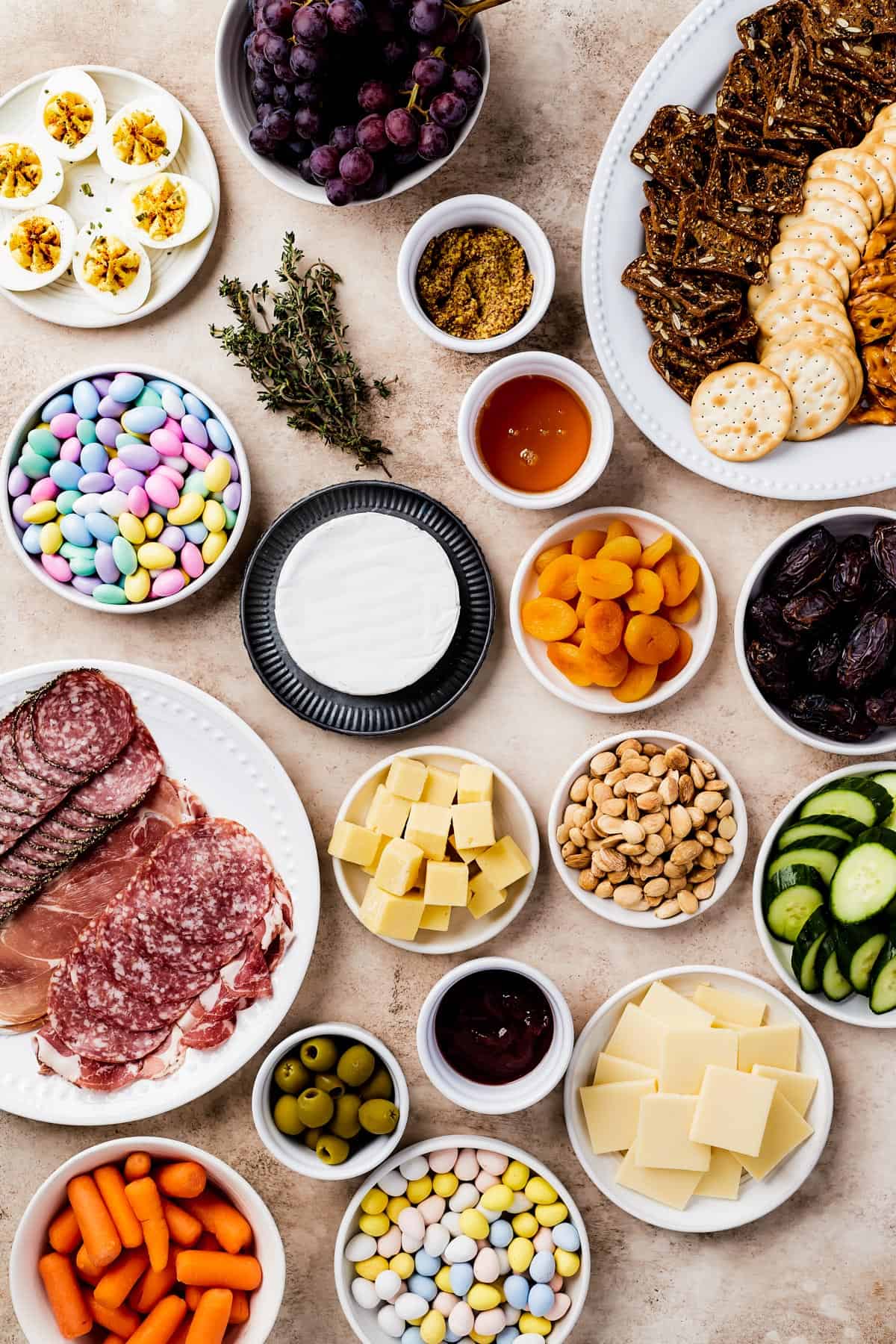 The Ingredients You'll Need
Here are the ingredients for my Easter charcuterie board. Remember that all of these items are just ones that I like to use. While you will probably want the same general categories, you don't need all of these exact ingredients.
Prepared Foods: Deviled eggs (use my deviled egg recipe).
Condiments: Honey, whole grain mustard, and strawberry preserves.
Nuts and Olives: Castelvetrano olives and Marcona almonds.
Candies: Jordan almonds and chocolate egg candies.
Meats: Salami, prosciutto, and coppa.
Cheeses: Brie, white cheddar, and gouda.
Crackers & Crisps: Water crackers, pretzel crisps, and fig crackers.
Fruits: Seedless red grapes, Medjool dates, and dried apricots.
Vegetables: Baby carrots and a large, sliced English cucumber.
Herbs: Fresh thyme sprigs make an attractive optional garnish.
Let's Make a Charcuterie Board!
When you start to arrange your board, you might feel a little lost. What should go where? Do you just pile it on randomly? Here's how to get a great-looking presentation every time.
Arrange the Plates and Bowls First. Some items will need to be placed on their own plates or bowls, so arrange those first. Put the deviled eggs on a plate, and spoon the condiments, nuts, olives, and candies into small bowls. Place them on the board.
Add the Meats, Cheeses, and Crackers. Next, fold or roll the meats, and arrange them around the bowls. Cut the cheeses into wedges, slices, or cubes, and arrange those among the bowls as well. Then place the crackers. If necessary, you can lean or prop the crackers against the bowls to help keep them in place.
Fill the Gaps and Finish. Fill in the remaining gaps on the board with fruits and vegetables. If you like, add sprigs of fresh thyme or fresh rosemary around the board for a nice garnish.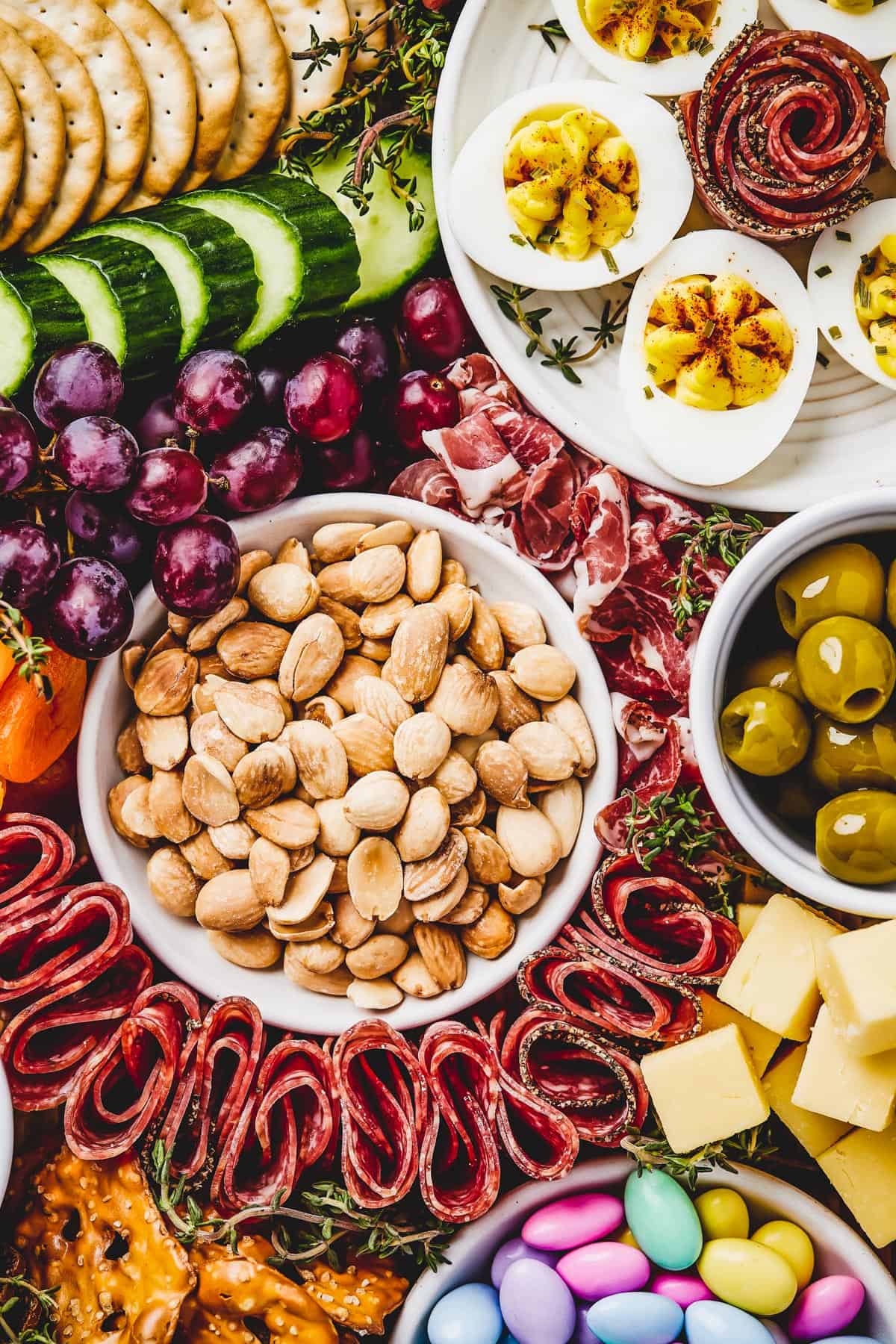 Does a Charcuterie Board Have to Be Wood?
Not at all! While wooden cutting boards are often used to display charcuterie, any large platter or tray will do just fine. Glass cutting boards are also great for this. Just be sure not to use a cutting board that is used for preparing raw meats.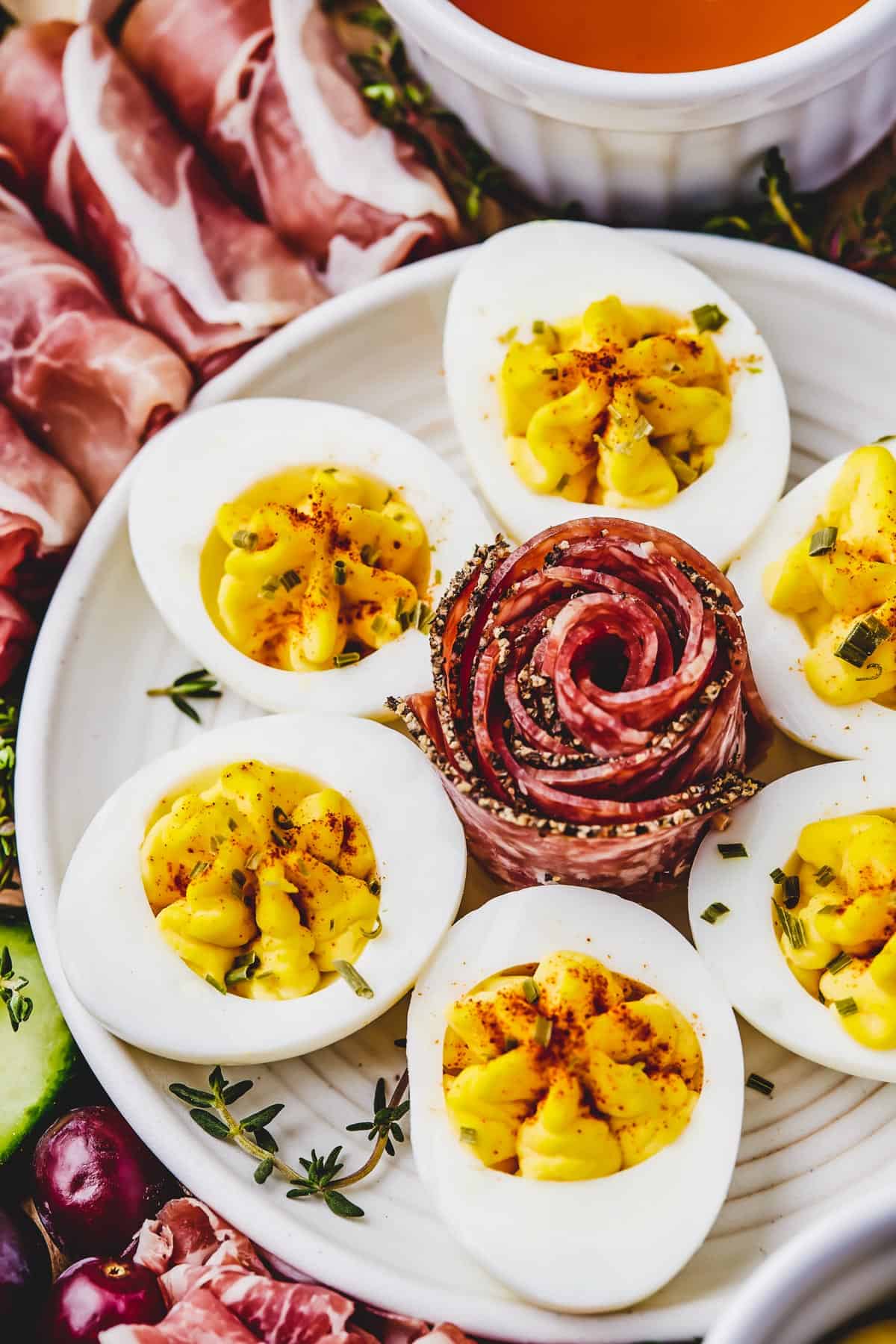 Tips for Building a Great Board
Remember – this is your own creation! You can make it in any way you like. This is all just how I did it. Here are a few more helpful tips for a beautiful arrangement.
Board-Arranging: Remember, no matter what ingredients you use, the basic steps remain the same. Put anything that you think may roll away or become messy into smaller containers. Then arrange the meats, cheeses, and other foods around those containers.
Toothpicks: Toothpicks are very helpful to keep rolled-up or fanned meat in place. You can also use them for "handles" to make it easier to pick up foods like cheese cubes or olives.
Food Safety: This is an important one! To ensure food safety, the eggs, meats, and cheeses should not be kept out at room temperature for more than two hours.
More Charcuterie Options
I just couldn't resist highlighting more ingredients ideas you could use in your own arrangements, because seriously, the possibilities are endless! These are just a few of the options out there!
Condiments: Any sauce or dip can be a great option. Think hummus, spinach artichoke dip, honey mustard, ranch dressing, or French onion dip. Yum!
Meat: If you're not a fan of pork, try substituting the salami, prosciutto, and coppa for roast beef, turkey, or chicken. Other great ideas include pepperoni, soppressata, and mortadella.
Cheese: Try using sharp cheddar, chèvre, feta, mozzarella, or even pepper jack!
Nuts: Instead of almonds, use walnuts, pecans, macadamia nuts, shelled pistachios, flavored peanuts, wasabi peas, etc.
Fruits and Vegetables: Watermelon chunks, apple slices (toss them with lemon juice to prevent browning), fresh berries, kumquats – it's all good!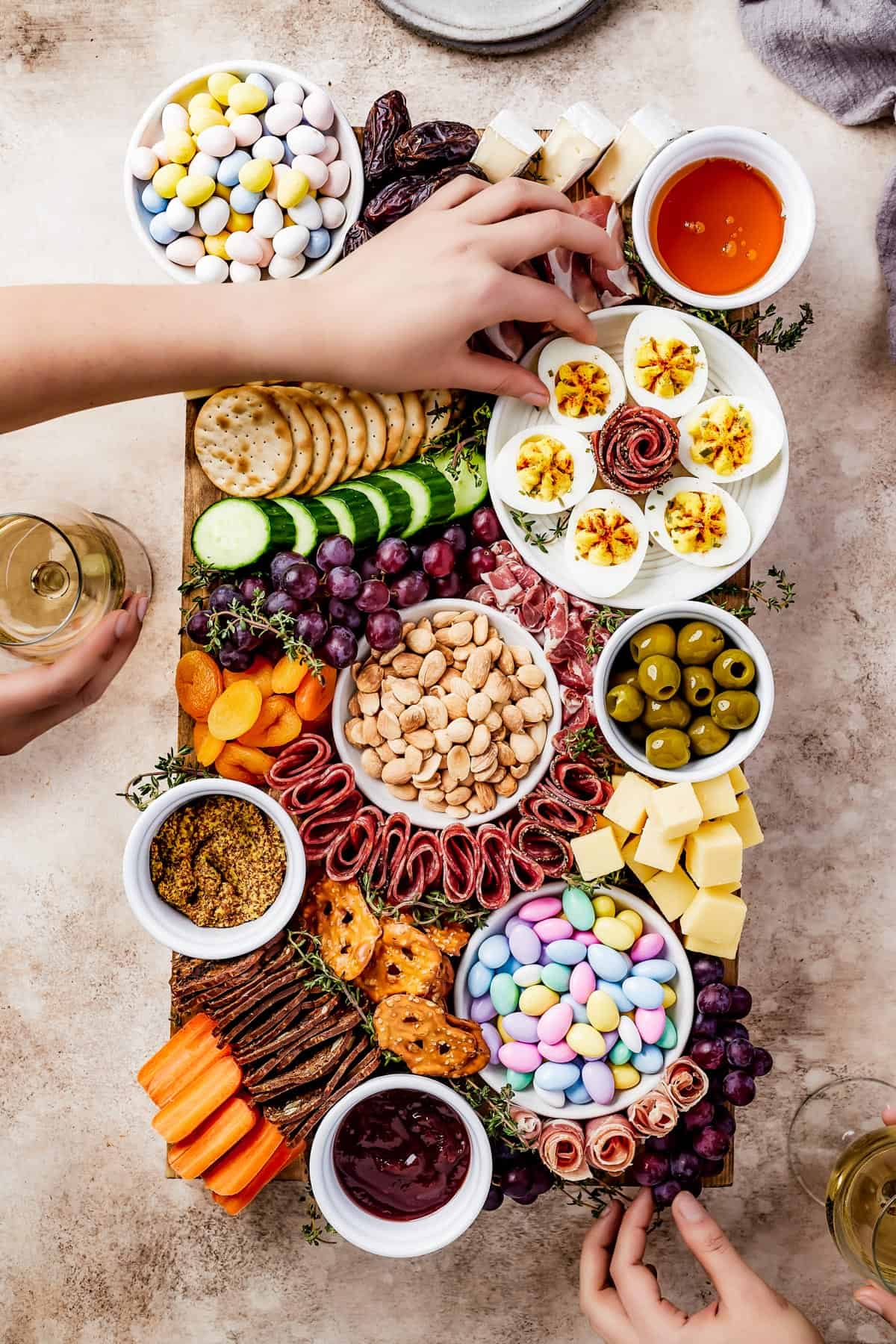 Storing Leftover Charcuterie
If you have leftovers to store, place any crackers and nuts into zip-top bags or airtight containers, and store at room temperature for up to 3 days.
Store other items in zip-top bags or airtight containers, and keep in the fridge for up to 24 hours.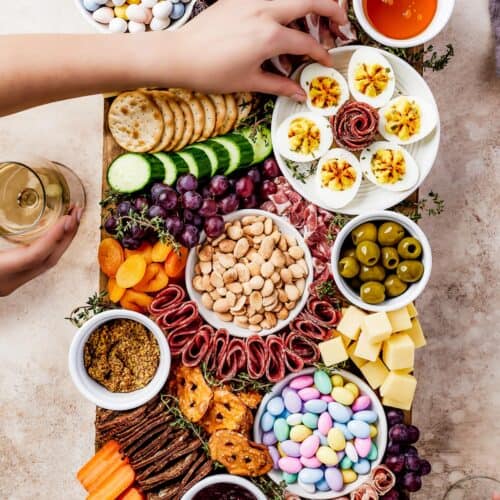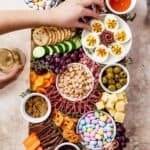 Print Recipe
Easter Charcuterie Board
This Easter Charcuterie Board is a gorgeous, fun appetizer sampler! From cheese to fruit, prosciutto to deviled eggs, it's a beautifully balanced array of snacks with something for everyone.
Ingredients
Nuts, Olives, and Candies:
Meats:
8

ounces

salami

6

ounces

prosciutto

4

ounces

coppa
Cheeses:
8

ounces

brie

8

ounces

white cheddar

6

ounces

gouda
Fruits & Vegetables:
1

pound

seedless red grapes

8

ounces

medjool dates

6

ounces

dried apricots

8

ounces

baby carrots

1

large english cucumber

sliced
Instructions
First, arrange the deviled eggs on a plate. Then place the dips, nuts, olives, and candies into their own separate bowls; arrange the bowls on a charcuterie-safe serving board.

Fold or roll the meats and arrange them around the bowls.

Cut the cheeses into wedges, slices, or cubes and arrange them among the meats and bowls.

Spread the crackers and crisps among the meats and cheeses. If possible, you can use a couple different bowls to bolster crackers into place.

Fill the remaining gaps on the board with the fruits and vegetables.

Optionally, you can places sprigs of thyme throughout the board as garnish.
Notes
Notes: Nutrition facts are approximate, provided for convenience. For precise nutrition facts, calculate each item individually according to the package labels and amounts used.
Nutrition
Calories:
580
kcal
|
Carbohydrates:
56
g
|
Protein:
20
g
|
Fat:
33
g
|
Saturated Fat:
13
g
|
Polyunsaturated Fat:
4
g
|
Monounsaturated Fat:
12
g
|
Trans Fat:
1
g
|
Cholesterol:
109
mg
|
Sodium:
998
mg
|
Potassium:
506
mg
|
Fiber:
4
g
|
Sugar:
38
g
|
Vitamin A:
2287
IU
|
Vitamin C:
2
mg
|
Calcium:
271
mg
|
Iron:
3
mg
More Easter Recipes