Need a wholesome dinner option that's family-friendly, full of flavor, and super easy to make? Look no further! This Slow Cooker Ham with Brown Sugar Glaze is hearty, flavorful, and satisfying. Bonus: it's almost totally hands-free, in your slow cooker!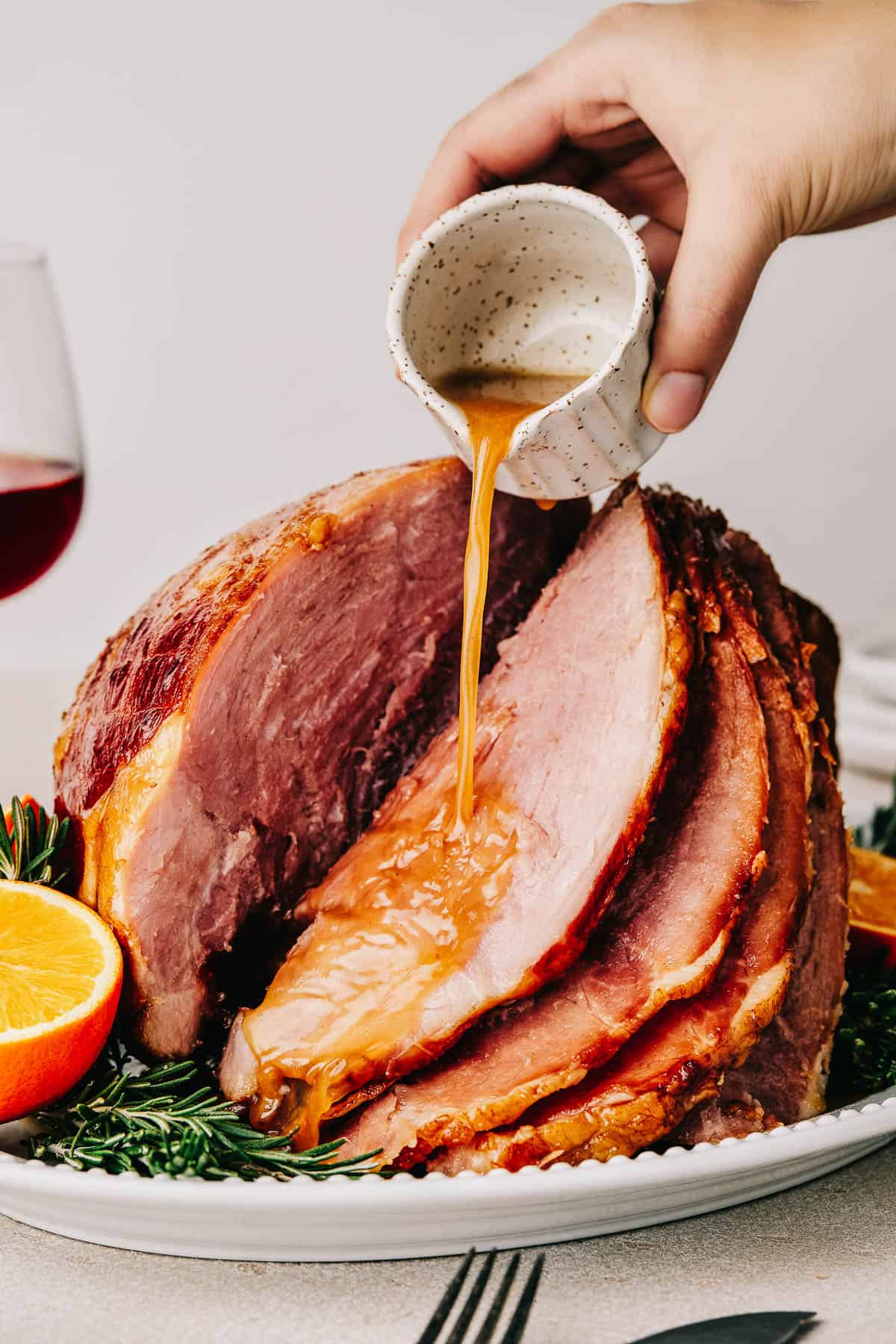 Scrumptious Glazed Ham, Made Easy in the Crockpot
Every so often, I like to cook a ham for dinner. You might typically think of ham as a holiday dish, but it's really great to make throughout the year. Ham is easy to cook, it tastes great, and you can freeze the leftovers for a quick and satisfying protein option that's always on hand.
And, best of all, you don't have to fuss with any difficult steps or special techniques! And! With this easy slow cooker method for making ham, you don't even need to heat up your oven. All of the magic happens right in your Crockpot, and the result is as tender, moist, and flavorful as you could imagine!
The cherry on top is the glaze: a robust, sweet, and tangy mixture of real orange juice, soft brown sugar, pure maple syrup, garlic, and Dijon mustard. Yum.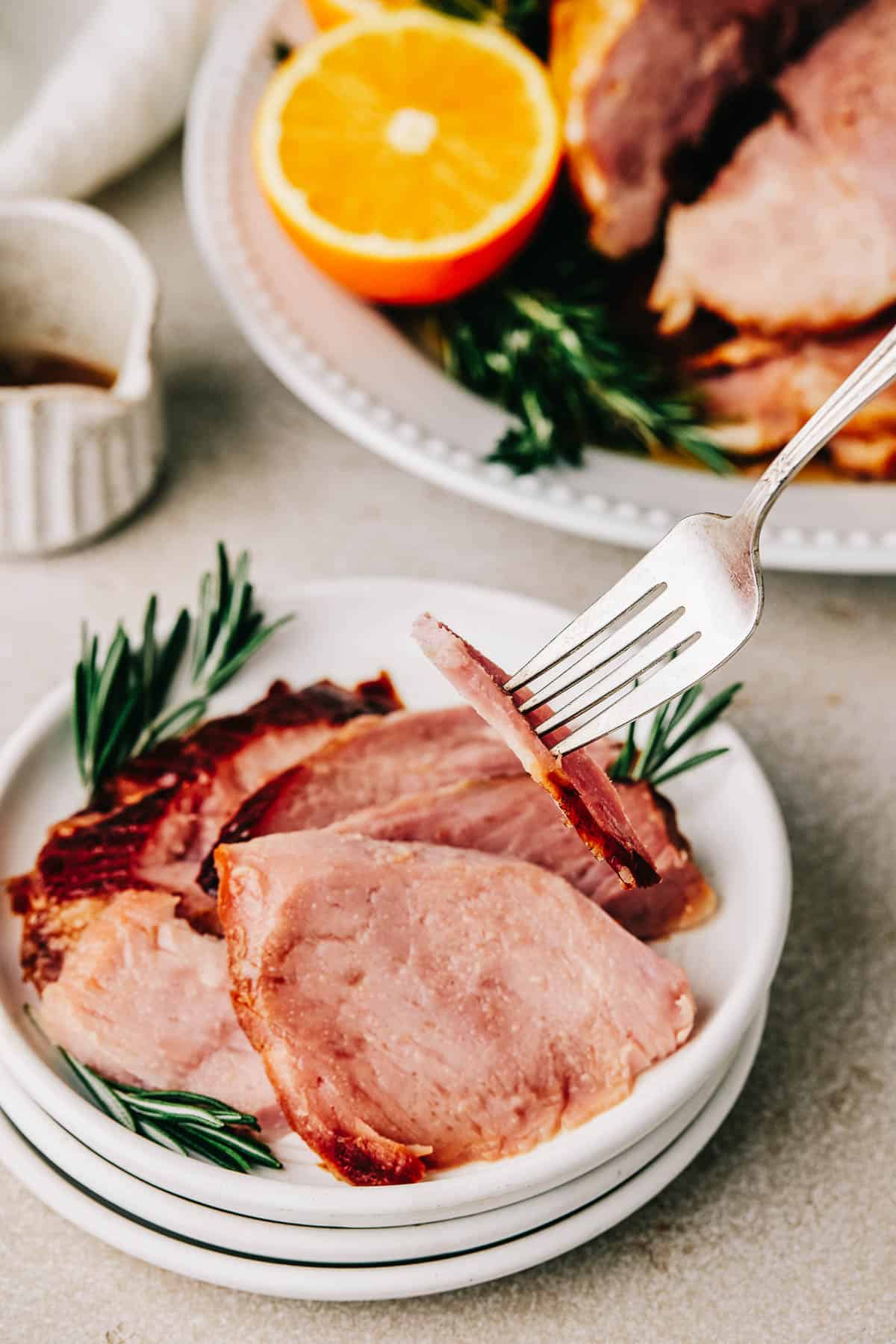 Which Cut of Ham Is Best?
So what type of ham should you buy to cook in your slow cooker? That depends on your recipe, of course, but in general, you should be shopping for a half ham that weighs somewhere between six and nine pounds. I like to go with a spiral-sliced ham, for easy serving, but that's up to you!
One type of ham that is not suitable for this dish is country ham. Country hams are dry-aged, very salty, and are often sold whole. They can be delicious, of course, but they aren't the right kind of ham for this recipe. Instead, you need what is typically thought of as an average grocery store ham. These are usually sold as a half ham (butt or shank portion), and are wet-brined rather than dry-aged and salted, so the meat is moist, pink, and fully cooked.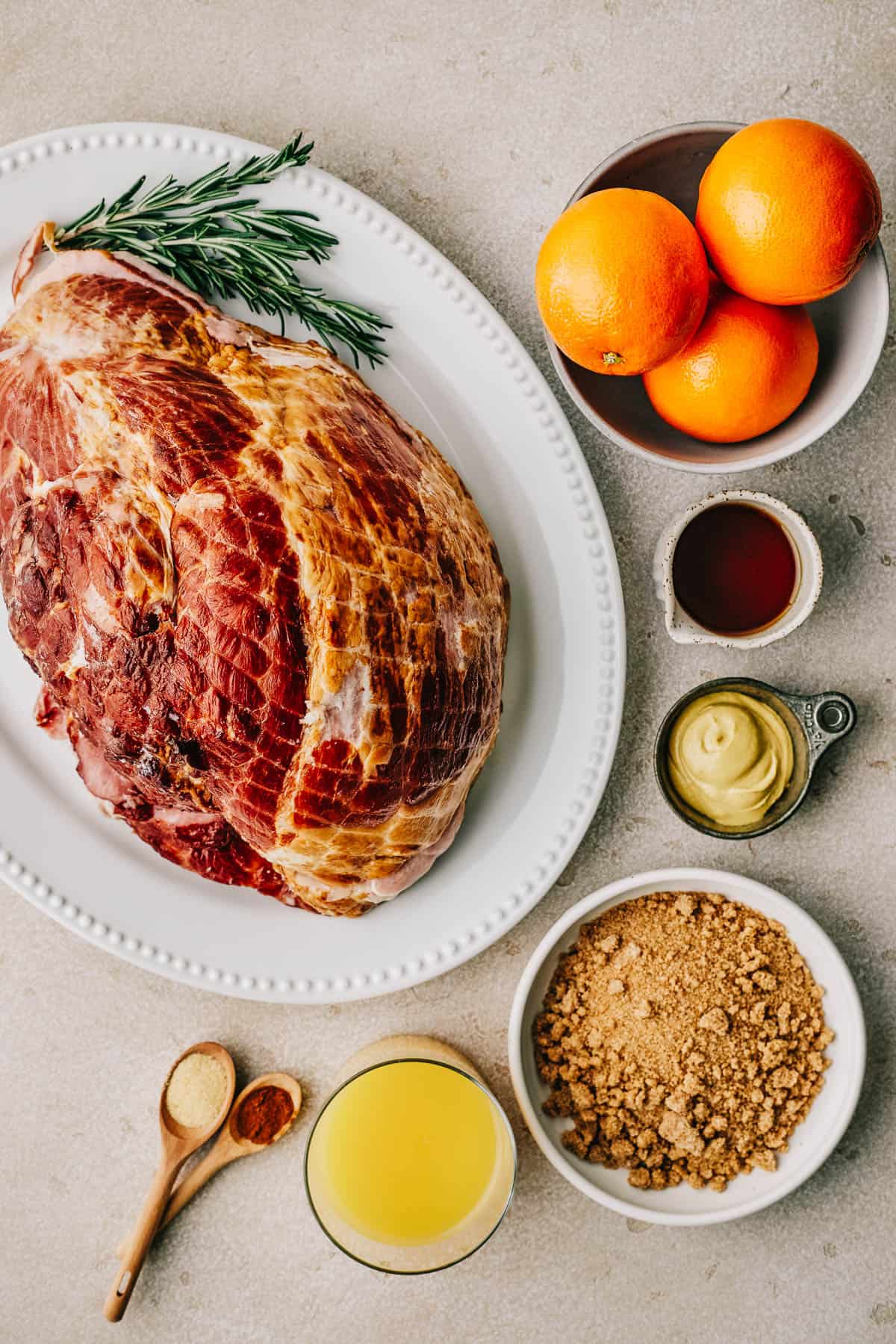 The Ingredients
So what ingredients will you need to make the perfect slow cooker ham? Well, you can make ham with just a ham and some water! But, to make this scrumptious glazed version, you'll need a few yummy extras. Here's the rundown:
Ham: For this recipe, I recommend a spiral-sliced, hickory-smoked ham. They are super easy to eat and have that classic smoky ham flavor.
Orange Juice: Orange juice adds a beautiful acidic balance to this recipe, and it goes so wonderfully well with hickory-smoked ham. If you don't have orange juice, or don't want to use it, you could use pineapple juice, apple juice, or even just water with some lemon juice added for acidity.
Brown Sugar: Light or dark brown sugar is fine. Light brown sugar will have a milder taste, while dark brown sugar will have a stronger hint of molasses.
Maple Syrup: Pure maple syrup is one of my favorite ingredients to use anytime! It's so naturally flavorful, and adds the perfect touch to this recipe.
Dijon Mustard: Dijon mustard has a wine-like character to it, with a lot of depth, fragrance, and sharpness. If you don't want to use Dijon, any mustard will do: grainy mustard, spicy mustard, or even plain yellow mustard.
Garlic Powder: A bit of garlic powder adds a savory, pungent bite to the ham.
Cinnamon: You can omit the cinnamon if you want to, but it really plays well with the brown sugar and the smoky sweetness of the meat.
Garnishes: To garnish this recipe, I like using orange slices and sprigs of fresh rosemary.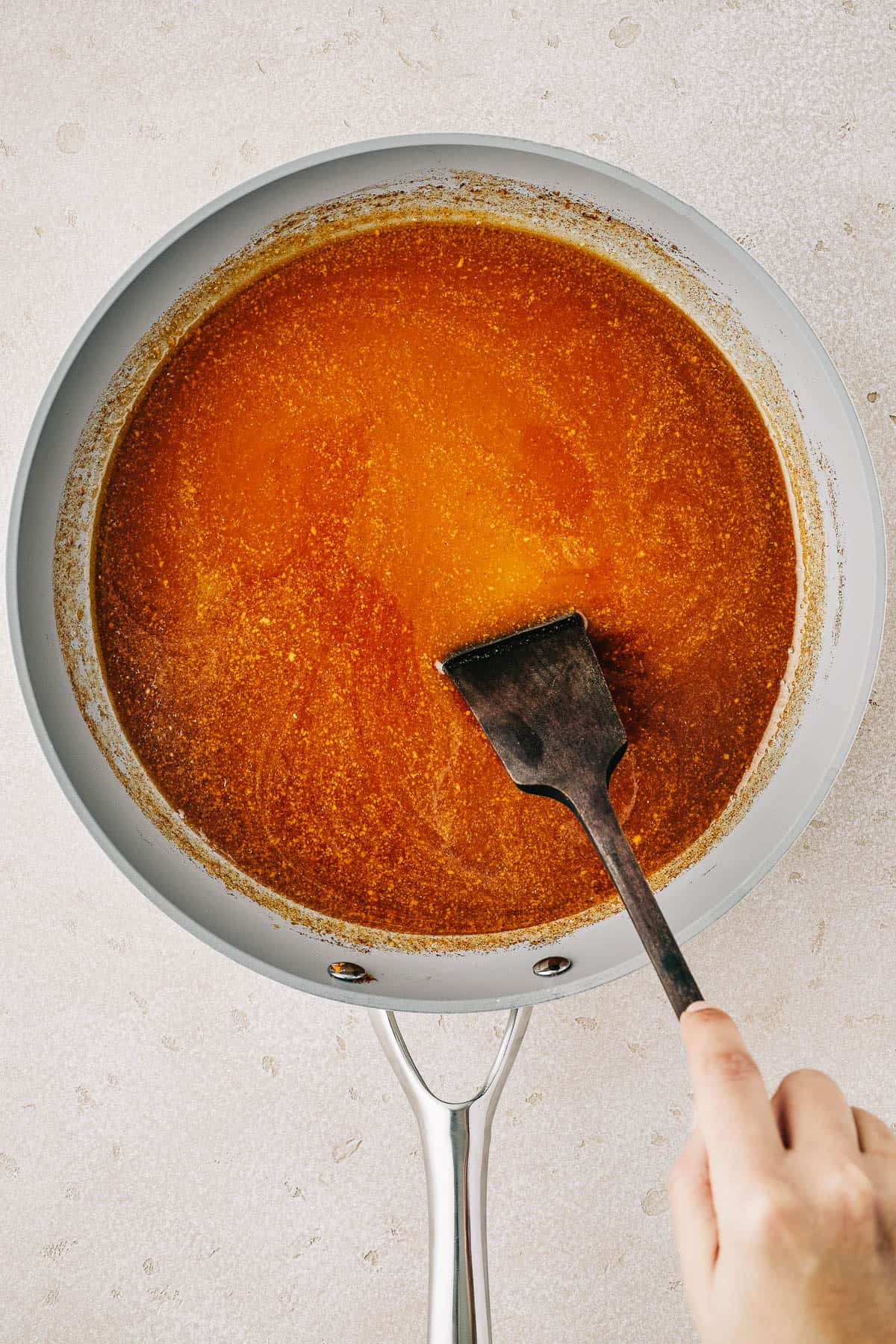 How to Make It, Step by Step
Making this ham is so easy, you guys! It's so perfect for getting an easy dinner going early in the day, without any hassle. When dinner rolls around, all you have to do is throw a side dish or two together.
Make the Glaze. Set a large saucepan over medium heat, and pour in the orange juice. Stir in the brown sugar, maple syrup, dijon mustard, garlic powder, and cinnamon, and keep stirring occasionally until the sugar has dissolved and the glaze thickens slightly. This should take about five minutes.
Arrange the Ham in the Crockpot. Place the ham into the Crockpot/Slow Cooker insert, flat side facing down. (This helps keep the ham moist.) Pour the glaze over it, using a baster or a pastry brush to coat the top of the ham well.
Cook the Ham. Place the lid on the Crockpot and cook the ham on LOW for four to five hours. The ham is done when the internal temperature reaches 140 degrees Fahrenheit. Baste or brush the ham with the glaze every hour or so to build flavor and keep the ham moist.
Serve the Ham! Once the ham comes to temperature, it's ready! Carefully lift it onto a large platter, and baste or brush it with another coat of glaze before serving. You can serve extra glaze on the side, and garnish your serving dish with sliced oranges and sprigs of rosemary, if desired.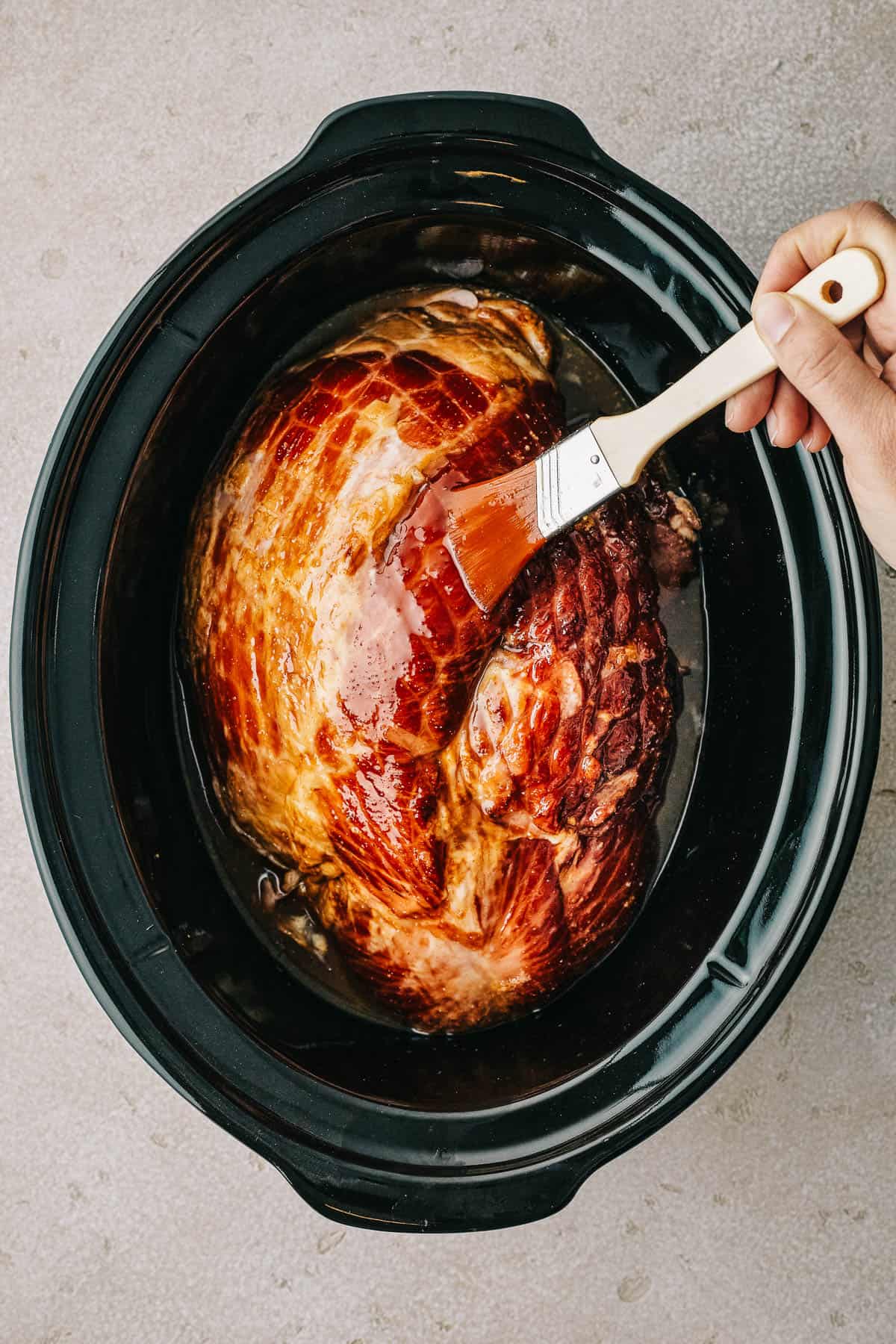 How Do You Cook a Ham So It Doesn't Dry Out?
A fully cooked ham is fairly forgiving, especially if you cook it covered with some liquid – which is exactly what we're going to do! A slow cooker is perfect for this, because the lid holds all the moisture in while the ham cooks in its glaze, with plenty of flavorful liquid in the bottom of the slow cooker insert.
My Top Tips for the Perfect Ham
When you're making ham, there are a few helpful hints you should keep in mind, whether it's the type of ham you buy, how much, or how hot you need to cook it! Read on, and happy cooking!
Avoid Added Water: The best hams are made simply with ham only, so look for that on the label. Ham with water added will still be tasty, but the meat is not as high quality.
Use a Meat Thermometer: To make sure your ham is at the perfect temperature for tender, delicious slices that aren't dry, check the temperature with an Instant Read thermometer. You want it to be between 145 and 160 degrees F.
Weigh Your Options: If you're buying a bone-in ham, you'll want to count on about ¾ pound per person. For a boneless ham, you can go for ½ a pound per person.
Easy Slicing: When it comes to carving, the easiest choices are boneless ham, or spiral-sliced. Both are great! But you usually get the most bang for your buck by purchasing a bone-in half ham. If you go that route, the easiest cut for slicing is the shank, which has a straight hambone, while the butt end of the ham has more meat, but a t-shaped bone that's harder to slice around.
Slow Cooker and Ham Size: A 7-quart slow cooker and 8.5-pound ham are pictured in the recipe. If you use a ham larger than 9 pounds, you may need to use a larger slow cooker. However, you can also seal the top of the slow cooker with a sheet of aluminum foil, secured along the rim, instead of the lid, if the lid doesn't quite fit over the ham.
Thicken the Glaze: Prefer a thicker glaze for serving? After the ham is done cooking, transfer the remaining glaze to a saucepan and bring it to a simmer over medium heat. Next, make a cornstarch slurry by stirring together a tablespoon of cornstarch and a tablespoon of water. Whisk the slurry into the glaze, and let it cook for a couple of minutes, or until thickened.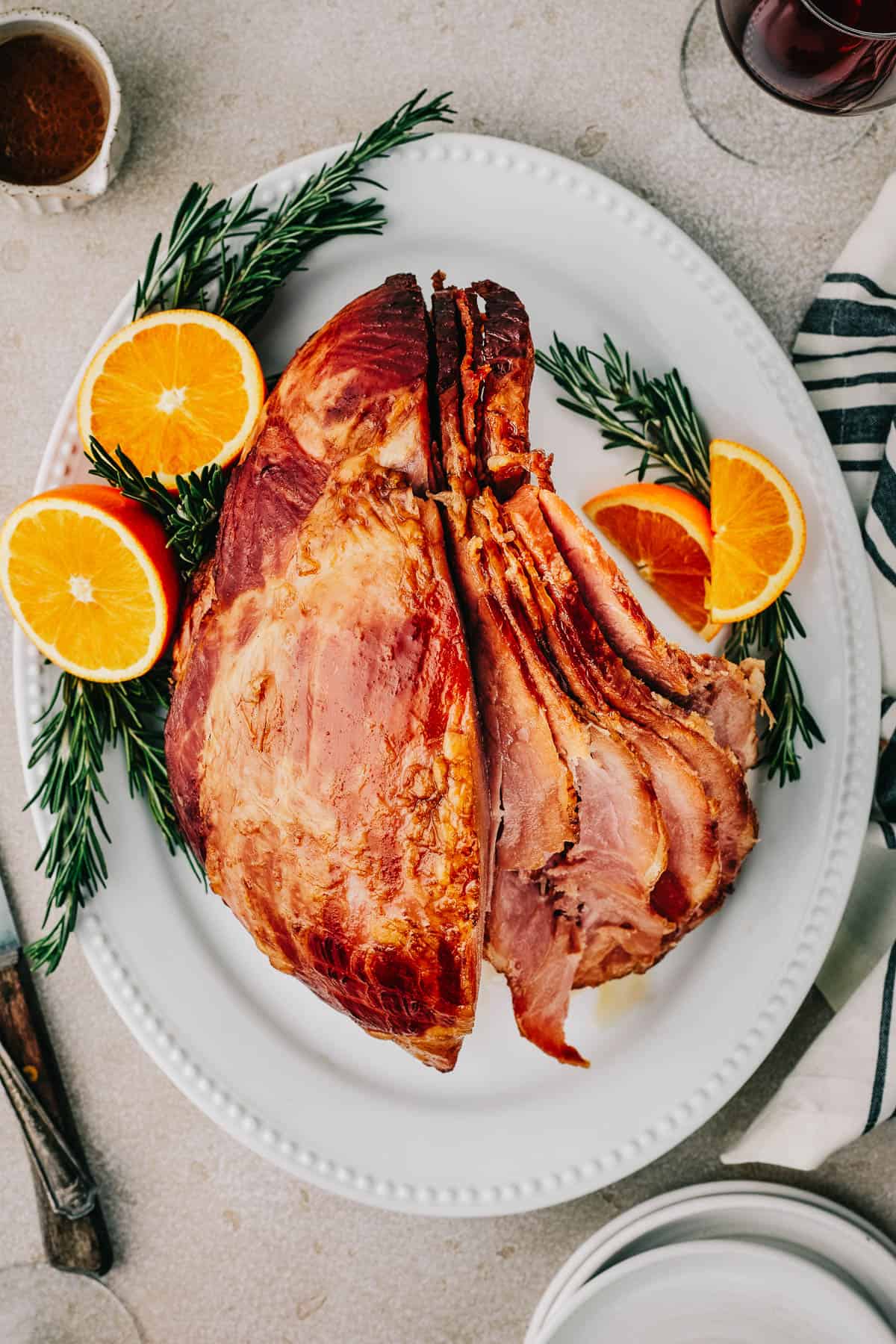 Yummy Variation Ideas
You can do a lot with glazed ham! There are tons of great variations out there for bringing out the best in this versatile protein. Here are just a few ideas for inspiration:
Pineapple: Add a can of crushed pineapple in juice to the glaze mixture instead of orange juice. Yum!
Honey: Who can resist a honey-baked ham? To make it, just substitute your favorite honey for the sugar and syrup in this recipe.
Apple Butter: Use apple juice instead of orange juice, and apple butter instead of brown sugar, for an elevated ham recipe. Omit the cinnamon.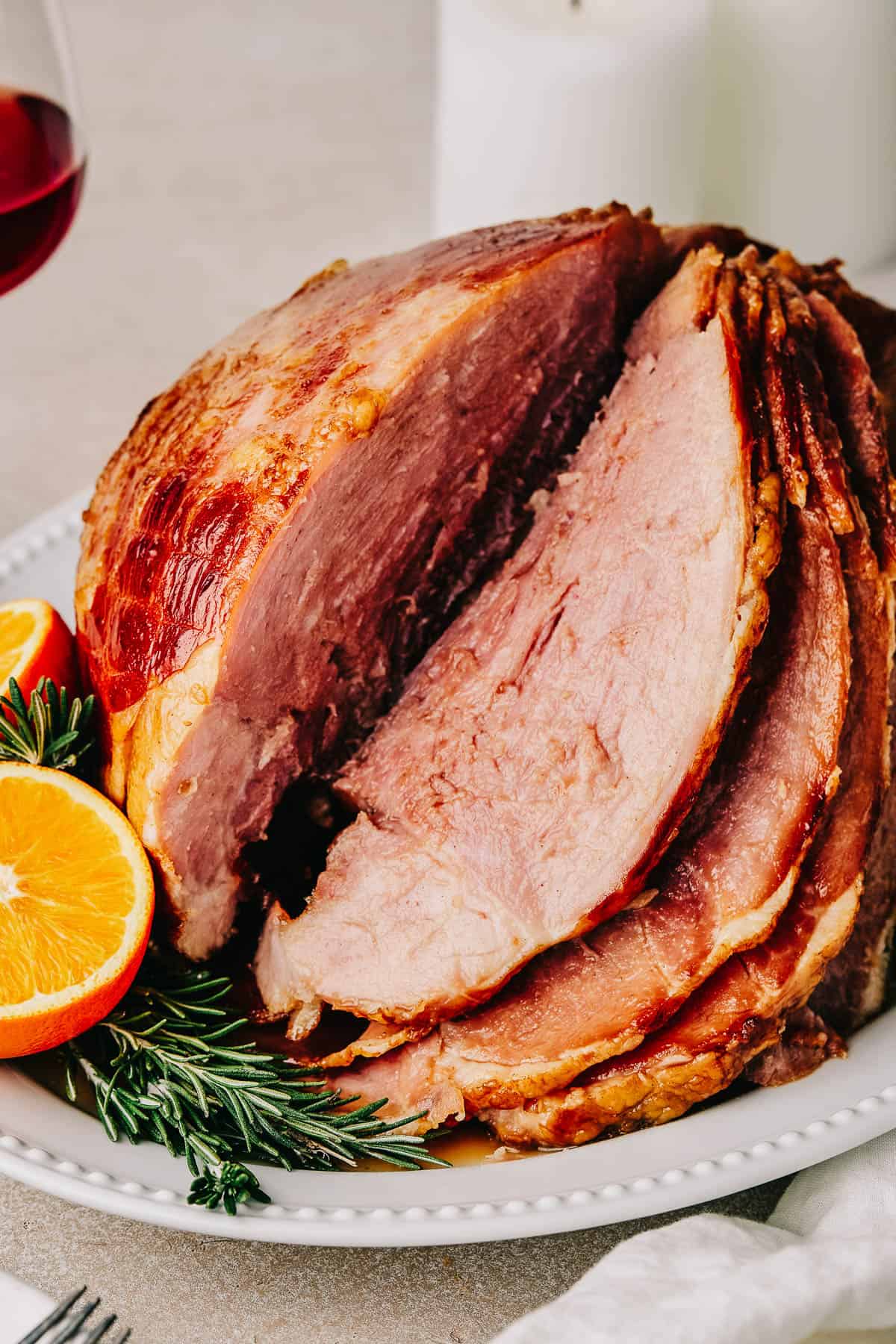 What to Serve with Ham
When it comes to side dishes, almost anything is a great choice to go with ham! From potatoes to tomatoes, you can go wrong. Need something a little more specific? Try one of these easy sides and make it a great meal!
Pasta Salad: A refreshing cold pasta salad is a zesty choice to go with warm glazed ham! This easy Macaroni Salad is a classic favorite, made with celery, mayonnaise, red bell pepper, and more.
Zucchini and Squash Casserole: A medley of mouthwatering veggies and creamy melted cheeses, this Cheesy Squash and Zucchini Casserole is the perfect low-carb side to go with savory sliced ham!
Roasted Veggies: It's no secret that brassicas go beautifully with ham, and that includes more than just broccoli or cabbage! Try some perfectly Roasted Radishes and Brussels Sprouts for a colorful, healthy, and tasty side dish.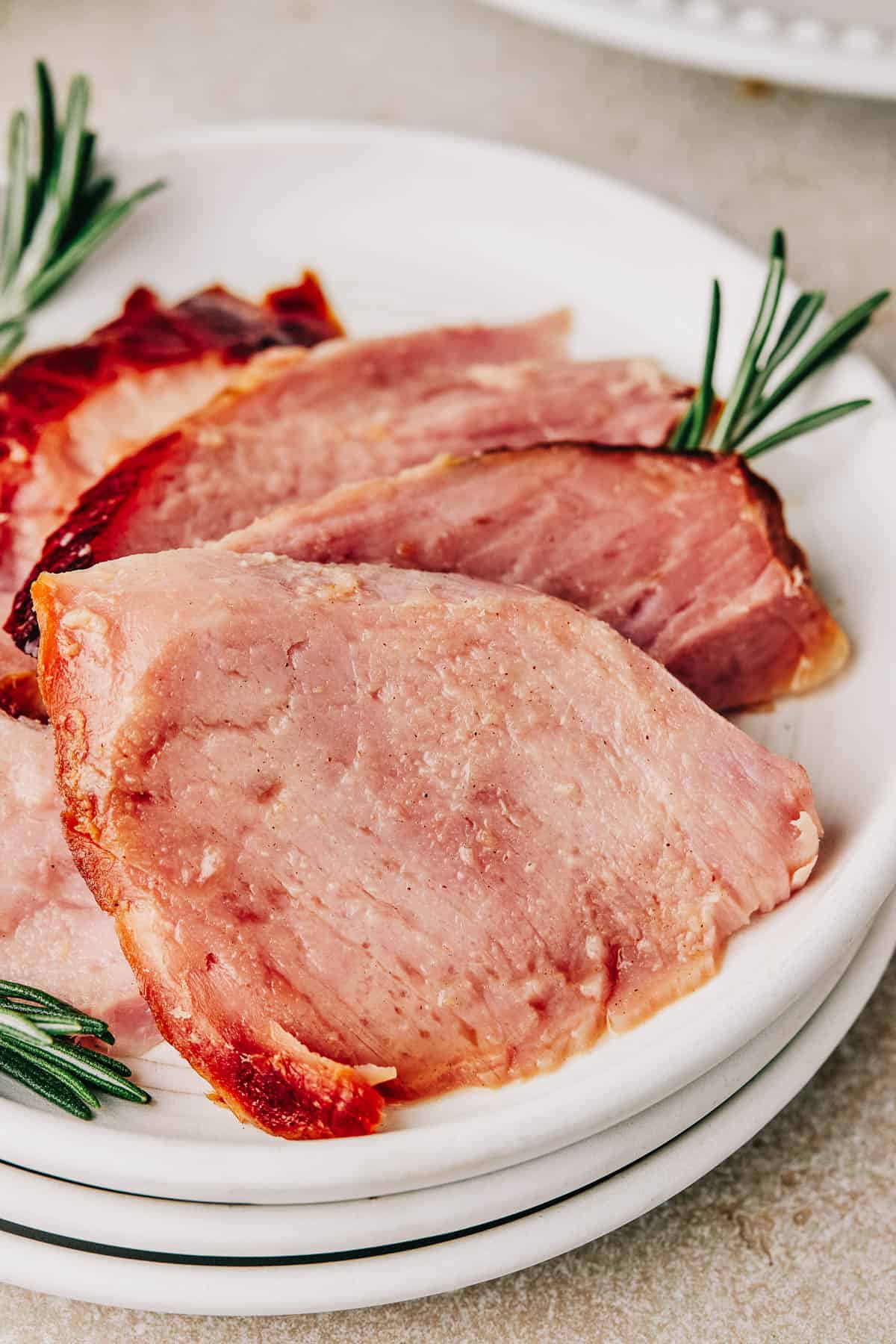 Storing and Reheating Leftovers
You can refrigerate leftover ham, or freeze it for longer storage. Here are some general guidelines:
Store well-covered or in airtight containers. If you're storing the whole ham, wrap and/or cover it with plastic wrap or foil. If you decide to cut the ham away from the bone, you can wrap the pieces, or store them in zip-top bags, or in airtight containers.
Refrigerate for three to four days.
Freeze leftover ham for up to two months, and thaw in the fridge overnight before using.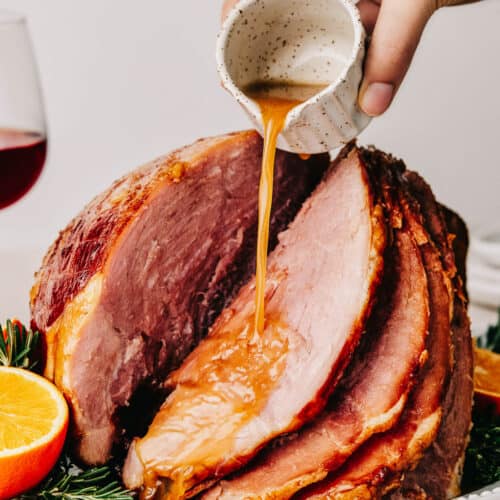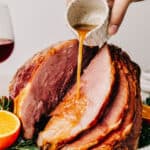 Print Recipe
Slow Cooker Ham with Brown Sugar Glaze
This Slow Cooker Ham with Brown Sugar Glaze prepared with hickory-smoked ham covered in a sweet and tangy homemade glaze. it's almost totally hands-free, in your slow cooker!
Instructions
Add orange juice, brown sugar, maple syrup, dijon mustard, garlic powder, and cinnamon to a large saucepan and bring to a slow simmer over medium heat.

Stir occasionally and cook until the sugar has dissolved and the glaze thickens slightly, about 4 to 5 minutes.

Place ham into the slow cooker flat side down. Pour in the glaze and use a baster or brush to thoroughly coat the top of the ham.

Close with the lid and cook on LOW for 4 to 6 hours, or until the internal temperature reaches 140˚Fahrenheit. During cooking, baste or brush the ham with glaze every hour.

To serve, transfer the ham to a large platter and baste or brush with another coat of glaze.

Optionally, serve with extra glaze on the side and garnish the platter with sliced oranges and sprigs of rosemary.
Nutrition
Calories:
552
kcal
|
Carbohydrates:
25
g
|
Protein:
57
g
|
Fat:
23
g
|
Saturated Fat:
5
g
|
Polyunsaturated Fat:
2
g
|
Monounsaturated Fat:
9
g
|
Trans Fat:
1
g
|
Cholesterol:
221
mg
|
Sodium:
3558
mg
|
Potassium:
939
mg
|
Fiber:
1
g
|
Sugar:
24
g
|
Vitamin A:
45
IU
|
Vitamin C:
81
mg
|
Calcium:
46
mg
|
Iron:
3
mg
More Easy Crockpot Recipes