Lush and luxurious, this classic recipe for Creme Brulee is the ultimate sweet indulgence. The burnt-sugar topping is a gorgeous contrast to the creamiest custard ever. And the best part? It's incredibly easy to make!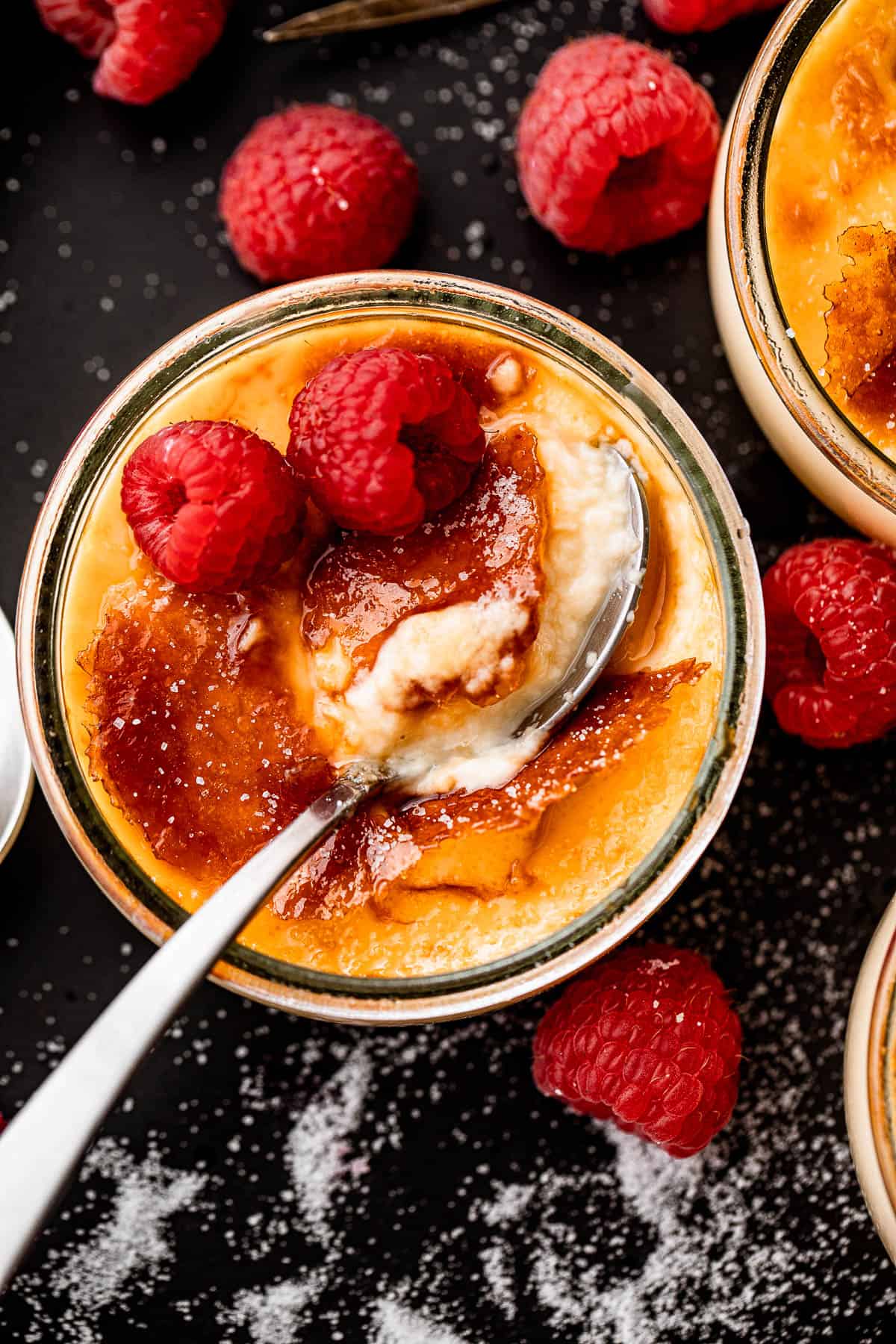 Smooth and Creamy Creme Brulee – Perfect for Valentine's Day
Ah, Valentines' Day. The perfect day to celebrate love… and dessert. And, chocolates. Also, jumbo-sized teddy bears that are super squishable.
This is actually kind of a weird holiday, when you think about it. 🤔
But, I digress! I really wanted to focus on the dessert part of Valentine's Day, because I have a beauty to share with you guys here. It's classic creme brulee! This famous dish is claimed by the Spanish, English, and French, but the name is French so I guess they sort of won the argument?🤷‍♀️
Anyway, it's a very old recipe that dates back at least as far as the 1800s, and probably a century or two before that. There's a very good reason that creme brulee has stuck around so long, and can still be found on the menu at ritzy restaurants the world over: it's flippin' delicious. 😋
This ultra-smooth custard is made with cream and egg yolks, making it even more creamy than regular custard (which is pretty darn creamy). Topped with a brittle layer of caramelized sugar, it's a favorite of many, and a lovely ending to a Valentine's Day menu.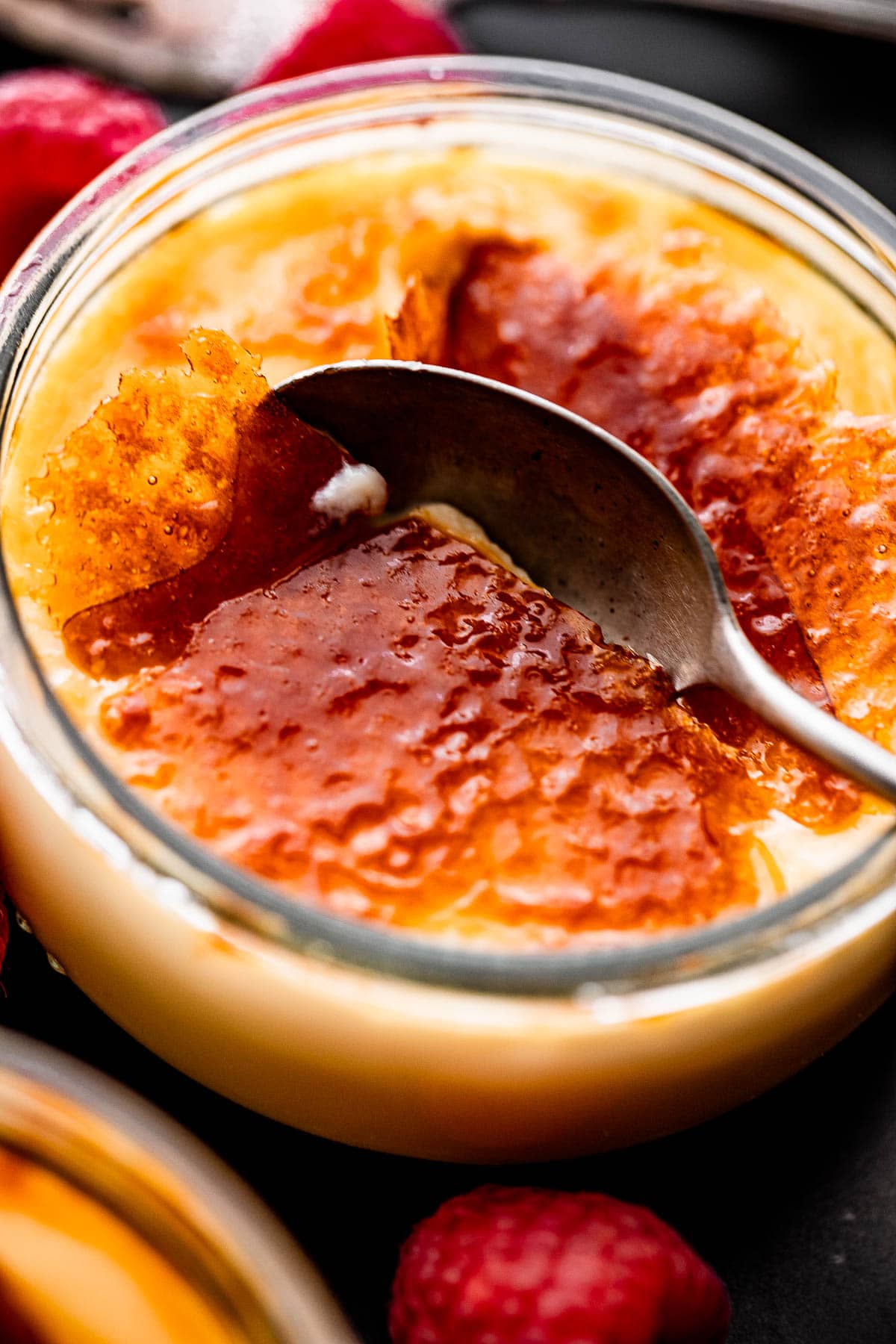 What Is Special About Creme Brulee?
Just what's so special about a vanilla custard, you may ask? After all, there are lots of custard-y dishes out there. Why does creme brulee stand out?

Well, to put it simply, this dish is legendary for its silky smoothness and ultra-rich creaminess. The simple vanilla flavoring is all that's needed to accentuate the luxurious texture and mouthfeel, and the crackly, crunchy sugar topping adds the perfect contrast! All in all, this elegant little dish is a sensory masterpiece, perfect for a romantic dinner.
The Ingredients You'll Need
Have you ever wondered just how many desserts can be made with basics like flour, cream, eggs, sugar, butter… the list is endless! That's one of the things that makes baking so interesting. In this recipe, you don't even need flour or butter! Here's the list:
Heavy Cream: I like using heavy cream for extra-rich creme brulee, but you can also use half and half.
Vanilla: Pure vanilla extract is my go-to. You could also use one vanilla bean, split in half – just make sure to remove it before baking!
Salt: Just a pinch or two.
Egg Yolks: Yolks only here. Don't want to waste the whites? No problem! You can save the whites for adding to other recipes, or for making an egg white omelet, etc.
Sugar: You'll need a little bit of sugar for sweetening the custard, and more to make the crunchy sugary topping. Regular granulated sugar works well.
Boiling Water: To keep things humid in the oven (which is good for custard), we'll be setting our ramekins in a pan of hot water, known as a bain-marie or hot water bath.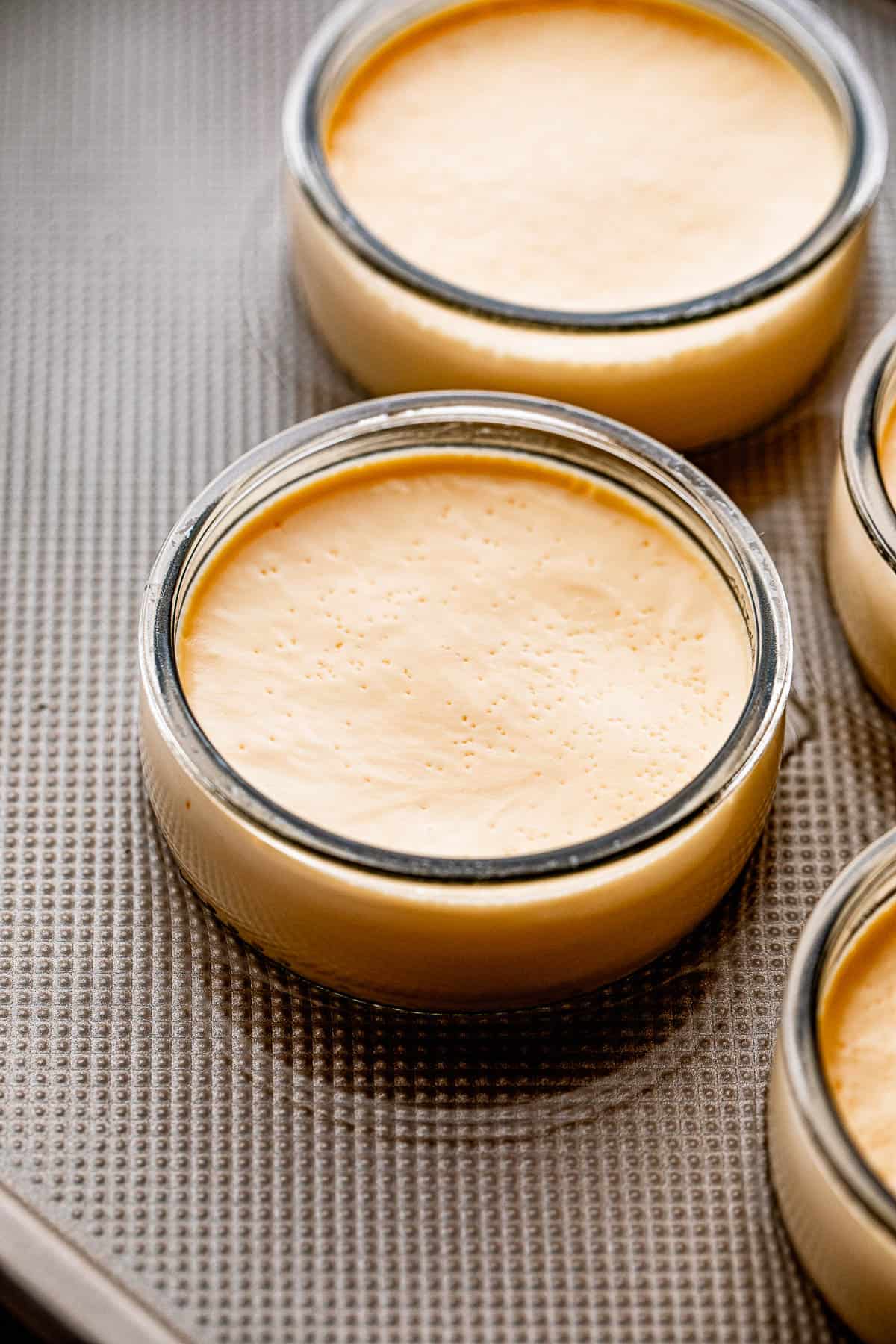 How to Make It, Step by Step
Making creme brulee is a skill worth mastering! And fortunately, it doesn't take much work to master. This French classic only takes a few basic steps to assemble and bake. Let's get to it!
Prepare the Oven and Ramekins. Before you get started on the creme brulee mixture, make sure the oven is preheating to 325˚F. Then, set four six-ounce ramekins into a large baking dish, such as an 8×8-inch cake pan or 13×9 inch brownie pan. Set this aside for now.
Scald the Cream. Scalding the cream means heating it up until it's hot, but not boiling. While we're scalding the milk, we'll add the vanilla and salt as well. Combine those three ingredients in a saucepan, and set over low heat. Allow the cream to heat up until little bubbles form around the edges of the saucepan and the cream is almost steaming, but NOT boiling or simmering. Take the scalded cream off the heat, and let it cool for about three minutes.
Beat the Eggs and Sugar. While the cream mixture is cooling, whisk the egg yolks and the sugar together in a separate bowl, until light and creamy.
Temper the Egg Mixture and Then Add It to the Cream Mixture. To temper the egg yolk mixture, you need to drizzle in about ¼ cup of the hot cream, whisking the entire time. When you are done, you can then whisk the tempered egg mixture into the rest of the hot cream.
Bake. Bring a kettle or pot of water to a boil. Pour the creme brulee mixture into your ramekins, and then pour the boiling water into the pan son that it comes halfway up the sides of the ramekins. Bake the creme brulee for about 30 to 40 minutes, or until the center is just set but still jiggly, like jello.
Cool and Chill. Take the creme brulee out of the oven, and let it cool to room temperature. Then set the ramekins in the refrigerator, covered, to chill for at least 4 hours, overnight or even up to two days.
Make the Sugar Topping. When you're ready to serve the creme brulee, sprinkle the top of each creme brulee with a teaspoon or so of granulated sugar. The sugar should cover the surface of the custard with no gaps. Then melt and caramelize the sugar by placing the ramekins under a broiler, until the sugar melts and browns on top. You can also use a kitchen torch for this, if you have one.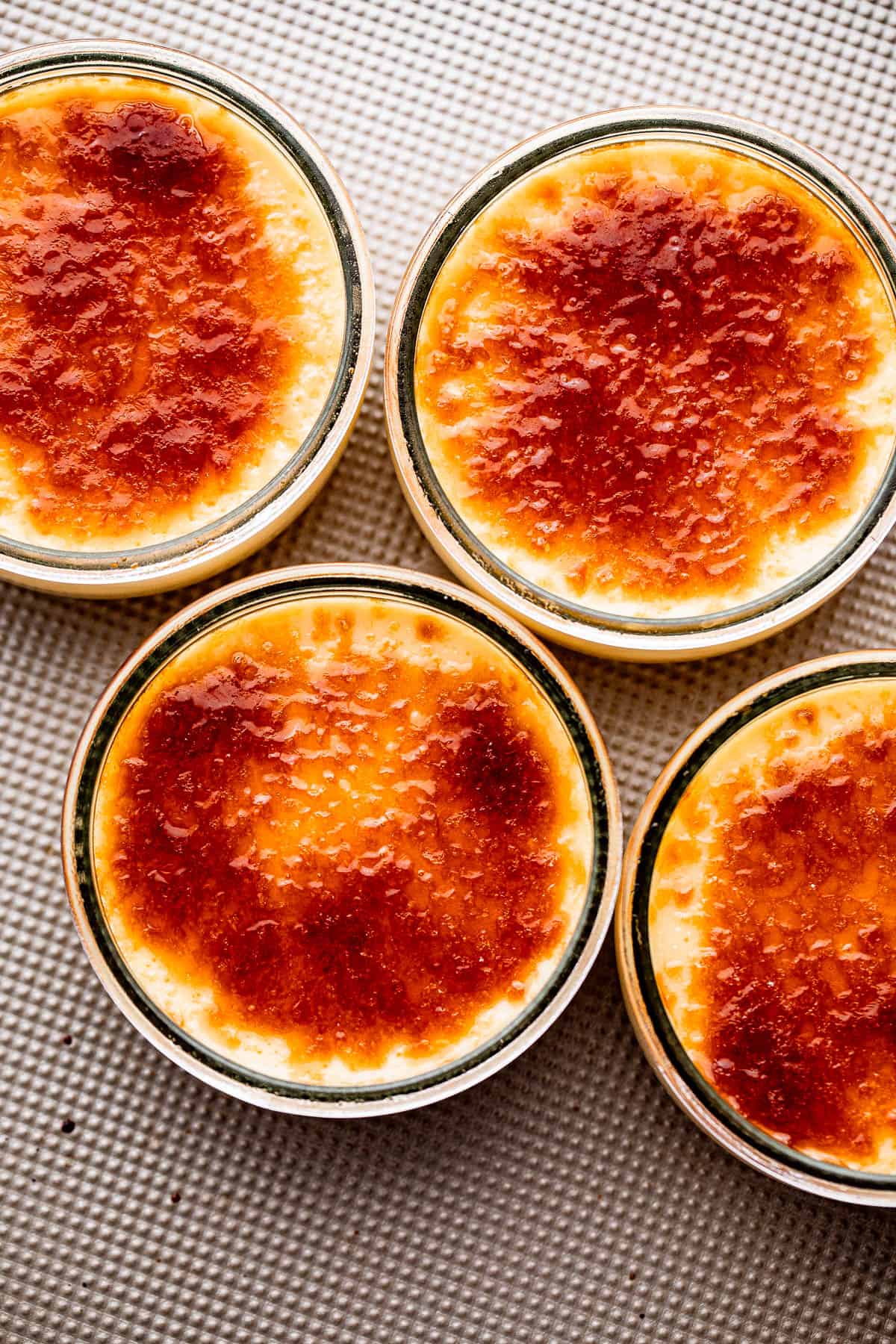 My Most Helpful Tips!
And that's how you make creme brulee at home! If you still feel a little intimidated, that's totally understandable! These helpful tips will make sure you keep on the right track, and get this creamy French classic down pat.
Tempering Eggs: If you've ever tempered egg yolks before, you probably know that it's not necessarily easy to rapidly whisk the eggs while pouring in the hot liquid. My solution is to use a small ladle or measuring cup to add the hot milk, barely drizzling it in with your left hand while whisking with your right.
Strain, If Necessary: If your custard seems to be slightly lumpy due to "scrambled eggs," don't despair! Pouring it through a fine mesh strainer will remove those and save your creme brulee.
Pour Evenly: The ramekins should have equal amounts of custard, for even baking. I like to place each ramekin on a small kitchen scale so that I can be sure to fill them all the same amount.
Adding Espresso: Give your creme brulee a gentle café au lait twist by replacing a small amount of the cream with a shot of cooled espresso.
Add Gold Leaf: For a truly special touch, decorate the finished dessert with a few tiny flakes of edible gold leaf.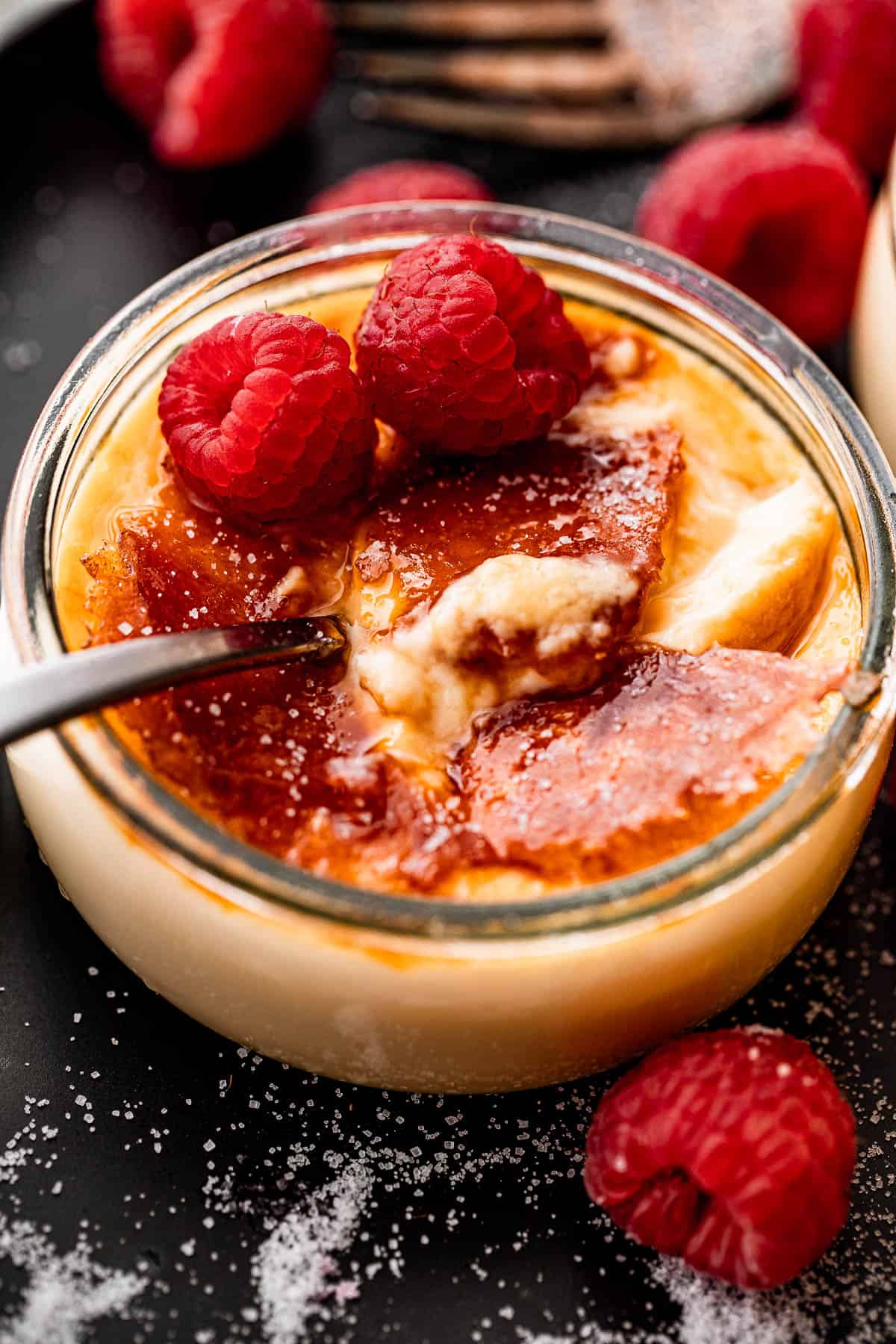 Storing Leftover Creme Brulees
Leftover creme brulee should be stored in the refrigerator, well-covered with plastic wrap. It will keep for 2 to 3 days.
Can I Freeze This?
Yes, and no. If your creme brulee is not overbaked (or under-baked!) then it should freeze well! Just cover well and pop it in the freezer. It's best to freeze it without the sugar topping.
You can thaw frozen creme brulee in the refrigerator, and then add the sugar topping later.
Creme brulee will stay fresh in the freezer for up to 3 months.
Make-Ahead Instructions
To make these in advance: prepare the custard, cool it to room temperature, and then chill for up to two days in the refrigerator, before making the sugar topping and serving.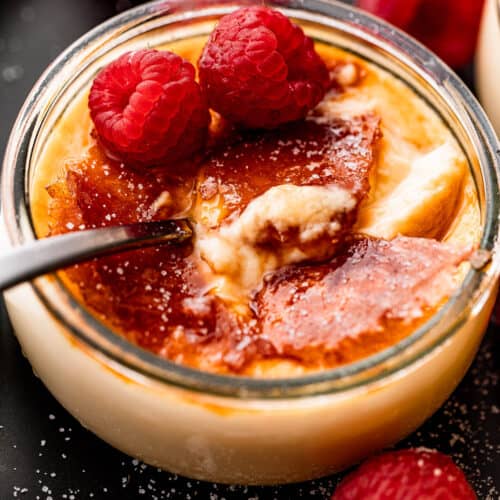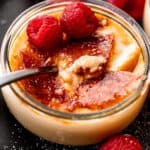 Print Recipe
Easy Creme Brulee
Lush and luxurious, this classic recipe for Creme Brulee is the ultimate sweet indulgence. The burnt-sugar topping is a gorgeous contrast to the creamiest custard ever.
Ingredients
2

cups

heavy cream,

you can also use Half & Half

1

teaspoon

pure vanilla extract

⅛

teaspoon

salt

5

large egg yolks

½

cup

granulated sugar,

plus more for topping

Boiling water
Instructions
Preheat oven to 325˚F.

Prepare four 6-ounce ramekins (or six 4-ounce ramekins) in a baking dish. Set aside.

In a saucepan combine the cream, vanilla extract, and salt.

Set over Low heat and cook just until hot, but not boiling.

Remove from heat and let sit 3 minutes.

In the meantime, in a separate bowl whisk the egg yolks and sugar until light.

Whisk about a ¼-cup of the cream mixture into the egg yolk mixture; then pour the sugar and egg mixture into the cream mixture inside the saucepan. Continue to stir until combined.

Pour the mixture into the ramekins.

Fill the baking dish with the boiling water halfway up the sides of the ramekins.

Bake for 30 to 40 minutes, or until center is just set.

Remove from oven and let cool completely.

Refrigerate for at least 4 hours, or overnight. These are good in the fridge for about 2 to 3 days.

When ready to serve, top each creme brulee with a teaspoon of sugar.

Place the ramekins in a broiler and broil until sugar melts and browns on top.

Serve.
Nutrition
Calories:
388
kcal
|
Carbohydrates:
20
g
|
Protein:
4
g
|
Fat:
33
g
|
Saturated Fat:
20
g
|
Polyunsaturated Fat:
2
g
|
Monounsaturated Fat:
10
g
|
Cholesterol:
271
mg
|
Sodium:
86
mg
|
Potassium:
77
mg
|
Sugar:
17
g
|
Vitamin A:
1383
IU
|
Vitamin C:
1
mg
|
Calcium:
71
mg
|
Iron:
1
mg
More Indulgent Dessert Recipes