This recipe for Easy Tiramisu is a rich, luxurious no-bake classic! Made with whipped cream, mascarpone cheese, espresso, and ladyfingers, it's guaranteed to turn out smooth and creamy with delightfully cakey cookie layers.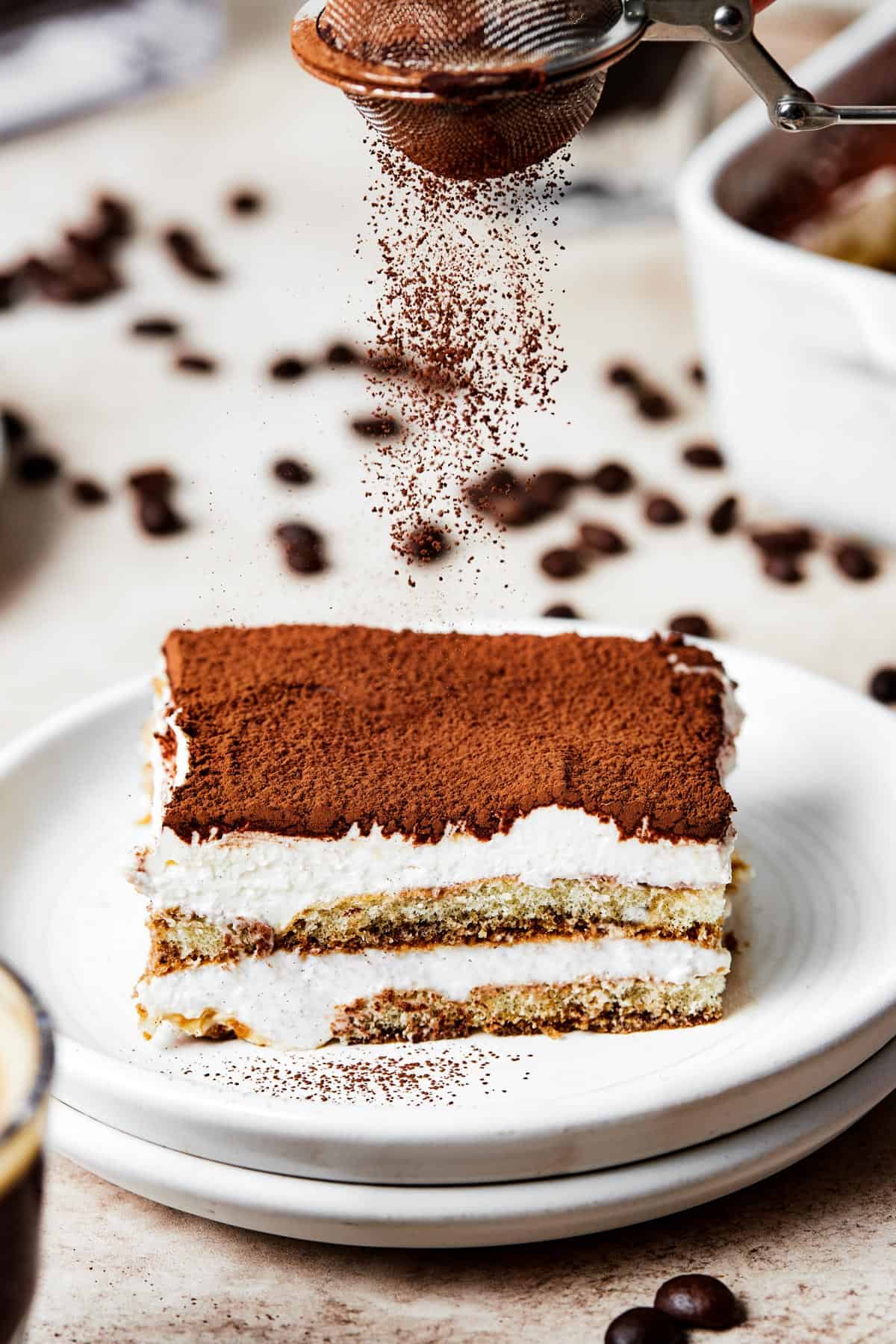 A Luxe, Decadent No-Bake Italian Dessert
I love many desserts, and it can be hard to pick just one for a special occasion, but classic Tiramisu just might be my very favorite. It's one of those magical combinations, simple but robust, with a luxurious texture and symphony of flavors: cream, mascarpone, cocoa, coffee, and cookie.
Combined into a cold and creamy no-bake dessert, these ingredients are transformed into a dessert worthy of celebrating!
And, guess what? It's actually super easy to make! Tiramisu has a reputation for being difficult to make, and it does have several processes that need to be done right – whipping the cream, folding in the mascarpone, and very lightly dipping the cookies. But, all of those processes are relatively simple, and can definitely be done correctly even by amateur bakers!
This basic tiramisu version is extra easy, because it relies on store-bought ladyfinger cookies instead of homemade, and it doesn't include raw eggs. However, it still has that wonderfully complex flavor profile, and a rich, ultra-smooth texture. One bite, and you'll be in food heaven! 🍴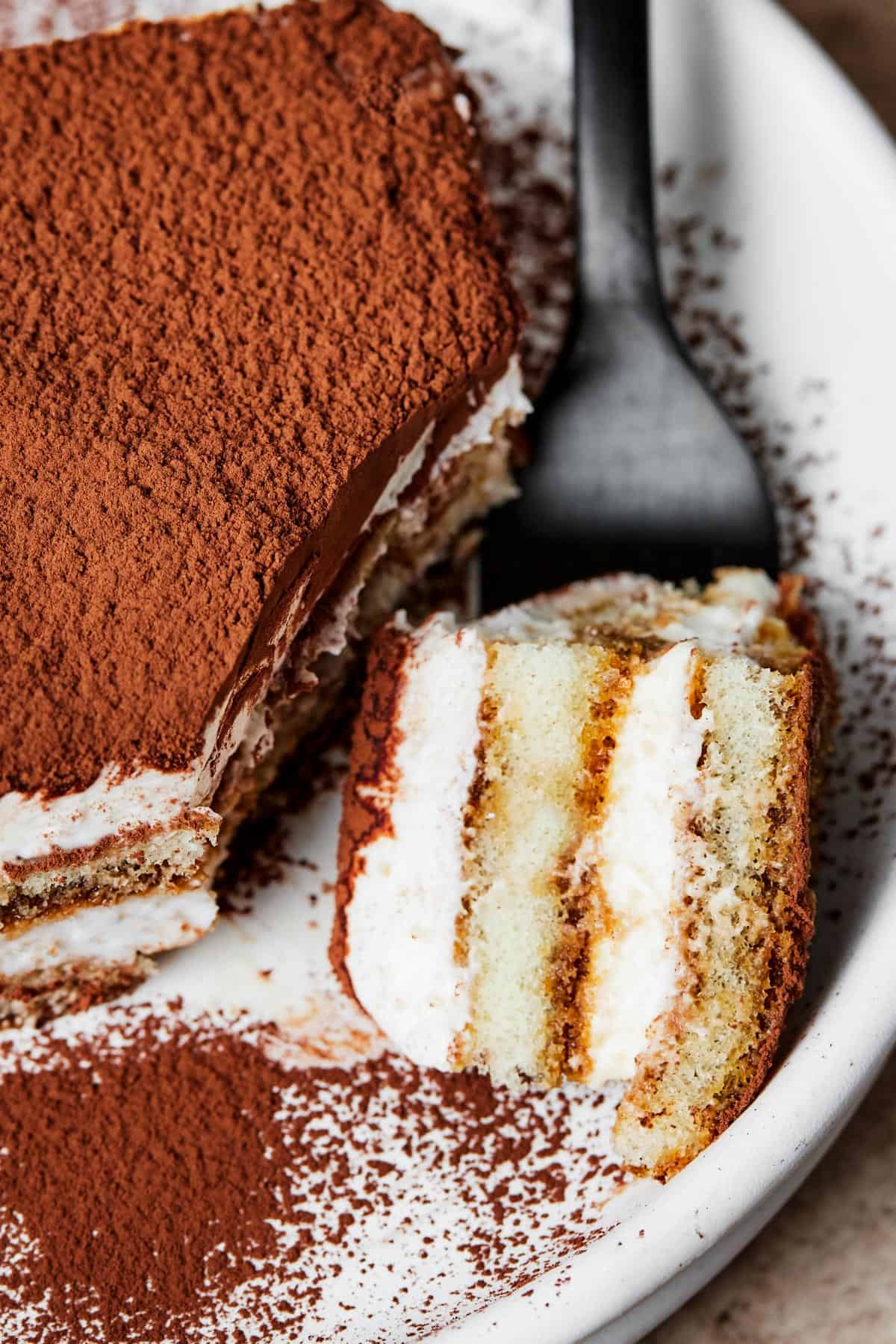 What Does Tiramisu Mean?
Tiramisu literally translates to "pick me up" or "cheer me up", and it's easy to see why! The light, but rich mascarpone filling is literally topped with chocolate (in the form of cocoa powder), while the airy ladyfinger cookies get a punch of espresso.
This no-bake dessert is guaranteed to put you in a better mood, from the first bite – and maybe give you a tiny caffeine kick, too!
Is There Real Alcohol in Tiramisu?
Many cooks agree that the older recipes for tiramisu don't include alcohol, but these days, it's common to include alcohol. Amaretto, marsala wine, rum, and brandy are all popular choices. If you use alcohol, substitute about half of the espresso (or less) with alcohol, or simply add a few tablespoons of spirits to the espresso.
You can also add a splash of alcohol to the cream mixture, if you like. It's up to you!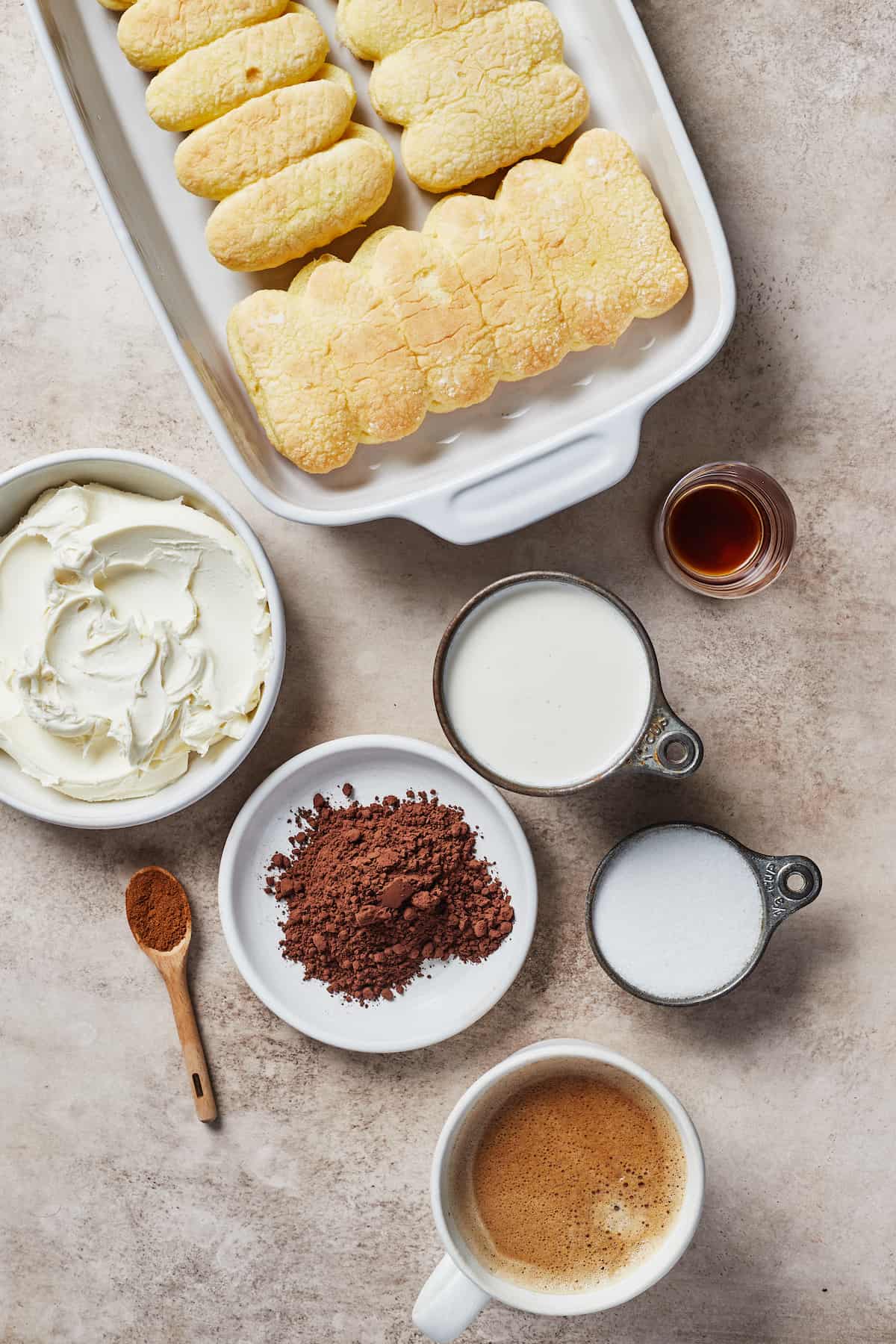 What You'll Need
Although this famous dessert seems complex, it's actually made with just a few simple ingredients! If you choose to make your own ladyfingers, the process and ingredients list gets a little more involved, but if you use store-bought ladyfingers, it's really very easy!
Cream: Heavy whipping cream is the base of the mascarpone layer, whipped to stiff peaks.
Sugar: A little bit of granulated sugar makes the cream sweeter.
Vanilla: Pure vanilla extract gives the best flavor. Scraped vanilla bean is also amazing!
Cinnamon: Cinnamon adds a pleasant hint of spice, but if you prefer to omit it, that's fine, too.
Mascarpone: Mascarpone cheese is a rich, creamy cheese with a neutral flavor, perfect for dessert recipes.
Espresso: The espresso should be cooled, and if you want to add some sugar to it, you can. I find that the ladyfingers are sweet enough without sugaring the espresso.
Ladyfingers: Store-bought ladyfingers or savoiardi, take on a cake-like texture when topped with cream and chilled.
Cocoa Powder: It's traditional to top your tiramisu with a layer of cocoa powder, which adds a pretty touch and a blast of chocolate to the recipe! To boost the chocolate flavor even more, you could substitute chocolate shavings instead.
How to Make It, Step by Step
For this version of tiramisu, we'll be making and layering just two simple components: the ladyfinger cookies, and the rich mascarpone cream.
Make the Mascarpone Cream. First, you'll need to use a stand mixer or a hand mixer to beat the whipping cream, sugar, vanilla, and cinnamon until stiff peaks begin to form. This should take a minute or two. (You can also do this by hand with a whisk, but it takes much longer – you'll probably want to have someone else in the kitchen to take turns beating the cream!) Next, add the mascarpone, and mix on medium-low until the whipped cream and mascarpone are just combined, being careful not to over-whip.
Make the First Layer of Coffee-Dipped Ladyfingers. Pour the cooled espresso into a shallow bowl. One at a time, dip the ladyfingers into the espresso, flipping them once to coat on both sides. Don't soak, just quickly dip. Lay each ladyfinger into your dish until you have covered the bottom of the dish with a single layer.
Top the Ladyfingers with the Mascarpone Cream. Once you have a complete layer, dollop half of the mascarpone cream on top, and spread it evenly over the ladyfingers.
Repeat These Layers. Do steps 2 and 3 again, to make a second layer of ladyfingers and a second layer of cream.
Top with Cocoa Powder, and Chill. Dust the top of the tiramisu with cocoa powder. Chill the tiramisu for 4 to 5 hours, or overnight, to allow the whole dessert to set.
Enjoy! Cut the tiramisu into squares, and serve.
Tips for Success
Once you get the hang of it, making a good tiramisu is as easy as can be. However, if this is your first time attempting the recipe, keep these helpful tips in mind. They can make all the difference!
Dipping the Cookies: Probably the most crucial tip for tiramisu is to avoid soaking the cookies in the espresso. Ladyfingers are very dry and porous, and it only takes a second for them to soak up too much liquid, making your finished tiramisu overly wet and watery. Give them a lightning- quick dip, and then place them into your dish.
Cookie Placement: You may have noticed that tiramisu from a restaurant or store is made with crisscross layers of cookies: on the bottom layer, the cookies are placed lengthwise in the dish, and on the second layer, the cookies are placed crosswise. This is a good way to arrange the cookies for a sturdy slice of tiramisu that won't fall apart.
Don't Overbeat: When beating the mascarpone filling, it's important to beat the whipped cream just to stiff peaks, and then gently fold the mascarpone in. If you continue beating whipped cream after it reaches stiff peaks, it will break apart into a liquidy mixture of tiny, grainy curds – on its way to becoming butter! If you realize that your cream has separated in this way, you'll need to start over with fresh cream.
Quick Set: If you want the tiramisu to set more quickly, you can place it in the freezer for one hour instead of in the fridge. However, the longer it sits in the refrigerator, the better it will taste.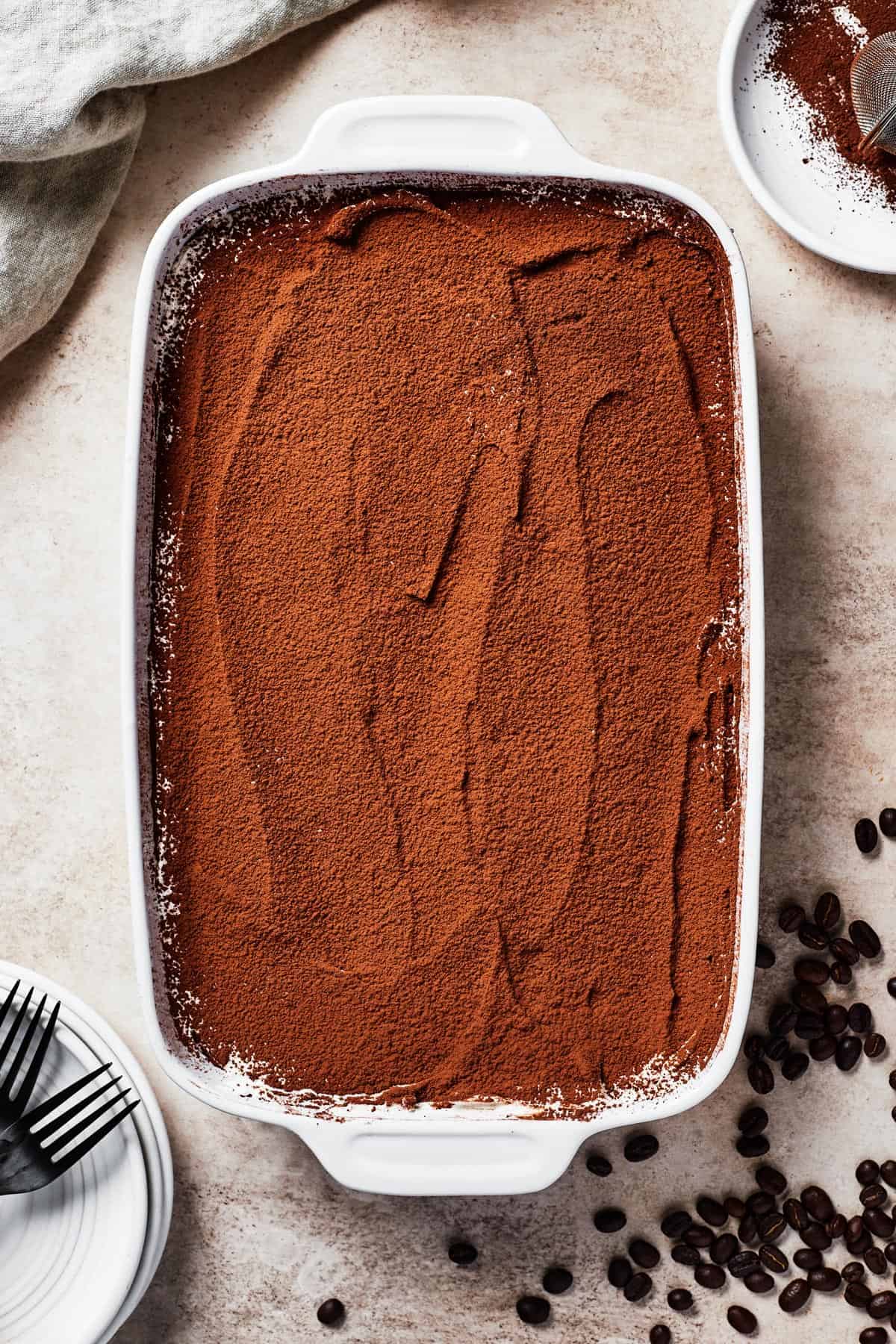 Easy Variations
Tiramisu is a classic for a reason, but like all classics, it makes a great starting point for other fun dessert creations! These easy variation ideas take basic tiramisu and give them a delicious spin.
Chocolatey Tiramisu: Follow the recipe as written, except flavor the mascarpone cream with chocolate. Melt 8 ounces of your favorite baking chocolate, and let it cool somewhat but not harden. Gently fold the cooled, melted chocolate into your mascarpone mixture, and you'll have a gorgeous chocolate variation of the classic!
Raspberry Tiramisu: Make a summery berry version of this recipe by omitting the espresso, and instead dipping the ladyfingers very quickly in lemonade. Substitute Grand Marnier for the rum, if using, and add a layer of raspberry jam or fresh raspberries on top of the ladyfingers, before adding the mascarpone cream. Top with more raspberries for garnish.
Tiramisu Brownies: Make a pan of your favorite brownies, and let them cool to room temperature. Spread a very thin layer of melted chocolate over the brownies, and allow that to harden. Finally, make the mascarpone cream, and use it to "frost" the brownies. Dust with cocoa powder, and place in the refrigerator to set. Easy!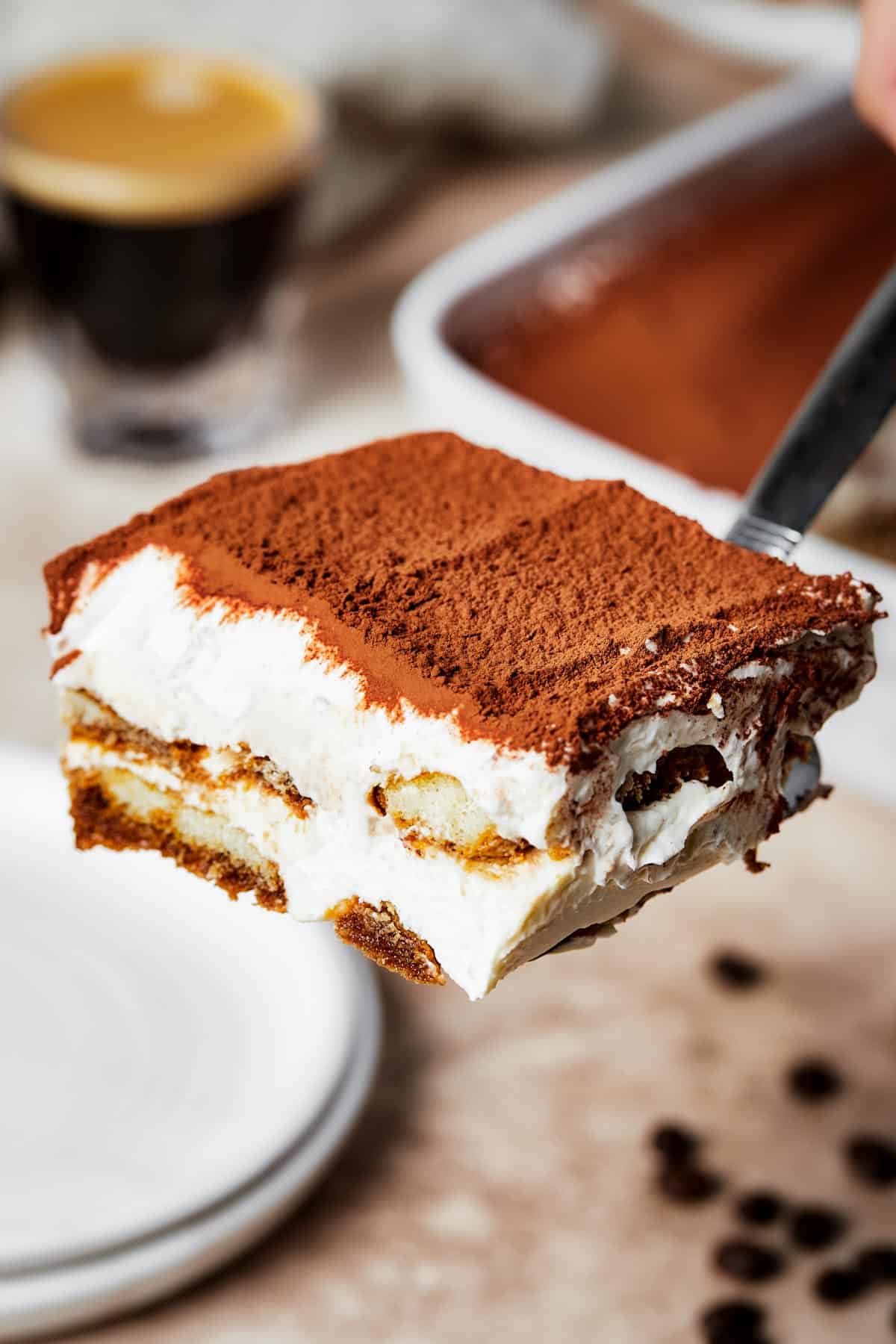 How to Store Leftover Tiramisu
Stored in an airtight container and kept in the refrigerator, this Tiramisu will last for 5 to 6 days.
Can I Freeze Tiramisu?
Yes, tiramisu can be frozen and then thawed in the fridge before serving. Cover it very well in several layers of plastic wrap, or a layer of plastic wrap and a layer of foil. Freeze for up to 3 months.
Thaw in the refrigerator before serving.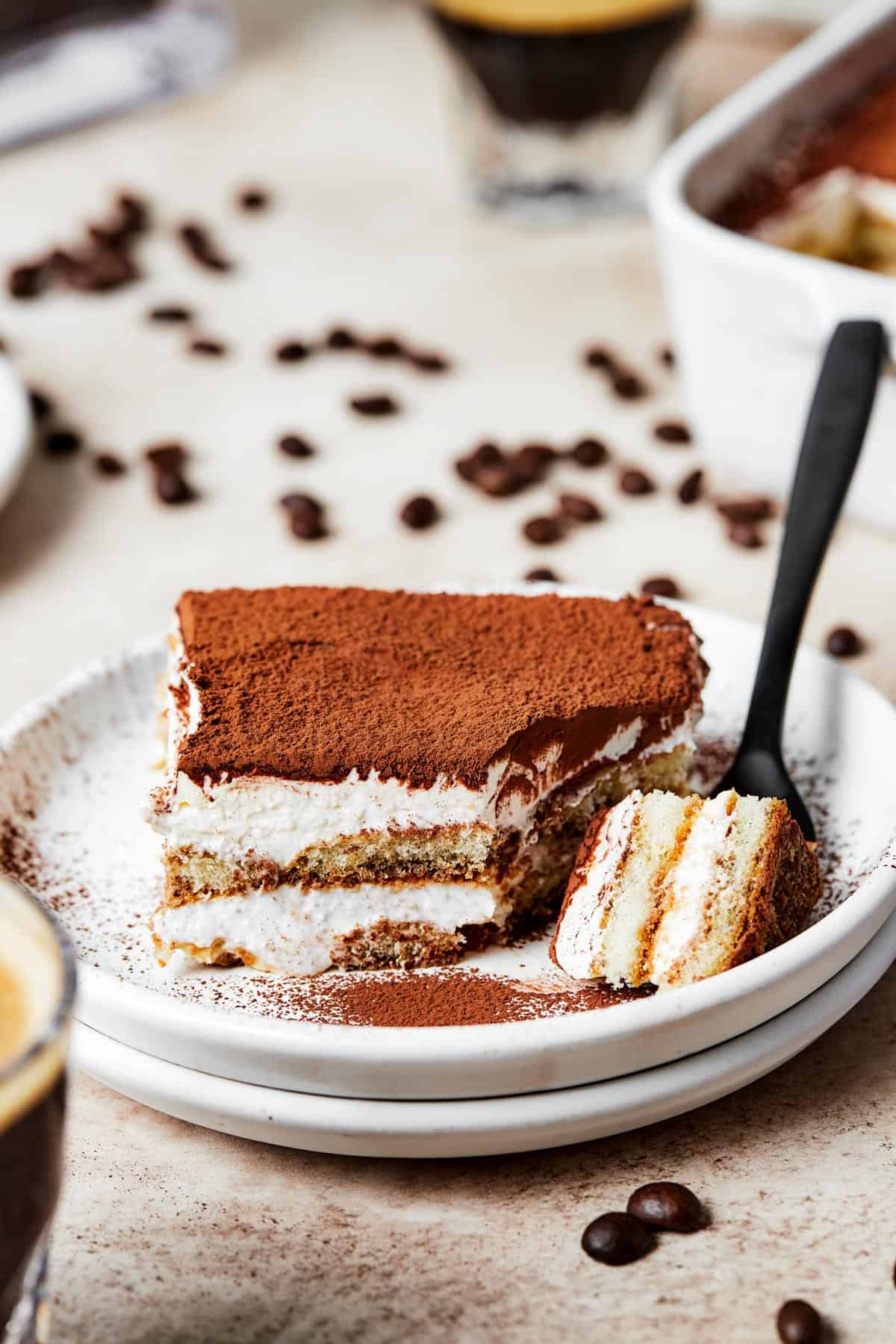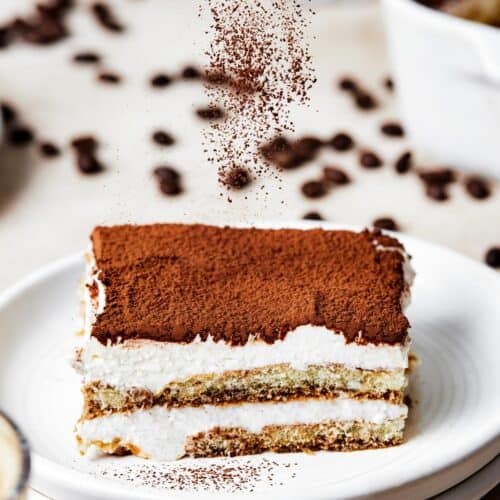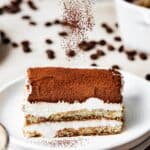 Print Recipe
Easy Tiramisu
This recipe for Easy Tiramisu is a rich, luxurious no-bake classic! Made with whipped cream, mascarpone cheese, espresso, and ladyfingers, it's guaranteed to turn out smooth and creamy with delightful cookie layers.
Instructions
In a stand mixer (or using a hand mixer and a large mixing bowl), beat the heavy whipping cream, sugar, vanilla extract, and cinnamon on high until stiff peaks begin to form, about 1 to 2 minutes.

Add mascarpone and mix on medium-low until just combined, being careful not to over-whip.

Pour the espresso into a shallow, wide-rimmed bowl and dip the ladyfingers in one at a time, flipping them to coat on both sides. They don't need to be soaked, just quickly dipped on each side.

Place the ladyfingers into a single layer in a 9×13-inch baking dish.

Once you have a complete layer, scoop half of the mascarpone mixture into the dish, and spread it evenly over the ladyfingers.

Add another layer of espresso-dipped ladyfingers to the dish. Spread the remaining mascarpone over the top.

Dust the tiramisu with cocoa powder, using a fine-mesh strainer or a sifter.

Chill the tiramisu for 4 to 5 hours, or overnight, to set before serving.
Notes
If you do not have an espresso machine, cooled espresso from your local coffee shop can be used (2 cups of espresso = about 10 shots). You can also make a pot of very strong coffee, or use instant coffee brewed with twice the amount of granules.
Traditionally, eggs are used in tiramisu to create the custardy cream, but in this recipe, just using whipped cream makes the process simpler and faster, while still producing a similar mouthfeel and flavor.
The easiest way to evenly spread the mascarpone cream is to drop dollops all over the ladyfigers, and then spread them out with a spatula, as pictured.
Can't wait 4 to 5 hours? You can place in the freezer for 1 hour before serving, for a quicker set.
Tiramisu lasts for about 5 days in the refrigerator, stored in an airtight container.
Nutrition
Calories:
406
kcal
|
Carbohydrates:
23
g
|
Protein:
5
g
|
Fat:
33
g
|
Saturated Fat:
20
g
|
Polyunsaturated Fat:
1
g
|
Monounsaturated Fat:
4
g
|
Cholesterol:
114
mg
|
Sodium:
58
mg
|
Potassium:
113
mg
|
Fiber:
1
g
|
Sugar:
12
g
|
Vitamin A:
1187
IU
|
Vitamin C:
1
mg
|
Calcium:
88
mg
|
Iron:
1
mg
More Favorite Dessert Recipes