Some vintage recipes just have an epic, retro flavor profile that is so satisfying to re-create – and eat! Shrimp de Jonghe (also known as Garlic Butter Baked Shrimp), is exactly that kind of recipe! Sherry, garlic, shallots, and butter make this stellar appetizer a delicious nod to the past.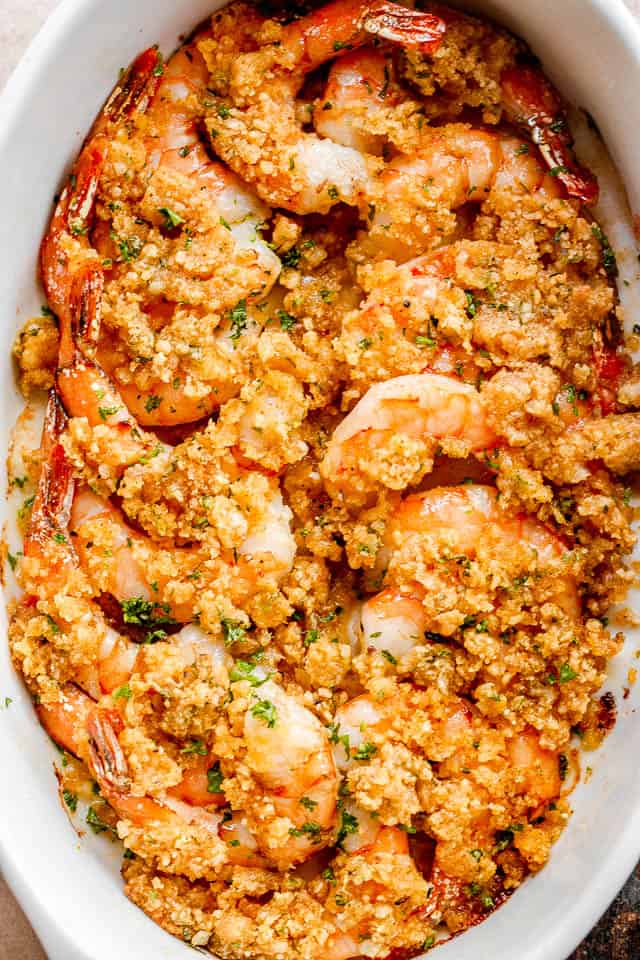 An Easy Garlic Butter Shrimp Recipe
Shrimp are delightful to cook (and eat!). They're light, tasty, and cook up fast! This traditional recipe makes cooking up a batch of shrimp even easier, because they go straight into an ovenproof dish, with a delicious topping, and then you simply bake!
You'll love the rich and ritzy combination of sherry, aromatics, butter, and crunchy breadcrumbs in this super-easy bake.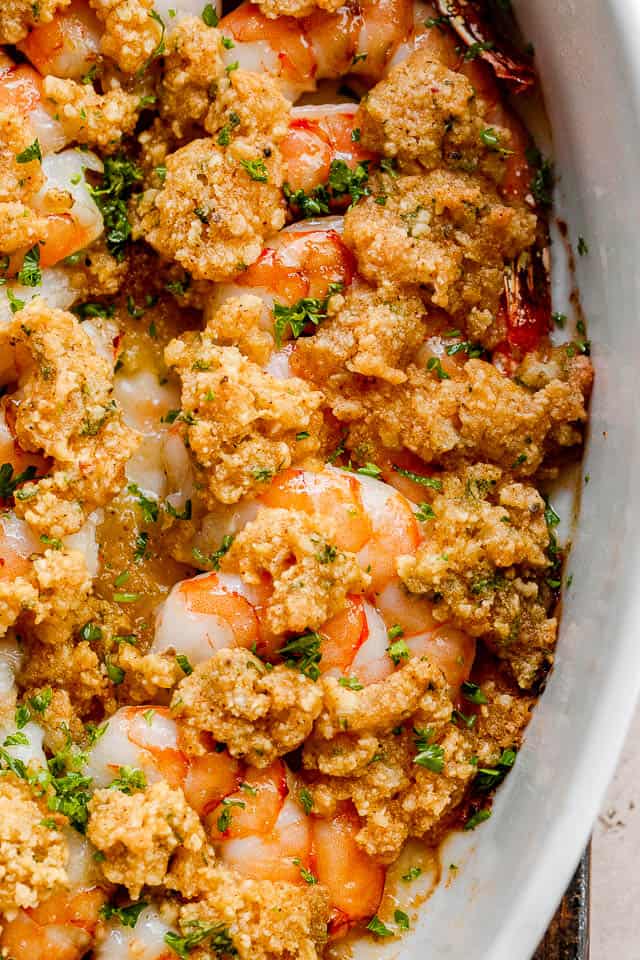 What is Shrimp De Jonghe?
Most recipes that I have found for garlic butter shrimp are cooked in a pan, usually with a scampi-inspired sauce – and those are great! This one is a little different, thanks to the gratin-style method of cooking.
Baked to perfection, and topped with a crispy, buttery, breadcrumb topping, this dish is truly special. That's probably why it's been popular for well over a century! That's right, Shrimp De Jonghe is a true vintage recipe, concocted in the late 19th century in Chicago at the De Jonghe Hotel!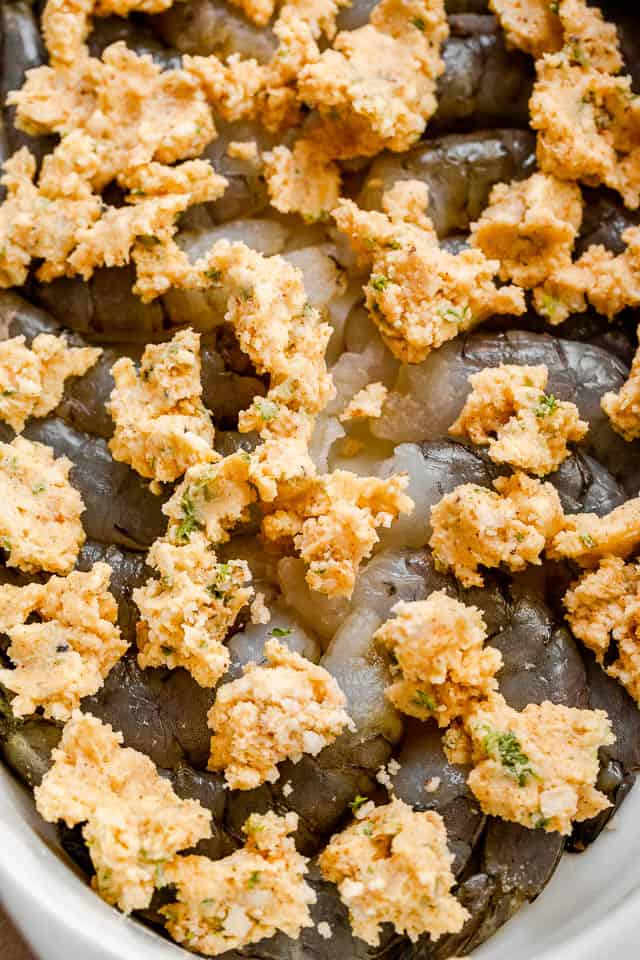 Recipe Ingredients
Jumbo Raw Shrimp: You'll need about two pounds, peeled and de-veined.
Butter: This recipe calls for a full stick of softened butter – it's essential to the indulgent, gratin-style sauce.
Breadcrumbs: I often use Panko, but you can use any breadcrumbs.
Dry Sherry
Fresh Garlic and Shallot: Mince these beauties!
Chopped Fresh Parsley: You'll need 3 tablespoons for the sauce, and a bit extra for garnish.
Salt and Pepper
Paprika and Cayenne Powder: You can omit the cayenne, if preferred.
How to Make Garlic Butter Shrimp
Arrange the Shrimp in an Ovenproof Dish: After preheating the oven to 375˚F, butter a casserole or other baking dish, and arrange the shrimp in a single layer.
Prepare the Topping: In a separate bowl, combine the softened butter, breadcrumbs, sherry, garlic, shallot, parsley, and seasonings. Mix well to combine.
Bake: Spoon the topping mixture over the shrimp and bake for 22 to 25 minutes, until the shrimp are cooked through and the topping is golden brown.
Serve and Enjoy!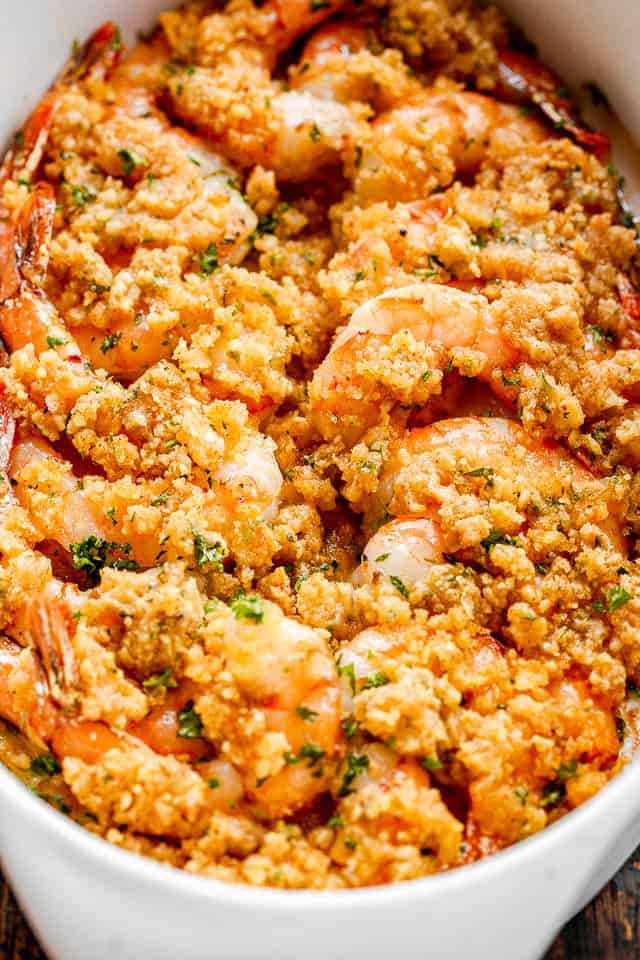 Tips for the Best Baked Shrimp
Watch the Time: If you use a different size of shrimp, adjust the cooking time accordingly. Smaller shrimp will cook more quickly, so watch them carefully to avoid overcooking.
Consider Citrus: Unlike many recipes for seafood, this one calls for dry sherry instead of lemon juice — but if you don't have any sherry, or you'd like to try something more familiar, you can substitute a few tablespoons of lemon or lime juice!
Take it Easy: The most difficult part of preparing this dish is prepping the shrimp by peeling and de-veining them. If you can't find already prepared raw shrimp, consider asking the fishmonger at your grocery store to do it. Most stores offer free seafood prep, or charge a very nominal fee.
What Goes with Garlic Butter Shrimp?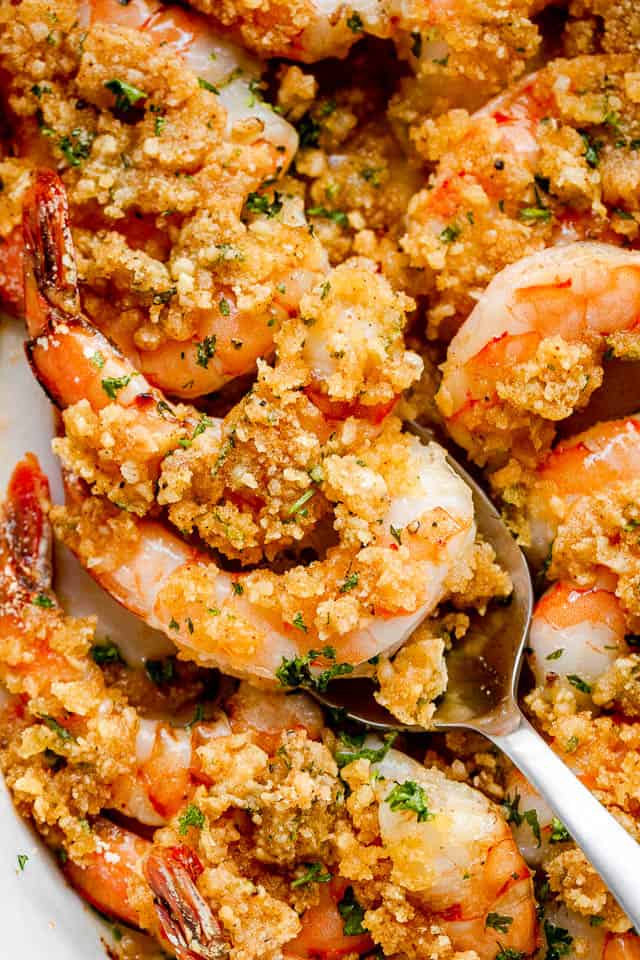 How to Store and Reheat Leftovers
Leftovers can be stored in the refrigerator, tightly covered, for up to 3 days. If you would like to freeze Shrimp De Jonghe, place individual portions in plastic freezer bags, pushing out as much air as possible before sealing, and freeze for up to 6 months.
To reheat, first thaw frozen shrimp (if cooking from frozen) in the refrigerator until just defrosted. Then place the shrimp on an even layer, topping-side up, and bake at 375˚F until just heated through (about 10-20 minutes).
Garlic Butter Baked Shrimp (Shrimp De Jonghe)
A delicious, buttery baked shrimp dish loaded with butter, garlic, shallots, and dry sherry.
Ingredients
2

pounds

raw jumbo shrimp,

thawed, peeled and de-veined, tails ON or OFF

8

tablespoons

butter,

softened

1

cup

panko breadcrumbs

1/2

cup

dry sherry

4

cloves

garlic,

minced

1

shallot,

minced

3

tablespoons

chopped fresh parsley

1/2

teaspoon

salt,

or to taste

1/4

teaspoon

freshly ground black pepper,

or to taste

1/4

teaspoon

paprika

pinch

cayenne,

or to taste

chopped fresh parsley,

for garnish
Instructions
Butter a 9×13 baking dish.

Arrange shrimp in the baking dish in a single layer. Set aside.

In a mixing bowl combine softened butter, breadcrumbs, sherry, garlic, shallot, parsley, salt, pepper, paprika, and cayenne; mash and mix until thoroughly combined.

Spoon breadcrumb mixture over the shrimp.

Bake for 22 to 25 minutes, or until top is golden brown.
Nutrition
Calories:
263
kcal
|
Carbohydrates:
7
g
|
Protein:
25
g
|
Fat:
13
g
|
Saturated Fat:
8
g
|
Cholesterol:
316
mg
|
Sodium:
1186
mg
|
Potassium:
153
mg
|
Fiber:
1
g
|
Sugar:
1
g
|
Vitamin A:
395
IU
|
Vitamin C:
6
mg
|
Calcium:
194
mg
|
Iron:
3
mg