In this easy gnocchi recipe, tender gnocchi dumplings are covered in a smooth and creamy cheese sauce flavored with real bacon and fresh chives. This Gnocchi and Bacon Casserole is comfort food at its finest and oh-so-simple to make!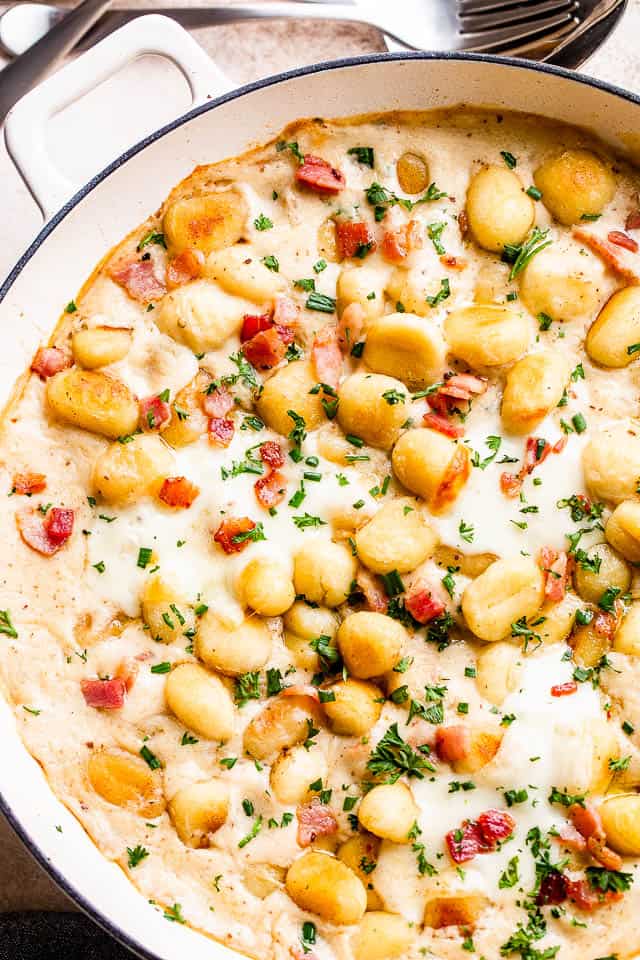 A Fast and Easy Dinner Idea!
You guys know me! I'm always looking for the best and easiest recipes to help busy cooks get dinner on the table, with a minimum of muss and fuss. Also, I love bacon and cheese. And, this tasty dish has all of that, plus more!
What Is Gnocchi?
Gnocchi is kind of a cross between pasta and dumplings. The gnocchi dough has a potato base, and the gnocchi themselves are bite-sized dumplings with distinctive ridges.
Like pasta, they're meant to be boiled in water until tender, and then served with your favorite sauce. OR! Tried in my Creamy Chicken Gnocchi Soup! 🍲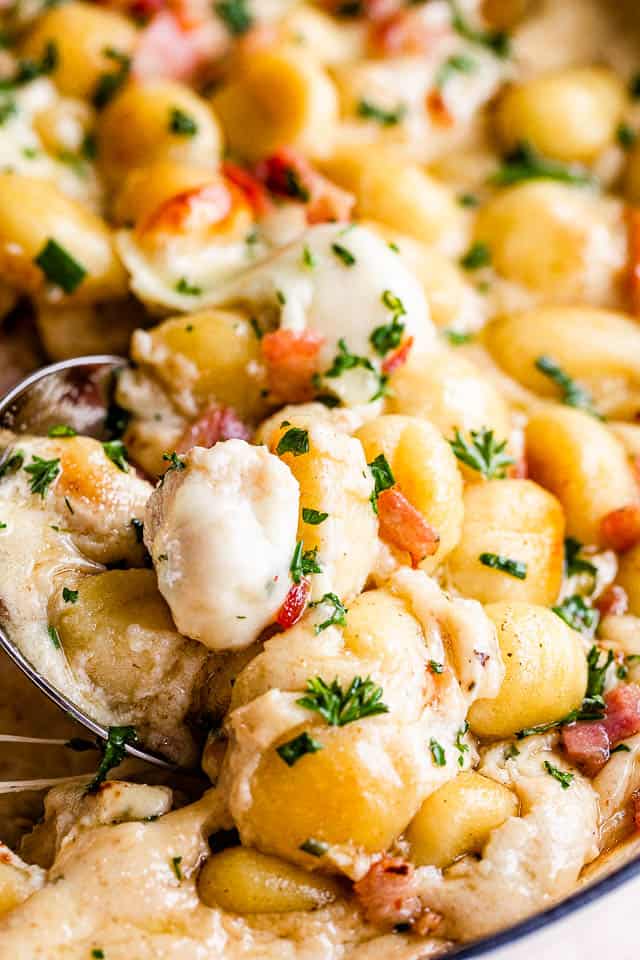 Gnocchi Recipe Ingredients
This recipe is so simple, and I love that the ingredients are all basic items that you can easily keep on hand. Even the packaged gnocchi is a great pantry staple.
Gnocchi: To make this recipe easy and simple, we're using packaged gnocchi (about 20 to 24 ounces), cooked and drained according to the directions on the package.
Bacon: You'll need 4 slices of bacon, cooked and crumbled.
Butter and Flour: I use a tablespoon of butter and a bit of flour as the base for my sauce. You can substitute cornstarch for the flour, if you'd like.
Salt and Pepper: Of course!
Milk: You'll need two cups of milk. Whole milk is fine, reduced fat is fine, and so are unsweetened non-dairy milks.
Chicken Broth: Just half a cup of broth. You can use chicken or vegetable broth. I prefer low-sodium broths.
Cheese: For this recipe, I really like the tang of gruyere! But most cheeses go well with gnocchi and bacon, so feel free to substitute. This recipe also uses ¼ cup of shredded Parmesan to top off the casserole.
Fresh Chives: Chopped fresh chives add color and flavor to the sauce. Thinly sliced scallions may be substituted.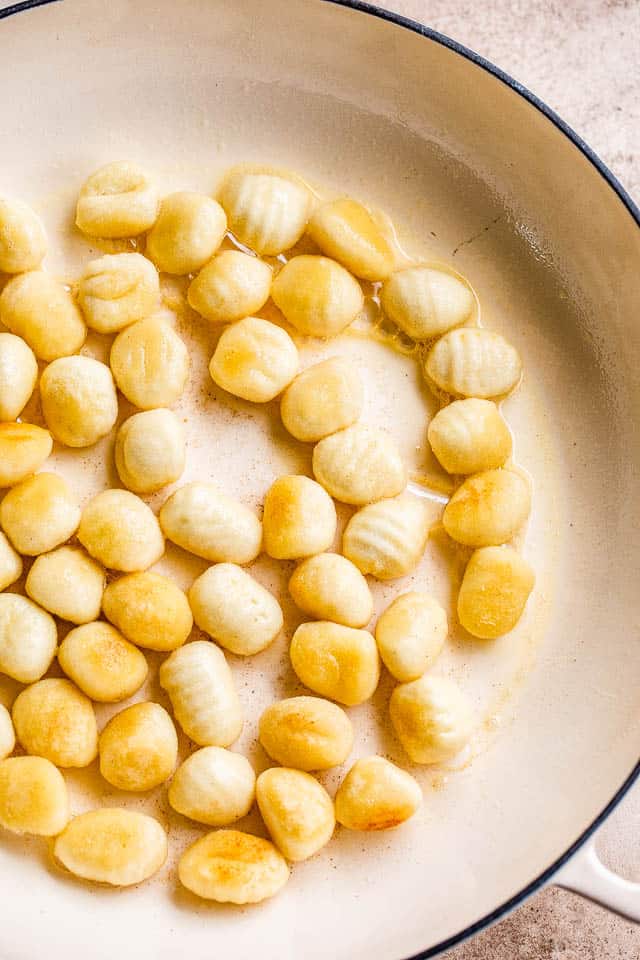 How to Make This Bacon Gnocchi Recipe
This dish is truly a breeze to make. All you really have to do is boil the gnocchi, cook up a little bacon, make a basic sauce, and throw it all in the oven! Great, right?
Prep Oven & Baking Dish: Preheat your oven to 400˚F and lightly grease a 9×13 baking dish with cooking spray. Set aside. Side note: Get yourself this cast iron casserole skillet and make it the one and only pan you will need for this entire recipe.
Cook Gnocchi & Bacon: Prepare the gnocchi according to the directions on the package, and drain. While the gnocchi is cooking, cook the bacon, and crumble it once it cools.
Make Cream Sauce: Melt the butter in a large skillet over medium heat. Once the butter has melted, add flour, salt and pepper; whisk constantly for about a minute. Then whisk in the milk and broth, and bring to a boil to thicken. Don't cook it for too long because it might thicken a bit too much. If that does happen, add a bit more liquid.
Add Cheese & Assemble Casserole: When the sauce has thickened, remove the skillet from the heat. Stir in the gruyere cheese, bacon, chives, and gnocchi. Transfer the mixture to your baking dish and top with parmesan cheese.
Bake: Bake for 20 minutes, or until the top of the casserole is lightly browned and bubbling. Remove it from the oven and let it stand 5 minutes before serving.
Enjoy!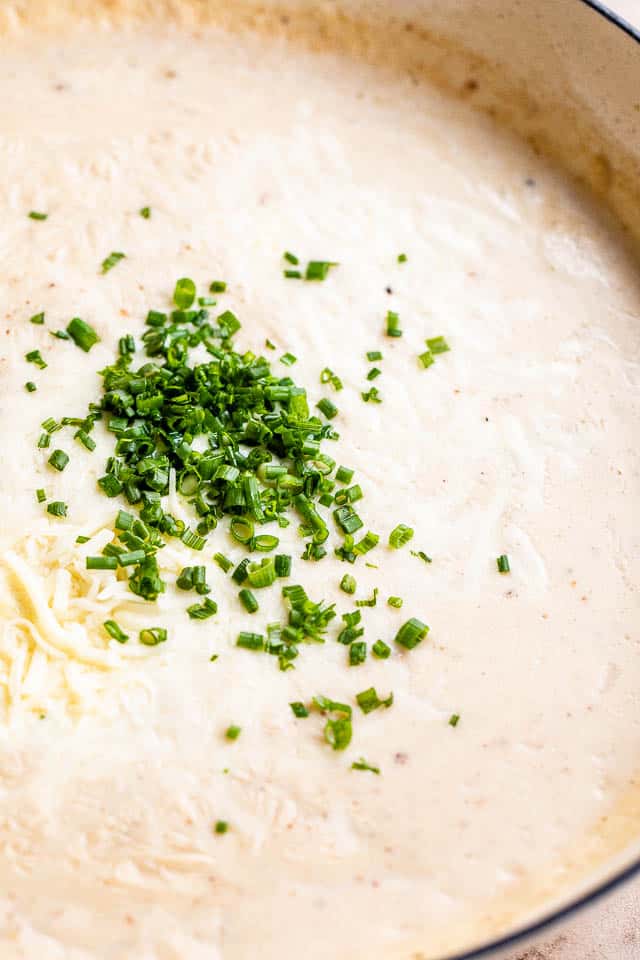 Tips for Success
Even though this gnocchi recipe is super easy, here are a few tips that will help you make the perfect gnocchi bacon casserole!
Salt the Water: Like pasta, gnocchi benefits from lightly salting the water you cook it in, adding a layer of flavor.
Try them Fried: Did you know that you don't have to boil gnocchi? You can also sauté them in olive oil, butter, or even a tablespoonful of the bacon grease for about ten minutes, until they're golden brown and crispy on all sides. Drain, and continue with the rest of the recipe!
Go Vegetarian! If you'd like to omit the bacon, go for it! Try substituting some diced, caramelized onions and a bit of sautéed garlic for a deep, savory flavor. If you do this, you can also omit the chives.
What to Serve with Gnocchi Casserole
This savory Italian dinner goes well with so many different things! But there are a few dishes I especially enjoy pairing it with.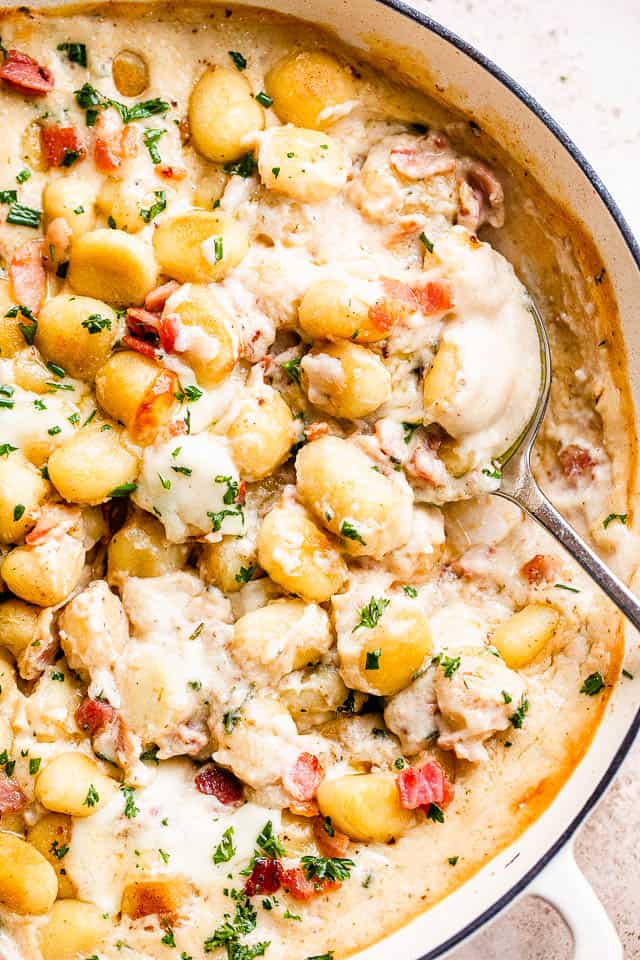 How to Store and Reheat Extras
If you have leftovers, you can easily store them to enjoy your gnocchi bake at a later date. Here's how!
To Refrigerate: Cover leftovers tightly and store in the refrigerator for up to one week.
To Freeze: Place leftovers in airtight containers or freezer bags, leaving as little air as possible before sealing. The gnocchi will keep for up to two months when frozen properly.
To Reheat: Place leftovers in an ovenproof dish, cover with foil, and bake at 350˚F until heated through. If you froze your Gnocchi bake, thaw it in the fridge before reheating.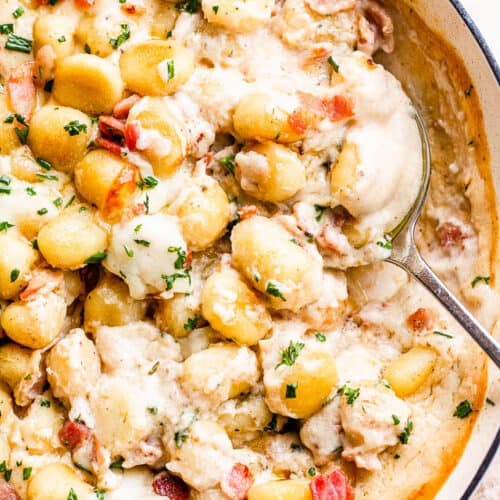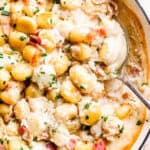 Print Recipe
GNOCCHI AND BACON BAKE
Tender gnocchi dumplings are covered in a smooth and creamy cheese sauce flavored with bacon and fresh chives.
Ingredients
20 to 24

ounces

gnocchi, cooked according to the directions on the package, and drained

4

slices

thick cut bacon,

cooked and crumbled, divided

1

tablespoon

butter

¼

cup

all purpose flour

¼

teaspoon

garlic powder

¼

teaspoon

salt

¼

teaspoon

freshly ground black pepper

2

cups

milk

½

cup

low sodium chicken broth

½

cup

shredded gruyere cheese,

(you can also use shredded mozzarella cheese or an Italian cheese blend)

3

tablespoons

chopped fresh chives

¼

cup

shredded fresh parmesan cheese
Instructions
Preheat oven to 400˚F.

Lightly grease a 9×13 baking dish with cooking spray and set aside.

Prepare gnocchi according to directions on the package and drain.

Prepare bacon; set aside.

In the meantime, melt butter in a large 12-inch skillet set over medium heat.

To the melted butter add flour, garlic powder, salt, and pepper; whisk constantly for 1 minute.

Slowly whisk in the milk and broth; whisk until well blended.

Bring mixture to a boil, and continue whisking until mixture is creamy and thickened.

Remove skillet from heat.

Stir in cheese, half of the crumbled bacon, and chives. If the sauce is too thick, stir in a little more liquid.

Stir in the gnocchi.

Transfer mixture to prepared baking dish.

Top with parmesan cheese.

Bake for 20 minutes, or until top is lightly browned.

Remove from oven; let stand a few minutes.

Top with remaining bacon and serve.
Nutrition
Calories:
406
kcal
|
Carbohydrates:
42
g
|
Protein:
15
g
|
Fat:
20
g
|
Saturated Fat:
9
g
|
Cholesterol:
45
mg
|
Sodium:
735
mg
|
Potassium:
181
mg
|
Fiber:
2
g
|
Sugar:
4
g
|
Vitamin A:
339
IU
|
Calcium:
268
mg
|
Iron:
4
mg
More Pasta Dinners to Try