These Pumpkin Cheesecake Crescent Rolls are perfect for fall – and they come together in no time! The sweet, pumpkin-spice filling is extra delicious thanks to the addition of cream cheese, and the whole thing is wrapped in luscious (but easy!) crescent dough. Yum!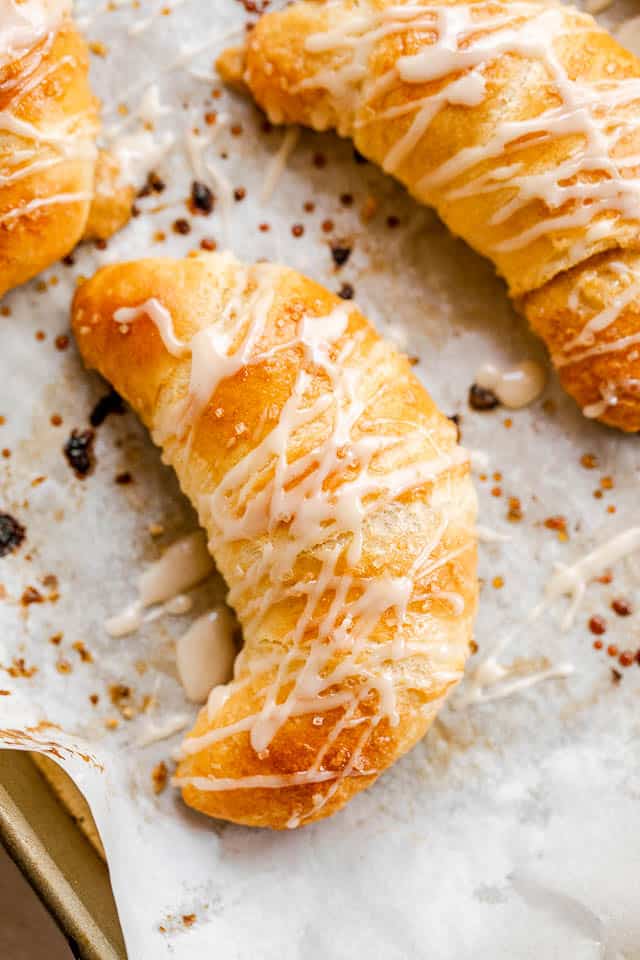 One of My Favorite Easy Pumpkin Desserts
Sometimes I like to throw together a quick, homemade weeknight dessert. It really makes a normal weeknight dinner feel festive and cheerful! And it doesn't get much easier than popping open some prepared crescent rolls, adding a quick and tasty filling, and rolling 'em up! You will love the sweet fall flavors in this dish.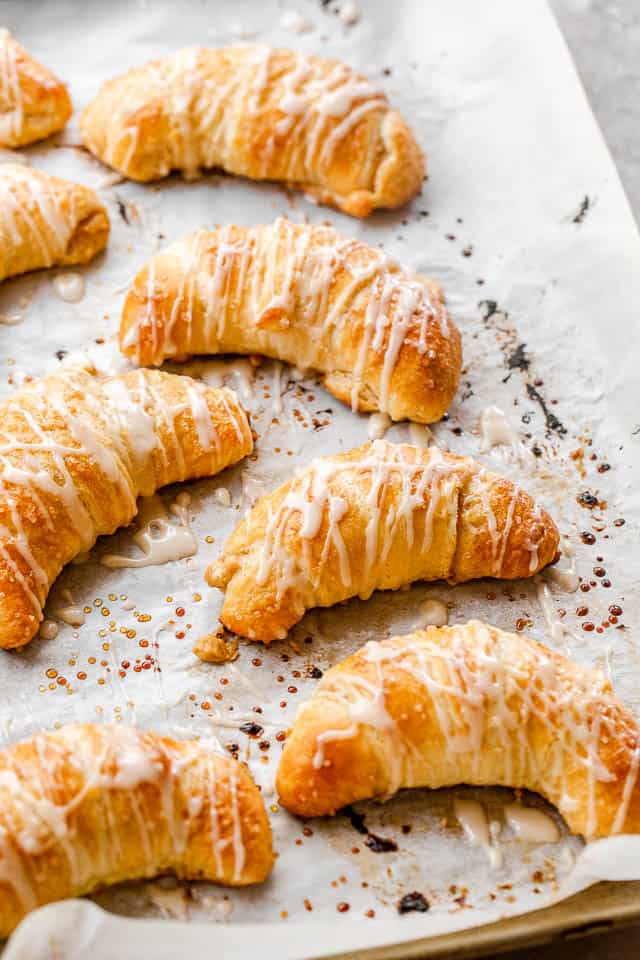 What's In Pumpkin Cheesecake Crescent Rolls?
Prepared, Refrigerated Crescent Dough: You'll need one 8 oz. package.
Pumpkin Puree: You can use canned pumpkin puree, or homemade if you have some. Do not use pumpkin pie filling.
Cream Cheese: Plain, unflavored cream cheese is best.
Sugar: You can use granulated sugar, or substitute raw sugar.
Pumpkin Pie Spice
Egg: To glaze the rolls before baking.
Turbinado Sugar: For sprinkling.
Powdered Sugar: For the glaze.
Pure Vanilla Extract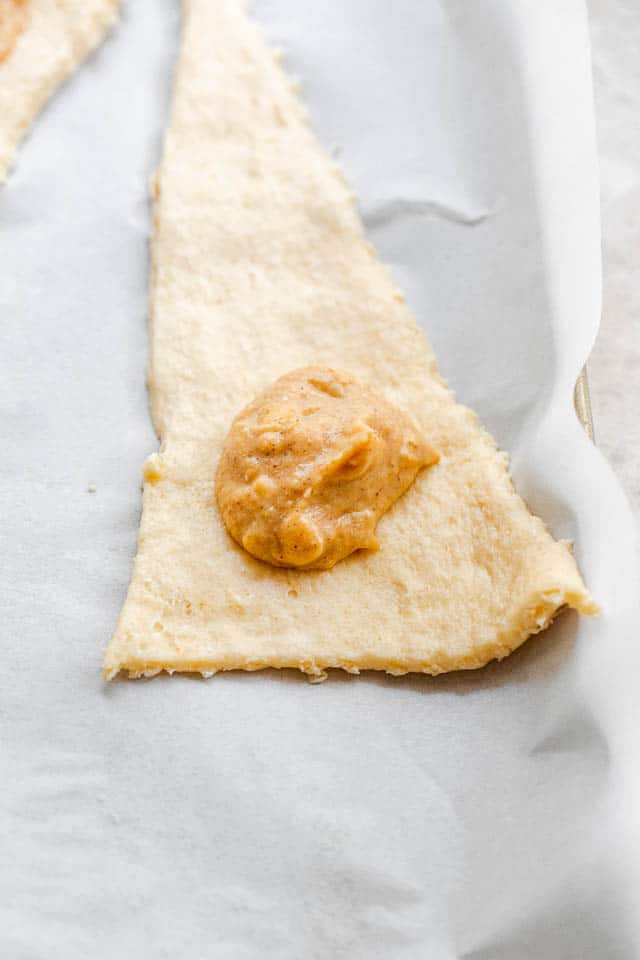 How to Make Pumpkin Cheesecake Crescent Rolls
Prepare the Crescent Rolls: Line a baking sheet with parchment paper. Then unroll the crescent dough and separate into triangles. Arrange the triangles on the baking sheet.
Prepare the Pumpkin Cheesecake Filling: In a separate bowl, combine the pumpkin puree, cream cheese, sugar, and pumpkin pie spice. Mix well until smooth.
Roll Up and Bake: Spread a tablespoon of filling on each crescent triangle. Then roll up the triangles, starting at the wider end. Brush with beaten egg, sprinkle with Turbinado sugar, and bake at 425˚F for 10 to 13 minutes. Set on a wire rack to cool
Glaze and Serve: While the crescent rolls are cooling, mix together powdered sugar and milk to create a glaze. Drizzle the cooled rolls with glaze and enjoy!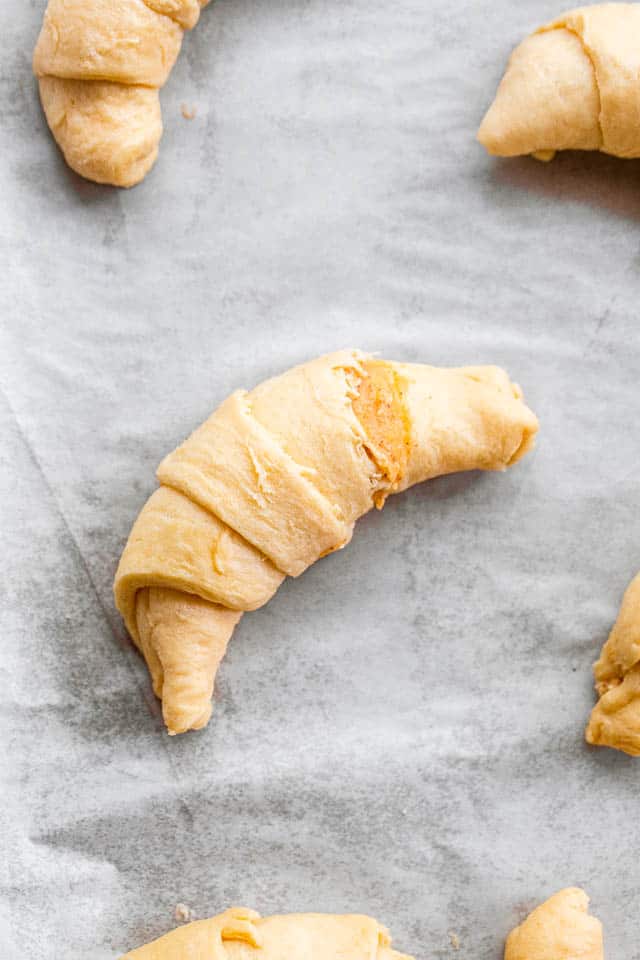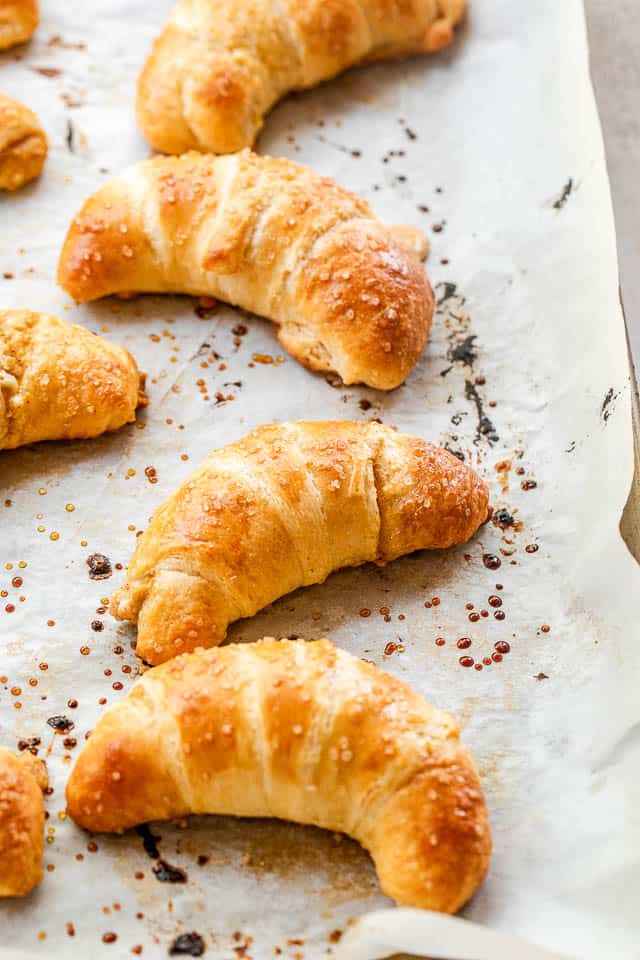 Tips for Success
Keep an Eye on the Rolls: Watch the rolls closely while baking, as ovens are not always accurate. You want the rolls to be puffy and golden brown, but once they reach that point, they can quickly become slightly burned on top.
Tuck Them In: When rolling up the crescent triangles, tuck the edges in so that the filling doesn't leak out onto the parchment paper.
Skip the Sugar: You can omit Turbinado sugar, if desired, and simply drizzle the cooled rolls with glaze.
Cream Cheese: Take the cream cheese out of your refrigerator an hour before you start to work on the rolls.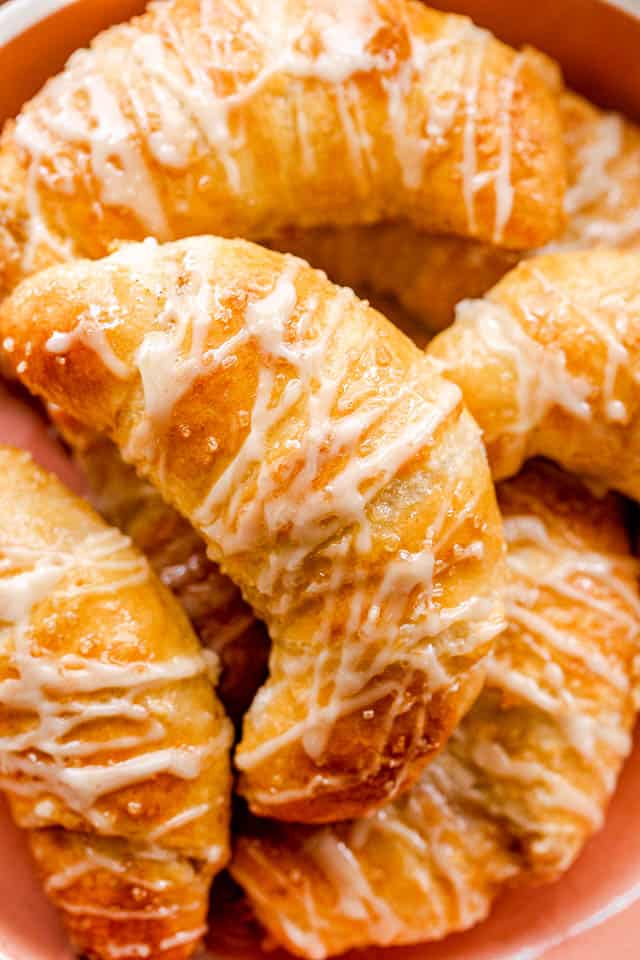 How to Store These Sweet Rolls
Leftover Pumpkin Cheesecake Rolls can be stored in the refrigerator for up to 2 days. Cover them tightly in food containers, or store in plastic food storage bags, pushing out as much air as possible before sealing.
Baked rolls can also be frozen, tightly wrapped or sealed in freezer bags with as much air as possible pushed out before sealing.
To serve leftovers, thaw in the refrigerator (if frozen), and serve cold or gently warmed in the microwave for 30 seconds to a minute. Be careful, as microwaves can heat pastries very quickly!
Pumpkin Cheesecake Crescent Rolls
A quick and easy dessert using prepared crescent roll dough, pumpkin puree, and cream cheese– perfect for fall!
Ingredients
For the Glaze:
1/3

cup

powdered sugar

1

tablespoon

pure vanilla extract

1

teaspoon

milk
Instructions
Line a baking sheet with parchment paper.

Unroll the crescent rolls; separate them into triangles and lay over the parchment paper. Set aside.

Using an electric mixer, mix the cream cheese until creamy. Make sure that the cream cheese is softened before you start to work with it.

Add the pumpkin puree and continue to mix until smooth and incorporated.

Add sugar and pumpkin spice; continue to mix until thoroughly combined.

Remove bowl from mixer. Add a tablespoon of the pumpkin mixture at the top wider end of the dough.

Beginning at the wider end, roll up each crescent roll, tucking in the ends so that the pumpkin doesn't ooze out while baking.

Brush each crescent roll with beaten egg, then sprinkle with Turbinado sugar.

Bake for 10 to 13 minutes, or until golden brown and puffed up. Start checking at the 10-minute mark.

In the meantime, prepare the glaze by combining the powdered sugar, vanilla extract, and milk in a small bowl; whisk until completely incorporated and smooth. Glaze should be thick, but pourable. If it's too thick, add a bit more milk. If it's too thin, add a tad bit more powdered sugar.

Remove crescent rolls from oven and transfer to a wire rack to cool.

Drizzle with glaze while still warm, but not hot.
Nutrition
Serving:
1
roll
|
Calories:
121
kcal
|
Carbohydrates:
14
g
|
Protein:
2
g
|
Fat:
7
g
|
Saturated Fat:
3
g
|
Cholesterol:
21
mg
|
Sodium:
175
mg
|
Potassium:
35
mg
|
Fiber:
1
g
|
Sugar:
8
g
|
Vitamin A:
1693
IU
|
Vitamin C:
1
mg
|
Calcium:
11
mg
|
Iron:
1
mg
Looking for More Easy Dessert Ideas?