Crispy Roasted Brussels Sprouts and Radishes are a flavor-packed, low-carb side that's a snap to make! A simple dressing of olive oil, salt, and pepper brings out the best in these rustic veggies.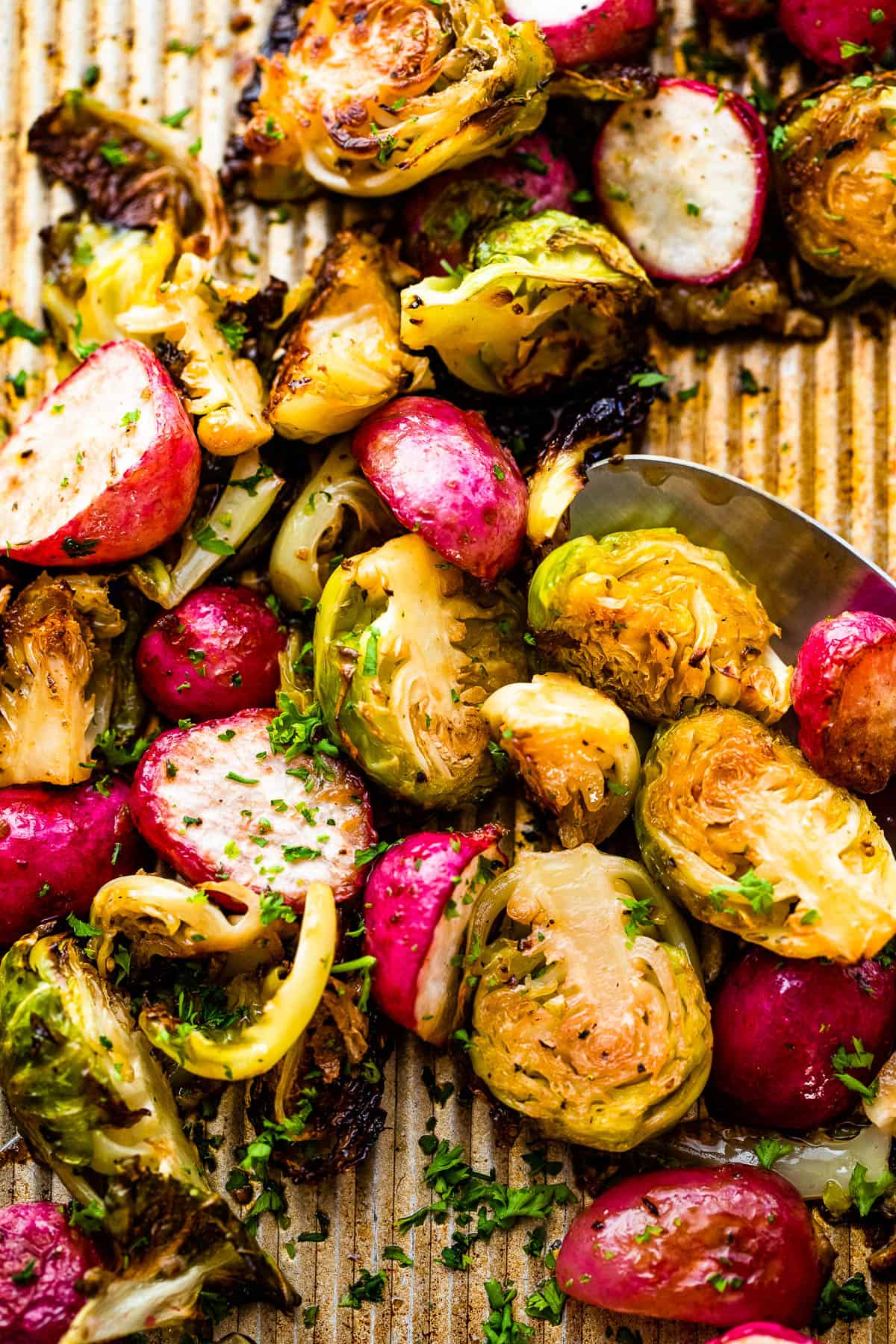 Perfect Low-Carb Roasted Brussels Sprouts and Radishes
Do you roast a lot of veggies? I definitely do! Ever since I got on the sheet-pan-roasting bandwagon, I have been regularly throwing vegetables of all kinds into the oven and devouring the lightly-caramelized, crisp-tender results, happily.
It's just as easy as steaming, and arguably easier than sautéing. Plus, the flavors are deep and satisfyingly complex!
While starchy veggies are amazing for roasting, non-starchy veggies are, too! Lately, radishes are making it onto my sheet pans more and more. They are low in carbs, and when roasted, they have a flavor sort of like rutabaga, but more mild and sweet.
A lot of people call them low-carb "potatoes," which is fairly accurate. I think that makes them extra perfect for a low-carb meal that feels indulgent.
Paired with crisp seasonal Brussels sprouts, pretty red radishes make a roasted side that's just as appealing visually as it is taste-wise!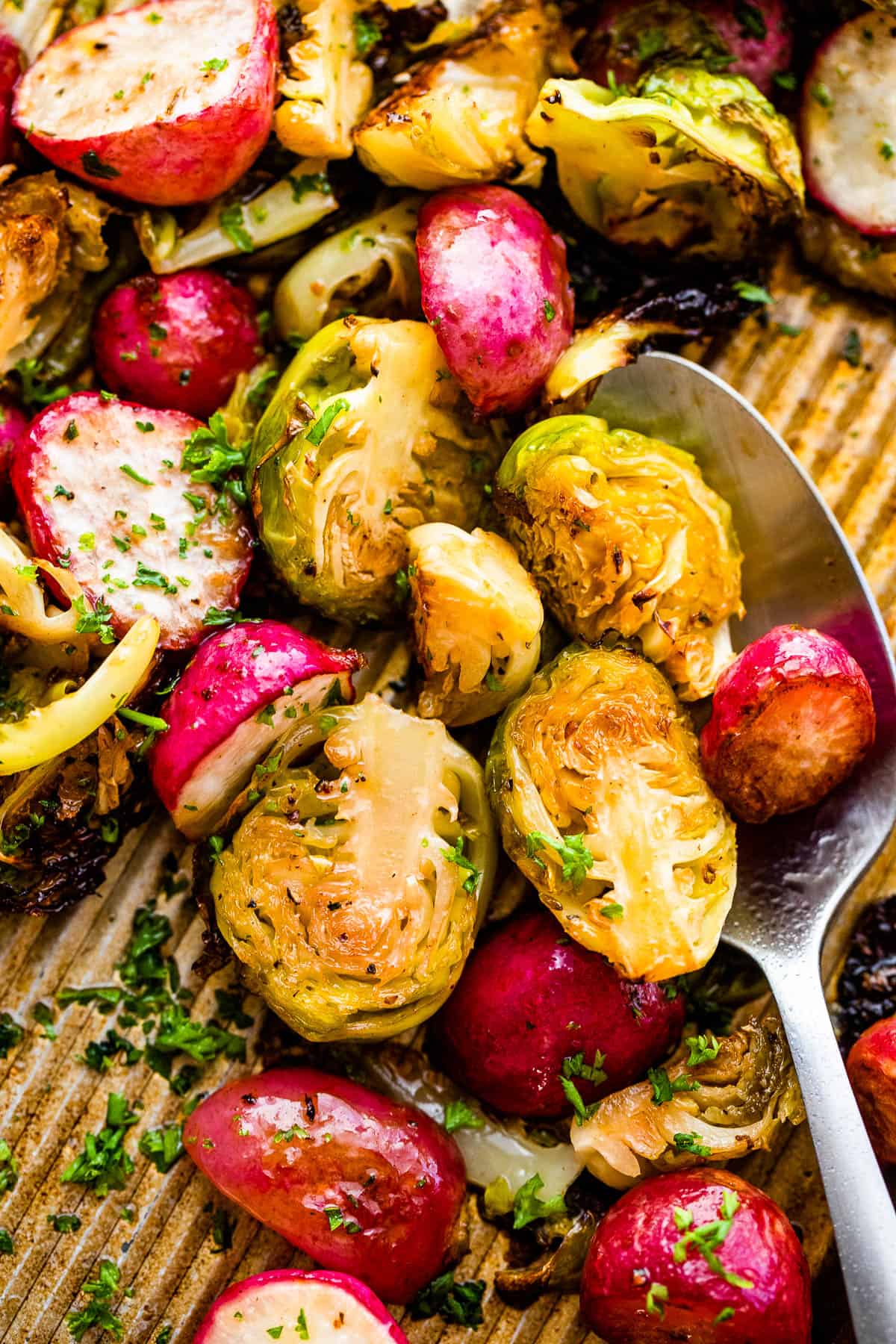 Are Brussels Sprouts a Superfood?
They may not make it on many superfood lists, but there's no doubt that Brussels sprouts are super good for you! They're high in both vitamin C and K, and offer a good source of fiber, too. Plus, Brussels sprouts deliver tons of antioxidants and are effective at reducing inflammation.
What Are the Benefits of Eating Radishes?
Like Brussels sprouts, radishes are a cruciferous vegetable, so they have many similar benefits. Radishes are also known for being high in potassium, which boosts collagen production, flavonoids, which support heart health, and in water content, which helps hydrate your body!
Recipe Ingredients
This basic recipe is more of a technique, using just oil, salt, and pepper to season the vegetables. Feel free to change it up and add other ingredients (more in that shortly!).
Radishes: Trim the greens from one bunch of fresh radishes, and cut each one in half.
Brussels Sprouts: Wash the brussels sprouts, trim away the tough stems, and cut them in half. The brussels sprouts should be about the same size as the radishes, so that all the veggies will cook evenly.
Olive Oil: A couple of swirls of good olive oil boost the flavor of your veggies, and keep them crispy instead of dried out in the oven.
Salt and Pepper: Sprinkle generously, to taste.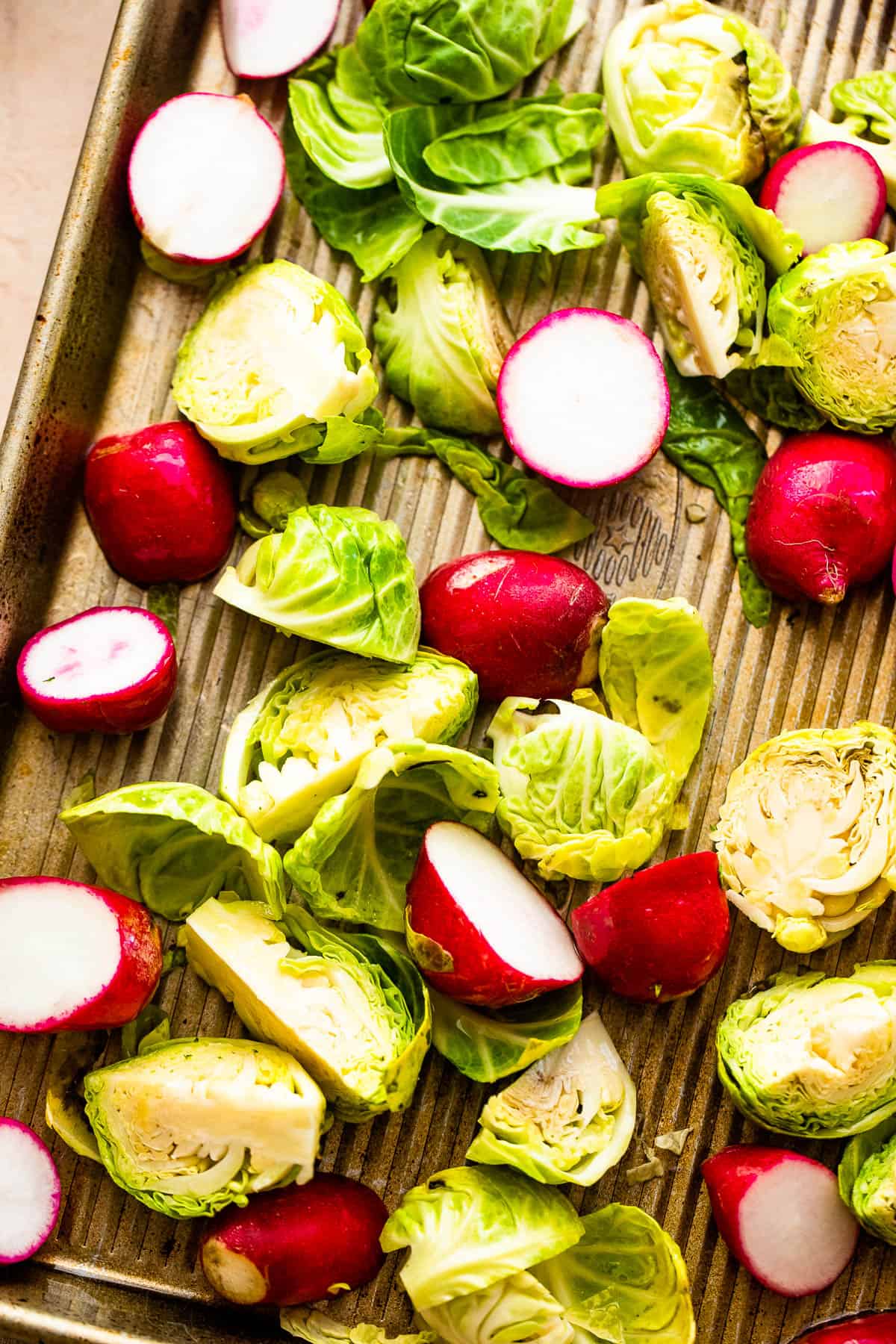 How to Make Roasted Brussels Sprouts and Radishes
Bake these veggies on your favorite metal baking sheet, but don't use glass! It doesn't always handle high heat well. For the easiest cleanup, line the baking sheet with parchment or foil.
Prep the Oven and Baking Sheet. Before you get started, you'll want to set your oven to 425˚F, and let it preheat. Line a baking sheet with parchment paper or foil, and set it aside for a moment.
Dress the Brussels Sprouts and Radishes. Toss the radishes and brussels sprouts in a large bowl with the olive oil, salt, and pepper.
Roast. Arrange the veggies on your baking sheet in one single layer, for even roasting. Bake them for 20 to 30 minutes, or until tender, stirring and turning them halfway through the cooking process.
Enjoy! Serve the roasted vegetables with your favorite main course.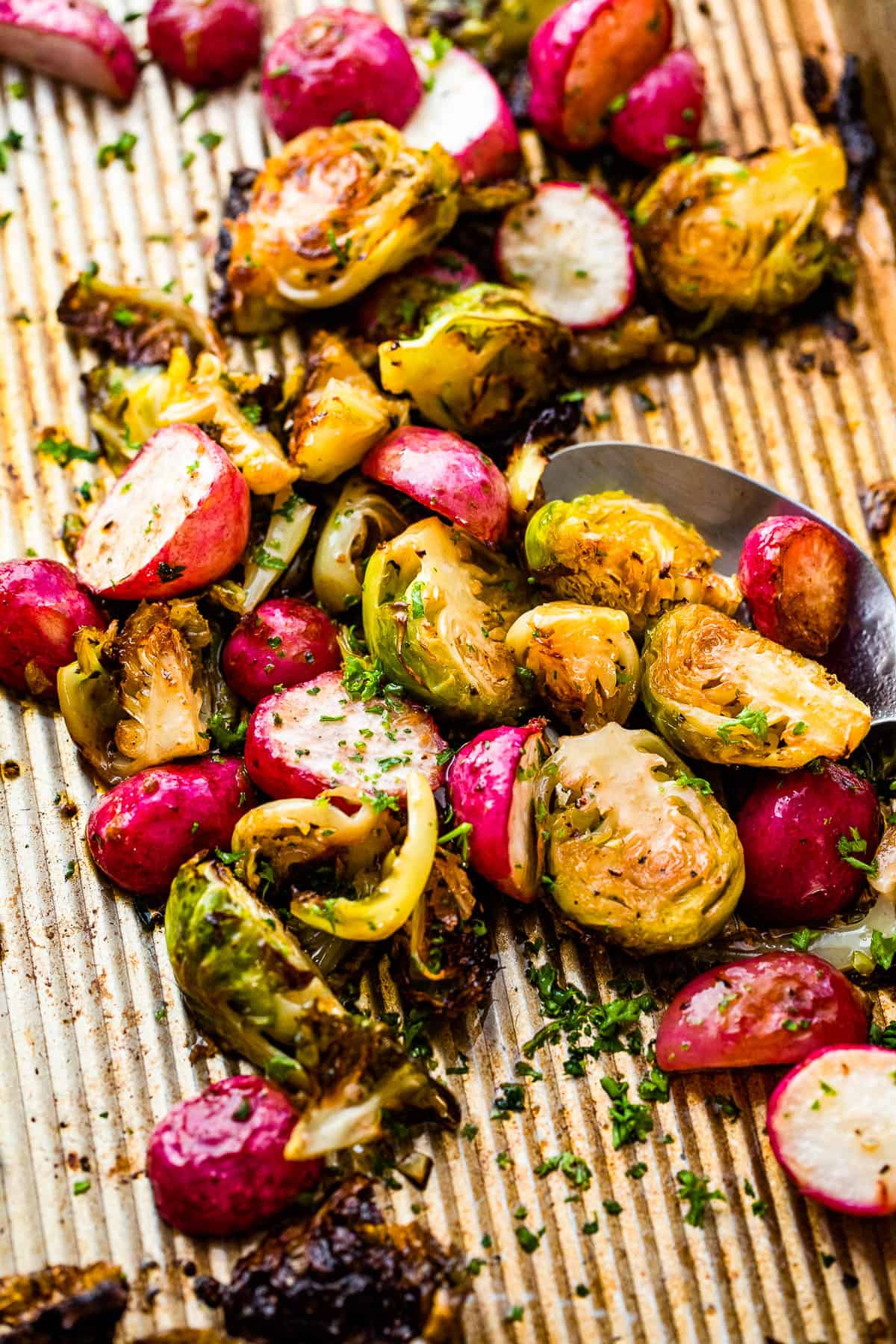 Tips for Success
Get Them Crispy: You may find that your veggies don't crisp up quite as much as you'd like, depending on your oven. But you don't have to overbake your veggies just to get them crisp! Instead, turn the oven to "Broil" for a minute or two, until you see the edges getting nicely browned.
Watch the Browning: On the other hand, if you see that your veggies aren't getting tender, but are browning too quickly, you can cover them loosely with a protective sheet of foil. Roast them until tender, removing the foil for the last five minutes or so of the cook time.
Add Your Favorites: You can do so much with this versatile recipe! Add any veggies you like, cut to size so they cook evenly. Potatoes, carrots, broccoli, and cauliflower are good options. Mushrooms and snap peas can be added ten minutes into the cooking time. And you can also customize the seasonings by adding rosemary, thyme, a splash of vinegar or mustard, whatever you like!
What to Serve with Roasted Brussels Sprouts and Radishes
To serve, I like to make a great paleo main course, or keep things vegetarian with a good veggie casserole. Check out these easy options!
Tenderloin: Go all out with this amazing Roast Beef Tenderloin with Horseradish! Perfectly rosy slices of premium beef tenderloin are perfect when served with homemade horseradish sauce and freshly roasted vegetables.
Lamb Chops: Classic Garlic Herb Lamb Chops are a succulent and juicy main course that's keto-friendly and easy to make!
Casserole: A Cheesy Zucchini and Squash Casserole makes a cozy dinner, and its savory veggie flavor goes beautifully with roasted radishes and Brussels sprouts.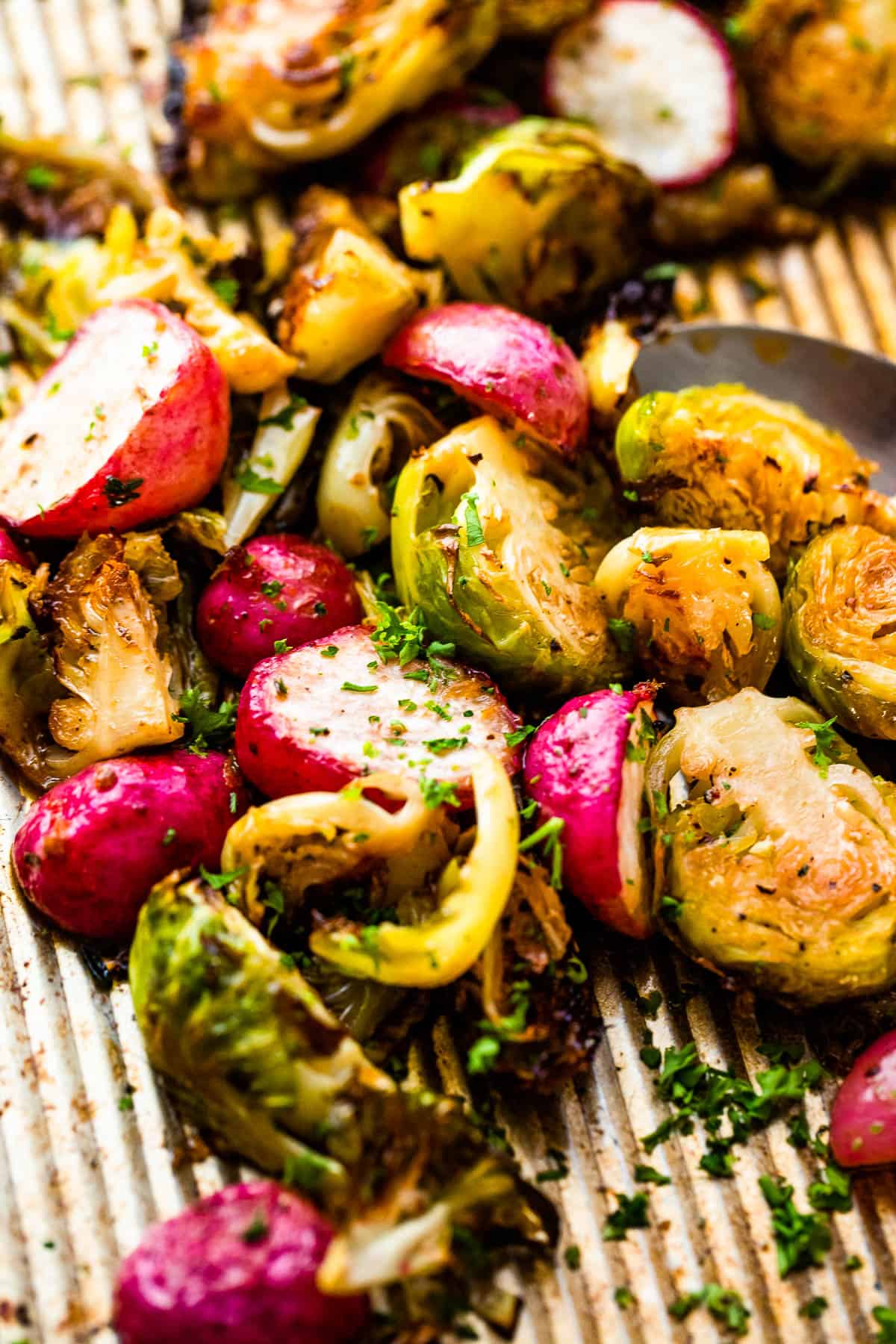 How to Store and Reheat Leftovers
To refrigerate: Cover leftovers tightly in an airtight container and store in the refrigerator for up to four days.
To freeze, place the cooled veggies on a plate or clean tray, in a single layer. Freeze until frozen solid, and then pack into freezer bags or airtight freezer containers. They'll keep for up to 6 months. Reheat from frozen, adding a few extra minutes to the baking time. (Note: Reheated Brussels sprouts and radishes that have been frozen will not be as crispy!)
To reheat: Place leftovers in a single layer on a baking sheet, and bake at 400˚F until heated through.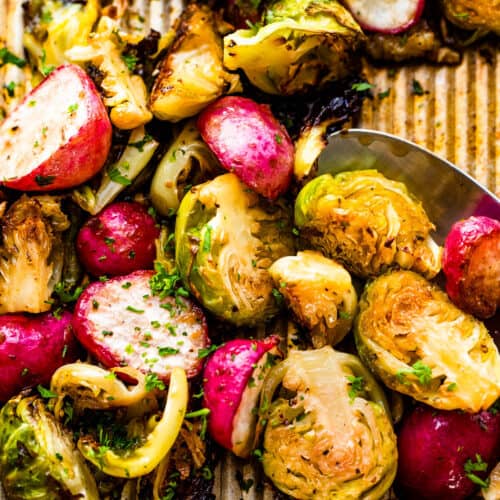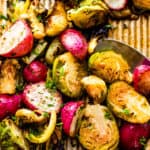 Print Recipe
ROASTED BRUSSEL SPROUTS AND RADISHES
Crispy Roasted Radishes and Brussels Sprouts are a flavor-packed, low-carb side that's a snap to make! A simple dressing of olive oil, salt, and pepper brings out the best in these rustic veggies.
Instructions
Preheat oven to 425˚F.

Line a baking sheet with parchment paper or foil, and set aside.

In a large mixing bowl toss radishes and brussel sprouts with olive oil, salt, and pepper.

Transfer the veggies to previously prepared baking sheet and arrange them in one layer.

Bake for 20 to 25 minutes, or until tender, stirring the veggies halfway through cooking.

Remove from oven.

Top with parmesan, if using, and serve.
Nutrition
Calories:
98
kcal
|
Carbohydrates:
8
g
|
Protein:
4
g
|
Fat:
6
g
|
Saturated Fat:
1
g
|
Polyunsaturated Fat:
1
g
|
Monounsaturated Fat:
4
g
|
Cholesterol:
4
mg
|
Sodium:
97
mg
|
Potassium:
387
mg
|
Fiber:
3
g
|
Sugar:
2
g
|
Vitamin A:
609
IU
|
Vitamin C:
70
mg
|
Calcium:
87
mg
|
Iron:
1
mg
More Easy Sides