This easy No Knead Dinner Rolls recipe delivers mouthwatering Artisan Rolls easily and quickly – with no kneading required!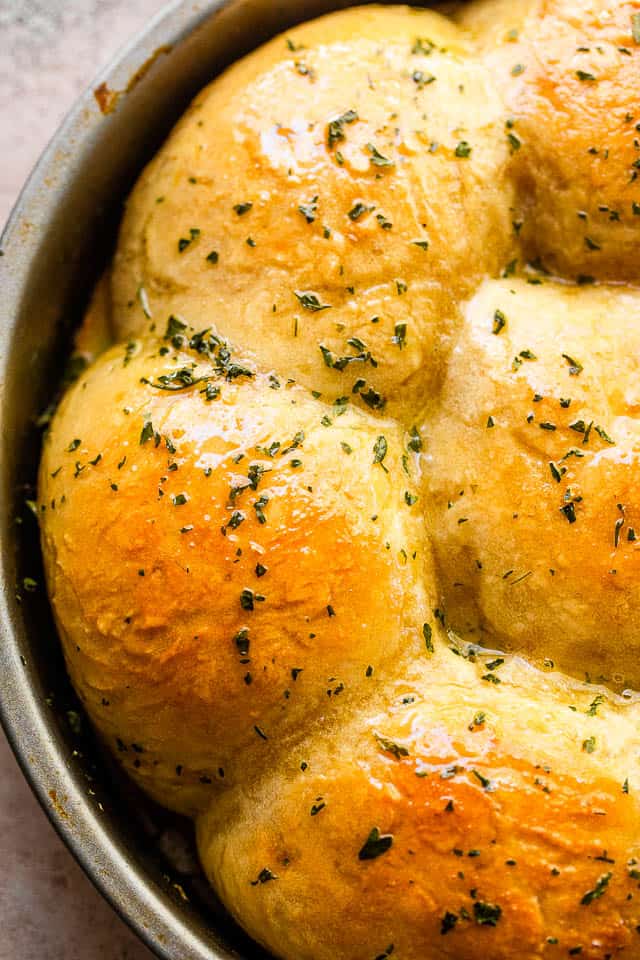 Easiest Ever Homemade Dinner Rolls
It's not every day that you sit down to a meal with freshly baked dinner rolls. Making homemade yeast breads and rolls is simply a time-consuming task that most of us can't fit into our busy schedules, right? Not anymore!
Traditional yeast roll dough is enriched, meaning that it includes ingredients like butter, eggs, and sugar. The dough has to be correctly kneaded, risen, punched down and shaped, risen again, and then baked. And it's totally worth it – when you can spare the time.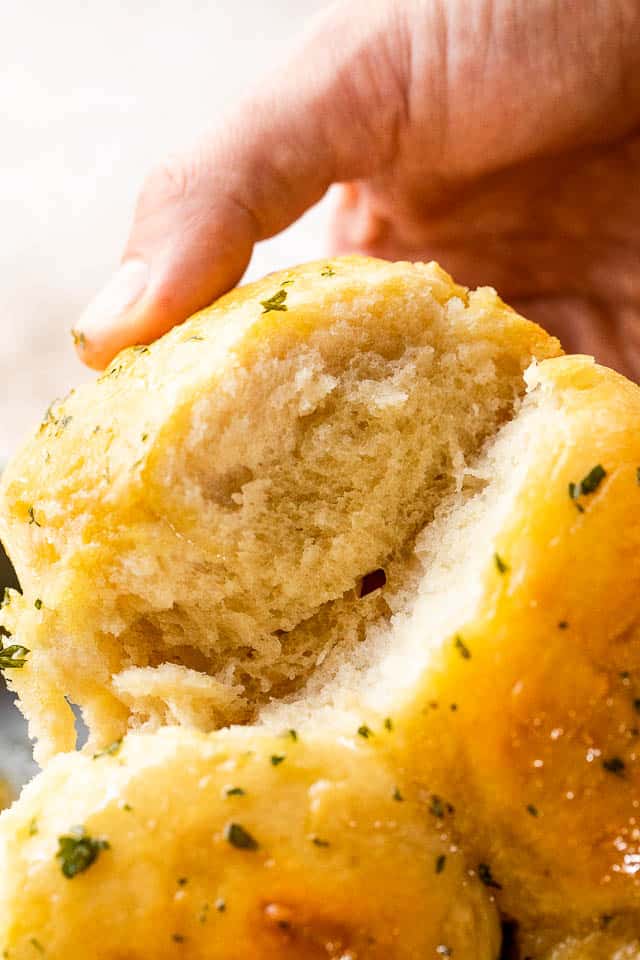 But what I love about No Knead Dinner Rolls is the simplicity of the ingredients and the foolproof, can-do technique! There aren't any "enriching" ingredients to affect the dough's rising time, and there's no special kneading process or rising process. It's all super basic.
What Makes These Dinner Rolls So Easy? My No Knead Dough!
The reason it's so simple is that the dough we're using is my No-Knead Dough: a super-easy, 4-ingredient recipe that basically involves dumping the ingredients in a bowl, mixing them up, and chilling the mixture until you're ready to bake.
No-Knead Dough is very popular, and is often used to make artisan bread in a Dutch oven. In this recipe, a batch of 8 savory rolls are baked in a simple 9-inch round cake pan. Perfection.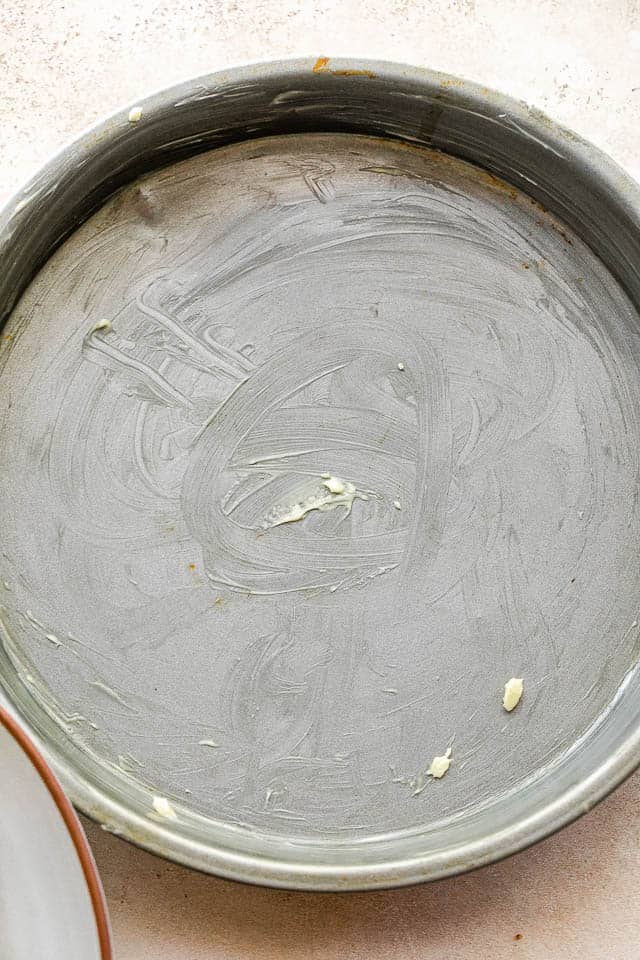 Recipe Ingredients
No-Knead Dough: This recipe uses 1 ½ pounds of the dough.
Egg and Water: For mixing up an egg wash to give shine and color to the rolls.
Melted Butter: For brushing on the baked rolls to give the crust tenderness and flavor.
How to Make No Knead Dinner Rolls
Bring the Dough to Room Temperature: Take 1 ½ lbs of the dough out of the refrigerator and place in a container, covered, on the counter. Let stand for 30 minutes.
Shape the Rolls: Flour your hands and working surface. Divide the dough into eight pieces and shape into rolls, each about the size of a golf ball. If you have a kitchen scale, measure out 3-ounces of dough for each roll.
Let the Rolls Rise: Transfer the rolls to a buttered 9-inch round cake pan. Let rise for 40 minutes to an hour. While the rolls rise, whisk the egg and milk to make an egg wash.
Bake, Serve, and Enjoy! Brush the rolls with egg wash and bake, uncovered, at 350˚F for 25 to 30 minutes. Remove from the oven, brush with melted butter, and let stand for 10 minutes in the pan. Serve and enjoy!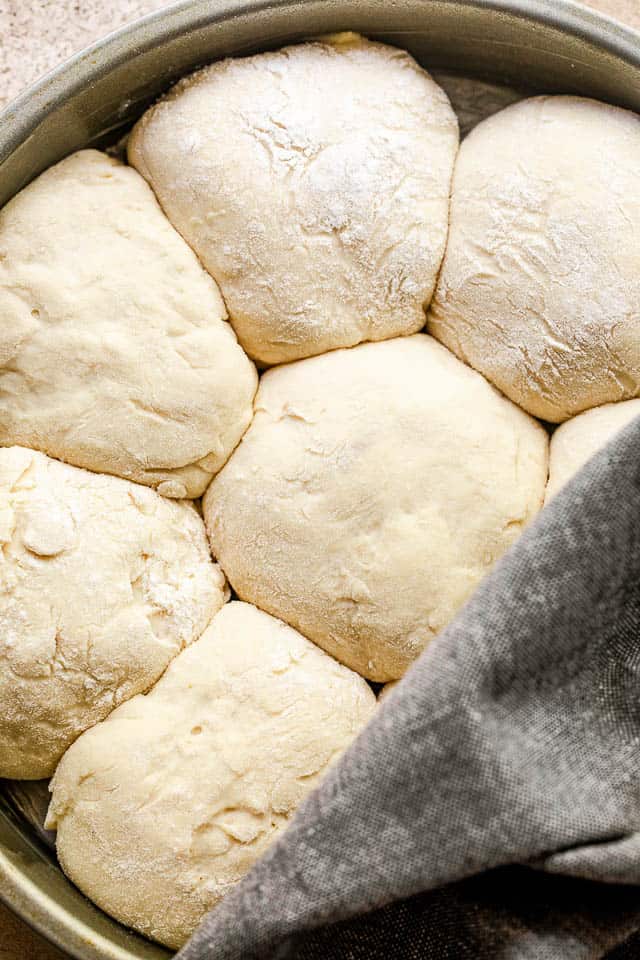 Tips for the Best Dinner Rolls
Watch the Time: The rolls have to stand for half an hour before shaping, and then rest for up to an hour before baking. You likely don't want to preheat the oven for that entire time! Instead, set a separate timer to remind you to preheat the oven and whisk together the egg wash before the rolls are done rising.
Plan the Right Menu: These are artisan rolls, not enriched dough rolls, so they will not have that cinnamon bun texture you might be expecting. Instead, they should have a texture not unlike homemade sourdough: firm, somewhat chewy, but soft, with big holes in the dough. Plan your menu with that in mind.
Take it Easy: When the dough is rising, you might expect it to puff up smoothly like regular yeast breads do. However, no-knead dough is different and does not always have a showy, conventional appearance and rise. That's totally fine! As long as you have used the correct amount of yeast and water, the recipe should perform well.
Just Add Water: If you're concerned about the rolls not rising well during the bake time, try adding a small, ovenproof bowl of water to the oven. The water will create a steamy environment that helps to keep the crust of the rolls soft, encouraging a puffier rise.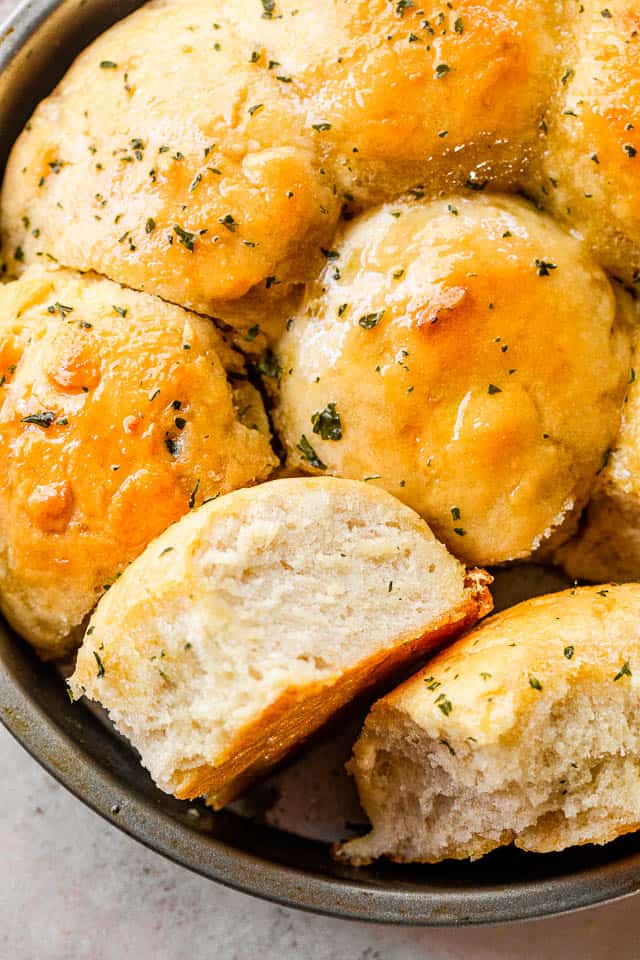 Serving Suggestions
I love serving these rolls with Quick Cream Cheese Spaghetti, a Chicken and Vegetables Sheet Pan Dinner or Juicy Grilled Pork Chops. Really anything in my Dinner Ideas section would go wonderfully with these!
How to Store Homemade Rolls
Leftovers can be stored in the refrigerator, wrapped in plastic wrap or sealed in food storage bags. Push out as much air as possible. Store for up to 2 days. You can also freeze the rolls and keep for up to 6 months (3 for best flavor).
To reheat, first thaw frozen rolls (if cooking from frozen) in the refrigerator. Then place the rolls directly on the oven rack, and bake at 325˚F until just heated through (about 10-12 minutes).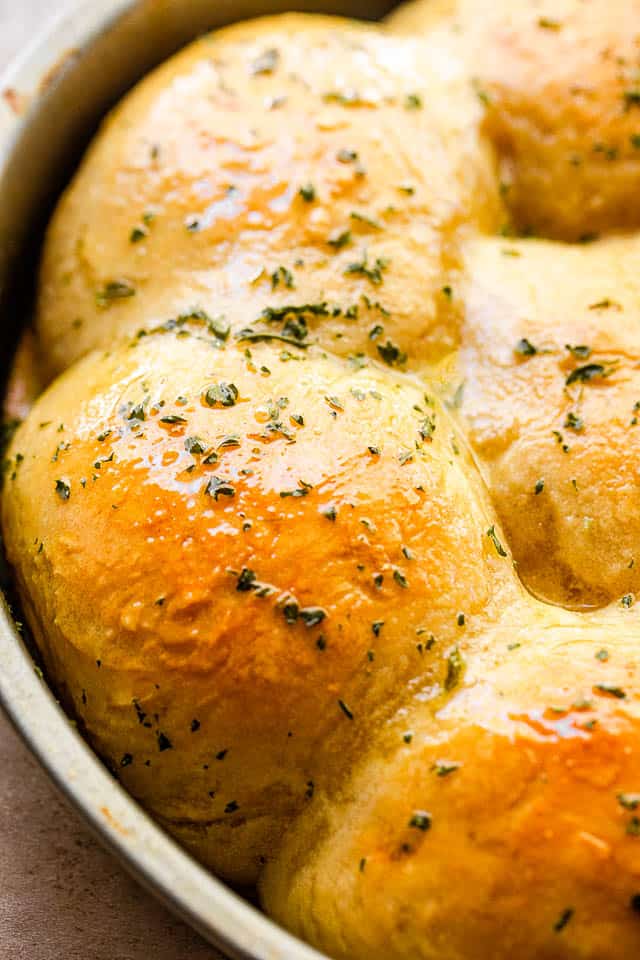 ENJOY!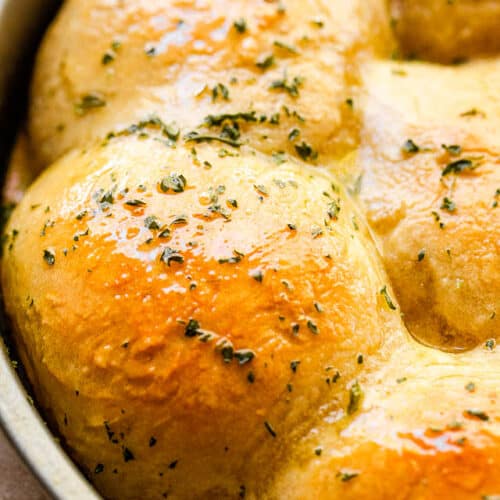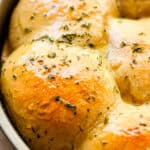 Print Recipe
No-Knead Dinner Rolls
A super-simple recipe for artisan dinner rolls, using no-knead dough and melted butter.
Ingredients
1 ½

pounds

No-Knead Dough,

<– click to get the recipe

1

egg

1

tablespoon

water

¼

cup

melted butter
Instructions
Butter a 9-inch round cake pan.

Remove 1 ½ pounds of no-knead-dough from the fridge and let sit at room temperature for about 30 minutes.

Dust your working area with flour.

Divide dough into eight pieces; flour your hands and shape each piece into a ball the size of a golf ball. If you have a kitchen scale, weight out 3-ounces of dough for each roll.

Transfer dough balls to previously prepared pan, arranging them one next to another. Cover with kitchen towel and let rest for 40 to 60 minutes.

Preheat oven to 350˚F.

Combine egg and water in a small mixing bowl and whisk to combine.

Brush rolls with the egg wash.

Bake for 25 to 30 minutes, or until lightly browned on top.

Remove from oven and brush rolls with melted butter.

Allow to cool 10 minutes in the pan.

Remove from pan and let cool for 10 to 15 more minutes.
Nutrition
Serving:
1
dinner roll
|
Calories:
276
kcal
|
Carbohydrates:
40
g
|
Protein:
6
g
|
Fat:
9
g
|
Saturated Fat:
1
g
|
Cholesterol:
20
mg
|
Sodium:
475
mg
|
Potassium:
8
mg
|
Fiber:
2
g
|
Sugar:
1
g
|
Vitamin A:
283
IU
|
Calcium:
5
mg
|
Iron:
1
mg