Slow Cooker Grape Jelly Meatballs are a fun, retro appetizer that everyone will devour! Tender, well-seasoned meatballs glazed with a killer sauce that's sweet, spicy, savory, and sure to please.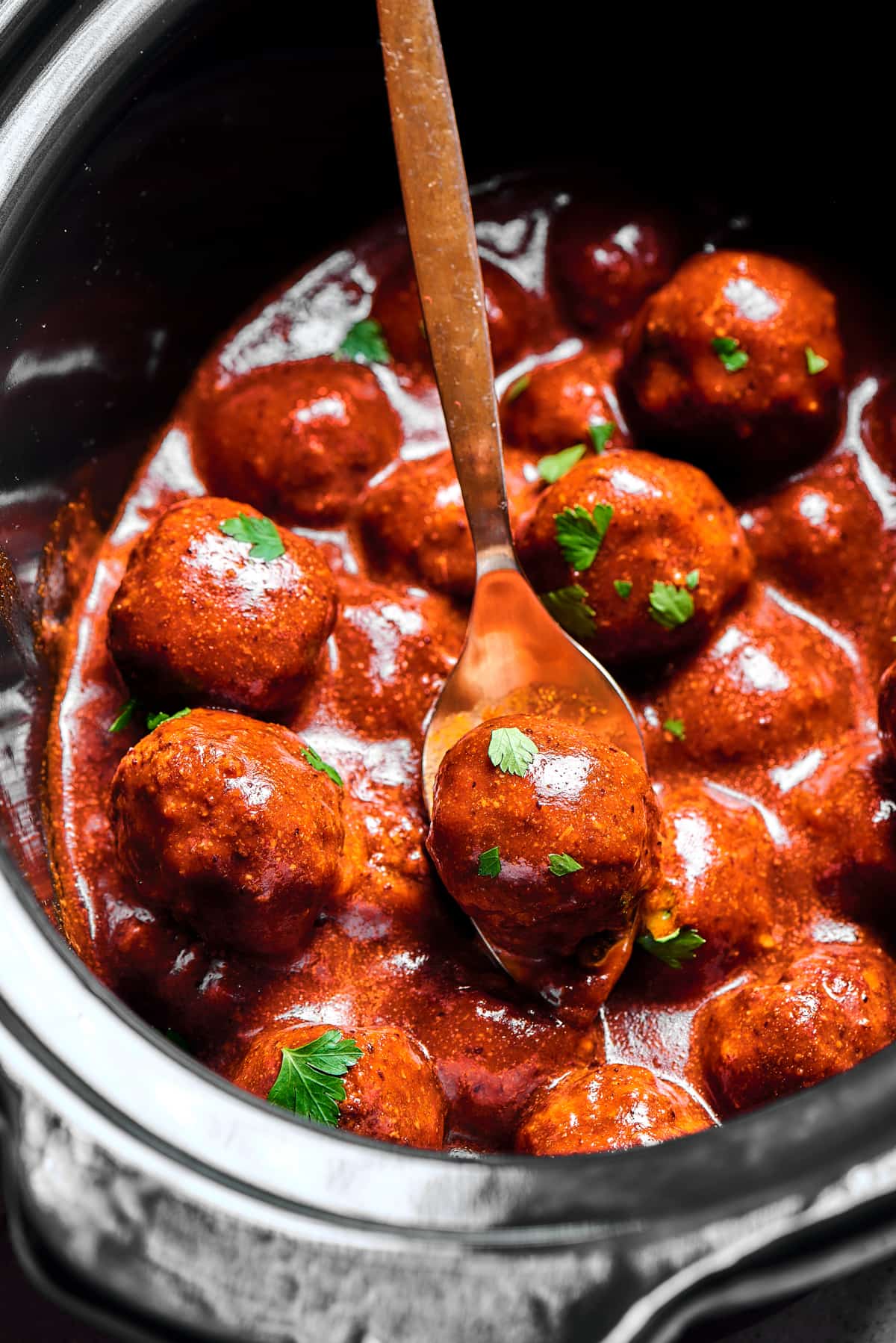 A Sweet-and-Savory Appetizer That Everyone Will Love!
If you need an easy dish to make for a holiday meal, potluck, game night, or basically any occasion, these grape jelly meatballs are one of the best. They're that perfect blend of sweet and savory, and are guaranteed to keep everyone drifting back for "just one more." Seriously, you'll be surprised at how fast they disappear!
Classic grape jelly meatballs are made with grape jelly and chili sauce or barbecue sauce, but this version adds some heat with one of my favorite condiments: Sriracha! This ultra-garlicky, incredibly flavorful hot sauce adds just the right touch for those of us who like things a bit spicy. Not a fan of sriracha? Substitute another hot sauce, a different condiment like sweet chili sauce, or leave it out entirely.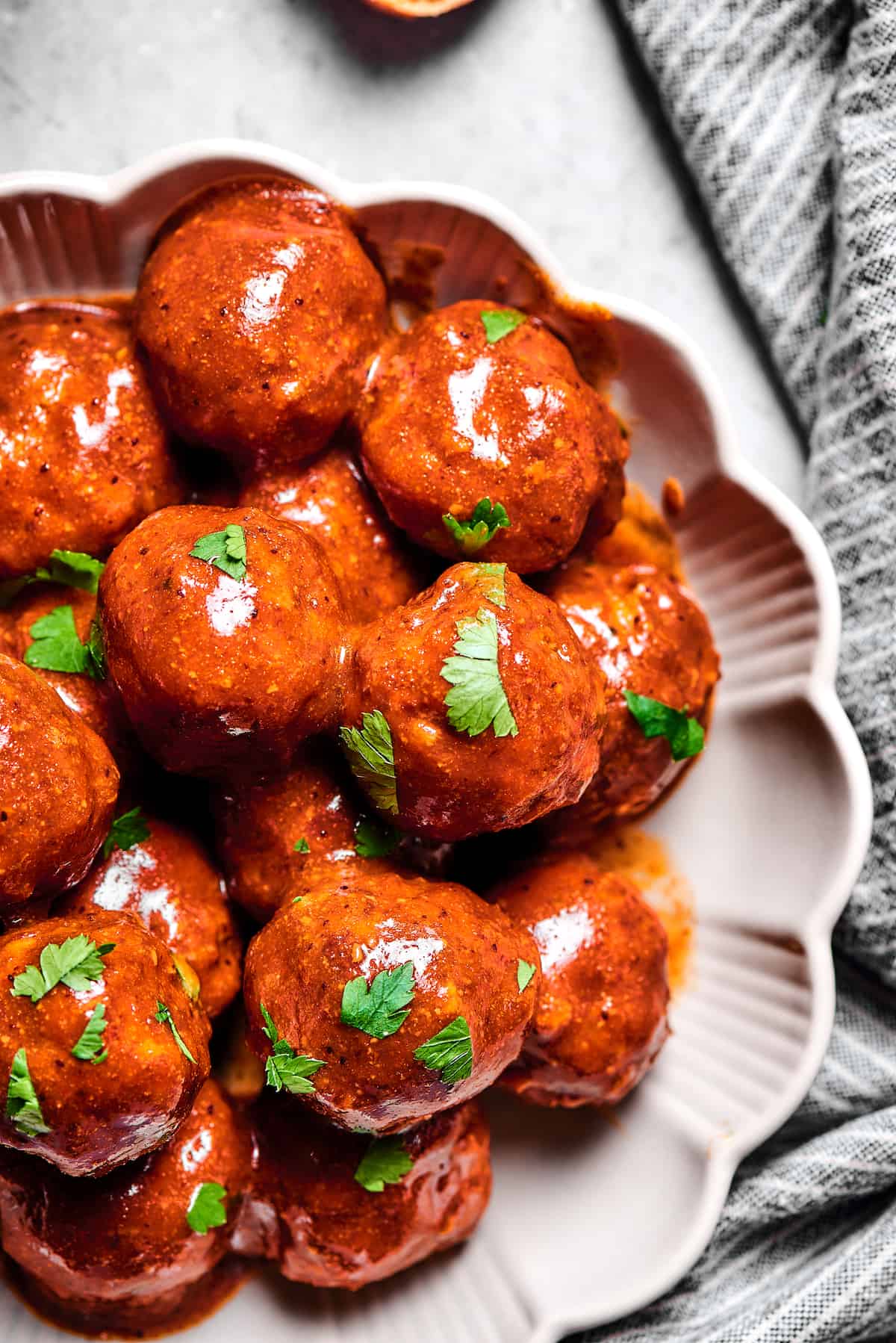 Why Add Grape Jelly to Meatballs?
This recipe seems to have first surfaced in the '60s, and if you've seen any cookbooks from that time, you might be nodding your head – the '60s and '70s brought us a lot of wacky and wonderful recipes that involved jelly, jello, and other store-bought goodies that were easy to use. These meatballs have been a staple of potlucks and casual parties ever since! The grape jelly mingles with the other sauces, including ketchup and barbecue sauce, to add extra sweetness and a fruity, almost tropical-tasting twist.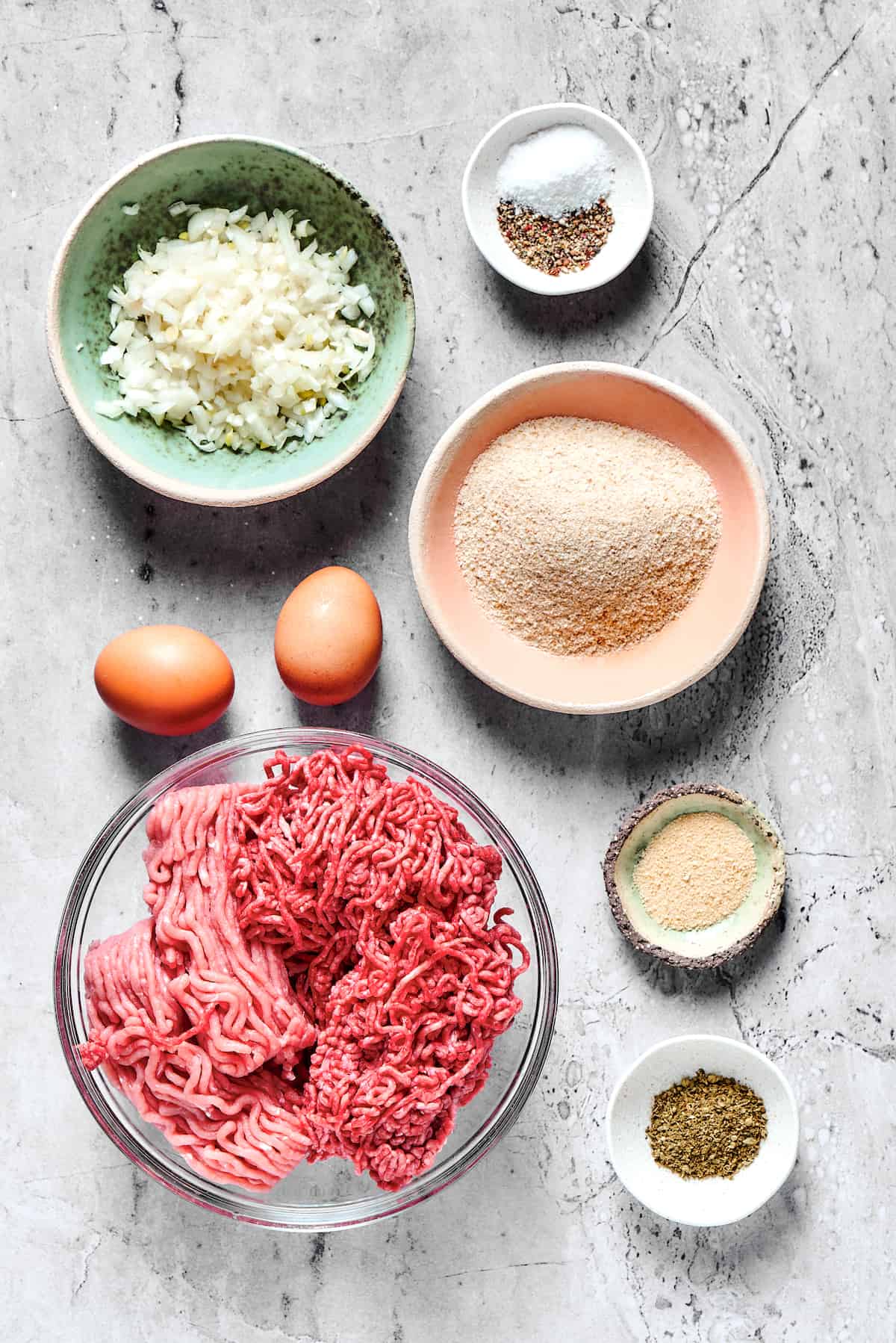 The Ingredients You'll Need
This easy recipe is loaded with flavor thanks to four fantastic ingredients: jelly, barbecue, ketchup, and Sriracha. You won't be able to resist the sauce!
For the Meatballs
Ground Beef: You can use whatever ground beef you like. Leaner ground beef will not be as moist and flavorful, so you may want to add a tablespoon or so of milk to the mixture if you use lean.
Ground Turkey: Again, you can go with dark meat (which is more moist) or white meat (which is more lean), or a mixture of the two.
Eggs: Large, whole eggs bind the mixture together.
Breadcrumbs: Good breadcrumbs help keep the ground meats soft and tender.
Onion: Finely chop one small yellow onion.
Seasonings: Garlic powder, salt and pepper, and Italian seasoning.
For the Jelly Barbecue Sauce
Jelly: Store-bought grape jelly adds sweetness, flavor, and shine to the meatball sauce. For other jelly suggestions, see the "Tips and Variations" section below.
Barbecue Sauce: You can use whatever barbecue sauce you enjoy.
Ketchup: Prepared ketchup, regular or sugar-free.
Sriracha: A small amount of sriracha sauce adds heat and a garlicky flavor. If you don't want the heat of sriracha, you can try substituting gochujang, sweet chili sauce, or another flavorful sauce.
Chili Flakes: Or red pepper flakes
Sea Salt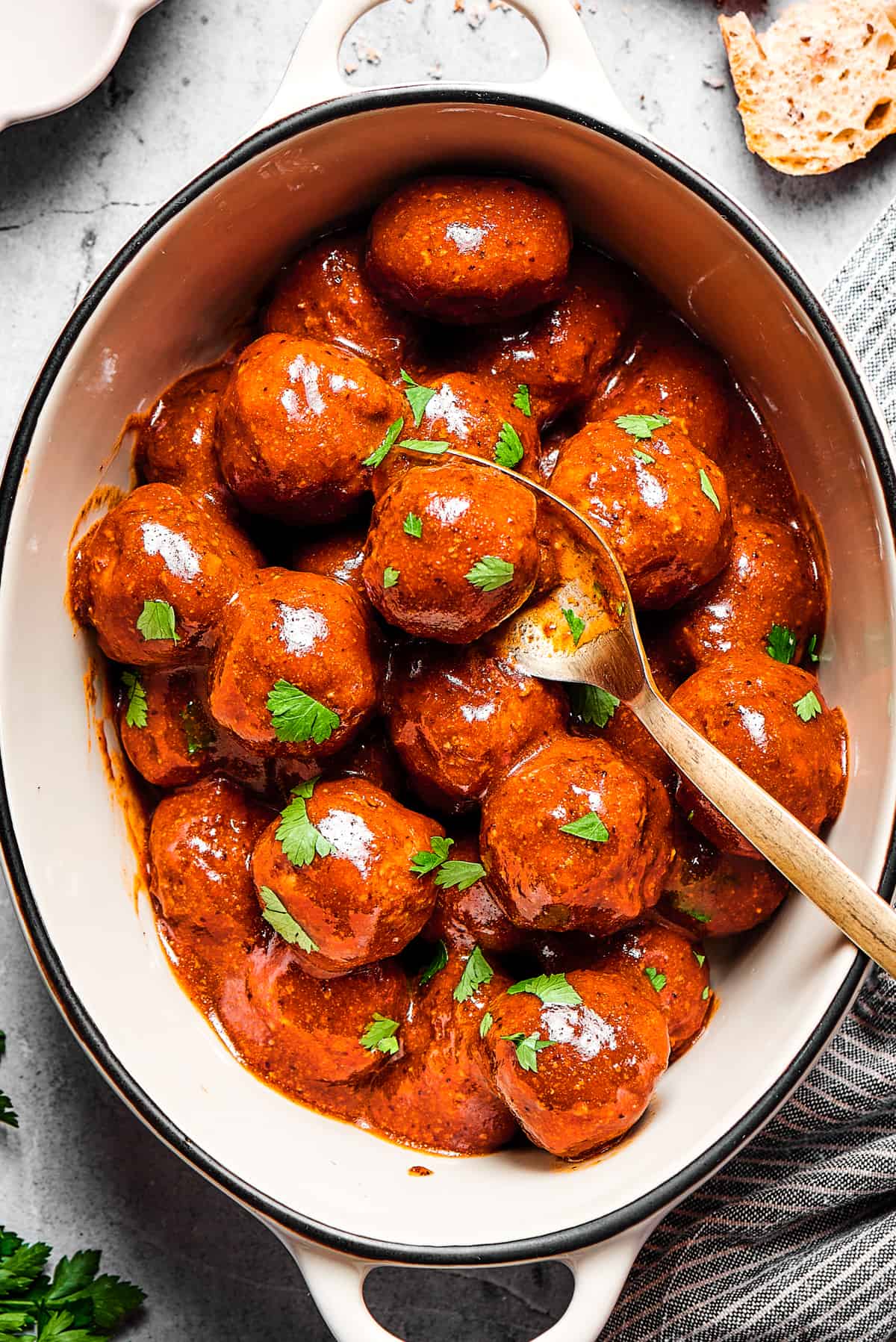 Can I Use Frozen Meatballs Instead?
If you'd like to take a major shortcut and get this dish ready with practically no prep – then definitely go the frozen meatballs route. Use about two pounds of your favorite homestyle frozen meatballs, and keep the sauce ingredients the same. Does this qualify as a life hack? I think this qualifies as a great life hack.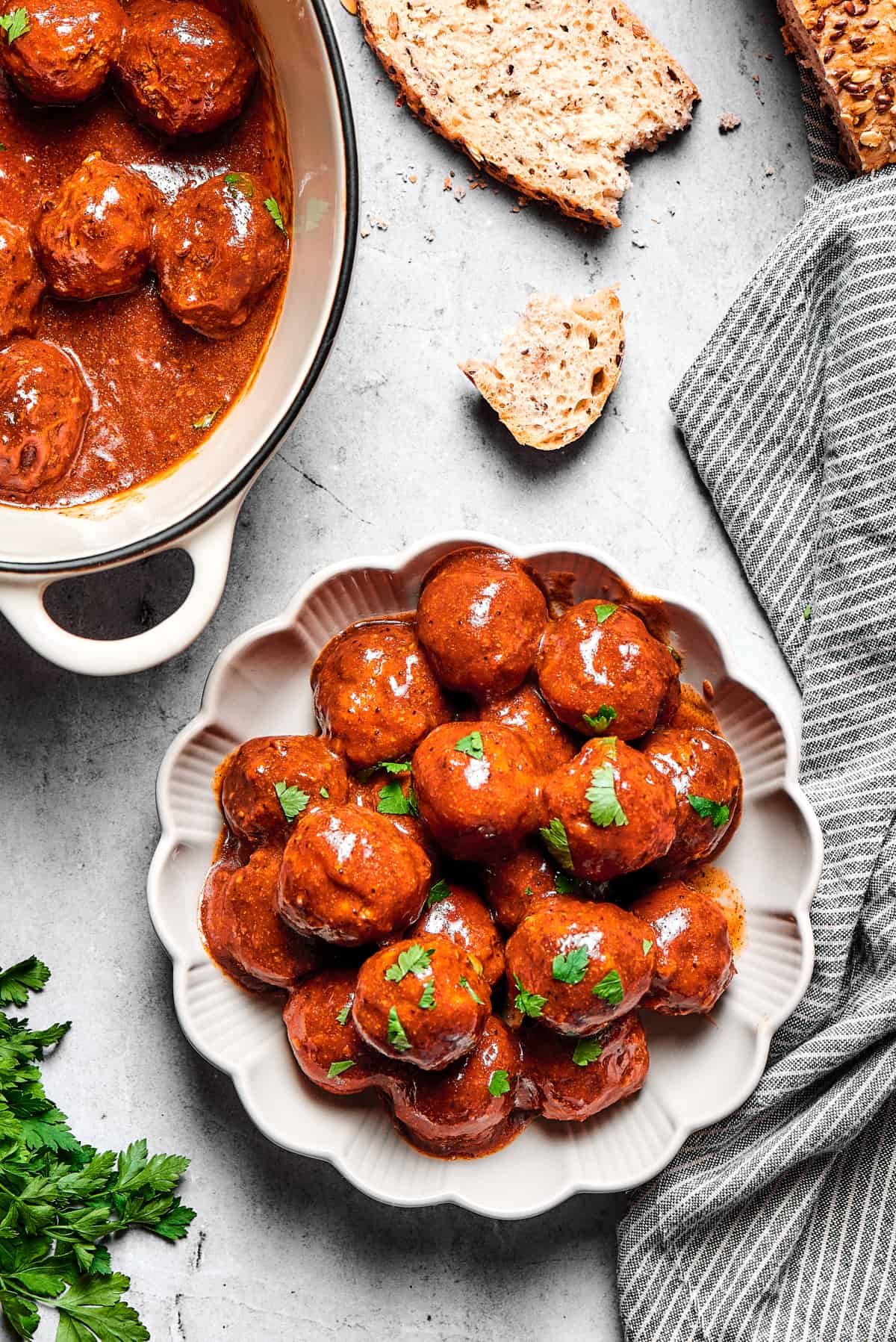 Let's Make Grape Jelly Meatballs!
So how do you make grape jelly meatballs? This recipe is so easy and simple. All you have to do is mix up the meatball ingredients and freeze them, and then when you're ready, cook the meatballs in the sauce. You can't go wrong!
Make the Meatball Mixture. To make the meatball mixture, put all of your meatballs-ingredients into a big bowl and gently mix them together. You can use your hands or a metal spoon. Aim for the sweet spot of well-mixed, but not over-mixed. As soon as you have a pretty even blend, stop mixing so the meatballs don't turn out tough.
Shape the Meatballs. Using a cookie scoop or your hands, roll small amounts of the meat mixture gently into meatballs. Smaller meatballs will take less time to cook than larger meatballs, but you can make them whatever size you prefer.
Freeze. Place the meatballs in a zip-top bag, and freeze them.
Combine All Ingredients. When you're ready to cook, dump the frozen meatballs into the slow cooker. Pour the remaining ingredients over them, and give everything a gentle stir with a large spoon.
Cook. Cover the slow cooker with the lid, and cook the meatballs on HIGH for about 3 ½ hours, or until done.
Enjoy! Sprinkle fresh chopped parsley over the meatballs if you like, and serve warm. (You can leave the slow cooker on the "WARM" setting while serving.)
What Is the Secret to Good Meatballs?
Everyone has their own "secrets" to making great meatballs, but I'm happy to share mine with you guys. For me, a great meatball needs to be flavorful, moist, and tender. The flavor is no problem with this recipe, thanks to all the sauces and seasonings. To keep things moist, we're using a good amount of breadcrumbs. And, to avoid toughness, just handle the mixture gently and don't over-blend.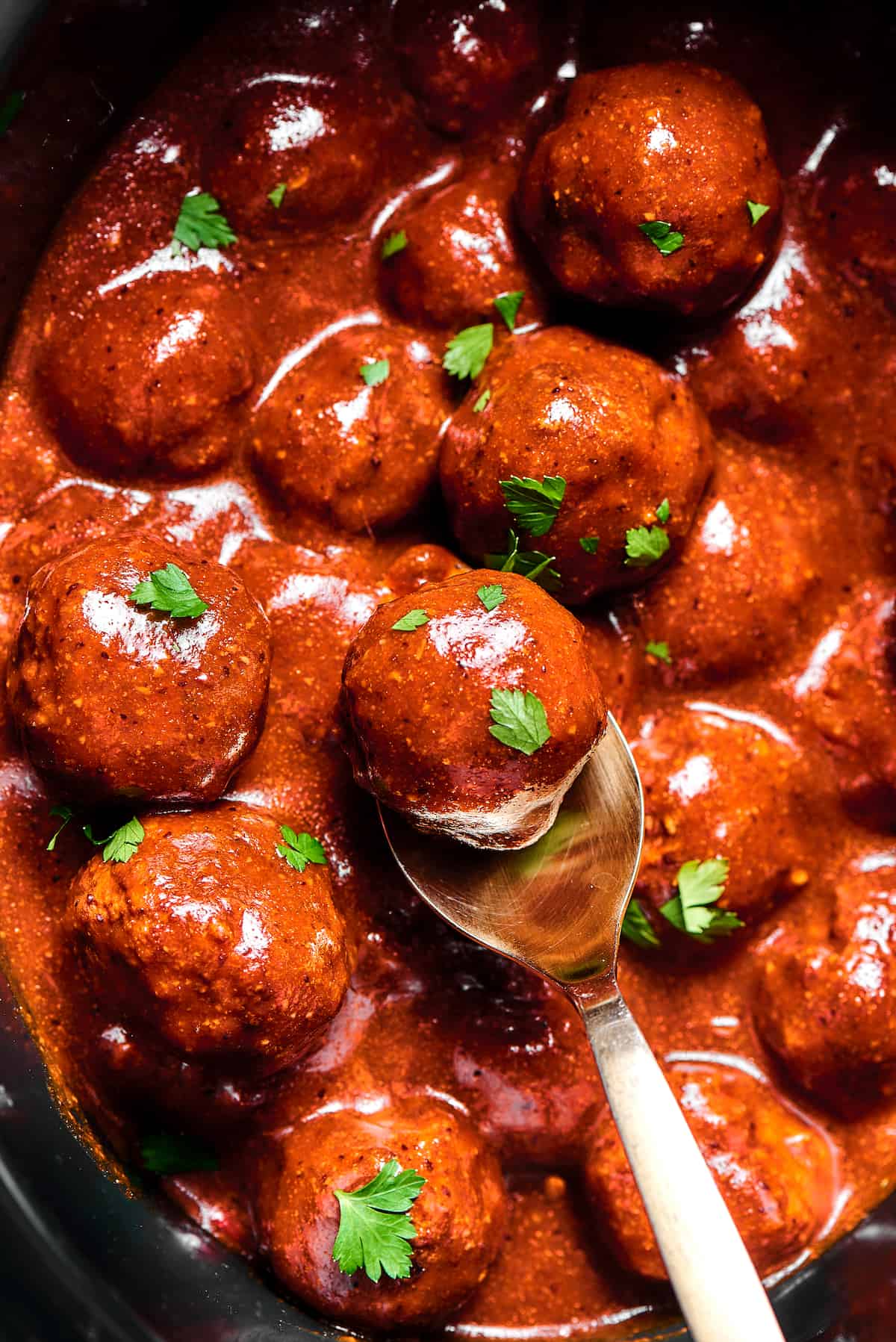 More Tips and Variations
Making grape jelly meatballs is definitely a no-fuss recipe, but I still have a few helpful tips to share. Read on, and bon appetit.
Stovetop and Oven Methods: While slow cooking seems to be the most common method for making grape jelly meatballs, you can also gently simmer them on the stove, so long as the meatballs are cooked through before adding them to the sauce.
Jelly Options: Give the recipe a different twist by adding a different kind of jelly or jam. Apricot is a favorite, but strawberry would also be super yummy.
Sausage: You can also use cocktail sausages (for example, Lil Smokies) instead of meatballs.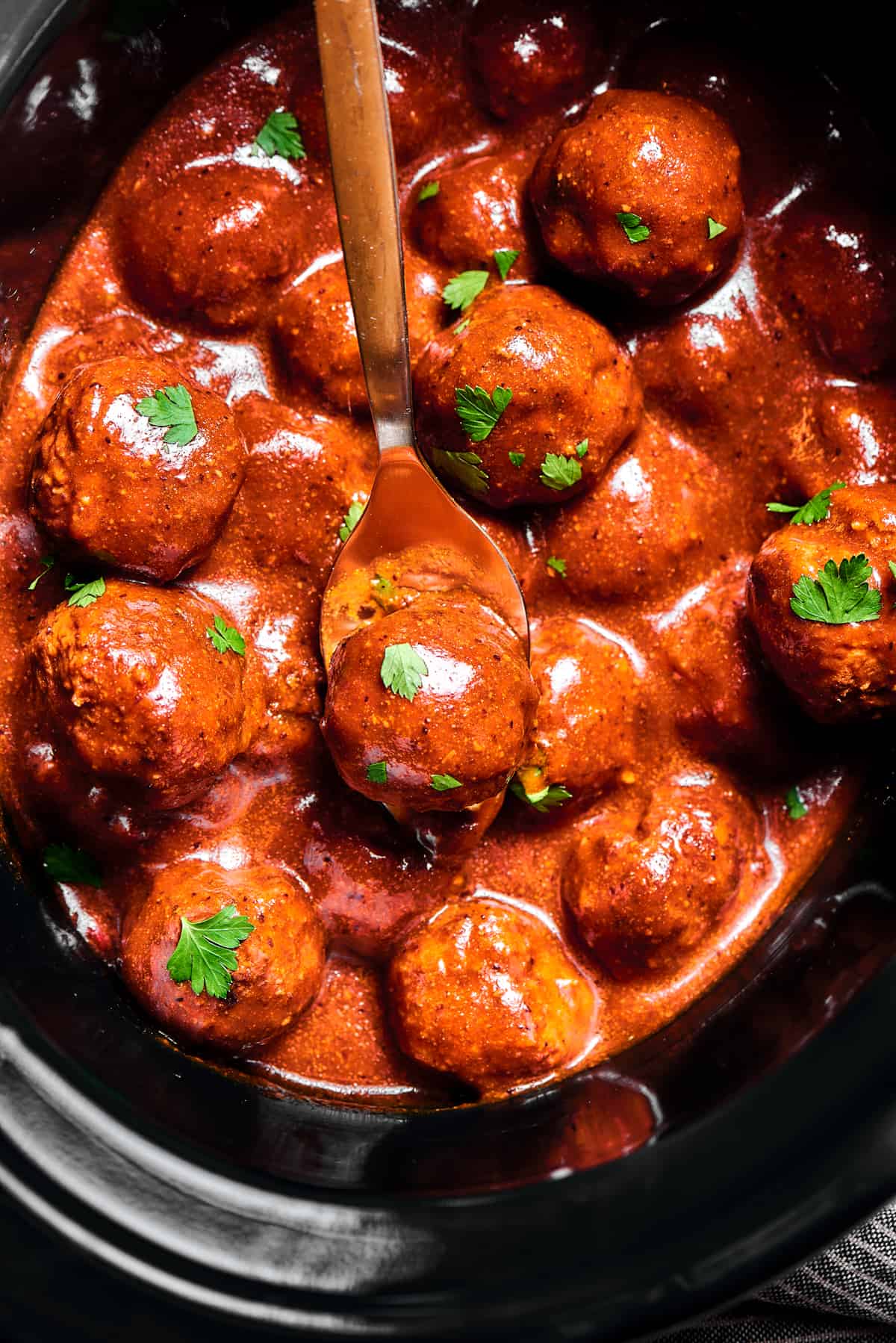 Serving Suggestions
Grape jelly meatballs make a fantastic appetizer or potluck contribution. They're also good for an easy dinner, served over rice. Here are some simple sides to add even more flavor to the menu: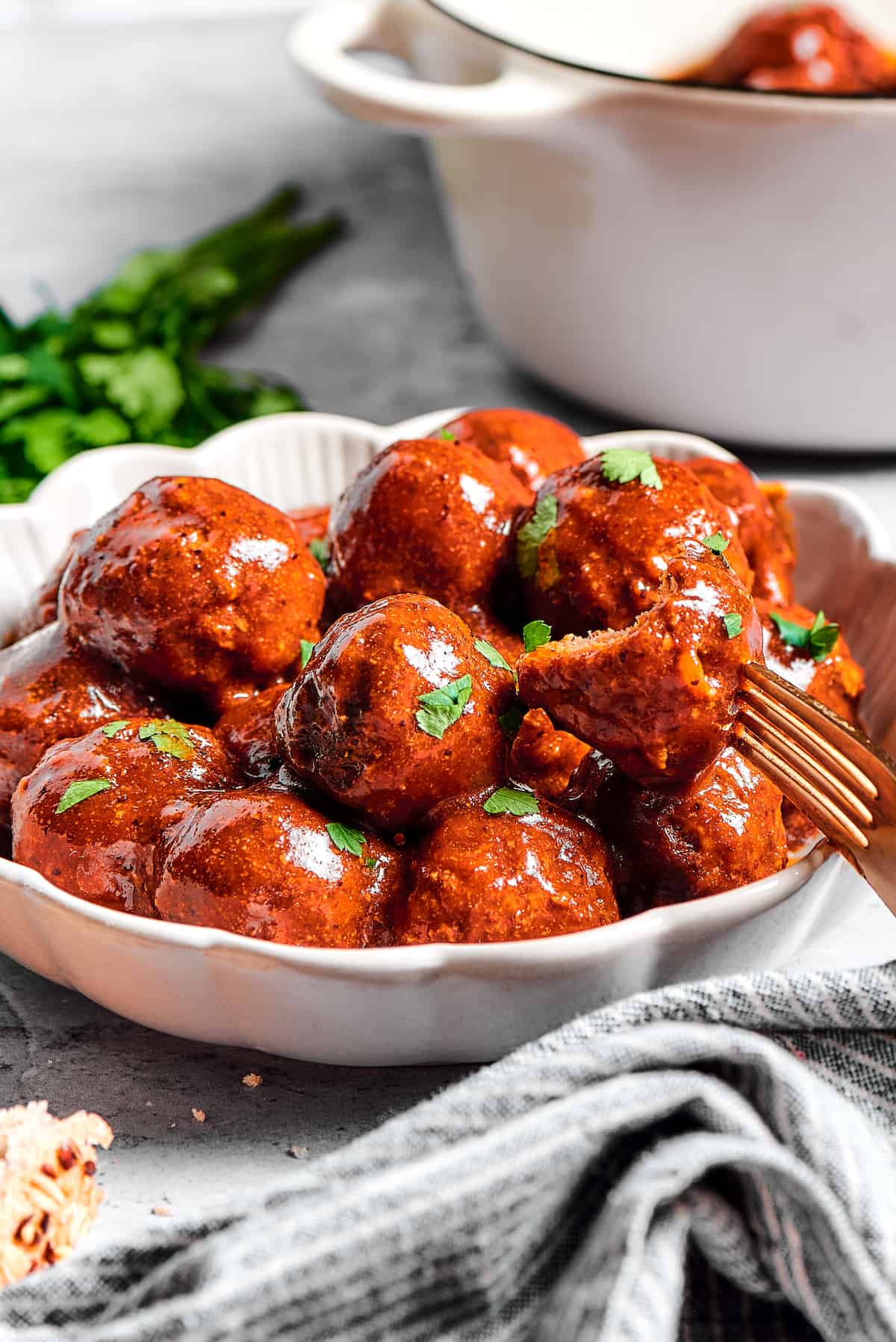 How to Store and Reheat the Leftovers
Stored grape jelly meatballs will stay good for 3 to 4 days in your fridge. Cover them tightly, or use an airtight container.
To reheat, use your slow cooker or place them in a covered skillet over low heat. Be sure to stir if you use a stovetop method, and keep the heat low so the sauce doesn't scorch.
Can I Freeze This Dish?
Freeze the meatballs before cooking in the jelly mixture.
Be sure to use an airtight container or freezer bag, and mark them with the date.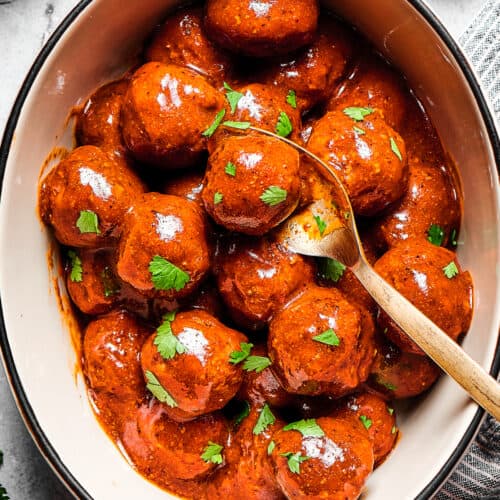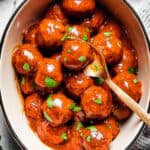 Print Recipe
Slow Cooker Grape Jelly Meatballs
Grape Jelly Meatballs are tender, well-seasoned meatballs glazed with a delicious sauce that's sweet, spicy, savory, and sure to please.
Ingredients
For the Jelly Barbecue Sauce:
1

cup

grape jelly

1

cup

BBQ sauce,

use your favorite brand

1

cup

ketchup

3

tablespoons

sriracha sauce,

or any other hot chili sauce

1

teaspoon

chili pepper flakes

1

teaspoon

sea salt
Instructions
For the Meatballs
Place ground beef, ground turkey, eggs, breadcrumbs, onion, Italian seasoning, garlic powder, salt, and pepper into a large bowl; gently mix together with your hands or a metal spoon to combine, careful not to over-mix.

Using a cookie scoop or your hands, divide the meat mixture into desired size meatballs.

Place meatballs in a zip bag and freeze them.
To Make Slow Cooker Grape Jelly Meatballs
Place the frozen meatballs in the Crock Pot. Pour the grape jelly, BBQ sauce, ketchup, sriracha, salt and chili flakes over the meatballs.

Mix the meatballs in the sauce until they are all evenly coated.

Cover the Crock Pot with lid and cook on HIGH temperature for 3 to 3½ hours.

Remove lid and garnish with fresh chopped parsley.

Turn the slow cooker's dial to the "warm" setting, and keep on the "warm" setting while serving.
Notes
Meatballs: I made these meatballs using ground beef and ground turkey. However, you can make them with only ground beef, only ground turkey, or ground chicken. Store-bought frozen meatballs are also a great option.
Jelly: Grape Jelly is the traditional choice, but you can use other jellies like apricot or strawberry.
Oven + Stovetop Method: Bake the meatballs at 400˚F for about 15 minutes or until cooked through. Then, place the meatballs in a large Dutch oven, mix in the sauce ingredients, and simmer over medium heat for about 10 minutes or until hot.
Sriracha Sauce: You can use Sriracha, or you can use your favorite hot chili sauce. If you do not like spicy foods, you can leave it out altogether.
Nutrition
Calories:
261
kcal
|
Carbohydrates:
35
g
|
Protein:
19
g
|
Fat:
4
g
|
Saturated Fat:
1
g
|
Polyunsaturated Fat:
1
g
|
Monounsaturated Fat:
1
g
|
Trans Fat:
0.1
g
|
Cholesterol:
75
mg
|
Sodium:
1014
mg
|
Potassium:
366
mg
|
Fiber:
1
g
|
Sugar:
24
g
|
Vitamin A:
169
IU
|
Vitamin C:
6
mg
|
Calcium:
40
mg
|
Iron:
2
mg
More Appetizer Recipes