This flavorful Mexican Street Corn Salad (Elote Salad) is a festive side dish full of fresh corn, bell peppers, jalapeno, and a killer creamy mayo sauce with goat cheese. A tastebud-tingling dish that'll have everyone begging for the recipe.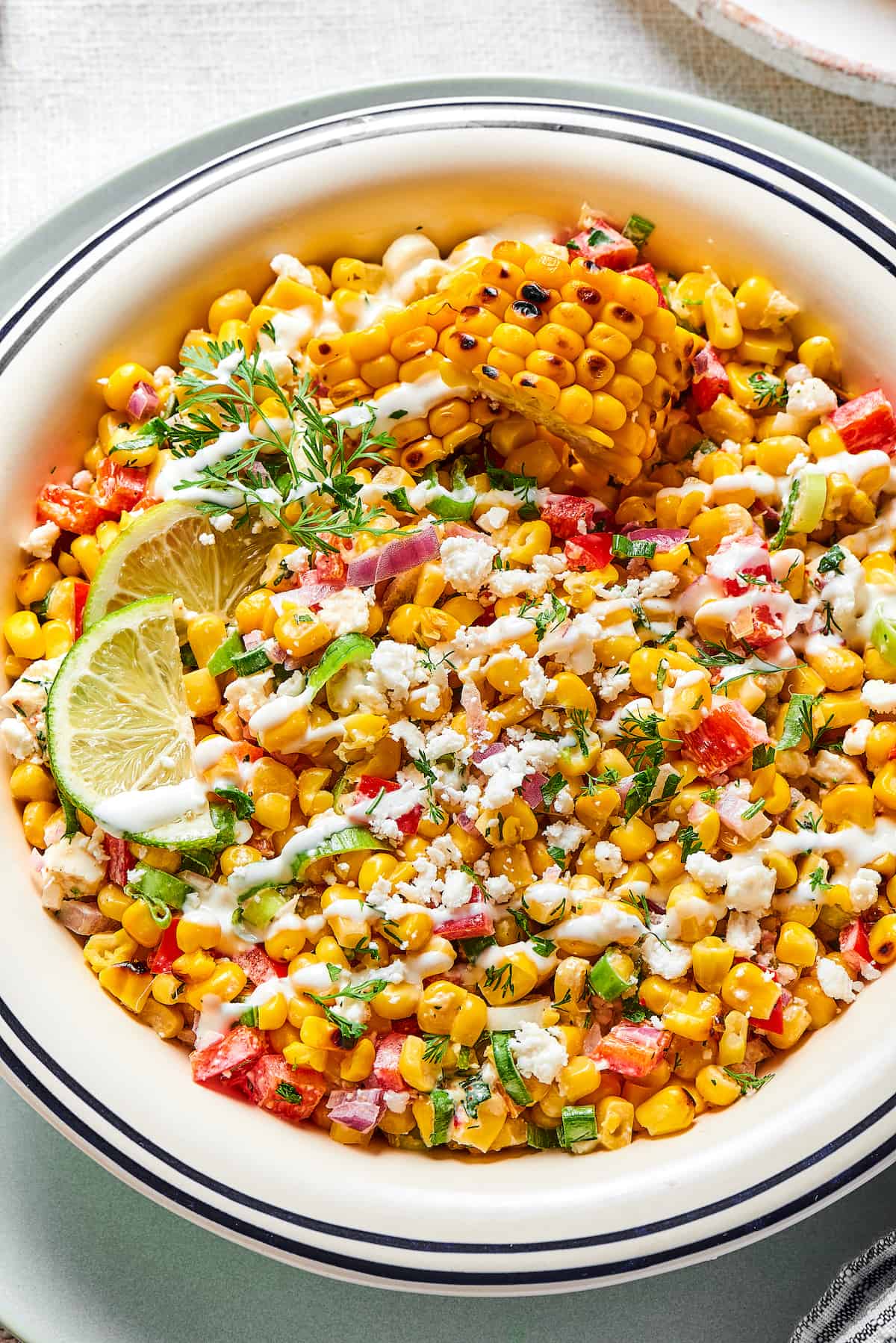 All the Fun of Elote, None of the Mess!
Have you ever eaten Mexican street corn? Known as elote in Spanish, this beloved dish is all about fresh corn on the cob, loaded down with creamy mayonnaise, zesty spices, hearty cheese, and other toppings. Once you try it, it's a treat you won't forget.
For a simpler approach that works well at dinnertime, try this Mexican street corn salad, made with all of the same simple, yet tasty ingredients. The corn is cut off of the cob, and combined with all of the other goodies in a big bowl for easy serving. You can also serve it in little individual cups for a barbecue or get-together.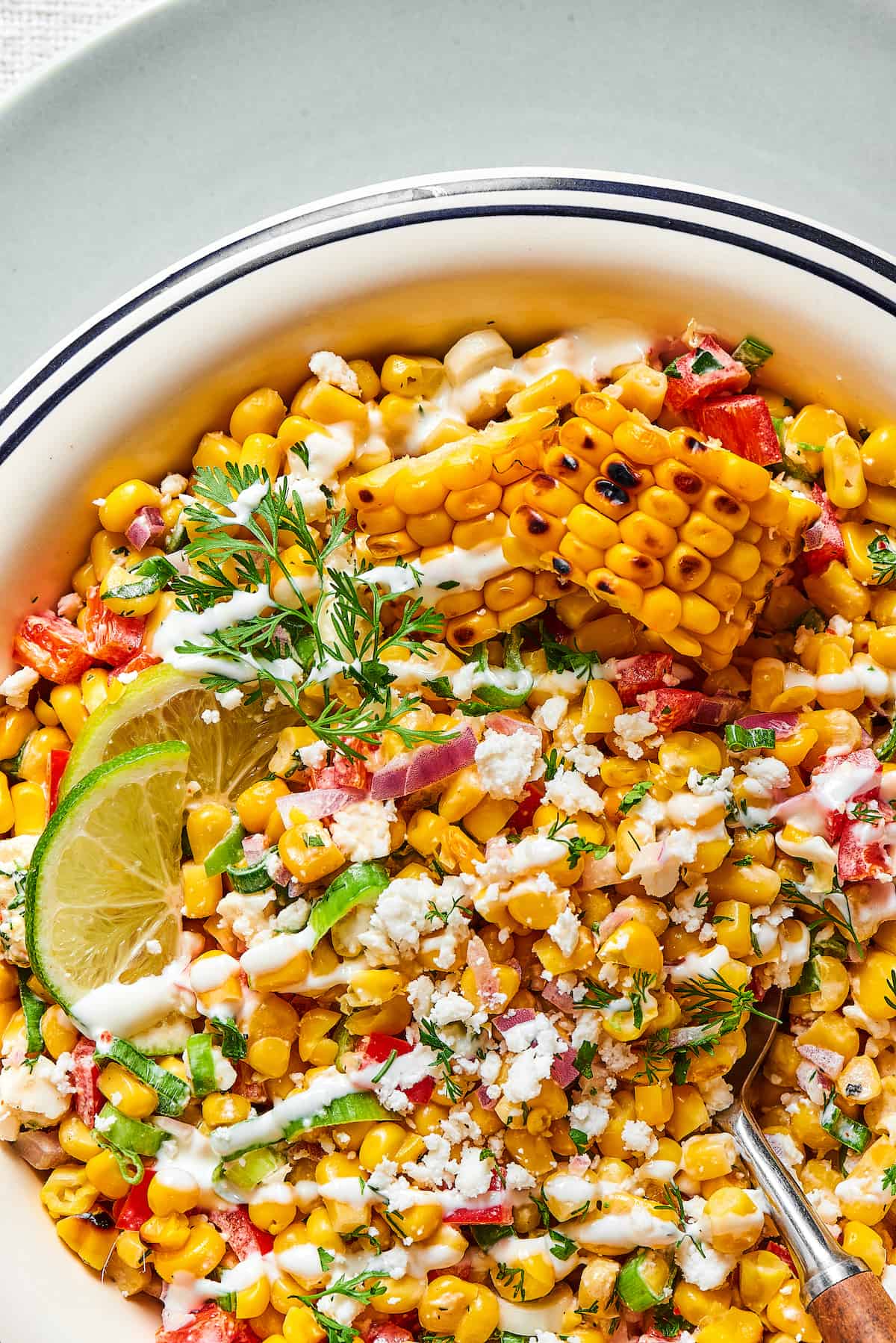 Why Is It Called Mexican Street Corn?
Elote is called "Mexican street corn" because it's a hugely popular street food in Mexico, and increasingly welcome in other parts of the world, too! Other beloved street foods include tamales, chicharrones, tacos, and quesadillas – and in large cities like Mexico city, those are just the start. Still, Elotes may just be one of the most iconic Mexican street foods out there.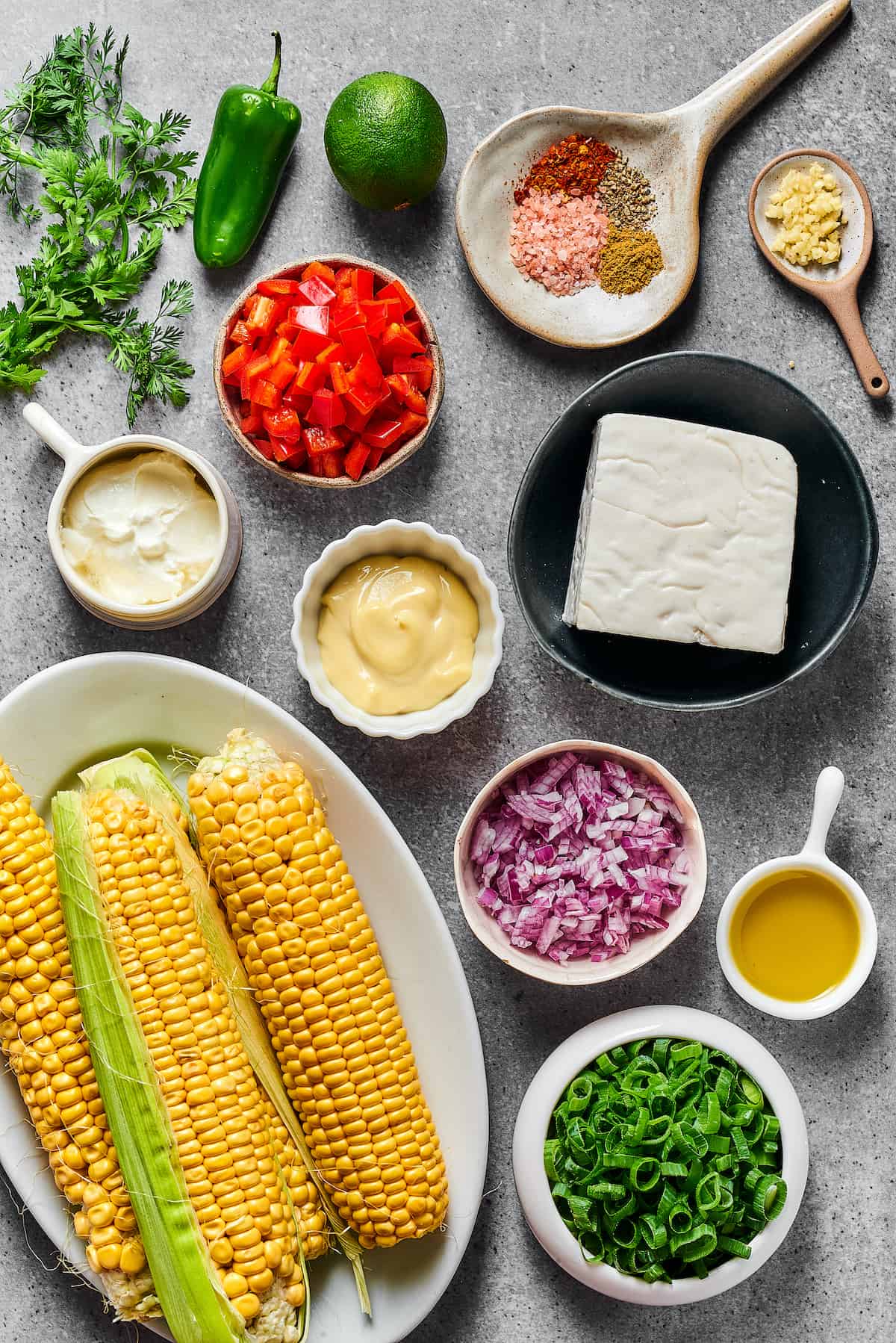 The Ingredients
You can make this recipe in different ways, with different ingredients, but the basics should always include corn, mayo, and plenty of punchy, flavorful items. Here's the list we'll be using for this easy weeknight version:
Corn: Remove the husks from 4 to 6 ears of fresh corn.
Olive Oil: Extra-virgin olive oil will have the boldest flavor.
Onion: I use a red onion, chopped. You could substitute another kind of onion, such as white or sweet onion, if you prefer.
Garlic: Fresh garlic, minced or pressed.
Jalapeno: To keep the heat down a little, remove the seeds and the ribs from the jalapeno. Mince it up finely.
Bell Pepper: Any color is fine, but I prefer the additional sweetness of red bell peppers.
Cilantro: If you don't love cilantro, you can leave it out or substitute parsley. Chives also work nicely, but they do have an oniony taste, so you might want to dial back the green onion if you use chives.
Green Onions: Wash them and chop the green and white parts.
Sour Cream: Or plain yogurt.
Mayonnaise: If you can find Mexican mayonnaise, that's great, but you could also use your preferred brand of mayo. Either way, it will be delicious!
Seasonings: A combination of chili flakes or crushed red pepper, cumin, salt, and pepper.
Cotija Cheese: Crumbled. Queso Fresco, Feta Cheese, or Goat Cheese are also good to use.
Lime: Lime juice and zest.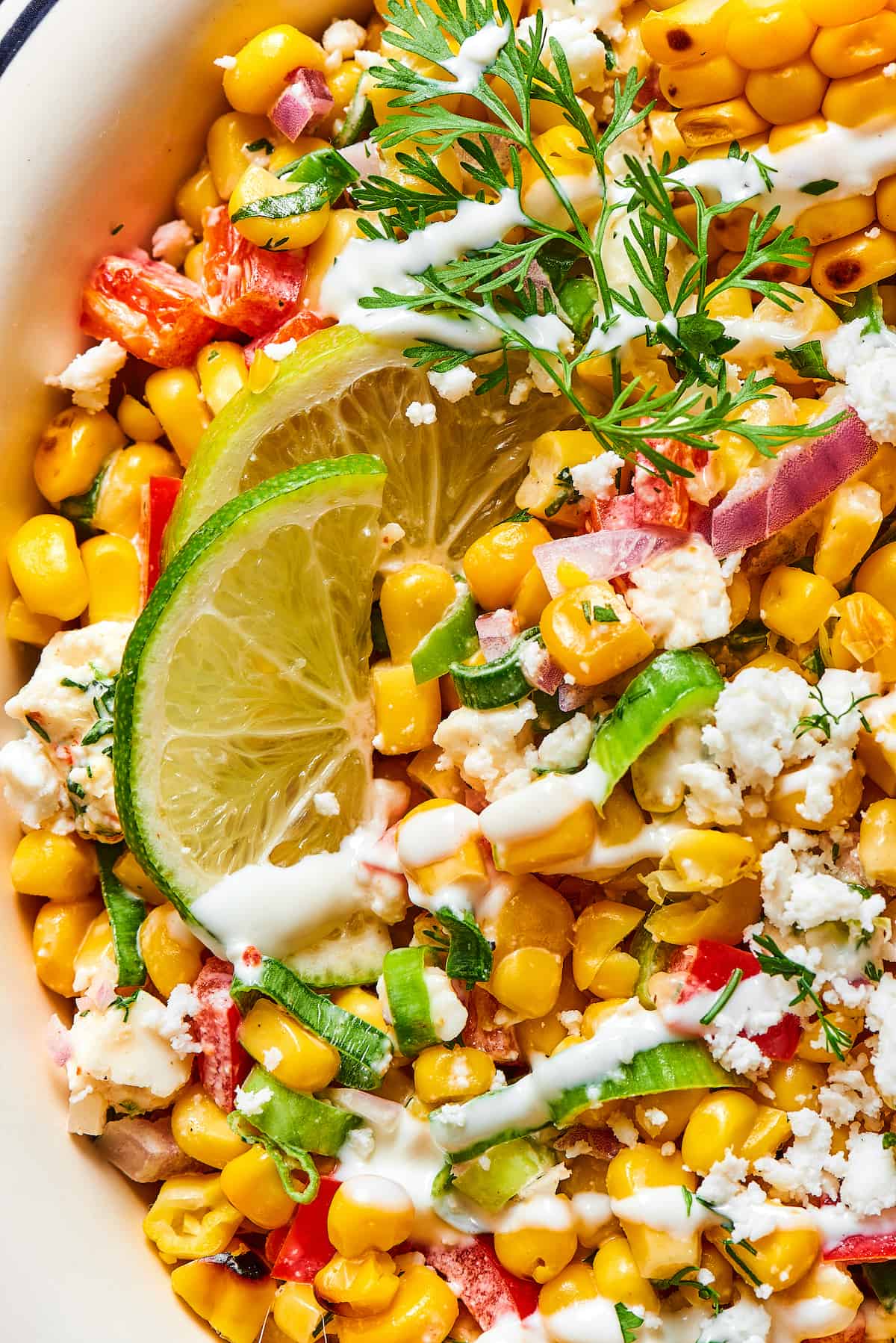 How to Make Mexican Street Corn Salad
For the best flavor, the corn should be grilled. Grab my 👉 Grilled Corn on the Cob 👈 recipe. You can do this outdoors if you like, or just throw it on a grill pan on your stovetop. From there, it's basically just mixing all the ingredients together, similar to making a chopped salad or potato salad. Easy!
Grill the Corn on the Cob. Heat up your grill or grill pan to medium-high. Brush your corn with olive oil, lay it on the grill, and let it cook for about 10 to 14 minutes, turning now and then. You want to see char marks forming. Once the corn is grilled, set it aside to cool a bit.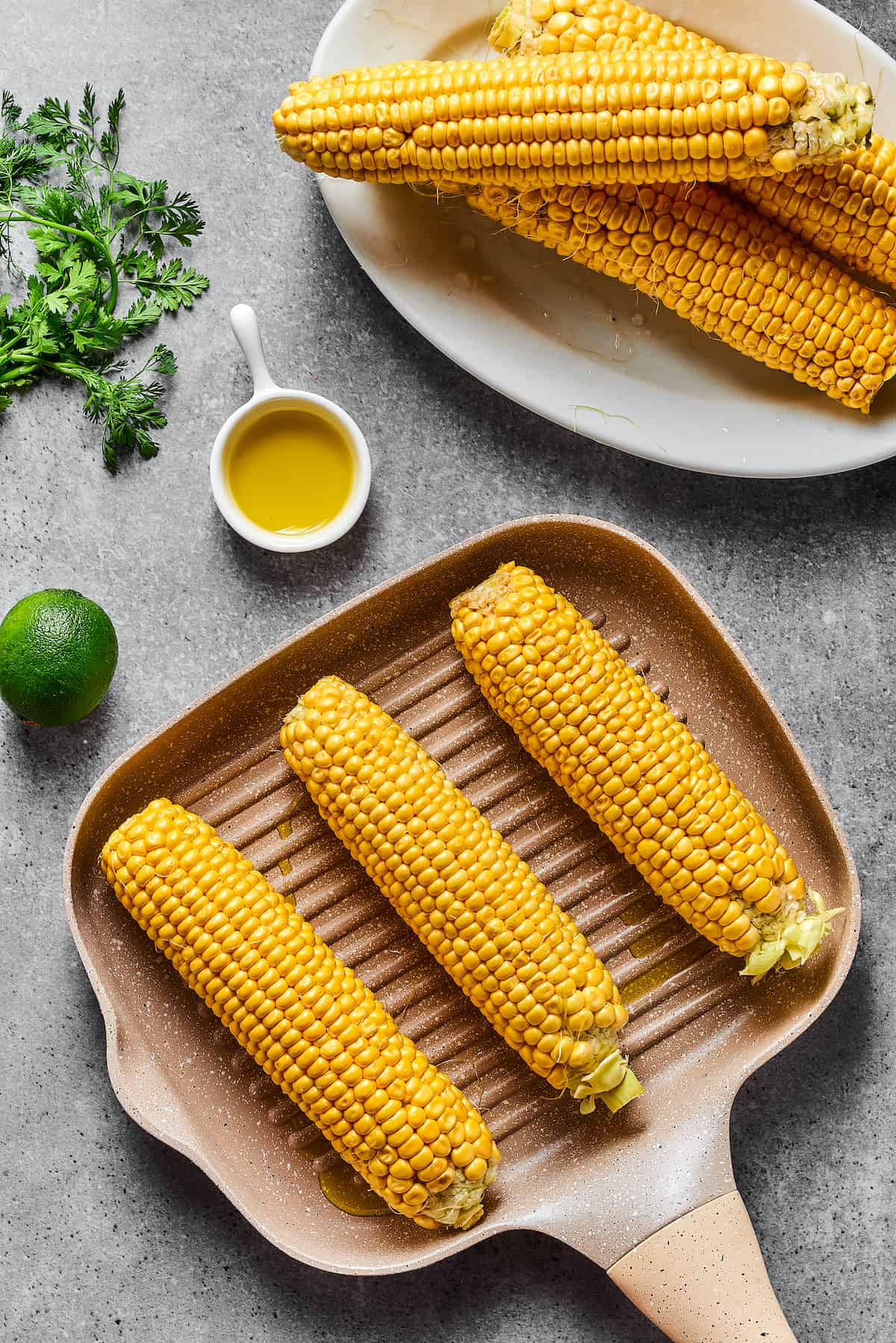 Cut the Corn. If you want a pretty garnish, cut a couple of rounds from one of your corn cobs and set them aside. Then turn the corn ears vertically, and use a sharp knife to carefully slice the kernels away from the cobs. Place the kernels in a big salad bowl.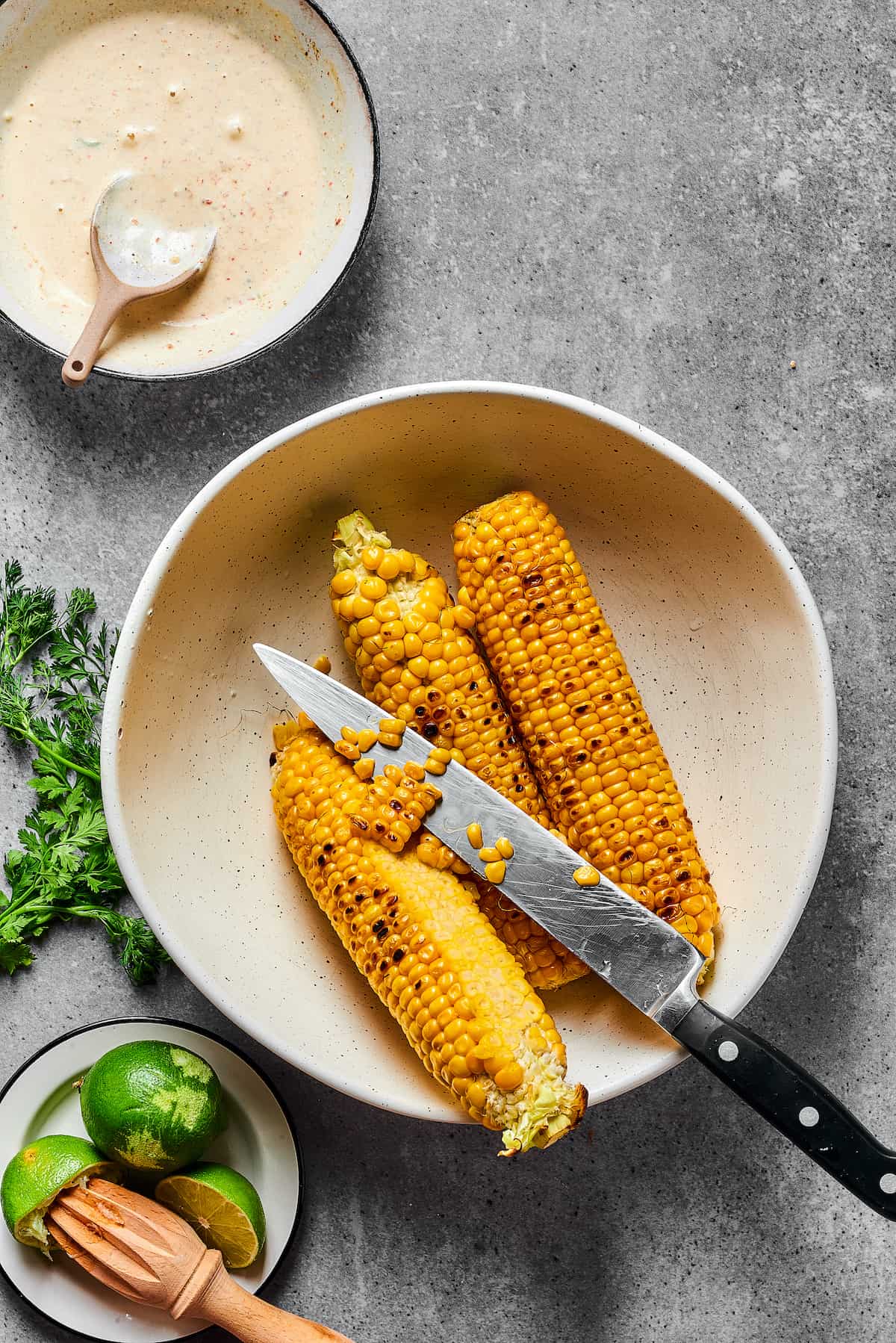 Mix the Dressing Ingredients. Next, in a separate bowl, whisk together the mayonnaise, sour cream, lime juice and zest, garlic, and seasonings.
Assemble the Salad. Finally, it's time to bring it all together! Toss the bell pepper, onion, cilantro green onions, and jalapeno with the grilled corn kernels. Add the dressing and the cheese, and toss gently to combine. Top with garnishes of your choice: the rounds of grilled corn, additional cilantro and cheese, lime wedges, etc.
Chill and Serve. Cover the salad and let it chill in the refrigerator until you're ready to serve.
Helpful Recipe Tips
These are just a few tips for making Mexican street corn salad, from topping ideas to changing up the corn prep. Happy cooking!
More (or Fewer) Toppings: As I mentioned before, elote salad is a flexible recipe. If you don't want to use garlic, bell pepper, jalapeno, or cilantro, don't. You can also add other ingredients, like Tajin (a chili-lime seasoning with a pretty red color) or Tapatio (a hot sauce). For a junk-food twist that's super fun, put some Flamin' Hot Cheetos in a bag and crush them with a glass or rolling pin. Mmm. 😋
Cooking the Corn: While grilling brings out a ton of flavor and gives a nice, smoky accent to the recipe, you could also make this with boiled corn. Boiling fresh corn is easy! Just remove the husks, place the ears in boiling water, and let them go for about 5 minutes. Pull them out of the water and let them cool.
Frozen Corn: Canned corn may not have quite the bold, sweet scrumptiousness you're looking for here, but you can use frozen. Just rinse it in a colander or strainer under cool water, and then pat dry with paper towels. Instead of grilling it on a grill pan, cook it in a skillet.
Make It a Meal: For a crave-worthy lunch option, try mixing some leftover chopped chicken breast into your elote salad.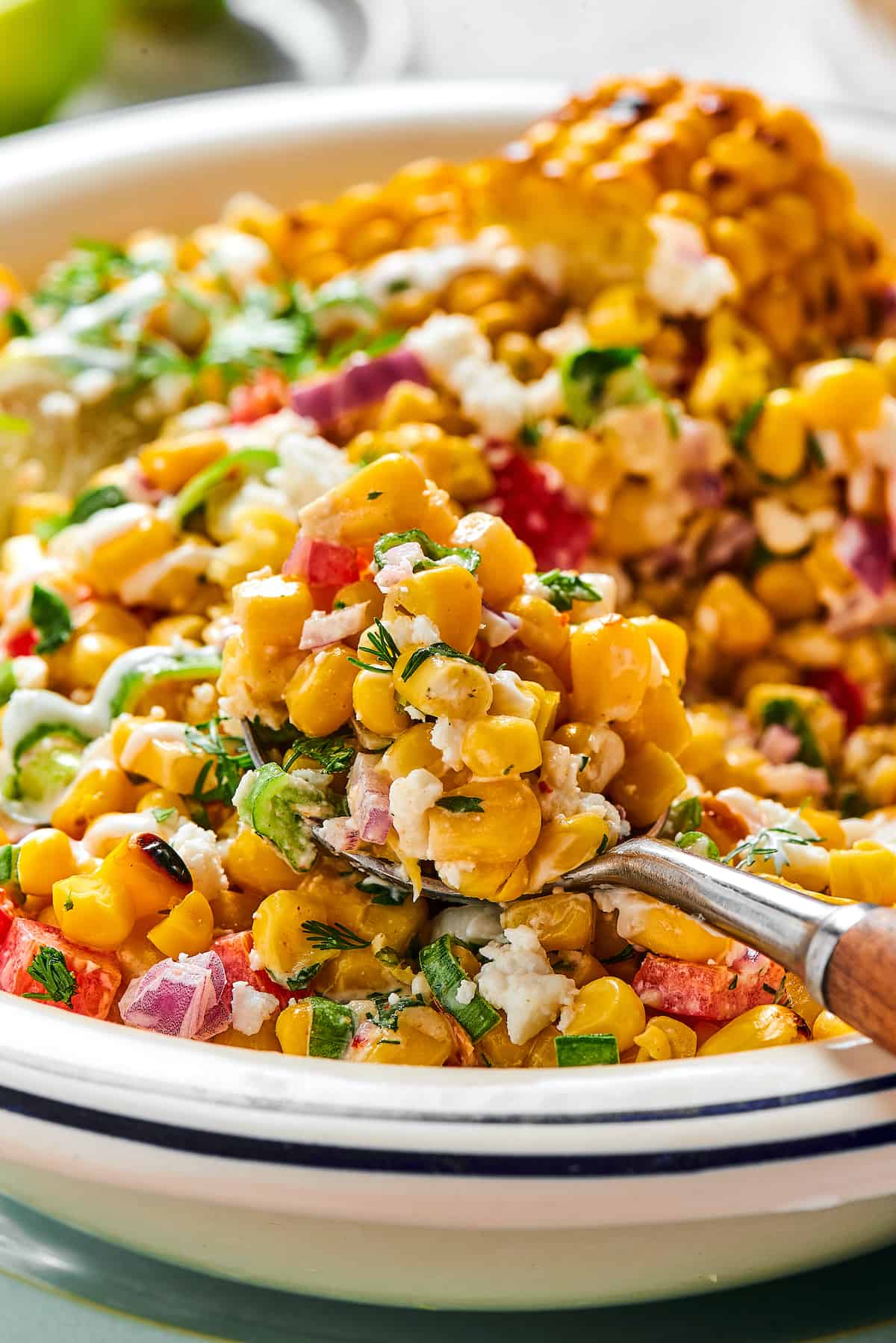 Serving Suggestions
What goes with Mexican street corn salad? Lots of things! You could make your favorite Mexican or Tex-Mex main course, or just serve it alongside a simple platter of fish, chicken, beef, etc. Here are a few ideas to get you started:
Carne Asada: Since you're grilling the corn, why not throw some Grilled Carne Asada together as well? These two dishes would make one killer dinner.
Wings: Any kind of wings get scarfed down at my house, but let me tell you, these Mango Habanero Hot Wings are on a whole different level. The flavor and heat are just irresistible! Combine them with creamy elote salad, and go to town!
Vegetarian Yumminess: Any easy vegetarian dish would be great here – from simple scrambled eggs to Zucchini Fritters.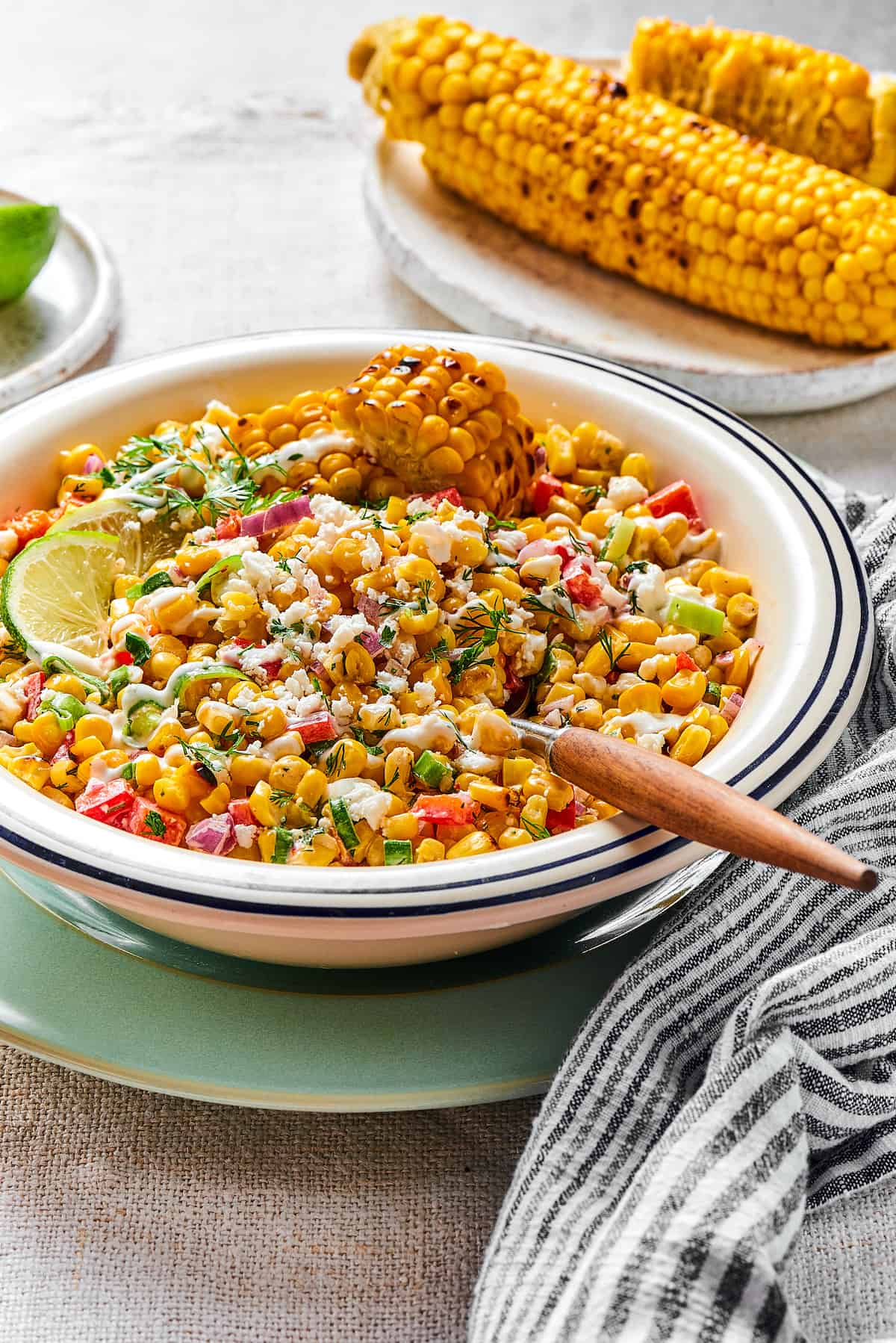 Storing the Leftovers
Mexican street corn salad is so easy to store, and maintains its crunch well even for several days! Just scoop it into a container with an airtight lid, and keep it in your refrigerator for 3 to 4 days.
Can I Freeze Mexican Street Corn Salad?
I don't recommend freezing this recipe, because the creamy sauce and tender bell peppers will usually turn watery once they are frozen and thawed out.
Instead, try halving the recipe to reduce the leftovers, or just plan to serve it for a couple of days in a row to use it up.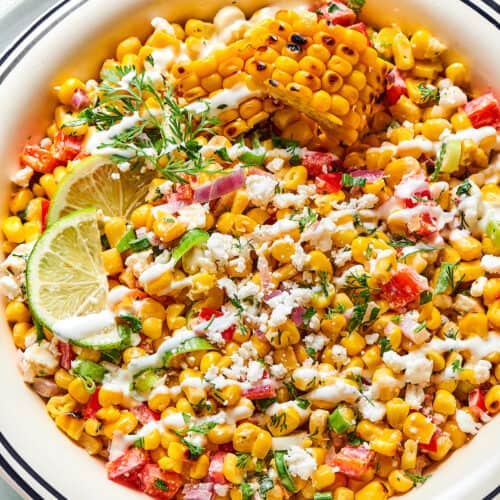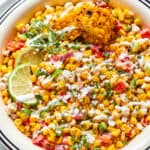 Print Recipe
Mexican Street Corn Salad (Elote Salad)
Flavorful Mexican Street Corn Salad (Elote Salad) is a festive side dish full of fresh corn, bell pepper, jalapeno, and a killer creamy mayo sauce with cheese.
Ingredients
4 to 6

ears

fresh corn,

husked

2

tablespoons

extra-virgin olive oil

2

tablespoons

mayonnaise

2

tablespoons

sour cream

2

tablespoons

lime juice + 1 teaspoon lime zest

1

clove

garlic,

minced

½

teaspoon

chili flakes

½

teaspoon

ground cumin

¼

teaspoon

ground black pepper

1 ½

teaspoons

sea salt

4

green onions

1

small

red onion,

chopped

1

small

jalapeno pepper,

seeded and finely minced

½

red bell pepper,

chopped

½

cup

finely chopped fresh cilantro,

plus more for garnish

⅔

cup

cotija cheese

crumbled, (you can also use queso fresco, feta cheese, or goat cheese), plus more for garnish

lime wedges,

for serving
Instructions
Heat a large grill pan over medium-high heat. Brush the corn with olive oil, and grill for 10 to 14 minutes, or until char marks form and corn is tender. Remove from grill pan, and set aside to cool slightly.

Slice a couple of thin rounds from one of the ears of corn, halve them, and reserve for garnish. Cut the remaining corn kernels from the cobs, and transfer to a large bowl.

In a small bowl, whisk together the mayonnaise, sour cream, lime juice, lime zest, minced garlic, chili flakes, cumin, black pepper, and sea salt.

To the bowl with the corn kernels, add the green onions, red onions, jalapeno, and bell pepper. Stir to combine, and drizzle with the mayo dressing. Sprinkle in the cheese and toss gently to combine again.

Top the salad with lime wedges, cilantro, crumbles of cheese, and the reserved pieces of grilled corn.

Chill the salad for about 1 hour before serving.
Nutrition
Calories:
214
kcal
|
Carbohydrates:
7
g
|
Protein:
5
g
|
Fat:
19
g
|
Saturated Fat:
6
g
|
Polyunsaturated Fat:
4
g
|
Monounsaturated Fat:
8
g
|
Trans Fat:
0.01
g
|
Cholesterol:
29
mg
|
Sodium:
1213
mg
|
Potassium:
174
mg
|
Fiber:
1
g
|
Sugar:
3
g
|
Vitamin A:
990
IU
|
Vitamin C:
31
mg
|
Calcium:
154
mg
|
Iron:
1
mg
More Great Salad Recipes