Festive and full-flavored, this easy Air Fryer Shrimp "Boil" is a quick and easy weeknight dinner. Tender potatoes, juicy corn, and delicate shrimp make a complete meal-in-one, sure to bring smiles to your table!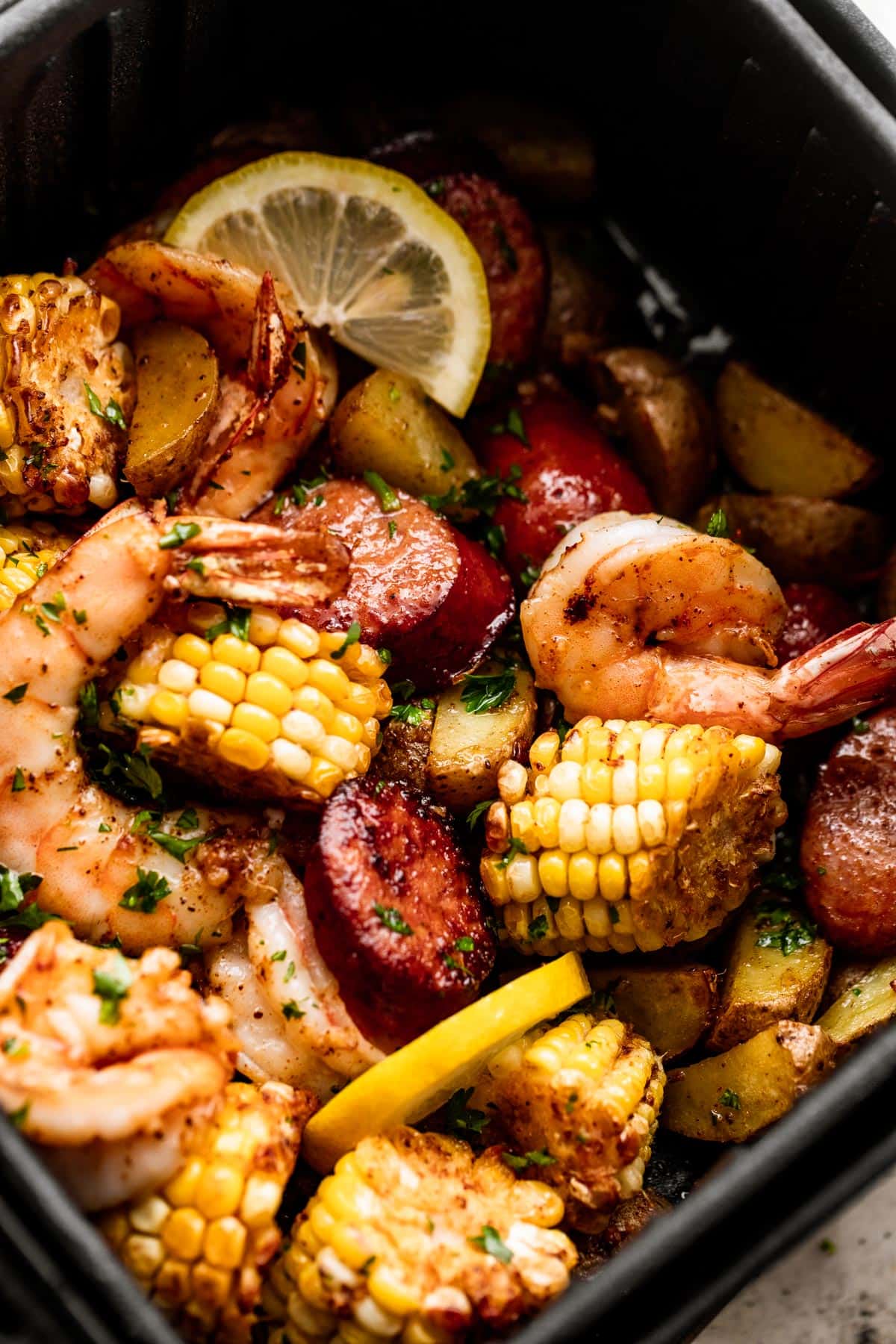 Real Low-Country Shrimp Boil, in the Air Fryer!
If you've ever been to a seafood boil, you know how fun (and mouthwatering) that meal can be! Huge pots of water are brought to a boil, often outdoors, and the ingredients are added in stages: plenty of spicy seasoning, scrubbed waxy potatoes, corn on the cob, sausage, and seafood. 🥔 🍤
Shrimp is hugely popular, but don't count out the crawfish and crab! When everything is cooked to tender perfection, the water is drained and everything gets dumped out onto newspaper-lined tables. It's definitely party food, Southern-style.
This Air Fryer version of shrimp boil brings the low country to your kitchen, and takes away the need for a huge boiling pot of water – which is great when the temperatures are soaring! The same beloved ingredients get minimal prep before you air-fry them. Keep the heat, steam, and time to a minimum, while creating an unusual and scrumptious one-pot classic meal. 😋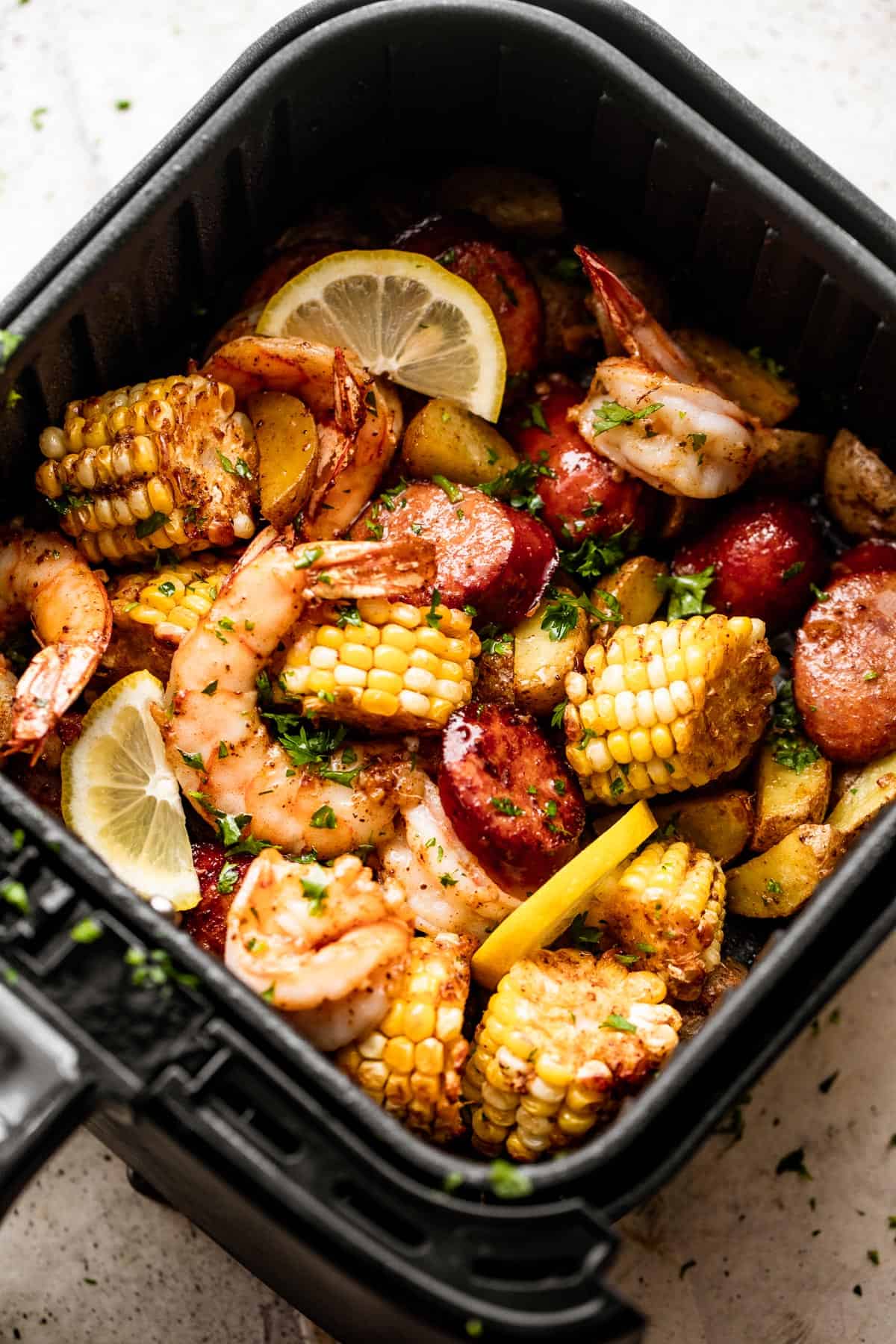 Ingredients
One of my favorite things about shrimp boil is its utter simplicity. All you need are your basic ingredients, and then a simple seasoning mix! That keeps prep time low, and makes this easy meal even more fool-proof.
Shrimp: To keep things flavorful and juicy, I recommend using jumbo shrimp. You can substitute smaller shrimp, if you like, but watch the cooking time so they don't get tough. Make sure they are raw, peeled, and deveined. You can leave the tails on or off, according to your preference.
Corn: Each ear of corn should be shucked and cut into 5 or so rounds.
New Potatoes: Scrubbed, and quartered.
Sausage: I prefer the dry spiciness of andouille, but any smoked sausage links will be fine.
Butter: Melt the butter before using.
Garlic: I like the flavor of fresh garlic, but you could definitely use garlic powder if you prefer
Old Bay Seasoning: The tried-and-true classic! This will give your shrimp boil that authentic flavor.
Cayenne Pepper: A little cayenne adds some heat. Adjust the amount to your taste, or leave it out for a milder dish.
Lemon Wedges: For serving.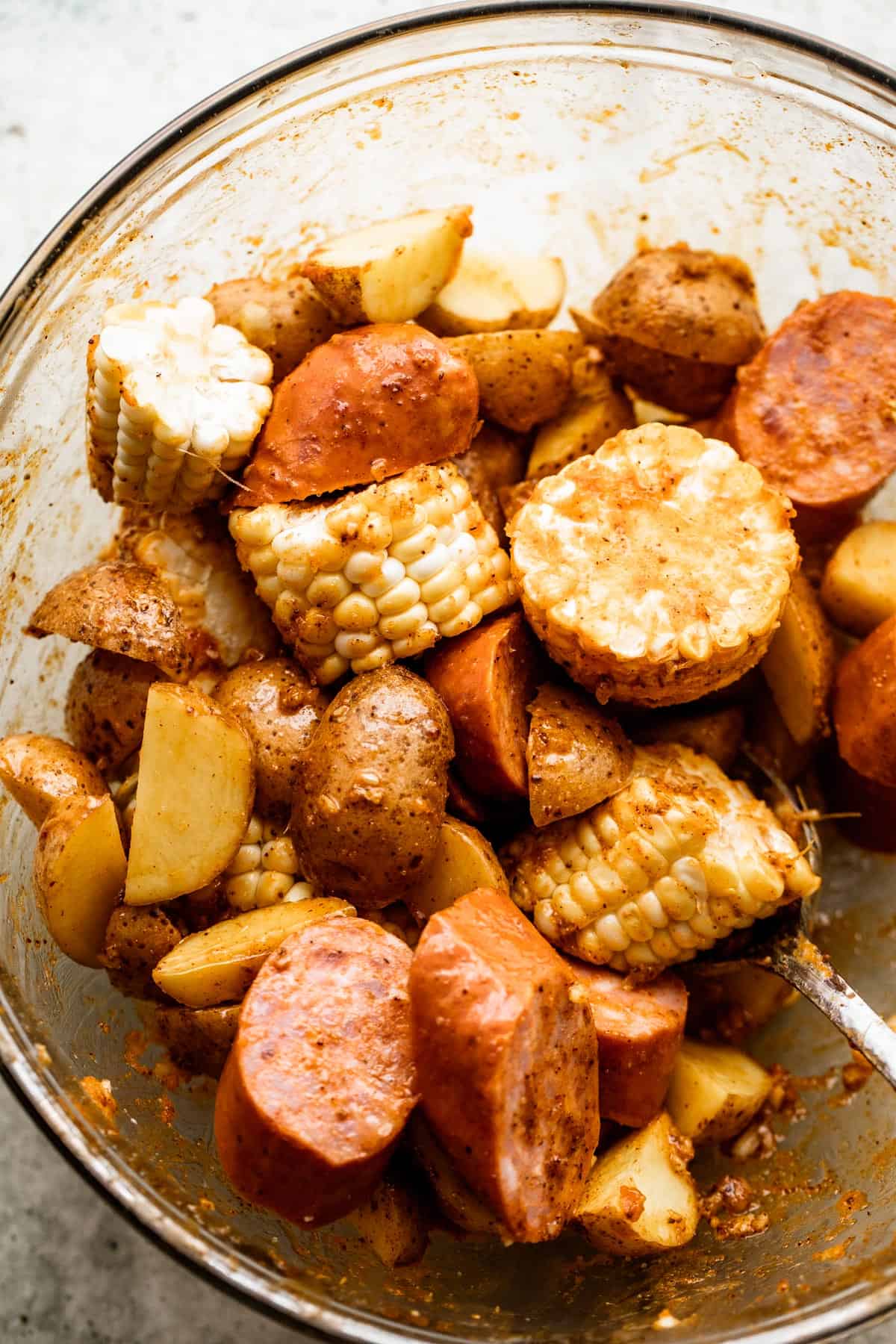 Let's Make Air Fryer Shrimp Boil!
Making shrimp boil in the air fryer is very similar to cooking it over an open fire in a pot – just easier! To make sure the ingredients are all cooked just right, you'll need to add them in stages. Here's how you do it:
Prep the Air Fryer. To start, give your air fryer basket a quick spray with cooking spray (no aerosol, please). Preheat the air fryer to 370˚F.
Prep the Ingredients. Pat the shrimp dry with paper towels to remove excess liquid, and set them aside. Then, in a large mixing bowl, combine the rounds of corn, the halved potatoes, and the sliced sausage. Set that aside as well. Finally, melt the butter and then stir in the minced garlic, Old Bay seasoning, and cayenne (if using). Stir well to combine.
Season the Ingredients. Pour about one-fourth of the seasoned butter into the shrimp, and toss gently to coat. Pour the rest into the potato mixture, and give that a good stir to combine as well. Now you're ready to cook!
Air-Fry the Veggies and Sausage. The first stage of cooking is the potato-corn-sausage mixture. These ingredients need much more cooking time than the shrimp. Place this mixture into the air-fryer basket, and cook in the preheated air fryer for 10 minutes. Shake the basket halfway through cooking time to help the ingredients cook evenly.
Add the Shrimp. Next, add the shrimp to the basket. Give it a shake and cook the whole shrimp boil for four minutes, until the shrimp are opaque and pink, but not tough.
Enjoy! Pour the cooked shrimp boil onto a serving platter, lined with clean newspaper if you like. Serve hot, with lemon wedges for squeezing.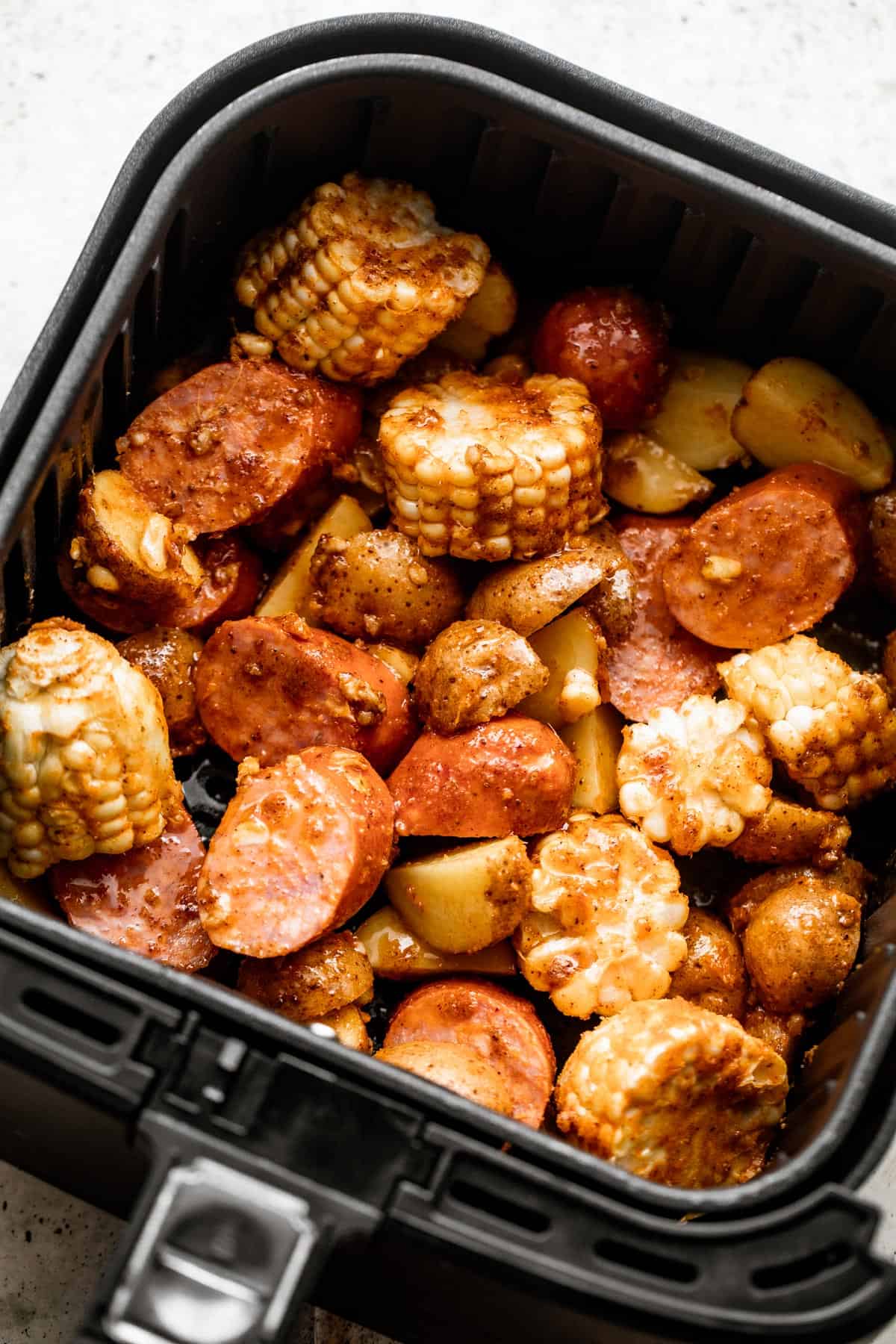 Can You Put Aluminum Foil in an Air Fryer?
You can absolutely line the bottom of your air fryer basket with foil, or even with parchment paper, to keep it protected and make cleanup easier. Just be sure to poke plenty of holes in it, so that the hot air can still circulate all around the food.
Tips for Success
In addition to the actual recipe, be sure to check out these helpful tips and tricks! Each useful tidbit will help make sure your meal is "chef's kiss" perfect.
Watch the Time: Like most appliances, air fryers are all a little bit different, so you may find that your food cooks more quickly or more slowly. Be sure to watch the time, and feel free to shorten it or add a few minutes, as needed.
Double the Recipe: This recipe serves four, but because the cook time is so fast, you could easily double it and cook in batches, to serve a crowd.
Adjust the Seasoning: If you prefer, you can substitute another seasoning blend for the Old Bay, or make your own blend!
Add Crab: Crab legs air-fry in about 5 to 7 minutes, so feel free to fry up a batch to go with your shrimp boil. Just mix up an additional batch of the butter sauce, coat the crab legs, and air-fry until done.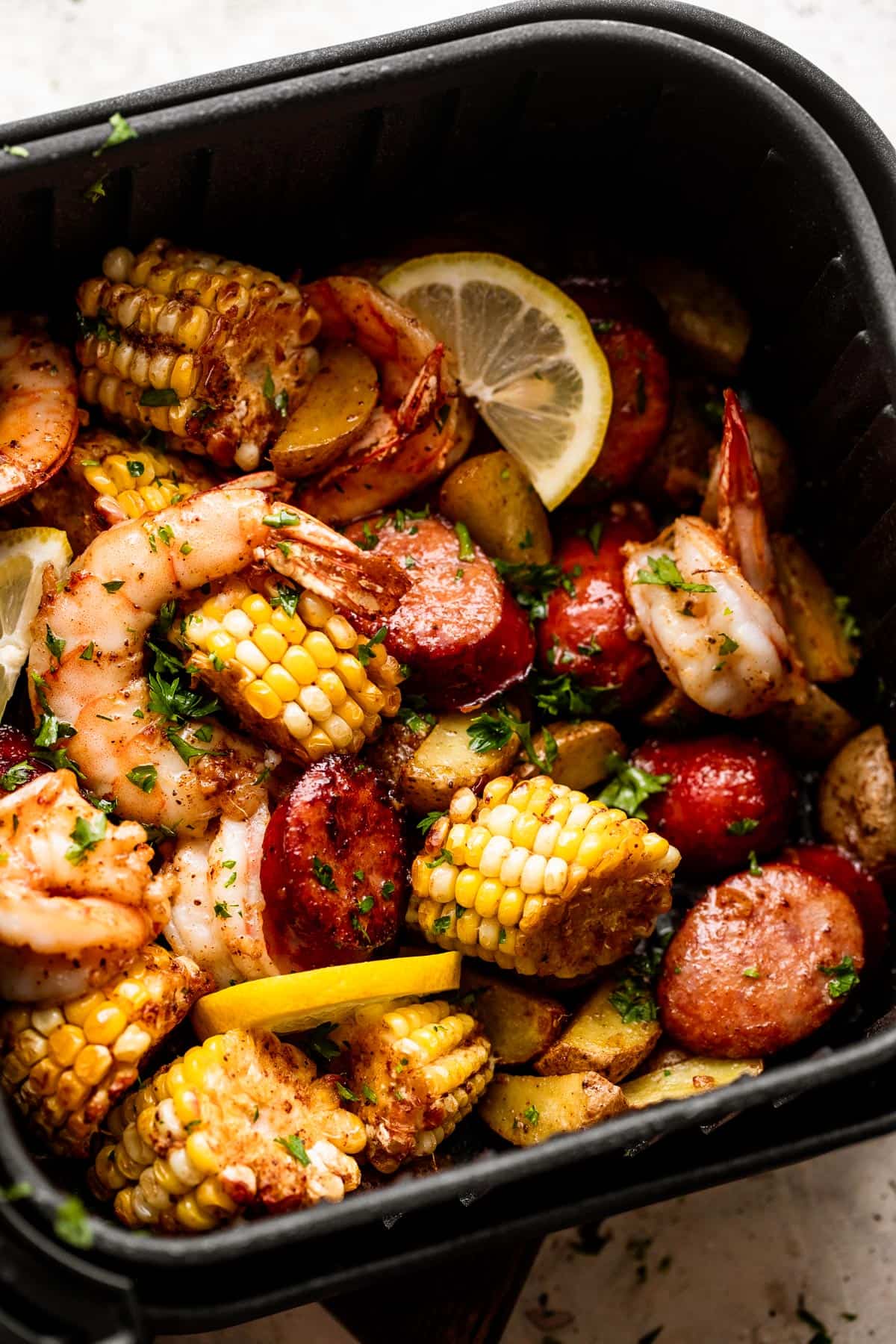 What Goes with Shrimp Boil?
When you serve air fryer shrimp boil, you really have a complete meal ready to go – but it's still nice to add a side dish or two, especially if you're hungry or want a little contrasting texture and flavor. These easy sides are perfect with shrimp boil.
Macaroni Salad: A summertime favorite, this cool and creamy Macaroni Salad is a refreshing side dish with hot shrimp boil. You'll love the crunchy little bits of bell pepper, celery, and green onion that give this recipe zing!
Fresh Salsa: Another cool and tangy side dish, this Avocado Salsa is juicy and flavorful to the max! You'll love the combination of creamy avocado, ripe cherry tomatoes, jalapeno, red onion, and homemade dressing.
Green Beans: Add a little green to your meal with a serving of Sauteed Garlic Butter Green Beans. They're easy to make and addictively good!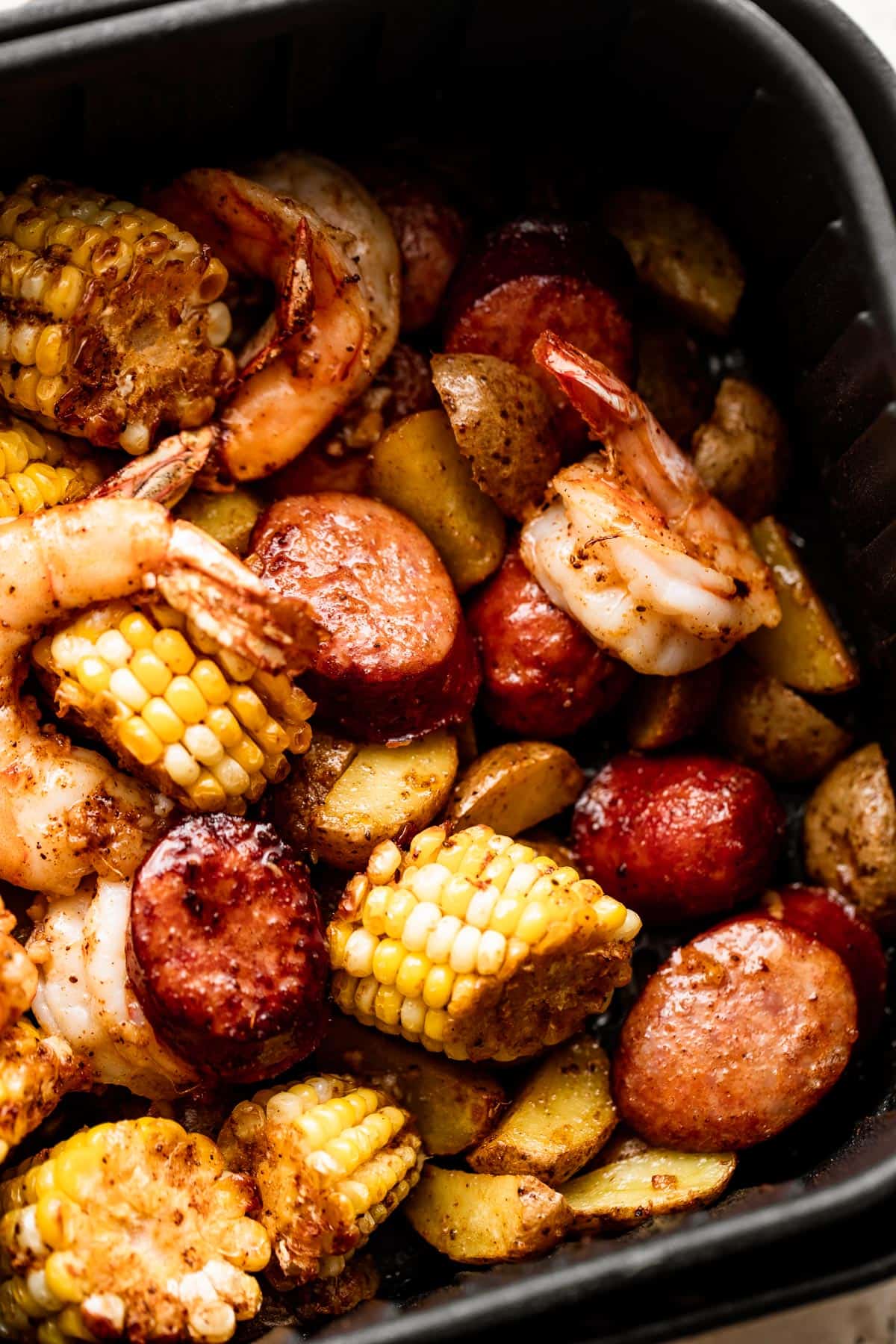 Storing and Reheating
If you find that you have leftovers, you can store them in the refrigerator for about 3 days.
Reheat the shrimp and other ingredients separately, in the air fryer. Don't overheat the shrimp, or they'll be tough and rubbery.
Can I Freeze the Leftovers?
I don't recommend freezing this recipe- the potatoes can be grainy when thawed and reheated, and the shrimp's texture will not be as good. This dish is best enjoyed fresh.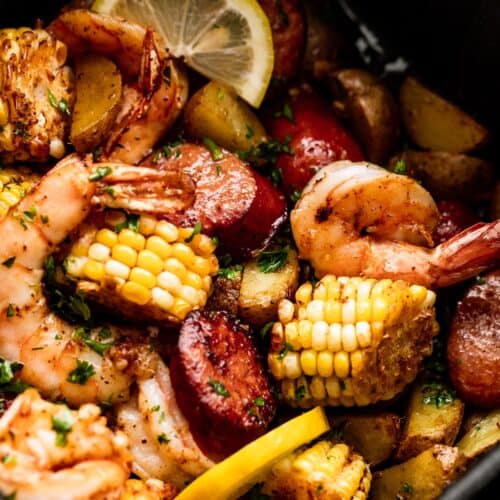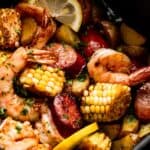 Print Recipe
Air Fryer Shrimp Boil
Festive and absolutely flavorful, this easy Air Fryer Shrimp "Boil" is a quick and easy weeknight dinner prepared with potatoes, juicy corn, sausages, and shrimp.
Ingredients
1

pound

raw jumbo shrimp,

peeled and deveined, tails ON or OFF

2

ears

corn,

husked and each ear cut into 5 rounds

8

ounces

new potatoes,

quartered

6

ounces

andouille sausage,

cut into 1-inch rounds

4

tablespoons

butter,

melted

4

cloves

garlic,

minced

3

teaspoons

old bay seasoning

½

teaspoon

cayenne pepper,

or to taste

Lemon wedges,

for serving
Instructions
Lightly grease the air fryer basket with cooking spray and preheat to 370˚F.

Pat dry the cleaned shrimp and place them in a small mixing bowl; set aside.

In a separate mixing bowl combine the corn rounds, potatoes, and sausages; set aside.

Melt the butter; then into the melted butter stir the garlic, old bay seasoning, and cayenne pepper.

Pour about a 1/4 of the melted butter mixture over the shrimp.

Add the rest of the butter to the potato mixture and toss to combine.

Transfer the potato mixture to the air fryer basket and cook for 10 minutes, shaking the basket halfway through cooking.

When the 10 minutes are up, add the shrimp to the basket and continue to cook for 4 more minutes.

Transfer to a serving plate and serve with lemon wedges.
Nutrition
Calories:
331
kcal
|
Carbohydrates:
21
g
|
Protein:
11
g
|
Fat:
24
g
|
Saturated Fat:
11
g
|
Polyunsaturated Fat:
3
g
|
Monounsaturated Fat:
8
g
|
Trans Fat:
1
g
|
Cholesterol:
67
mg
|
Sodium:
447
mg
|
Potassium:
536
mg
|
Fiber:
2
g
|
Sugar:
4
g
|
Vitamin A:
596
IU
|
Vitamin C:
16
mg
|
Calcium:
36
mg
|
Iron:
2
mg
More Air Fryer Recipes