Soft, fluffy, and buttery, these Classic Creamy Mashed Potatoes are a beloved side dish for the holidays! Not only are they a family favorite, but they're also super easy to make!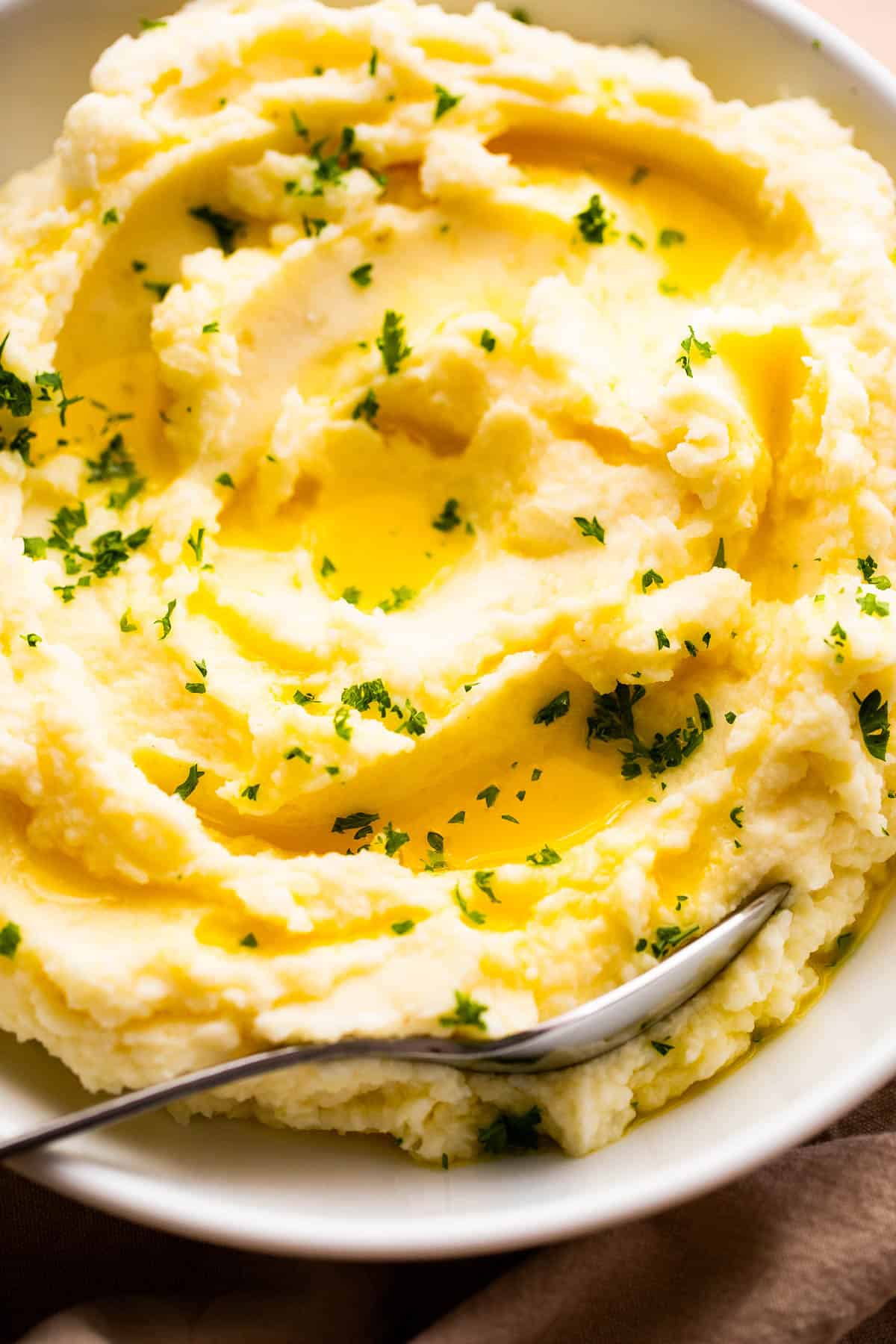 A Classic Holiday Side Everyone Loves
As Thanksgiving approaches, I'm getting so excited for all of the colorful, flavorful dishes of the season. From ruby-red cranberry sauce to garlicky green beans, to the warmth of golden, spiced pumpkin pie… it's just an amazing meal.
However, I think the unsung hero of the Thanksgiving table might just be mashed potatoes! Sure, they aren't as colorful as sweet potatoes, or as intricate as homemade dressing, I agree. But they are soft and fluffy, blended with real butter – some other creamy goodies – comforting, and just plain wholesome.
Combine these beautiful mashed potatoes with your favorite gravy, turkey, meatloaf, roast beef, roast veggies, whatever you like! I promise they will make any meal a Thanksgiving-esque feast!
Recipe Ingredients
This classic version of mashed potatoes is very simple, made with a creamy combo of cream cheese, sour cream, and butter. You'll love the light flavor of garlic and fresh black pepper.
Potatoes: I use Russet potatoes, peeled and cut into large chunks.
Cream Cheese: For the best results, let your cream cheese soften on the counter until it's room temperature.
Sour Cream: Sour cream is an easy way to add richness to the potatoes without making them heavy or too wet.
Butter: Don't skimp on the butter! 🧈 It truly makes the best mashed potatoes.
Garlic Powder: No need for mincing or pressing fresh garlic. Dried garlic powder works just fine, and it's so easy!
Salt and Pepper
Parsley: Chopped fresh parsley makes the perfect garnish.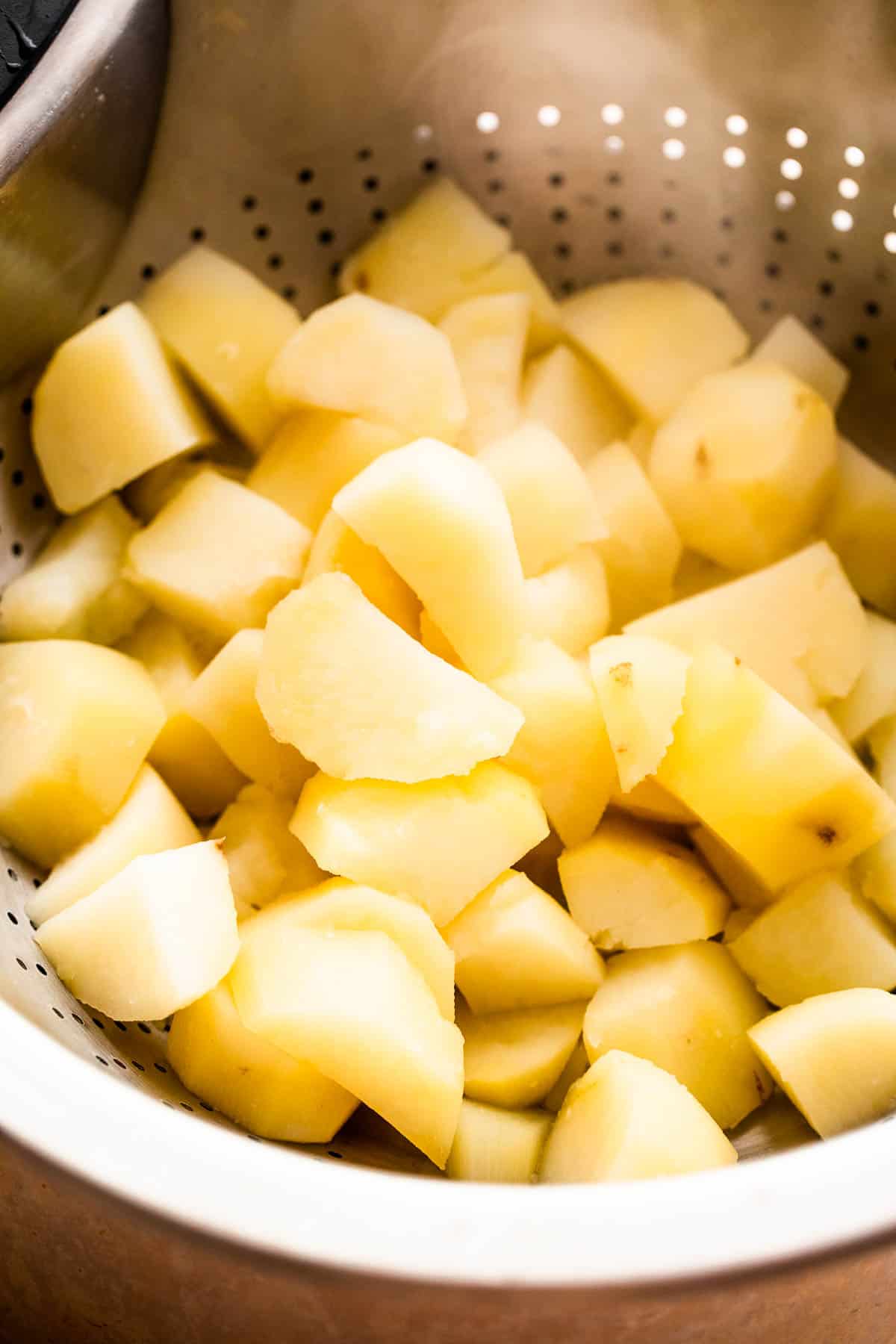 What kind of potato is best for mashing?
In general, starchy potatoes are best, which is why I always go with simple Russet potatoes. Some people like the slightly more buttery taste and texture of Yukon Gold. Either is fine. You can also combine starchy potatoes with a smaller amount of truly waxy potatoes (like baby reds or fingerlings) for a best of both worlds texture and flavor!
How to Make Classic Creamy Mashed Potatoes
Making this recipe is very simple, and it always turns out perfectly! The key is draining the potatoes really well, before returning them to the pot to mash them. The heat in the pot helps dry them and keep them fluffy.
Cook the Potatoes. Place your cubed, peeled potatoes in a large pot. Fill the pot with enough water to cover the potatoes, and add half a tablespoon of salt. Place the pot over high heat, and bring the water to a boil. Then lower the heat, cover, and simmer for about 20 minutes.
Drain the Potatoes. When the potatoes are soft and tender, remove them from the heat and drain them in a colander. Be careful not to burn yourself with the hot water and steam.
Add Dairy Ingredients and Mash. Put the potatoes back into the pot, and add the cream cheese, sour cream, and butter. Use a potato masher to mash the potatoes until creamy. You can add an additional ounce or two of cream cheese if you want them to be creamier.
Season and Serve. Stir in the garlic powder, salt, and pepper. Taste the mashed potatoes, and adjust the seasonings as needed. Transfer the mashed potatoes to a serving dish, garnish with parsley, and serve warm.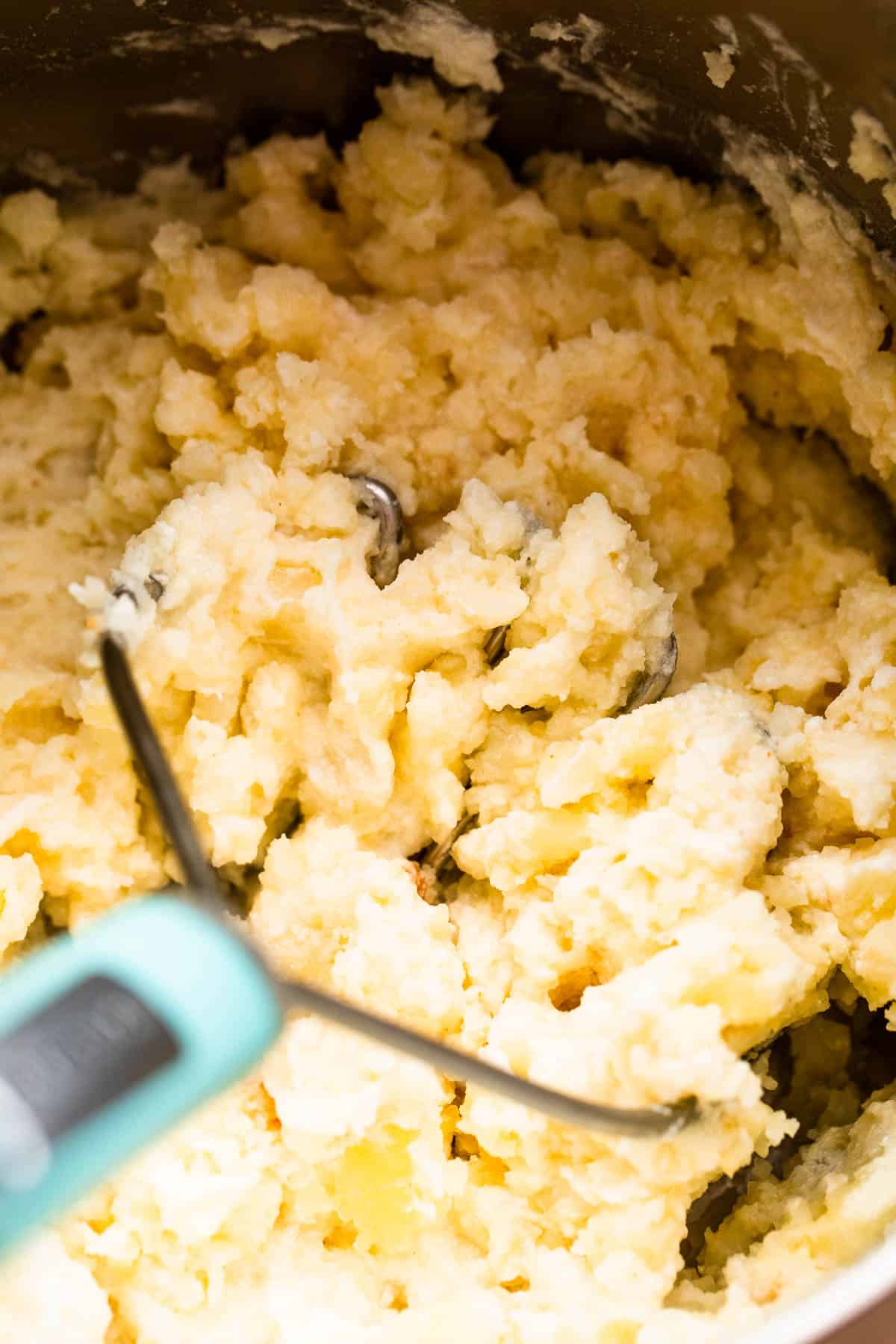 Tips for Success
For such a simple recipe, you'll find that everyone has their own special "secret" for making mashed potatoes just right. These are my top three, with two easy how-to tips, and one uncommon ingredient.
Don't Over-Work the Potatoes: You want the potato starch working for you, not against you, so be sure to mash and mix the potatoes just until creamy and blended. Otherwise, they could turn out gummy or gunky.
Keep Things Room Temp: Mixing room temperature or warm ingredients into the hot mashed potatoes will give a better result than putting cold ingredients in hot potatoes. Thus, have your butter, sour cream, and cream cheese at room temperature, if possible.
Add Mayonnaise: If you're looking for a really easy way to add even more creaminess and flavor, try adding just a spoonful or two of mayo! It helps blend the ingredients together for a super-lush finish.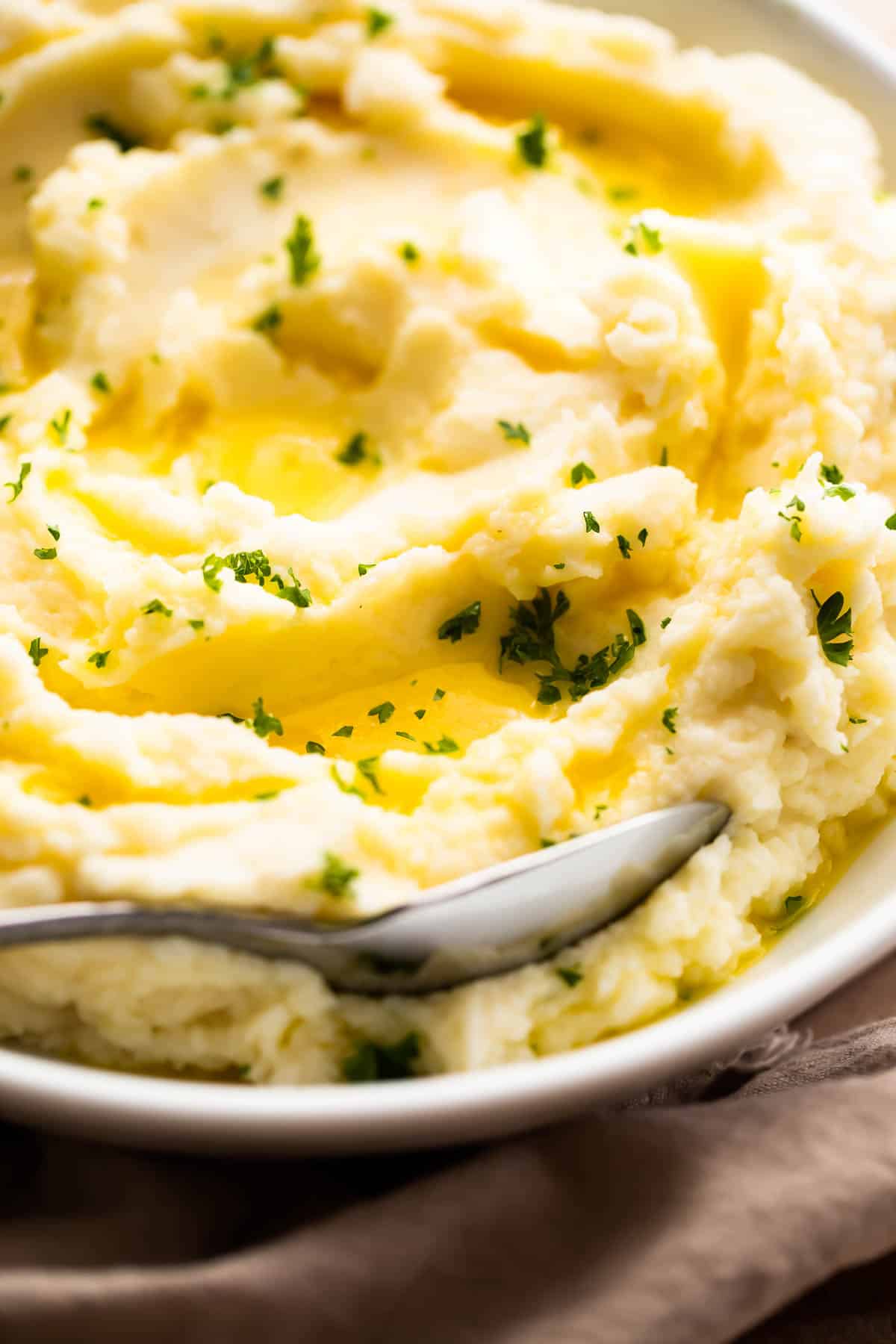 Variation Ideas
You can do all kinds of amazing twists on classic mash! From roasted garlic to loaded baked, there's no end to the fantastic variations out there. Here are just a few, to get your creative juices going!
Roasted Garlic: Peel several garlic cloves and toss with oil. Bake in a 350°F oven until soft, about one hour. Then mash the garlic, or pulse it in a food processor, and gently stir it into the potatoes. Yum.
Pesto: Stir in ¼ cup or so of your favorite prepared pesto.
Loaded Baked: Along with the sour cream, stir chopped fresh chives, crispy bacon bits, and a cup of shredded cheddar into the potatoes.
French Onion: While the potatoes are cooking, saute one diced red onion in butter or olive oil until caramelized. Substitute creme fraiche for the sour cream, and add a cup of shredded Gruyere cheese and the sauteed diced onion to the mash.
Colcannon-Style: Cut half a large cabbage into shreds, and saute the shreds in butter until soft. Season with salt Stir the cabbage, along with a teaspoon of dried thyme, into the hot mashed potatoes.
Serving Suggestions
Of course, you can serve mashed potatoes with just about anything! I could eat them all on their own and be completely happy, but I will admit that they're even better with a hearty main dish and/or some extra, savory sides.
Tenderloin: The mama of all roasts, Roast Beef Tenderloin with Horseradish is a showstopping roast of the most tender and juicy beef, perfect with creamy mashed potatoes.
Turkey: For a Thanksgiving dinner, nothing beats Juicy Whole Roast Turkey. Mashed potatoes on the side? Of course!
Brussels Sprouts: These easy Slow Cooker Parmesan Brussels Sprouts are a crisp-tender, flavorful veggie side that work perfectly alongside creamy mashed potatoes! Serve them together with ham, turkey, chicken, or beef for a cozy and balanced meal.
How to Store and Reheat Leftovers
To refrigerate leftovers, pack the mashed potatoes into airtight containers, and store in the fridge for 3 to 4 days.
To reheat, place the potatoes in an ovenproof dish and bake, covered, at 350°F until heated through. You can also microwave the potatoes, stirring frequently, until hot.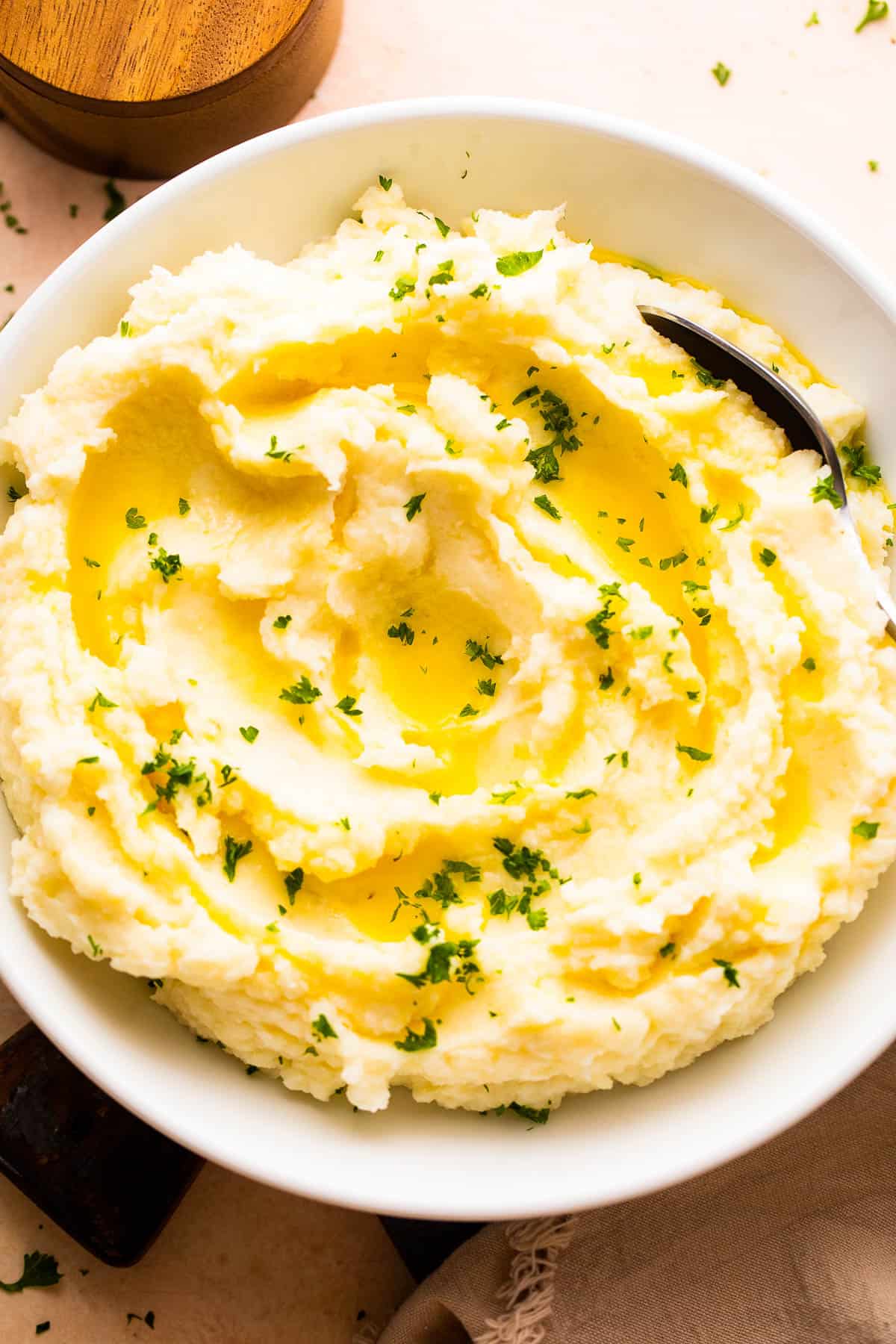 Can I Freeze Mashed Potatoes?
Yes, you can! Pack the cooled mashed potatoes into freezer bags or airtight containers, and then store in the freezer for up to one month. Thaw overnight in the refrigerator before reheating.
How to Use Leftover Mashed Potatoes
Mashed Potato Waffles: These easy and festive Leftover Mashed Potato Waffles are a fun way to use up leftover potatoes!
In Soup: Stirring creamy mashed potatoes into a soup or chowder is a great way to use up the last few spoonfuls, and add body to your soup.
Shepherd's Pie: A meaty shepherd's pie, topped with mashed potatoes, is a wonderful way to use leftover mashed potatoes.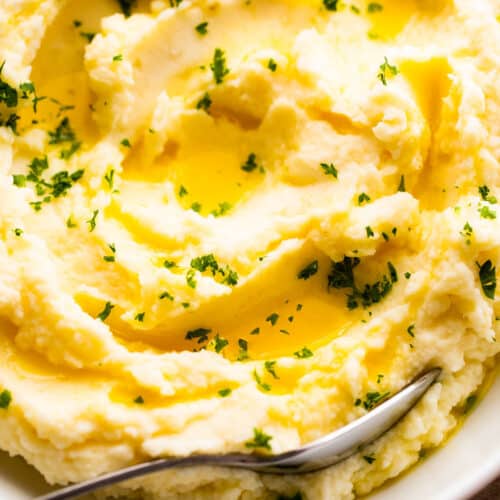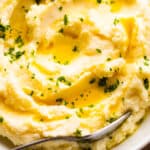 Print Recipe
Classic Creamy Mashed Potatoes
Soft, fluffy, and buttery, these Classic Creamy Mashed Potatoes are a beloved side dish for the holidays!
Ingredients
8 to 10

russet potatoes,

peeled and cut into 1-inch cubes

4 to 6

ounces

cream cheese,

room temperature

1

cup

sour cream

2

tablespoons

butter

1

teaspoon

garlic powder

¾

teaspoon

salt,

plus more for boiling the potatoes

Fresh ground black pepper,

to taste

Chopped fresh parsley,

for garnish
Instructions
Add the cubed potatoes to a large pot; fill with enough water to cover the potatoes and add ½ tablespoon of salt.

Set the potatoes over high heat and bring the water to a boil; lower heat to a steady simmer and cover the pot.

Cook for 18 to 20 minutes, or until potatoes are soft and tender.

Remove from heat and drain in a colander.

Put the potatoes back into the pot and add 4 ounces cream cheese, sour cream, and butter; using a potato masher, mash the potatoes until creamy.

If you want creamier mashed potatoes, add remaining cream cheese.

Stir in the garlic powder, salt, and pepper; taste and adjust accordingly.

Spoon the mashed potatoes into a serving bowl and garnish with parsley and a pat of butter.

Serve.
Nutrition
Calories:
398
kcal
|
Carbohydrates:
54
g
|
Protein:
8
g
|
Fat:
18
g
|
Saturated Fat:
11
g
|
Polyunsaturated Fat:
1
g
|
Monounsaturated Fat:
5
g
|
Trans Fat:
1
g
|
Cholesterol:
51
mg
|
Sodium:
430
mg
|
Potassium:
1272
mg
|
Fiber:
4
g
|
Sugar:
3
g
|
Vitamin A:
612
IU
|
Vitamin C:
17
mg
|
Calcium:
99
mg
|
Iron:
3
mg
More Holiday Side Dishes