Are you looking for a simple, easy way to roast a succulent, juicy turkey breast? Then this easy tutorial on How to Roast Turkey Breast is for you! You'll love the buttery, herbal flavor of this classic recipe.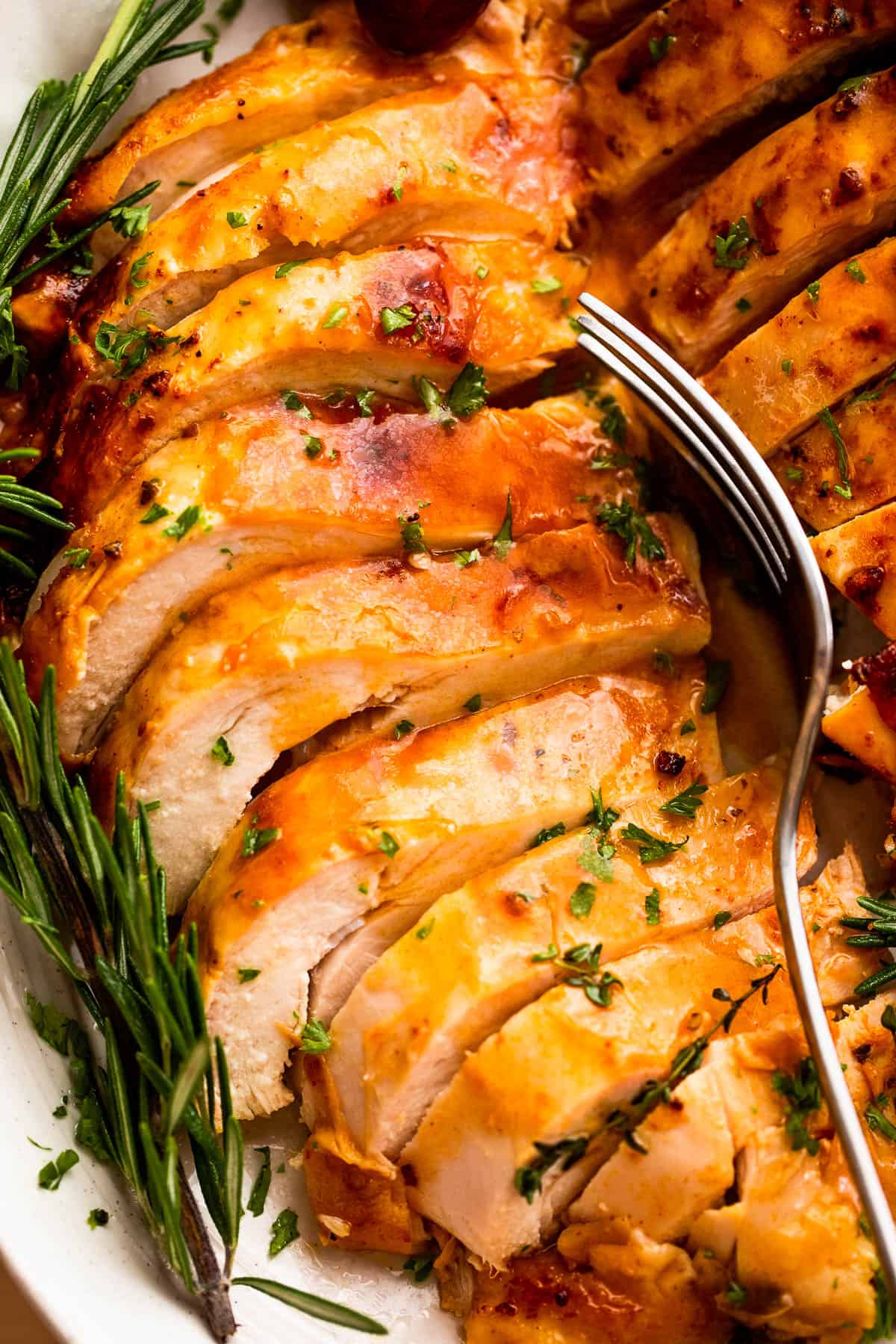 Classic Roasted Turkey Breast Made Easy!
It's almost time for Turkey Day! Woohoo! 🥳
I love making Thanksgiving food—all that sage-y, onion-y goodness. Thanksgiving food is classic comfort food at its best, from warm golden butternut squash dishes, to savory turkey and gravy, to jewel-like cranberry sauce.
And, of course, I can't forget green bean casserole, mashed potatoes, soft yeast rolls, sweet potato casserole, pumpkin pie… The list goes on and on! 😋
But, there's no doubt that Turkey Day, for many of us, means just that – turkey! Many home cooks are super invested in bringing a giant, golden-brown roast turkey to the table, and carving it up right there. So festive!
However, a whole turkey is not everyone's cup of tea. It can be much simpler and easier to get your turkey fix by simply roasting a turkey breast, instead of the entire turkey!
This is an especially good option if you don't really care for the dark meat of the turkey, or if you like to serve turkey along with another main course, such as ham. Turkey breast takes less time to cook, uses less oven space, and tastes like your grandmother's Thanksgiving dinner!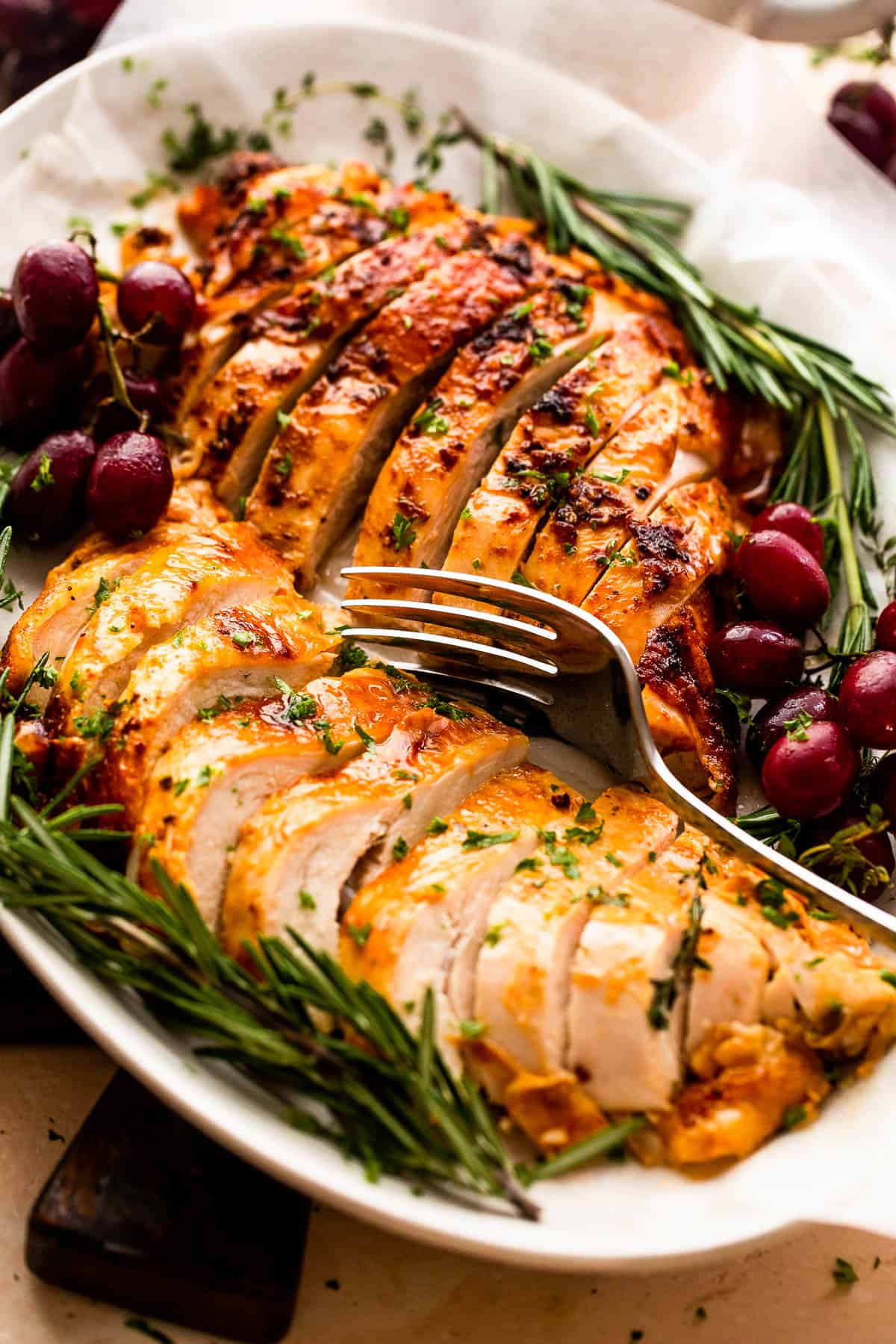 What You'll Need
To roast a turkey breast, you really only need a few basic ingredients. Thanksgiving food can get fancy, but it doesn't have to be complicated to be delicious! Simple, homespun flavors made with simple, quality ingredients will make your meal gorgeous, too.
Turkey Breast: For this recipe, I use a 4-to-5-pound bone-in, skin-on turkey breast. If you buy it frozen, make sure to thaw it out beforehand in the refrigerator.
Butter: Melted or softened butter adds a ton of flavor, and keeps the meat moist.
Herbs: You can use any herbs you like here! My go-to herbs are fresh rosemary and thyme leaves, but classic sage and parsley are also great, or you could do oregano, basil, marjoram, herbes de Provence, whatever! Dried herbs instead of fresh ones are also totally fine.
Salt and Pepper: Don't skimp on the black pepper—it elevates the dish.
Garlic Powder: You can also use fresh garlic, but I find that garlic powder is both easy and intensely flavorful, even throughout the roasting time.
Paprika: Paprika is made of dried, ground peppers, and adds an earthy sweetness, along with a great color when baked.
How to Make Classic Roast Turkey Breast
Most cooks are concerned about two things when roasting turkey: plenty of flavor, and plenty of moisture. Turkey (especially the breast) is a delicate protein that doesn't have a lot of fat, so it can dry out quickly. This easy roasting method will guarantee a juicy result!
Prep the Oven and Roasting Pan. Before you start making the turkey, preheat the oven to 450˚F. Place a roasting rack inside of your roasting pan, or line a roasting pan with raw, washed, and scrubbed veggies such as carrots and celery.
Prep the Turkey and Butter. Set the turkey on the roasting rack, and use paper towels to pat it dry all over. Melt the butter, and stir in the chopped fresh herbs, salt and pepper, garlic powder, and paprika.
Flavor the Turkey. Loosen the skin on top of the turkey, but don't remove it. Rub half of the butter mixture onto the meat under the skin. Rub the rest of the butter mixture all over the top of the turkey skin, and the sides of the breast. Finally, sprinkle the turkey all over with more salt and pepper.
Roast. Reduce the oven temperature to 325˚F, and put the turkey into the oven. The high initial heat will "sear" the outside of the turkey, and then as the oven cools down to 325˚F, the turkey will slowly roast until done. Allow the turkey to roast for 1 ½ to 2 ½ hours, checking for doneness using an instant-read thermometer. It's done when the internal temperature reaches 155˚F to 160˚F.
Rest. When the turkey is cooked, take it out of the oven and let it stand for 20 minutes.
Carve. Transfer the turkey to a cutting board and, starting at the breast bone, carve the turkey off the bone keeping your knife as close to the ribs as possible. Then, cut the turkey breast into slices and serve.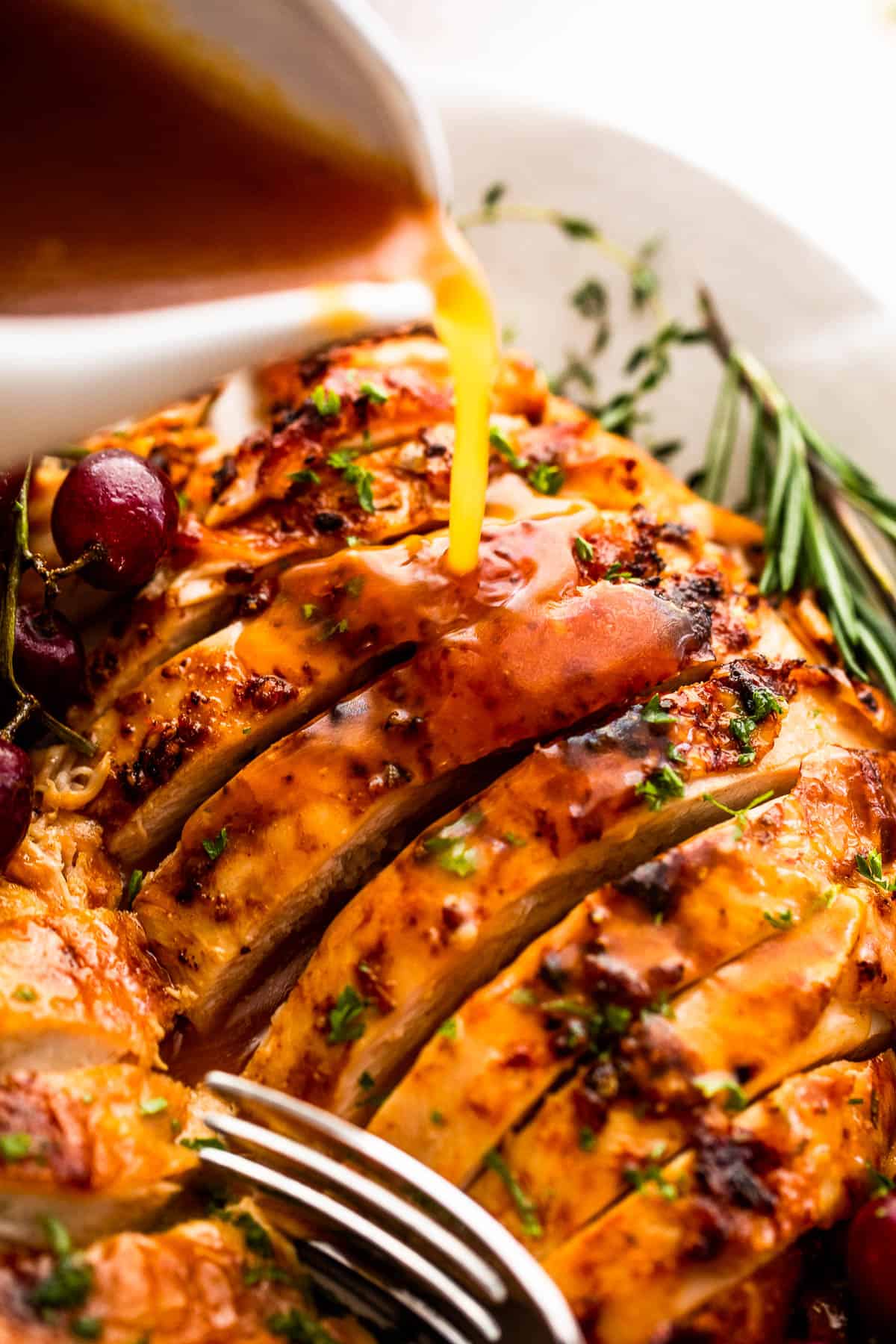 Should a turkey breast be roasted covered or uncovered?
You should roast the turkey breast uncovered to get a good, crispy skin with a deep golden-brown color. If it starts to get too dark, just make a tent out of foil and lightly rest it on the turkey to keep it from burning on the outside. Remove the foil a few minutes before taking the turkey out of the oven.
How long do I cook a turkey breast per pound?
Each oven and turkey breast are different, but in general, bone-in turkey breast needs 18 to 20 minutes per pound. The juices will run clear and the internal temperature will be 155˚F to 160˚F when the turkey is done. 🦃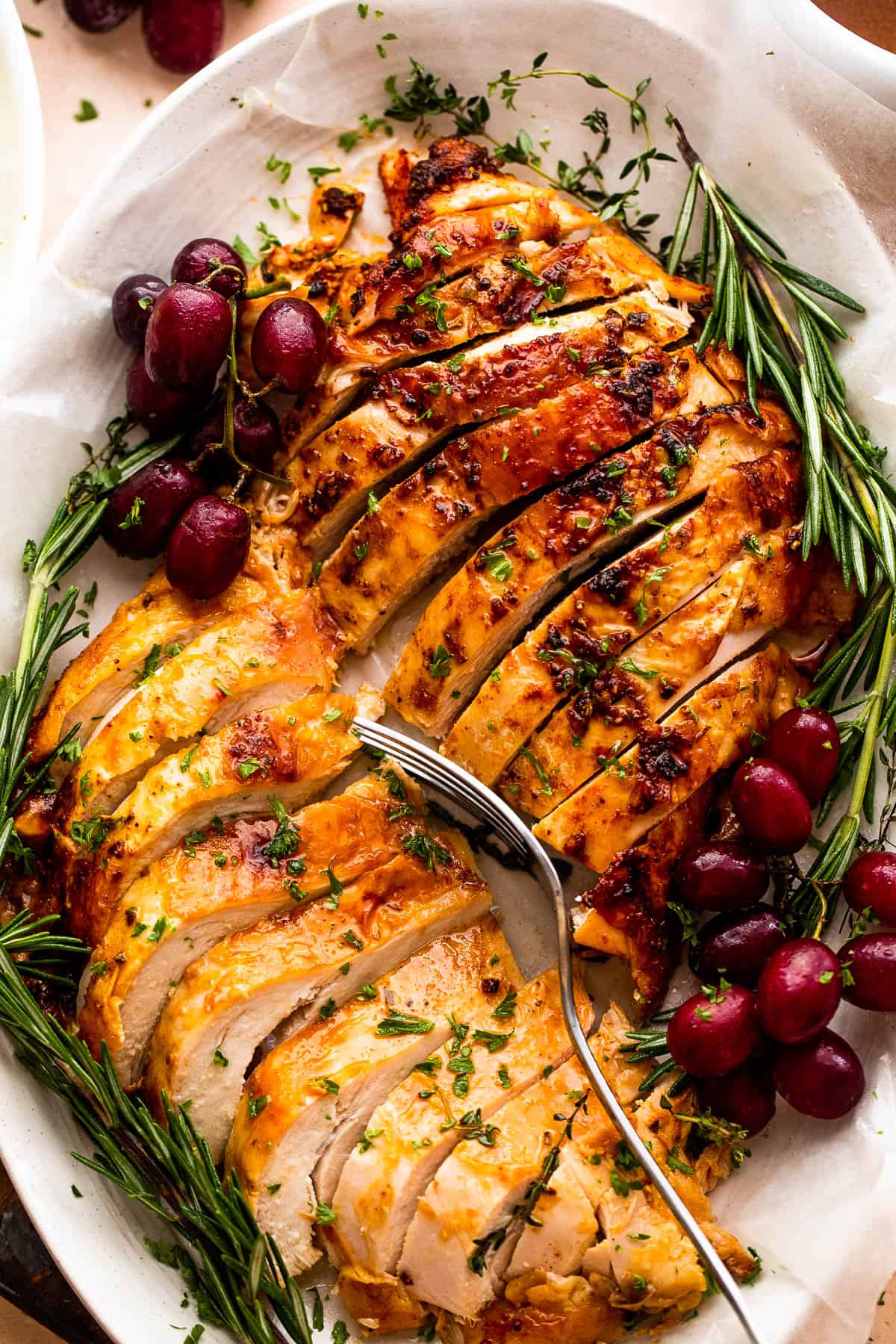 Tips for Success
What else should you know about roasting turkey breast? It is a very straightforward recipe, so honestly, if you just stick to the basics, it will be amazing! However, I do have a couple of additional tips to share. Read on, and bon appetit!
To Brine, or Not to Brine? That depends on two things: your turkey, and your time. Many turkey breasts sold in stores are already injected with a brine solution to keep them moist and juicy, so you don't need to brine those. If you do, the turkey breast may end up too salty. However, if your turkey breast is not injected or flavored in any way, you can brine it if you have time. If not, no worries! Just roast it as-is.
Buy Enough Turkey: One 4 to 5-pound turkey breast serves 4 to 6 people, so if you need to feed more people than that (or want plenty of leftovers) go for a bigger turkey breast—or a whole turkey.
Skip the Basting: Because turkey breast cooks more quickly than a whole turkey, you don't need to baste the turkey with drippings to keep it moist. Yay!
Serving Suggestions
You can serve your beautifully roasted turkey breast with all the trimmings! Here are some of my down-home, favorite side dishes for the holidays.
Rolls: Easy No-Knead Dinner Rolls bake up flavorful and delicious every time, with only a few minutes of prep and no kneading!
Sweet Potatoes: Skip the sugary casserole, and instead make these Honey Garlic Roasted Sweet Potatoes. Everyone will devour the sweet and salty bite-sized morsels!
Green Bean Casserole:
Brussels Sprouts: Kids will love the idea of eating these "tiny cabbages," and they're so easy to make! I like to do these Slow Cooker Parmesan Brussels Sprouts, for a tender-crisp result that's a breeze to make.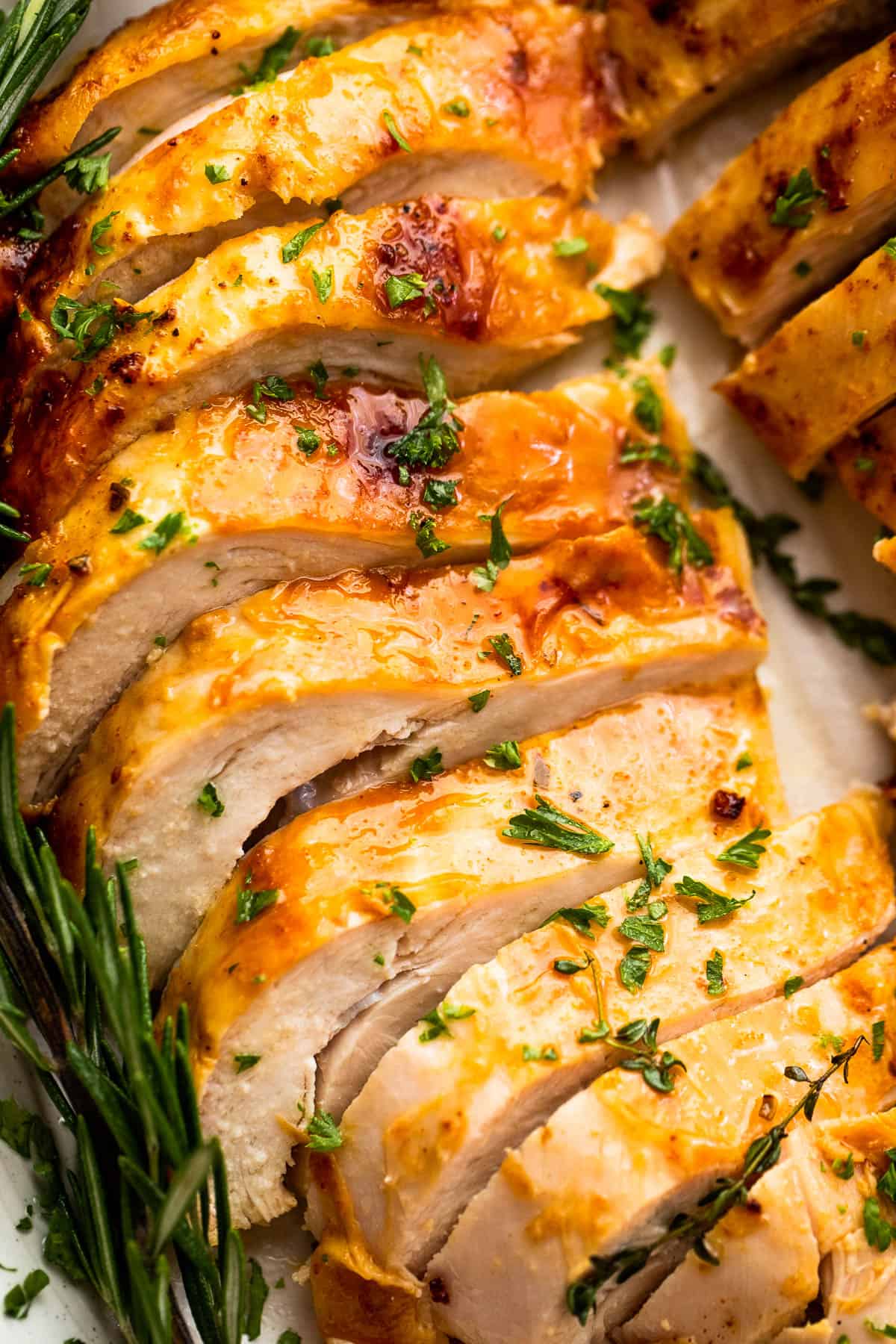 Ways to Use Leftover Thanksgiving Turkey
There are a ton of great recipes out there for using turkey leftovers! Here are just a few ideas to get you feeling inspired!
How to Store and Reheat Turkey Breast
To refrigerate, store your leftovers in food storage bags or airtight containers. Keep in the fridge for 3 to 4 days.
To freeze, remove the turkey from the bone. Tightly wrap the turkey meat in plastic wrap, and place in freezer bags. Press out as much air from the bags as possible before sealing. Freeze for up to 6 months.
To reheat, place turkey in a covered skillet with a splash of broth or water. Heat on low until the turkey is fully heated through. Do not overcook or the turkey will be dry.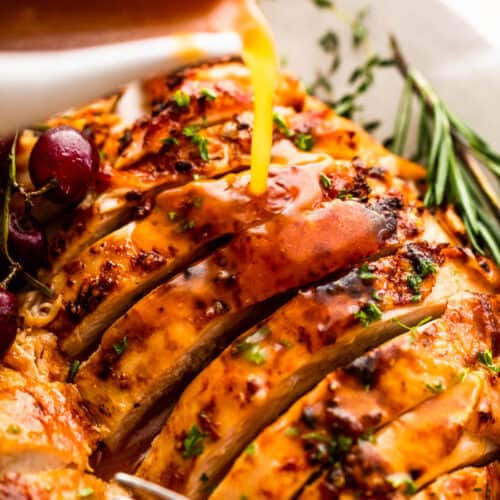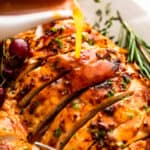 Print Recipe
How To Roast Turkey Breast
A simple, easy way to roast a succulent, juicy turkey breast! You'll love the buttery, herbal flavor of this classic recipe.
Ingredients
4 to 5

pounds

bone-in, skin-on turkey breast,

completely thawed*

4

tablespoons

butter,

melted

1

tablespoon

finely chopped fresh herbs,

I use rosemary and thyme

½

tablespoon

kosher salt

1

teaspoon

garlic powder

1

teaspoon

paprika

½

teaspoon

fresh ground black pepper
Instructions
Preheat oven to 450˚F.

Transfer the turkey breast to the roasting rack.

Melt the butter and to the melted butter add chopped fresh herbs, salt, garlic powder, paprika, and pepper; whisk until completely incorporated.

Using paper towels, pat dry the turkey breast.

Using a pastry brush, brush the turkey breast with the butter mixture.

Season the turkey breast all over with salt and pepper.

Reduce the oven temperature to 325˚F.

Roast the turkey breast for 1.5 to 2.5 hours, or until internal temperature reaches 155˚F to 160˚F. Please use an instant-read meat thermometer to check for doneness.

Turkey breast needs to cook for about 18 to 20 minutes PER 1 Pound. I suggest pulling the turkey breast out and checking its temperature around the 1.5 hour mark just to get an idea as to how much longer it may need. After that, continue checking the temperature every 15 minutes.

If the skin begins to brown too quickly, tent a piece of foil over it to prevent it from burning.

Pull out the cooked turkey breast and let stand for 20 minutes.

Transfer to a cutting board and, starting at the breast bone, carve the turkey off the bone keeping your knife as close to the ribs as possible.

Then, cut the turkey breast into slices and serve.
Notes
For best results, the turkey breast should be completely thawed AND at room temperature before starting to work with it.
Nutrition
Calories:
375
kcal
|
Carbohydrates:
1
g
|
Protein:
65
g
|
Fat:
13
g
|
Saturated Fat:
6
g
|
Polyunsaturated Fat:
2
g
|
Monounsaturated Fat:
4
g
|
Trans Fat:
1
g
|
Cholesterol:
183
mg
|
Sodium:
1272
mg
|
Potassium:
751
mg
|
Fiber:
1
g
|
Sugar:
1
g
|
Vitamin A:
476
IU
|
Vitamin C:
1
mg
|
Calcium:
47
mg
|
Iron:
2
mg
More Holiday Favorites