What's better than chocolate? How about a rich cup of French Hot Chocolate, made from scratch using real cream, dark chocolate, and espresso? It's a decadent treat you're sure to adore!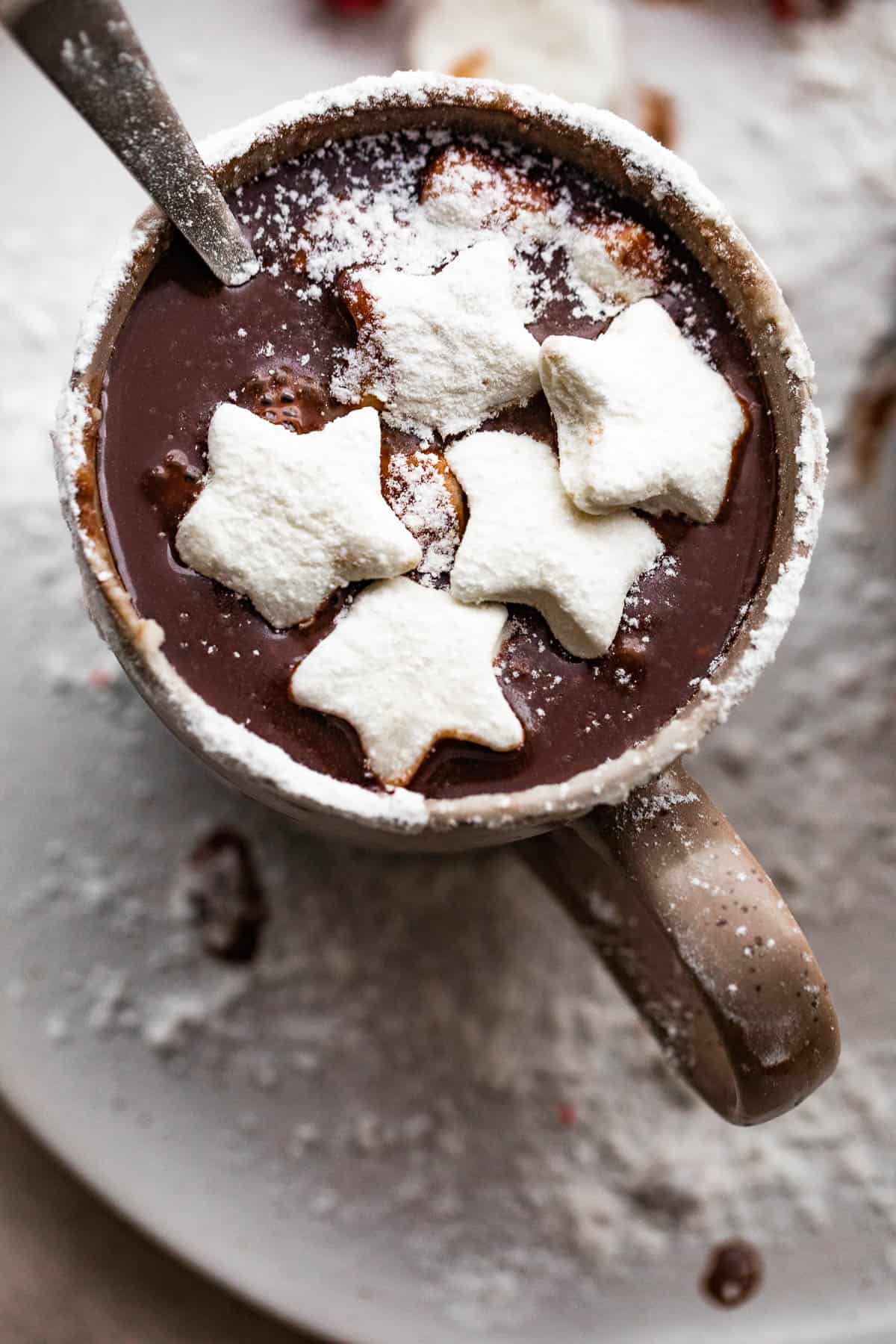 The Thickest, Creamiest French Hot Chocolate, Made at Home!
If you've ever been to Paris, no doubt you've tried a cup of their famously delicious French Hot Chocolate. This beloved beverage is not just your typical cup of cocoa—it's incredibly thick and creamy, smooth and flavorful, more like a ganache than a drink!
And, while it's definitely sweet, it's also got a good balance of strong, dark chocolate flavor.
But, you don't have to go all the way to Paris to enjoy French hot chocolate (although, obviously, that would be amazing!). I did and looking forward to going back one day, soooon!
It's really easy to make this in your own kitchen, with just a few ingredients. Whip up a saucepan of French hot chocolate, and treat yourself, and the ones you love, to something really special!
What's the Difference Between Hot Cocoa and Hot Chocolate?
While the two terms are generally used interchangeably, there is actually a technical difference. Hot cocoa is what you get when you use cocoa powder or chocolate syrup to make a thinner, sweeter drink (sometimes even with water along with milk).
If you use real chocolate and milk or cream, you've got yourself a cup of authentic hot chocolate.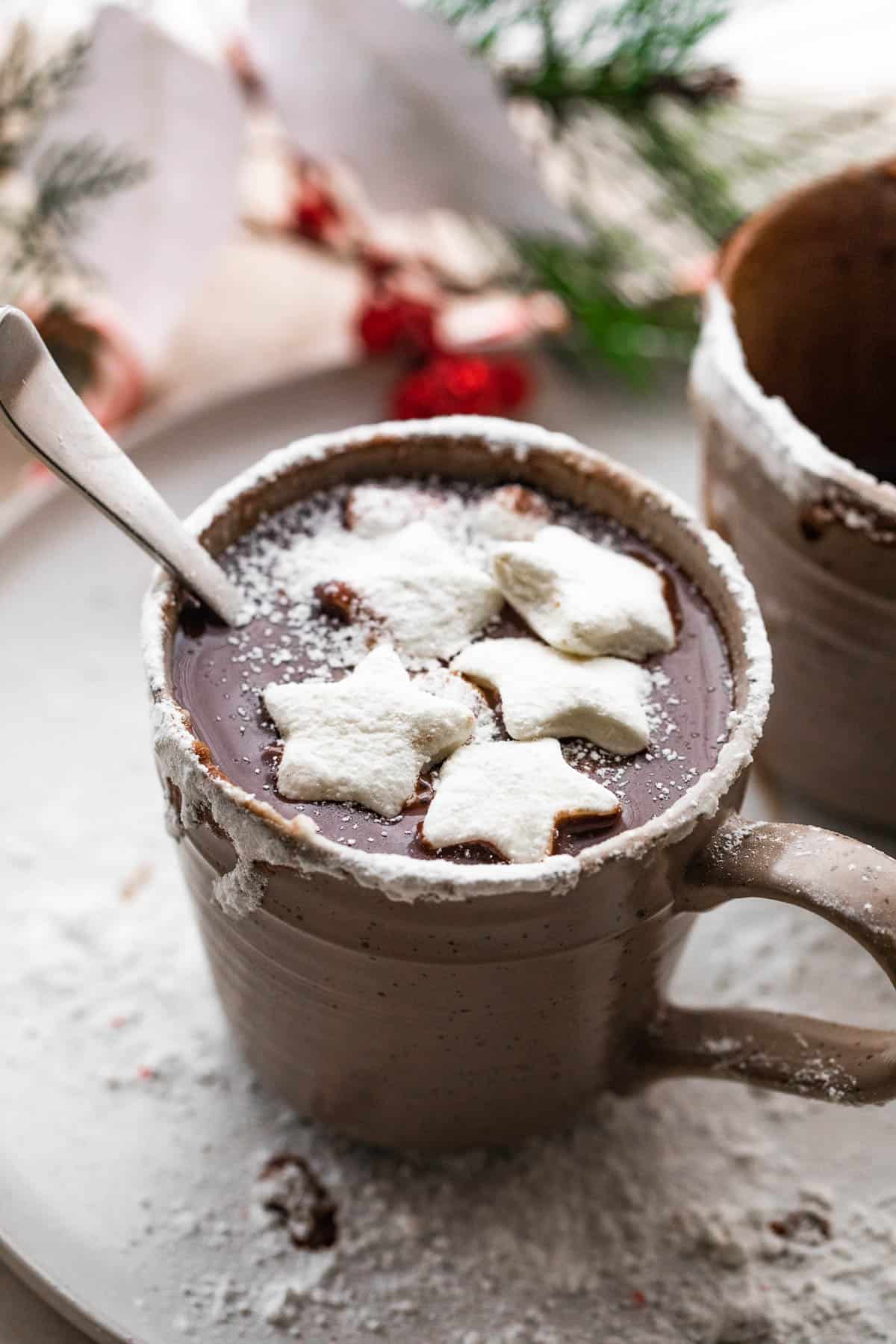 Ingredients List
So what do you need to make French hot chocolate at home? Well, you could do it with just milk, chocolate, and a bit of sugar, but I like to add a few special touches to make the perfect cup. Here's the skinny:
Milk: Two percent is fine, but you can use whole milk for a richer cup. Either way, with the heavy cream it's going to be super creamy!
Cream: Heavy cream makes this chocolate unforgettable.
Sugar: A combination of powdered sugar and brown sugar make the chocolate perfectly sweet with a pleasant depth of flavor.
Espresso Powder: To add complexity and a hint of bitterness, use a little bit of espresso powder.
Chocolate: My favorite chocolate is good-quality, 70% dark chocolate. Chop the chocolate into small shreds.
Whipped Cream and Chocolate Shavings: For topping the cups (optional).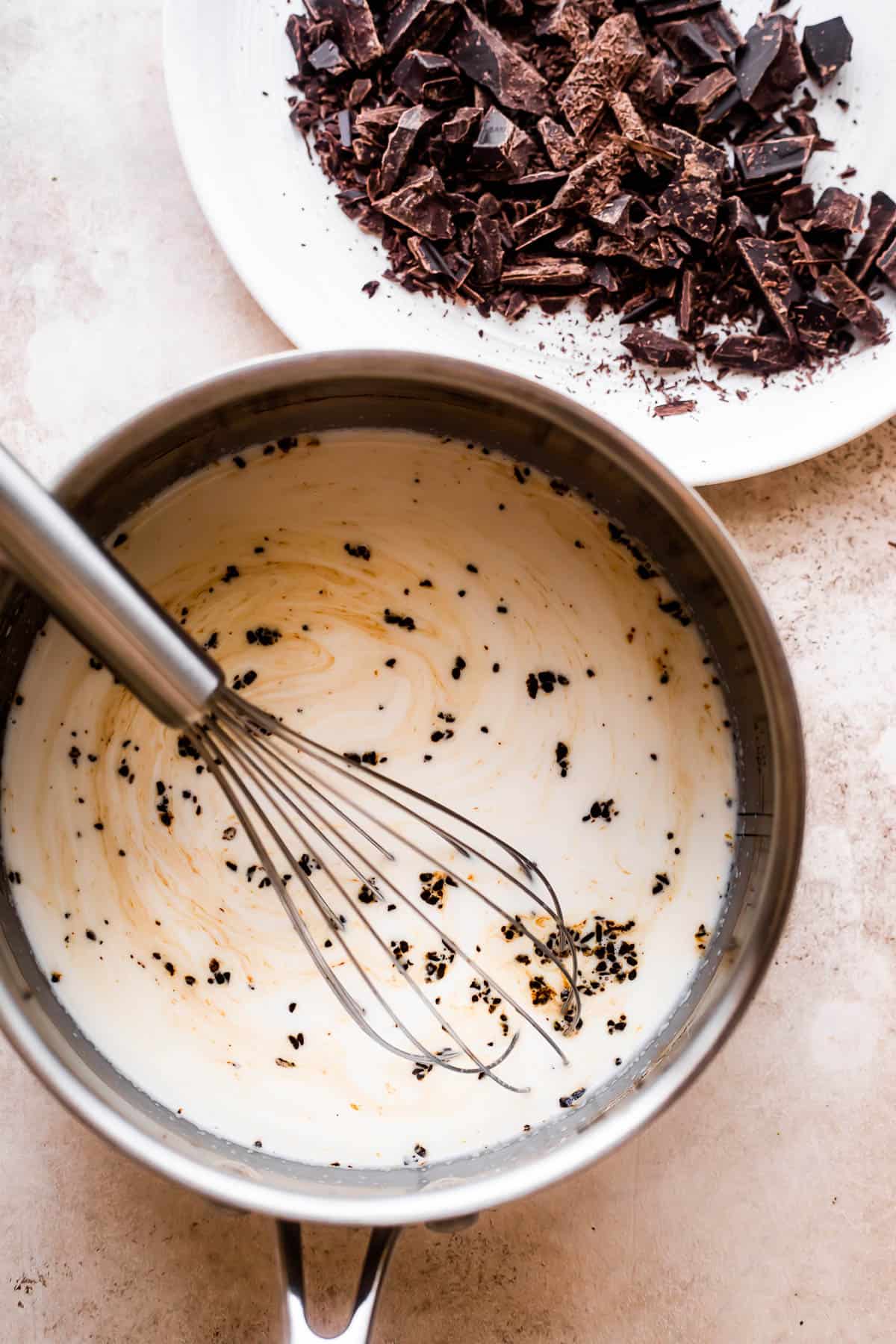 How to Make The Best Hot Chocolate Ever!
While working with chocolate can sometimes be complex, making French hot chocolate is actually really easy. All you need is a small saucepan and a whisk! Here's a quick rundown of just how to do it:
Heat the Ingredients, Except Chocolate. In a small, clean saucepan over medium heat, combine the milk, heavy cream, powdered sugar, brown sugar, and espresso. Cook this mixture until it begins to bubble at the edges of the saucepan. Remove the saucepan from the heat.
Whisk in the Chocolate. Add the chopped up dark chocolate to the saucepan, and whisk the mixture until the chocolate has melted and the mixture is smooth and creamy.
Serve. Pour the hot chocolate into mugs, and top each one with whipped cream, marshmallows, and/or shaved chocolate. Serve warm.
Easy Variations to Try
So there you have it! My favorite recipe for amazing French-style hot chocolate, thick and creamy and just about perfect. But, if you'd like to try something a little different, one of these fabulous variations might just hit the spot!
Belgian Hot Chocolate: Belgian hot chocolate is typically a little creamier and sweeter, thanks to a mixture of milk chocolate and hot chocolate. Feel free to omit the espresso and use your favorite milk chocolate to make a sweeter cup.
Thicker Hot Chocolate: For an even creamier cup, mix ½ a teaspoon of cornstarch with some of the milk before adding it to the saucepan. Yum!
Add Cinnamon: Mexican hot chocolate meets French when you spike it with a little bit of cinnamon. This is irresistible with churros!
Add Bailey's: Irish hot chocolate? Why yes, thanks! 🙏 Just pour two ounces of Bailey's into the mixture along with the chopped chocolate, off the heat. Whisk to a froth.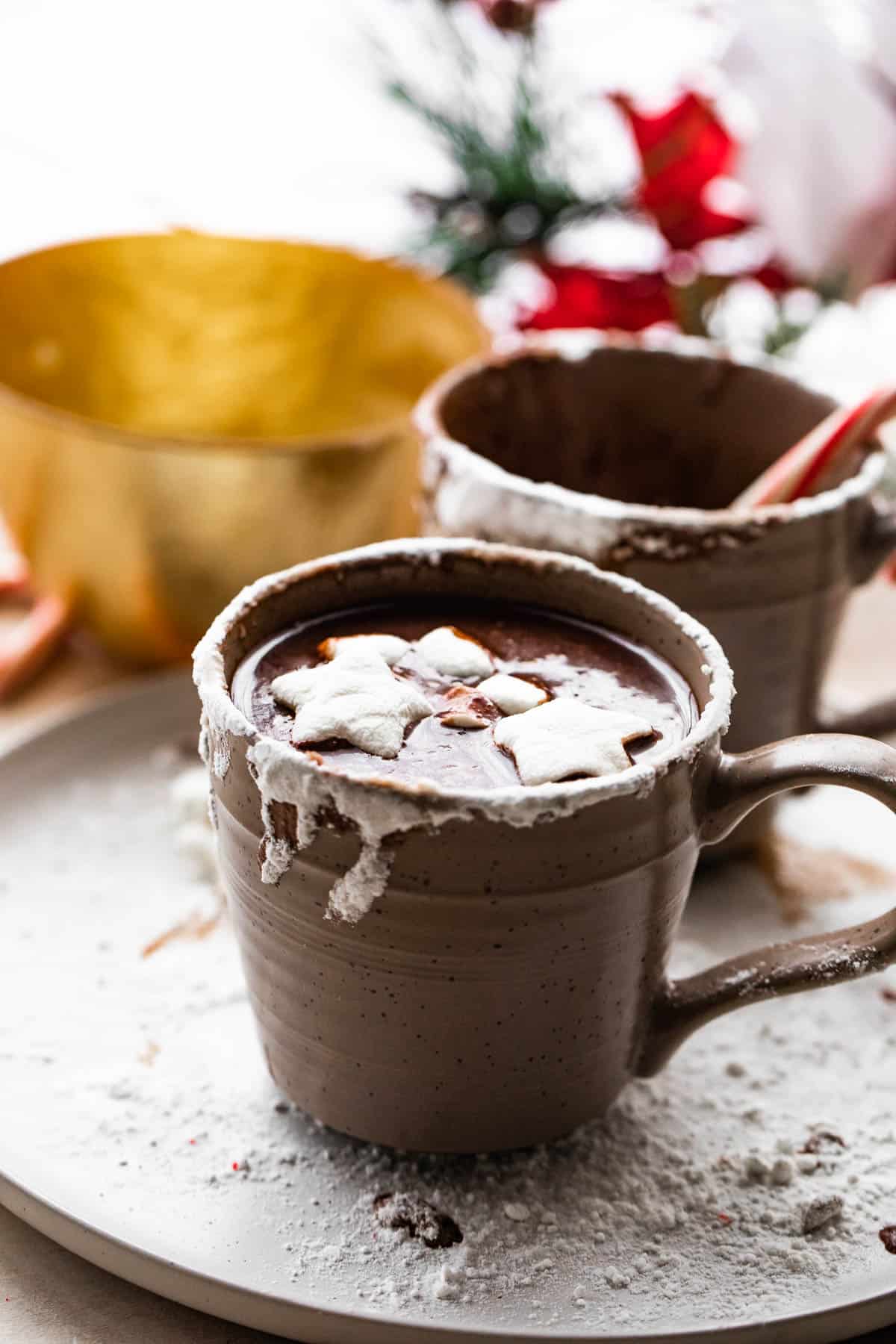 What Should I Serve with It?
If you're looking for a tasty snack or dish that goes well with hot chocolate, I've got you covered! Here are a few of my very favorites:
Candy Cane Cookies: Such a sweet holiday treat, especially when paired with warm hot chocolate! Make these easy Candy Cane Cookies and delight in the season.
Breakfast Casserole: This luxurious (but easy) Eggs Benedict Casserole is the perfect Christmas breakfast, and shows off beautifully next to a pretty cup of creamy chocolate.
Pretzel Bites: Bite-sized morsels of yumminess! Cinnamon-Sugar Pretzel Bites are a perfect snack for bringing cheer to cold winter weather.
Can I Store Leftover Hot Chocolate in the Fridge?
Sure! Just place any unused hot chocolate in a jar or airtight container, and refrigerate for one to two days.
Reheat it slowly in a saucepan over low heat, stirring often.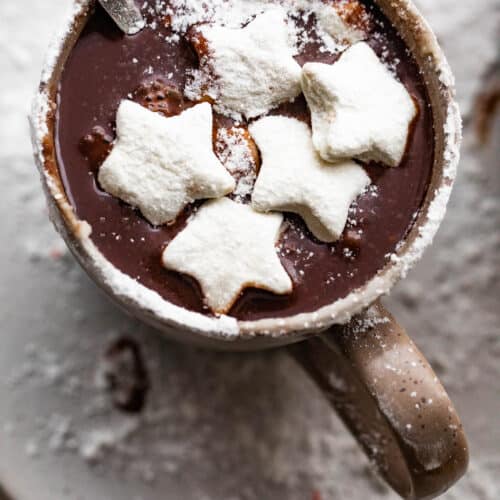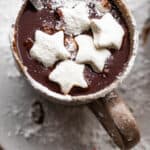 Print Recipe
French Hot Chocolate
A rich cup of French Hot Chocolate made from scratch using real cream, dark chocolate, and espresso.
Instructions
Combine milk, heavy cream, powdered sugar, brown sugar, and espresso in a saucepan.

Set saucepan over medium-heat and cook until bubbles form around the sides of the saucepan.

Remove from heat and whisk in the chopped dark chocolate; continue to whisk until completely melted.

Pour the hot chocolate into mugs and top with whipped cream, chocolate shavings, and/or marshmallows.
Nutrition
Calories:
513
kcal
|
Carbohydrates:
35
g
|
Protein:
8
g
|
Fat:
38
g
|
Saturated Fat:
22
g
|
Polyunsaturated Fat:
1
g
|
Monounsaturated Fat:
11
g
|
Trans Fat:
1
g
|
Cholesterol:
52
mg
|
Sodium:
63
mg
|
Potassium:
556
mg
|
Fiber:
6
g
|
Sugar:
22
g
|
Vitamin A:
608
IU
|
Vitamin C:
1
mg
|
Calcium:
166
mg
|
Iron:
7
mg
More Seasonal Treats