Minty and chocolatey, this Shamrock Oreo McFlurry Copycat is just like the frozen treat you love, but easy to make at home. Make this cookie-studded St. Patrick's Day treat, all year long!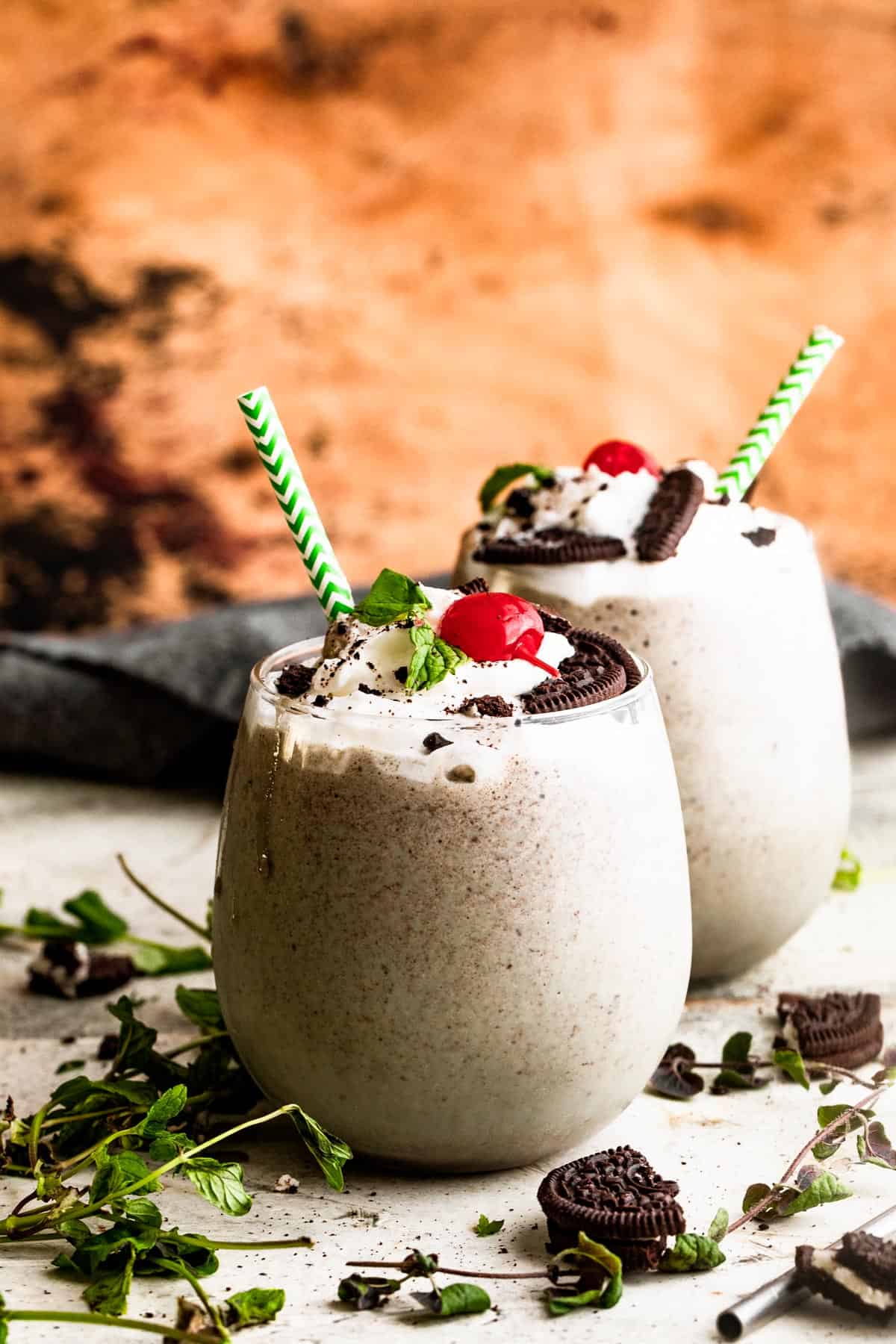 Homemade Mint and Oreo McFlurries
Are you a fan of McDonald's iconic Shamrock Shake? It's a creamy vanilla ice cream drink, lightly flavored with mint and tinted a cool pastel green for St. Patrick's Day. While the Shamrock Shake has been around for decades, in recent years, McDonald's has added a more ice-cream-forward version, the Shamrock Oreo McFlurry – and if you've had one, you know they are amazing!
My homemade Shamrock Oreo McFlurry offers the same mint-chocolate-vanilla goodness, but better! Since you're in control, you can choose ingredients you're comfortable with, and make this treat healthier and lighter than the fast-food version.
Trust me, this copycat Shamrock Oreo McFlurry is one recipe you and your family are absolutely going to adore!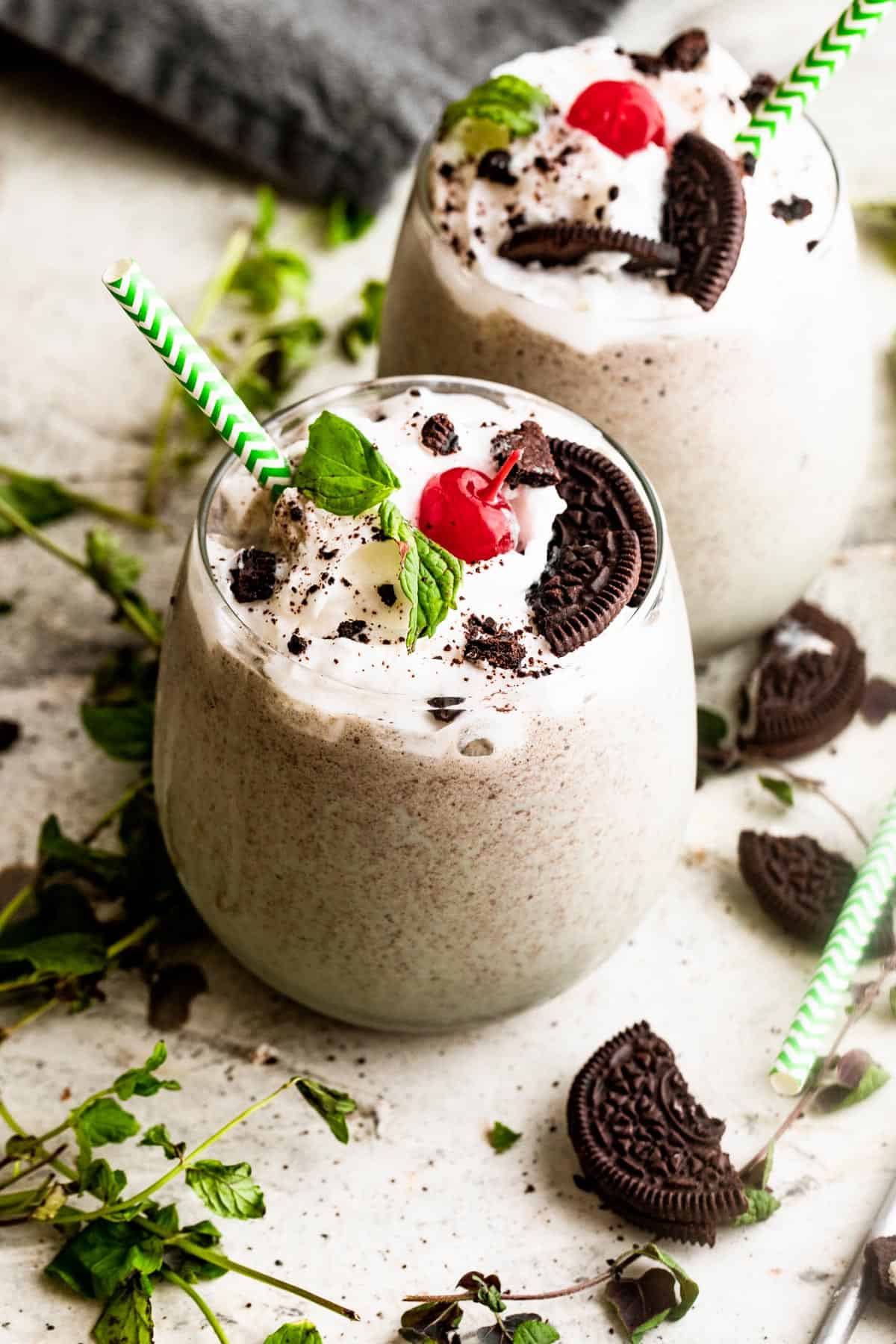 What Flavor is the Shamrock Oreo McFlurry?
Like the Shamrock Shake, the main flavors in the Shamrock McFlurry are vanilla ice cream, and mint. However, unlike the shake, the McFlurry is not thinned out – it's thick and robust, a dessert you'll want a spoon for.
And, the McFlurry is also made with crushed, chunky Oreo bits. Yum! If you love Andes mints, York peppermint patties, or just plain old mint chocolate chip ice cream, this is a dessert you will devour.
The Ingredients You'll Need
One of the best things about this recipe is that it is so quick, and you only need a few ingredients. If you want something sweet, but you aren't in the mood for baking or pulling together anything complicated, this recipe is for you!
Oreos: To make this recipe, you'll need about twelve Oreos (this makes a large batch – about four big servings. Feel free to halve the recipe to make less).
Ice Cream: Choose your favorite brand of vanilla ice cream.
Milk: I prefer to use whole milk, for extra creaminess, but you can substitute whatever milk you prefer.
Heavy Cream: Another creamy component to your shake!
Mint Extract: You can use peppermint extract if you like, but regular mint extract is a little closer to the original.
Food Coloring: You'll need 6 to 8 drops of green food coloring, to give it that pretty green tint.
Do I Need the Food Coloring?
Nope! It just gives the McFlurry a fun look, but the food coloring is not essential if you don't want to add it.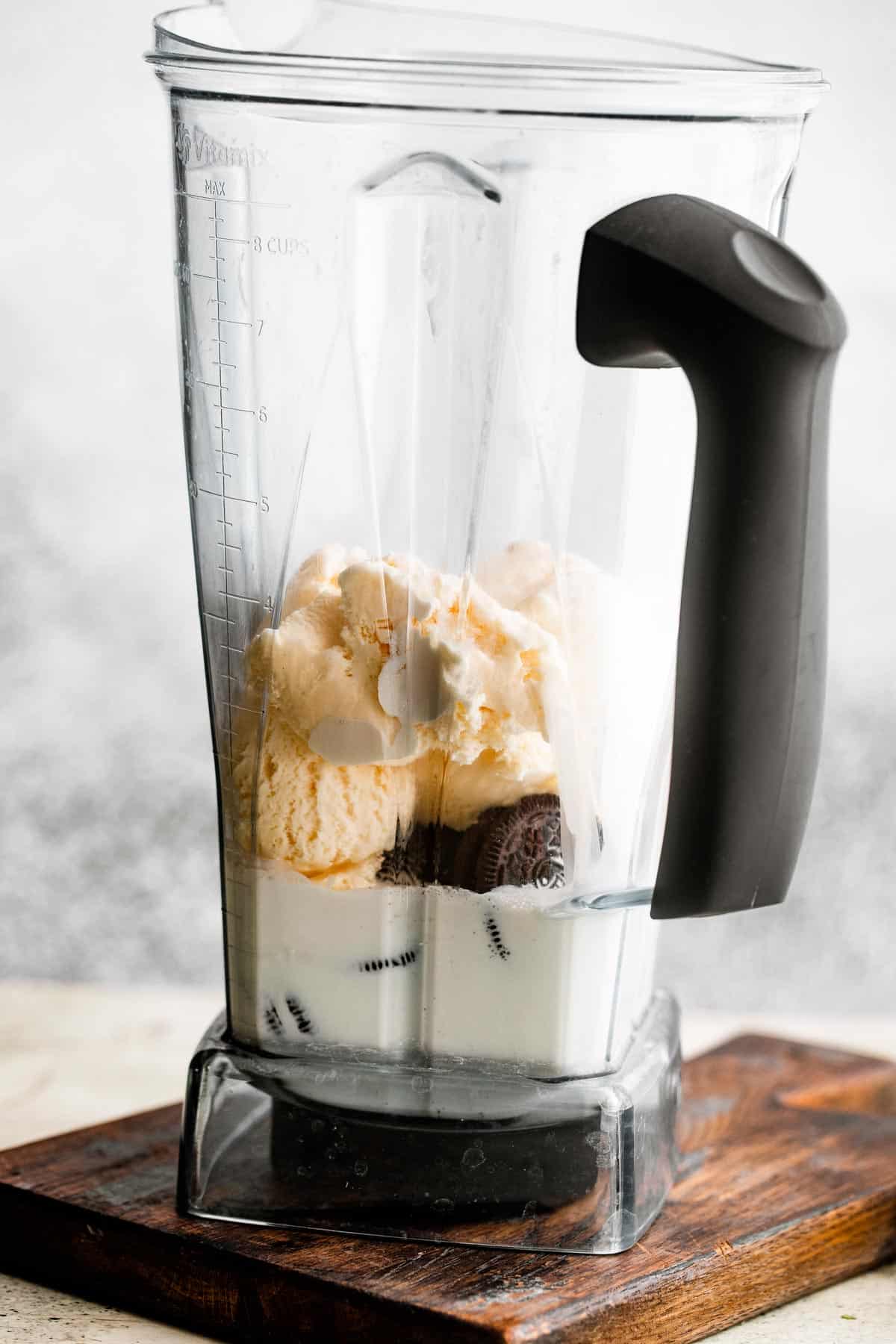 Let's Make a McFlurry!
Making this recipe is the simplest thing ever. Everything gets quickly blended up to make a creamy, cookie-blasted treat. Just get out your blender, and prepare for deliciousness!
Prepare to Blend. First, coarsely chop up about four of your Oreo cookies and set them aside. Put the rest of the cookies in the blender, and add the remaining ingredients as well: ice cream, milk, heavy cream, mint extract, and food coloring (if you're using that).
Blend! Process the ingredients until they're blended. If you want a deeper green color, add a couple more drops of food coloring. If you want a stronger mint taste, add a bit more mint extract.
Serve and Enjoy! Pour your shake into tall glasses, and top with the chopped Oreos you set aside. Serve immediately.
Tips for Success
These handy tips will help you make the perfect, homemade Shamrock Oreo McFlurry! I hope you enjoy this easy, flavorful shake, perfect for a fun St. Paddy's Day mini-celebration. Sláinte! 🍻
Chilled Glasses: Whenever you're serving a shake (or other chilled drink), it can be helpful to chill your glasses beforehand. Just stick them in the freezer for at least 15 minutes, or longer if possible.
Ice Cream: For the creamiest version of this shake, try warming your ice cream slightly before blending. You can set it in the refrigerator, or even on the counter, to let it un-freeze a little bit. Frozen ice cream is fine, too, but it will be chunkier in the milkshake, and less evenly distributed.
Chill: After you pour the shakes, you can stick them right back in the freezer for a few minutes to firm up and thicken a bit before serving. ☘️ ☘️ ☘️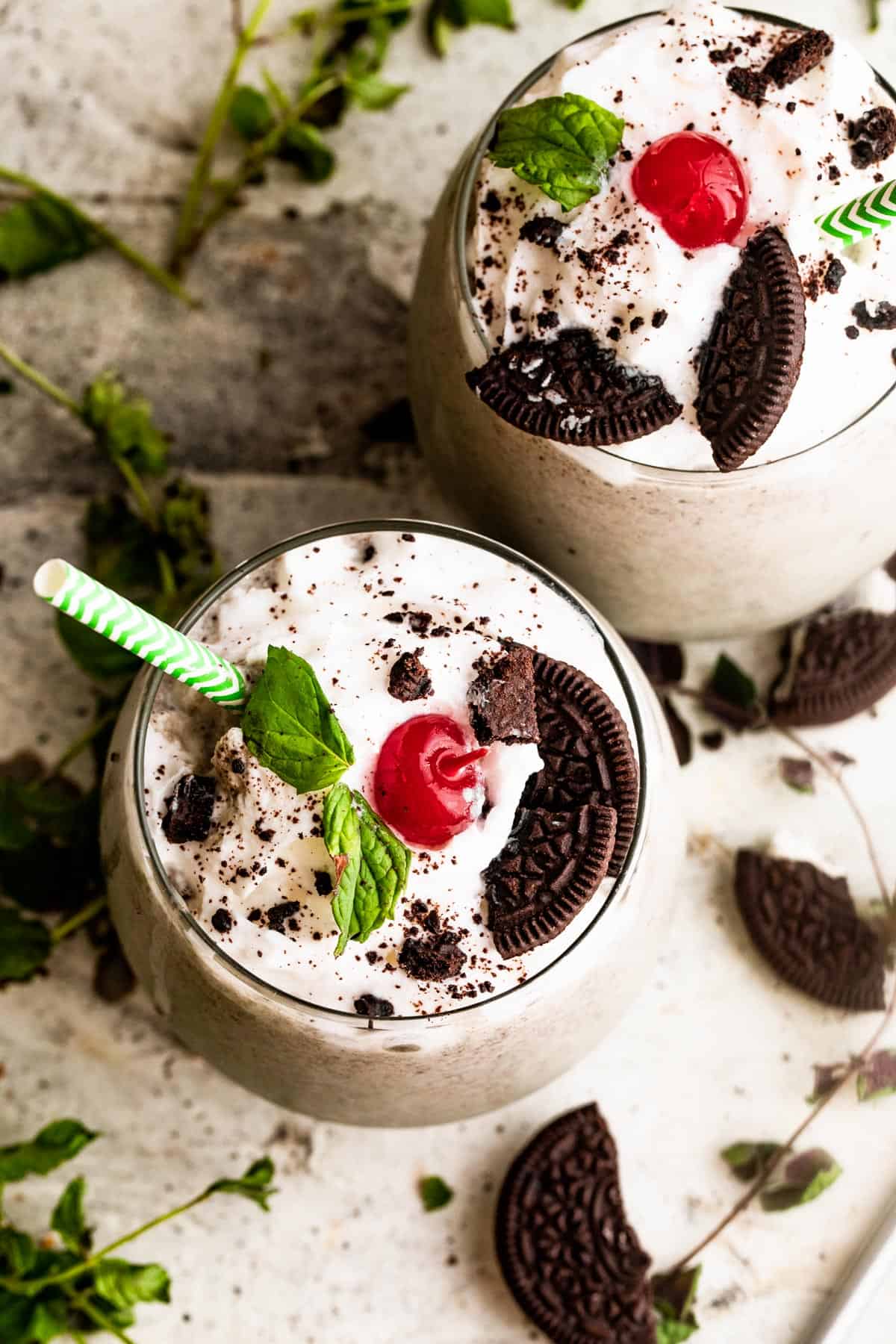 Tasty Variations
Are you feeling inspired? I hope so! This Shamrock Oreo McFlurry recipe is not just tasty as written – it's a great starting point for all kinds of frozen yumminess. Here are a few great ideas for mixing it up!
Double Chocolate: Instead of using vanilla ice cream, try using chocolate ice cream! You'll end up with a mint-spiked, double-chocolate milkshake that will satisfy any chocolate lover.
Toppings: Try adding whipped cream, shaved chocolate, sprinkles, nuts, or any other topping you like to these shakes. So scrumptious, and so many possibilities!
Oreo Options: Don't just stick with plain Oreos – you can substitute vanilla Oreos, chunky shortbread cookies, chocolate chip cookies, Thin Mints… the sky's the limit!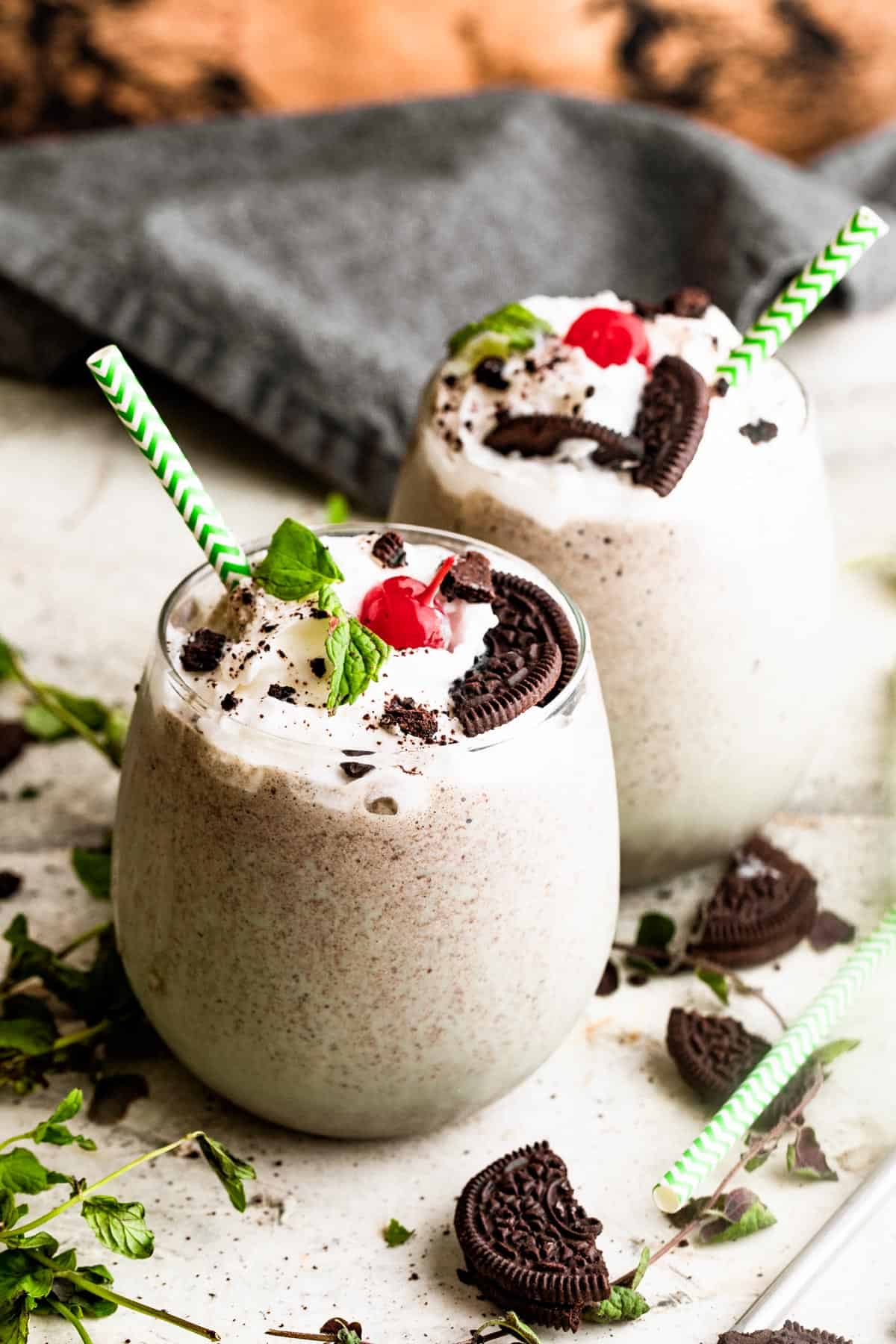 How to Store
Shamrock Oreo McFlurry shakes should be enjoyed right away, but if you must store your leftovers, definitely keep it in the freezer. Outside of the freezer, it will quickly melt into a runny "soup!"
If your shake freezes solid, you can set it in the fridge for a short time to thaw out a bit, or re-blend it, before serving. Either way, be sure to use within a month or two, max.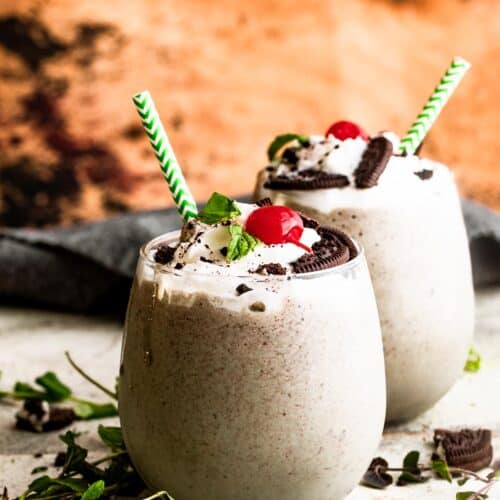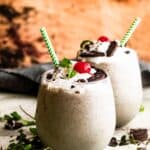 Print Recipe
Shamrock Oreo McFlurry Copycat
Minty, chocolatey, and super addictive, this Shamrock Oreo McFlurry Copycat is just like the frozen treat you love, but easy to make at home.
Instructions
Place 4 serving glasses in the freezer for at least 10 to 15 minutes.

Coarsely chop 4 oreo cookies and set aside.

Add the rest of the cookies to a blender.

To the blender, add the ice cream, milk, heavy cream, mint, and food coloring.

Pulse until blended. If you want a deeper green color, add a couple more food color drops. If you want a mintier taste, add a bit more mint extract, and process until blended.

Pour into chilled glasses.

Top with the crushed oreos.

Serve.
Nutrition
Calories:
513
kcal
|
Carbohydrates:
59
g
|
Protein:
8
g
|
Fat:
28
g
|
Saturated Fat:
15
g
|
Polyunsaturated Fat:
2
g
|
Monounsaturated Fat:
9
g
|
Trans Fat:
1
g
|
Cholesterol:
82
mg
|
Sodium:
290
mg
|
Potassium:
392
mg
|
Fiber:
2
g
|
Sugar:
44
g
|
Vitamin A:
825
IU
|
Vitamin C:
1
mg
|
Calcium:
221
mg
|
Iron:
3
mg
More Delectable Drinks