German Potato Salad is a little tangy, a little sweet, and sprinkled with plenty of bacon bits – perfect for a festive family meal.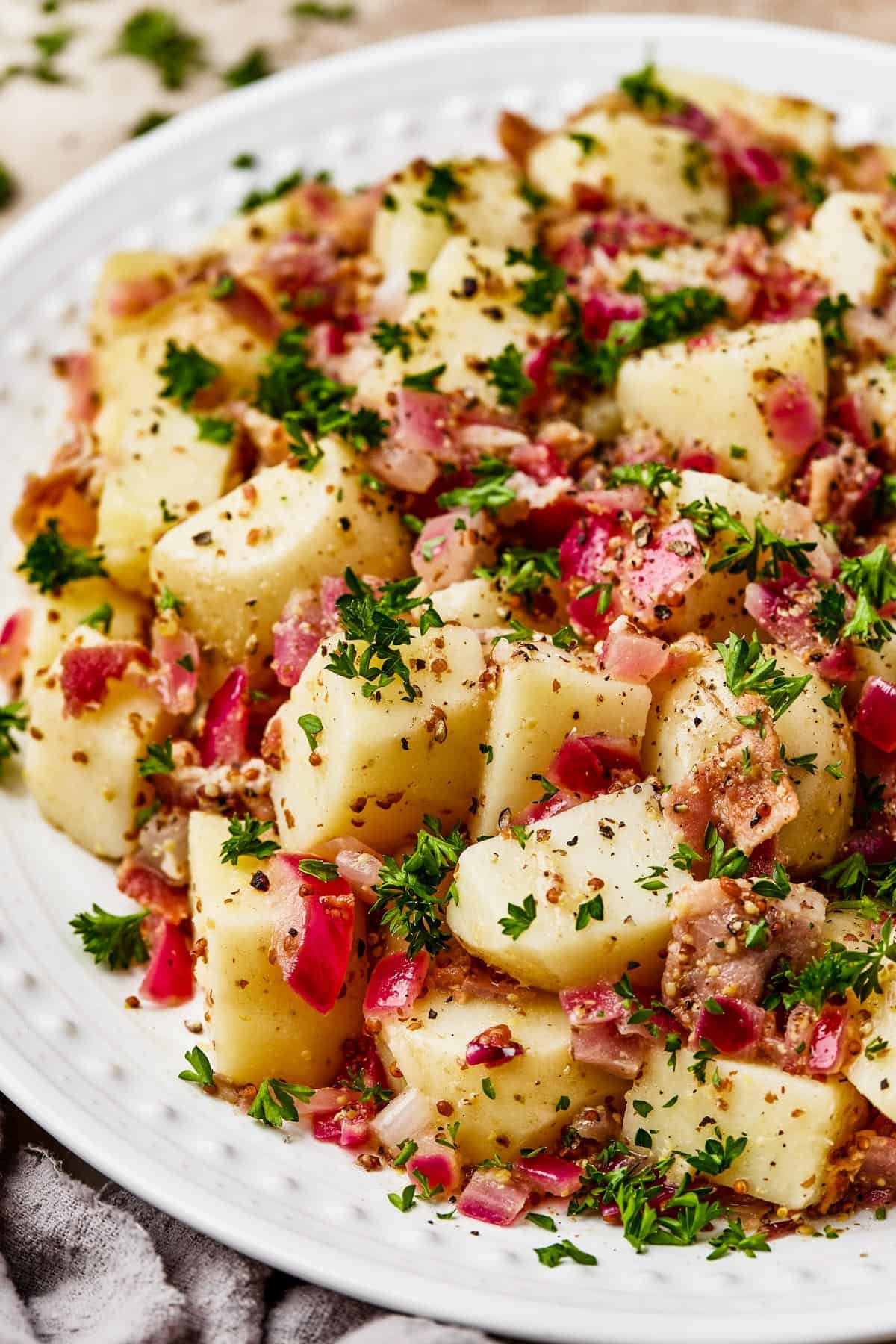 A Warm Potato Salad with a Vinaigrette Dressing
I think that when most of us imagine potato salad, we think of the cold, creamy, mayonnaise-based version – also known as American Potato Salad. But, did you know that there's a fantastic warm version, too?
Originally from Germany, this version of potato salad came to the US with German immigrants, and it soon caught on like wildfire! You can't beat the combination of warm, tender potatoes in a tangy bacon vinaigrette. Plus, it's super simple to make.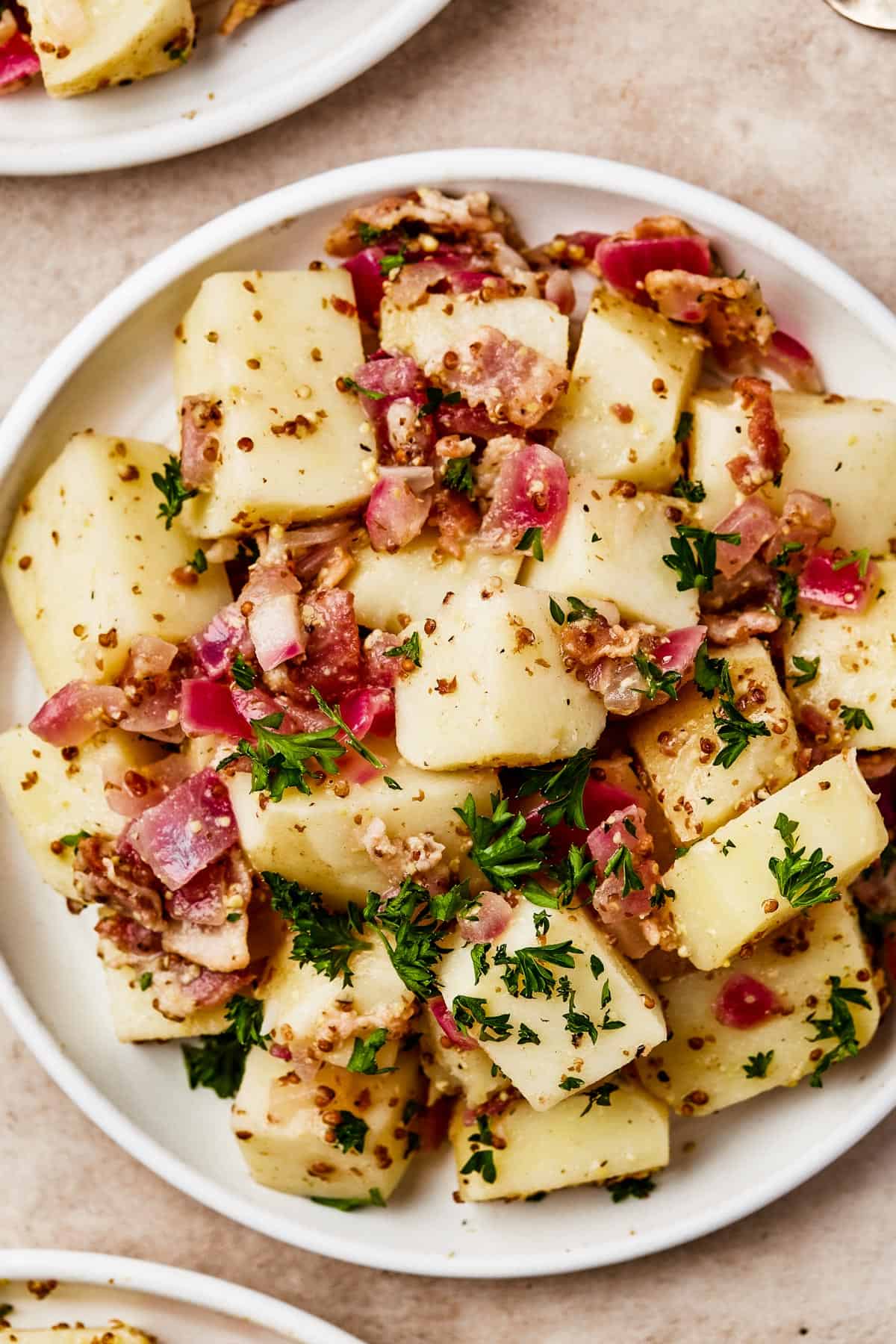 This Recipe Is Awesome Because…
It's easy to make.
It's loaded with bacon!
The vinaigrette dressing is light and refreshing.
It can be served warm or cold.
German potato salad goes with everything!
It feeds a crowd.
You can make it a few days ahead, if desired.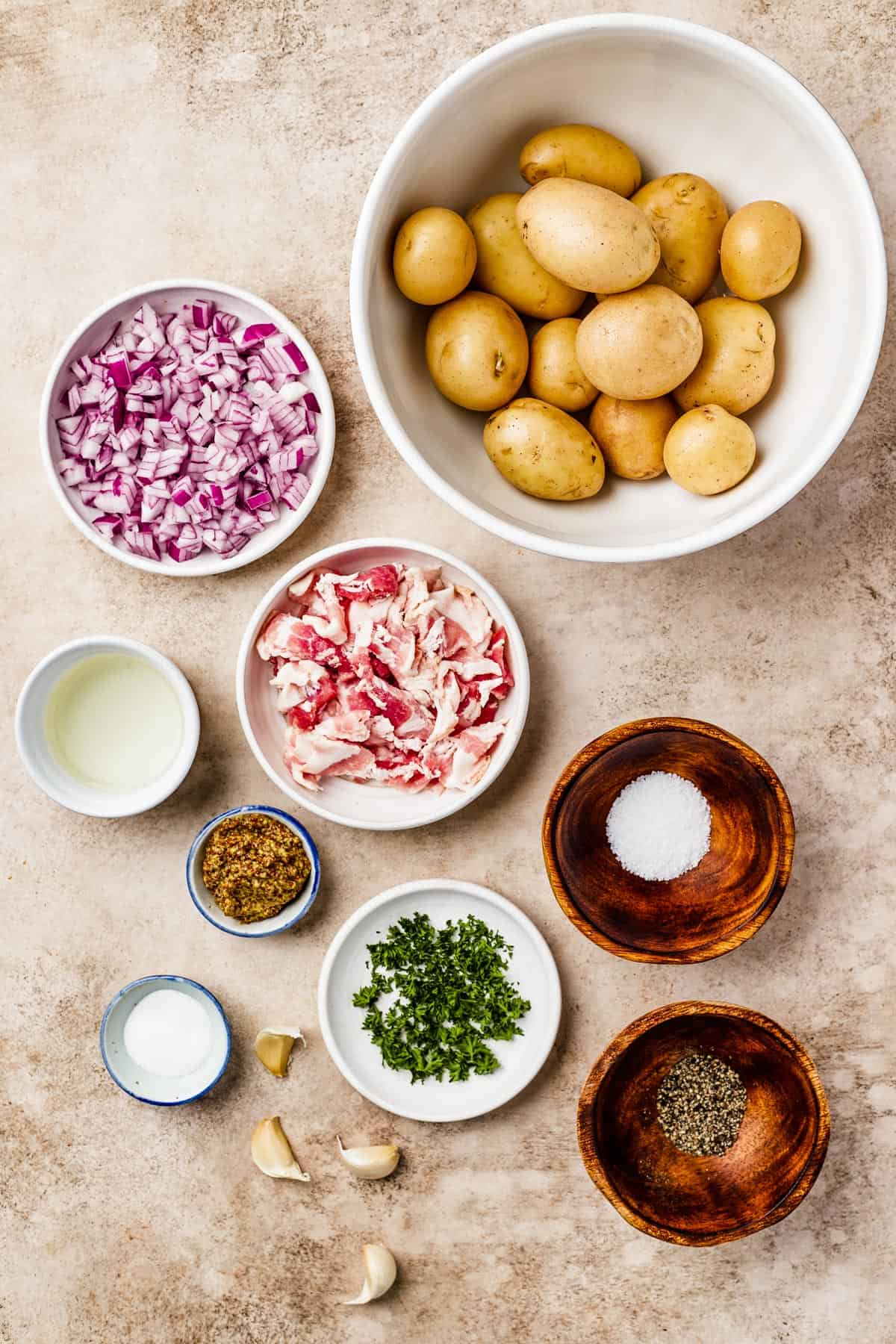 The Ingredients
Vinegar: I use white wine vinegar in my German potato salad, but you could substitute apple cider vinegar for an equally-delicious flavor.
Mustard: Whole-grain dijon mustard is my go-to, but any mustard that you love would be great in this recipe, from plain yellow to spicy deli mustard.
Sugar: A small amount of granulated sugar balances the vinegar and mustard. Brown sugar or raw sugar would also be good, although they add a hint of molasses flavor that some people may not like as much.
Salt and Pepper: A half-teaspoon each, plus more, to taste.
Potatoes: You'll want waxy potatoes for this recipe, so they don't fall apart too much. Yellow potatoes are good, and red potatoes work, too.
Bacon: Chop the bacon before frying it.
Onion: You'll need one medium red onion, finely chopped. If you don't have red onion, a sweet onion is a good substitute, or you can use a plain white onion.
Garlic: Finely mince (or press) a few garlic cloves.
Parsley: Chopped, fresh parsley makes the perfect garnish.
Do You Put Eggs in German Potato Salad?
That depends on who you ask – some cooks add hard-boiled eggs, similar to American potato salad, while others don't. Feel free to add sliced or chopped boiled eggs if you like them.
How to Make It
It's easy to make German potato salad, and it doesn't take very long. If you're making it in advance, just refrigerate the bacon bits separately from the rest of the dish so that they stay crisp until time to serve!
Begin Making the Vinaigrette. In a small bowl, whisk together the vinegar, mustard, sugar, salt, and pepper. Set this aside for now.
Boil the Potatoes. Scrub your potatoes and put them in a large pot, covered by about an inch of cold water. Bring to a boil, turn down the heat, and simmer gently for about 10 minutes or until they're fork-tender. Drain in a colander, and rinse with cool water. Set these aside as well.
Cook the Bacon, Onion, and Garlic. Return the empty pot to the stove, this time over medium heat. Add the chopped bacon, and cook it until it is crispy, about 4 – 5 minutes. Use a slotted spoon to transfer the bacon bits to a paper-towel-lined plate. Carefully pour off most of the bacon grease, until there are only a couple of tablespoons or so left in the pot. Place the pot back on the stove, and cook your onions and garlic in the bacon grease for a couple of minutes to soften them up.
Finish Making the Vinaigrette. Now turn the heat to medium-low. Add the mixed vinaigrette ingredients to the pot, and stir constantly to cook the dressing and dissolve the sugar. This takes only a minute or so.
Combine the Potatoes and Bacon with the Vinaigrette. Tip the potatoes and bacon into the pot, and very carefully fold and toss to coat. You don't want to break the potatoes up too much, but you need them to be evenly coated.
Cool and Serve. Remove the pot from the heat and let the German potato salad cool for 5 – 10 minutes before serving. This way, the dressing will soak into the potatoes slightly. Taste for salt and pepper, adjust if needed, and garnish with parsley before serving.
Enjoy!
Does German Potato Salad Need to Be Refrigerated?
Eventually, yes! This dish is usually served warm, but it should be refrigerated for food safety reasons within 2 hours after making it. From there, you can serve your leftovers chilled or reheated – it's up to you.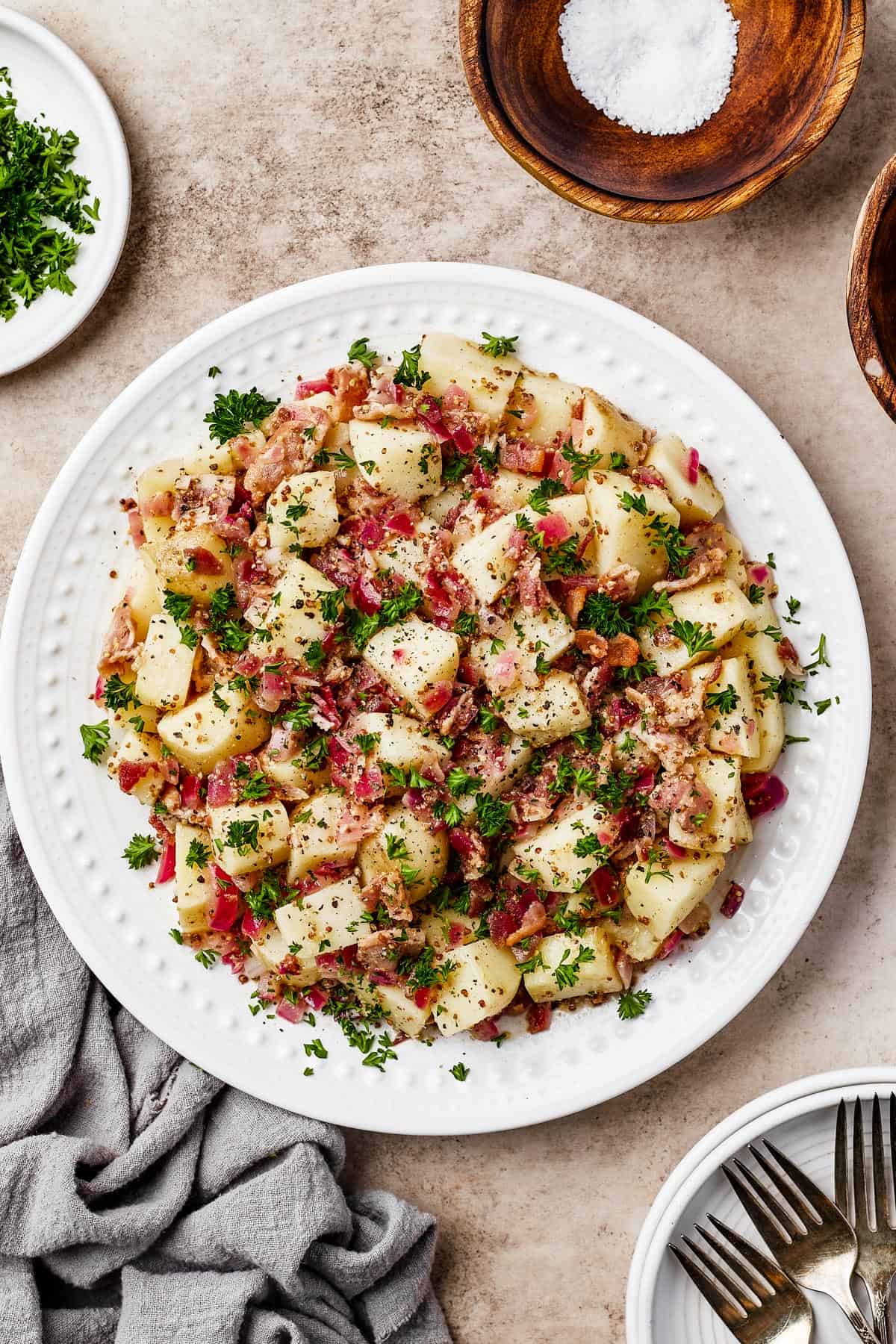 Easy Tips for Success
These handy tips will help guarantee a successfully scrumptious salad! Read on, and enjoy a great, easy side dish with tons of bold flavor.
Use Thick-Cut Bacon: It's not strictly necessary, but if you want a big bold bacon flavor, I recommend going with thick-cut bacon. The bolder, chewier pieces will stand out in this German salad really well.
Peeling and Chopping: For this recipe, I cut my potatoes into chunks, and did not peel them. But you can definitely do it lots of other ways! From peeled and quartered potatoes to halved baby potatoes, or potatoes that are cooked whole and then sliced – it's all delicious. (Keep in mind that larger pieces of potatoes will mean a slightly longer cooking time!)
Use Salted Water: I always recommend salting your boiling water for veggies – from broccoli to green beans, potatoes to carrots, it ensures that the vegetables themselves are adequately seasoned. If you do salt the water, you may not need additional salt at the end of the recipe.
Serving Suggestions
Schnitzel: Breaded, fried cutlets are a great combination with hearty German potato salad! You can make them with pork, veal, and other meats, but one of the easiest is Chicken Schnitzel. Yum!
Pork Chops: What could be simpler and more satisfying than a quick dinner of Garlic Parmesan Pan-Fried Pork Chops? With fresh (or leftover) German potato salad, you've got one family-pleasing meal!
Ribs: A sticky dinner of Instant Pot Ribs is not only simple to make, but quicker than regular baked or smoked ribs. Try them with German potato salad – it's a match made in heaven.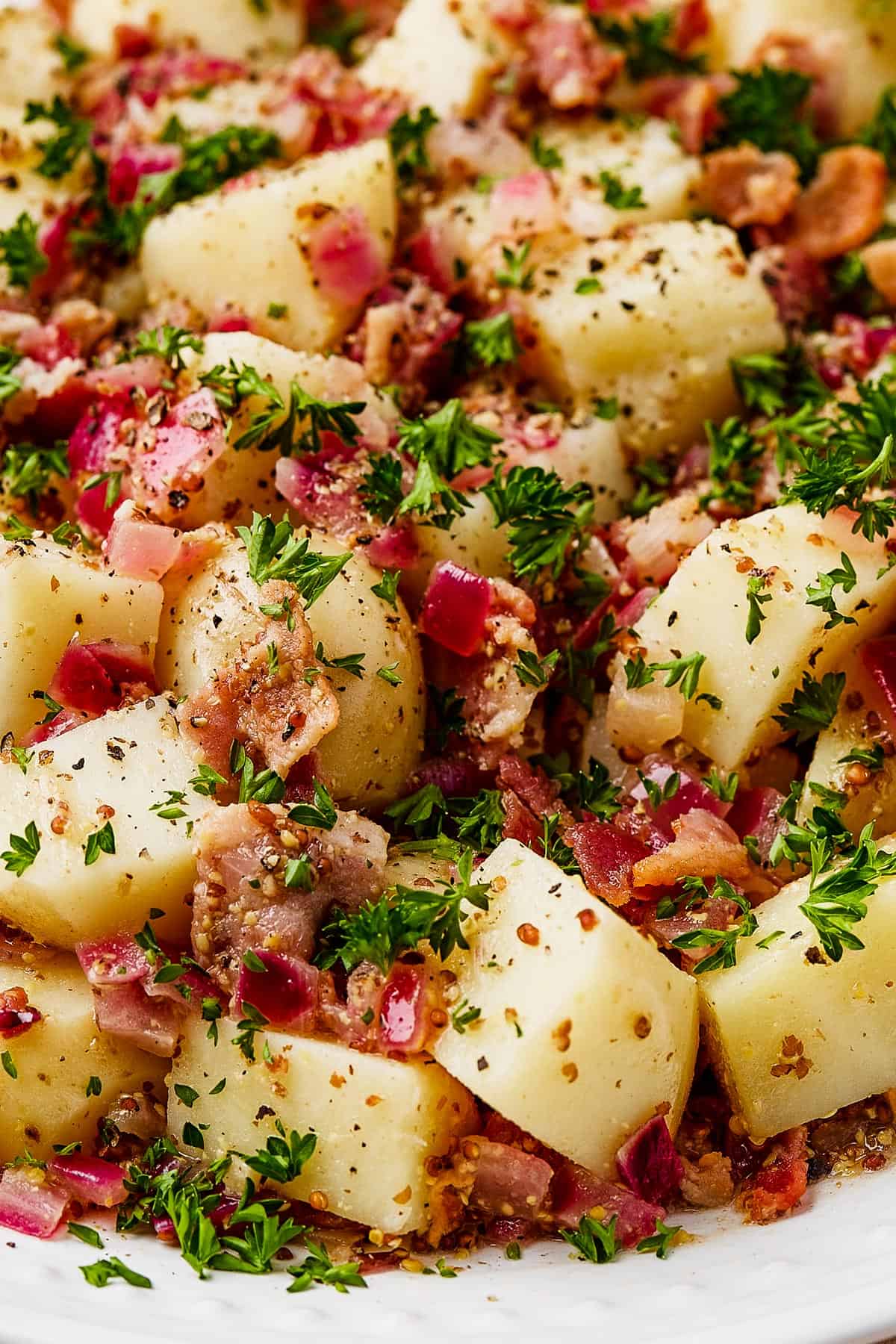 How to Store and Reheat the Leftovers
German potato salad can be stored for about 4 days in the refrigerator, covered well or placed in an airtight container.
To reheat, place the desired portion in a covered skillet over low heat. If the potato salad seems dry, add a splash of water or a drizzle of oil. Stir occasionally until warmed through.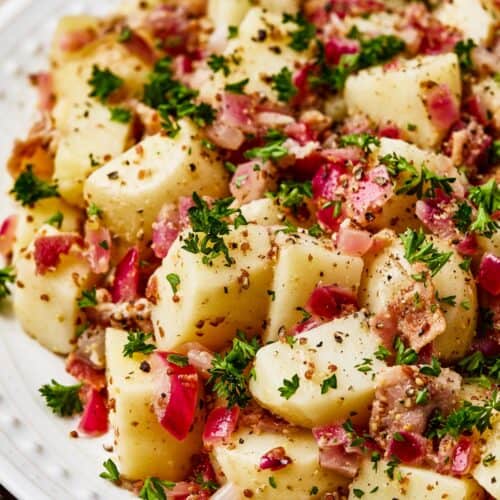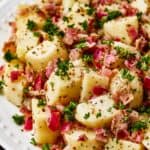 Print Recipe
German Potato Salad with Bacon
German Potato Salad is a little tangy, a little sweet, and sprinkled with plenty of bacon bits – perfect for a festive family meal.
Ingredients
⅓

cup

white wine vinegar

2

tablespoons

whole-grain dijon mustard

2

teaspoons

granulated sugar

½

teaspoon

ground black pepper,

or to taste

½

teaspoon

kosher salt

or to taste

2

pounds

yellow potatoes

chopped into 1-inch pieces

8

slices

bacon,

chopped

1

medium red onion,

finely chopped

4

garlic cloves,

finely minced

chopped parsley,
Instructions
In a small bowl, whisk together the white wine vinegar, whole grain mustard, sugar, salt, and pepper. Set aside.

Place the potatoes in a large pot and fill with water about an inch above the potatoes. Bring the water to a boil; reduce the heat to medium, maintaining a gentle simmer. Simmer for 8 to 12 minutes, or until the potatoes are soft and fork-tender.

Drain the potatoes in a colander, and rinse with cold water. Set aside.

Return the pot to the stove over medium heat. Add the chopped bacon and cook until browned, about 4 to 5 minutes. Remove the bacon, and set aside on a paper-towel lined plate.

Discard excess bacon grease until only about 2 tablespoons remain in the pot. Add onion and garlic, and cook until slightly softened, about 2 minutes.

Turn the heat to medium-low, and pour in the prepared vinaigrette dressing. Stirring constantly, cook until the dressing is warmed through and the sugar is dissolved, about 1 minute.

Add in the potatoes and bacon. Gently fold until the ingredients are evenly coated in the dressing.

Remove from the heat and allow to sit for 10 minutes before serving, to allow the dressing to settle into the potatoes.

Taste for salt and pepper, and adjust accordingly.

Garnish with parsley and serve.
Nutrition
Calories:
260
kcal
|
Carbohydrates:
31
g
|
Protein:
7
g
|
Fat:
12
g
|
Saturated Fat:
4
g
|
Polyunsaturated Fat:
2
g
|
Monounsaturated Fat:
5
g
|
Trans Fat:
1
g
|
Cholesterol:
19
mg
|
Sodium:
454
mg
|
Potassium:
744
mg
|
Fiber:
4
g
|
Sugar:
3
g
|
Vitamin A:
19
IU
|
Vitamin C:
32
mg
|
Calcium:
32
mg
|
Iron:
2
mg
More Flavorful Sides