Ready in minutes, this quick Chicken Schnitzel Recipe delivers juicy, white meat chicken in a crunchy, flavorful breading, every time. A family-friendly favorite!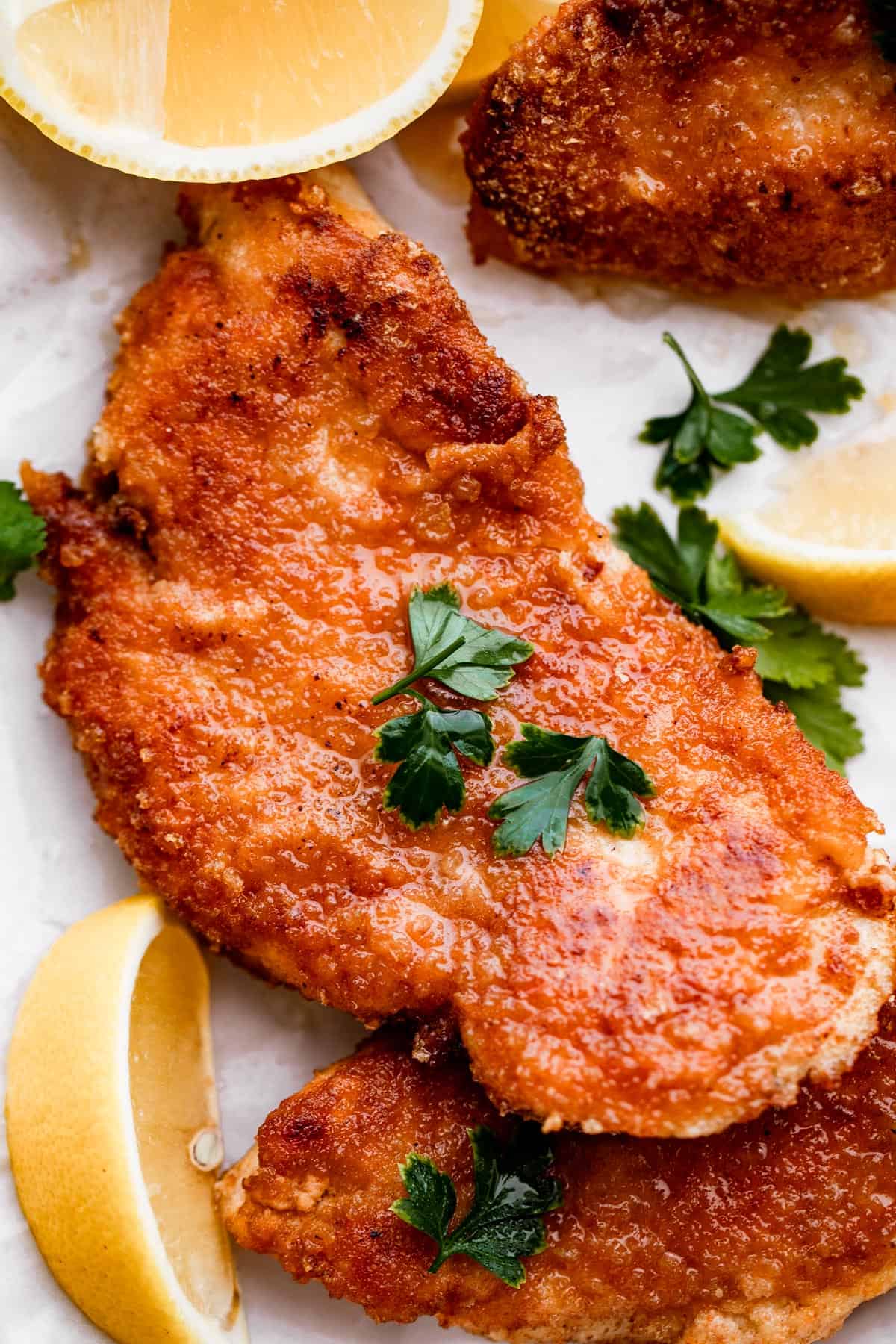 A Simple, Quick, and Tasty Chicken Dinner
You can never have too many easy, quick chicken recipes, and this one is sure to be a hit – even with picky eaters! Thin fillets of chicken breast are breaded in flour, egg, and panko, before a quick pan-fry to seal in the juices and get a crispy, crunchy coating.
It's everything you love about traditional fried chicken, in a fraction of the time!
Like the famous wienerschnitzel made from veal, and schweineschnitzel made from pork, this dish is satisfyingly meaty while still being light. You can serve it in all kinds of ways (see the Tips section below!), or just have it as a simple weeknight dinner with some salad and bread.
Are you with me? Great! Let's make some schnitzel!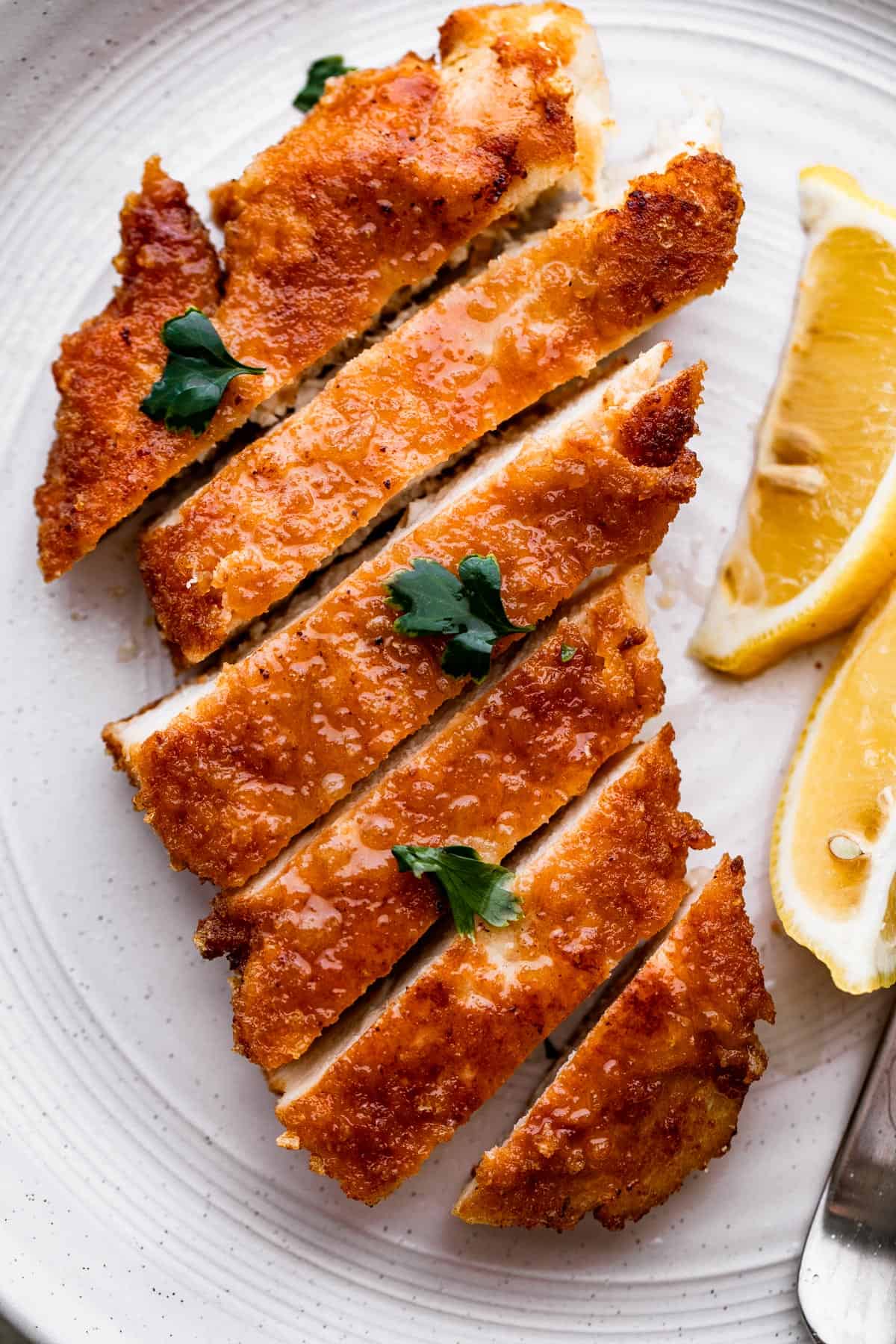 What Is Chicken Schnitzel Made Of?
The ingredients for chicken schnitzel couldn't be simpler! Lean chicken breast cooks up in a snap, and turns out seriously tender and juicy. The simple seasoning of salt, pepper, and paprika hits all the right notes.
Chicken: Large, boneless, skinless chicken breasts are best here. If you do buy bone-in chicken, use a sharp knife to debone before trimming and cooking.
Salt and Pepper
Flour: All-purpose flour is fine, or you can use your favorite gluten-free all-purpose flour.
Paprika: I use sweet paprika, but you could use smoked paprika instead for a different twist.
Egg: Two whole eggs help the crunchy panko stick to the chicken.
Panko: Panko crumbs are so easy to use, and deliver a nice crunchy texture. For a more authentic schnitzel, use fine, fresh breadcrumbs. You can make these by throwing a Kaiser roll (or similar) into a food processor until fine and soft.
Canola Oil: While traditional schnitzel are fried in a generous amount of fat, I prefer to pan-fry in just a few tablespoons of canola oil.
Lemon: For serving, cut a fresh lemon into wedges.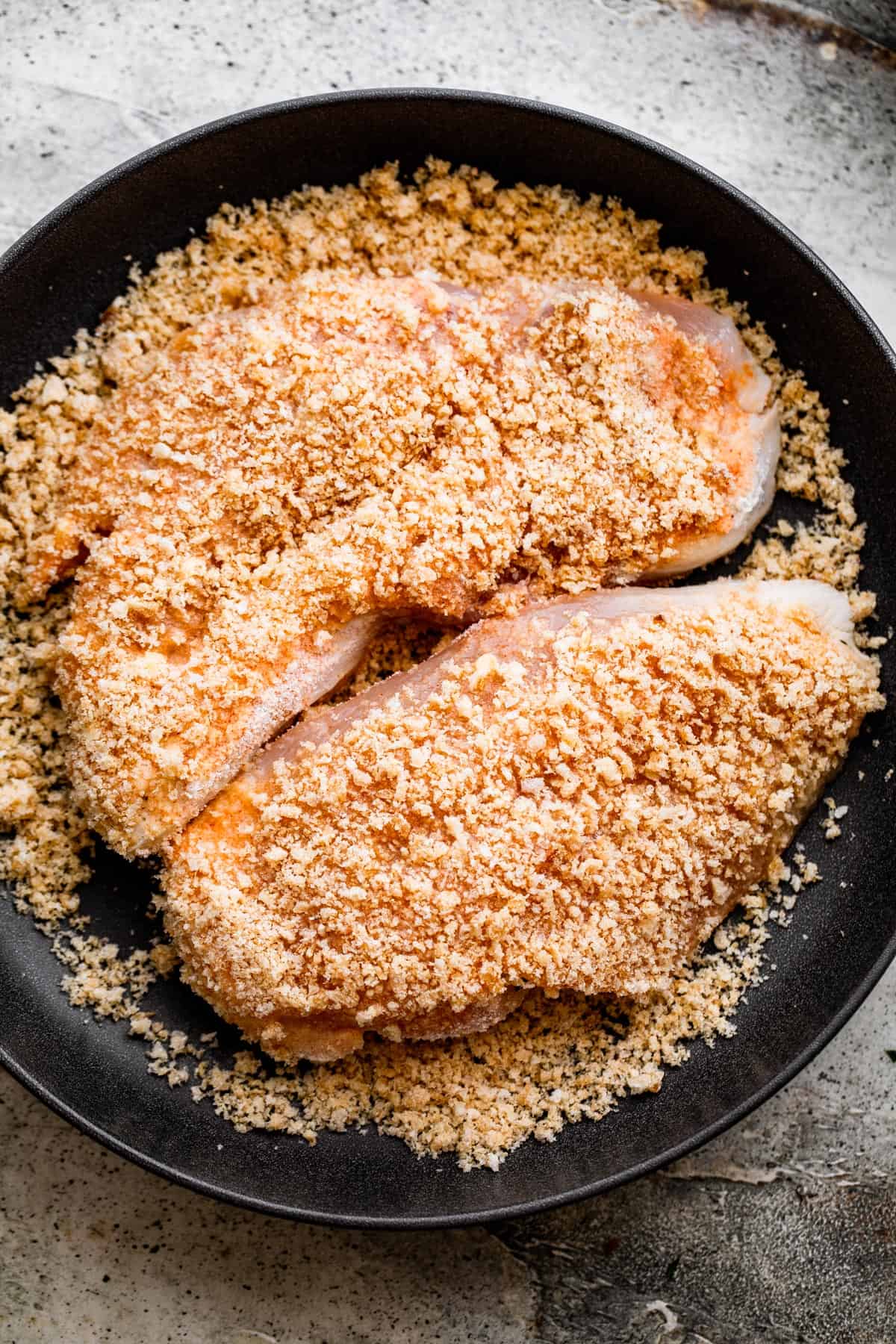 How to Make It
Once you try making this easy recipe, you'll want to make it again and again! It's such a simple method, and the results are so tender and good!
Trim the Chicken. To make the chicken thin enough, slice each breast into two pieces, lengthwise. Season them generously with salt and pepper.
Bread the Chicken. Set up your breading station with three shallow bowls. Combine the flour and paprika in one, beat the egg in the second, and put the panko in the third bowl. Add a pinch of salt to each bowl, and stir or whisk to combine.
Next, dredge each piece of chicken in the flour, then in the eggs, and last, in the panko crumbs. Jiggle the chicken gently over each bowl as you go, to shake off any excess. Place the chicken pieces on a baking sheet or plate.
Cook the Chicken. Heat half of the oil in a large skillet over medium-high heat. You'll know the oil is hot enough when you sprinkle a tiny bit of flour in, and it sizzles immediately, but doesn't burn. When the oil is hot, gently cook two chicken pieces at a time until golden and crisp. This takes about four or five minutes per side. When done, place the schnitzel on a paper-towel-lined plate or tray to drain, and cook the remaining chicken in the other two spoonfuls of oil.
Enjoy! Serve the schnitzel with lemon wedges.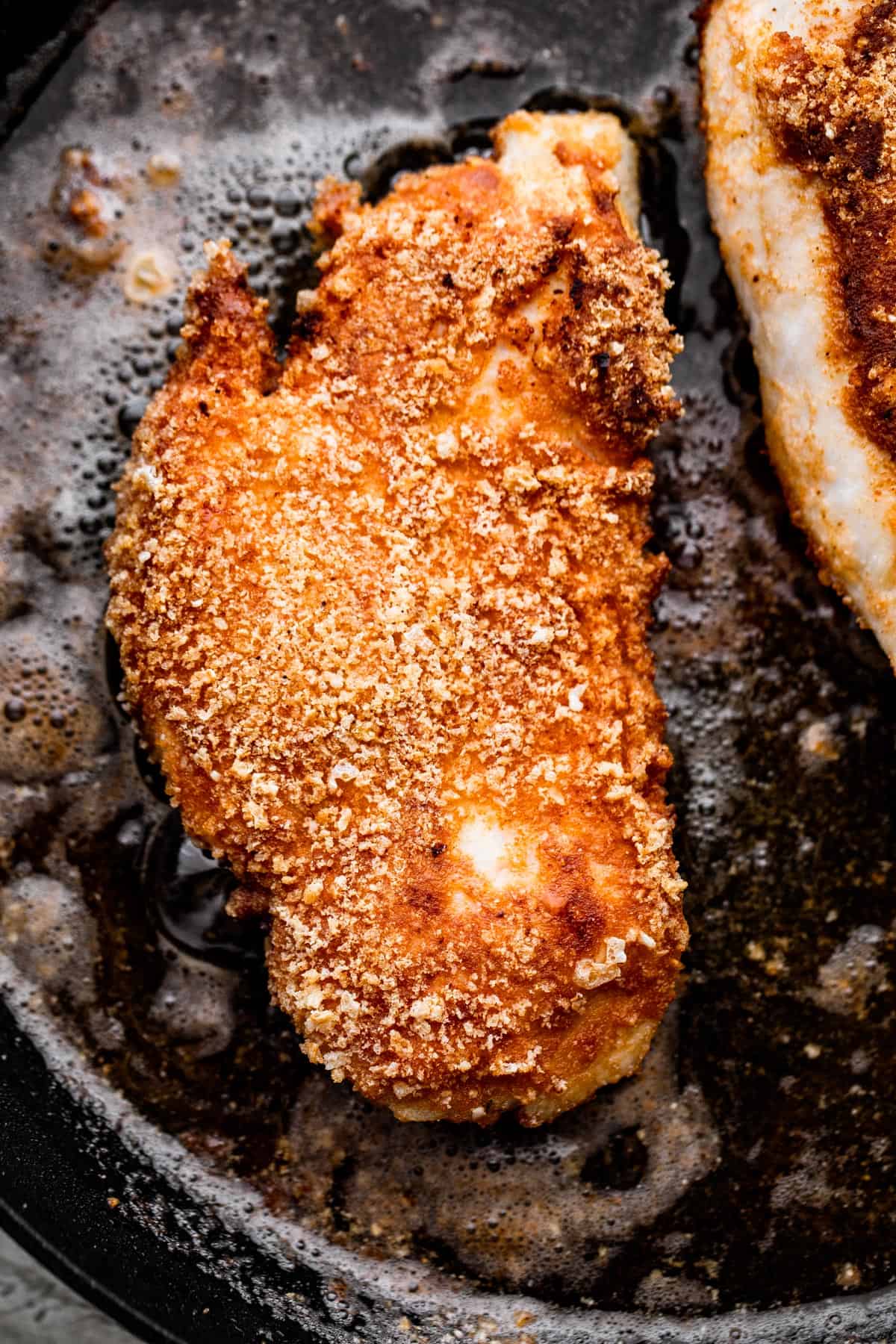 Easy Tips and Recipe Variations
With its golden crunchy texture, and simple, satisfying flavor, this recipe is super versatile! These helpful tips will help guarantee that your version turns out perfectly.
Pound It Thinner: While it's not necessary, pounding the chicken to a ¼-inch thickness can result in a crispier, more juicy schnitzel. AND it will cook up faster.
Swirl the Oil: Making this recipe with just a few spoons of oil gives a lighter, less greasy dish, but if you'd rather pan-fry in half an inch of oil or so, you can get a really crispy finish! Swirl the hot oil over the schnitzel as they cook and they'll be deliciously crunchy.
Add Mustard: For even more flavor, whisk a dollop of your favorite mustard into the eggs.
Make a Sandwich: Schnitzel is delicious served on a bun with mayonnaise! Add whatever toppings you like: tomato, lettuce, pickle, onion… the sky's the limit!
Make a Gravy: A rich cream gravy, savory onion sauce, or brown mushroom gravy would be perfect with this recipe!
Add Red Sauce: For a "schnitzel Parmesan," try spooning marinara over the cooked chicken and topping with mozzarella and Parmesan. Broil until the cheese melts, and enjoy!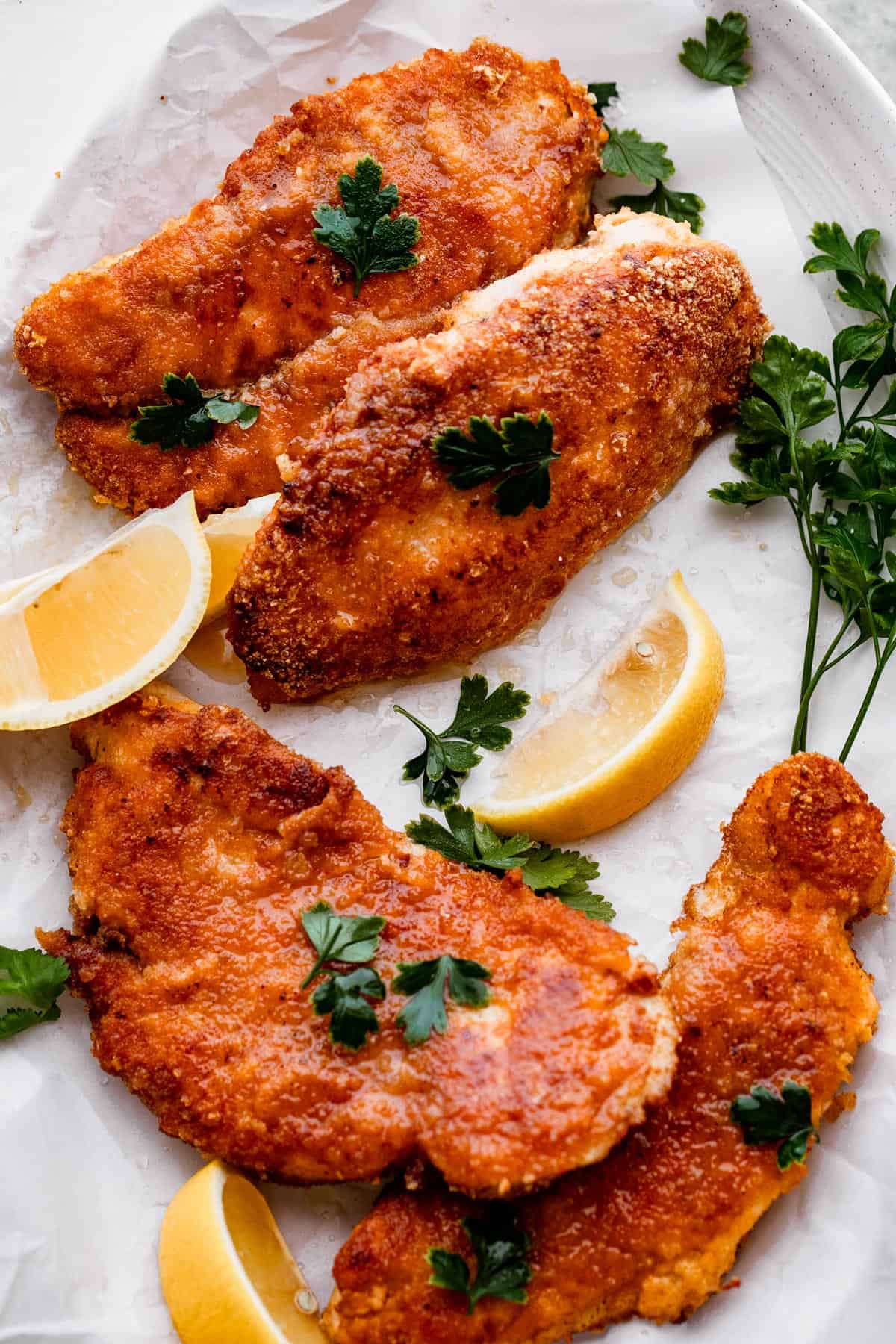 What Goes with Chicken Schnitzel?
To serve your crispy chicken, you could make some spaetzle (look for it on the international foods aisle!), French fries, or try one of these simple side dishes:
Potato Wedges: Satisfy that French fry craving with a side of these healthy homemade Grilled Potato Wedges! Made on a grill or grill pan, they are well-seasoned, crispy, and full of flavor.
Potato Salad: Traditional German potato salad is often served with schnitzel, but I think that American Classic Potato Salad is also a great option! It's creamy, tangy, and crunchy – perfection!
Stuffed Avocado: Any kind of green veggie would be lovely with chicken schnitzel, but Caprese Stuffed Avocados are the whole package! You'll love the fresh, complex, Italian flavor in this cool and nutritious side dish.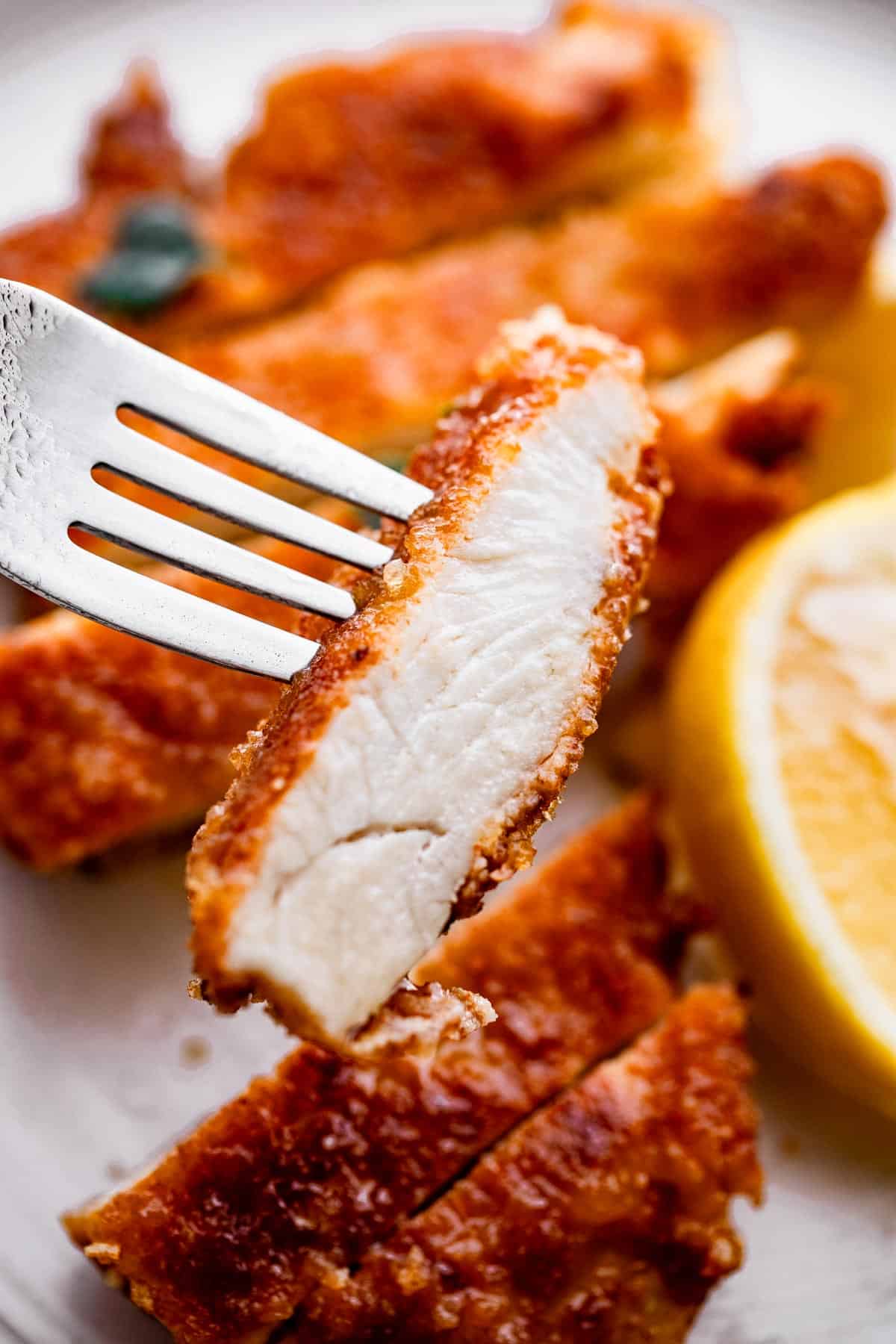 Storing and Reheating Your Schnitzel Leftovers
To refrigerate, seal leftover chicken schnitzel in airtight containers and store in the fridge. They'll stay good for three to four days.
To reheat, place the schnitzel on a baking sheet in a single layer. Spritz very lightly with your preferred cooking oil (this is optional but can help crisp up the breading). Bake in a preheated 400°F oven for 10 – 15 minutes, or until hot all the way through, turning once.
Can I Freeze It?
Yes, you can! Chicken schnitzel freezes well. Just cool the cooked schnitzel completely, and then freeze on a tray or plate until frozen solid.
Then seal the frozen pieces of schnitzel in freezer bags, pressing out as much air as possible, and store in the freezer for up to 4 months.
Thaw overnight in the refrigerator before reheating.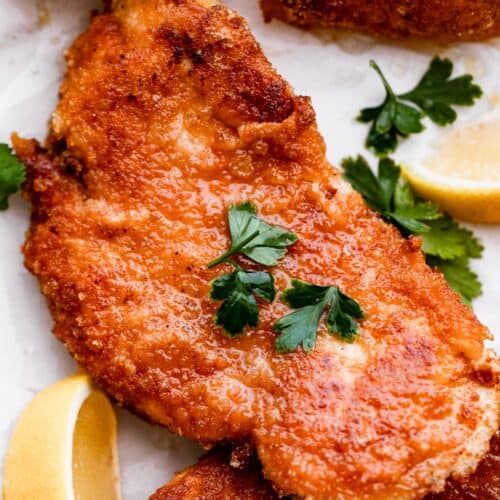 Print Recipe
Chicken Schnitzel Recipe
Ready in minutes, this quick Chicken Schnitzel Recipe delivers juicy, white meat chicken in a crunchy, flavorful breading.
Ingredients
2

large

boneless skinless chicken breasts,

(about 1 pound, total)

½

cup

all-purpose flour

1

teaspoon

paprika

2

large

eggs,

beaten

1

cup

panko breadcrumbs

4

tablespoons

canola oil,

or vegetable oil

1

lemon,

sliced into wedges, for serving
Instructions
Slice the chicken into two pieces, lengthwise.

Season the chicken fillets generously on both sides, with salt and pepper.

Combine the flour and paprika in a shallow bowl. Place the eggs in a second bowl. Place the panko in a third bowl.

Add a pinch of salt to each bowl, and stir or whisk to combine.

Dredge each chicken breast first in the flour, then in the eggs, and lastly in the panko, turning to coat all sides evenly. Shake off the excess over each bowl. Place the chicken on a baking sheet or plate.

Heat half of the oil in a large skillet over medium-high heat. When the oil is hot, gently place two chicken pieces in the skillet, and cook until golden and crisp, about 4 – 6 minutes per side. The internal temperature of the chicken will register 165°F when done.

Transfer the cooked schnitzel to a paper-towel-lined plate, and repeat with the remaining oil and chicken.

Serve chicken schnitzel with lemon wedges.
Nutrition
Calories:
414
kcal
|
Carbohydrates:
26
g
|
Protein:
31
g
|
Fat:
20
g
|
Saturated Fat:
3
g
|
Polyunsaturated Fat:
5
g
|
Monounsaturated Fat:
11
g
|
Trans Fat:
1
g
|
Cholesterol:
166
mg
|
Sodium:
278
mg
|
Potassium:
549
mg
|
Fiber:
2
g
|
Sugar:
2
g
|
Vitamin A:
421
IU
|
Vitamin C:
16
mg
|
Calcium:
58
mg
|
Iron:
3
mg
More Easy Chicken Recipes