If you are looking for an easy Homemade Pie Crust Recipe, look no further! This all-butter crust is flaky, easy, and perfect for any pie filling you like.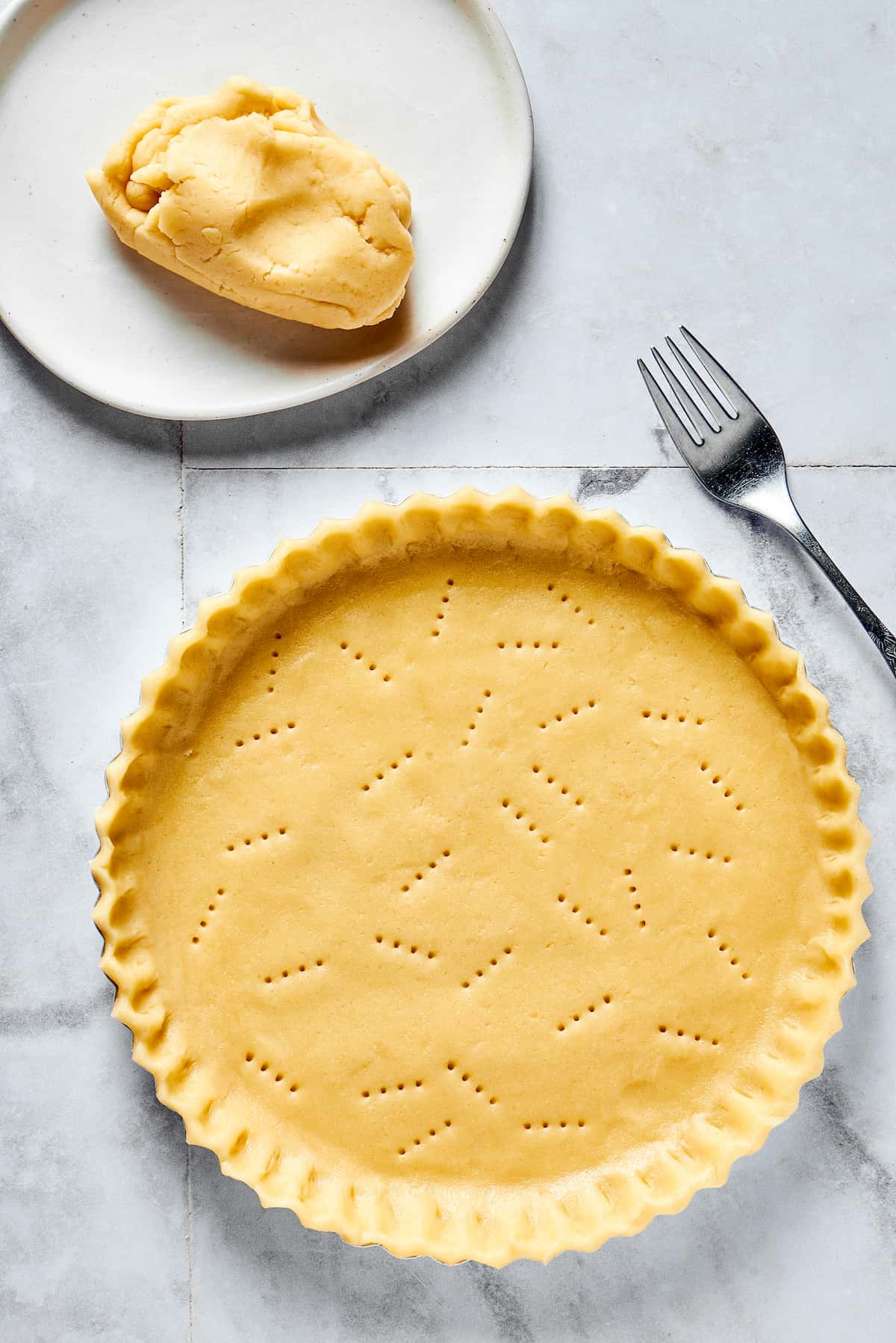 Perfect Pie Crust, Easy and Scrumptious!
When the holidays roll around, it's pie season! Pie is a favorite around here, as you can probably guess. From savory Chicken Pot Pie to this sweet summer Strawberry Pie, and all the other favorites in between – if it's got a flaky crust and scrumptious filling, we're here for it.
And, while you can certainly whip up some great pies using convenient store-bought crusts, I think the buttery goodness of homemade pastry just elevates each pie to a work of art. The best part? It's honestly super easy to do. So don't be intimidated! Check out this simple recipe, and you may just fall in love with homemade pie crust. It's that good!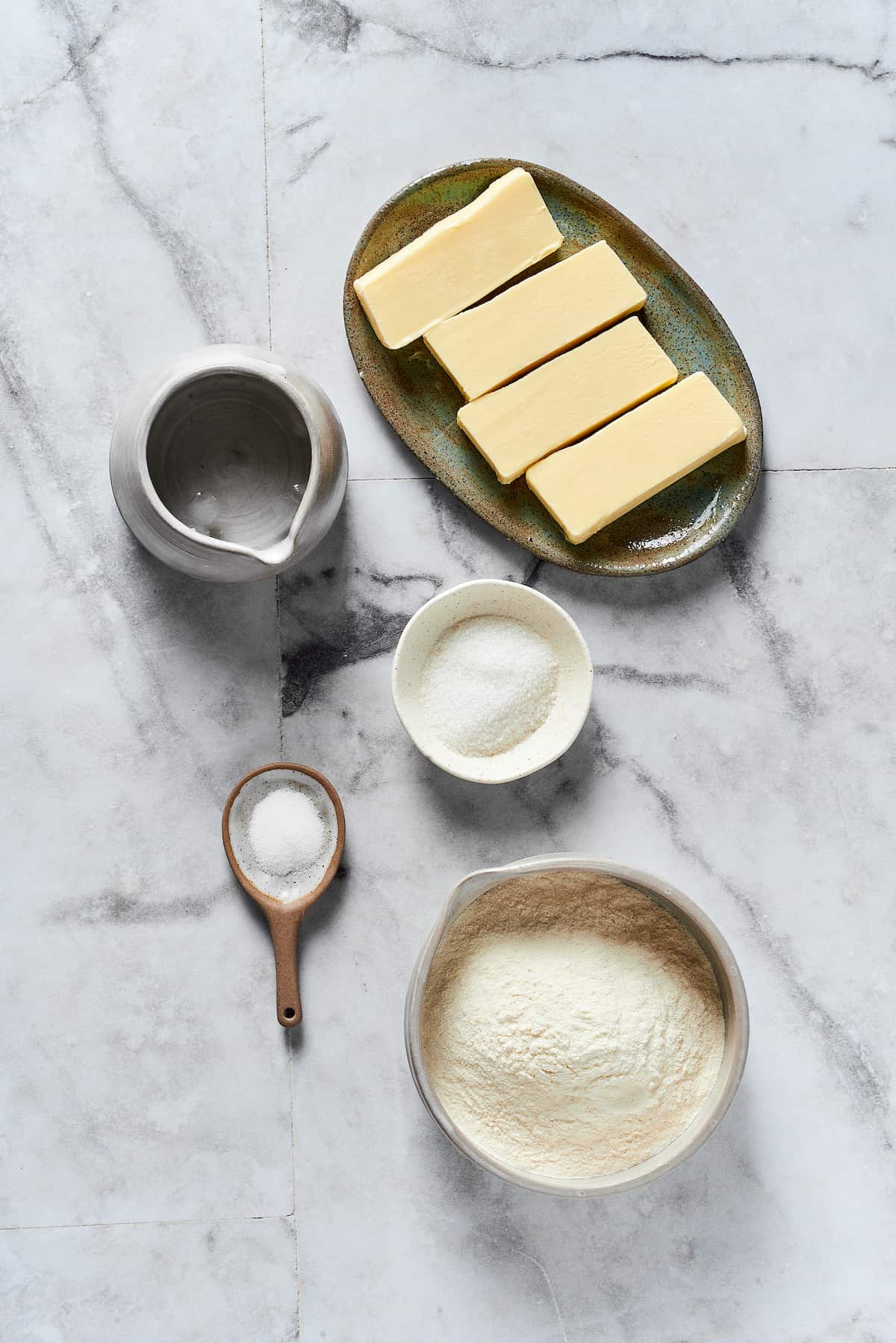 What Is Homemade Pie Crust Made Of?
My from-scratch pie crust is made with just a handful of ingredients: flour, butter, salt, and a little sugar for sweetness. Here's the breakdown:
Flour: I use all-purpose flour for this basic recipe.
Sugar: Regular granulated sugar is perfect, although you can substitute other types of sugar if you like. Keep in mind that coarse sugars may not get as evenly distributed through the crust.
Salt: Sea salt is my fave, but you can use any salt you like.
Butter: The butter needs to be cold, and diced into small pieces.
Water and Ice: Ice-cold water brings the crust together without melting the butter.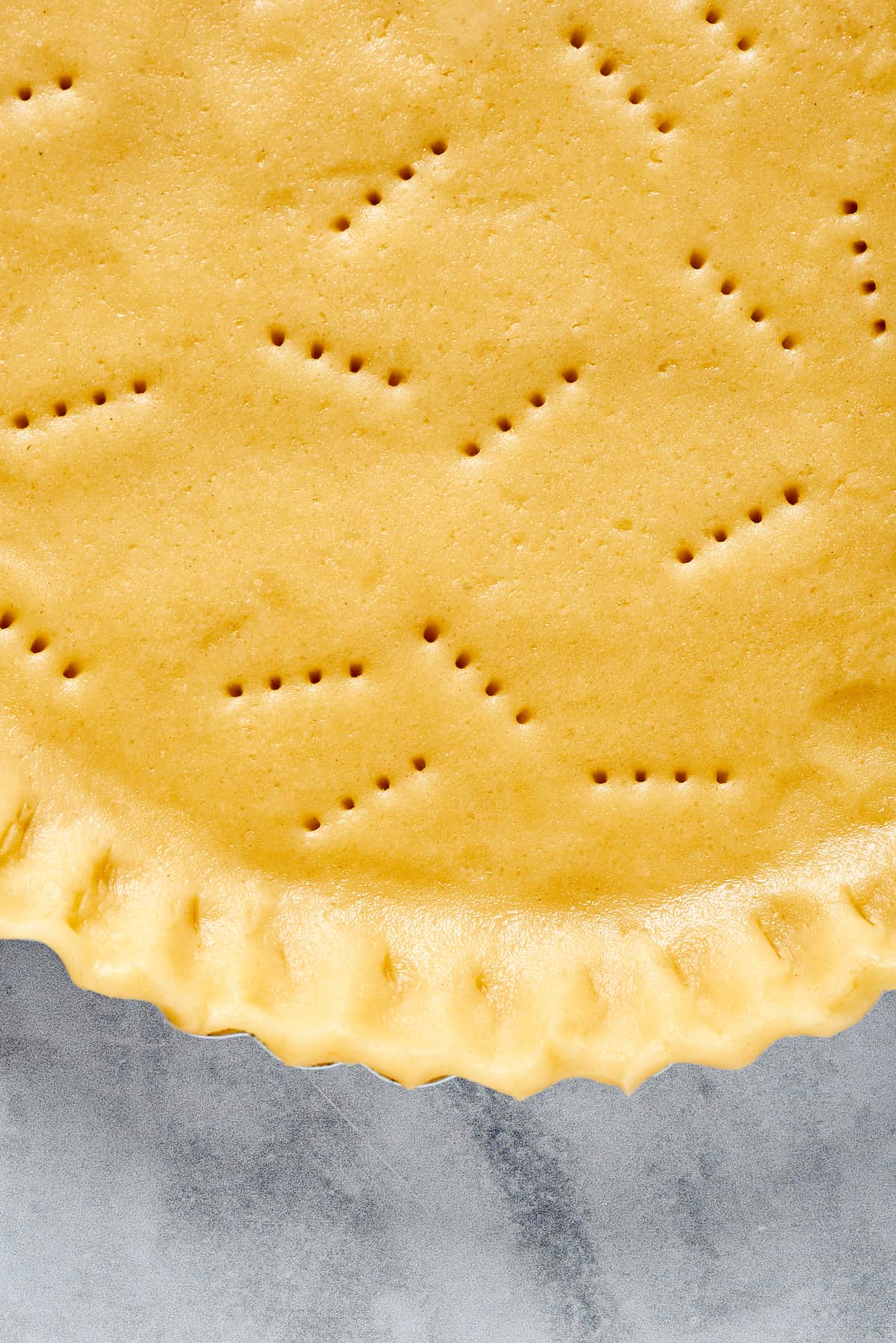 Is Pie Crust Better with Butter or Crisco?
Some cooks swear by the higher melting point of vegetable shortening to get a flakier crust, but I find that using all butter makes a very tender and flavorful crust. Keeping your ingredients cold and handling the dough lightly keeps the crust nice and flaky, even without shortening. However, if you want to use shortening, substitute roughly half of the butter with shortening.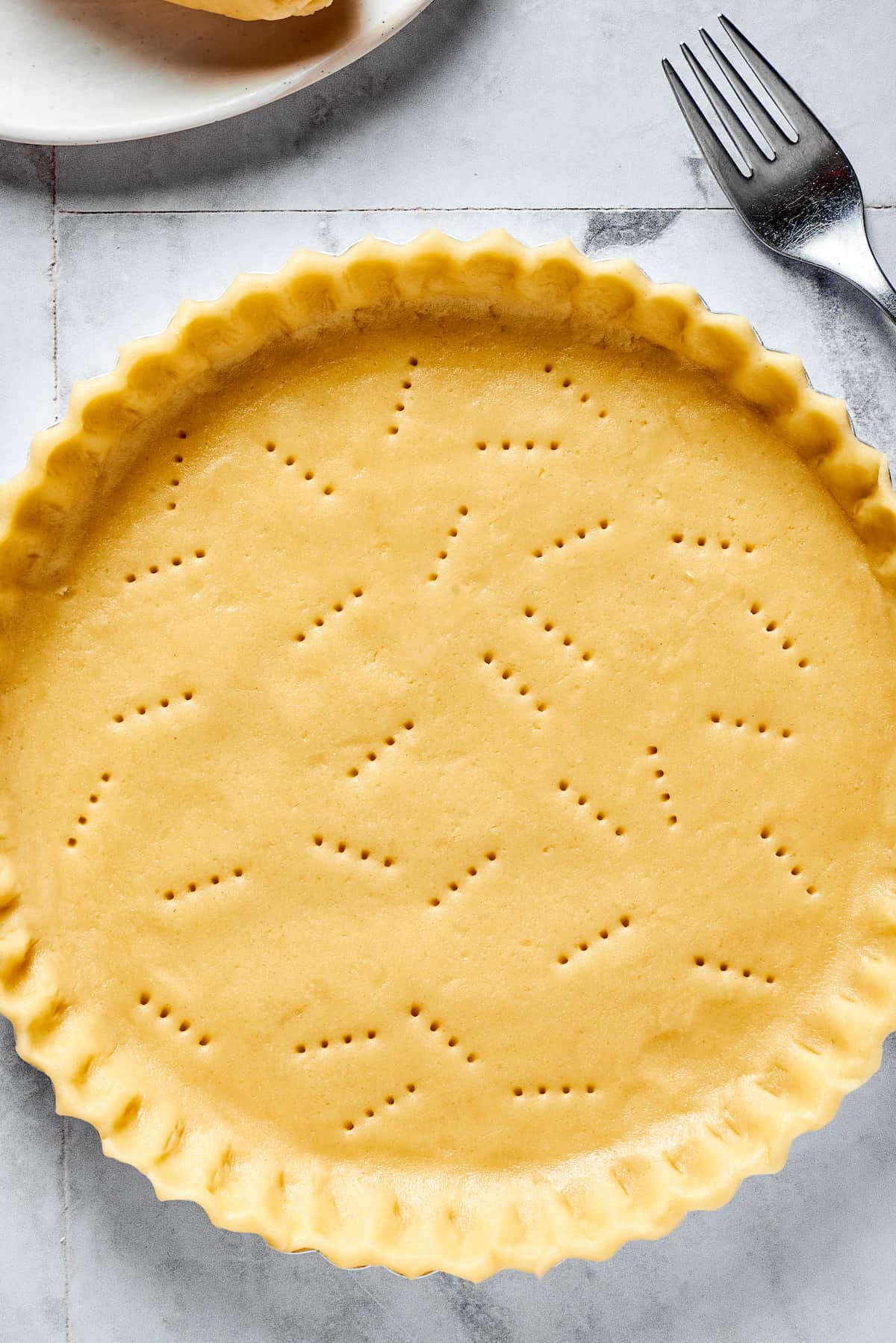 How to Make Pie Crust from Scratch
Making this crust is very simple, as long as you remember two important rules: first, keep your ingredients cold. Second, don't over-handle the dough. This will keep your crust light and flaky!
Combine the Dry Ingredients and Butter. First, get out a large mixing bowl and combine the flour, sugar, and salt in it. Stir or whisk to combine, and then scatter the diced cold butter over the dry ingredients. Using your hands or a pastry cutter, rub the butter into the flour to make a crumbly mixture with a few small pieces of butter here and there. Do this quickly – it's better for it to be a little bit imperfect than to warm the butter up.
Add Ice Water. Next, drizzle ice water over the dough one tablespoon at a time. After each tablespoon of water, give the dough a quick mix with a fork. It will start to come together sooner than you think! You are looking for a dry mixture, not a soft cookie dough texture. Don't knead the dough.
Chill the Dough. When the dough is moist enough to come together when you squeeze it or press it with the fork, gather it into a ball and flatten slightly into a disc. Wrap in plastic wrap or foil, and put it in the fridge for a while to rest (at least 45 minutes).
Shape the Pie Crust (or Freeze the Dough). Once your dough has chilled, you can roll it out and put it in your pie dish. To shape the dough, just turn it out onto a clean, lightly-floured work surface and use a lightly-floured rolling pin to roll it into a circle about ⅛ – ¼ inch thick. Carefully drape the crust over your dish, and gently press it into the corners to fit. (Not ready to bake? See the "Can I Freeze This?" section below for freezing instructions.)
Use or Store. Now you can continue baking your pie recipe, or you can store the pie crust in the dish, right in your refrigerator. Just cover well and use it within a couple of days.
Tips for Success
Are you excited to try making homemade pie crust? I hope so, because it is truly a rewarding recipe to practice and master. Everyone loves homemade, flaky crust, and this recipe makes it so doable. These tips will help even more:
Measuring the Flour: To prevent an overly-dry crust, make sure to measure your flour correctly. This means fluffing the flour a little with a clean, dry fork or knife, and spooning it gently into your measuring cup to avoid packing it down. Use a knife to scrape off any excess flour that's above the top of your measuring cup.
Be Sparing with the Water: It might seem like a few tablespoons of water couldn't possibly bring the dough together, but it definitely can! On the flip side, if you add too much water, the dough will suddenly become gummy and gluey. So be careful with this part, adding one spoonful of water at a time until you can squeeze the dough together with a fork or your hand.
Food Processor Optional: If you want to make this dough without using your hands, using a food processor can be a great option. It is very efficient for cutting the butter into the flour, and mixing the water in as well. However, it's totally optional! A pastry cutter or your hands will also work just fine.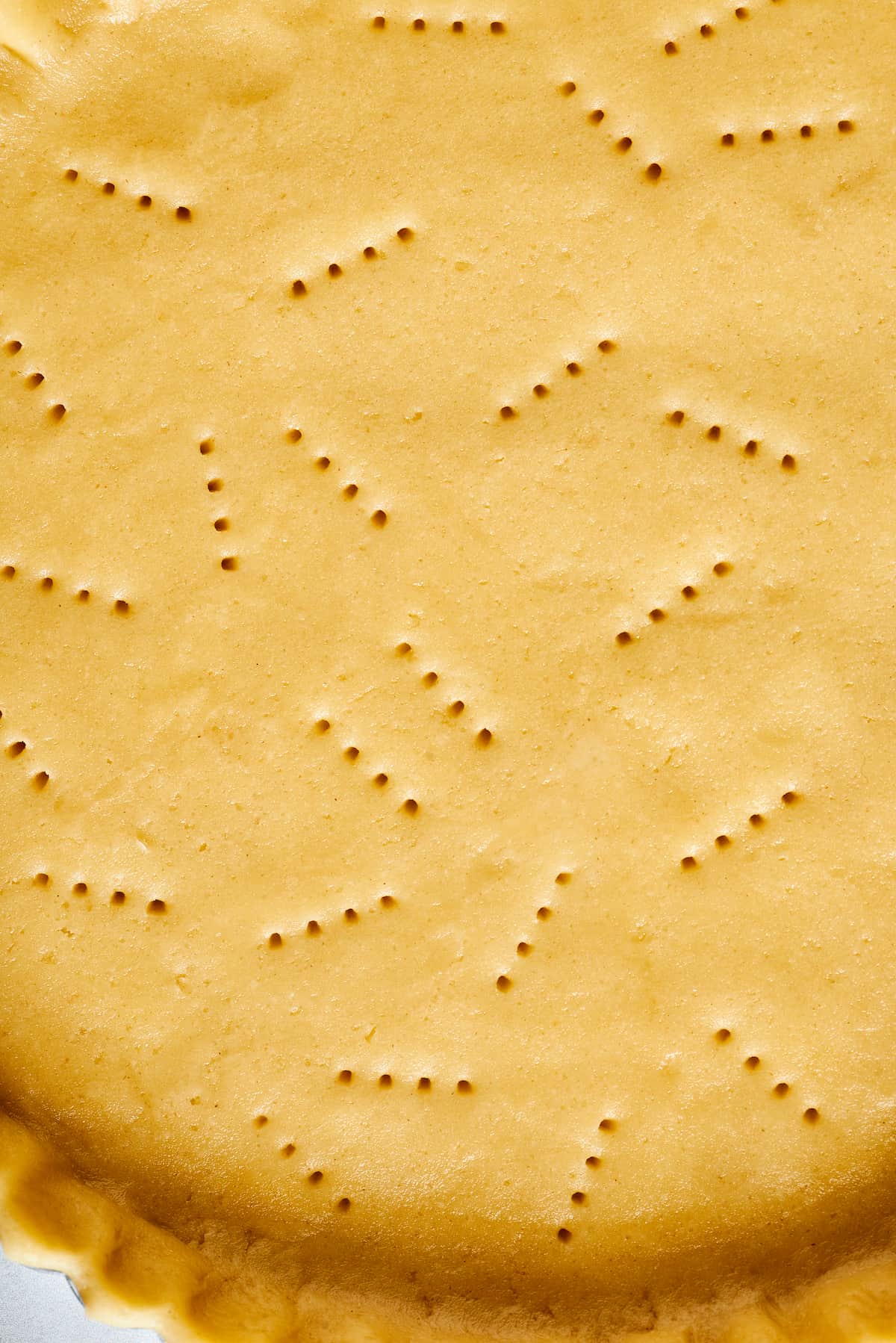 How to Store Pie Crust
Again, once you have made your pie crust, you can store it in your refrigerator for up to two days before baking it. To keep the crust fresh and keep other food odors from getting into the dough, make sure to wrap the pie completely in plastic wrap.
Can I Freeze This?
You definitely can! Just place the wrapped dough in the freezer for three months. Before baking, take it out of the freezer and thaw it in the fridge overnight.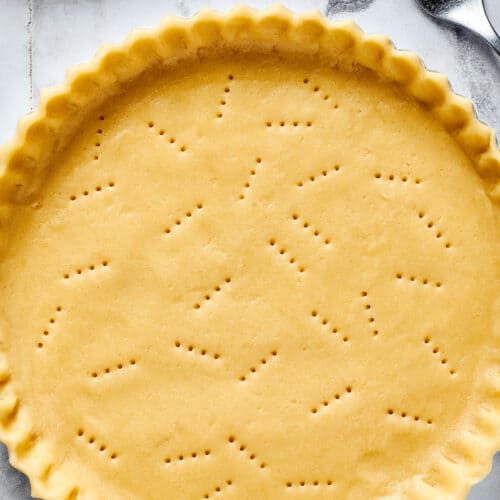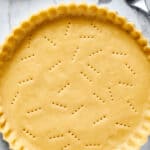 Print Recipe
Homemade Pie Crust
If you are looking for an easy way to make real Homemade Pie Crust, look no further! This all-butter crust is flaky, easy, and perfect for any pie filling you like.
Instructions
Combine flour, sugar and salt in a large bowl. Add the diced butter to the dry ingredients, and rub in the butter using your hands until dough is crumbly but there are still some small pieces of butter.

Drizzle dough with ice water, one tbsp at a time and mix with a fork until dough just comes together, do not knead the dough.

Form the dough into a ball, then flatten into a disc. Wrap disk in self- adhesive foil and place the dough in the refrigerator for at least 45 minutes to rest.

When the dough has rested, turn the dough out onto a clean, lightly floured work surface. Form into a round, flat disk, working quickly and being careful not to over-handle the dough. Roll out the dough to thickness about 1/8 to 1/4 inch.

Transfer the dough to the pie mold and shape it. If you do not use it right away, store it in the refrigerator and use it within 2 days. You can also store the dough in the freezer.
Nutrition
Serving:
1
pie crust
|
Calories:
1700
kcal
|
Carbohydrates:
131
g
|
Protein:
17
g
|
Fat:
124
g
|
Saturated Fat:
78
g
|
Polyunsaturated Fat:
5
g
|
Monounsaturated Fat:
32
g
|
Trans Fat:
5
g
|
Cholesterol:
325
mg
|
Sodium:
2143
mg
|
Potassium:
204
mg
|
Fiber:
4
g
|
Sugar:
12
g
|
Vitamin A:
3782
IU
|
Calcium:
63
mg
|
Iron:
7
mg
More Great Pie Recipes