Super-simple Instant Pot Chicken Burritos make for a fast, healthy, and satisfying dinner! Rice, black beans, and juicy chicken all cook together in the Instant Pot, along with a medley of mouthwatering spices.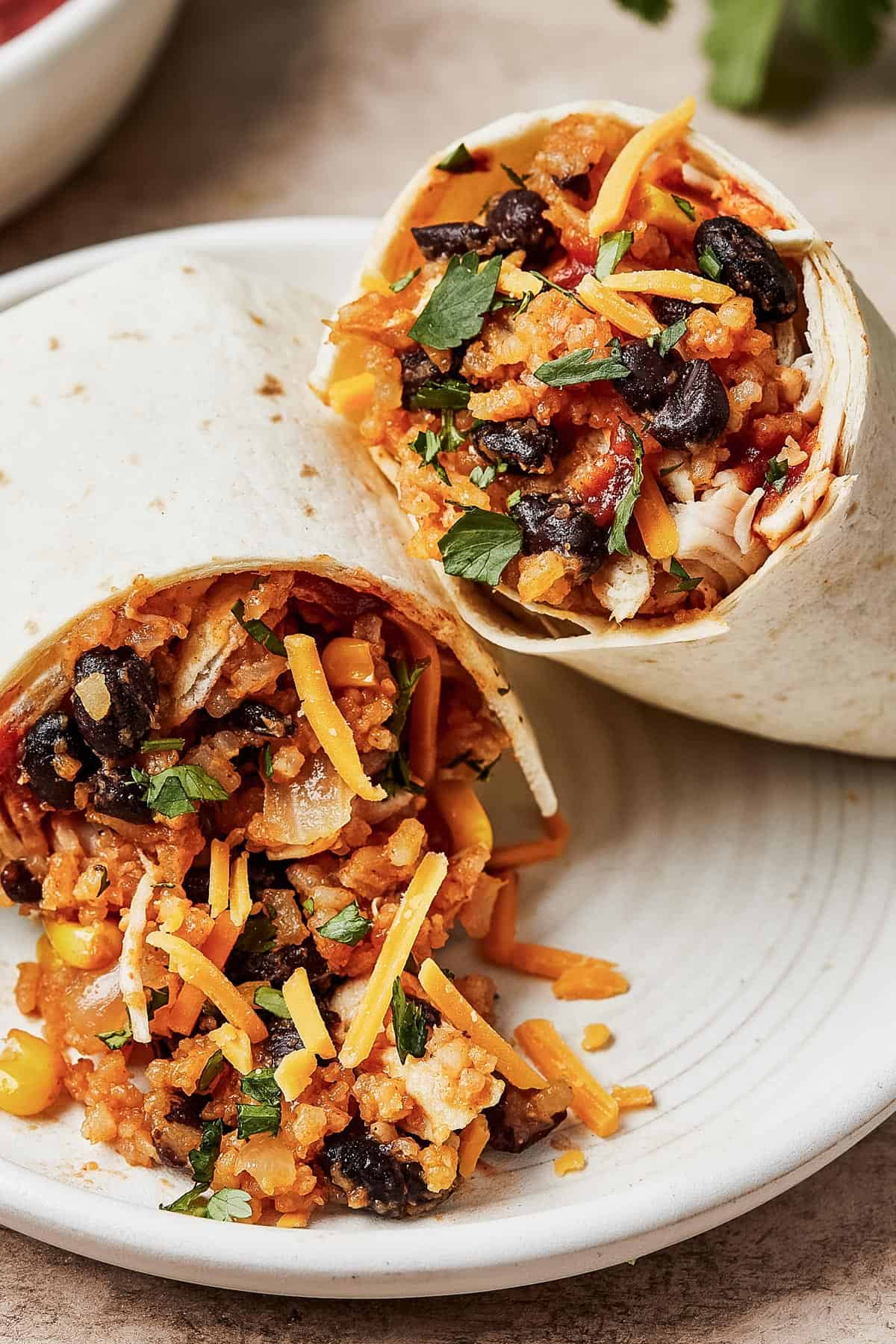 Homemade Chicken Burritos, the Easy Way!
Burritos are simple: a whole lot of goodness stuffed inside of a big ol' tortilla. The basic filling usually includes beans and rice, plus chicken or beef. From there, you can tip your burrito with sour cream, salsa, cheese… whatever floats your boat!
In this easy Instant Pot version, the beans and rice go into the Instant Pot along with boneless, skinless chicken breasts. Season, cook, shred, and voila! Dinner is practically done! Just top it your way and wrap up a tasty, homemade chicken burrito.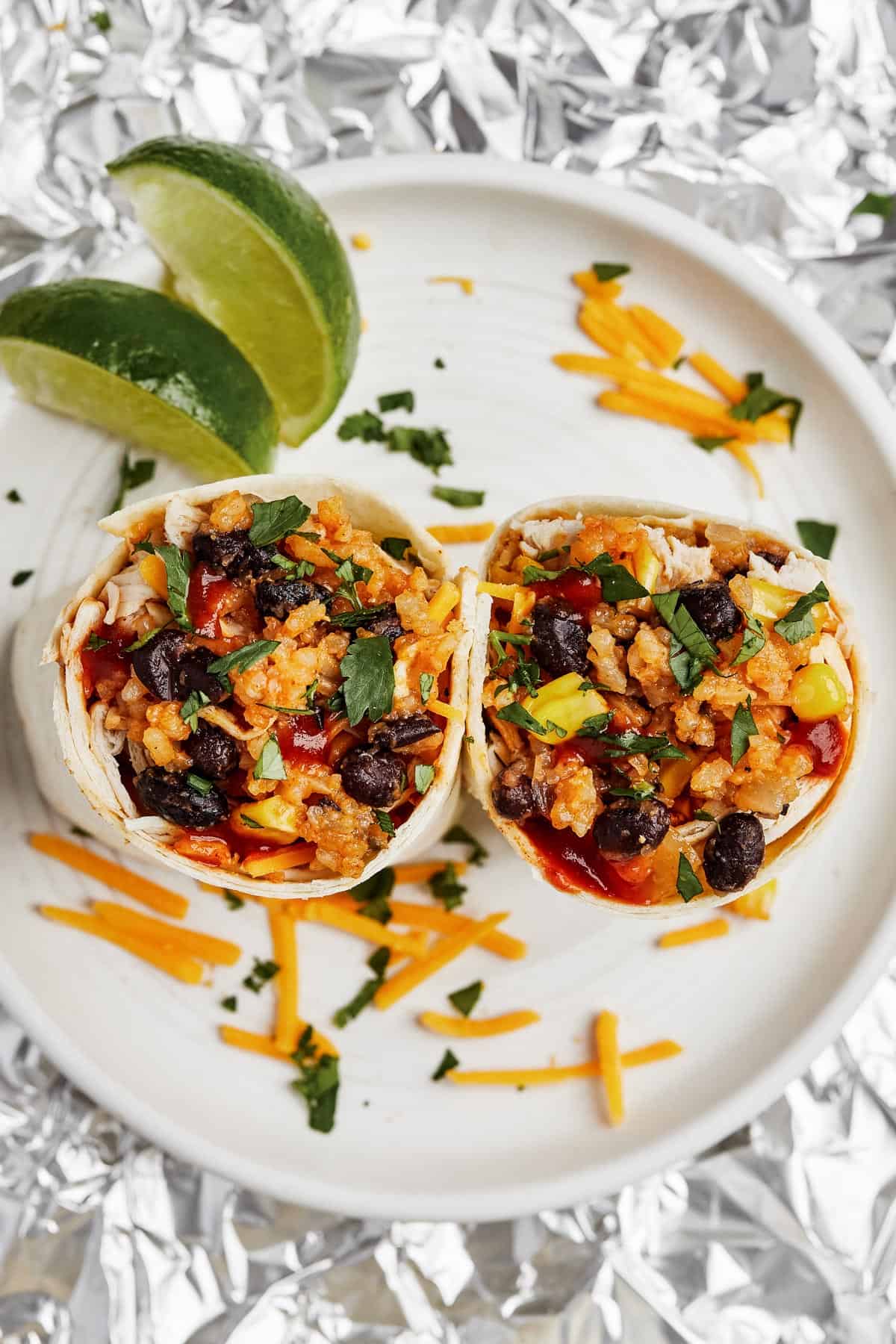 What's the Difference Between Tacos and Burritos?
Both can be made with flour tortillas, both can be stuffed with all kinds of tasty fillings, and both are beloved staples of Mexican and Tex-Mex cuisine. So is there really a difference between tacos and burritos?
Well, yes! Burritos are definitely similar to tacos, but there are a few key differences. Tacos are usually served on small tortillas that are folded in half. Burritos are made with big tortillas, folded and sealed into a cylinder.
Burritos also typically contain a rice-based filling, while tacos do not. In general, a burrito is generally a large, filling, carb-heavy food, while tacos tend to be smaller and contain fewer carbs. Check out these Freezer Burritos – they.are.incredible!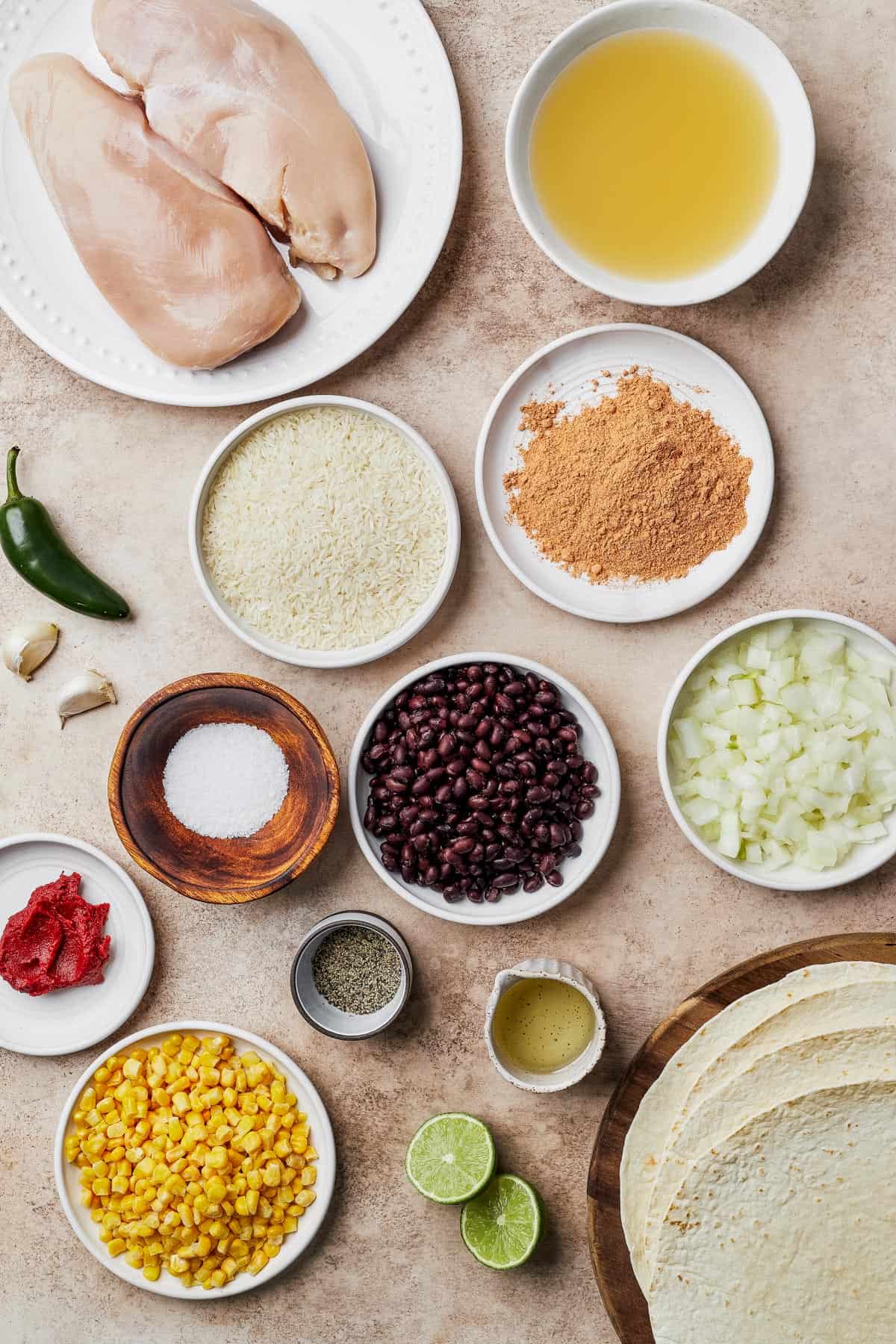 The Ingredients You'll Need
Let's take a look at the ingredients for this recipe. You'll notice it contains jalapeño, for a spicy kick – but if you don't like jalapeño, no worries! The burritos will be equally good without it.
Oil: You'll need your favorite high heat oil, for sautéing.
Onion: Chop up one medium yellow (or white, or red) onion.
Garlic: I use fresh garlic, minced, but you can definitely substitute garlic powder.
Jalapeño: The jalapeño should have the seeds removed, and be finely minced. You may want to use gloves when doing this – and definitely wash your hands and tools very well afterward. Do not get jalapeño juice on your face or in your eyes. 😣
Tomato Paste: Tomato paste adds depth of flavor and a slight tangy sweetness.
Broth: Chicken broth is great, or you can use vegetable broth.
Rice: Regular long-grain white rice is my go-to. Do not use brown rice, quick rice, or instant rice – these require a different cooking time.
Beans: Rinse and drain a can of black beans.
Corn: Fresh, frozen, or canned corn are all fine.
Lime Juice: Fresh lime juice is my favorite, but bottled is also fine. Lemon juice can be substituted, too.
Taco Seasoning: A taco seasoning packet (or a couple of tablespoons of homemade taco seasoning) makes this recipe even easier.
Chicken: Boneless, skinless chicken breast is perfect for burrito filling! Once the filling is cooked, you can shred the chicken right in the pot.
Salt and Pepper
Tortillas: I recommend 10-inch flour tortillas, for easy rolling.
What Do You Put On These Chicken Burritos?
Toppings-wise, what should you put on a chicken burrito? Honestly, just about anything! There are all kinds of goodies you can choose from – here's a list of our favorites:
Shredded Cheese
Sour Cream
Chopped Tomatoes
Tomatillo Salsa
Pico de Gallo
Guacamole
Sautéed Peppers and/or Onions
Sautéed Mushrooms
Queso Dip
Chopped Cilantro
Sliced Avocado
Lime Wedges (for squeezing)
How to Make Instant Pot Chicken Burritos
The method for making these easy chicken burritos involves two steps: sautéing, and pressure cooking. And it all happens right in the Instant Pot, which saves time and dishes!
Sauté the Onions. Turn your InstantPot on to saute mode (if you have temperature options, select low or medium – you don't want to burn the onions on high heat) and add the oil. Once the oil is hot, add the chopped onions and saute them until they are softened and slightly translucent. This will take about 2 to 3 minutes.
Add the Garlic, Jalapeño, and Tomato Paste. Add in the minced garlic and jalapeno, as well as the tomato paste, and stir around for a minute or two to release the fragrance. Be careful to avoid burning the garlic.
Add the Remaining Ingredients. Now, pour in the chicken broth, rice, beans, corn, lime juice, and the taco seasoning. Mix well to incorporate the seasoning. Arrange the chicken on top of the rice and bean mixture, or place it on top of a steamer rack/basket inserted into the Instant Pot. Season with salt and pepper.
Pressure Cook. Lock the Instant Pot lid into place, and press "cancel" to stop sautéing. Pressure cook the burrito Ingredients on high pressure for 10 minutes. Once the time is up, wait another 10 minutes for the pressure to naturally release. Then, open the valve to release any remaining pressure.
Shred the Chicken. When the pressure is completely released, and the safety indicator is down, carefully unlock the lid. Take the chicken out of the pot and set it aside in a mixing bowl. Give the beans and rice mixture a good stir, and then use two forks to shred the chicken breasts.
Finish the Dish. Mix the shredded chicken back into the rice mixture. Assemble your burrito by scooping some of the chicken filling onto a tortilla, and adding any desired toppings. Fold the sides in, roll the tortilla up, and serve.
Enjoy!
Tips for Success
Cooking in the Instant Pot is known for being easy and quick – but there are still a few helpful hints I would like to share. There's nothing more disappointing than getting a burn notice on your Instant Pot, and having to start over, or opening it up to find that some of your ingredients are done, while others are still uncooked. These tips are all about avoiding those issues!
Don't Overload the Pot: Avoid using more (or bigger) chicken breasts in this recipe. Adding too much chicken may result in the Instant Pot not coming to pressure, giving a "burn" warning, or simply undercooked chicken! 1-1.5 pounds of chicken is ideal.
Deglaze the Pan: After sautéing your ingredients, make sure to deglaze the pot. That means scrape the bottom of the pot after adding the liquid, so that any browned bits get un-stuck from the pot and incorporated into the ingredients. You'll achieve a more flavorful dish, and avoid the dreaded burn notice. Win-win!
Use the Right Rice: This dish was designed for long-grain white rice, and may not work well with short grain rice, instant rice, or other substitutes. Wild rice and brown rice are especially off-limits here! They take much longer to cook than white rice.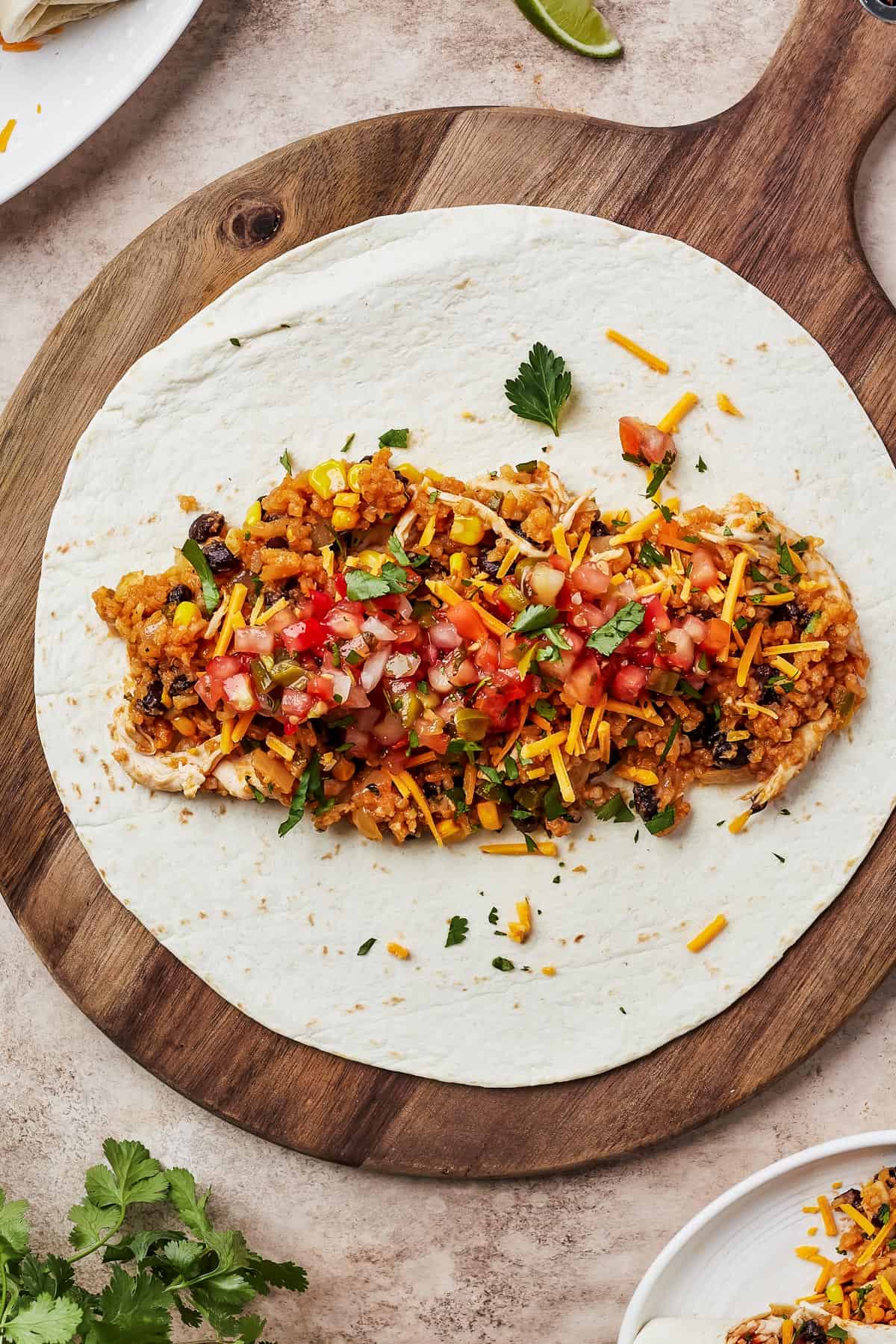 Festive Serving Suggestions
Chicken burritos are really a meal all on their own – but a few side dishes can be nice as well, to add interest to the dinner menu. If you'd like to make a side dish or two to go along with your chicken burritos, these are easy, tasty options:
Chips and Salsa: If you're anything like me, the complementary chips and salsa you get at Mexican restaurants is practically the highlight of the meal! I love serving crispy chips and tangy, chunky salsa at dinnertime. It's festive, and everyone always loves it. To make things even more special, try serving Mexican Seven Layer Dip instead of salsa – yum!
Cowboy Caviar: You can't go wrong serving a fresh salad at any meal, whether you go with a garden salad, chopped salad, or just an iceberg wedge. Cowboy Caviar is a great side dish that's similar to a chopped salad, but works equally well as a dip or even as a burrito topping! With tomatoes, avocado, red onion, fresh corn, and lots more, this is an addictively delicious fresh veggie side.
Grilled Pineapple: This mouthwatering Tequila Grilled Pineapple is a unique side dish that goes perfectly with a spicy burrito. No grill? No problem! Make this in any heavy skillet (cast iron is great), on a grill pan, or on a griddle.
How to Store and Reheat Leftovers
To store, you can refrigerate the filling in an airtight container for 3 to 4 days, and reheat a portion at a time to make burritos. You can also roll up your burritos without toppings, wrap them in foil, and refrigerate for 2 to 3 days.
To reheat, just microwave the filling until hot, or reheat the entire burrito (without foil) in the microwave until hot, about 1 to 2 minutes.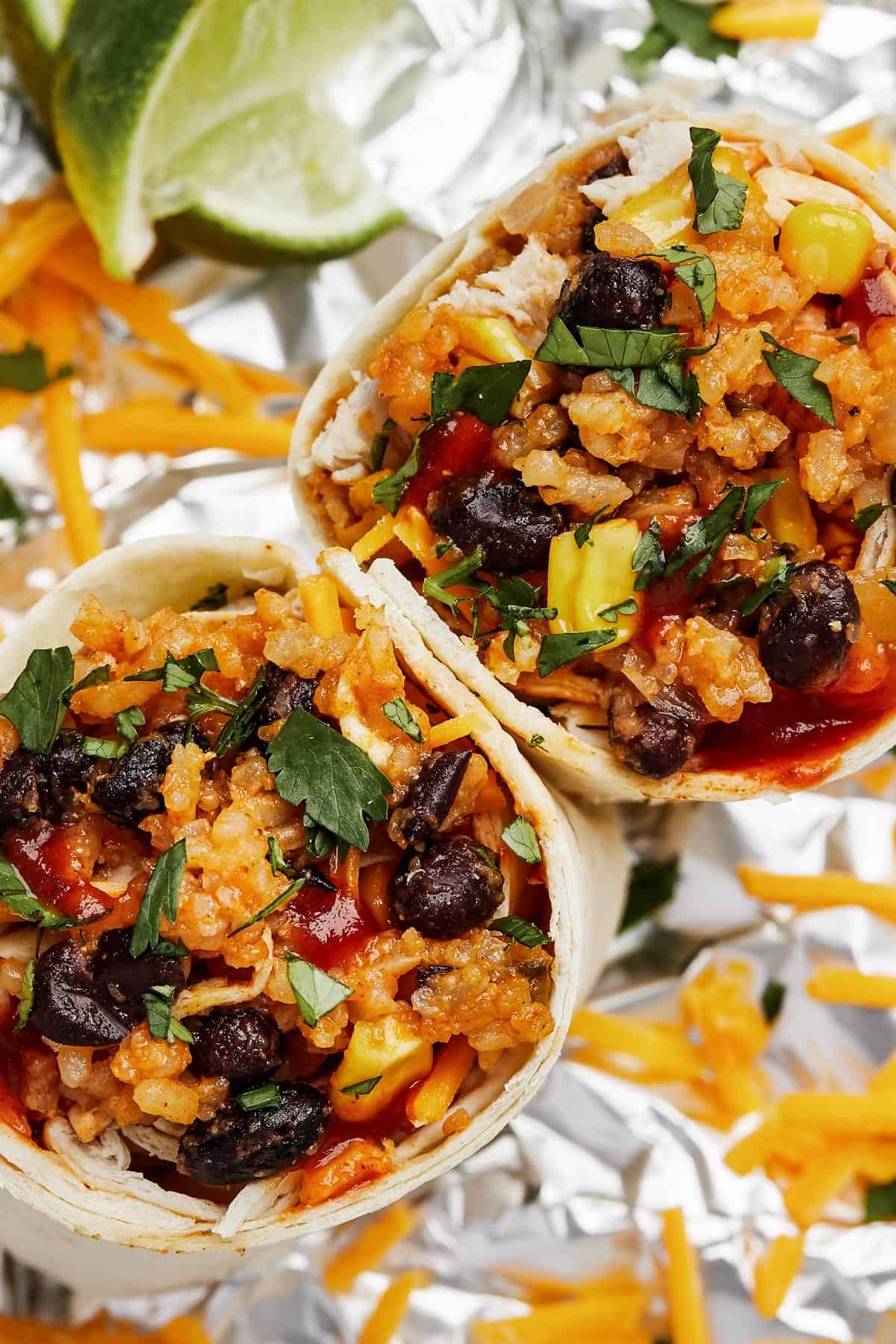 Can I Freeze Homemade Chicken Burritos?
Definitely! To freeze homemade chicken burritos, just roll the filling mixture in your tortillas, without any toppings.
Wrap the burritos in foil, mark them with the date, and freeze for up to 1 month.
To reheat from frozen, remove the foil, cover the burrito in a damp paper towel, and microwave for about 2 to 4 minutes. Once the burrito is warm, add any desired toppings and re-roll.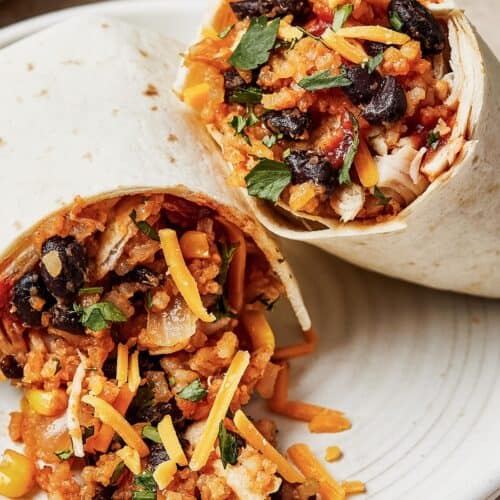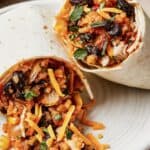 Print Recipe
Instant Pot Chicken Burritos
Instant Pot Chicken Burritos make for a fast, healthy, and satisfying dinner! Rice, black beans, and juicy chicken all cook together in the Instant Pot, along with a medley of delicious spices.
Ingredients
2

tablespoons

cooking oil

1

medium yellow onion,

chopped

2

cloves

garlic,

minced

1

jalapeno,

seeds removed and finely minced

2

tablespoons

tomato paste

2

cups

chicken broth

1

cup

long grain white rice

1

can black beans,

rinsed and drained

1

cup

yellow corn

2

tablespoons

lime juice,

about 1 lime

1 to 1.5

pound

boneless, skinless chicken breasts

1

teaspoon

salt

½

teaspoon

pepper

6

(10-inch)

flour tortillas
Optional Toppings:
Avocado

Lime wedges

Chopped Cilantro
Instructions
Turn your Instant Pot on to Sauté mode and add oil. Once heated and shimmering, add onion and saute until softened and slightly translucent, about 2 to 3 minutes.

Add in garlic, jalapeno, and tomato paste. Saute for another 1 minute, or until fragrant.

Pour in chicken broth, rice, black beans, corn, lime juice, and taco seasoning. Mix until seasoning is incorporated.

Place the chicken on top of the rice and bean mixture or on top of a steamer rack/basket inserted into the Instant Pot. Season the chicken with salt and pepper.

Cover the Instant Pot and cook on high pressure for 10 minutes. Once the time is up, let it naturally release for another 10 minutes. Then, open the valve to release any excess pressure.

Remove the chicken and stir the beans and rice mixture.

Using two forks, shred the chicken breasts.

Mix together the shredded chicken and rice.

Assemble burritos by scooping the rice and bean mixture into the tortilla and adding any desired toppings.

Fold the sides in, roll, and serve immediately.
Nutrition
Calories:
548
kcal
|
Carbohydrates:
71
g
|
Protein:
34
g
|
Fat:
13
g
|
Saturated Fat:
3
g
|
Polyunsaturated Fat:
4
g
|
Monounsaturated Fat:
5
g
|
Trans Fat:
1
g
|
Cholesterol:
74
mg
|
Sodium:
1213
mg
|
Potassium:
712
mg
|
Fiber:
5
g
|
Sugar:
4
g
|
Vitamin A:
162
IU
|
Vitamin C:
9
mg
|
Calcium:
97
mg
|
Iron:
3
mg
More Instant Pot Favorites