Easy Instant Pot Carne Asada is a perfect weeknight dinner, delivering juicy strips of steak in a mouthwateringly spicy citrus marinade. It's a classic grilled steak dish made easy in the Instant Pot!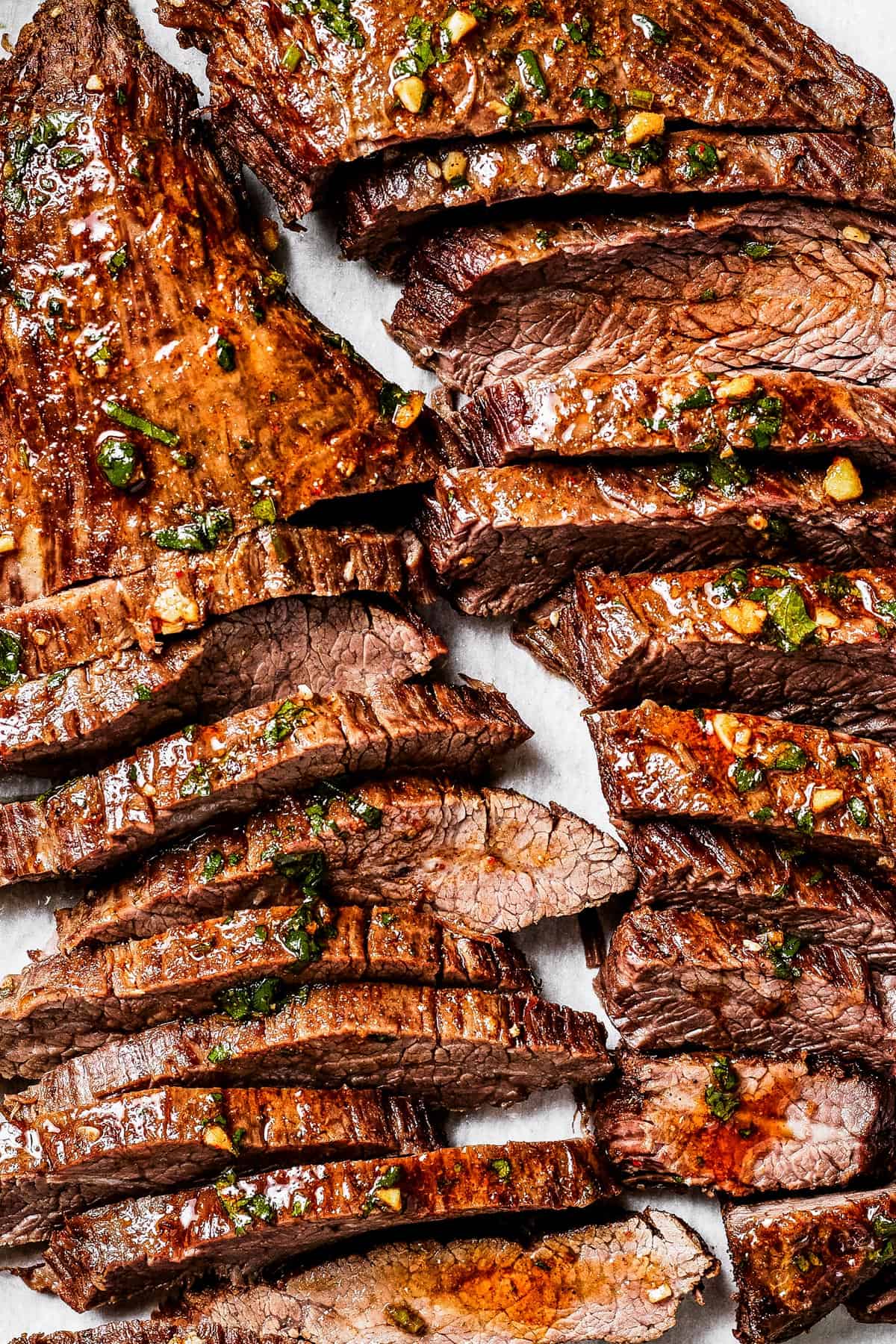 Picture-Perfect Carne Asada, Anytime!
Are you a Taco Tuesday fan? I know a lot of us are definitely on the bandwagon, and seriously, what's not to love? Tacos are a family-friendly classic, meaty and light all at once, with tons of topping fun built right in.
But, even Taco Tuesday can get a little stale if you find yourself making the same thing, over and over. That's why I like to change it up from time to time, by making something a little different but still in the same ballpark: fajitas, enchiladas, burrito bowls… or this easy recipe for carne asada!
Now usually, carne asada is made with grilled flank steak, at least in the U.S. So this recipe is a bit different, because the steak is seared and then pressure cooked until tender. It might not be a traditional way to cook carne asada, but believe me, it is a flavor fiesta! And, it's easy to make anytime, not just during grilling season.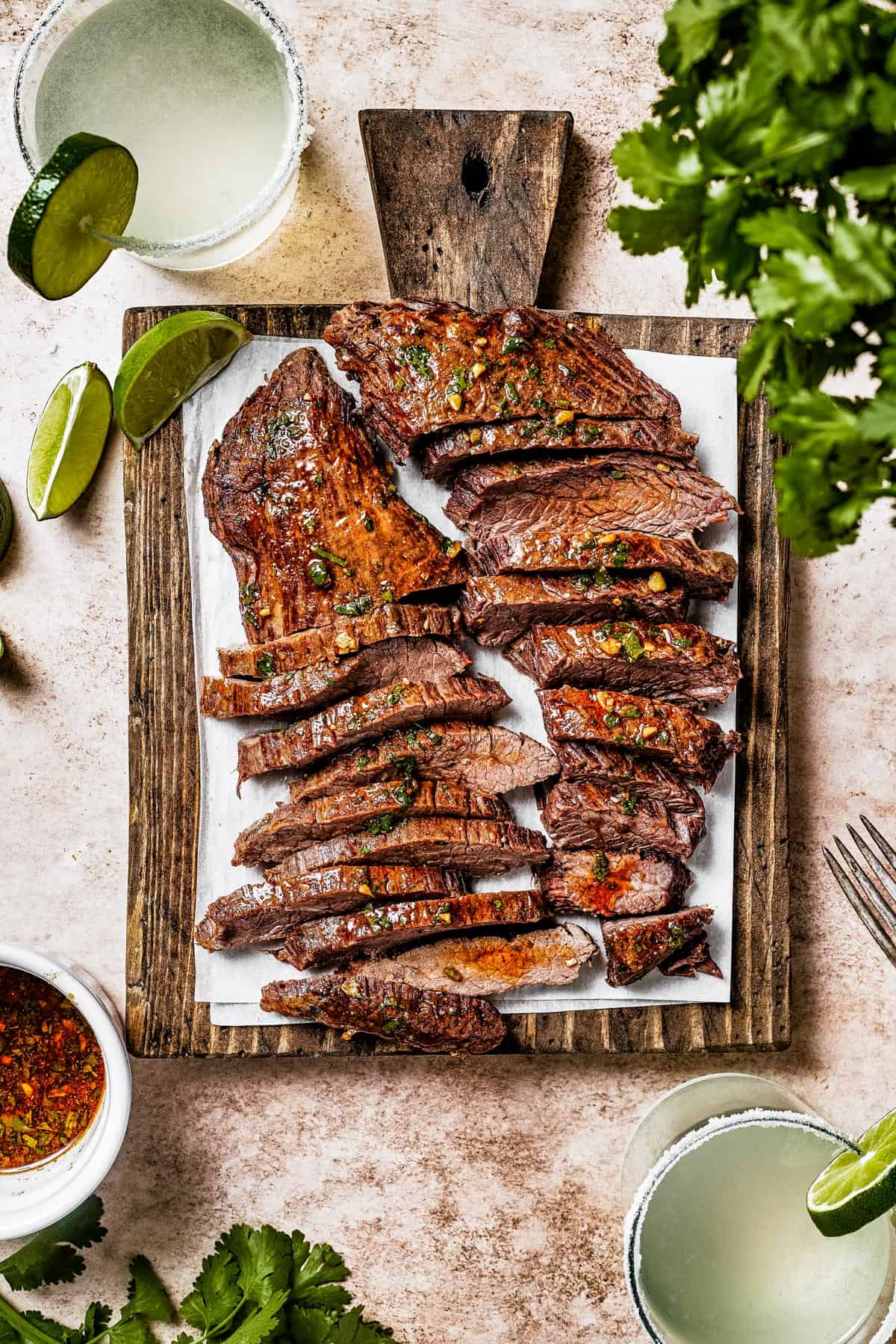 What Exactly Is Carne Asada?
If you're wondering what carne asada actually is, get ready – because you are in for a treat! Translated, "grilled meat," carne asada is made of grilled steak, sliced into thin strips, marinated in a citrusy, spicy marinade. There are many, many different recipes and methods for making carne asada depending on the country and region, each one amazing!
For this version, I'm using a blend of orange and lime juice, plenty of cumin and chili powder, garlic, and lots of other goodies. Let's do this!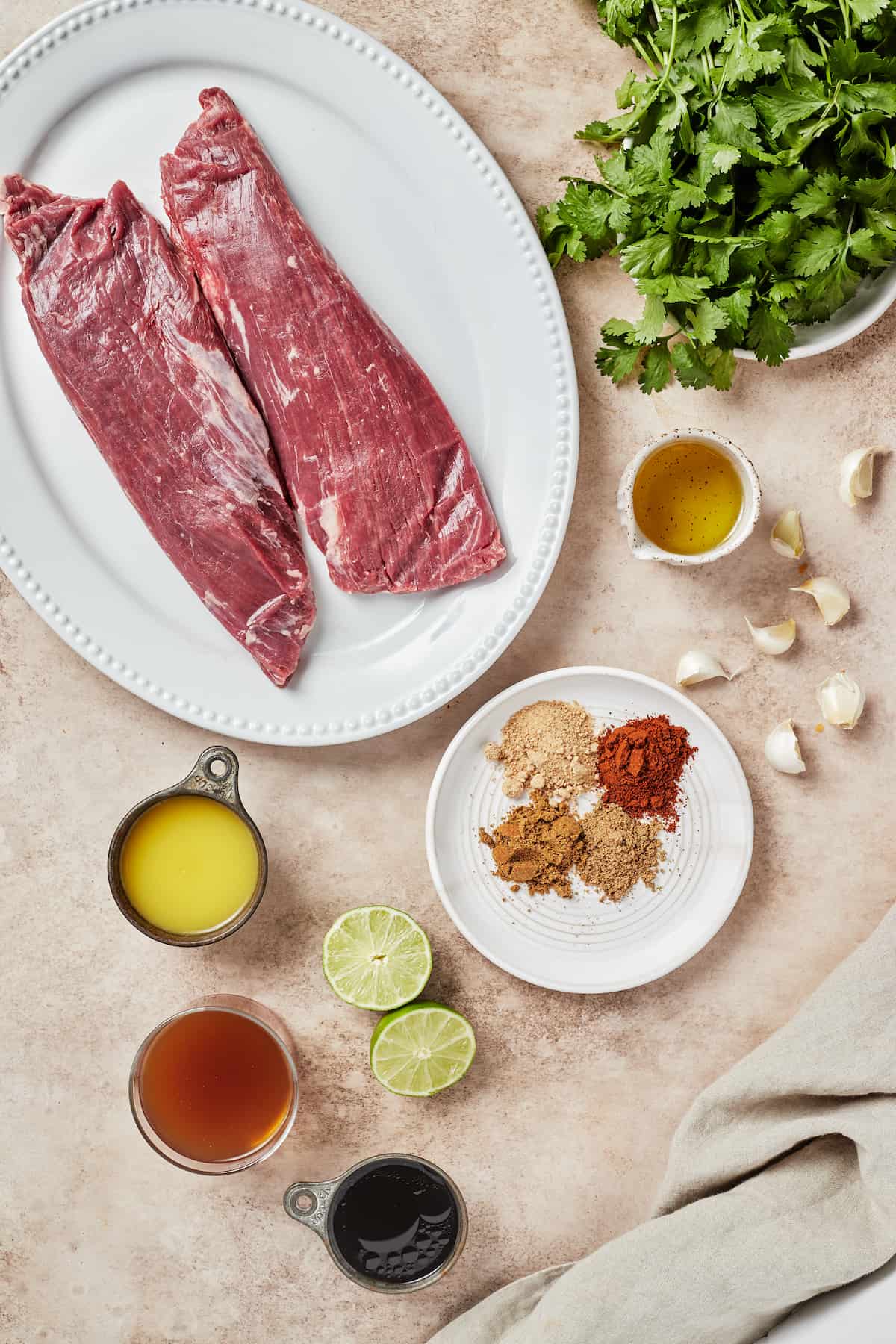 Ingredients You'll Need
The ingredients for this recipe are steak, and marinade items. I use flank steak for my carne asada, but you could also use skirt steak and get good results.
Avocado Oil: This neutral oil is great for marinating and cooking as well, which makes it a perfect fit for this marinated and seared steak recipe.
Tamari: Tamari sauce is very similar to soy sauce, so if you don't have any tamari, you can definitely substitute soy sauce and get an almost identical dish.
Orange Juice and Lime Juice: Fresh juices taste the best, but if you do use juices from concentrate, look for versions without added sugars.
Cilantro: Fresh cilantro tastes wonderful in this dish… unless you're not a fan of cilantro! If that's you, try substituting chopped parsley or chopped green onions instead.
Garlic: Plenty of minced garlic gives the carne asada oodles of flavor.
Brown Sugar: A hint of brown sugar brings out the best in this flavorful marinade.
Chili Powder, Cumin, and Coriander: These three ground spices give this recipe its Tex-Mex kick! None of them are "hot," though, so if you like a little kick, feel free to add some cayenne or crushed red pepper.
Flank Steak: We'll be searing the flank steak whole or in large pieces, so there's no need to slice it until after it's cooked.
Beef Broth: To use the pressure cook function of your Instant Pot, you need liquid. I recommend beef broth, but water is fine, as well.
How to Make Carne Asada in the Instant Pot
Some Instant Pot recipes can be a little involved, but I'm happy to say that this one is seriously easy. All you have to do is sear the meat using the saute function, and then pressure cook the meat using your trivet to keep it out of the liquid. The real "secret" to carne asada? The marinade! So make sure you set aside plenty of time for your steak to absorb those flavors.
Make the Marinade and Reserve Some. To make the marinade, combine everything in a medium-sized bowl: ¼ cup of the avocado oil, plus your tamari sauce, citrus juices, chopped cilantro, minced garlic, brown sugar, and spices. Measure out ¼ cup of this mixture, and place it in a jar or an airtight container. Store this in the refrigerator for later.
Marinate the Steak. Carefully pour or ladle the marinade into a large zip-top bag, or an airtight container. Add the steak, and seal. Shake or squish to make sure the meat is coated entirely in the marinade, and place in the fridge for at least 4 hours. Overnight is even better!
Sear the Steak in the Instant Pot. When you're ready to cook, take the steak out of the fridge. Pull it out of the bag and place it on a plate or clean meat cutting board. Discard the bag and used marinade. Pat the steak dry with paper towels. Now, set the Instant Pot to SAUTE mode, and swirl the remaining avocado oil into the bottom of the insert. When the oil is hot, add the steak, and let it brown for a couple of minutes per side.
Pressure Cook the Steak. Once the steak is browned on both sides, take it out of the Instant Pot for a moment so you can put the trivet in the bottom. Pour in the broth as well, and then arrange the steak on top of the trivet. Lock the lid in place, and set the Instant Pot to MANUAL or PRESSURE COOK on HIGH, for ten minutes.
Release the Pressure Naturally, and then using a Quick Release. To make sure the steak is cooked correctly, don't release the pressure right away when the timer goes off. Instead, let the pressure naturally release for about ten minutes. Then slide the valve to "vent" or "open" to quick-release the remaining pressure.
Enjoy! Take your carne asada out of the Instant pot, and sslice it into thin strips against the grain. Serve with the reserved marinade.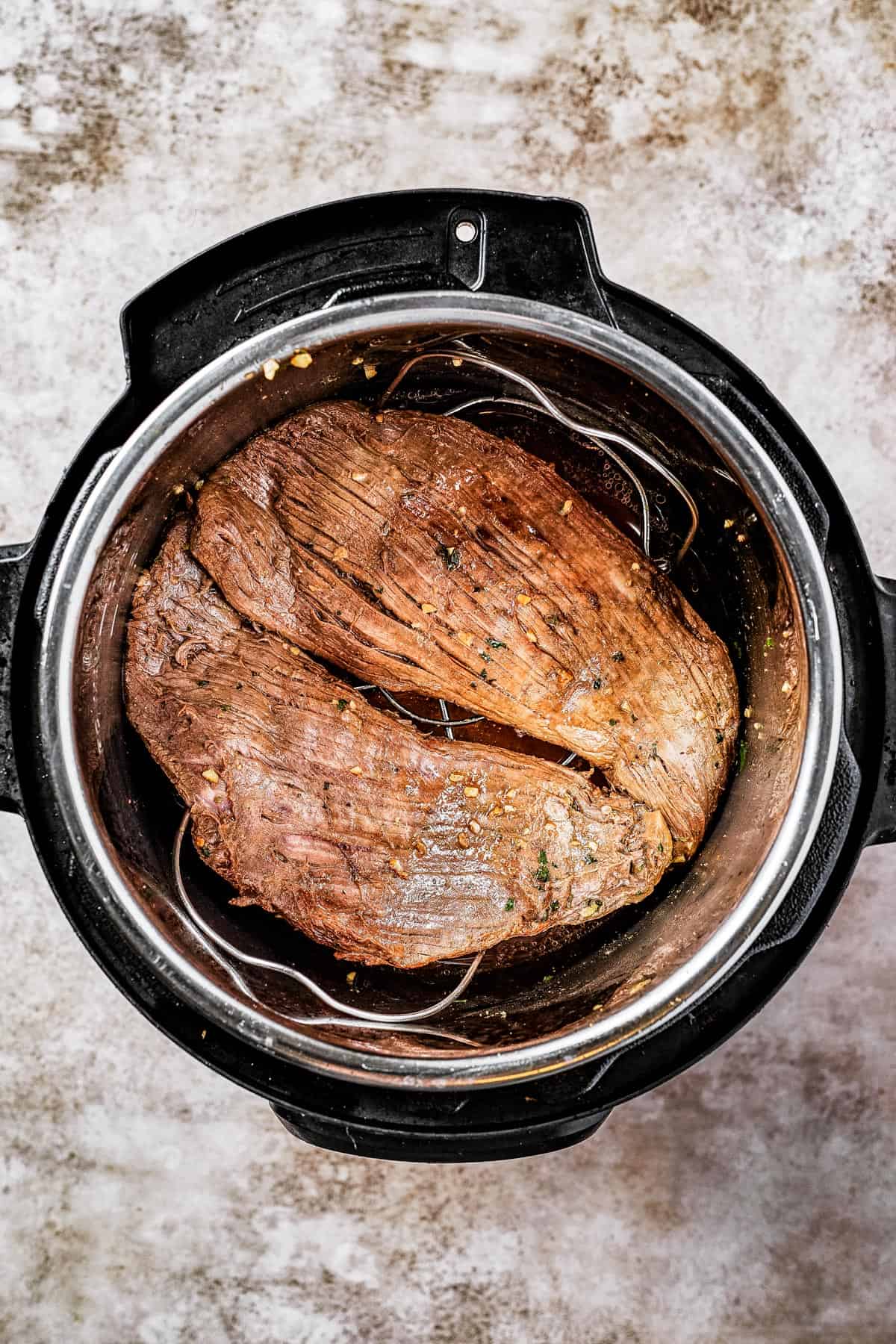 Why Is My Carne Asada Tough?
Okay, elephant in the room – sometimes, when you cook with flank steak, it turns out tough in spite of your best efforts. We've all been there!
In this case, the marinade does the heavy lifting of tenderizing the meat, while cutting the flank steak thinly against the grain after cooking should give a good result.
However, if you're worried about tenderness, try this Korean hack: mash up a tablespoon or two of fresh kiwi, spread it over the meat, and let it sit for about 10 minutes before you sear it. Kiwi is known for tenderizing meat very quickly and very thoroughly if the meat is thinly sliced. A little goes a long way, and fast, though! So only use a small amount and don't leave it on too long.
And, no you won't taste the kiwi. Just scrape it off and proceed with the rest of the recipe like it never happened.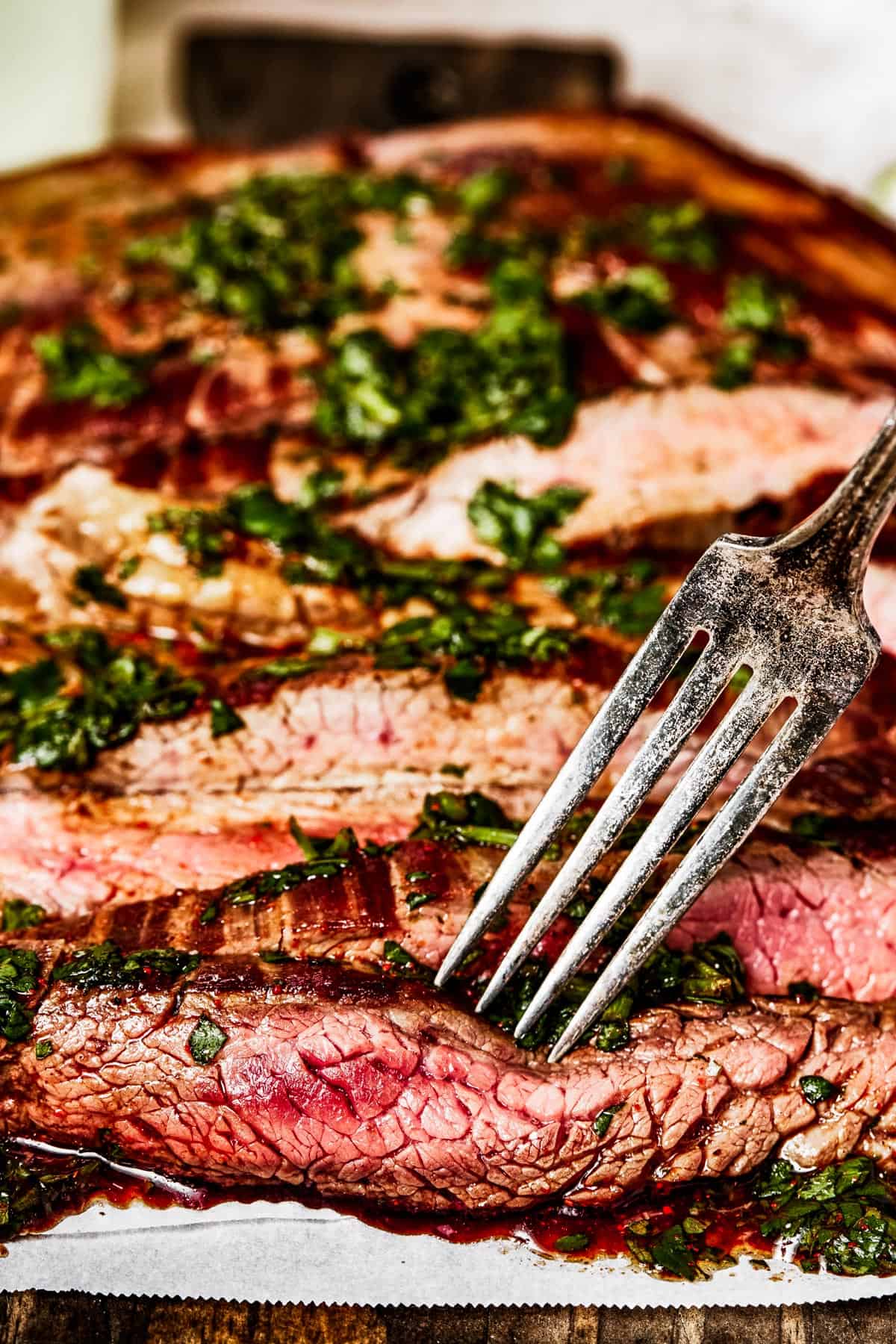 Easy Tips and Tricks
So there you have it! Super-easy, addictively delicious carne asada, easy and tender in your Instant Pot. But wait, there's more! Before you start cooking, check out these helpful tips for making this great recipe even better.
Make the Cut: If your steak is too large to sear in the Instant Pot, you can cut it into 2 to 4 large pieces and brown them one at a time.
Save Time: If you're not really about that chopping life, skip the cilantro chopping and garlic mincing by making the marinade in the blender! Just add your marinade ingredients to your blender and pulse until almost smooth. Then pour into a zip-top bag, and add the steak!
Make Ahead: If you like you can double this recipe, and freeze one of your marinating steaks in the marinade for up to 2 months! The night before you're ready to cook it, transfer it to the refrigerator to defrost/marinate overnight.
Grill or Broil: You can also throw your carne asada on a hot grill or under a preheated broiler, for about three minutes per side. Once the meat is cooked, let it rest on a clean cutting board for about ten minutes before slicing and serving.
Yummy Ideas for Serving
You can do a lot with carne asada! Here are a few of my favorite ways to serve this juicy, flavorful beef. Enjoy!
In Tacos: Sheer perfection, you guys!
In Burrito Bowls: Seriously yum. Rice, beans, sour cream, toppings… the works!
With Salad: Take your favorite salad, add carne asada, and boom! Your salad just got even more amazing.
With Nachos: Corn chips? Check. Melted cheese? Check. Perfectly seasoned beef that you can't stop eating? CHECK.
For Meal Prep: Portion out your carne asada into divided food containers, and add rice, coleslaw, cheese, tomatoes, fruit… whatever you like! Skip the fast food and enjoy a super-healthy lunch you'll adore.
Fajitas: Saute sliced onions and peppers until lightly caramelized, and then pile into soft flour tortillas along with this savory carne asada. Serve with pico de gallo, guacamole, or sour cream.
Quesadillas: My family adores a good baked quesadilla, made with flour tortillas, plenty of cheese, and either chicken or beef. Carne asada is perfect!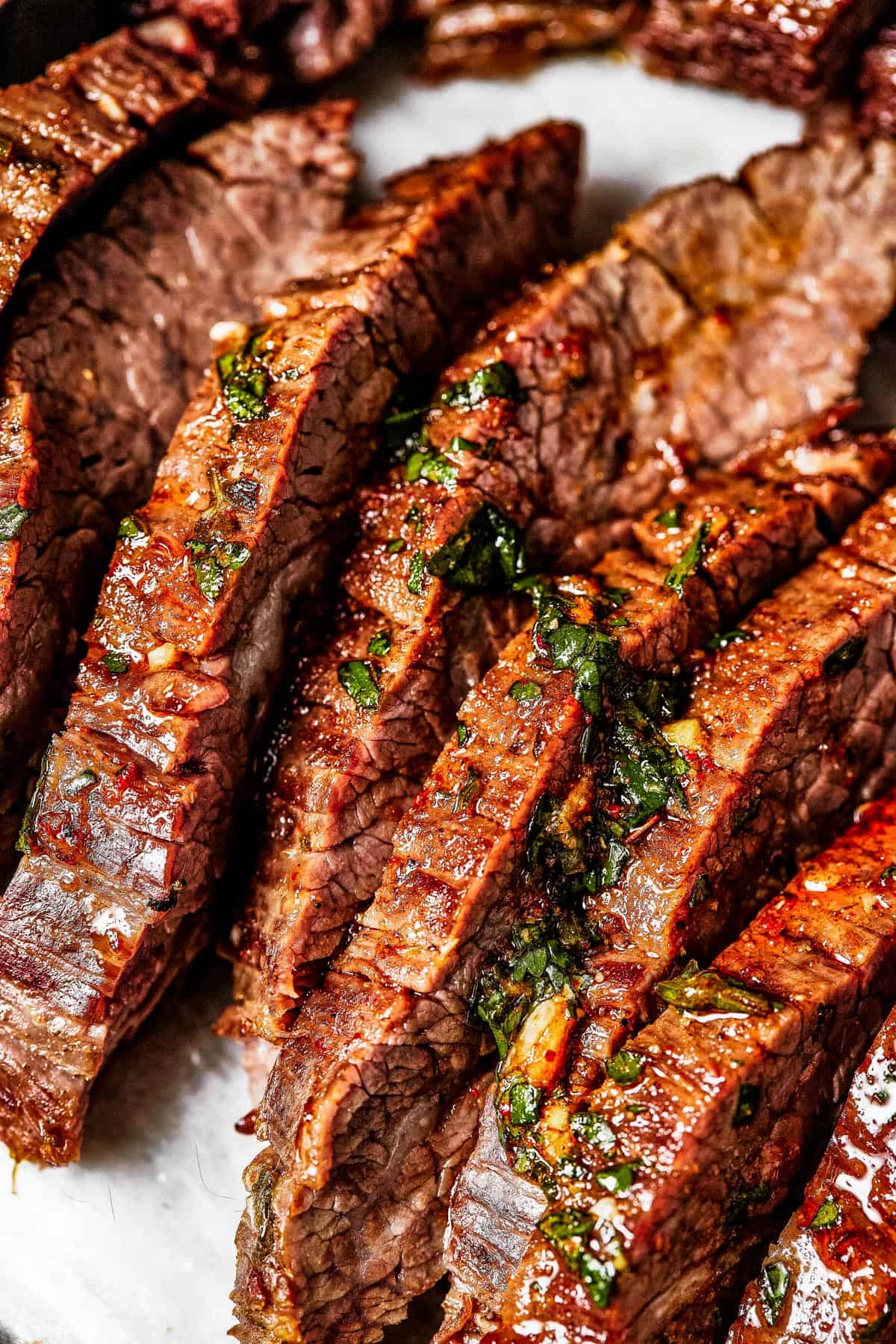 How to Store and Reheat Leftovers
Leftover carne asada will stay good in the refrigerator for three or four days, properly stored. It's best to keep it in a clean, airtight container or zip-top bag.
To reheat, place the desired portion in a covered skillet over low heat, until heated through. Don't overcook, or the meat will toughen and dry out.
Can I Freeze This?
Sure! In addition to freezing the uncooked steak in its marinade, you can also freeze cooked carne asada. Just pop the cooled steak strips into a freezer bag, and press out as much air as possible before sealing.
Freeze for up to 2 months, and thaw overnight in the refrigerator before reheating.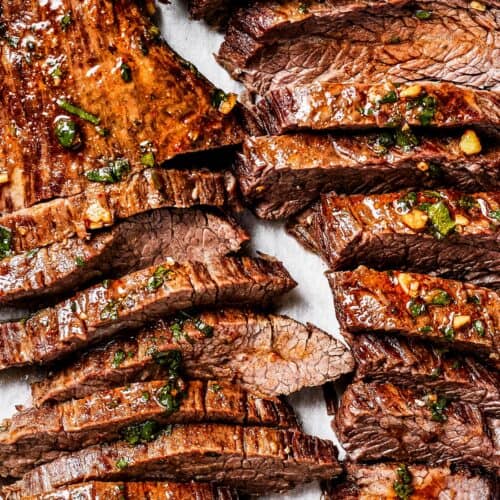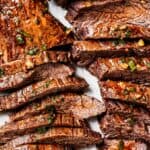 Print Recipe
Easy Instant Pot Carne Asada
Easy Instant Pot Carne Asada is a perfect weeknight dinner, delivering juicy strips of steak in a mouthwateringly spicy citrus marinade. It's a classic grilled steak dish made easy in the Instant Pot!
Instructions
In a medium-sized bowl, whisk together ¼ cup of the avocado oil, tamari sauce, orange juice, cilantro, lime juice, garlic, brown sugar, chili powder, cumin, and coriander.

Reserve ¼ cup of this mixture in an airtight container in the refrigerator.

In a large zip-top bag or airtight container, combine the remaining marinade mixture and the steak. Make sure the meat is coated entirely. Let this marinate in the refrigerator for at least 4 hours, or overnight.

Remove the steak, and drain any excess marinade. Pat dry with paper towels.

Set the Instant Pot to saute mode, and add 2 tablespoons of avocado oil. When hot, add the steak and brown on both sides, about 2 minutes per side. Remove the steak, and turn off the Instant Pot.

Place trivet into Instant Pot. Pour in the beef broth, and place the steak on top of the trivet.

Pressure cook on HIGH for 10 minutes.

Natural release the pressure for 10 minutes, and then slide the valve to "open" to release any remaining pressure.

Remove the steak, slice it into thin strips against the grain, and serve with the reserved marinade.
Nutrition
Calories:
339
kcal
|
Carbohydrates:
11
g
|
Protein:
34
g
|
Fat:
17
g
|
Saturated Fat:
4
g
|
Polyunsaturated Fat:
2
g
|
Monounsaturated Fat:
10
g
|
Cholesterol:
91
mg
|
Sodium:
320
mg
|
Potassium:
684
mg
|
Fiber:
1
g
|
Sugar:
9
g
|
Vitamin A:
278
IU
|
Vitamin C:
8
mg
|
Calcium:
63
mg
|
Iron:
3
mg
More Flavorful Instant Pot Recipes