An indulgent recipe featuring Bailey's Irish cream and chopped creme de menthe chocolate mints, this Mint Chocolate Skillet Cookie is a fun dessert with an elegant twist. You'll love how easy it is to make this gorgeous treat!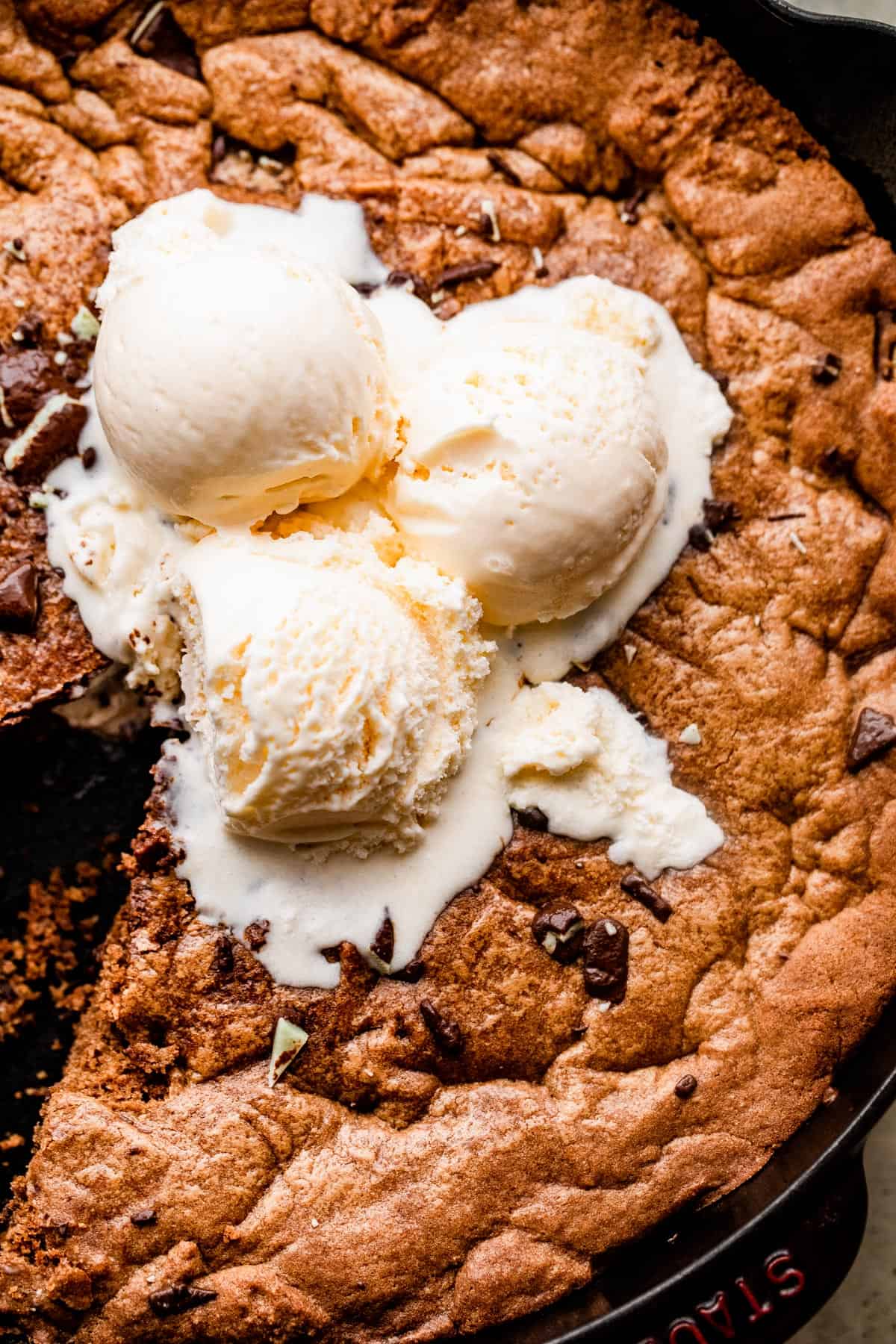 A Decadent Mint Chocolate Treat, Perfect for St. Patrick's Day!
Are you a mint chocolate person? Every once in a while, I love whipping up something with not just chocolate, but mint chocolate. It's a magical combination that's refreshing and indulgent all at once.
This easy skillet cookie is the perfect canvas for those flavors, in a baked dessert that's warm and crisp on the outside, and meltingly soft inside.
Plus, this is a super easy recipe! It's great to make with kids, because they can help add all the ingredients to the mixer and then press the dough into the skillet. No tricky processes here, just mixing and baking… and eating!
I also think that a mint chocolate skillet cookie is the perfect dessert for St. Patrick's Day. Everyone loves minty treats on this special day, and if you'd like to add a touch of green, just pipe on some store-bought green frosting, or add a few shamrock picks to the top before serving. Easy!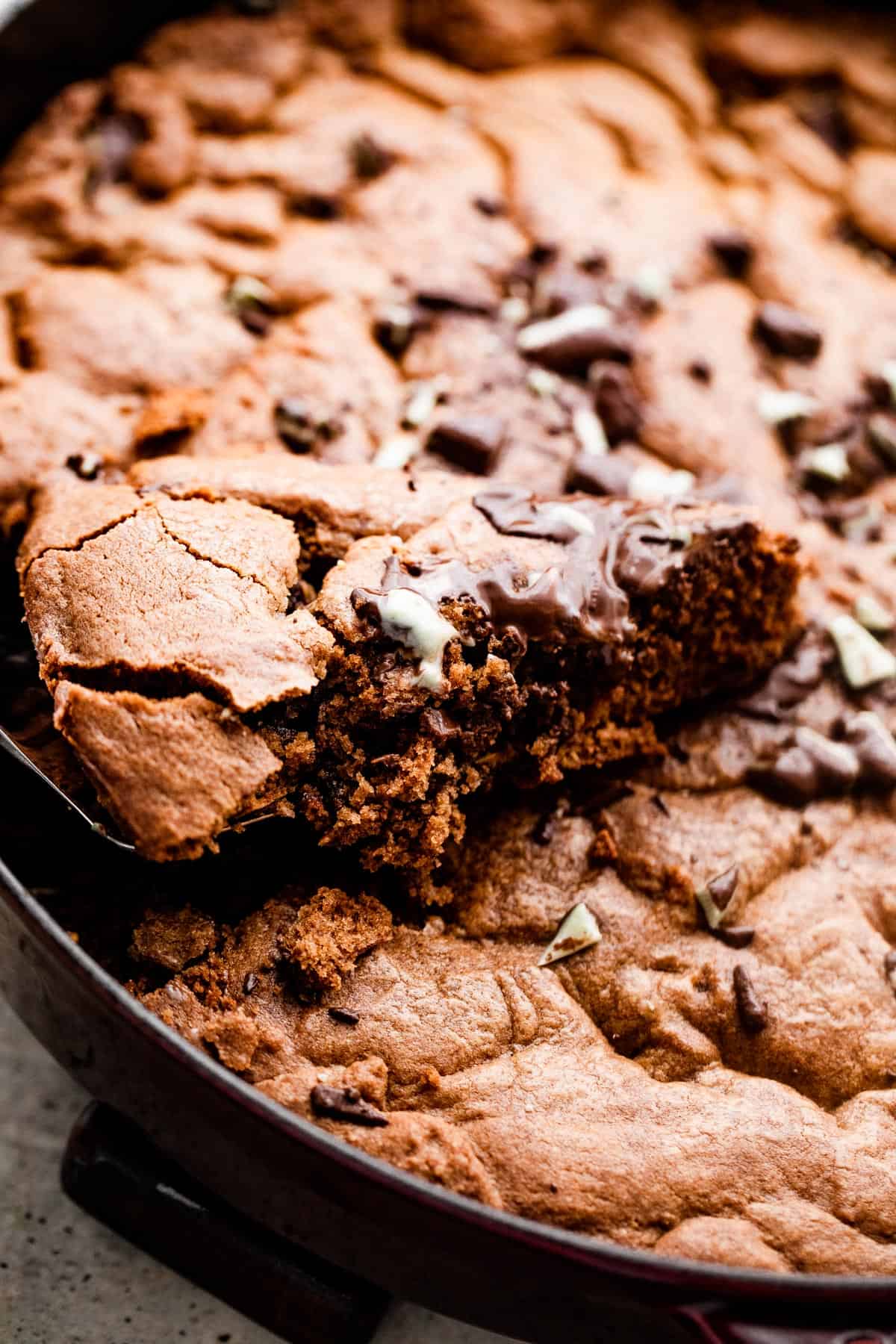 What's in This Skillet Cookie Recipe?
This recipe is very similar to most classic chocolate chip cookie doughs, which is what gives it its perfectly soft-baked, gooey center. The addition of Bailey's Irish cream and thin chocolate mints takes it to the next level!
Flour: All-purpose flour is right for this recipe – don't use self-rising flour. 1:1 gluten-free all-purpose flour is also fine.
Cocoa Powder: A small amount of cocoa powder gives the cookie an extra chocolate-y flavor.
Baking Soda: Baking soda (not baking powder) keeps the dough from being heavy and flat.
Salt
Brown Sugar: Pack the brown sugar into your measuring cup to get an accurate measurement. (Note – do not pack flour or other ingredients into your measuring cup.)
Granulated Sugar: A mix of brown sugar and granulated sugar helps the cookie dough have a tender, soft consistency.
Butter: Soften the butter to room temperature before creaming it with the sugars.
Egg: Two large, whole eggs help bind the dough together.
Bailey's: Bailey's Irish cream elevates the taste of the cookie dough and gives it a layer of sophistication.
Vanilla: Pure vanilla extract gives the best flavor.
Andes Mints: Chopped thin creme de menthe mints put the "mint" in this mint chocolate cookie!
Ice Cream: Optional, for serving.
How to Make a Mint Chocolate Skillet Cookie from Scratch
The process for making a skillet cookie is even easier than baking regular cookies, and no wonder – there's no scooping or rolling involved, and no babysitting multiple batches of baked goods. All of the dough goes straight into the pan, and then right into the oven.
Prep the Oven and the Skillet. First things first! Before you start on the cookie dough, make sure your oven is preheating to 325˚F, and that your skillet is lightly greased. I use cooking spray for this, but oil or butter wiped on with a paper towel or pastry brush is fine, too.
Combine the Dry Ingredients. In a medium mixing bowl, whisk your flour, cocoa powder, baking soda, and salt together to combine. Set this mixture aside for now.
Cream the Sugar and Butter. Using a stand mixer or hand mixer, beat together the sugars and the butter, until the mixture is light and fluffy.
Add the Liquid Ingredients to the Sugar and Butter. Now beat the eggs, Irish cream, and vanilla into your creamed butter and sugar mixture. Blend this together thoroughly, and then turn the mixer speed to low.
Add the Dry Ingredients and Mints. On low speed, beat the dry ingredients into the butter mixture. When this is fully combined, gently beat in a cup of the chocolate mints.
Spread into the Pan and Bake. Finally, scoop the cookie dough into your skillet, and spread it out evenly. Sprinkle more chopped mints over the top, if you like, and then bake the skillet cookie for about 35 to 40 minutes. It is done when the cookie is lightly golden on top. Take the cookie out of the oven, and let it stand for 15 minutes to firm up and cool.
Enjoy! Cut the skillet cookie into 8 wedges, and serve plain, or with toppings of your choice.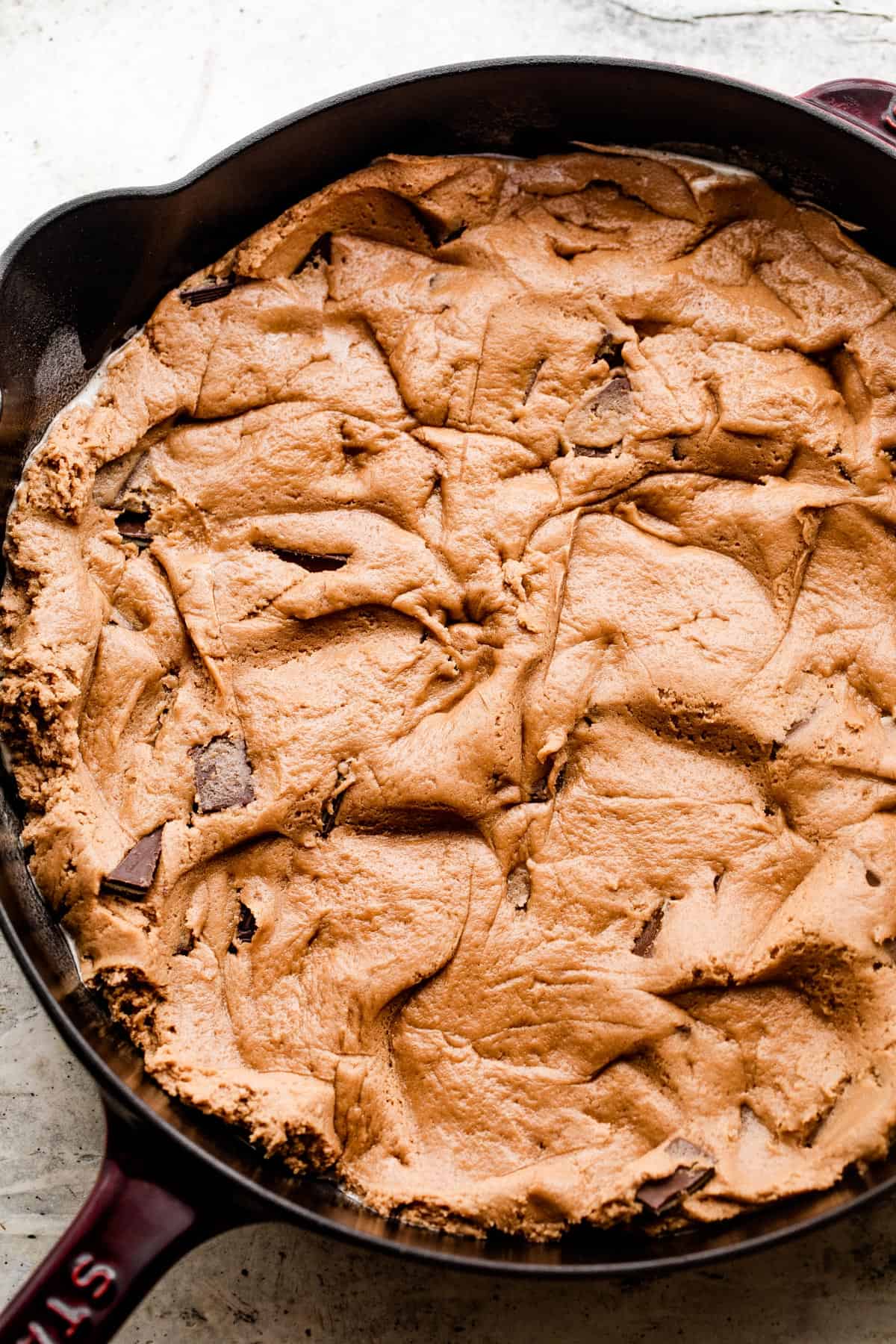 Easy Tips and Tricks
When it comes to making skillet cookies, you really can't go wrong! This easy cooking method is simply another way to make cookie dough… awesome. To that end, I'm sharing a couple of extra tips for making this easy recipe! Happy reading, and happy baking!
Andes Mints Substitutions: Andes mints aren't your only option here, by a long shot! Feel free to use mint chips, as well as adding dark chocolate chips, white chocolate chips, colorful candy melts, chopped up peppermint patties… whatever you like! Get creative with this festive recipe.
Know Your Pan: Skillet cookies are usually baked in cast iron skillets, which give them their trademark crispy-on-the-outside texture. If you are using cast iron, make sure your pan is well-seasoned first, so the skillet cookie doesn't stick. If you aren't using cast iron, any good ovenproof baking pan will work. Just grease it well first.
Mini Skillet Cookies: For individually-sized portions, you can make this recipe in ramekins instead of a skillet.
Top It Your Way: Ice cream is super-popular for topping skillet cookies, but you could also leave the cookie plain, top with whipped cream, or go all-out with sundae toppings, from nuts to sprinkles to maraschino cherries.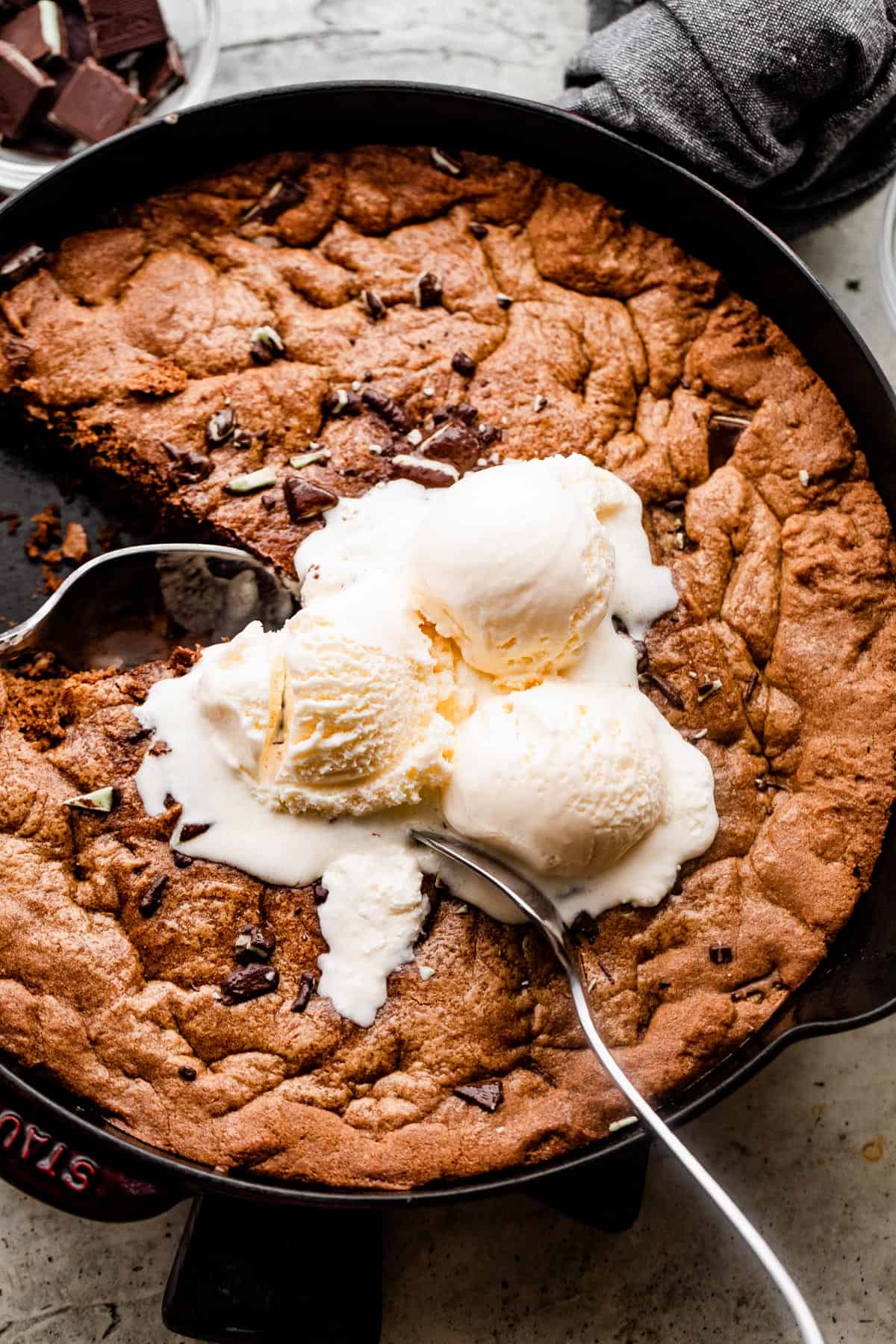 How to Store and Reheat Leftover Skillet Cookie
If your leftovers are not topped with ice cream or whipped cream, you can store them at room temperature for up to 2 days. Just place them in an airtight container, or a zip-top bag.
If your skillet cookie leftovers are topped with ice cream or whipped cream, store them in airtight containers or zip-top bags in the refrigerator, to prevent spoilage. They'll be good for up to 2 days in the refrigerator.
To reheat your leftovers, just place the desired portion on a microwave-safe plate, and microwave for 5 – 10 seconds at a time, until warm. Be careful, though, as microwaves can heat unevenly! Always watch out for hot spots when eating microwaved foods.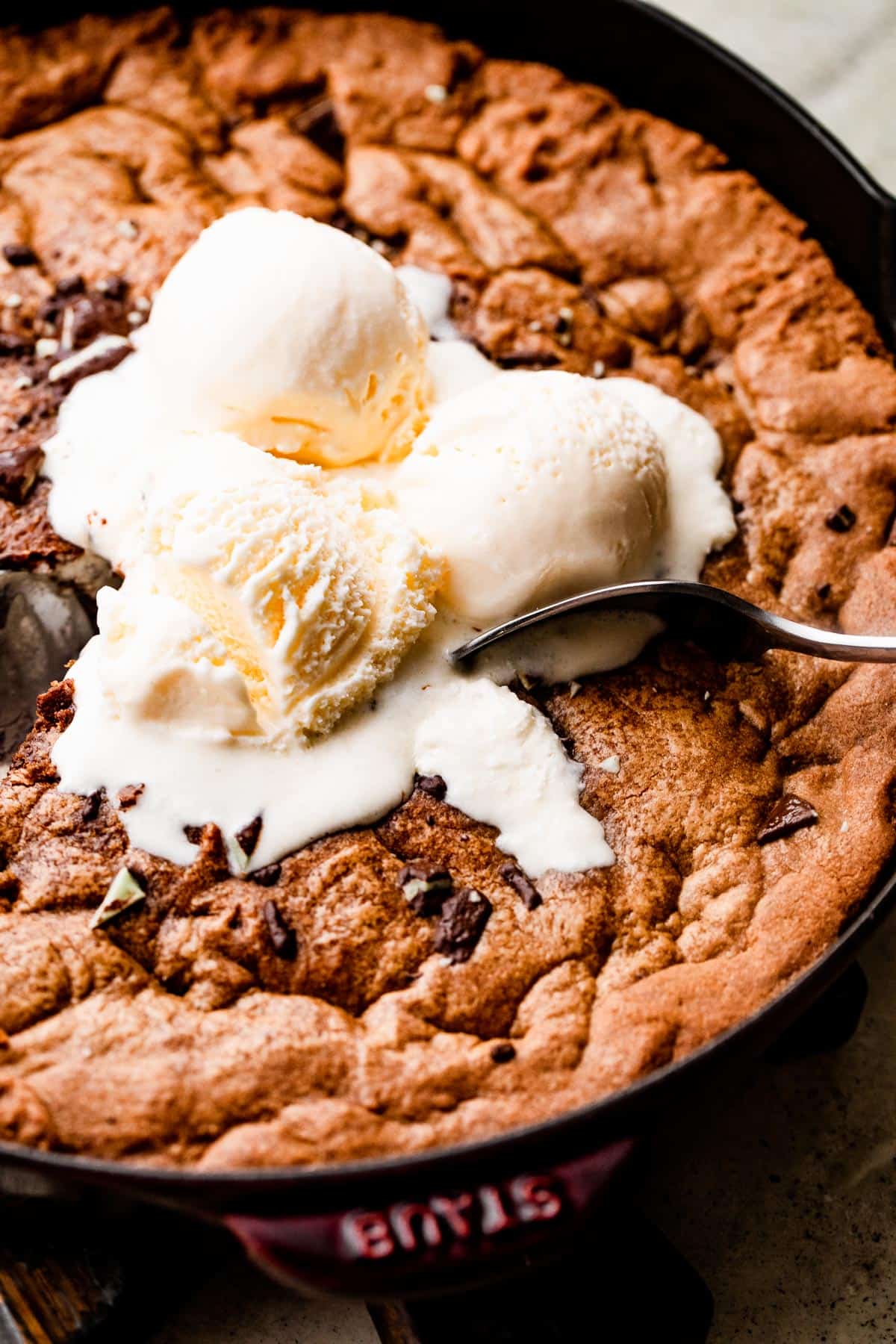 Can I Freeze A Skillet Cookie?
Sure! Baked goods like this are great candidates for freezing – just make sure to wrap them tightly to avoid letting any air in. Air will make them go stale very quickly, plus they can absorb flavors and odors from other foods.
I recommend cutting your skillet cookie into serving slices, and then wrapping those slices well in a layer of plastic wrap. From there, pop them into a freezer bag, and mark with the date.
Thaw and serve within 3 months for the best flavor.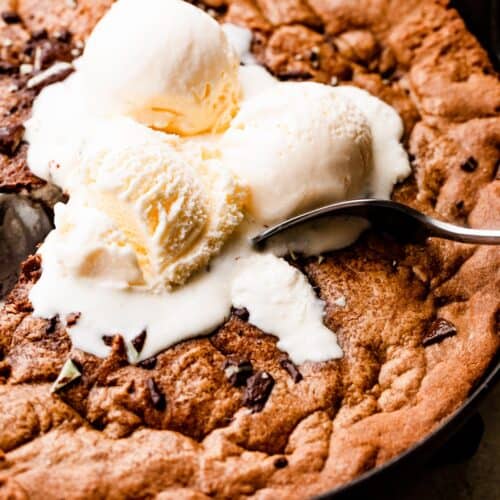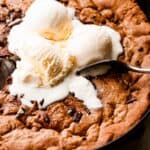 Print Recipe
Mint Chocolate Skillet Cookie
An indulgent recipe featuring Bailey's Irish cream and chopped creme de menthe chocolate mints, this Mint Chocolate Skillet Cookie is a fun dessert with an elegant twist.
Instructions
Preheat oven to 325˚F.

Lightly grease a 10-inch cast iron skillet with cooking spray and set aside.

In a mixing bowl, whisk together flour, cocoa powder, baking soda, and salt; set aside.

Using an electric stand mixer set at medium speed, beat together the brown sugar, granulated sugar, and softened butter until light and fluffy; about 4 minutes.

Add in the eggs, Irish Cream, and vanilla; continue to mix until well blended.

Set the mixer to Low and gradually add the flour mixture to the butter mixture, about 1 cup at a time; beat until thoroughly combined.

Fold in 1 cup of the chopped chocolate mints.

Transfer the cookie dough to previously prepared skillet and spread it out evenly.

Bake for 35 to 45 minutes, or until edges are lightly browned and starting to pull away from the pan. I like a gooey-er cookie, so I bake mine for about 32 minutes.

Remove from oven and let stand 15 minutes.

Sprinkle the top with more chopped chocolate mints, if you like.

Cut into 8 wedges.

Serve with ice cream.
Nutrition
Serving:
1
cookie wedge
|
Calories:
467
kcal
|
Carbohydrates:
83
g
|
Protein:
7
g
|
Fat:
12
g
|
Saturated Fat:
10
g
|
Polyunsaturated Fat:
1
g
|
Monounsaturated Fat:
1
g
|
Trans Fat:
1
g
|
Cholesterol:
41
mg
|
Sodium:
250
mg
|
Potassium:
97
mg
|
Fiber:
2
g
|
Sugar:
56
g
|
Vitamin A:
59
IU
|
Calcium:
38
mg
|
Iron:
3
mg
More Fun Dessert Recipes