Dinner rolls… a rustic loaf… cheesy skillet bread… you name it, this versatile No-Knead Dough can do it!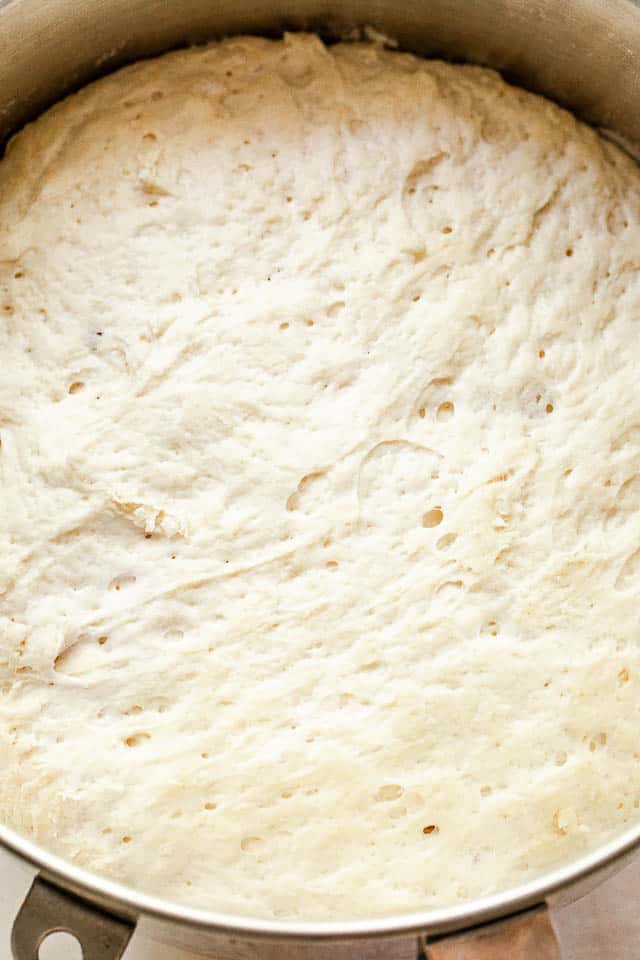 This No-Knead Dough Is One of My Favorite Life Hacks
It's not always easy to put real, homemade food on the table. Life is busy and there are so many plates to keep spinning! That's why I rely on a key handful of life hacks to save time (and money, and my sanity, etc).
This recipe is one of my favorite hacks, because it really delivers! You store the dough in the refrigerator for up to two weeks, taking as much as you need for a loaf, or other recipe, as you go.
You'll love how easy it is to mix up this no-knead dough, and how many options there are for enjoying the delicious results!
I absolutely love the simplicity of no-knead bread, and this recipe for basic No-Knead Dough – created by Zoë François and Jeff Hertzberg – is at the top on my list. It's just so good, and so easy!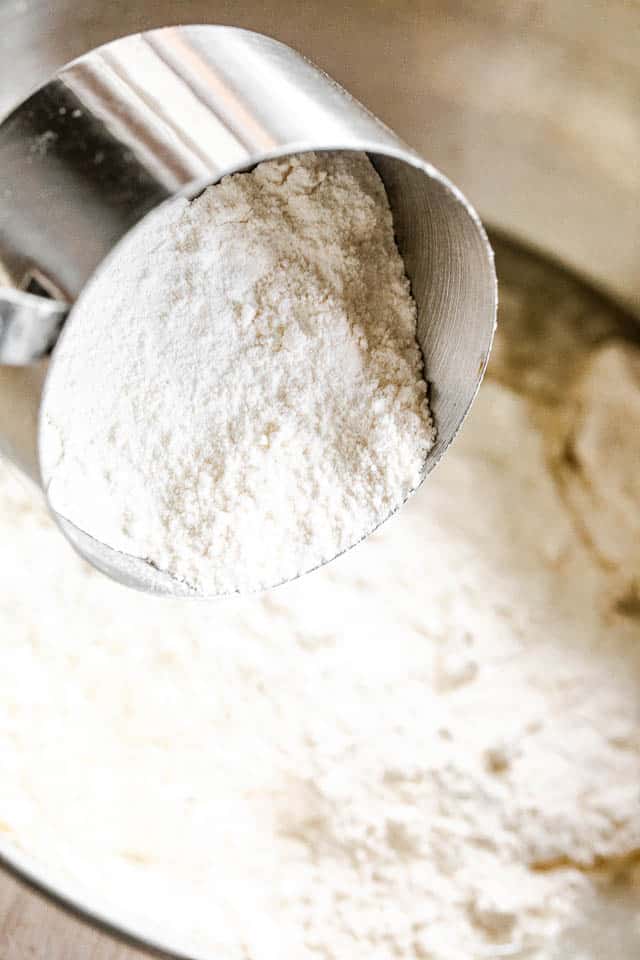 Recipe Ingredients
Water: The recipe calls for about 3 cups of lukewarm water.
Instant or Active Yeast
Salt: I use kosher salt.
Flour: You'll need 6 ½ cups of all-purpose flour.
How to Make No-Knead Dough
Dissolve the Yeast: In a large 5-quart mixing bowl, combine the water, yeast, and salt; stir until the yeast is dissolved.
Add the Flour: Dump the flour into the yeast mixture and stir slowly until just combined.
Rise and Store the Dough: For the first rise, cover the bowl with a clean kitchen towel and leave to rise for two hours. If you're not using it right away, store the risen dough in a lidded container in the refrigerator.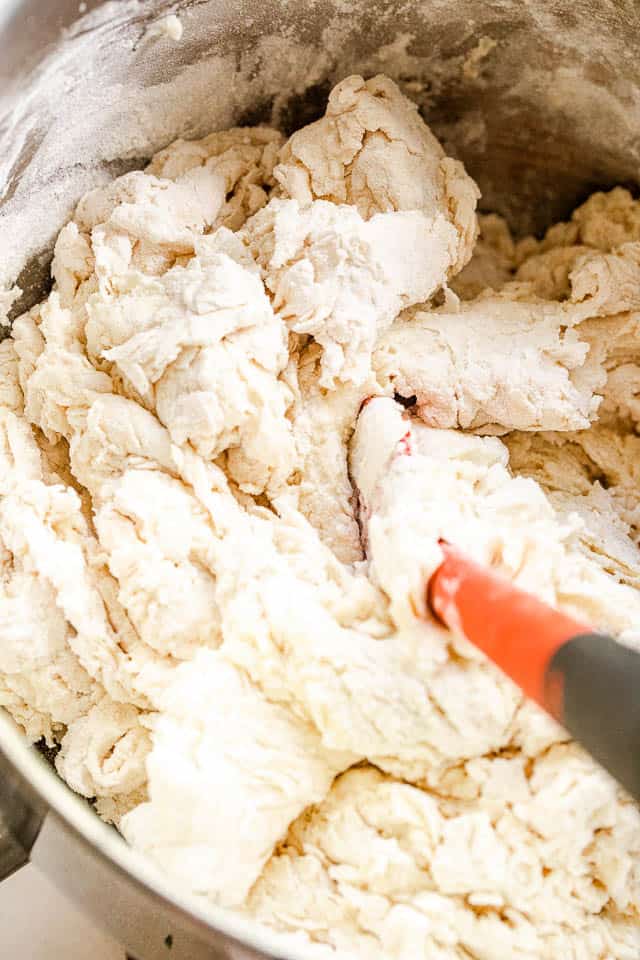 Tips for the Best Bread Dough
Don't over mix this dough. It truly is a very simple recipe, and works best when you follow a hands-OFF approach, rather than the usual methods of bread making.
If the dough seems to fall, or not rise very much, that's totally okay! As long as your yeast was fresh and the water was the correct temperature (use a food thermometer to measure, if possible), the dough will be fine – even if it doesn't look very full or puffy. But please do make sure that your yeast is fresh, and not old, or expired.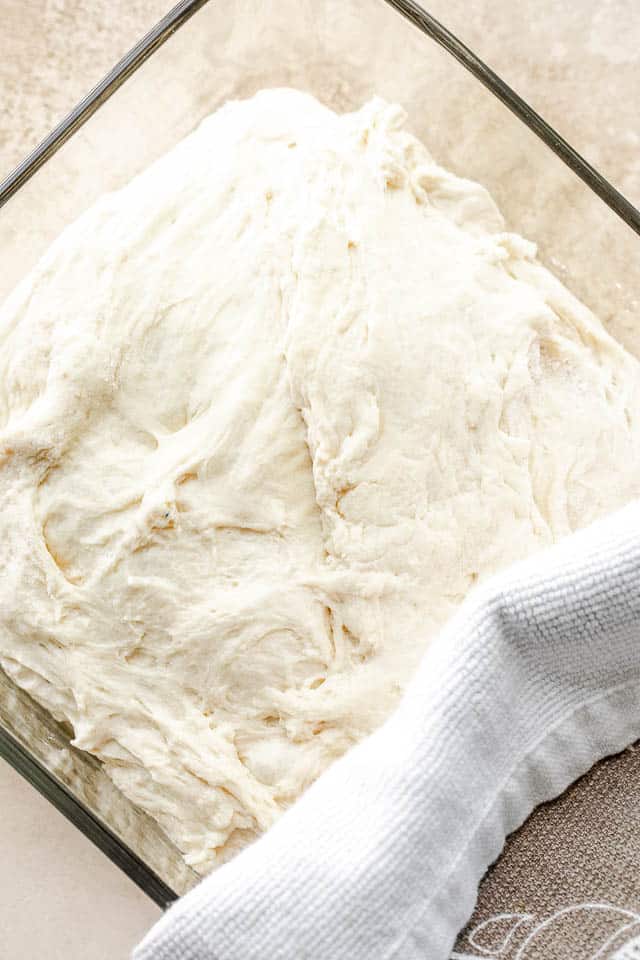 How to Store this Dough Until You're Ready to Use It
This dough is pretty unusual! It can be stored in the fridge in a lidded container for up to 14 days, and you can remove portions as you need them.
To use the dough, take what you need from the container, and let stand for 30 minutes at room temperature before shaping and baking.
What Can You Make with this No-Knead Dough?
The dough is very versatile! You can use it to make dinner rolls, a loaf, skillet bread, and more! I especially like to use it to quickly throw together some No-Knead Skillet Cheese Bread or the awesome Dinner Rolls below. 👇
ENJOY!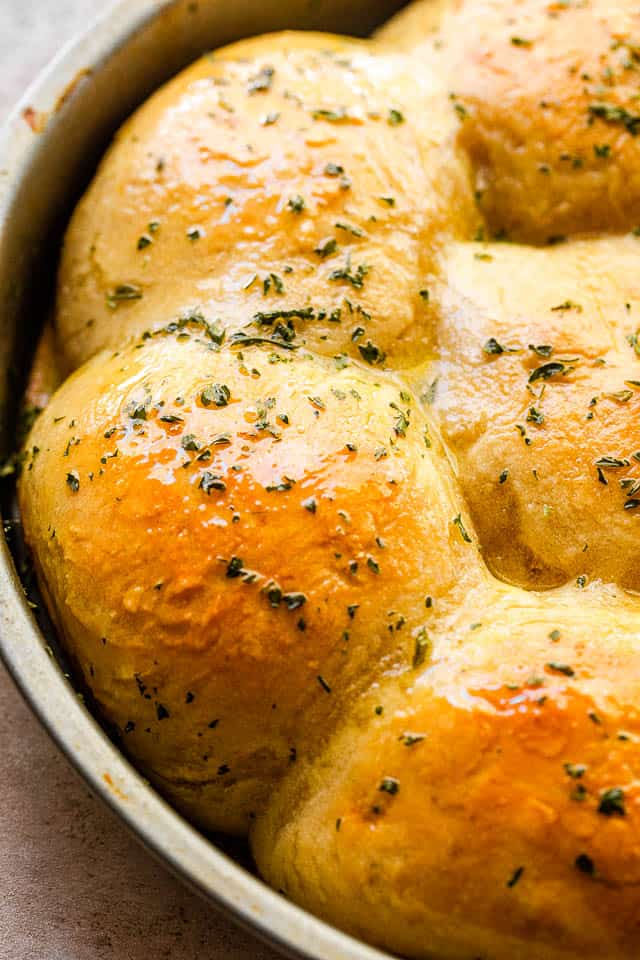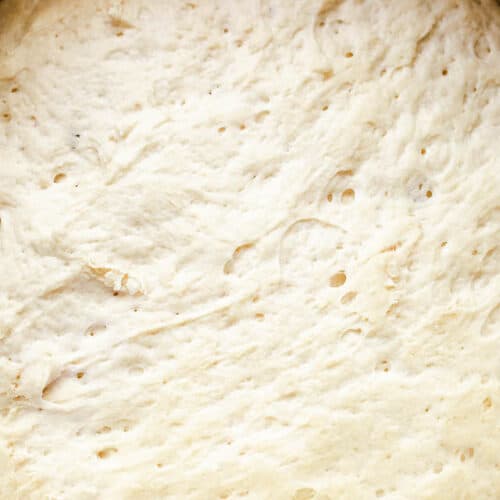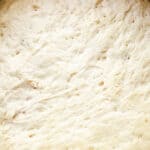 Print Recipe
No Knead Dough
A very simple dough that can be stirred together in minutes, stored in the refrigerator for up to two weeks, and used to make dinner rolls, bread, and more!
Instructions
In a 5-quart mixing bowl or container, mix together water, yeast, and 1 tablespoon salt.

To the yeast mixture, add the flour; mix with a wooden spoon until all the flour is incorporated.

Cover dough loosely with a kitchen towel and let rise at room temperature for 2 hours.

If not using right away, transfer dough to a container with a lid.

Cover and refrigerate for up to 14 days.

When ready to use, let dough stand at room temperature for 30 minutes before using.

You don't have to use the entire dough all at once. You can remove portions of dough to make dinner rolls, loaf of bread, skillet bread, etc.
Nutrition
Calories:
124
kcal
|
Carbohydrates:
26
g
|
Protein:
4
g
|
Fat:
1
g
|
Saturated Fat:
1
g
|
Sodium:
291
mg
|
Potassium:
38
mg
|
Fiber:
1
g
|
Sugar:
1
g
|
Calcium:
5
mg
|
Iron:
2
mg