Looking for a holiday side dish? You can't go wrong with this super-easy recipe for The Best Candied Yams! Every bite is loaded with buttery, cinnamon-spiced goodness!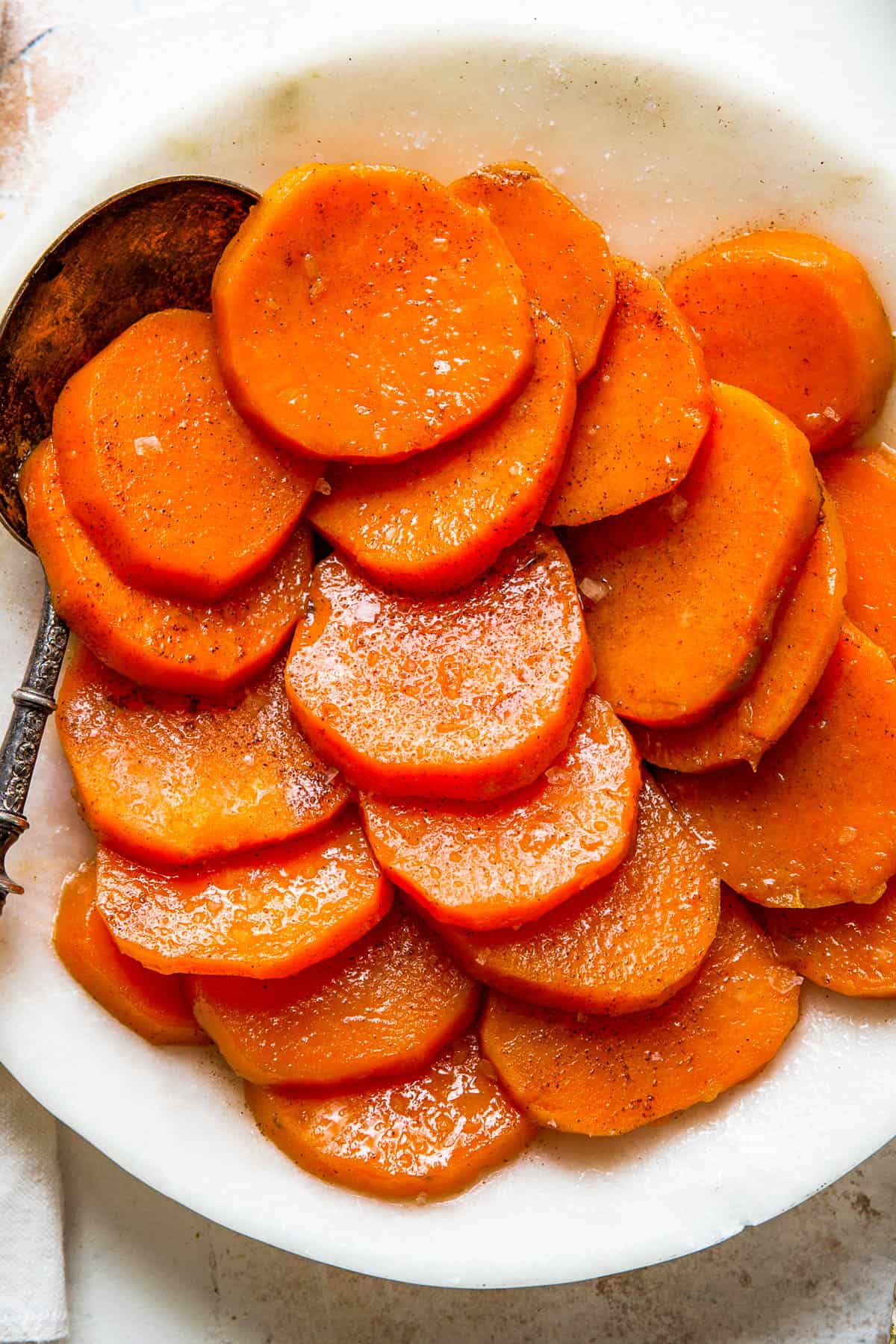 Old-Fashioned Candied Yams from Scratch
Candied yams have been a favorite side dish of mine for a while now! It's kind of hard not to like a dish that includes the word "candied," honestly. 🤷‍♀️
But, did you know that they're incredibly easy to make at home, from scratch? That's right! If you want to make an old-school recipe that will wow everyone, but which is also super simple, candied yams are a great choice! (And, again: CANDIED. I rest my case.)
To make your own candied yams, all you really have to do is cook up some sweet potatoes, and then simmer them in sweet syrup to infuse the flavors and make them saucy. So easy! And, your house will smell like Christmas Day! Or turkey day. Or Wednesday. 🥳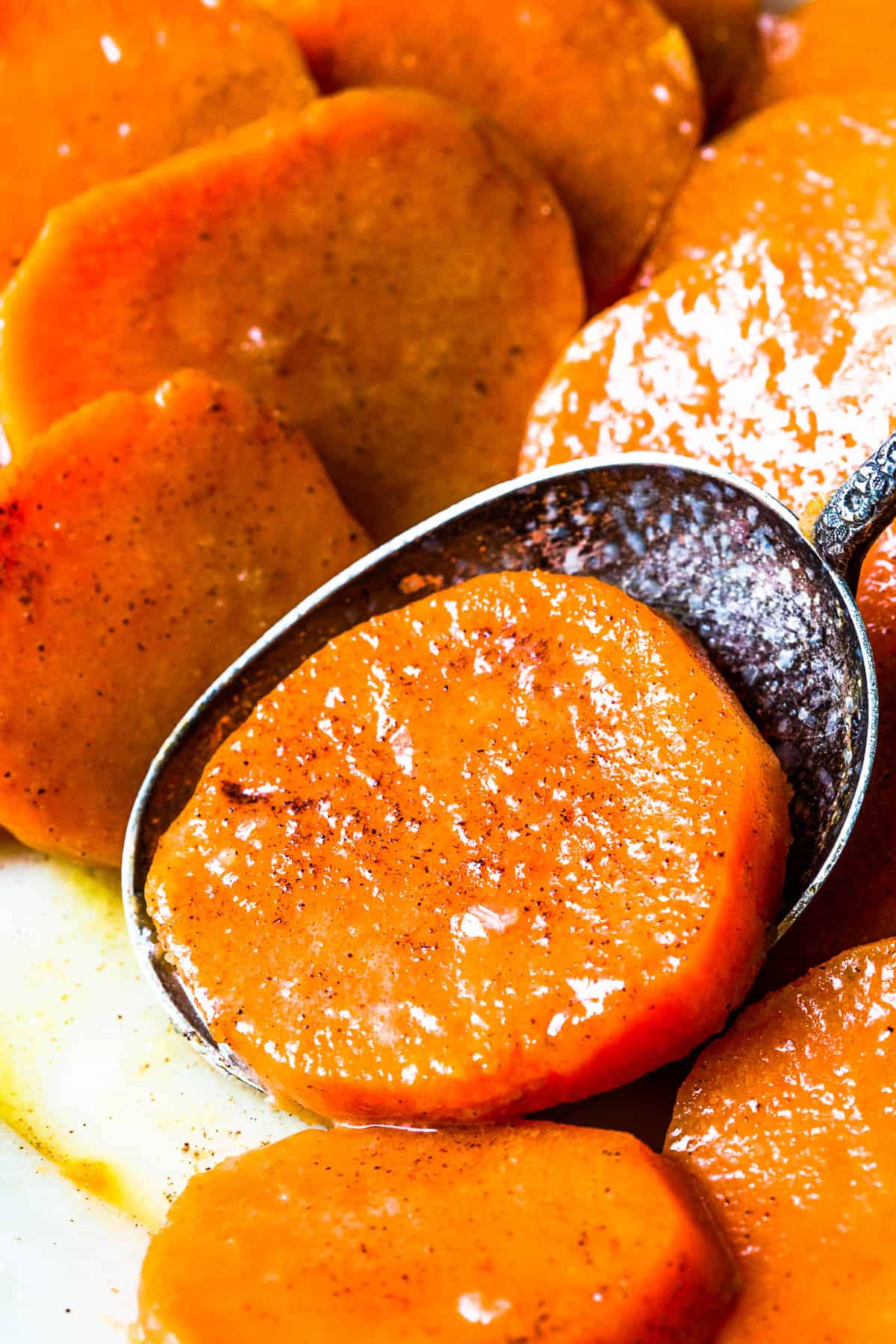 What Is the Difference Between Yams and Sweet Potatoes?
So, I know I said we were making yams, but then I said sweet potatoes. You might be wondering, "What's the difference? Is there a difference?" Well, that depends!
In the US, yams and sweet potatoes are basically the same thing. That is, most "yams" that you find in cans or in the produce section of your grocery store are actually just sweet potatoes. Somewhere along the way, Americans began calling these sweet, colorful tubers yams as well as sweet potatoes, even though real yams are actually very rare here.
Real yams are a totally different veggie, common in Africa. They can grow to huge sizes (150 pounds!), and have a rough outer skin. Although they can be orange, more often they're white, and are more starchy and drier than sweet potatoes.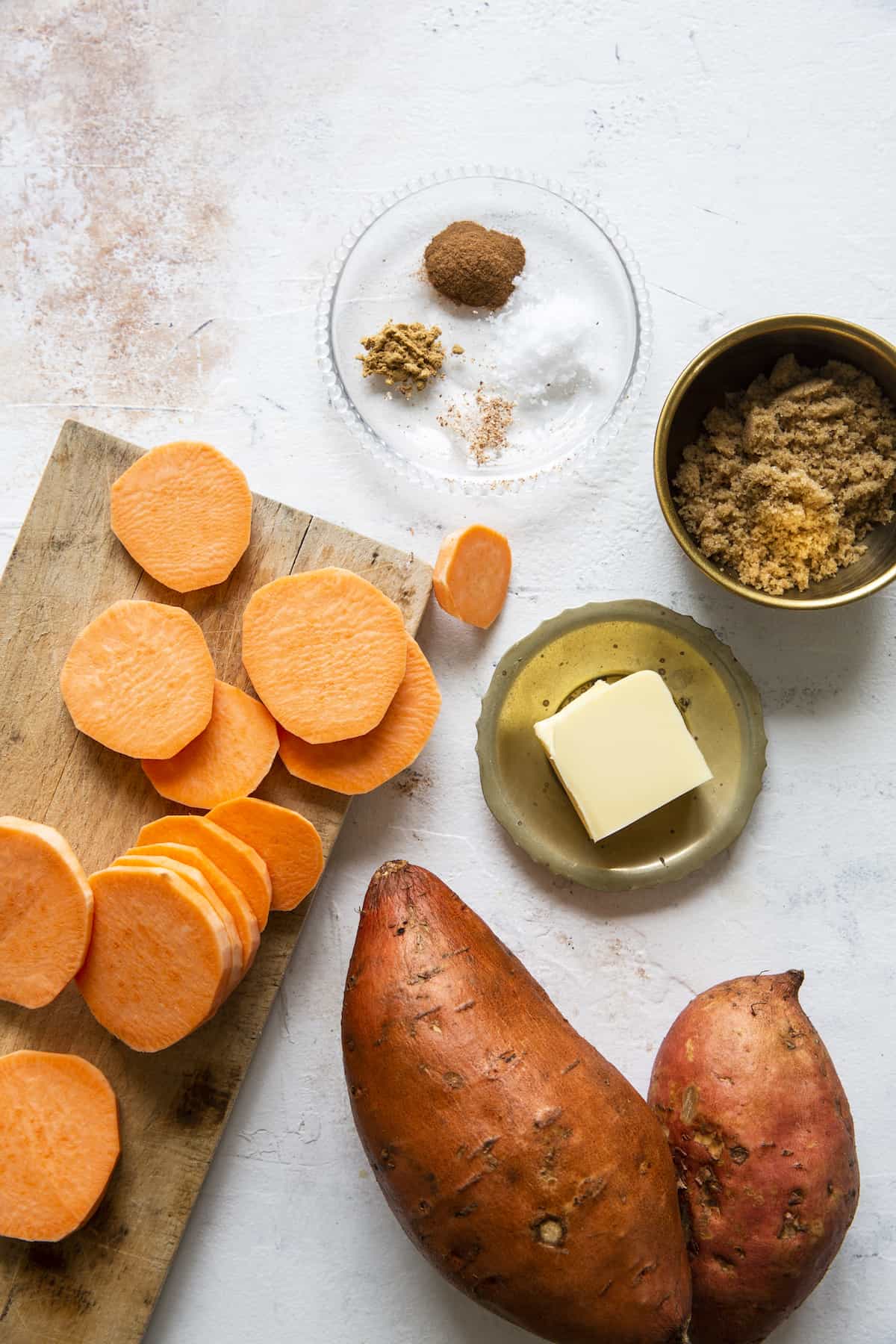 The Ingredients List
To make candied yams, you'll need just a few basic pantry items, along with your favorite sweet potatoes. You can use any variety you like.
Sweet Potatoes: Prep the sweet potatoes by peeling them and cutting them into 1-inch rounds.
Butter: I use unsalted butter, to control the amount of salt in the recipe. If you use salted butter, you may need to reduce the kosher salt.
Sugar: Brown sugar is my go-to, but you could also use white sugar, raw sugar, maple syrup, or honey.
Spices: Some recipes for candied yams omit the spices,and you definitely can, but for me, they really elevate this simple dish! You'll need ground cinnamon, ginger, and nutmeg.
Kosher Salt: Or whichever salt you prefer.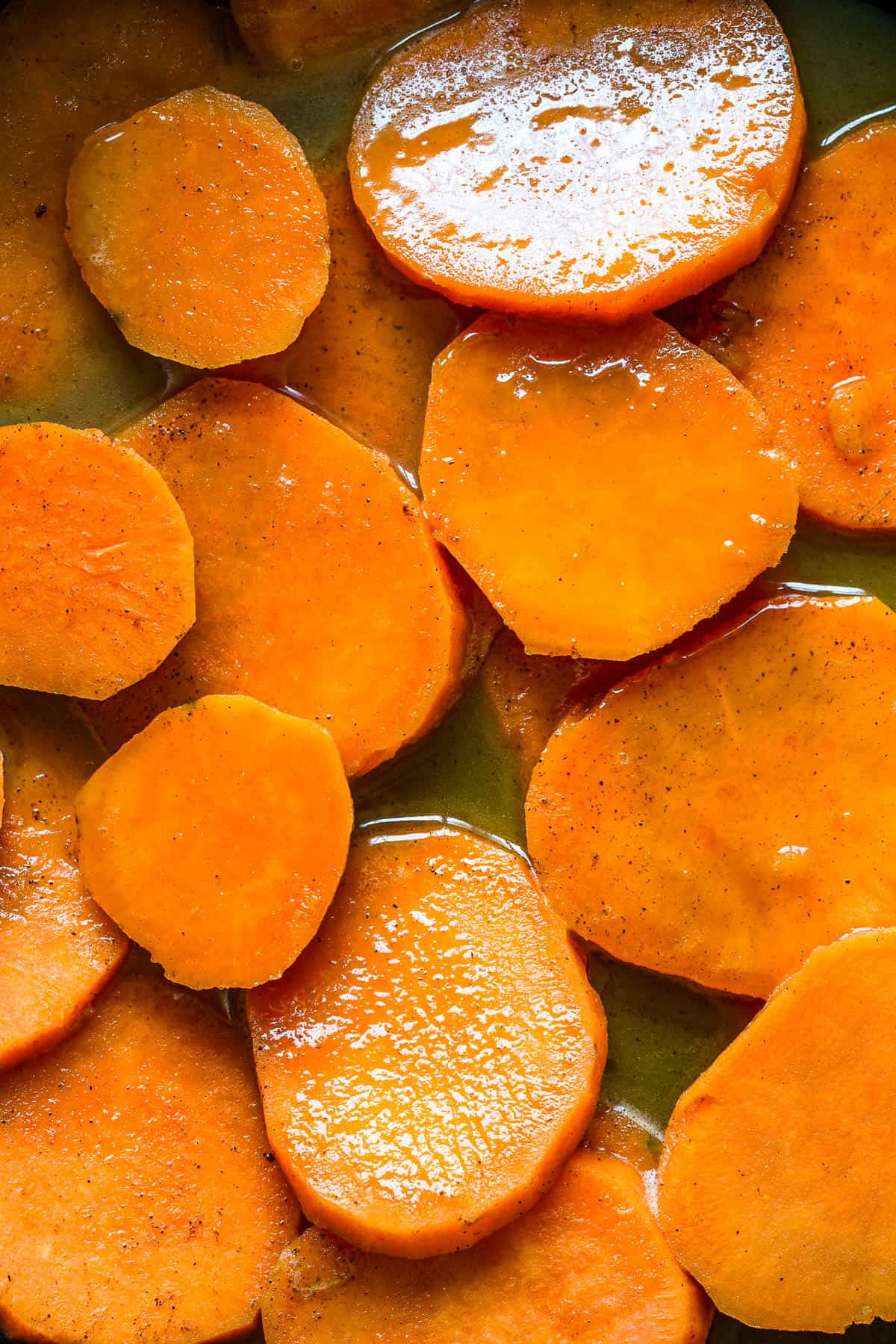 Let's Make Some Candied Yams!
Let's take a closer look at the method for making your own candied yams from scratch. Each step is simple and easy to work into your holiday cooking schedule.
Par-Boil the Sweet Potatoes. Place your peeled and cut sweet potatoes in a large pot. Cover them with a couple of inches of cold water, and add a pinch of salt to the pot as well. Bring them to a rapid simmer over high heat, and then reduce the heat so that the sweet potatoes simmer gently for five minutes. You want to cook them just until the potatoes are soft on the edges, but still firm in the center.
Drain. Reserve a cup of the cooking liquid from the boiled sweet potatoes, and then drain the remaining water.
Make the Syrup. Place a large skillet over medium heat. Pour in your reserved sweet potato cooking liquid, the butter, the sugar, the spices, and the salt. Bring this to a boil, stirring, until the sugar dissolves.
Cook the Sweet Potatoes in the Syrup. Add the par-boiled sweet potatoes to the syrup mixture, and stir well to coat. Simmer for five to ten minutes, until the sweet potatoes are nice and soft, and the sauce has reduced and thickened. Taste for salt and adjust as needed.
Enjoy! Cool your homemade candied yams for 5 minutes before serving.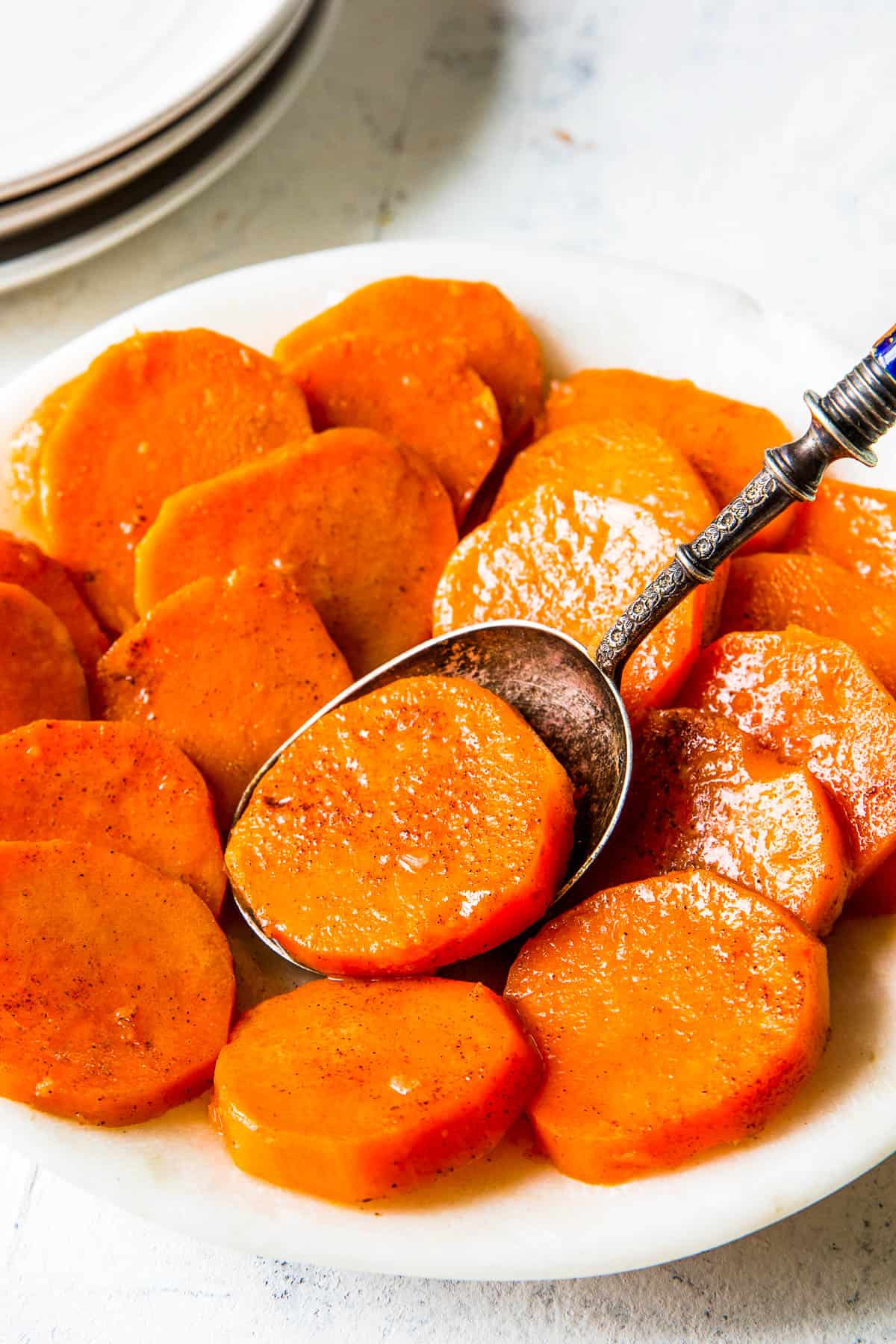 Tips and Variations to Try
Looking for more ideas to make the best candied yams ever? Have a look at these helpful tips and yummy variations. There's something here for everyone!
Broil: Once the sweet potatoes are done, you can place them in an ovenproof dish (make sure not to use glass, which doesn't always handle broiling temperatures well) and broil for a minute or two. This will create a more intense caramelized version.
Add Toppings: Sprinkle your candied yams with chopped nuts and mini marshmallows, and bake for 5 to 10 minutes at 350˚F to melt the marshmallows. Delicious!
Add Fruit: Tart apples, pineapple, and even raisins are great additions to candied yams.
What Goes with Candied Yams?
Everything! Seriously, candied yams are an incredibly versatile side that go with everything from pork chops to fried chicken, to Christmas dinner. I typically do make them as part of my holiday menu. That being the case, here are a few other holiday dishes that work really well with candied yams:
Turkey: Everyone's favorite! Juicy Whole Roast Turkey is an absolute classic, and always makes the holiday dinner that much more special.
Green Bean Casserole: Sweet, meet savory! The Best Green Bean Casserole is a creamy, bacon-y delight that goes perfectly next to a serving of sweet candied yams.
Veggie Gratin: A colorful and nutritious side dish, this gorgeous Zucchini Tomato Gratin is sure to impress.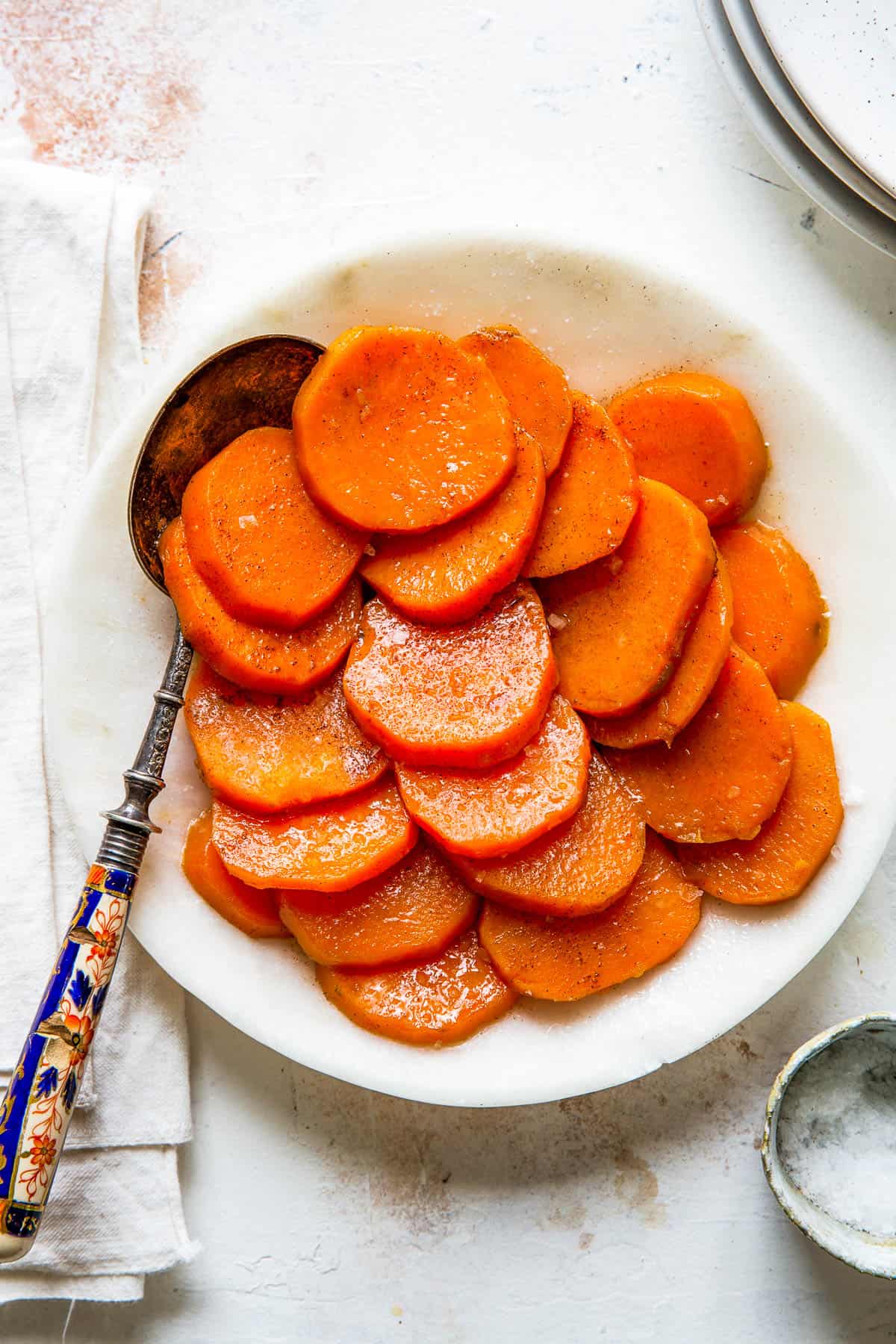 Storing and Reheating Leftovers
Leftovers should be refrigerated in airtight containers for the best results.
They'll keep for 3 to 5 days.
Can I Make Yams Ahead?
Sure! Candied yams freeze well, as long as you haven't added any toppings. Just make the basic recipe, cool, and pack into freezer bags or containers.
Freeze for up to 2 weeks before thawing overnight in the fridge.
Reheat in a skillet set over medium-low heat.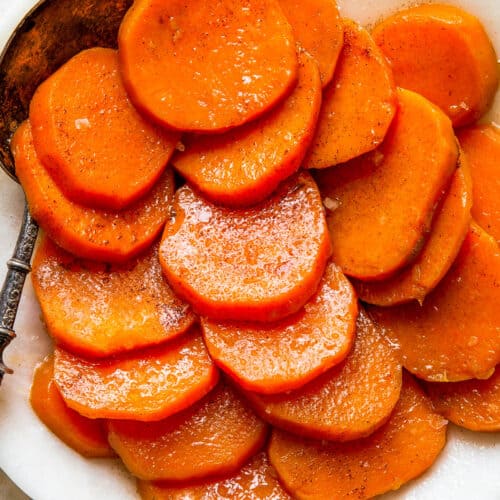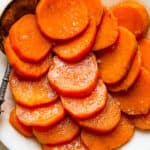 Print Recipe
The Best Candied Yams
Loaded with buttery, cinnamon spiced goodness, this easy recipe for The Best Candied Yams is a classic side dish that pairs well with all Holiday meals.
Instructions
Place the sweet potatoes in a large pot. Cover with two inches of cold water, and add a pinch of salt.

Bring to a high simmer over high heat, and then reduce the heat to simmer gently for 5 minutes, or until the potatoes are soft on the edges and firm in the center.

Reserve 1 cup of the cooking liquid. Drain the remaining water from the sweet potatoes.

In a large skillet, stir together the reserved cooking liquid, the butter, the sugar, cinnamon, ginger, nutmeg, and salt.

Bring to a boil, stirring until the sugar is dissolved and the butter is melted.

Add the sweet potatoes to the skillet and stir well. Continue to cook, stirring often, for 5 to 10 more minutes, or until the sweet potatoes are fully cooked and the sauce has reduced.

Turn off the heat and season with salt to taste.

Let cool for 5 minutes before serving.
Notes
Cooking time will vary depending on the potatoes. Older potatoes cook faster than fresher ones, and the size of the rounds will also affect the cooking time.
Nutrition
Calories:
234
kcal
|
Carbohydrates:
40
g
|
Protein:
2
g
|
Fat:
8
g
|
Saturated Fat:
5
g
|
Polyunsaturated Fat:
1
g
|
Monounsaturated Fat:
2
g
|
Trans Fat:
1
g
|
Cholesterol:
20
mg
|
Sodium:
281
mg
|
Potassium:
526
mg
|
Fiber:
5
g
|
Sugar:
15
g
|
Vitamin A:
21687
IU
|
Vitamin C:
4
mg
|
Calcium:
57
mg
|
Iron:
1
mg
More Old-Fashioned Side Dishes