Brussels sprouts, bacon, and homemade Parmesan-shallot cream sauce make this truly The Best Green Bean Casserole ever! A crispy topping and bacon add the perfect traditional touch.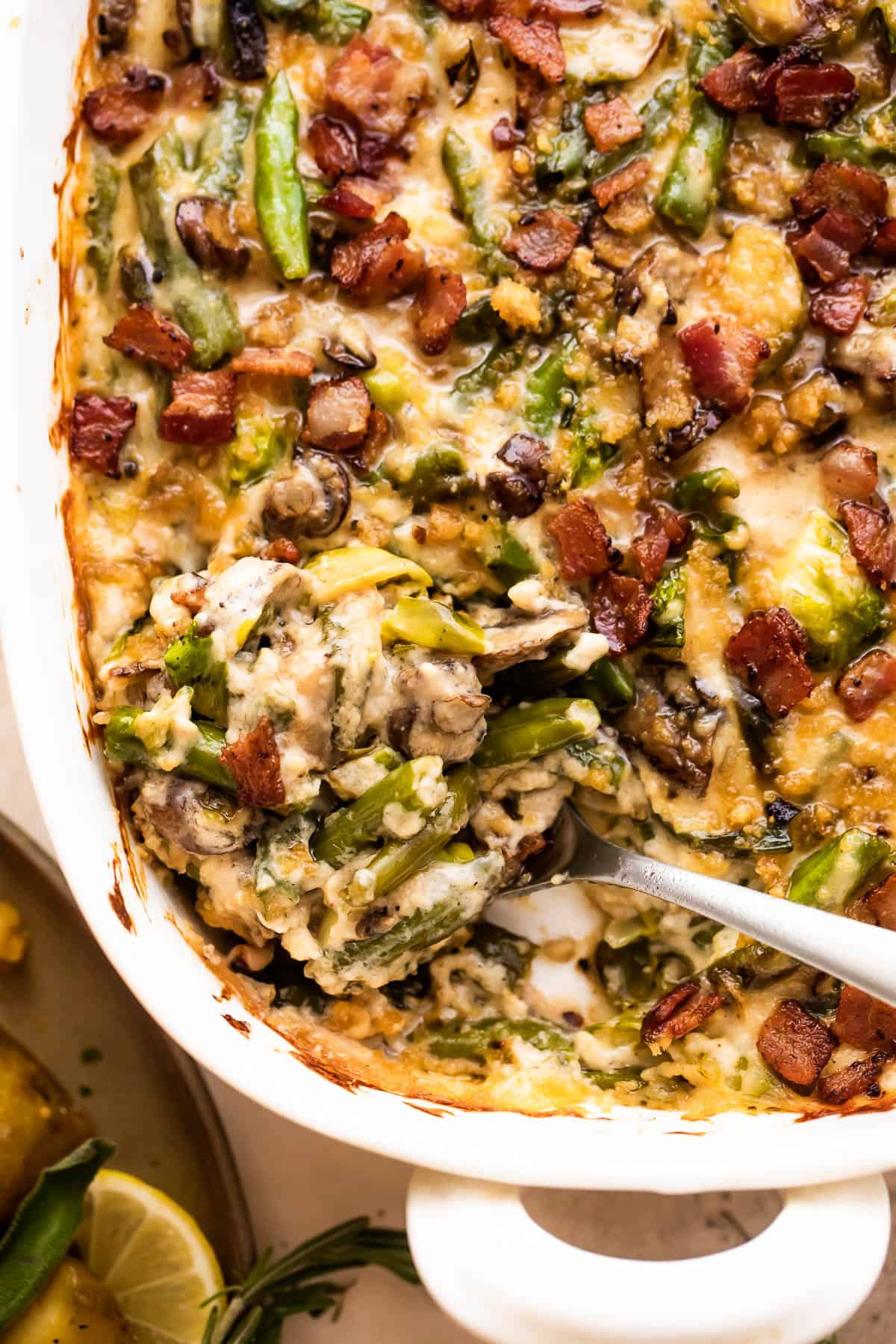 Easy Green Bean Casserole with Bacon and Brussels Sprouts
I love vegetables, and generally, I think that most veggies are superb just steamed and tossed with butter and salt. But, why stop there? Especially around the holidays, making things saucy, cheesy, and just plain old indulgent is a favorite tradition.
Enter this AWESOME green bean casserole!
This recipe takes everyone's beloved green bean casserole to a whole new level, by adding smoky, crispy bacon and hearty, crisp-tender Brussels sprouts. The sauce is made from scratch, using shallots, parmesan, and fresh mushrooms. Are you drooling yet? I know I am!
While all of this sounds super fancy, just between us—it's a really easy recipe to make. And you can make it ahead, too, which makes life even easier! Digital high fives all around! ✋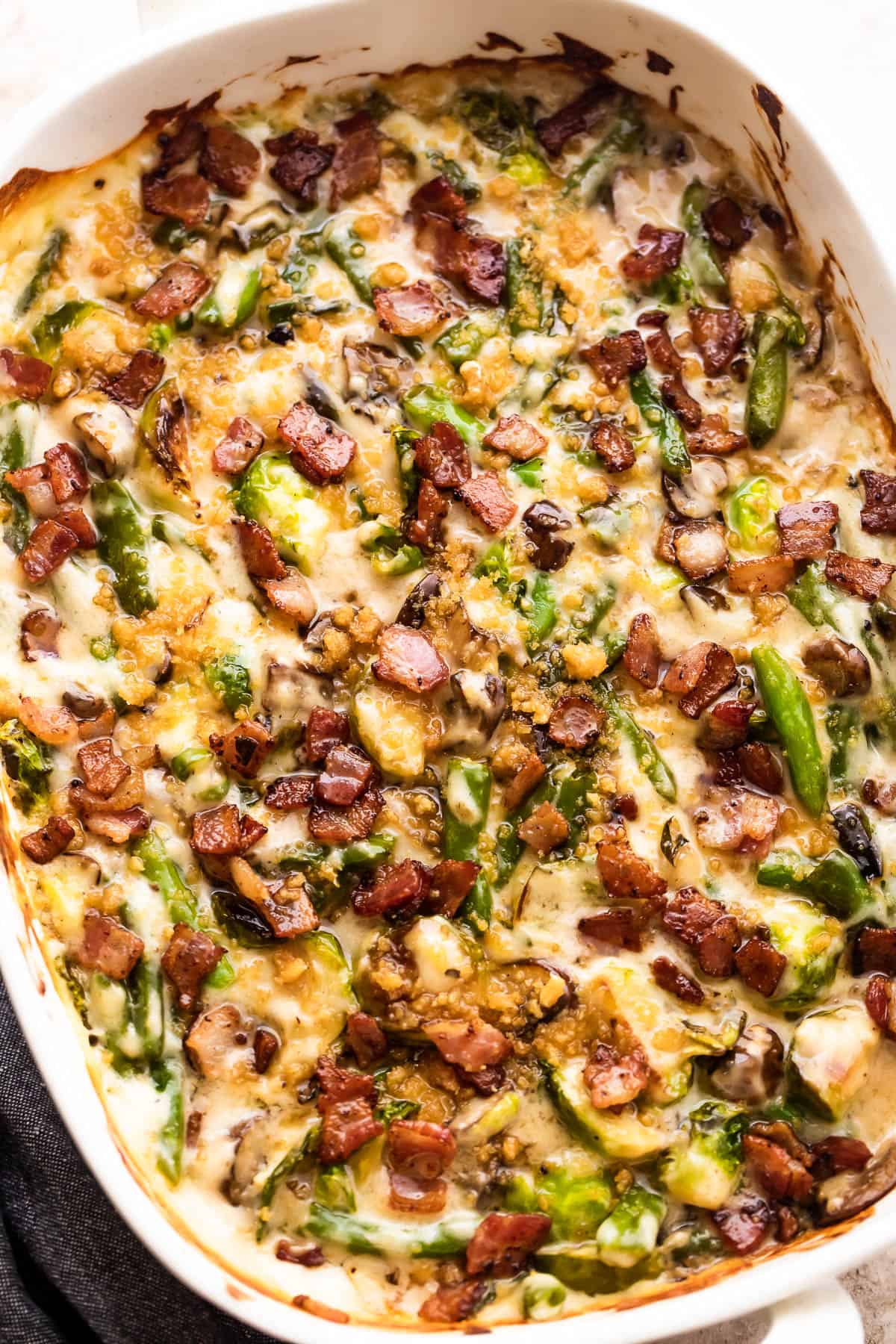 Recipe Ingredients
Let's take a closer look at these mouthwatering ingredients. You'll notice that I do go ahead and use frozen green beans. They just make things faster and easier, and cook up just as bright and beautiful as fresh. But if you'd like to substitute fresh, that's fine, too.
Bacon: Using a sharp knife, dice up the bacon slices into small pieces.
Brussels Sprouts: The Brussels sprouts should have the root ends trimmed short, and any discolored outer leaves discarded. From there, cut them into quarters.
Green Beans: I prefer French-cut green beans, but regular cut green beans are also fine. They should be thawed and well-drained in a colander so they don't make the dish watery.
Butter: I use a whole stick of butter, divided. Salted or unsalted, either is fine!
Shallot: Don't skip the shallot! Shallot helps give green bean casserole its classic flavor. Chop it finely or mince it.
Mushrooms: You can use crimini mushrooms, button mushrooms, or whatever mushrooms you like! Slice them roughly to match the size of the quartered Brussels sprouts.
Flour: A small amount of all-purpose flour thickens the sauce.
Milk: Whole milk is my go-to, but if you wish, you can substitute non-dairy milk in this recipe. The texture and taste will be slightly different in that case.
Parmesan Cheese: A generous amount of Parmesan makes the sauce thick and strong flavored, with deep umami notes.
Salt and Pepper
Breadcrumbs or Fried Onions: Store-bought fried onions add that essential green bean casserole finish. You could also make your own fried onions, if you prefer! Get this Homemade Fried Onions recipe from Diethood.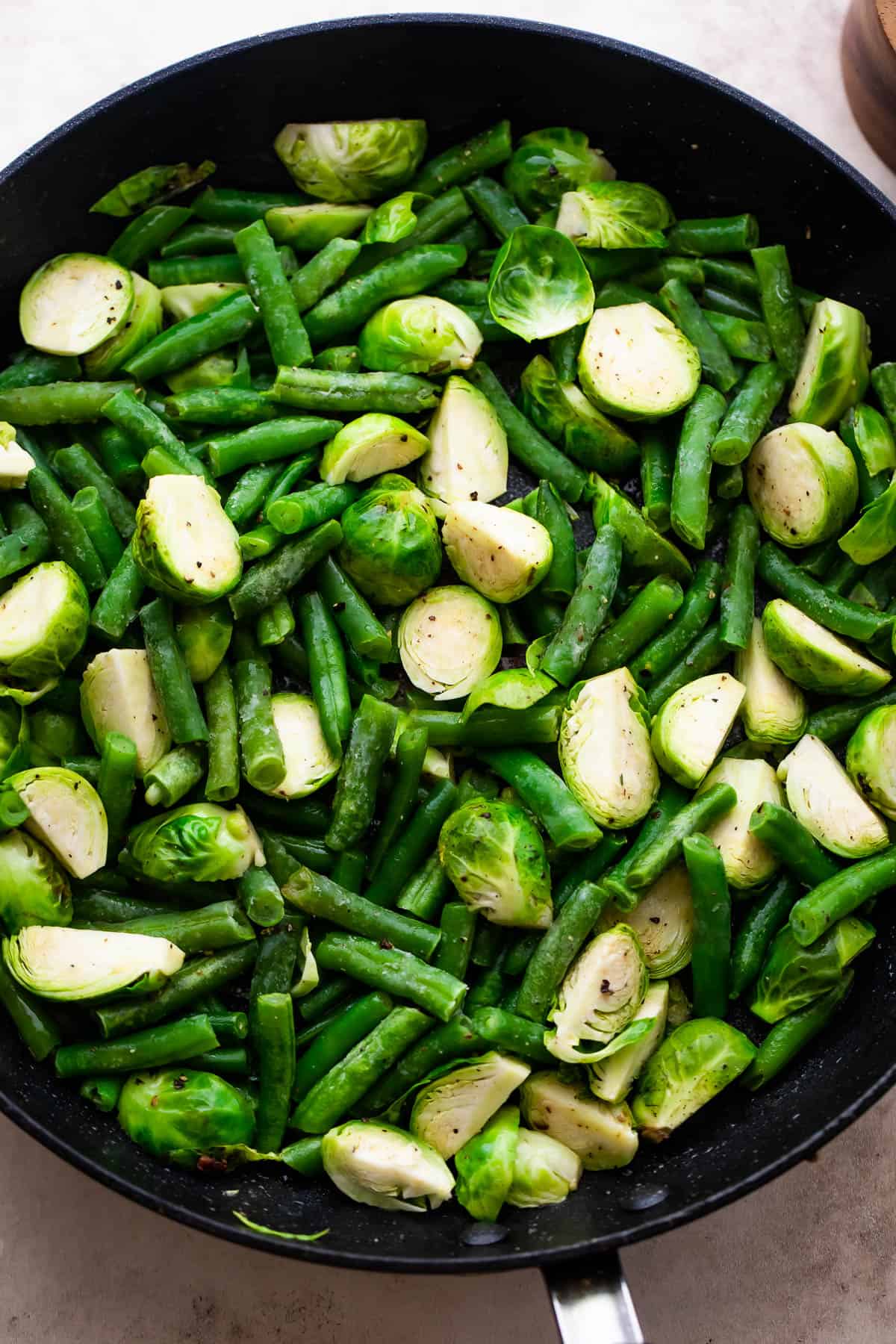 How to Make Green Bean Casserole from Scratch
This recipe has several components, but you only need a baking dish and a Dutch oven (or a large pot) to make them! Almost everything gets a quick pre-cook in the Dutch oven, before going into the baking dish and then the oven, to let the flavors meld together.
Prep Your Oven and Baking Dish. Before you start cooking, set your oven to preheat to 350˚F. Lightly grease a 9×13 baking dish with butter, and set it aside.
Cook the Bacon, Brussels Sprouts, and Green Beans. Set a Dutch oven (or a large, heavy pot) over medium heat. Add the diced bacon, and cook it until it's crispy. Then use a slotted spoon to remove the cooked bacon from the pot, and set it aside.
Add the Brussels sprouts and thawed green beans to the bacon grease in the pot. Saute them gently for about 6 to 8 minutes, or until crisp-tender. NOTE: Get smaller sized brussel sprouts so they cook up faster.
Cook the Mushrooms and Shallots. Remove the cooked Brussels sprouts and green beans from the pot, and set them aside. Add a couple of tablespoons of butter to the pot and turn the heat up to medium-high. Cook the shallots and mushrooms in the melted pot, stirring often, until the mushrooms are browned and the shallots are caramelized. This should take 8 – 10 minutes.
Make the Sauce. Transfer the cooked shallots and mushrooms to the baking dish, and set aside. Add the remaining butter to the pot and let it melt. Stir the flour into the melted butter and cook for a minute or so, whisking the whole time to prevent scorching and remove any lumps. Next, whisk in the milk. Keep whisking the mixture for a few minutes, until it's thickened and bubbly. Turn the heat off, and then stir in the Parmesan, salt, and pepper.
Assemble the Casserole and Bake. Stir the sauce into the Brussels sprouts, green beans, mushrooms, and shallots. Transfer the casserole to the oven and bake for 15 minutes.
Top the Casserole and Bake. Take the casserole out of the oven for a moment, sprinkling it with the crispy bacon pieces and the breadcrumbs or fried onions. Bake again, for another 15 minutes or so, until golden brown.
Enjoy! Let your casserole stand for 10 minutes or so before tasting for seasonings, adjusting as needed, and serving warm.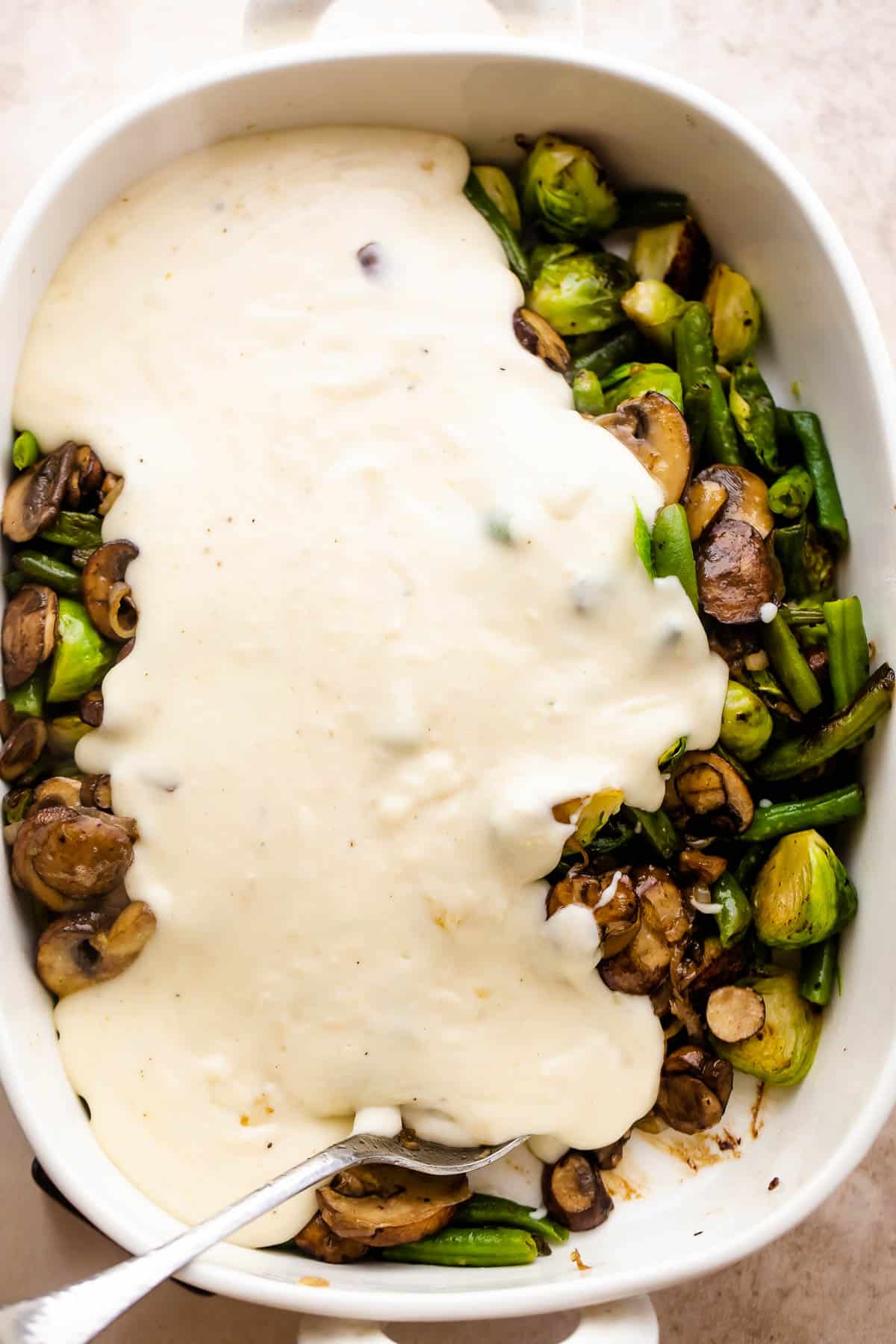 Tips for Success
Everyone has their favorite "secrets" for making a good green bean casserole, but I'm happy to share mine with you! Here are some important pointers for making sure your casserole turns out creamy, crunchy, and perfect.
Don't Overcook the Veggies: Be careful not to overdo it when cooking the Brussels sprouts and green beans! They should still be slightly crisp when you put them in the casserole, so they won't be mushy when done baking.
Cook the Mushrooms Thoroughly: When you cook mushrooms, it can take some time for them to exude all of their water and then begin to brown. Be patient, and trust the process. If you stop cooking them too soon, they'll continue to exude water while baking. That will make your casserole watery—not a good thing.
Substitute Toppings: If you're not crazy about fried onions, this casserole is also wonderful topped with homemade breadcrumbs, crushed butter crackers, or panko. I use these pork rind crumbs – they are SOOO GOOD!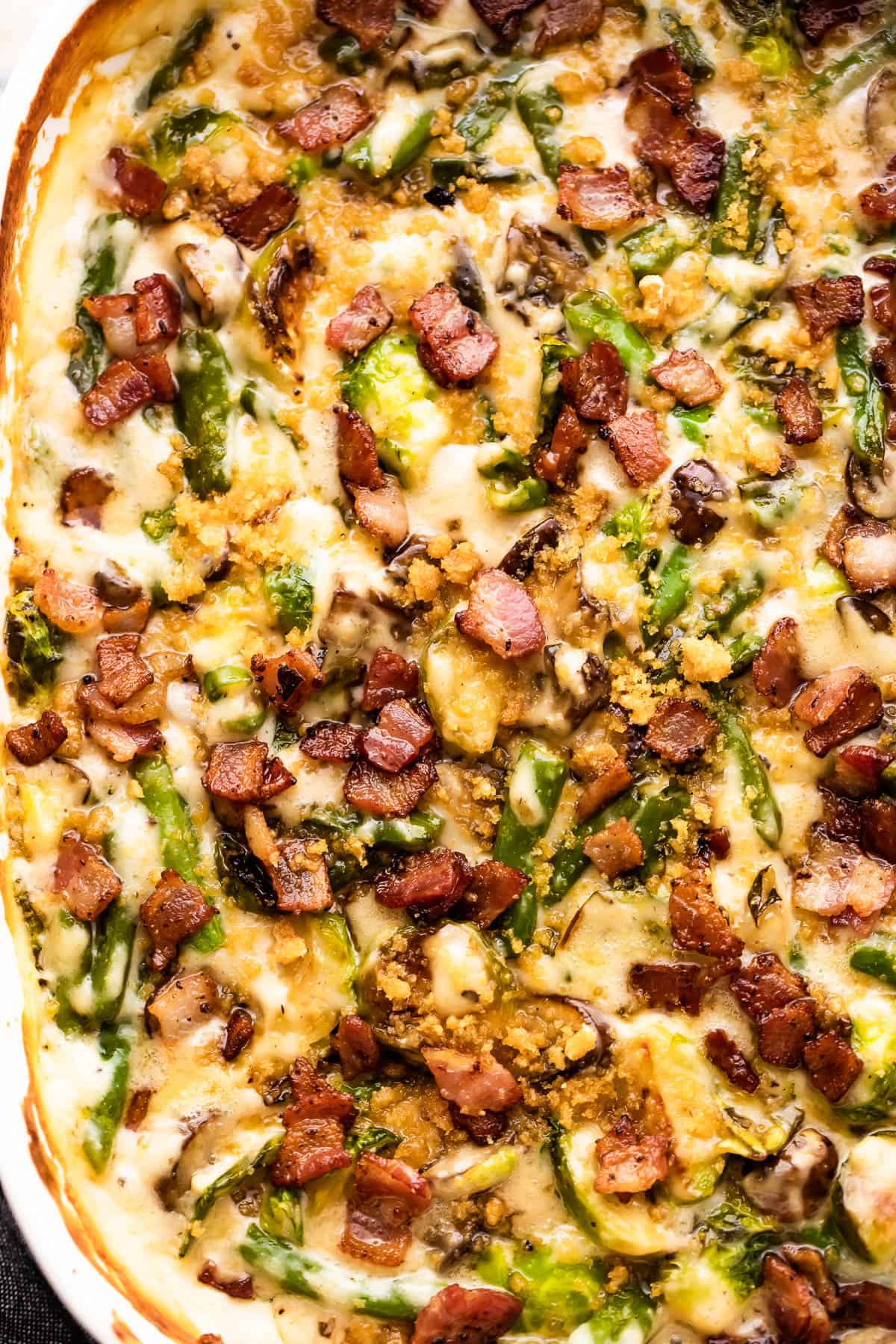 What to Serve with Green Bean Casserole
This dish goes perfectly with other holiday classics, from turkey to cranberry sauce. Try some of these favorite, cozy, holiday dishes. They're easy to make, and scrumptious to eat, and go perfectly with green bean casserole.
Glazed Carrots: These simple Honey Balsamic Roasted Carrots are pretty to look at, deeply tangy, and lusciously sweet.
Roast Turkey: A Juicy Whole Roast Turkey makes an impressive (and tasty!) main course, and even more so when served with this savory casserole.
Scalloped Potatoes: Golden-brown and ultra-cheesy Scalloped Potatoes are a hearty, indulgent side dish perfect for any occasion.
How to Store and Reheat Leftovers
To refrigerate leftover green bean casserole, store it in an airtight container, or cover the casserole dish tightly with plastic wrap. It will keep for up to 3 days in the fridge.
To freeze, place the green bean casserole in shallow, airtight containers and freeze for up to 3 months. Thaw in the refrigerator before reheating.
To reheat, place in an oven-safe dish and bake at 350˚F until heated through.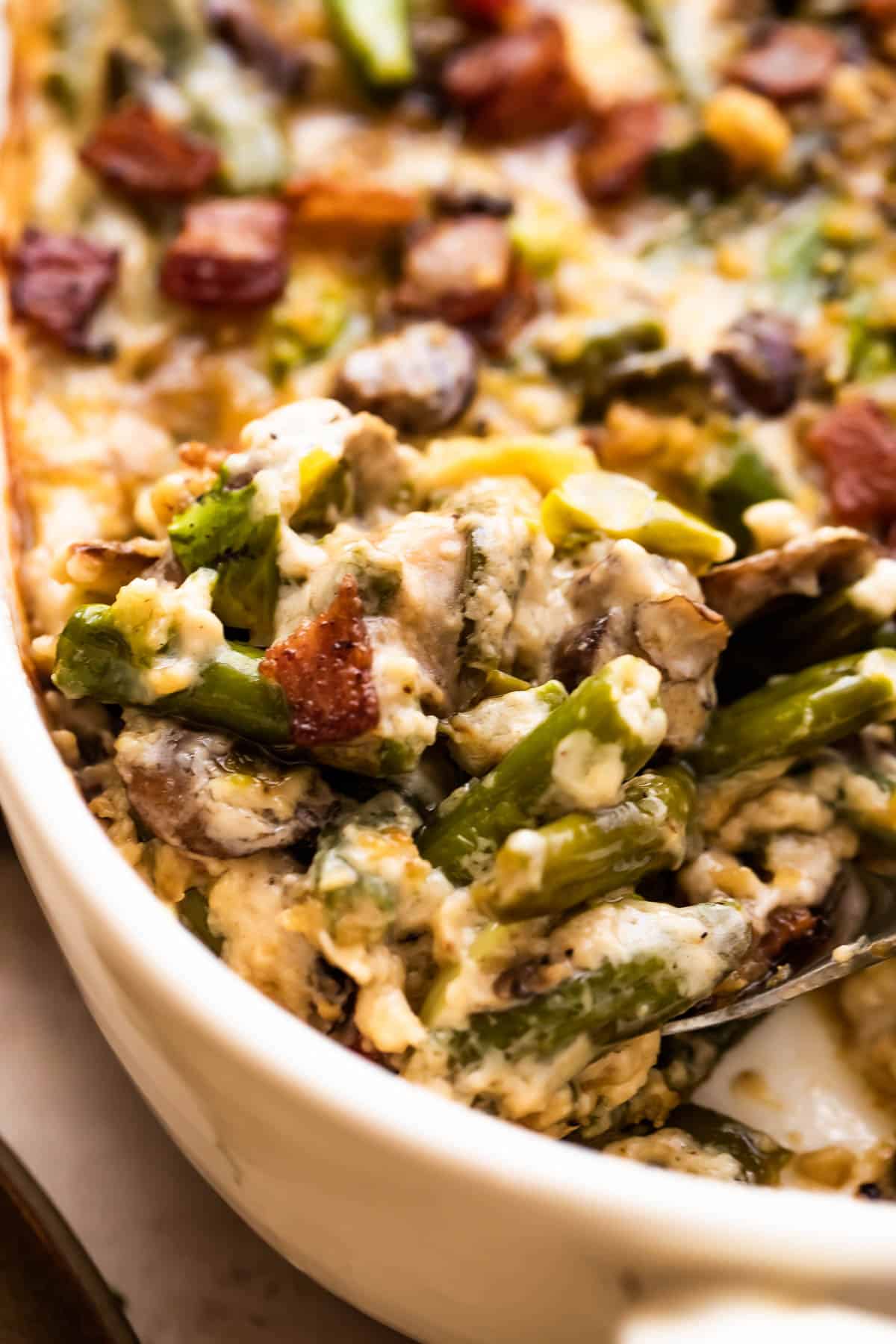 Make-Ahead Instructions
Green bean casserole is perfect for making ahead! All you have to do is prepare the casserole up to the point of baking, but then store it, tightly wrapped, instead of baking it. The topping should be stored separately so it doesn't soften.
Store in the fridge for up to 2 days, or the freezer for up to 3 months.
To bake after storing, add an additional 15 – 30 minutes to the initial bake time, making sure that the casserole is hot and bubbly. From there, add the toppings, and bake 15 minutes longer. Let stand 10 minutes before serving.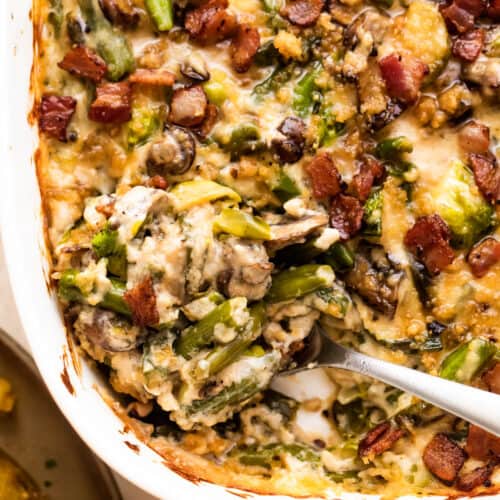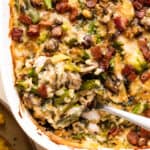 Print Recipe
The Best Green Bean Casserole
Brussels sprouts, bacon, and a creamy sauce with Parmesan and shallots make this truly the Best Green Bean Casserole!
Ingredients
6

slices

bacon,

diced

1

pound

brussel sprouts,

trimmed and quartered (get smaller sized brussel sprouts)

2

packages (15 ounces each)

cut green beans,

thawed (you can use fresh green beans, if you prefer)

8

tablespoons

butter,

divided

1

large shallot,

chopped

8

ounces

sliced mushrooms

6

tablespoons

all purpose flour

4

cups

milk

1 ½

cups

shredded parmesan cheese

Salt and fresh ground black pepper,

to taste

breadcrumbs,

for topping, optional

crispy fried onions,

for topping, optional
Instructions
Preheat oven to 350˚F.

Lightly grease a 9×13 baking dish with butter and set aside.

Cook diced bacon in a dutch oven or large skillet set over medium heat.

Using a slotted spoon, remove cooked bacon from the pot and set bacon aside.

To the bacon grease, add the brussel sprouts and thawed green beans; season with salt and pepper, and cook for about 6 to 8 minutes, or until tender.

Remove vegetables from the pot and transfer to the baking dish; set aside.

Add 2 tablespoons butter to the pot and set over medium-high heat.

Add shallots and mushrooms; cook and stir often for about 8 minutes, or until mushrooms are browned and shallots are caramelized.

Remove mushroom and shallots from the pot and add them to the baking dish. Set aside.

To the same skillet/pot add remaining butter; melt it over medium high heat.

Whisk in the flour and cook for 1 minute while constantly whisking.

Whisk in milk until smooth.

Continue to whisk for 3 to 4 minutes, or until mixture is thickened and bubbly.

Remove from heat.

Add parmesan cheese, salt, and pepper and whisk until well combined.

Pour sauce over the green beans mixture and stir until completely combined.

Transfer baking dish to the oven and bake, uncovered, for 15 minutes.

Remove from oven and sprinkle with previously cooked bacon pieces and the breadcrumbs OR fried onions.

Return to oven and continue to bake for 15 minutes, or until top is golden brown.

Let stand 10 minutes.

Taste for salt and pepper; adjust accordingly.

Serve.
Nutrition
Calories:
329
kcal
|
Carbohydrates:
20
g
|
Protein:
15
g
|
Fat:
22
g
|
Saturated Fat:
12
g
|
Polyunsaturated Fat:
2
g
|
Monounsaturated Fat:
7
g
|
Trans Fat:
1
g
|
Cholesterol:
56
mg
|
Sodium:
457
mg
|
Potassium:
618
mg
|
Fiber:
4
g
|
Sugar:
10
g
|
Vitamin A:
1502
IU
|
Vitamin C:
50
mg
|
Calcium:
333
mg
|
Iron:
2
mg
More Holiday Favorites