This easy recipe for Albondigas Soup is made with a savory tomato-based broth, plenty of chopped veggies, and tasty little homemade meatballs. Chock full of nutrition and goodness, it's a cozy and delicious meal.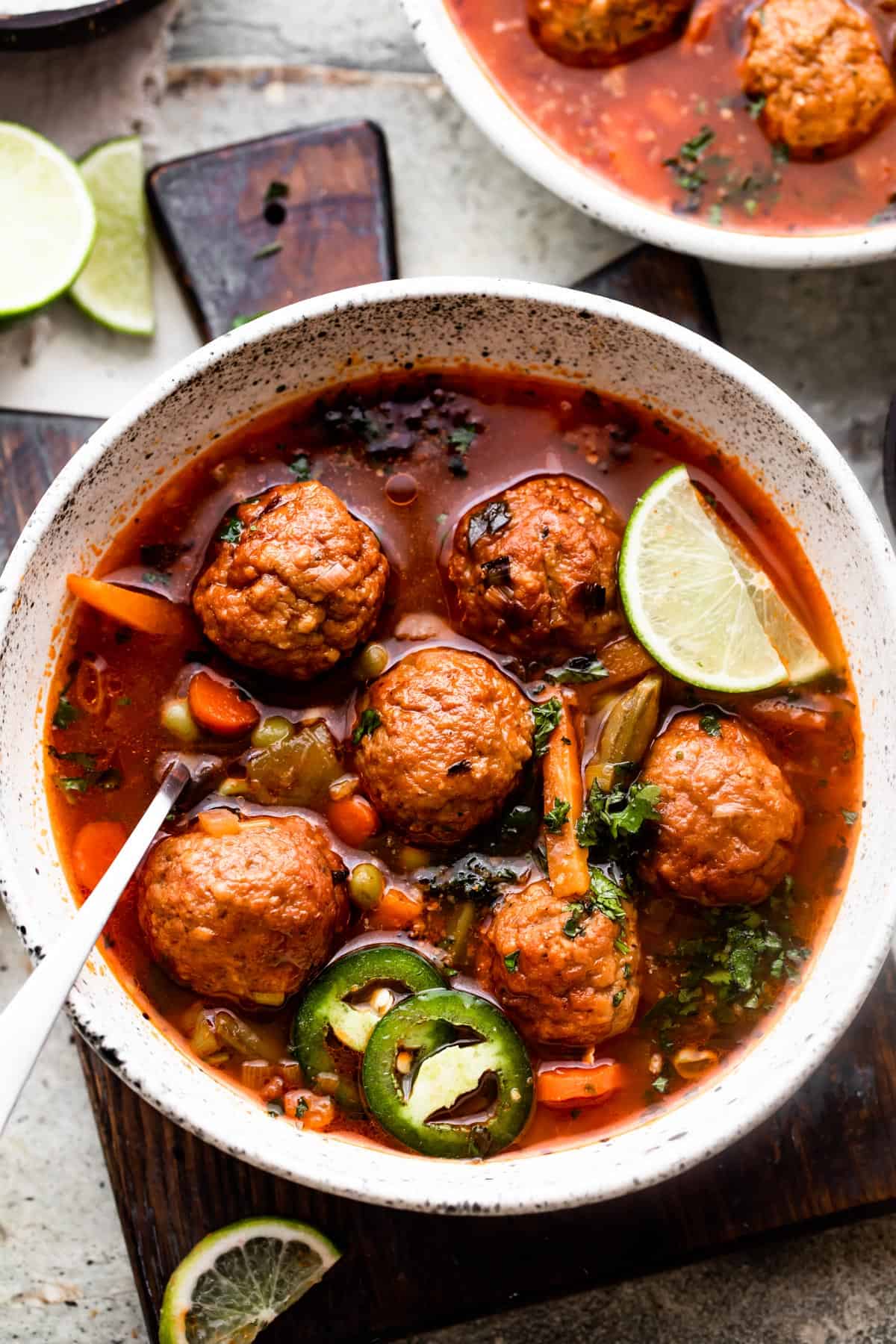 A Bold and Flavorful Mexican Soup with Meatballs
Soup is one of my favorite food "genres"! From a quick tomato basil soup that takes minutes to put together, to a slow-simmered beef stew that's been building a hearty flavor for hours, I love 'em all!
It just doesn't get better than a warm bowl of homemade soup – especially with a chunk of crusty bread, or a fresh side salad! For lunch or dinner, soup is a great option.
This recipe for Albondigas (Mexican meatball soup) is especially easy, and is ultra-flavorful. The homemade meatballs give this kind-of-an Italian wedding soup vibe, while the hearty tomato broth gives it more of a tortilla soup spin. Fresh vegetables add color, texture, and plenty of flavor.
While the idea of making homemade meatball soup may seem daunting, it's actually super simple, so don't be intimidated! Let's get down to the details, and you'll see how easy it is for yourself!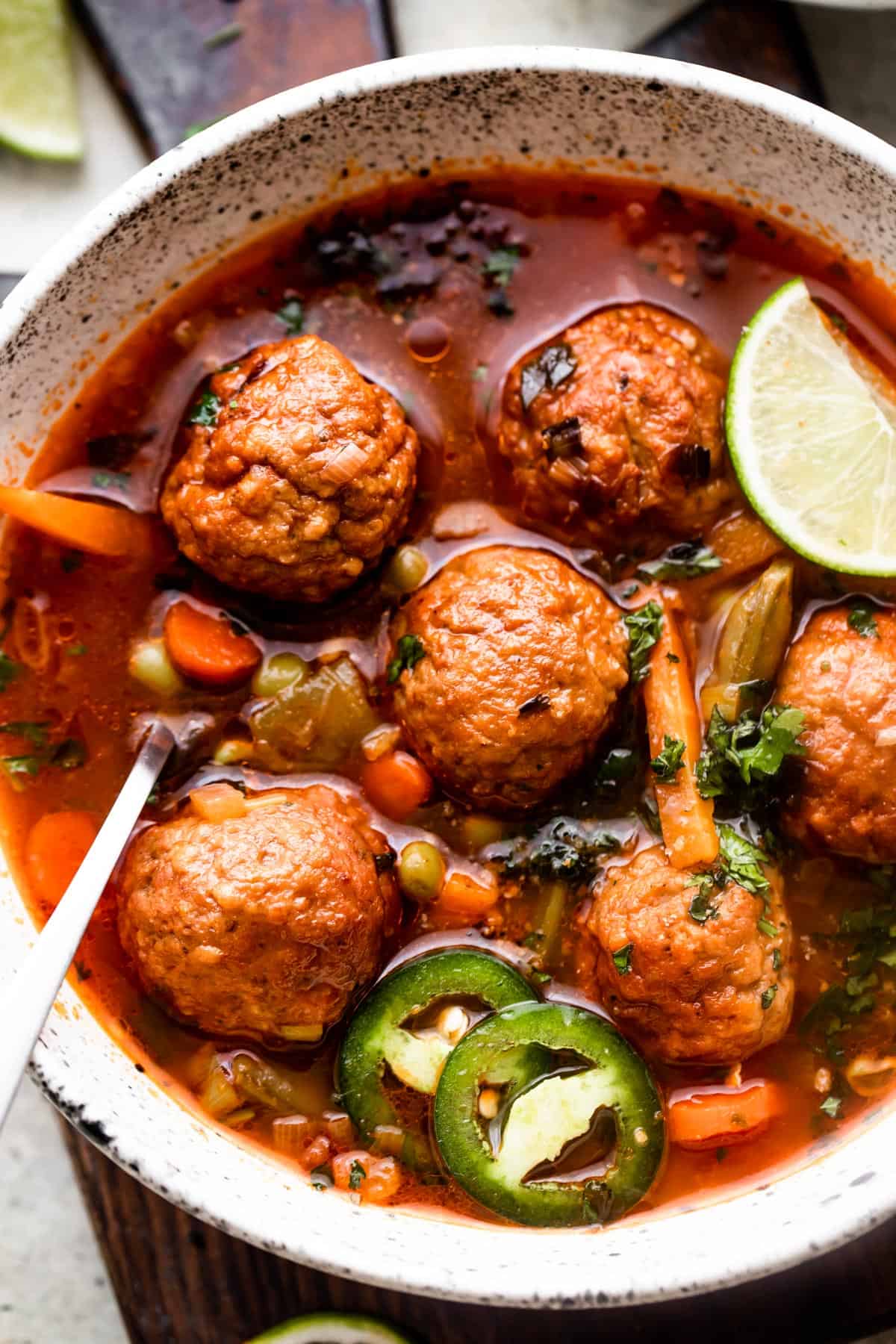 What Is Albondigas Soup Made Of?
Here's the full list of goodness you will need to make this satisfying dish. Most of these ingredients are probably already things you buy or keep on hand!
For the Meatballs
Beef: To keep the soup from being greasy, I recommend using lean ground beef. You can use any kind that you like, though, and simply skim any excess oil from the soup with a big spoon or a clean paper towel.
Rice: You'll need uncooked, long-grain white rice for the meatballs. Don't substitute other kinds of rice, because other types of rice may need more or less cooking time (especially brown rice and wild rice, which take a lot longer than white).
Herbs, Spices, and Seasonings: Chopped fresh cilantro and mint give the meatballs an interesting, zingy taste. Cumin, oregano, salt, and pepper round out the seasoning.
Egg: A large, lightly-beaten egg adds a touch of richness and binds the meatball mixture together.
For the Soup
Oil: For sauteing. I like to use avocado or vegetable oil, but medium or light olive oil would also be good.
Onion: Dice up one yellow onion. If you don't have or want to use yellow onion, that's fine too! Red, white, or sweet onions are all great in this recipe.
Carrots: Scrape or peel the carrots, and cut them into thin coins.
Jalapeño Pepper: A little diced jalapeño gives the soup a spicy kick. Not a fan? No problem! Use a bit of bell pepper instead, or leave it out entirely.
Garlic: Fresh, minced garlic is great – or you can use some garlic powder or jarred garlic.
Cilantro: Chopped fresh.
Salt and Pepper
Tomato Sauce and Paste: You'll need both to make the soup broth. Tomato paste is slightly sweeter and has an almost sun-dried tomato flavor, while tomato sauce is tangy and adds body to the soup.
Broth: Vegetable broth, chicken broth, or beef broth – it's up to you!
Peas: I like to use a mixture of regular green peas and snap peas – yum! Fresh, frozen, or canned are all fine. If you use canned, be sure to drain them well.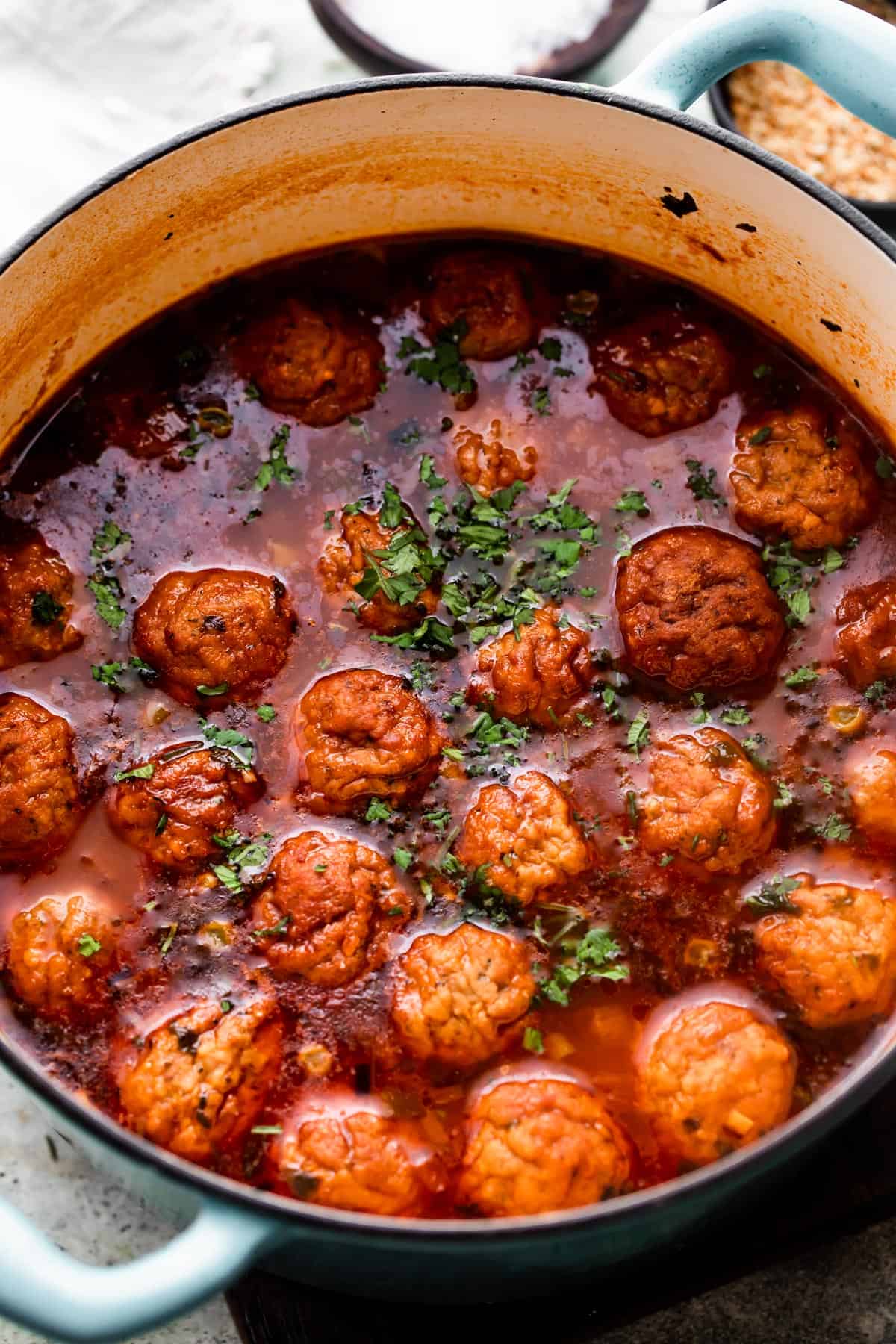 Let's Make Albondigas Soup!
Now for the important part. How are we to make this amazing soup? Here's the rundown, step by step. It's really simple to pull this one together!
Make the Meatballs. Once the soup starts to simmer, you will want to drop in the meatballs and let them cook – so the first step is to get the meatballs ready. To do this, just combine the ground beef and other meatball ingredients in a large mixing bowl, and gently mix into a consistent "dough." Don't overmix, or the meatballs will be tough. Next, wet your hands and form the mixture into meatballs, about 1 to 1 ½ inches in diameter.
Make the Soup Base. Now it's time to get the soup heating up. First, heat the avocado oil in a Dutch oven or a heavy-bottomed pot over medium heat. Once the oil is hot, add the onions, and cook for 2 minutes. Then stir in the carrots, diced jalapeno, and cilantro, and cook for 4 more minutes. Add the garlic, and cook for 15 seconds, and then stir in the tomato paste, tomato sauce, broth, and peas. Bring this all to a boil.
Add Meatballs and Simmer. When the soup is boiling, gently drop the meatballs into the pot. Lower the heat to a simmer, and let the meatballs cook for 25 to 30 minutes, or until they are cooked through.
Enjoy! Take the soup off of the heat, and taste it for salt and pepper. Adjust as needed, and then serve.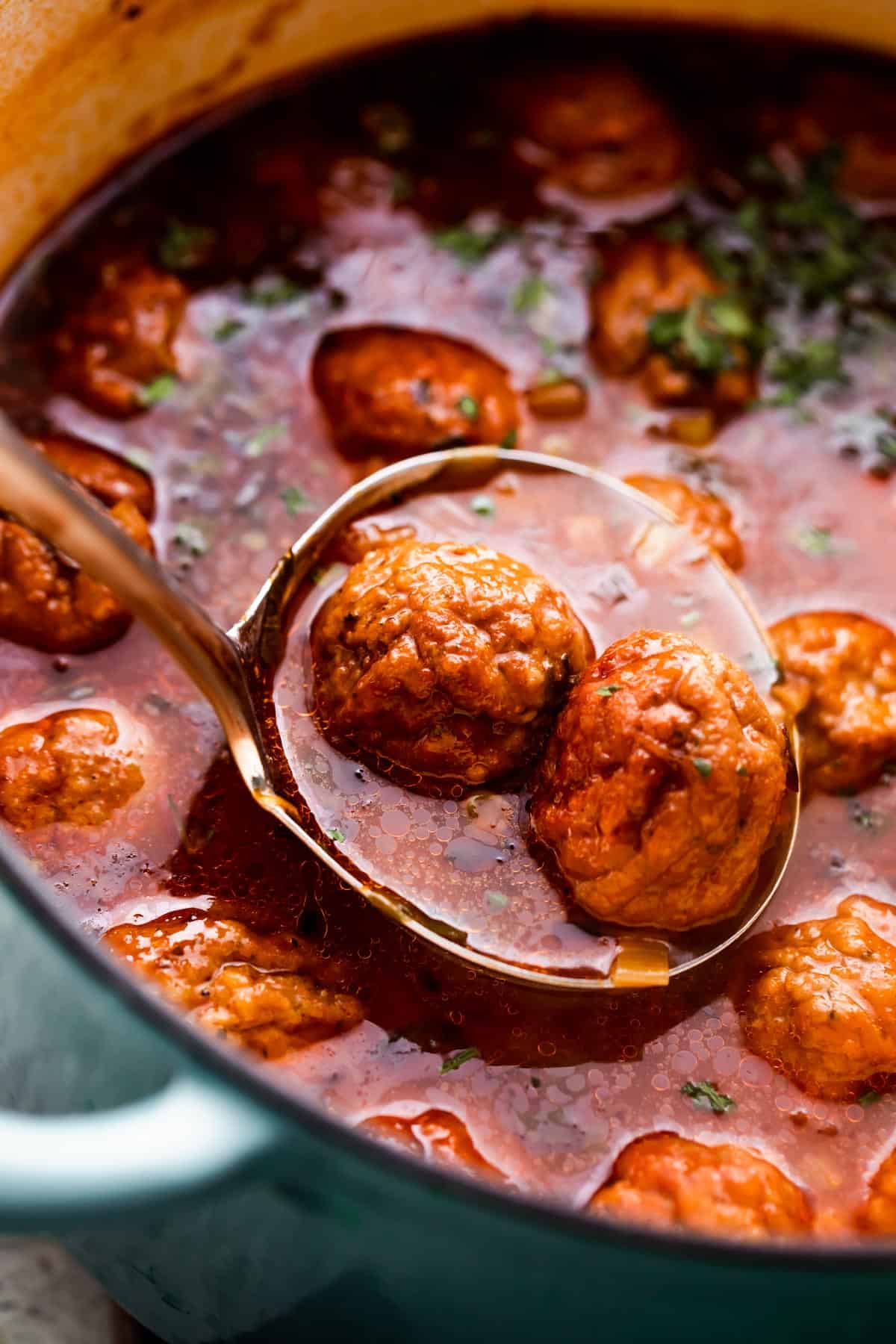 Why Are My Albondigas Hard?
Sometimes, meatballs are very tender and the mixture doesn't have enough binding agents to hold them together. But a more common problem is having meatballs that are tough or hard! In this recipe, rice and egg help hold the meatballs together, so that shouldn't be a problem.
To keep your meatballs from being too tough, make sure to avoid overworking the mixture as you mix it and roll the balls, and don't pack the mixture together too tightly in order to form the meatballs.
Tips for the Best Meatball Soup
To make your soup "chef's kiss" perfect, make sure to check out these helpful tips and tricks. Each one is designed to make your soup the best it can be.
Fresh Herbs: If you don't have fresh mint, dried mint will do just fine. Just be sure not to use peppermint, which has a different taste and strength. For the cilantro, you can use dried as needed. You can also leave it out entirely if you don't like cilantro or have any on hand! Parsley is a great replacement without the strong cilantro flavor.
Veggies: Feel free to switch out the veggies in any way you please! Celery, potatoes, corn, zucchini… there are tons of delicious veggies you can throw in the broth to change up your soup.
Meatballs: Form the meatballs with your hands instead of a scoop or spoon. Doing it with your hands helps to ensure that the meatballs will stay together and not fall apart into the soup. Wet your hands with water (or oil) to keep the mixture from sticking to your hands.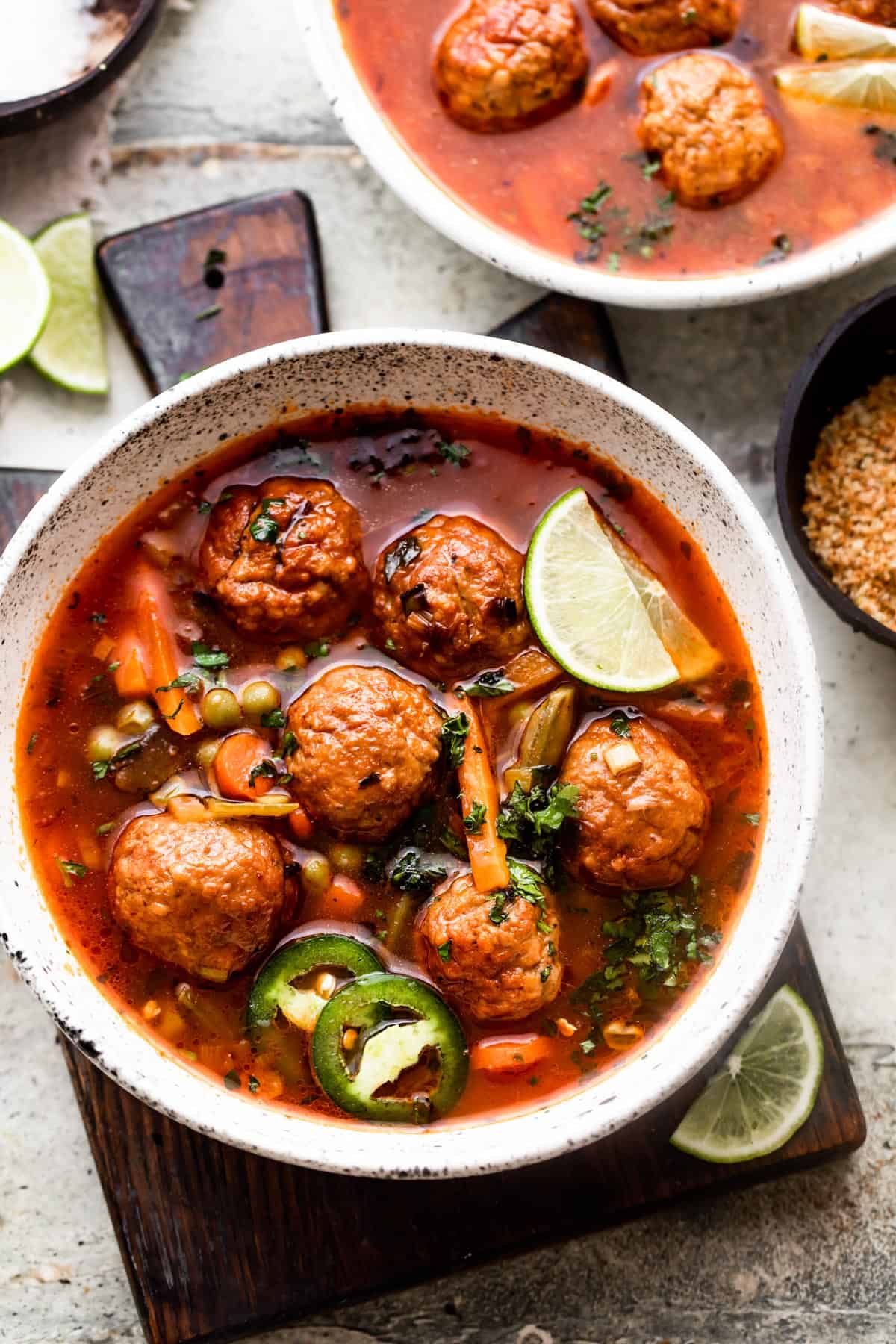 Tasty Serving Suggestions
Soup is great on its own, but it's also scrumptious with an easy side dish or two, really set the soup off and provide contrast. Here are a few easy e side dishes to serve with albondigas soup.
No Knead Bread: Classic No Knead Dutch Oven Bread is the perfect side dish for any soup. Its delightfully crunchy crust is practically made for dunking in hot, savory soup broth!
Baked Potatoes: Looking for a truly filling meal? This is the way to go. A big pot of soup and some Instant Pot Loaded Baked Potatoes is a hearty, satisfying dinner for even the hungriest crowd.
Jalapeño Popper Balls: Air Fryer Jalapeño Popper Balls are a fun side dish that goes surprisingly well with albondigas soup! You'll love this spicy, cheesy appetizer.
Storing and Reheating Your Soup
To store your albondigas soup, keep it in the refrigerator in an airtight container for 3 to 5 days.
To reheat your soup, heat it in a saucepan on the stove, or in a microwave-safe bowl in the microwave, until heated through.
Can I Freeze Soup?
Freezing this soup is definitely an option! Just cool it down, put it in airtight containers, and freeze for up to 3 months.
Thaw in the fridge before reheating. Note: If you add freezer-unfriendly ingredients to the soup (like potatoes), it may not freeze as well.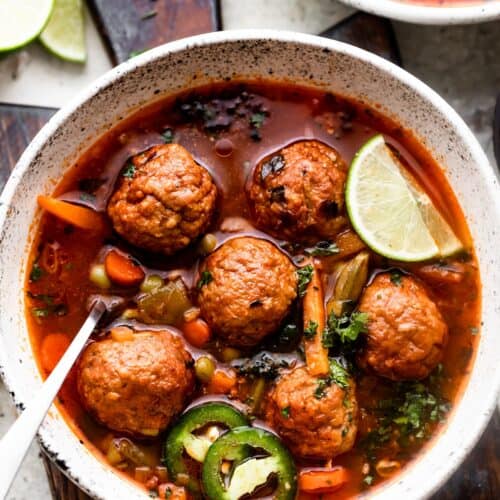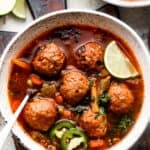 Print Recipe
Albondigas Soup
This easy recipe for Albondigas Soup is made with a savory tomato-based broth, plenty of chopped veggies, and tasty homemade meatballs.
Ingredients
FOR THE SOUP BASE
2

tablespoons

avocado oil,

or vegetable oil

1

yellow onion,

diced

2

carrots,

cut into thin coins

1

jalapeno pepper,

diced

3

tablespoons

chopped fresh cilantro

3

cloves

garlic,

minced

2

tablespoons

tomato paste

1

can (8 ounces)

tomato sauce

6

cups

vegetable broth

1

cup

frozen or canned green peas

1

cup

snap peas

salt and fresh ground black pepper,

to taste
Instructions
In a large mixing bowl combine ground beef, rice, cilantro, mint, salt, cumin, oregano, black pepper, and beaten egg; mix until thoroughly incorporated.

Wet your hands and form beef mixture into about 1 to 1.5-inch meatballs. Set aside.

Heat the avocado oil in Dutch oven or heavy bottomed pot set over medium heat.

Add onions to the hot oil and cook for 2 minutes.

Stir in the carrots, diced jalapeno, and cilantro; cook for 4 minutes. Add more oil if needed.

Add garlic and cook for 15 seconds.

Stir in the tomato paste; then add the tomato sauce and stir until combined.

Add the beef broth; stir in the green peas and snap peas, and bring mixture to a boil.

Add the meatballs to the soup.

Lower the heat to a simmer and cook for 25 to 30 minutes, or until meatballs are cooked through.

Remove from heat.

Taste for salt and pepper; adjust accordingly.

Ladle into soup bowls and serve.
Nutrition
Calories:
215
kcal
|
Carbohydrates:
21
g
|
Protein:
16
g
|
Fat:
7
g
|
Saturated Fat:
2
g
|
Polyunsaturated Fat:
1
g
|
Monounsaturated Fat:
4
g
|
Trans Fat:
1
g
|
Cholesterol:
56
mg
|
Sodium:
1222
mg
|
Potassium:
512
mg
|
Fiber:
3
g
|
Sugar:
6
g
|
Vitamin A:
3559
IU
|
Vitamin C:
23
mg
|
Calcium:
49
mg
|
Iron:
3
mg
More Satisfying Soup Recipes