Hearty Guinness Beef Stew is made with tender chunks of beef, baby potatoes, and a load of yummy veggies, plus a bottle of rich Guinness beer! It's a meal that'll stick to your ribs and warm your heart. Erin go bragh! 🍀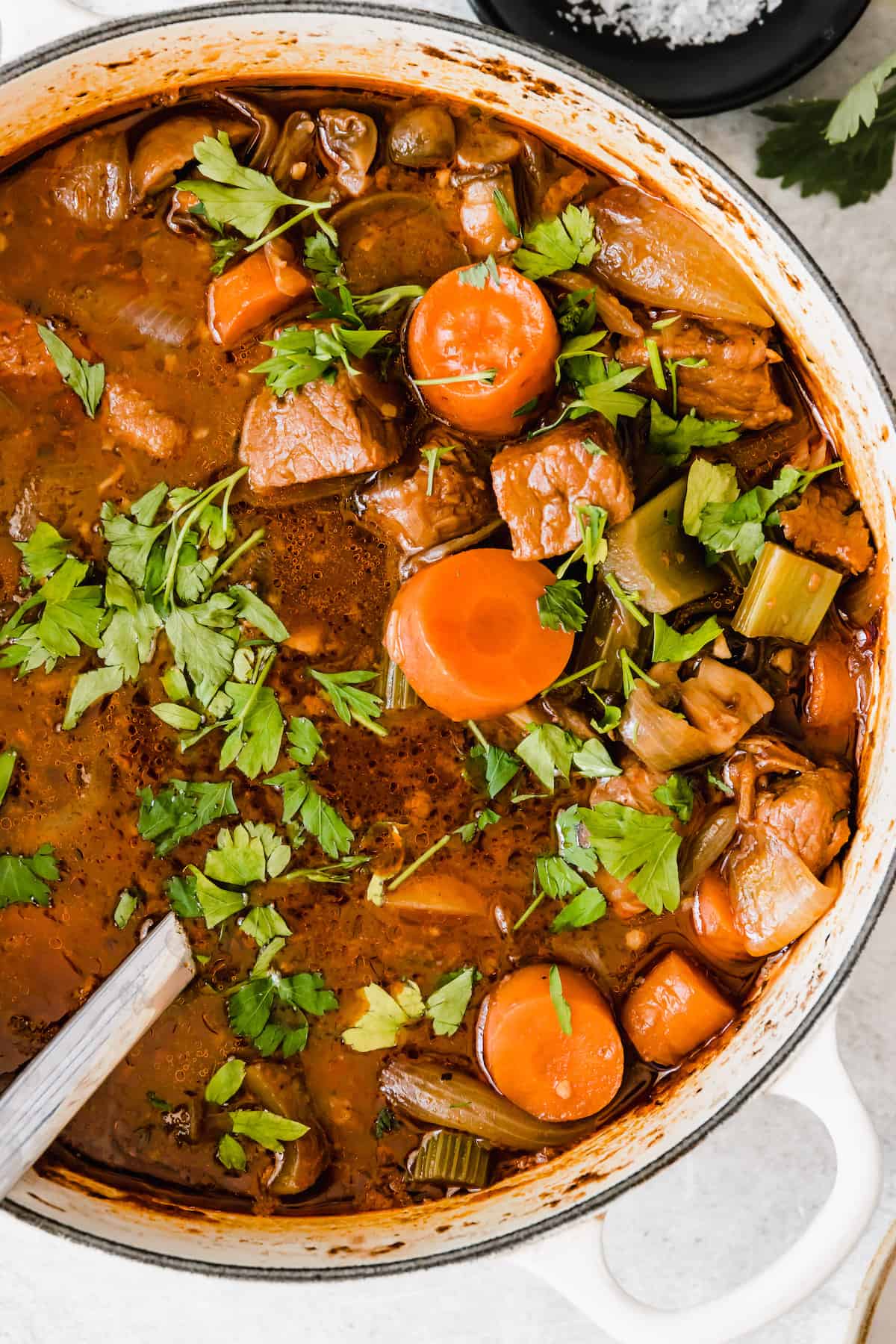 Easy Homemade Guinness Beef Stew
Is it cold where you are? It's -20s out here in the Chicagoland area. 🥶
These late winter/early spring days can certainly be chilly, and there's no better way to warm up than with a big bowl of beef stew. It's one of my very favorite comfort foods, and my family absolutely loves it, as well.
This particular beef stew recipe is extra-special, because it contains something else that I love: Guinness! 🍺 That's right, I pour a whole bottle of the bitter stout into this savory stew, making it a deliciously mellow and deeply-flavored meal that you won't soon forget.
Plus, you know, if you bring home a six-pack of Guinness, and you only use one bottle for the recipe, you still have five left! And it's nice to have plenty of Guinness in the fridge, right? I mean, happy St. Patrick's Day to me!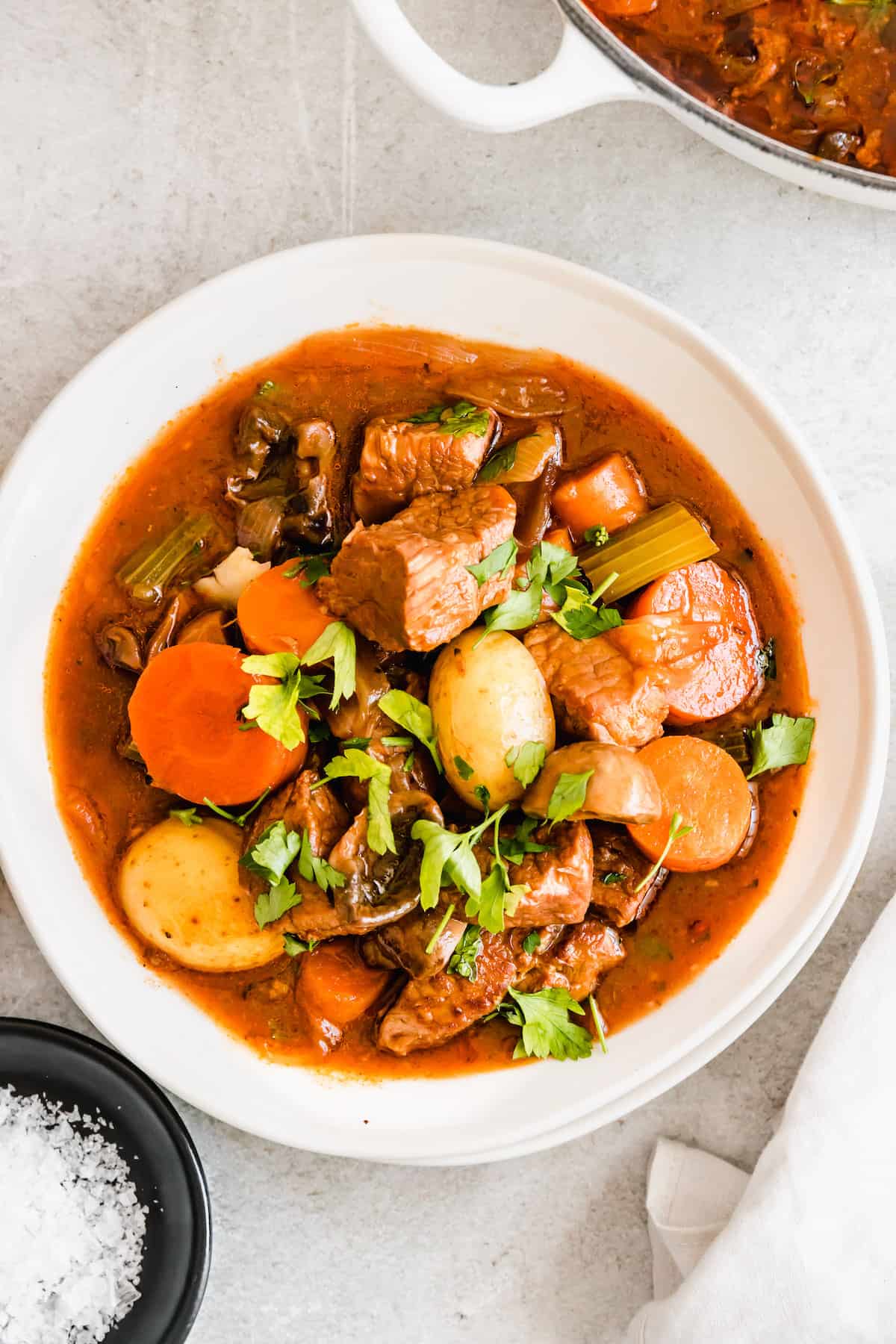 Irish Stew is Perfect for St. Patrick's Day
Which brings me to my next point. If you're looking for a perfect, festive, and easy dish to celebrate St. Paddy's, this might just be it!
Sometimes I go the corned-beef-and-cabbage route, and that's tasty too, but this rich, thick, beef stew is definitely a winner as well. It's so hearty, with baby potatoes, button mushrooms, carrots, onions, and celery, plus tender chunks of beef. The gravy-like broth is a rich blend of Guinness, beef broth, tomato paste, and dried thyme.
It's so warm and comforting, you won't be able to resist going back for seconds!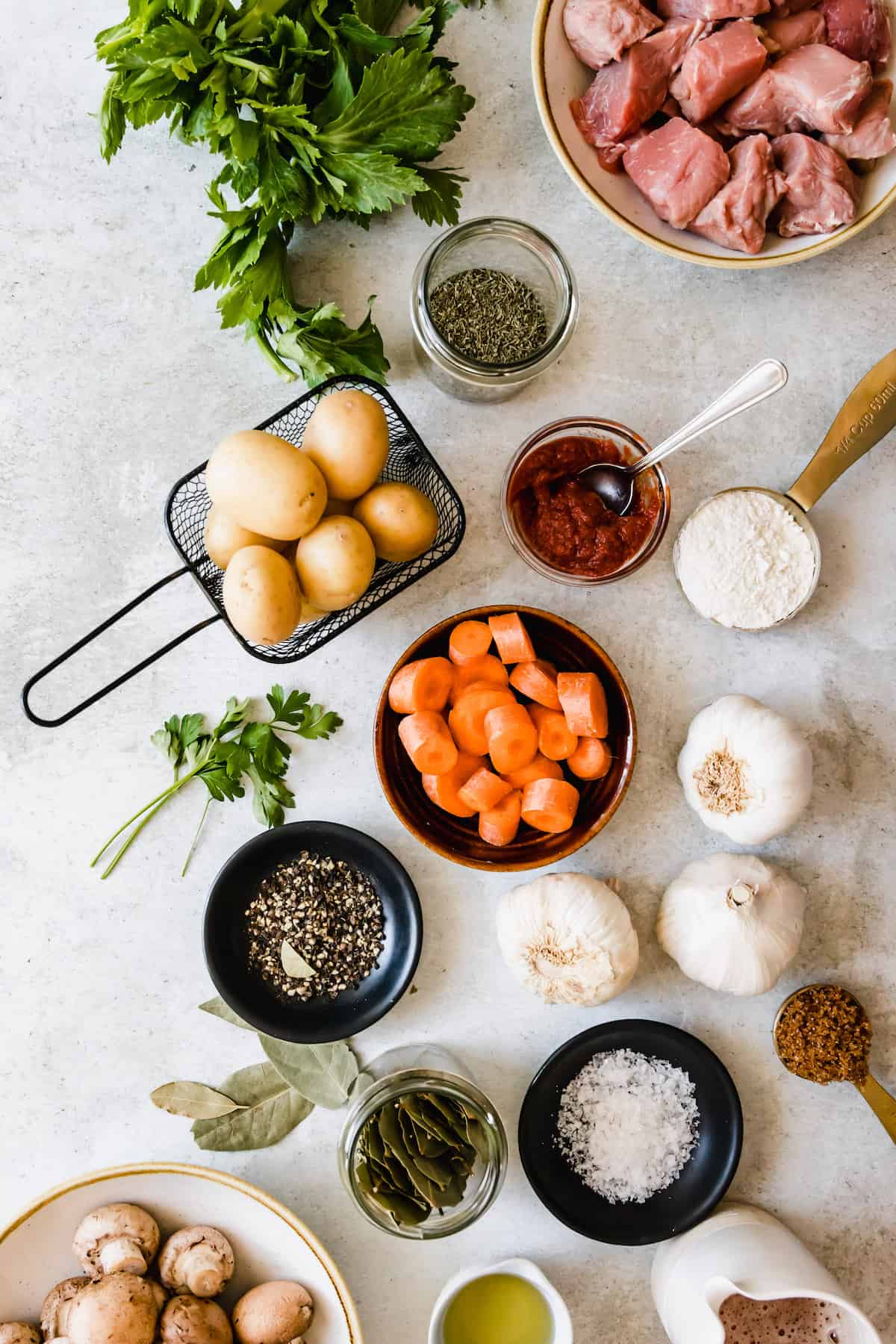 Recipe Ingredients
This list of ingredients may look a bit long, but don't let that stop you. Many of the items are basic pantry staples that you probably already have on hand, like salt and pepper, flour, herbs, and tomato paste.
Beef Stew Meat: For this recipe, I recommend using boneless cubes of beef chuck. You can buy it already cubed, or cut up a chuck roast yourself. Any beef for stewing will be fine, though!
Salt and Pepper: I like to use cracked black pepper in this dish; the larger pieces add a nice, pungent, peppery flavor.
Olive Oil: For browning the beef.
Garlic: Mince three cloves of garlic, or put it through a garlic press.
Onions: I usually chop up a couple of small yellow onions, but you could also use white onions, sweet onions, or red onions.
Carrots and Celery: Thickly slice three large carrots and a couple of celery stalks.
Potatoes: I halve about eight baby potatoes, but you could also cut regular potatoes into chunks. Scrub and rinse them well to remove any dust or dirt, before cutting.
Mushrooms: You'll need 16 ounces of Cremini or button mushrooms, halved or sliced.
Flour: To thicken the stew, I use about 1/4 cup of all-purpose flour. If you're looking to make this recipe gluten-free, I recommend using cornstarch.
Guinness: One 12-ounce bottle, or about 1 1/2 cups, of Guinness beer.
Tomato Paste: This is one of my "secret ingredients" to really add flavor to soups, stews, and pot roasts! For this recipe, you'll need 4 tablespoons.
Beef Broth: Have ready about four cups of beef broth, whether homemade or store-bought. I like to go with low-sodium versions when I use store-bought broths.
Bay Leaf: Just one bay leaf adds so much flavor and fragrance to the stew.
Thyme: A teaspoon of dried thyme, or a tablespoon of finely chopped fresh thyme, if you prefer.
Brown Sugar: I add just a teaspoon to bring out the taste of the Guinness.
Fresh Chopped Parsley: For garnish.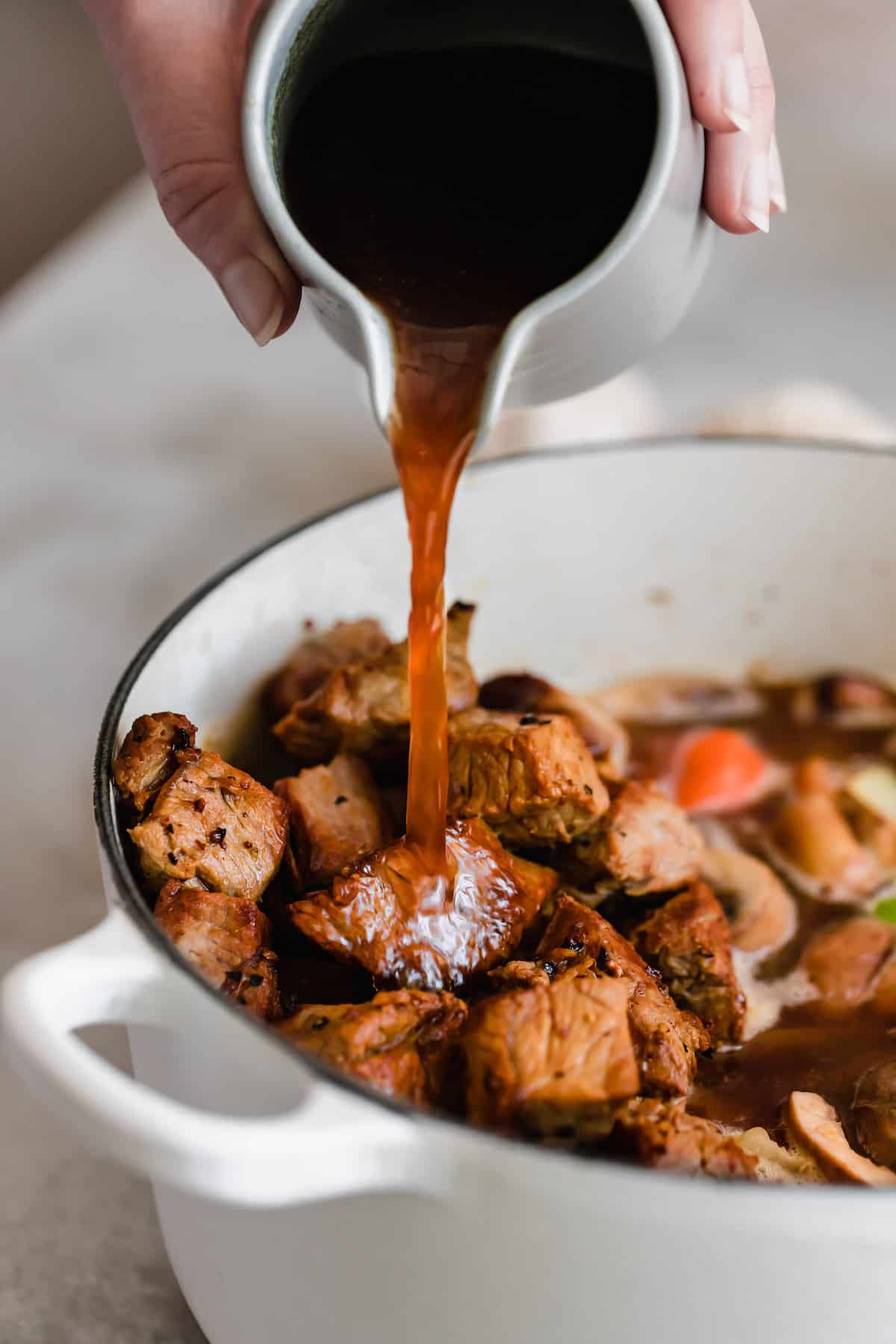 Why is Guinness Beer Used in this Stew?
Well, technically you could use other beers or stouts, if you like! But, Guinness Beef Stew is a beloved dish in Irish pubs, and Guinness itself is simply delicious: strong, bitter, and deeply flavored. I think it adds flavor to a wonderful stew, and I love the tradition!
Can I Use Lamb Instead of Beef?
Definitely! Lamb is amazing in this dish, as well. The strong and almost "gamey" taste of lamb is a perfect match for our lip-smacking bottle of Guinness, and all you have to do is follow the same instructions, but using lamb instead of beef.
How to Make Guinness Beef Stew
Making this stew is a cinch! BUT! Word of advice: Have all your ingredients ready to go before you start cooking. Then, all you have to do is brown the beef, saute the other ingredients, and then simmer it all until the meat is tender. Easy peasy!
Brown the Beef. Season the cubed beef with salt and pepper. Then heat the olive oil in a Dutch oven on high heat.
Working in batches, add the beef and brown on all sides. Set the browned beef aside.
Cook the Veggies. Add the garlic and onion to the pot, and cook for 3 minutes, or until softened. Then add the carrots, celery, potatoes, and mushrooms. Cook for 3 more minutes.
Add Flour. Sprinkle the flour over the vegetables, and mix well to coat. Continue cooking for a couple of minutes.
Deglaze the Pan. Pour the Guinness beer over the vegetables, and use a wooden spoon or other utensil to scrape up any browned bits from the bottom of the pot.
Add the Remaining Ingredients (Except Parsley). Return the beef cubes to the pot, and add the tomato paste, beef broth, bay leaf, thyme, and brown sugar. Stir well to blend everything together, bring the mixture to a boil, and then reduce the heat to low.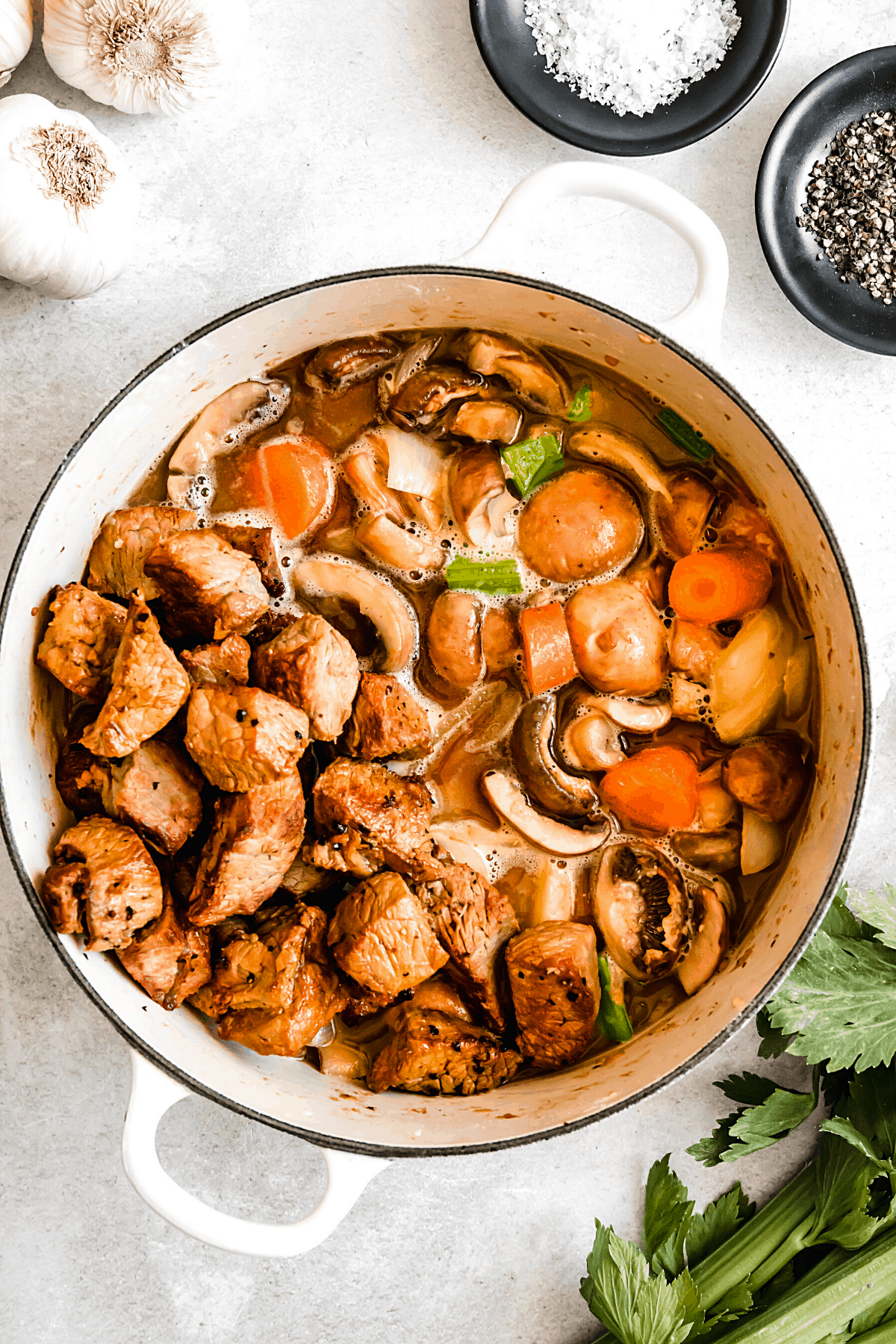 Simmer the Stew. Cover the Dutch oven with its lid, and simmer the stew for about 1 ½ hours. Then uncover the stew, and cook for 30 more minutes, until the stew has thickened.
Finish the Dish. Taste the thickened stew, and adjust the seasonings as needed. Remove the bay leaf and serve with fresh, chopped parsley.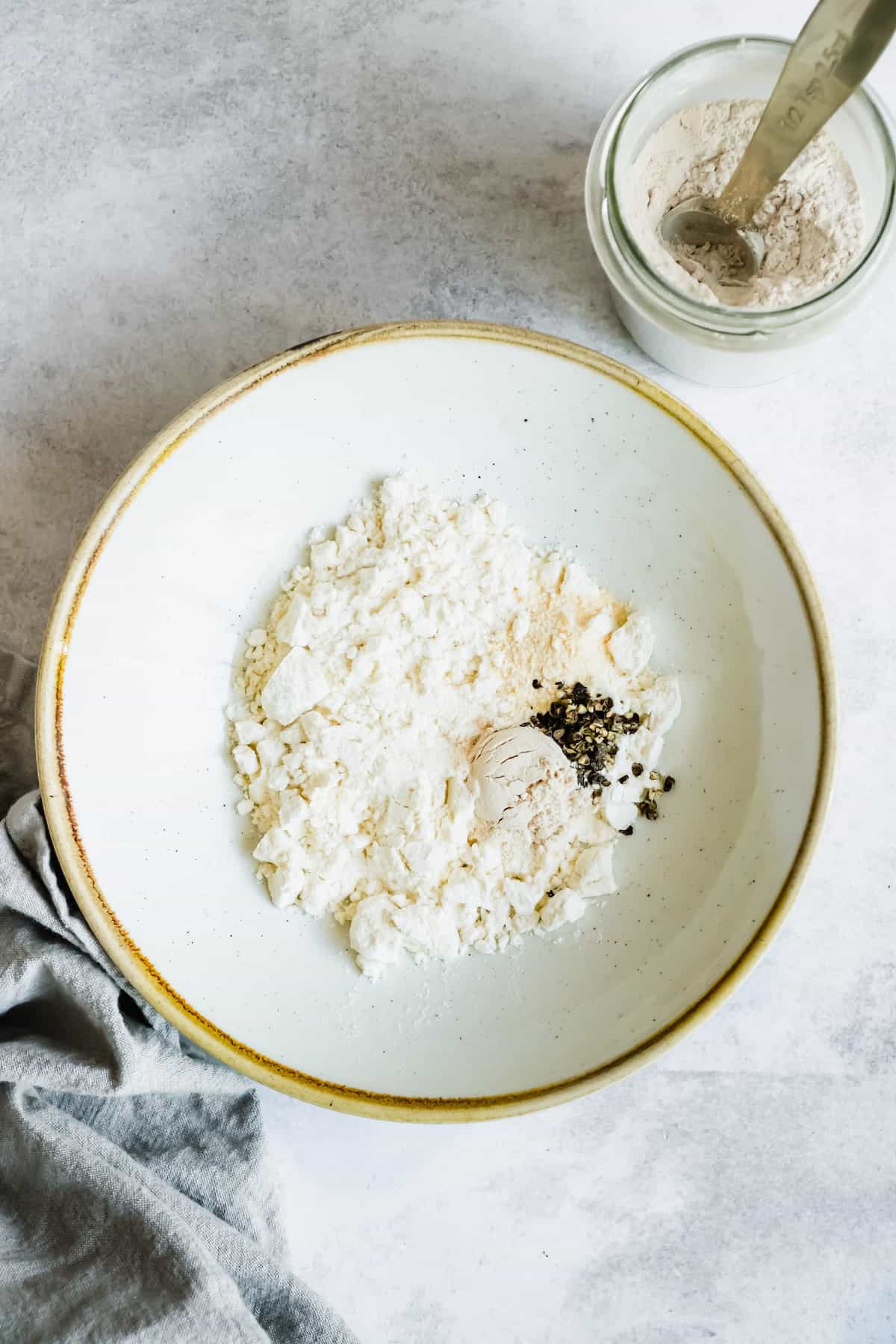 How To Thicken Your Stew
One of the easiest ways to thicken a stew is to make a cornstarch slurry! In a small bowl or measuring cup, mix a tablespoon of cornstarch with two tablespoons of water. Blend well, and then whisk into your simmering stew. It should only take a couple minutes to thicken up.
Another cool way to thicken your stew is to add a handful of rice about thirty minutes before the stew is finished cooking. Normally, you steam rice for about fifteen minutes, and it keeps its integrity well. But if you add it to stew and cook it for double that time, it will absorb lots of liquid and then dissolve. This thickens the stew nicely.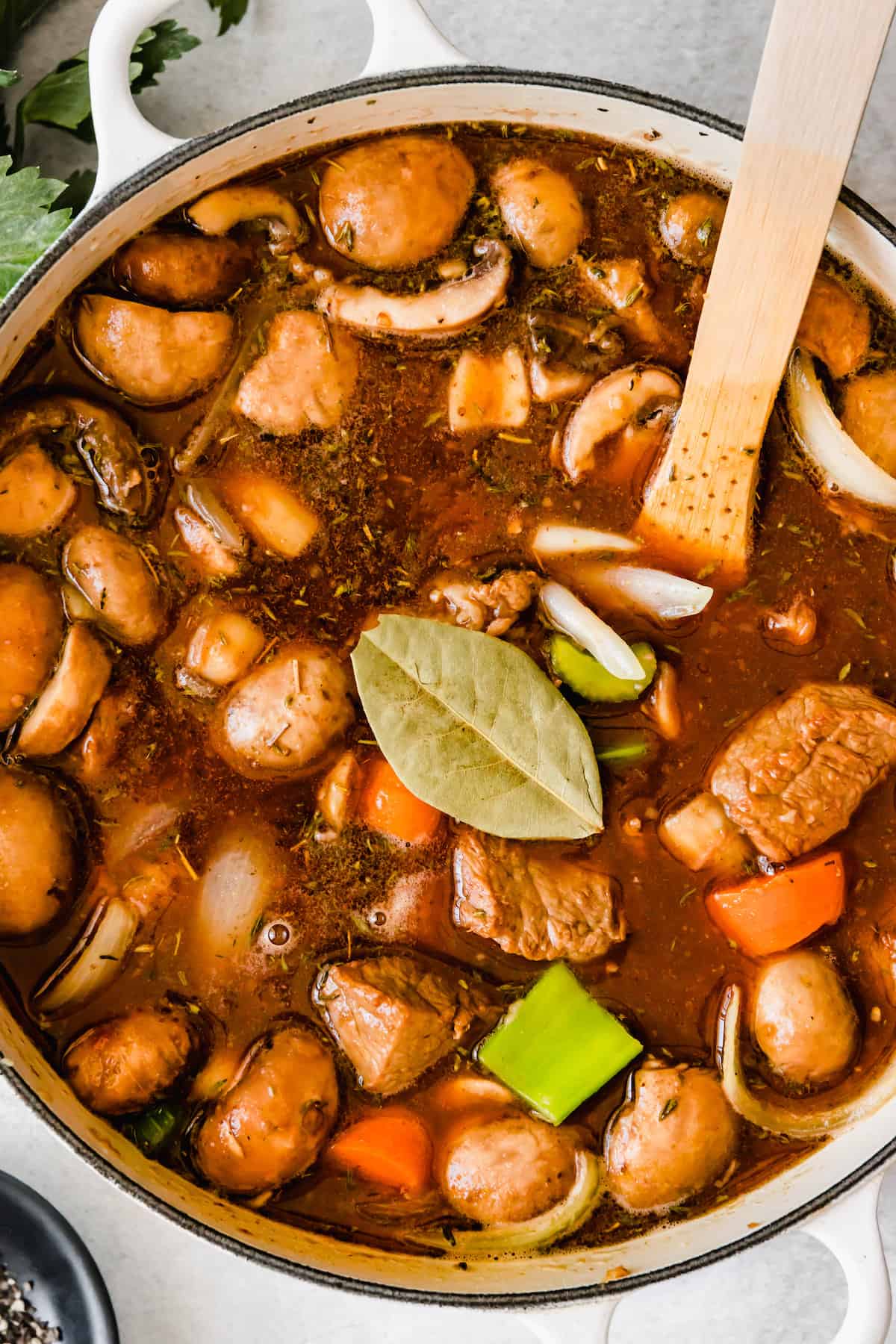 Tips for Success
There are a few cool tips and variations that I wanted to share with you! Keep reading for some of my favorite ways to make this stew the best ever.
Tender Beef: Keep in mind that stewing meat goes through a cycle: first, it's tough and rubbery. Then, it's tender and moist. Finally, if you overcook it, it gets dry and stringy. So if you taste your stew and the meat is springy and hard to eat, it probably just needs to cook longer and it will be nice and tender. If it's starting to seem dry and easy to shred, go ahead and take it off the heat!
Beer or Wine: You could also take this dish in a different direction by using a nice dry red wine, instead of the Guinness. You'll have a great beef dish similar to beef bourguignon.
Mashed Potatoes: You can omit the potatoes from the stew itself, and instead cook up some delicious mashed potatoes to ladle the stew over. That also makes it convenient to put parsnips, cauliflower, or other tasty veggies in the stew, in place of the potatoes!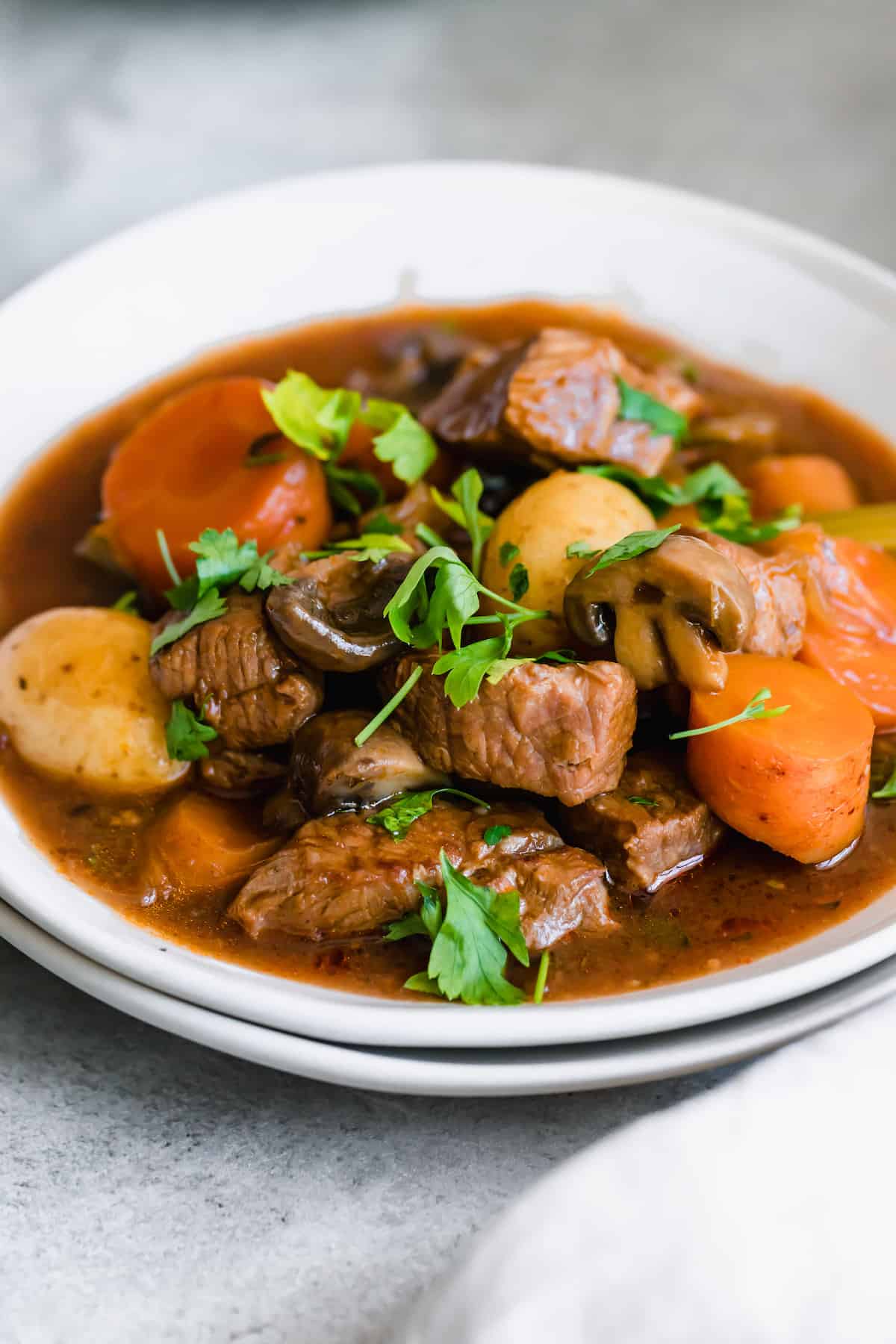 Serving Suggestions
So what should you serve with this hearty dinner? Well, it stands alone quite well as a one-pot meal, but I do like to offer some side dishes as well! Here are some that go extra well with the flavors in this dish.
Dinner Rolls: A soft batch of homemade dinner rolls goes wonderfully with this tasty stew. My recipe for No Knead Dinner Rolls is super simple, warm, and delicious.
Roasted Snap Peas: The sweet and crunchy pop of sugar snap peas makes a nice contrast to the slow-simmered, mellow beef stew. Try my Roasted Sugar Snap Peas and see!
Zucchini Fries: Another nice contrast, these Crispy Air Fryer Parmesan Zucchini Fries have a zesty crunch and appealing flavor that everyone will love!
How to Store and Reheat Leftovers
To refrigerate leftover beef stew, ladle it into airtight food storage containers or bags, and store in the refrigerator for up to three days.
To reheat, place the desired portion in a covered saucepan and heat on low until piping hot, including the meat and vegetables, all the way through.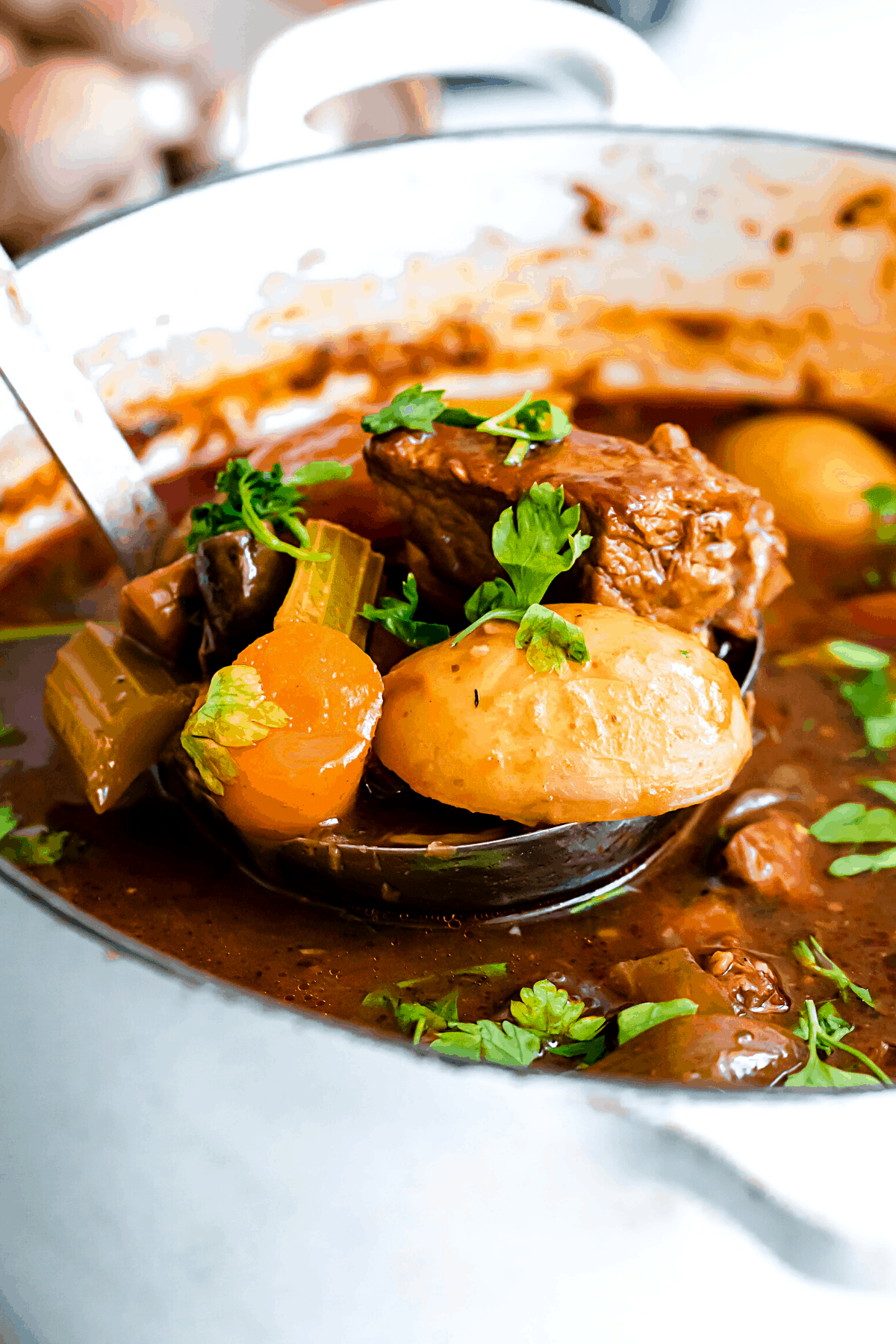 Can I Freeze Stew?
Yes, beef stew can be stored in the freezer! Place leftovers in airtight containers or bags, leaving a small amount of room for the liquids to expand during freezing. Use within three months for the best flavor.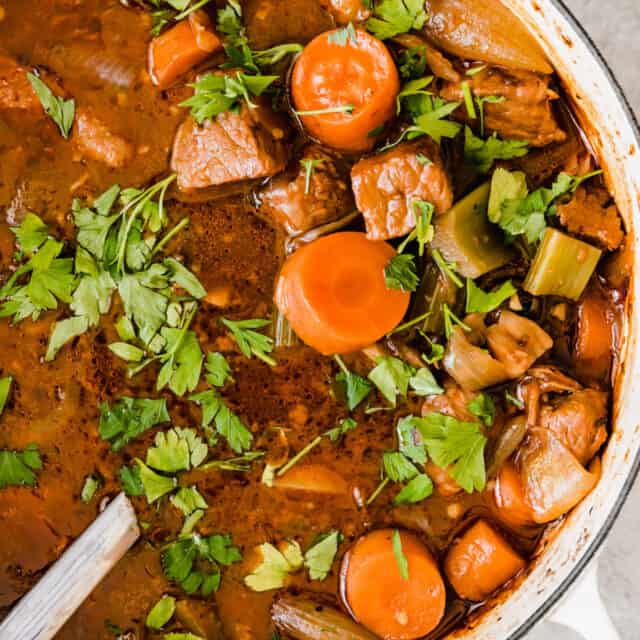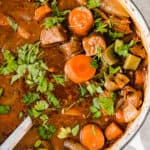 Print Recipe
Hearty Guinness Beef Stew
A thick and hearty stew made with tender chunks of beef, baby potatoes, carrots, onions, and a bottle of Guinness.
Ingredients
2½

pounds

boneless beef chuck,

cubed

1/2

teaspoon

salt

1/4

teaspoon

cracked black pepper

3

tablespoons

olive oil

3

cloves

garlic,

minced

2

small yellow onions

chopped

3

large carrots,

cut into 1-inch chunks

2

celery stalks,

thickly sliced

1

pound

potatoes,

peeled and quartered

1

pound

brown button mushrooms,

halved or sliced

1/4

cup

all-purpose flour

12

ounces (1 bottle)

Guinness beer

4

tablespoons

tomato paste

4

cups

beef broth

1

bay leaf

1

teaspoon

dried thyme

1

tablespoon

brown sugar

¼

cup

water or beef broth

1

tablespoon

cornstarch

Fresh chopped parsley for garnish
Instructions
Season the cubed beef with salt and pepper.

Once oil is hot, add the beef in a couple of batches and sear on all sides.

Remove beef from the Dutch Oven and set aside.

Add remaining olive oil to the pot. Stir in the garlic and onions and cook for 2 to 3 minutes, or until softened.

Add the carrots, celery, potatoes, and mushrooms. Cook for a further 3 minutes. Add more oil, if needed.

Sprinkle the flour over the veggies and mix well to coat. Cook for 2 minutes.

Add the Guinness beer and, using a wooden spoon, scrape up any browned bits from the bottom of the pot.

Return the beef to the pot; stir in the tomato paste, beef broth, bay leaf, thyme, and brown sugar.

Bring to a boil and then reduce heat to LOW; cover and allow to simmer for 1 1/2 hours with the lid on.

Remove lid and cook for 30 more minutes.

In a small cup or bowl combine water and cornstarch; whisk to combine.

Add cornstarch slurry to the stew and stir to incorporate.

Cook for 3 more minutes, or until thickened.

Remove stew from heat; taste and adjust salt and seasonings, if required.

Remove bay leaf and garnish stew with fresh chopped parsley.
Nutrition
Calories:
434
kcal
|
Carbohydrates:
25
g
|
Protein:
33
g
|
Fat:
22
g
|
Saturated Fat:
8
g
|
Trans Fat:
1
g
|
Cholesterol:
98
mg
|
Sodium:
795
mg
|
Potassium:
1164
mg
|
Fiber:
3
g
|
Sugar:
6
g
|
Vitamin A:
3974
IU
|
Vitamin C:
18
mg
|
Calcium:
64
mg
|
Iron:
5
mg
More St. Patrick's Day Recipe Ideas