This Roasted Tomato Basil Soup is an easy recipe that brings together the classic flavors of fresh roasted tomatoes, bright basil leaves, pungent garlic, and sautéed onions. It's like a hug in a bowl!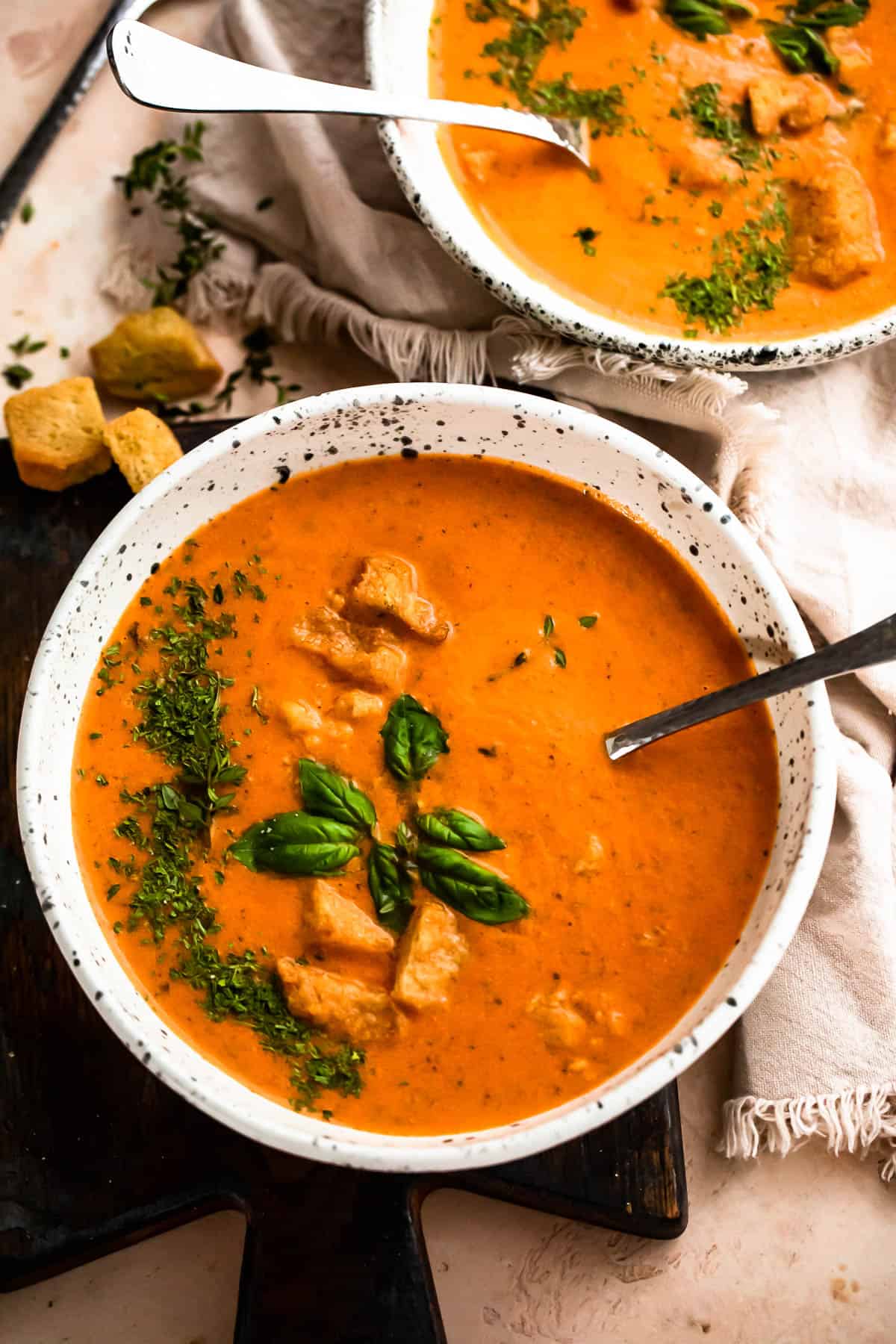 A Cozy, Classic Soup Recipe
Are you a tomato soup fan? Tomato soup seems to be one of those meals that some people just really love, with a passion! But, even if you're not usually on the passionate end of the spectrum when it comes to tomato soup, I bet this one will change your mind!
Roasted plum tomatoes are so flavorful, with concentrated tangy insides that contrast boldly with their sweet, caramelized edges. Blended with broth, basil, garlic, and sautéed onion, this soup is like a dose of late summer sunshine.
What Makes This Tomato Soup So Good?
Okay, so we've established that this soup is super delish, thanks to the roasted tomatoes, fresh garlic, and basil (so many amazing flavors in every spoonful). But, wait, there's more! All of these ingredients are actually really healthy, too!
So your favorite cozy comfort food is also full of the nutrients your body needs. Win! A total win.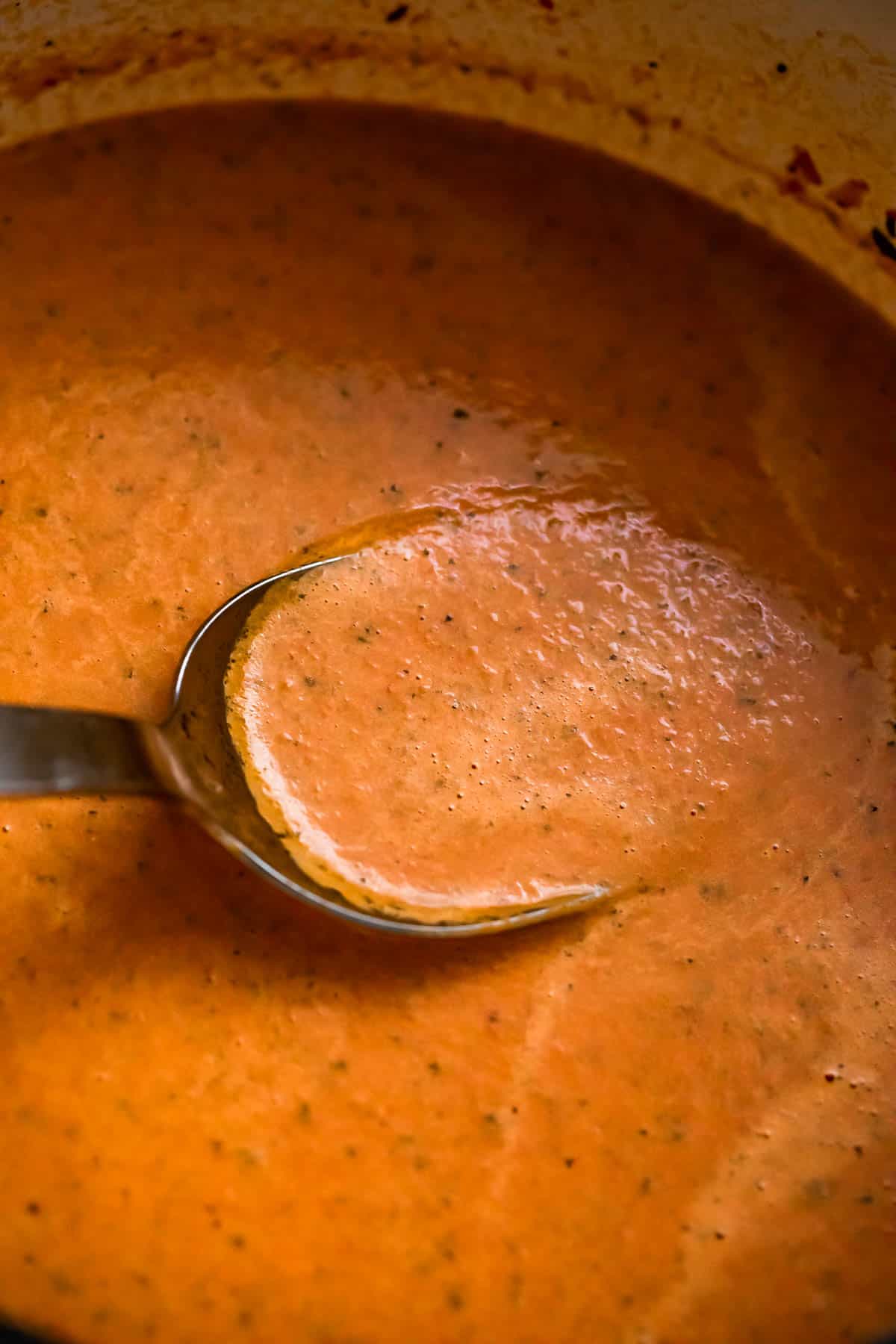 Recipe Ingredients
The star of the show in this soup is definitely fresh tomatoes. Several pounds of them, in fact! From there, simple additions like olive oil and basil round out the flavor profile.
Plum Tomatoes: I use plum tomatoes to make this recipe. Cut each tomato into about 6 wedges, for roasting.
Olive Oil: Use a good-quality, cold pressed olive oil for the best flavor.
Salt and Pepper
Butter: Butter adds another layer of sweet, creamy flavor to the soup. You only need a little bit, for sautéing.
Onion: Any color onion is fine: yellow or white.
Garlic: Mince or press fresh garlic. You can also use garlic powder, but the flavor won't be as bright and fresh.
Paprika: Paprika is made of dried, ground peppers. It's not spicy, but it adds a wonderful earthy sweetness, and boosts the red color of the soup as well.
Basil: I use tons of fresh basil to make this soup extremely fragrant and fresh. Tear the leaves from any tough stems.
Broth: Vegetable broth is great, or you could use chicken broth if you prefer.
Cream: This is optional, but a splash of heavy cream is great for enriching the soup and adding a velvety sweetness.
Can I Use Different Tomatoes?
Definitely! Any flavorful, ripe tomato is a great option. I do find that, in general, smaller specialized tomatoes tend to have a sweeter, more concentrated flavor, such as Roma tomatoes or cherry tomatoes.
Overall though, I would recommend using whatever tomatoes are freshest.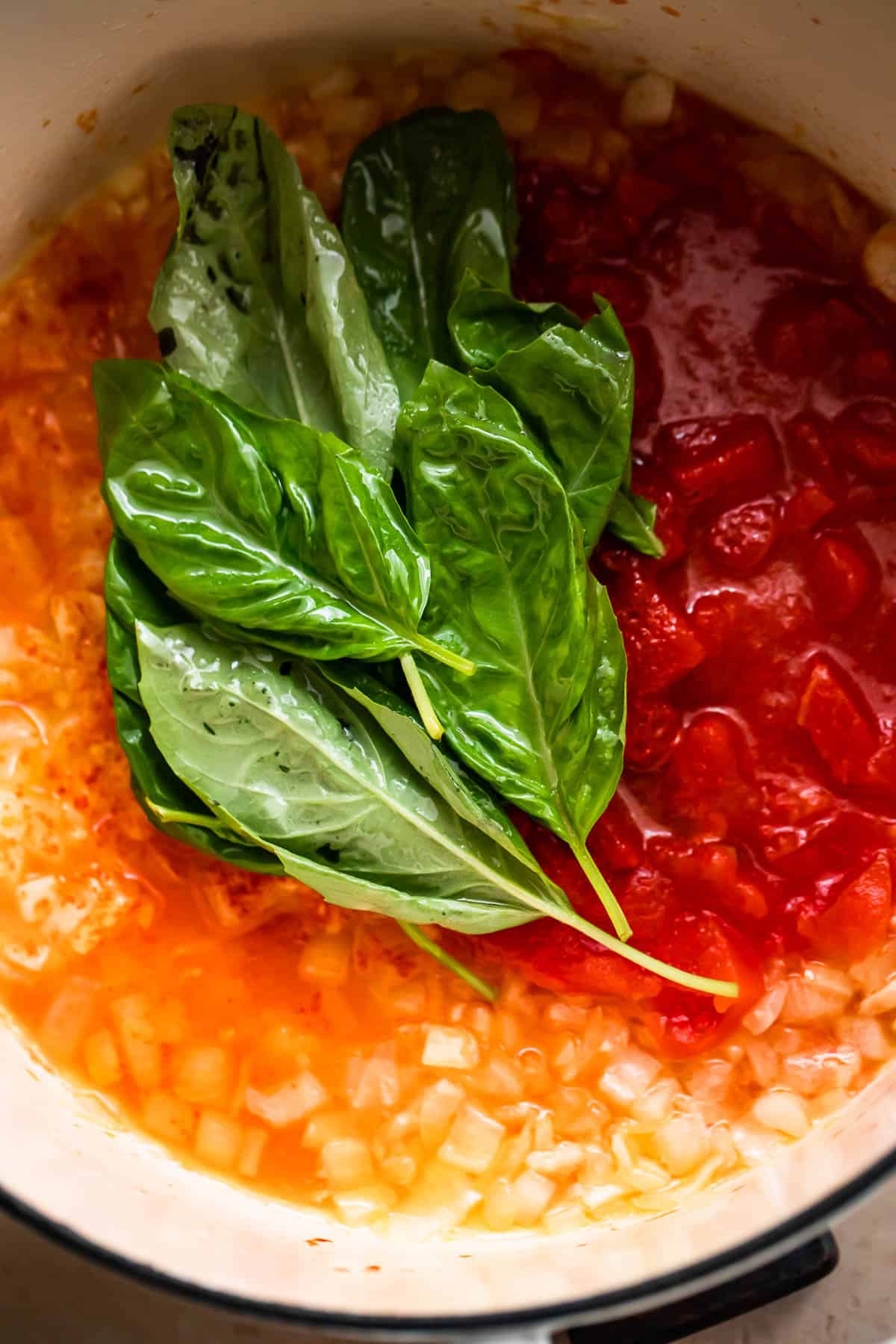 How to Make Roasted Tomato Basil Soup
This easy recipe has two main parts: roasting the tomatoes, and simmering the soup. You can take advantage of that hands-off time to make a tasty side or two… or just relax!
Roast the Tomatoes. To begin, preheat the oven to 400˚F. Arrange the tomato wedges in a single layer on a baking sheet, and drizzle a couple of tablespoons of olive oil over them. Season with salt and pepper, and roast for about 35 minutes, until the tomatoes are well-cooked, and starting to caramelize.
Sauté the Aromatics and Spices. Heat a generous swirl of olive oil in a Dutch oven, set over medium heat. You can also use a large, heavy soup pot.
Add the diced onions to the hot oil, and sauté for about five minutes. Then stir in the garlic, and cook it for a couple of minutes to release its fragrance. Finally, stir in the paprika and basil leaves; cook for one minute more.
Add Tomatoes and Broth, and Simmer. Remove the roasted tomatoes from the oven, and gently scrape them into the Dutch oven. Pour in your vegetable broth, bring the soup to a boil, and then lower the heat to a steady simmer. Cook uncovered for 30 minutes.
Finish the Dish. Using an immersion blender, blend the soup until completely smooth. Be careful not to splash hot soup. Blend in the heavy cream, if you are using it, taste the soup, and then adjust the salt and pepper as needed.
Enjoy! Turn off the heat, and let the soup stand for a few minutes before serving.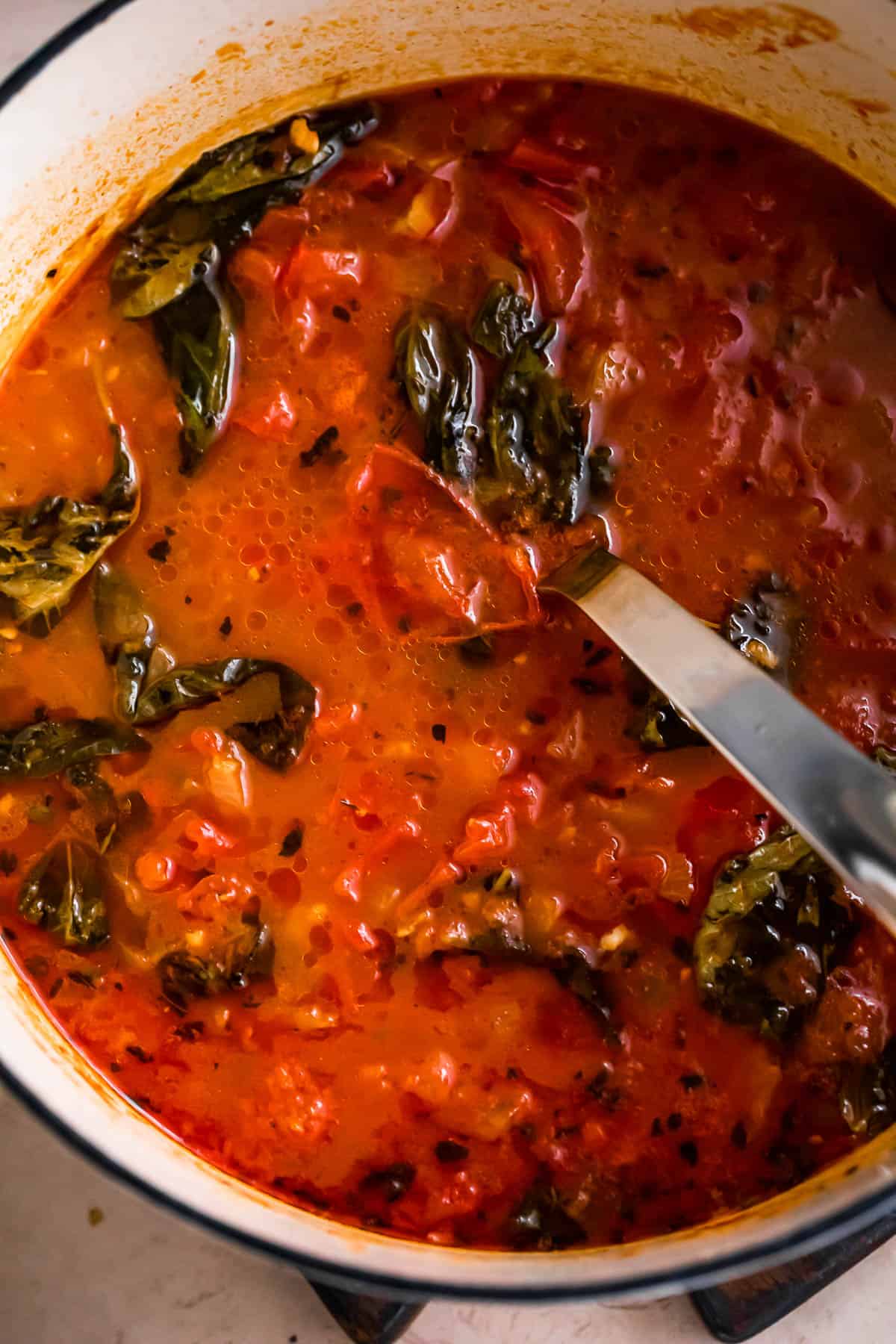 Tips for Success
To make your soup the best it can be, try one (or more, or all!) of these helpful tips. They'll take your meal to the next level!
Add Tomato Paste: If you feel like your tomato soup needs a little extra oomph, try adding a spoonful or two of tomato paste. Instant intensity!
Make It Vegan: Using vegetable broth and substituting olive oil for the butter is an easy way to make this soup vegan. If you'd like a creamy addition, try a little full-fat coconut milk.
Top It: Top your roasted tomato soup with crunchy croutons, a sprinkling of cheese, a dollop of creme fraiche, a drizzle of oil, some bacon bits… whatever you like!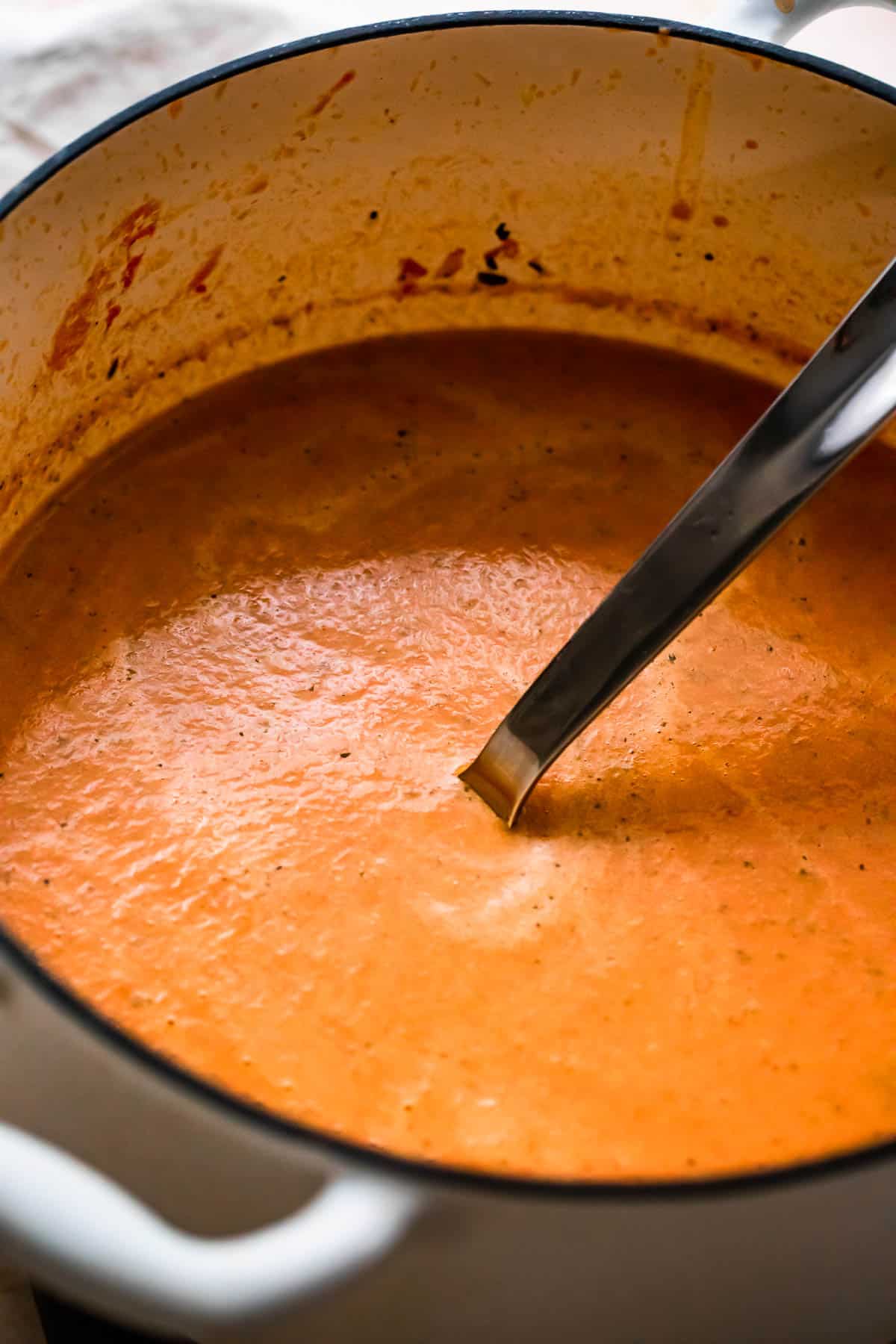 What Goes with Tomato Soup?
So what should you serve alongside this flavorful soup? Honestly, just about anything! Here are a few of my very favorite sides to go with a big bowl of hearty roasted tomato soup:
A Sandwich: Who could resist tomato soup and grilled cheese? For an even more indulgent option, try this amazing Tuna Grilled Cheese. It's got all the bells and whistles, and is super hearty and filling.
Pigs in a Blanket: Possibly THE cutest snack ever, these savory little hot dogs in puff pastry turn tangy, creamy soup into a fun and irresistible meal. Plus, making Pigs in a Blanket couldn't be easier!
Pasta Chips: Tender pasta is air-fried with cheese, garlic and basil to make the most addictive "chips" ever! You'll love these crunchy little Pasta Chips to complement your cozy tomato soup.
How to Store and Reheat Leftovers
To Refrigerate: Cover the soup tightly or pour it into airtight containers. Refrigerate for up to four days.
To Reheat: Place the desired amount of soup into a saucepan. Heat on low to medium heat, until the soup is steaming hot. Stir often so that the soup heats evenly.
Can I Freeze Tomato Soup?
Yes! Just cool the soup completely, and then pour into freezer containers or bags. Be sure to leave a little bit of room in the container for the soup to expand as it freezes.
Roasted tomato soup will keep in the freezer for up to six months.
Thaw in the fridge before reheating.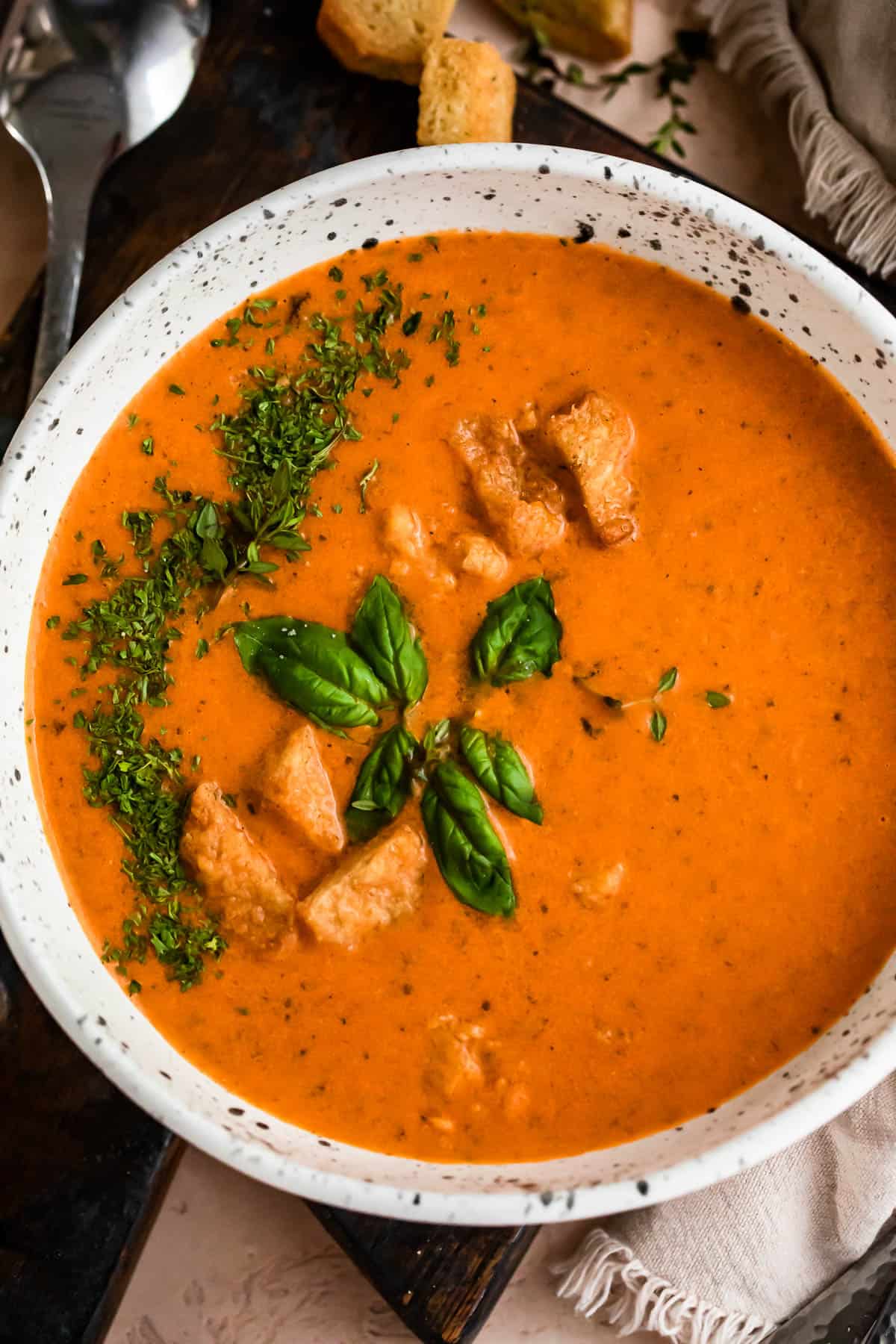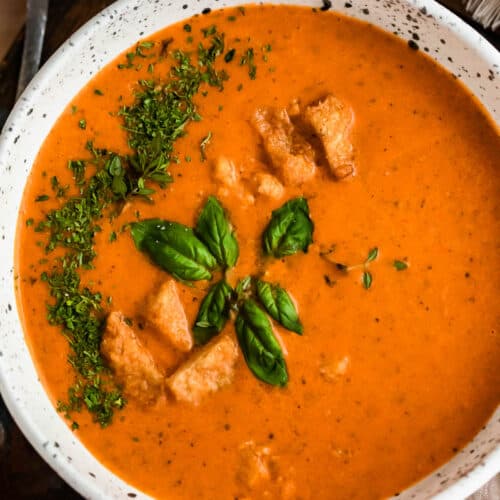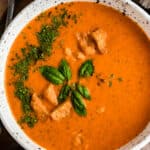 Print Recipe
Roasted Tomato Basil Soup
This Roasted Tomato Basil Soup is an easy recipe that brings together the classic tastes of roasted plum tomatoes, fresh basil leaves, pungent garlic, and sautéed onions.
Ingredients
5

pounds

plum tomatoes,

each tomato cut into 6 wedges

4

tablespoons

olive oil,

divided

½

tablespoon

salt

1

teaspoon

fresh ground black pepper

1

tablespoon

butter

1

small yellow onion,

diced

6

cloves

garlic,

minced

1

teaspoon

sweet paprika

2

cups

fresh basil leaves

4

cups

vegetable broth

¼

cup

heavy cream,

optional
Instructions
Preheat oven to 400˚F.

Transfer tomatoes to a baking sheet and drizzle with 2 tablespoons olive oil.

Season the tomatoes with salt and pepper and toss to combine.

Spread the tomatoes in one layer and roast for 35 minutes, or until soft and tender.

Meanwhile, heat remaining olive oil in a 5-quart Dutch oven set over medium heat.

Add diced onions to the hot oil and cook for 5 minutes, stirring frequently.

Stir in garlic and cook for 2 minutes.

Stir in the paprika and basil leaves; continue to cook for 1 minute.

Remove roasted tomatoes from the oven and add them to the Dutch oven. Stir well.

Add in vegetable broth; increase heat to high and bring mixture to a boil.

Lower heat to a steady simmer and cook uncovered for 30 minutes.

Using an immersion blender, blend the soup until completely smooth.

Blend in the heavy cream, if using.

Taste soup for salt and pepper and adjust accordingly.

Remove from heat and let stand few minutes.

Ladle into bowls and serve.
Nutrition
Calories:
225
kcal
|
Carbohydrates:
20
g
|
Protein:
4
g
|
Fat:
16
g
|
Saturated Fat:
5
g
|
Polyunsaturated Fat:
2
g
|
Monounsaturated Fat:
8
g
|
Trans Fat:
1
g
|
Cholesterol:
19
mg
|
Sodium:
1249
mg
|
Potassium:
978
mg
|
Fiber:
5
g
|
Sugar:
12
g
|
Vitamin A:
4275
IU
|
Vitamin C:
56
mg
|
Calcium:
71
mg
|
Iron:
2
mg
More Cozy Soup Recipes