Baked Cream Cheese Pasta with Shrimp is a meal you won't want to miss! Roasted ripe cherry tomatoes and fresh garlic are mixed with shrimp, pasta, and cream cheese in this easy baked pasta recipe.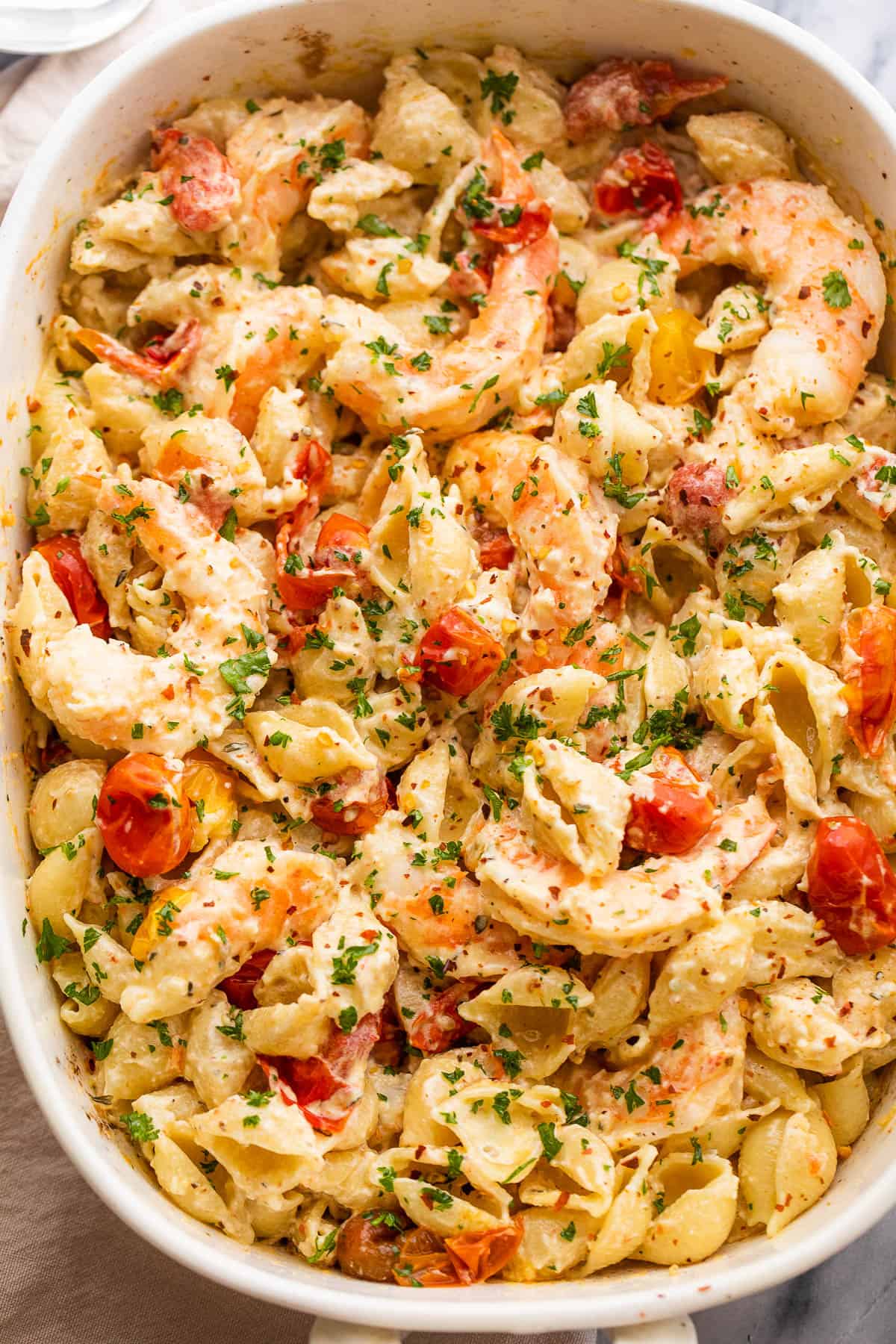 An Easy Creamy Pasta with Shrimp
You know, cooking with cream cheese is kind of magical. It makes a Danish dazzle, creates a velvety masterpiece when making a cheesecake, and it's also the perfect easy way to make a creamy sauce! Which is the secret to this creamy pasta.
Well, actually this is a two-secret dish. Because in this recipe, instead of making a skillet pasta sauce, the sauce is going in the oven! Juicy tomatoes go in there, too, along with fresh garlic. The result?
Bursting roasted tomatoes stirred into a creamy block of cheese that's golden on the outside, and melted on the inside. Oh my gosh, that's some serious Yum. 🤤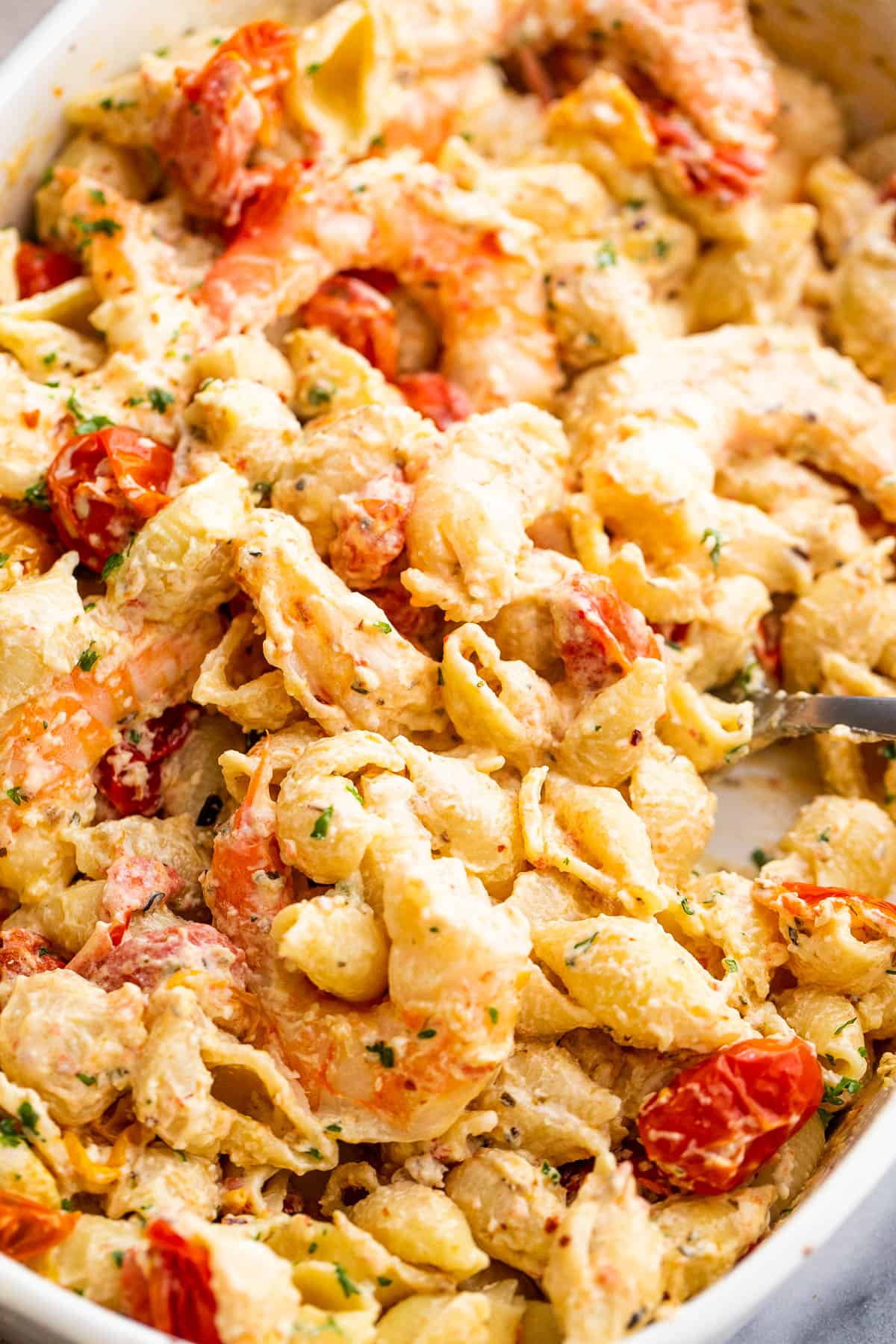 What You'll Need
As fancy as it sounds, this dish is super simple to make! The ingredients are grocery store basics, and you probably already have most of them on hand.
Pasta: For this recipe, I like to use small shell pasta, but you could substitute another smaller pasta shape or elbow macaroni, if you like.
Shrimp: Make sure the shrimp are cleaned and deveined. You will need about 12 ounces.
Cream Cheese: To make the pasta creamy, we're using an 8 ounce block of cream cheese.
Tomatoes: I like to use cherry tomatoes, but you could use grape tomatoes if you prefer.
Garlic: Minced fresh garlic is tastiest in this dish, but if you need to, you can substitute a teaspoon of garlic powder.
Dried Herbs: I use dried oregano and thyme, but you could also use basil, parsley, dill, or other herbs that you prefer.
Olive Oil: Extra-virgin brings the most flavor to this savory baked pasta.
Salt and Pepper: To taste.
Can I use frozen shrimp?
Yes, you can! Use large raw frozen shrimp, shelled and deveined, and allow them to cook with the pasta for three minutes instead of two.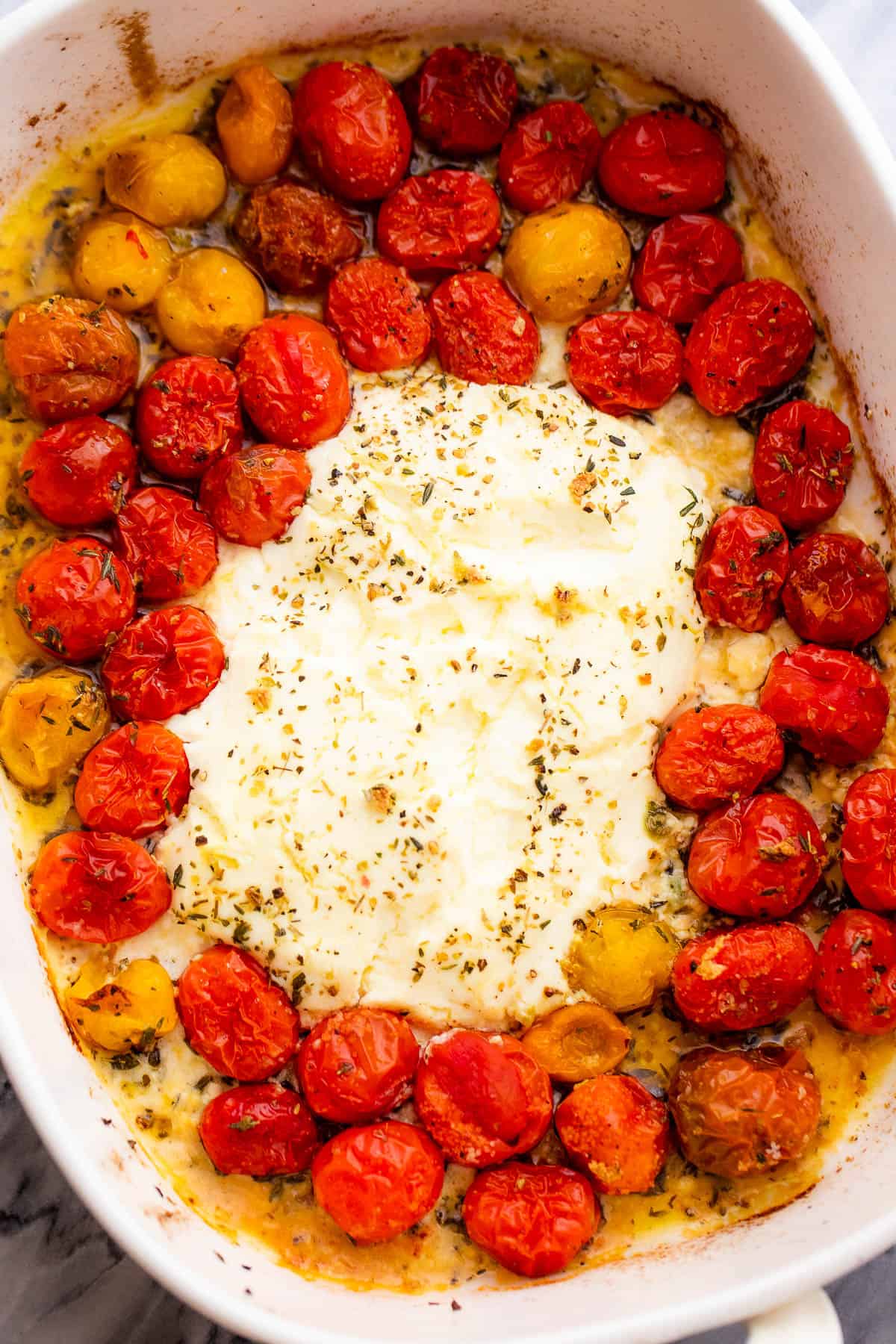 How to Make Cream Cheese Pasta with Shrimp
Let's get cooking! A great time-saver and flavor-injector is that the shrimp cook right along with the pasta in a simple pot of boiling water. Nice, right? 🙌
Cook the Pasta and Shrimp. Preheat the oven to 425˚F. Bring a large pot of salted water to a boil. Cook the pasta, following the package directions for time. You want it to turn out al dente. TWO MINUTES BEFORE THE PASTA IS DONE, add the shrimp to the pot and allow it to boil along with the pasta until shrimp is pink and cooked through. Ladle out half a cup of the pasta water, and set aside. Drain the rest of the water, and set the pasta and shrimp aside.
Bake the Sauce Ingredients. While the pasta is cooking, place your cream cheese in the center of a baking dish. Arrange the tomatoes and garlic around it. Sprinkle oregano and thyme over the ingredients, and then drizzle everything with olive oil. Bake for 25 minutes, or until the cream cheese turns golden and soft, and the tomatoes begin to burst.
Combine the Pasta and the Sauce. Remove the baking dish from the oven. Stir the cream cheese together until it's creamy and smooth. Add the cooked pasta and shrimp to the sauce, along with ¼ cup of the reserved pasta water. Stir well to combine; add more water if needed to thin out the sauce.
Enjoy! Taste the pasta, and adjust the salt and pepper as needed. Serve warm.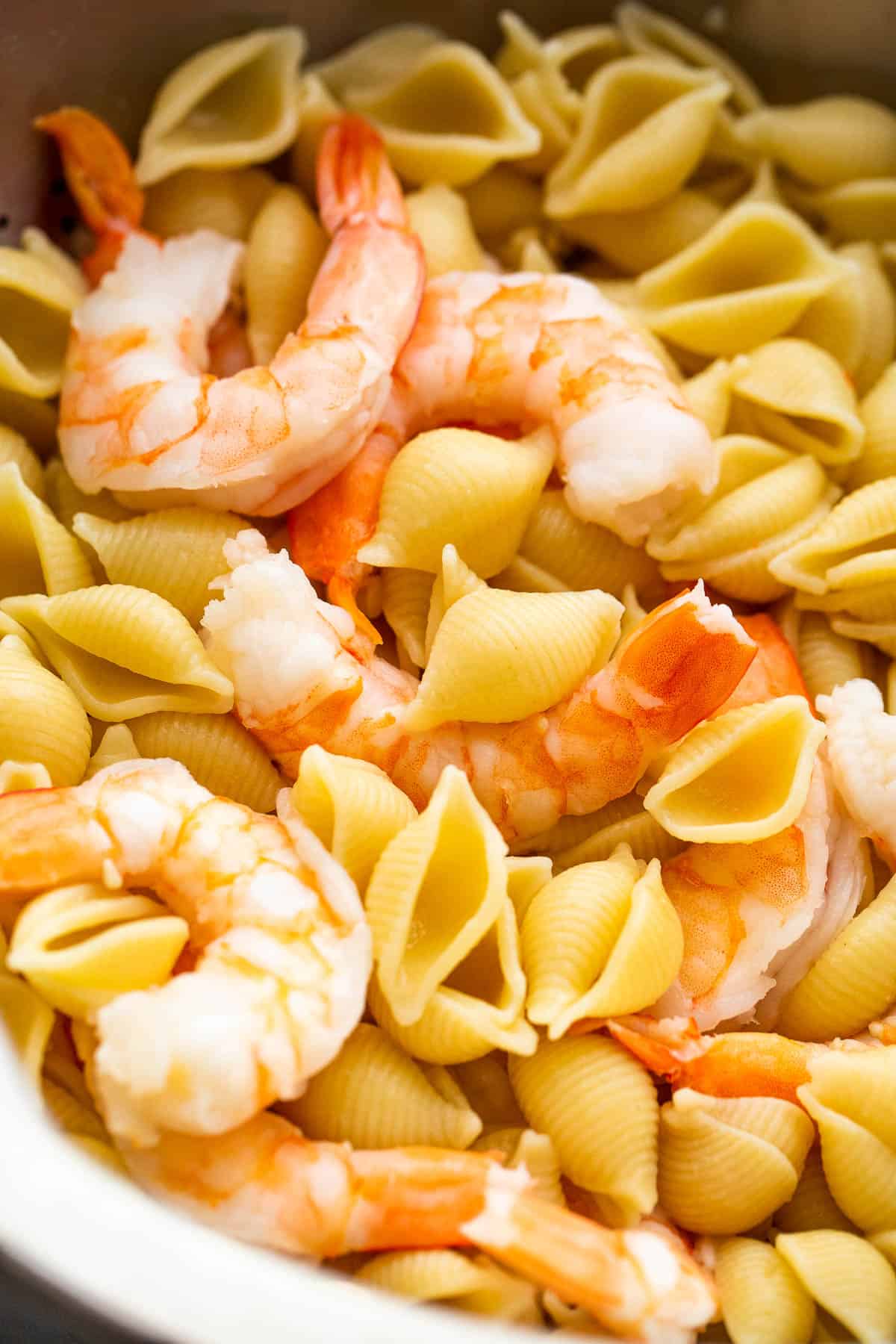 Tips for Success
What else should you know about this recipe? Funny you should ask, because I do have a few handy tips. Here goes!
Don't Overcook the Shrimp: Overcooked shrimp are tough and rubbery, so be careful to drain the pasta and shrimp immediately and put them right into the sauce to serve.
Add Veggies: You can stir small broccoli florets, peas, matchstick carrots, or finely diced red bell peppers into the pasta water while the pasta and shrimp cook, if you want more vegetables!
Make It Meatless: If shrimp aren't your thing, try this recipe without them. It will still be amazing (and amazingly easy).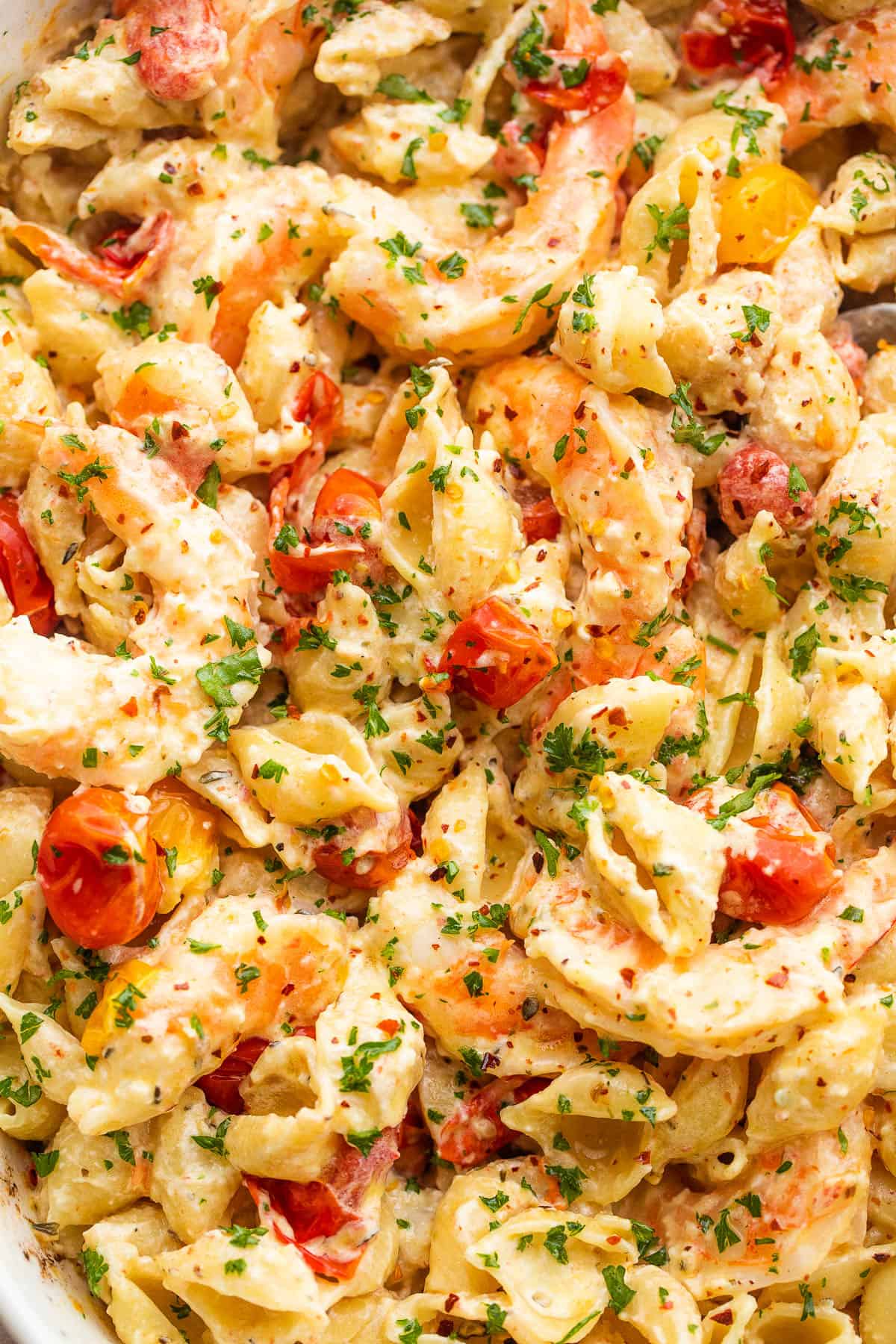 Serving Suggestions
What should you serve with your baked shrimp pasta? Salad and breadsticks are always a nice option, or try one of these tasty ideas.
Butternut Squash Soup: Mellow, golden, and gently flavored with sweet Italian sausage, this hearty soup makes a great starter for a pasta dinner. Try my Italian Sausage Butternut Squash Soup and see for yourself!
Sugar Snap Peas: I love serving these Roasted Sugar Snap Peas with seafood. The gentle sweetness and depth go perfectly with shrimp and pasta.
Homemade Rolls: Soft and buttery homemade rolls are easier than you might think! My No-Knead Dinner Rolls recipe takes out all the guesswork and hassle.
How to Store and Reheat Leftovers
To store leftover shrimp pasta, place in airtight containers and refrigerate for up to three days.
To reheat, place leftovers in a covered skillet over low heat. Cook, stirring occasionally, until just heated through. It's fine to add a splash of milk, cream, or even a bit of water if the pasta seems dry.
Can I Freeze Pasta with Shrimp?
Some cooks don't recommend freezing a recipe with cream cheese sauce, because the cream cheese may separate once it's thawed. However, you may find that it's not an issue for you. Depending on the dish, your freezer, and your individual taste, you may have success freezing cream cheese pasta. Here's how you can do it:
Cool the pasta to room temperature (but don't let it sit for more than 1 hour). Place individual portions in freezer bags, and freeze for up to 3 months.
Thaw in the refrigerator before reheating, and stir well as it reheats.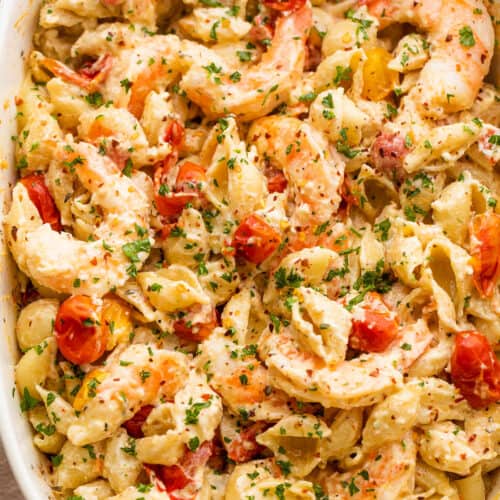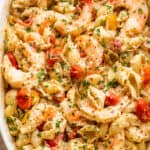 Print Recipe
Baked Cream Cheese Pasta with Shrimp
Ripe cherry tomatoes and fresh garlic are baked with cream cheese and then tossed with pasta and shrimp.
Ingredients
8 to 10

ounces

small shells pasta,

or elbow macaroni

12

ounces

raw shrimp,

shells removed and deveined

1

block (8 ounces)

cream cheese

1

pint

cherry tomatoes

3

cloves

garlic,

minced

1

teaspoon

dried oregano

½

teaspoon

dried thyme

2

tablespoons

extra virgin olive oil

Salt and Freshly ground black pepper,

to taste
Instructions
Bring a large pot of salted water to a boil.

Cook pasta according to package directions.

2 minutes before the pasta is done, drop in the shrimp and cook until shrimp is pink and cooked through.

Reserve ½ cup of pasta water, then drain out the rest.

In the meantime place cream cheese in the middle of a large baking dish.

Add tomatoes and garlic around the block of cream cheese.

Sprinkle oregano and thyme all over, then drizzle with oil.

Bake for 25 to 30 minutes, or until cream cheese is soft, and tomatoes have started to burst.

Remove from oven and stir until cheese is smooth and everything is well combined.

Add cooked pasta and shrimp to the cheesy sauce and ¼ cup of reserved pasta water; stir to combine.

Add more pasta water, if needed, to thin out the sauce.

Season with salt and pepper; taste and adjust seasoning as needed.
Nutrition
Calories:
328
kcal
|
Carbohydrates:
34
g
|
Protein:
8
g
|
Fat:
18
g
|
Saturated Fat:
8
g
|
Polyunsaturated Fat:
1
g
|
Monounsaturated Fat:
7
g
|
Cholesterol:
42
mg
|
Sodium:
133
mg
|
Potassium:
319
mg
|
Fiber:
2
g
|
Sugar:
4
g
|
Vitamin A:
902
IU
|
Vitamin C:
18
mg
|
Calcium:
63
mg
|
Iron:
1
mg
More Pasta Recipes