Spirals of golden-brown pizza dough are wrapped around savory taco meat and a blend of Mexican cheeses. These Baked Taco Pinwheels are sure to be your new favorite snack!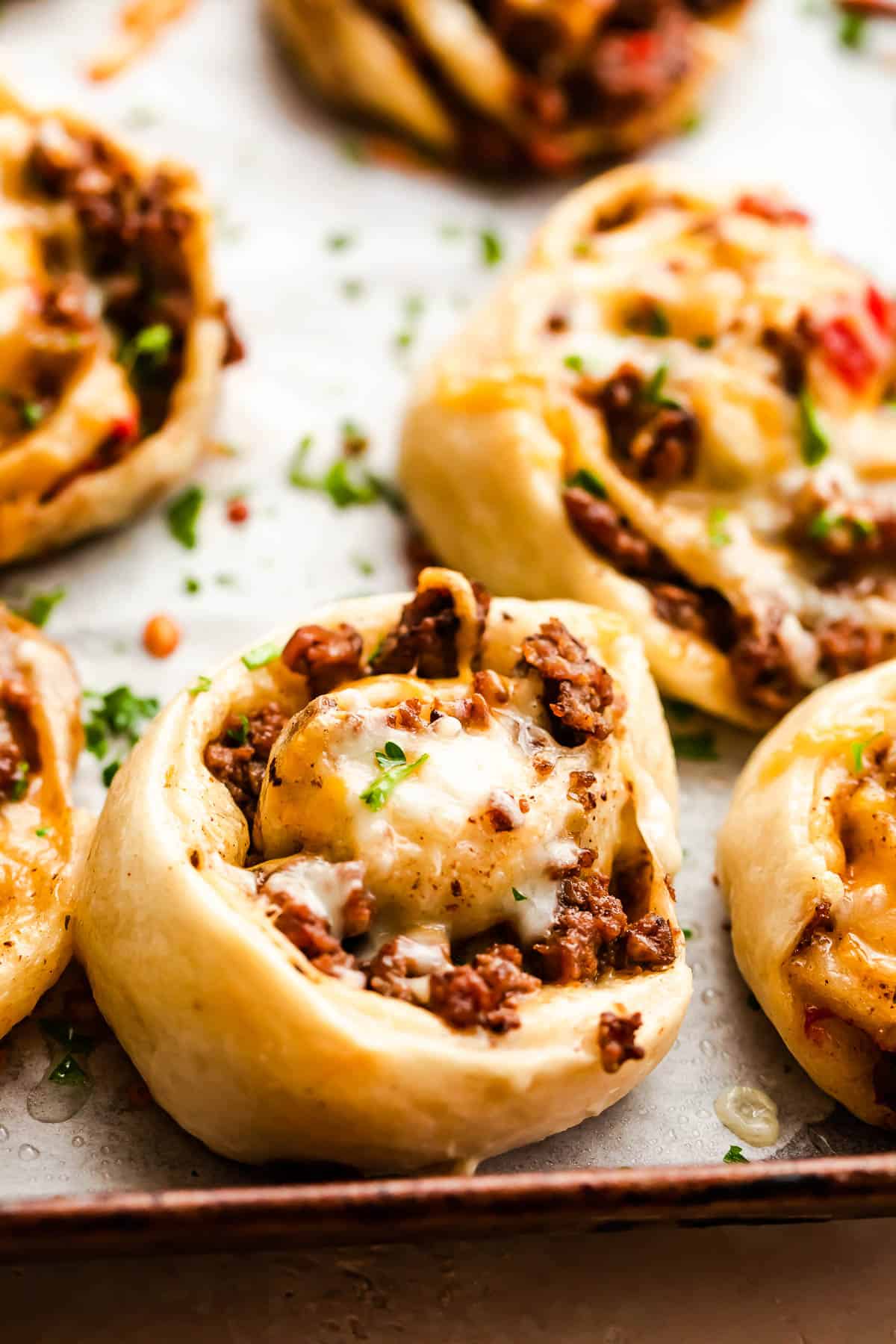 A Super Easy Oven-Baked Appetizer
These easy, baked taco pinwheels might just be my new favorite bake. They're so easy to make, so warm and cozy, and so festive! As a fun appetizer or special after-school snack, taco pinwheels are the perfect combination of savory taco meat, soft spirals of freshly baked pizza dough, and a smidgen of cheese.
You can whip up a batch of these little guys in no time, too, thanks to the convenience of pre-made pizza dough. That stuff is so versatile! 🙏 And, guess what? You can even make a double batch and freeze half to bake later. Eat your heart out, pizza bagels!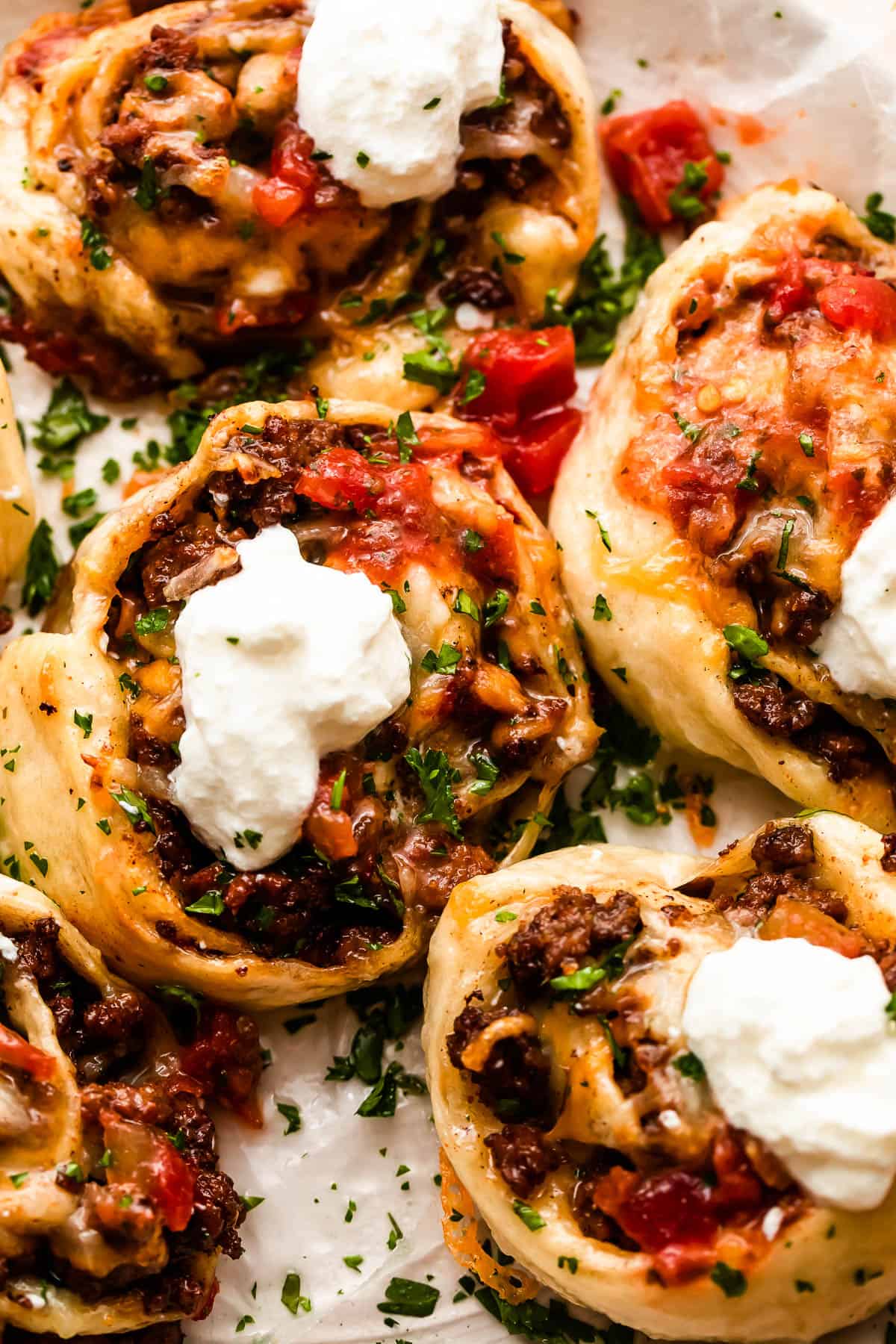 What You'll Need
Just a few simple ingredients are all you need to make this festive recipe! You'll love the look and taste of these cute, flavorful pinwheels.
Olive Oil: For browning the ground beef. Feel free to substitute butter or your oil of choice, or if the beef you're using is not lean, just brown it without any additional oil or fat.
Ground Beef: You can use ground sirloin, chuck, or whatever ground beef you prefer. Grassfed will have a deeper taste, somewhat like venison.
Taco Seasoning: Homemade or store-bought is totally fine!
Salsa: I like to use a chunky tomato salsa, but any kind will do! Even tomatillo salsa is great in this recipe and brings its own special flavor.
Water: To make the beef a little saucy.
Pizza Dough: Using a can of refrigerated pizza dough makes this recipe super fast and easy! Just make sure that the pizza dough is chilled/cold – it makes it easier to roll up and cut.
Cheese: Mexican blend cheese is my go-to, but you could also use cheddar, colby, monterey jack, or pepper jack.
Optional Toppings: Serve as you would tacos, with sour cream, green onions, guacamole, tomatoes, and so on as optional toppings and dips.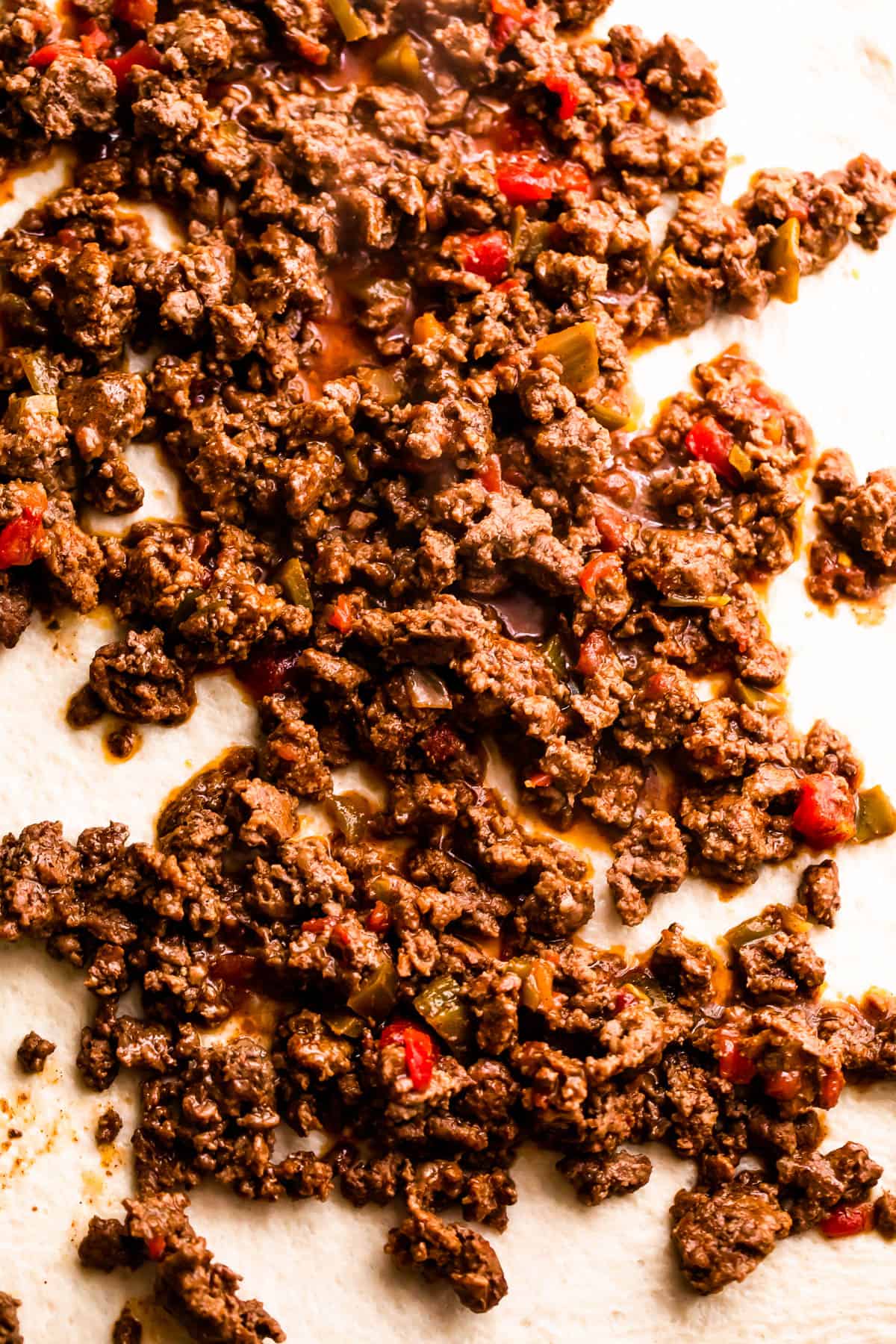 How to Make Taco Pinwheels
Making taco pinwheels is easy, and honestly, it's fun rolling them up. Actually, to be honest, the fun part is just looking forward to eating 'em. 🤷‍♀️ That makes this easy recipe a great one to share with little kitchen helpers. It's like play-doh, but you get a taco-flavored treat at the end instead of play-doh in the carpet! Ha! 🤦‍♀️ 😊
Prep the Oven and Baking Sheet. Before you get started, preheat your oven to 400˚F. Line a baking sheet with parchment paper (or grease it with cooking spray or oil). Set the baking sheet aside.
Make the Taco Meat. Heat up the olive oil in a skillet over medium-high heat. Add the ground beef, and cook it, breaking it up as you go, until it's no longer pink. The smaller the pieces of ground beef, the easier it will be to roll up the taco pinwheels. Sprinkle the taco seasoning over the meat, stir, and then add tomato salsa and water. Stir well and cook for about 3 more minutes. Remove the taco meat from the heat and set aside to cool slightly.
Make the Pinwheels. While the ground beef cools, unroll the cold pizza dough on a flat work surface. Use your hands to press it out into a rectangle. Sprinkle the taco meat evenly over the top, and then sprinkle the cheese over that. Roll the pizza dough back up into a cylinder, and then cut it into one-inch wide pinwheels.
Bake. Gently lift the pinwheels one by one and transfer them to your prepared baking sheet. Bake the pinwheels for 10 to 12 minutes, or until golden brown. When they're done, take them out of the oven and let them cool for several minutes before serving.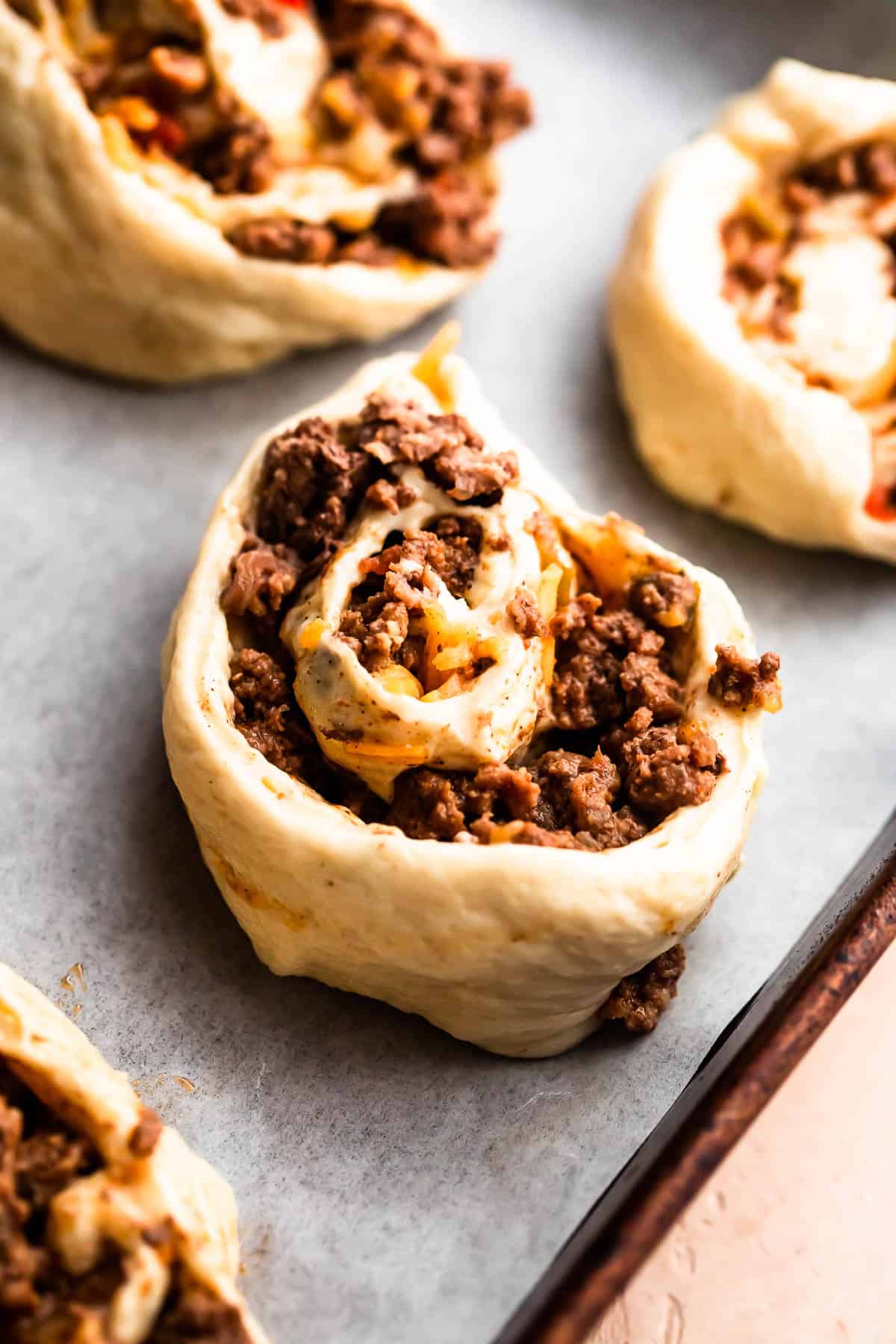 Variation Ideas
You can do a lot with this easy pinwheel recipe! Check out these easy ideas for changing up the protein, dough, and seasoning!
Make It Vegetarian: Instead of the ground beef, try sauteing chopped veggies like mushrooms, onions, or cauliflower and seasoning with taco seasoning and salsa.
Use Different Dough: This recipe also works beautifully with refrigerated crescent dough! You may need more than one package.
Make Chili Pinwheels: Try this recipe with chili seasoning instead of the taco seasoning, and feel free to sprinkle in some fresh or frozen corn kernels. Nyummy!
Serving Suggestions
I usually make these on their own, as a simple snack. But you could definitely make them part of a bigger spread! Try some of these recipes and make them your own!
Cowboy Caviar: Lighten things up with a dish of refreshing Cowboy Caviar! You'll love the savory blend of fresh veggies, beans, avocado, and dressing.
Soup: Taco pinwheels make a wonderful "roll" to serve with a spicy soup, like a good chicken tortilla soup, or my favorite, Chicken Chili.
Appetizer Trio: Make your meal out of a selection of tasty appetizers! Try these pinwheels alongside Cheesecake Factory Copycat Tex-Mex Egg Rolls and Zucchini Fritters for an irresistible small plate meal!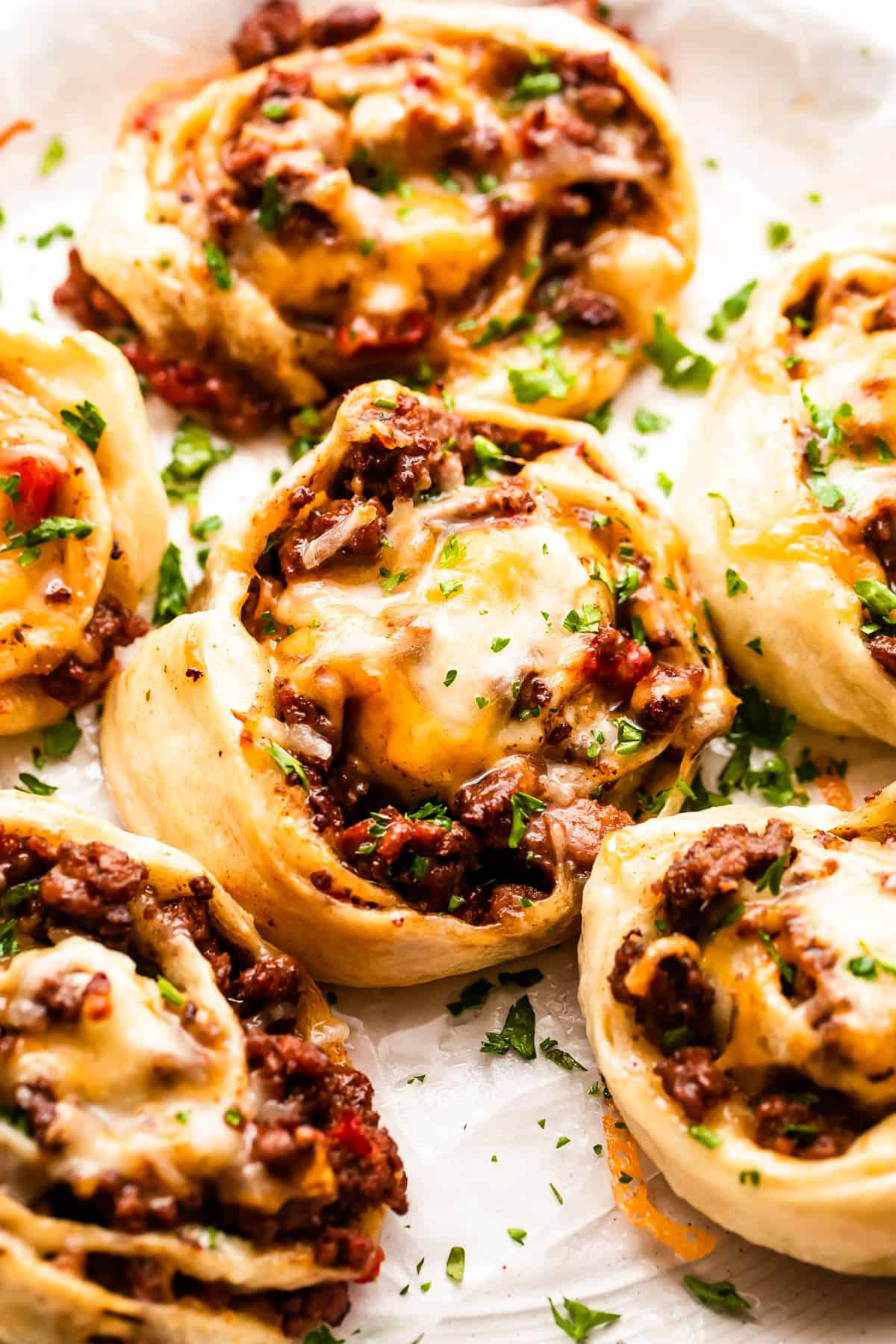 How to Store and Reheat Leftovers
Leftover taco pinwheels can be stored in zip top bags or airtight containers in the refrigerator. They'll keep for 2 to 3 days.
Reheat on a baking sheet in the oven (or toaster oven) at 350˚F, until heated through.
Can I Freeze Taco Pinwheels?
Yes! You can make the taco meat and roll up the pinwheels, and then freeze them unbaked until ready to use. Bake directly from frozen, adding a few minutes to the baking time to make sure they're golden brown and hot all the way through.
Frozen, unbaked taco pinwheels will keep in the freezer for up to 2 months.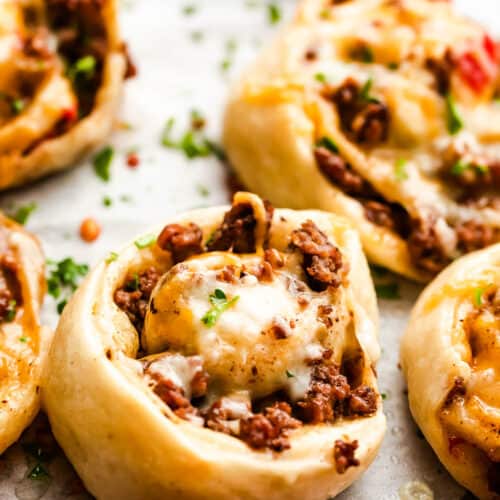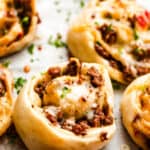 Print Recipe
Baked Taco Pinwheels
Spirals of golden-brown pizza dough are wrapped around savory taco meat and shredded cheese for a fun appetizer or snack the whole family will love!
Ingredients
½

tablespoon

olive oil

½

pound

ground beef

2

tablespoons

taco seasoning,

homemade or store-bought

¼

cup

chunky tomato salsa

2

tablespoons

water

1

can (14 ounces)

refrigerated pizza dough,

cold (I used Pillsbury Classic Pizza Crust)
Optional Toppings
Sour cream, green onions, guacamole, tomatoes, etc.
Instructions
Preheat oven to 400˚F.

Line a baking sheet with parchment paper or grease it with cooking spray; set aside.

Heat up the olive oil in a skillet set over medium-high heat.

To the skillet add the ground beef and cook the beef until no longer pink. Make sure to finely break up the meat while cooking. The smaller the ground beef pieces, the easier it will be to roll up the pizza dough.

Sprinkle the taco seasoning over the meat and add tomato salsa and water; continue to cook for 3 minutes.

Remove from heat and set aside.

On a flat surface roll out the pizza dough into a rectangle. Use your hands and fingers to press it out.

Sprinkle the prepared taco meat evenly over the pizza dough.

Add the cheese on top.

Roll dough tightly into a roll.

Make sure the dough is chilled – if it's room temperature, or close to it, it will be harder to roll it up without tearing.

Using a sharpened knife, cut the dough into about 1-inch-thick pinwheels.

Transfer pinwheels to previously prepared baking sheet.

Bake for 10 to 12 minutes, or until golden brown.

Remove from oven and let cool for a couple minutes.

Serve.
Nutrition
Serving:
1
pinwheel
|
Calories:
100
kcal
|
Carbohydrates:
11
g
|
Protein:
6
g
|
Fat:
3
g
|
Saturated Fat:
2
g
|
Polyunsaturated Fat:
1
g
|
Monounsaturated Fat:
1
g
|
Trans Fat:
1
g
|
Cholesterol:
14
mg
|
Sodium:
259
mg
|
Potassium:
59
mg
|
Fiber:
1
g
|
Sugar:
2
g
|
Vitamin A:
84
IU
|
Vitamin C:
1
mg
|
Calcium:
43
mg
|
Iron:
1
mg
More Festive Appetizers