Made with just six basic pantry staples, this wholesome Cream of Chicken Soup Substitute is the perfect un-processed version of canned soup. Use it in all your favorite recipes!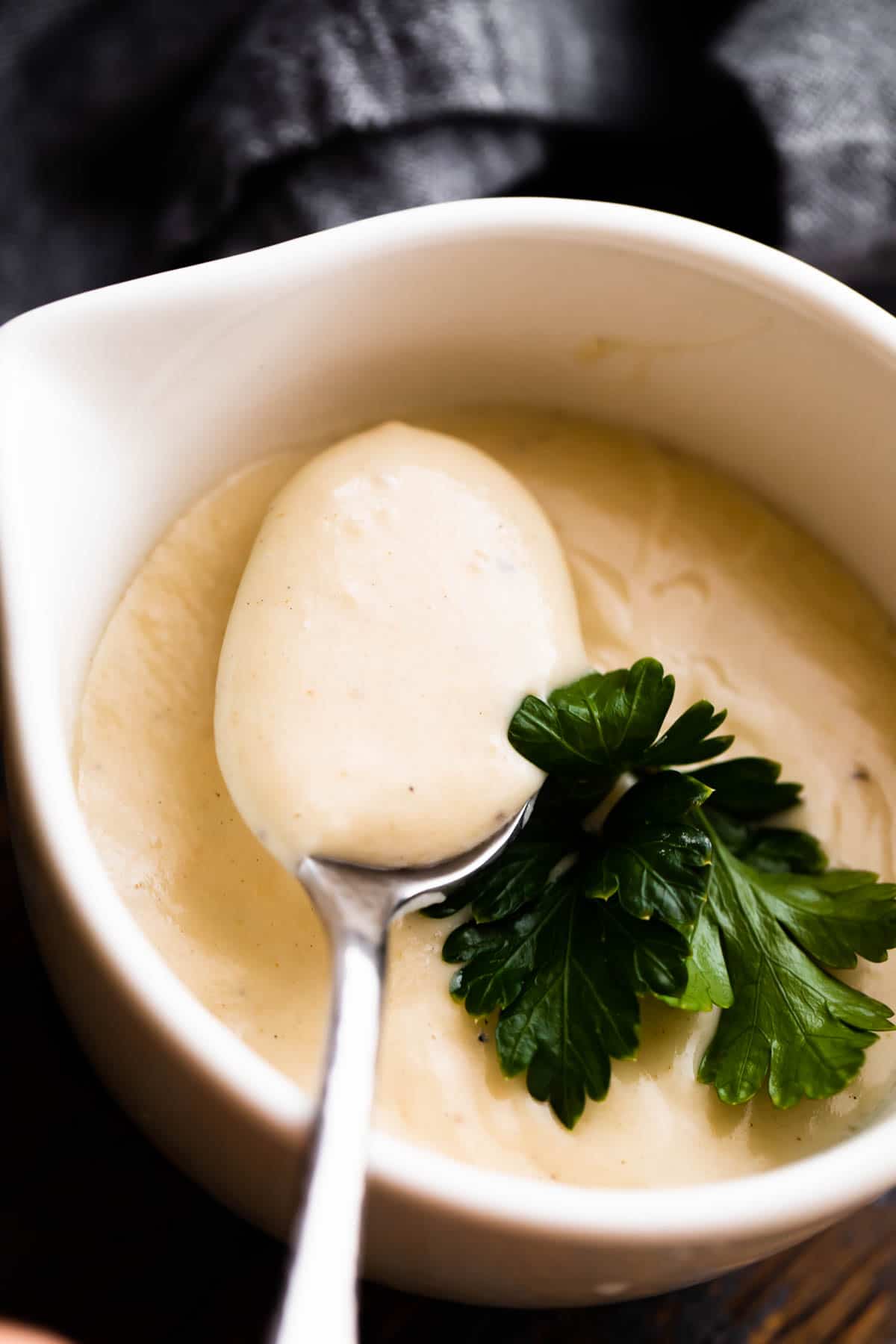 Easy Cream of Chicken Soup from Scratch
A friend of mine recently decided to lessen the number of processed foods she uses in her day-to-day cooking, which is becoming a real (see what I did there?) trend in the US! It's understandable, too. Cooking from scratch makes it easier to cut down on unnecessary sodium, fat, dye, and other ingredients you may not necessarily want to consume.
However, one issue that sometimes comes up is the canned soup dilemma! Canned soups make it easy to create creamy casseroles, sauces, gravies, soups, and bakes. What's a home cook to do?
My answer is, whip up a quick batch or two of this simple homemade cream soup, and store it for later! It's made with wholesome, easy-to-pronounce ingredients, and tastes great. Perfection!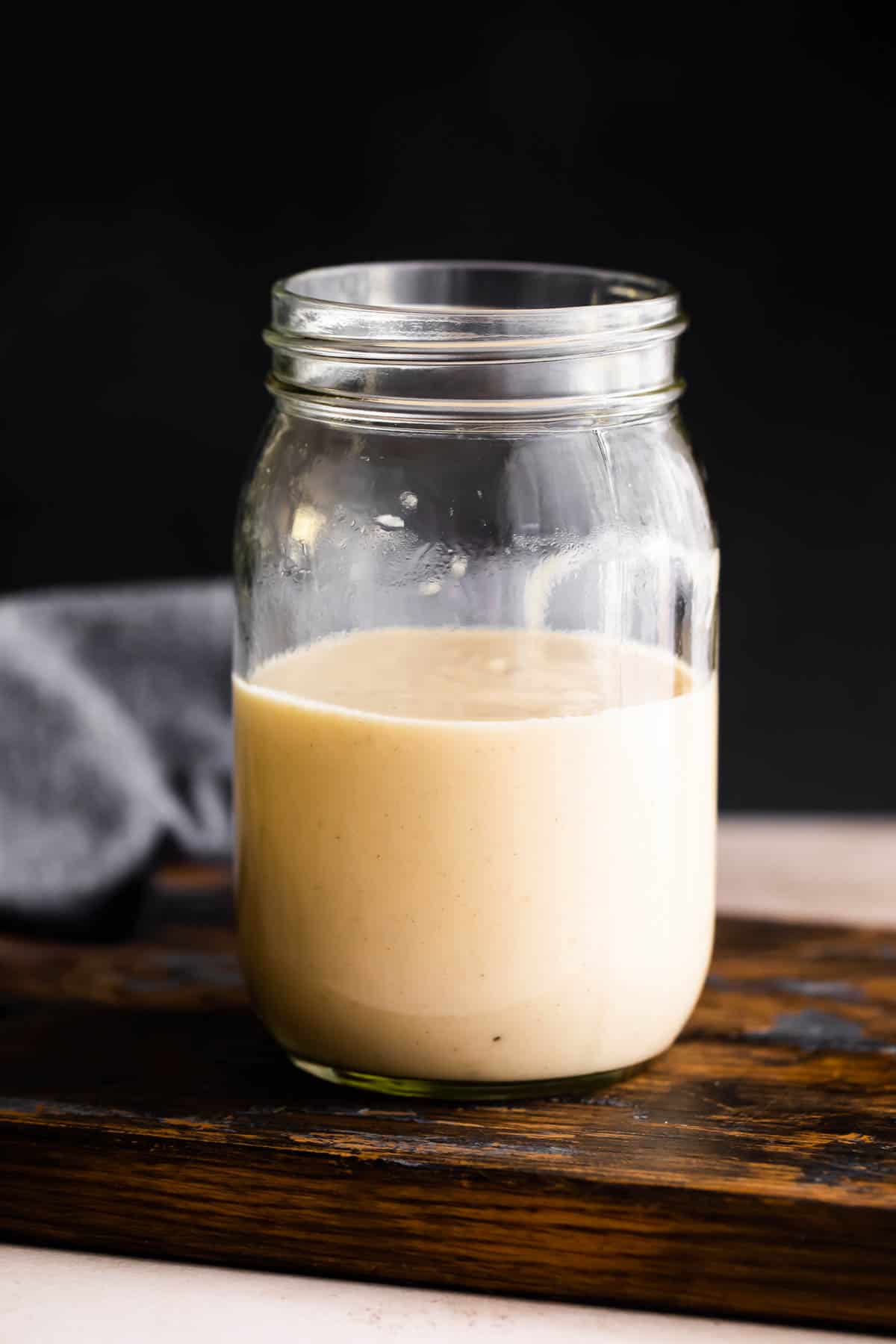 Is There a Difference Between Cream of Chicken, and Cream of Chicken Soup?
This is a common question, but no, both are the same! This handy ingredient may be known as cream of chicken, cream of chicken soup, or condensed cream of chicken soup. However, it's essentially all the same thing!
The Ingredients List
This list is so simple, you'll wonder why you ever thought you needed to buy canned soup! Plus, you can customize it in lots of different ways (see the Tips and Variations section below!).
Butter: Salted or in salted, either one is fine.
Flour: A little all-purpose flour is all it takes to blend with the butter, and thicken the soup right up.
Broth: Store-bought chicken broth totally works here. However, if you have homemade broth or stock, that's great as well!
Milk: I made this with 2% milk and it was perfectly thick and creamy, but if you use whole milk, half and half, or cream, it will be even thicker and creamier.
Salt and Pepper: To taste.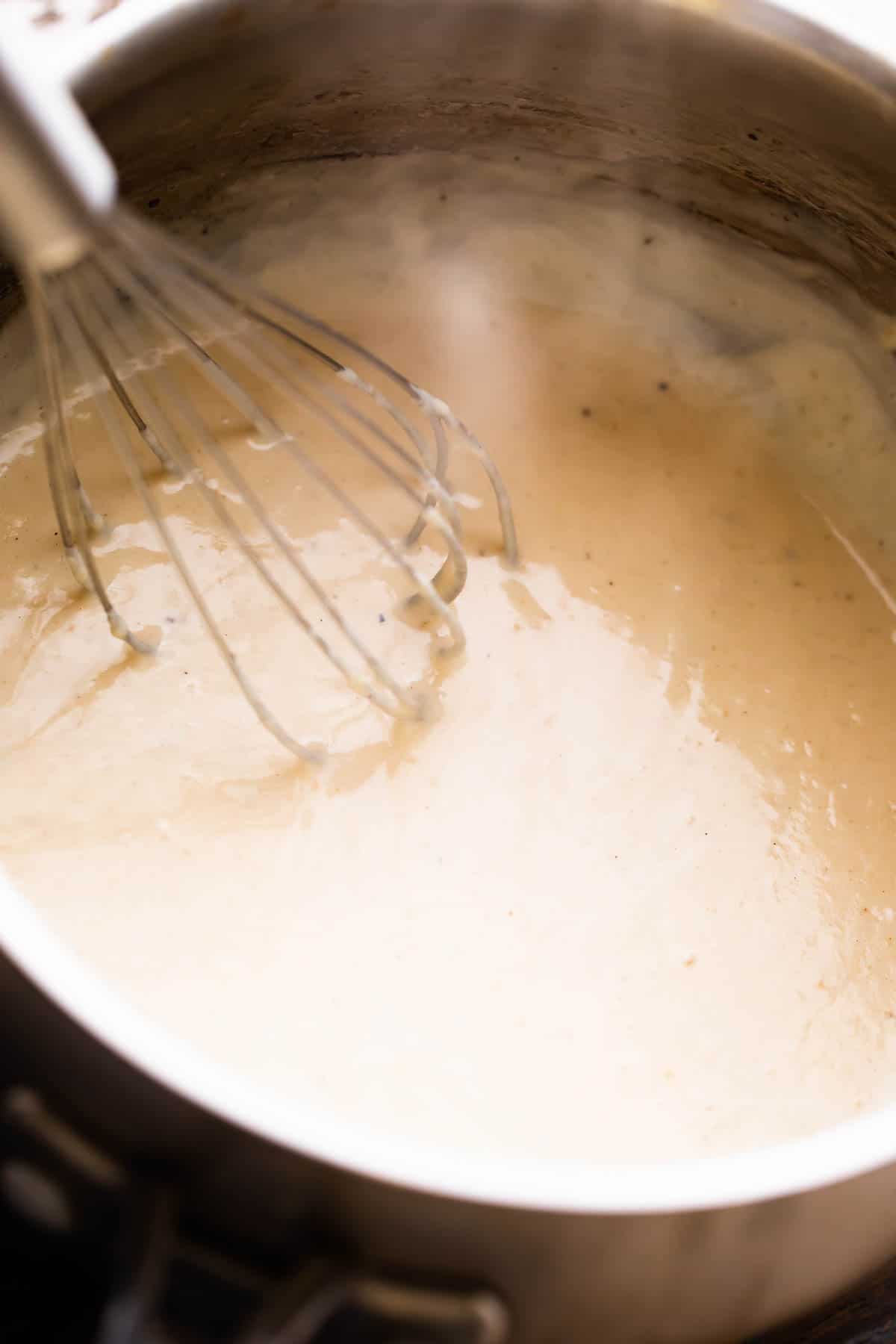 How to Make Your Own Healthy Cream of Chicken Substitute
If you have ever made homemade gravy, then this recipe will be very familiar to you! It uses almost exactly the same method, and many of the same ingredients, as classic chicken gravy.
Make a Quick Roux. Set a saucepan over medium-low heat, and add the butter to the saucepan. When the butter has melted, sprinkle in the flour, and use a whisk to incorporate the flour and butter into a smooth paste. Cook, stirring constantly, for about one minute.
Add the Liquids. Next, slowly pour in the broth, whisking as you go. Add in the milk after that, and bring the soup to a boil, still whisking constantly. The soup will thicken as it cooks.
Season and Use or Store. Once the soup has thickened, season it well with salt and pepper, and then remove it from the heat. Use the soup immediately, or let it cool and store it for later.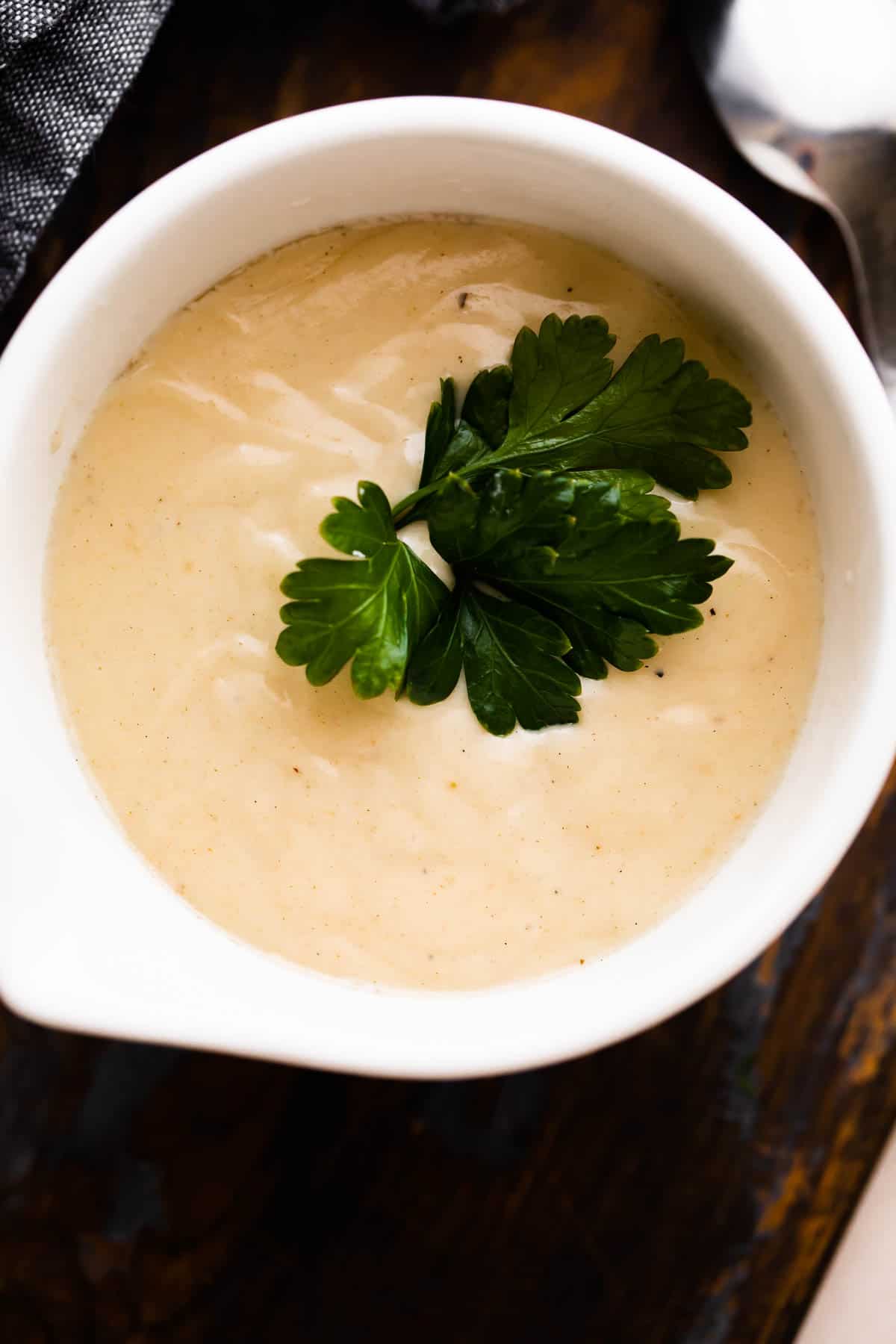 Helpful Tips and Variations
Make the most of this easy recipe with these handy tips, and great ideas for customizing it! Let's take a look:
Make It Gluten-Free: You can make this soup easily using your favorite gluten-free flour substitute instead of flour.
Make It Vegetarian: Omit the chicken broth, and use veggie broth instead. You can also use oil or vegan butter instead of the regular butter, and dairy-free milk instead of the 2% milk.
Cream of Mushroom Soup: To make a quick homemade cream of mushroom variation, add a splash of sherry, some finely chopped mushrooms, and a small amount of minced shallot to the recipe.
Cream of Celery: This one is so easy! Just use a little celery salt instead of regular salt, and add a small amount of finely chopped celery.
Some Delicious Ways to Use Cream of Chicken Soup
You can use cream of chicken soup in so many great ways! I love using this creamy roux-based soup as a starter for casseroles, soups, and baked dishes of all kinds. Here are just a few:
Baked Chicken: Pour cream of chicken soup over skinless chicken legs in a baking dish, cover well with foil or an ovenproof lid, and bake for about 1 hour at 400°F or until the chicken is done. Bonus points if you add cheese and/or spinach!
Vegetable Soup: Give your favorite soup (maybe this Pasta Fagioli!) a creamy twist by adding this homemade cream of chicken soup to the mix. So good!
Casseroles: Substitute homemade cream of chicken for the cream sauce in your favorite casserole (Gnocchi and Bacon, anyone?). Need a cheesy sauce instead? Just add half a cup or so of your favorite cheese.
Pot Pie: This easy sauce is great for making pot pie easier (like this easy Chicken Pot Pie)!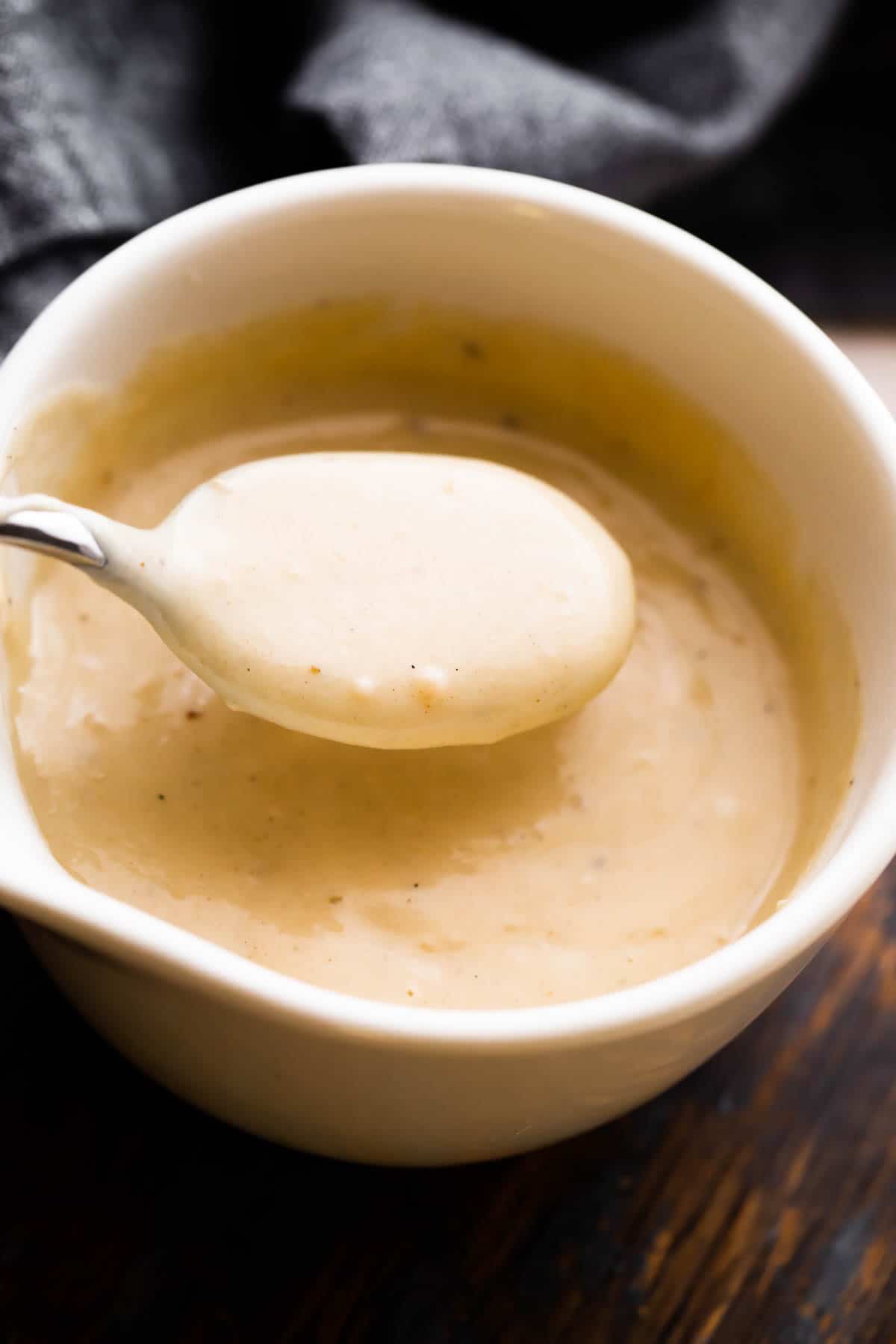 Storage Instructions
You can store cream of chicken soup in the refrigerator or the freezer. Here's how:
In the fridge: Cover the soup well, or place it in an airtight container or bag. Refrigerate for up to one week.
In the freezer: Cool the soup, and pack into freezer bags or containers, leaving a little bit of room (one inch is plenty) for the liquid to expand as it freezes.
Keep in the freezer for up to three months, and thaw overnight in the fridge before using.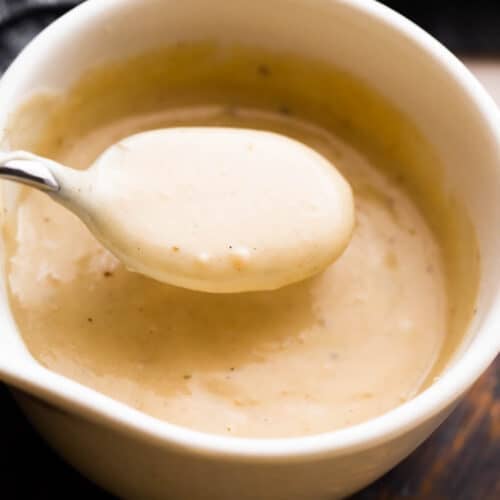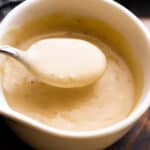 Print Recipe
CREAM OF CHICKEN SOUP SUBSTITUTE
Made with just six basic pantry staples, this wholesome Cream of Chicken Soup Substitute is the perfect un-processed version of canned soup. Use it in all your favorite recipes that call for cream of chicken soup.
Instructions
Melt the butter in a saucepan over medium medium-low heat.

Add the flour to the melted butter and whisk until smooth; continue to cook and whisk for 1 minute.

Slowly pour in the chicken broth and whisk.

Whisk in the milk.

Bring mixture to a boil while constantly whisking.

Continue to whisk until mixture begins to thicken.

Season with salt and pepper; taste and adjust.

Remove from heat.

Use immediately or let cool; then store in the fridge, or the freezer.
Nutrition
Serving:
1
ounce
|
Calories:
25
kcal
|
Carbohydrates:
2
g
|
Protein:
1
g
|
Fat:
1
g
|
Saturated Fat:
1
g
|
Polyunsaturated Fat:
1
g
|
Monounsaturated Fat:
1
g
|
Trans Fat:
1
g
|
Cholesterol:
4
mg
|
Sodium:
49
mg
|
Potassium:
29
mg
|
Fiber:
1
g
|
Sugar:
1
g
|
Vitamin A:
47
IU
|
Vitamin C:
1
mg
|
Calcium:
16
mg
|
Iron:
1
mg
More Easy Soup Recipes