This quick, one-bowl Creamed Corn Pudding recipe takes only a few minutes to pull together before baking it to a perfect golden brown. It's a sweet and salty side dish perfect for holiday meals or weekend dinners!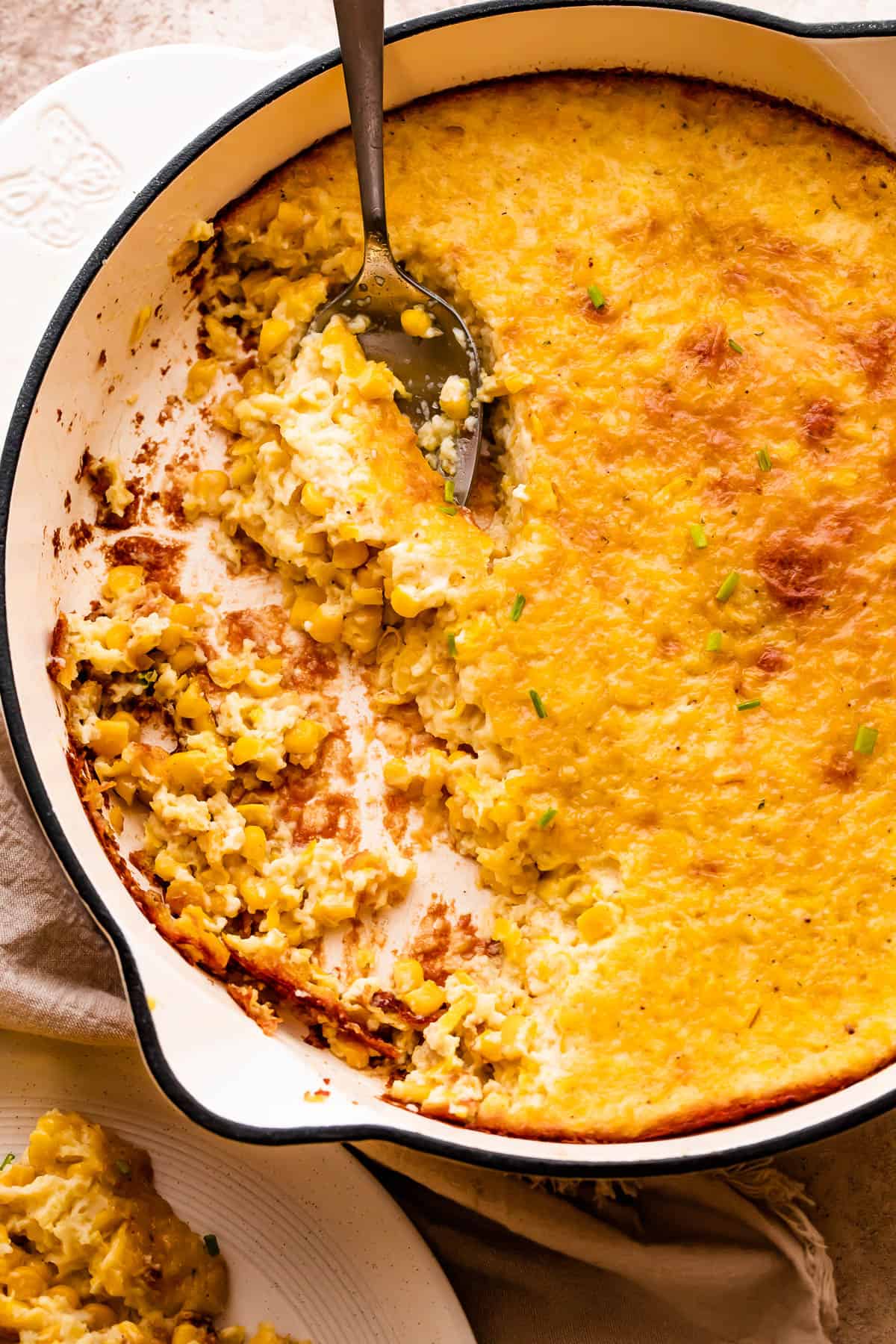 A Sweet and Savory Southern Favorite
Don't you just love creamed corn? Of course, creamed corn from scratch is the best, with the fresh corn kernels cut from the cob, and the sweet, starchy corn liquid scraped into the pot with a knife or corn scraper. 😋
But, you can also get great creamed corn frozen or canned, which is super convenient—and perfect for this easy Southern corn pudding recipe!
If you've never had corn pudding, get ready, because it's about to become your new favorite holiday side dish. I have seriously seen people (politely) fight over the last serving of this creamy, salty, sweet, pale yellow and utterly addictive dish. And the best part? It's incredibly easy to make.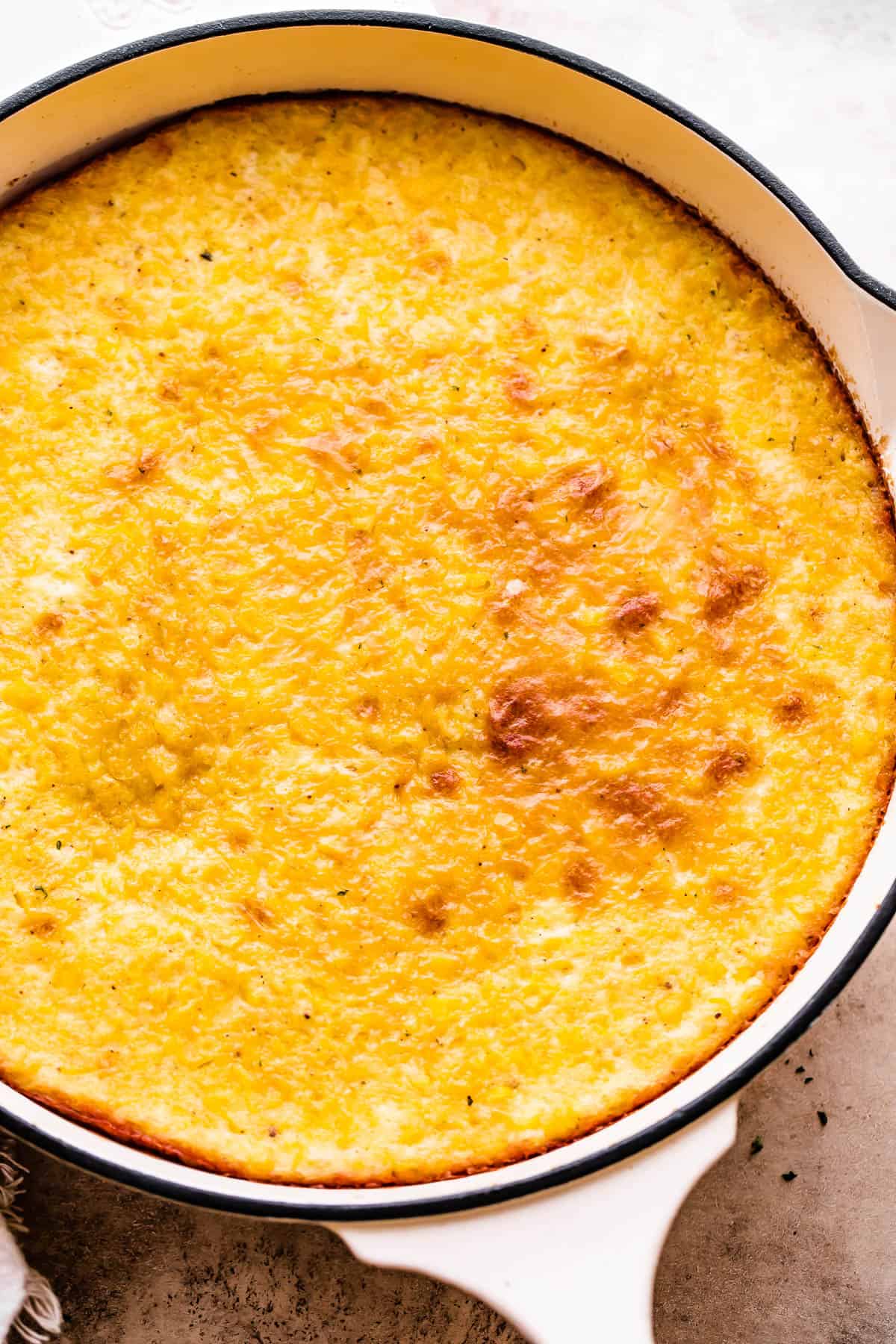 Why Is It Called Corn Pudding?
So why is it called "corn pudding?" It's all in the texture! No, this dish doesn't have quite the same wobble as your typical cup of chocolate pudding. When corn pudding was invented, pudding generally meant a baked custard. And, corn pudding does have a soft-set custard texture, thanks to the eggs and cream.
As for flavor, it's not a dessert at all, but this savory dish does have a temptingly sweet side. Somewhat like sweet potato casserole, it's a hearty Southern side dish with a long history and a little bit of sugar.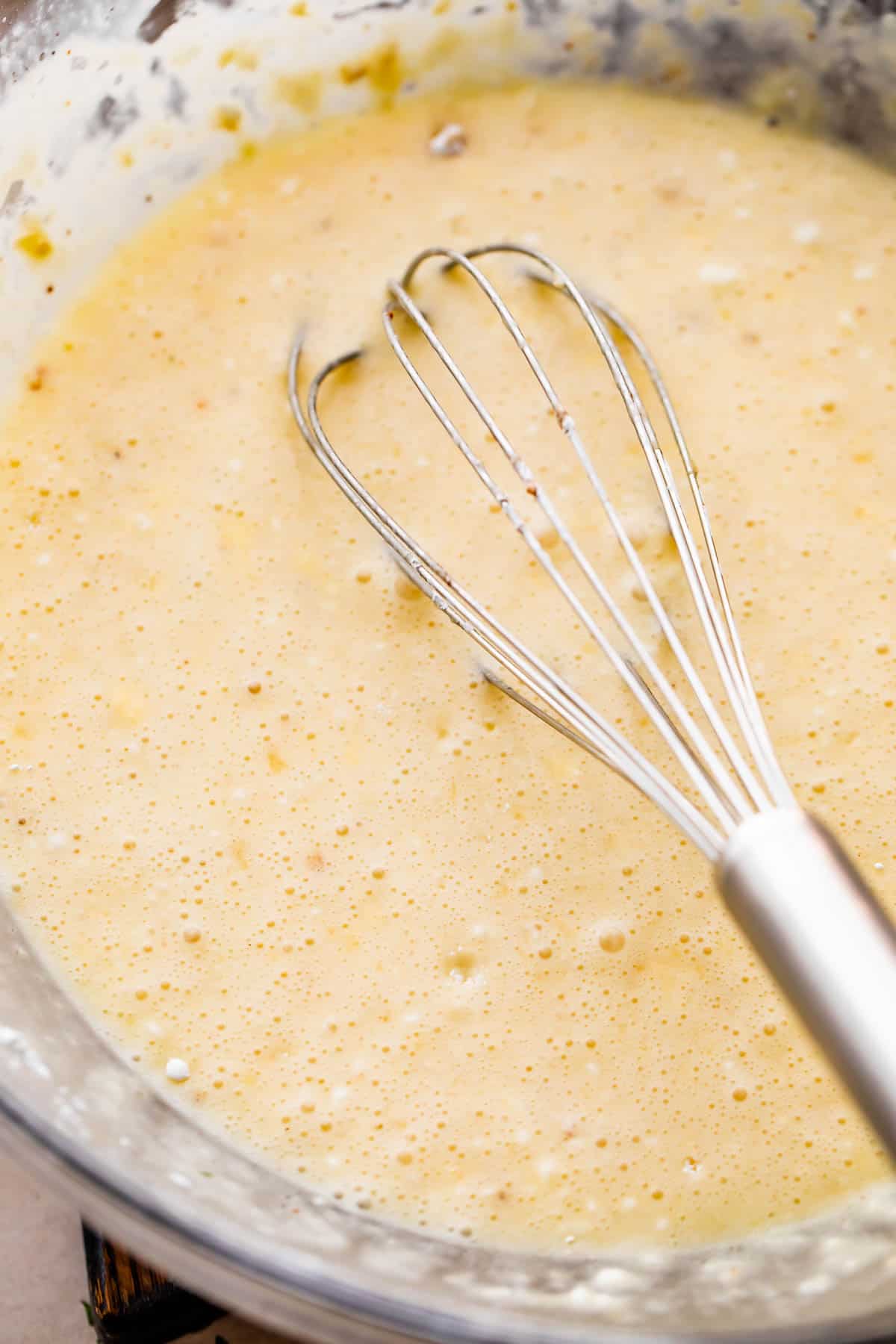 The Ingredients List
The ingredients for this beloved casserole are very simple. To make it the best it can be, use good-quality eggs, butter, cream, and corn.
Eggs: Large, whole eggs form the base of the custard mixture.
Butter: I use unsalted butter, to help control the amount of salt in the recipe. Melt the butter before adding it to the dish.
Cream: Heavy cream makes this recipe rich and lush, but whole milk also works well. You can use your favorite non-dairy milk, too!
Sugar: Regular granulated sugar is fine. For a more complex flavor, try raw sugar, maple syrup, or honey, especially "creamed" honey.
Cornstarch: A little bit of cornstarch helps thicken and set the corn pudding.
Vanilla: For a really decadent, almost dessert-like taste, vanilla can't be topped! You can also omit the vanilla for a more savory dish.
Nutmeg: Ground nutmeg enhances the freshness and sweet corn flavor.
Corn: Cream-style corn is the main type of corn used, while a smaller amount of whole kernel corn adds color and texture. Fresh, frozen, or canned all work perfectly.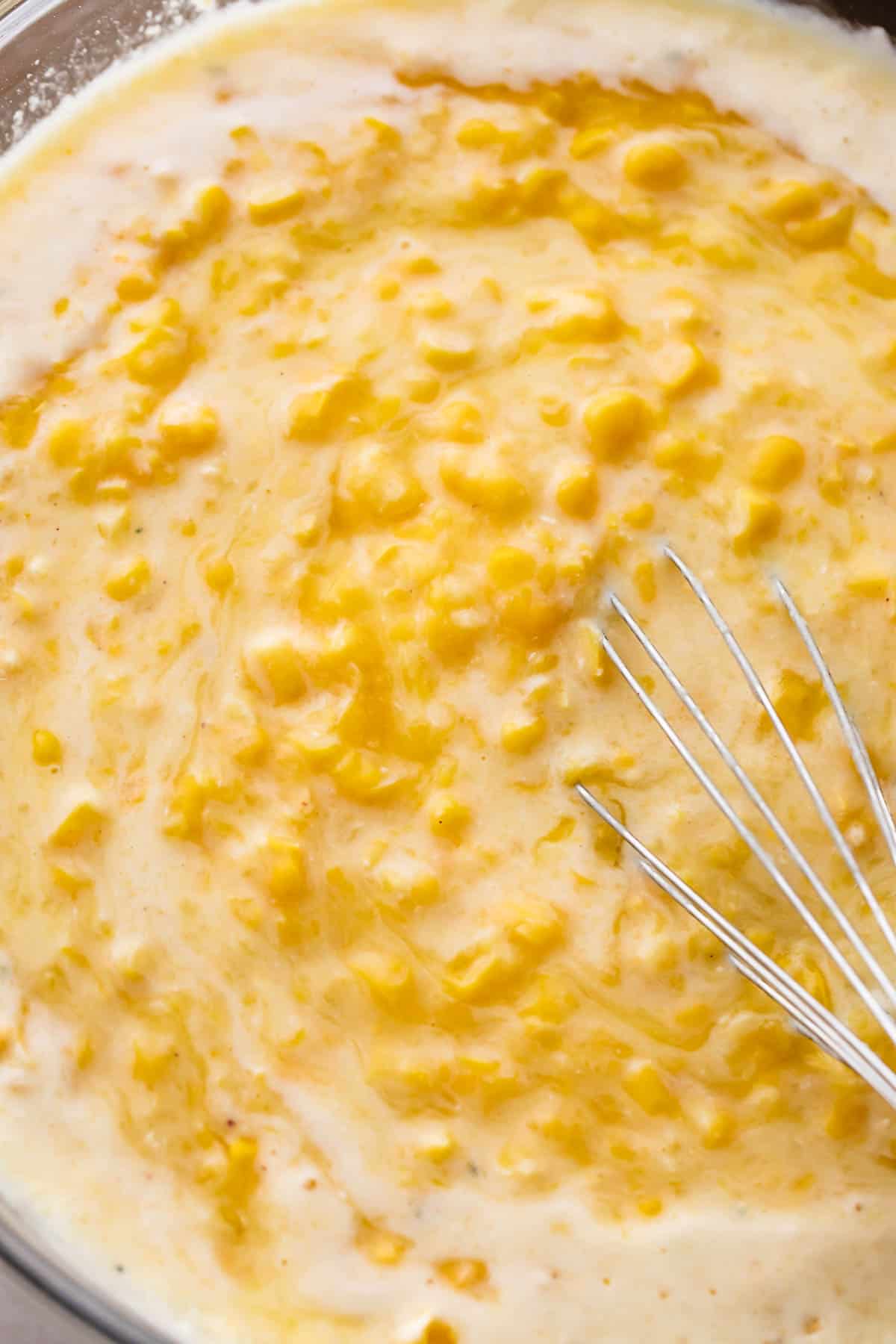 How to Make This Easy Creamed Corn Pudding Recipe
Anyone who's ever made a big holiday spread understands how vital it is to have one or two easy recipes that a) everyone will love, and b) come together in one bowl. This is definitely one of those recipes! Let's take a look at the simple method for making creamed corn pudding:
Prep the Oven and the Baking Dish. As always, before you start baking, set your oven to preheat. The temperature should be 400°F. Next, grease a 9×13 baking pan (or a large cast iron skillet) with butter or oil, so that it will be ready when you want to pour the casserole ingredients in.
Mix the Corn Pudding Ingredients. Get a large mixing bowl and whisk the eggs, butter, cream, and sugar in it. Add the cornstarch, vanilla, and nutmeg, and whisk again. Finally, add the two kinds of corn, and mix well.
Bake. Pour the corn mixture into your baking dish, and bake the corn pudding until the top is golden brown, about 40 minutes. The casserole will be wobbly but mostly set.
Enjoy! Let your creamed corn pudding stand for 10 to 15 minutes before serving, so that it can cool slightly and set a little bit more.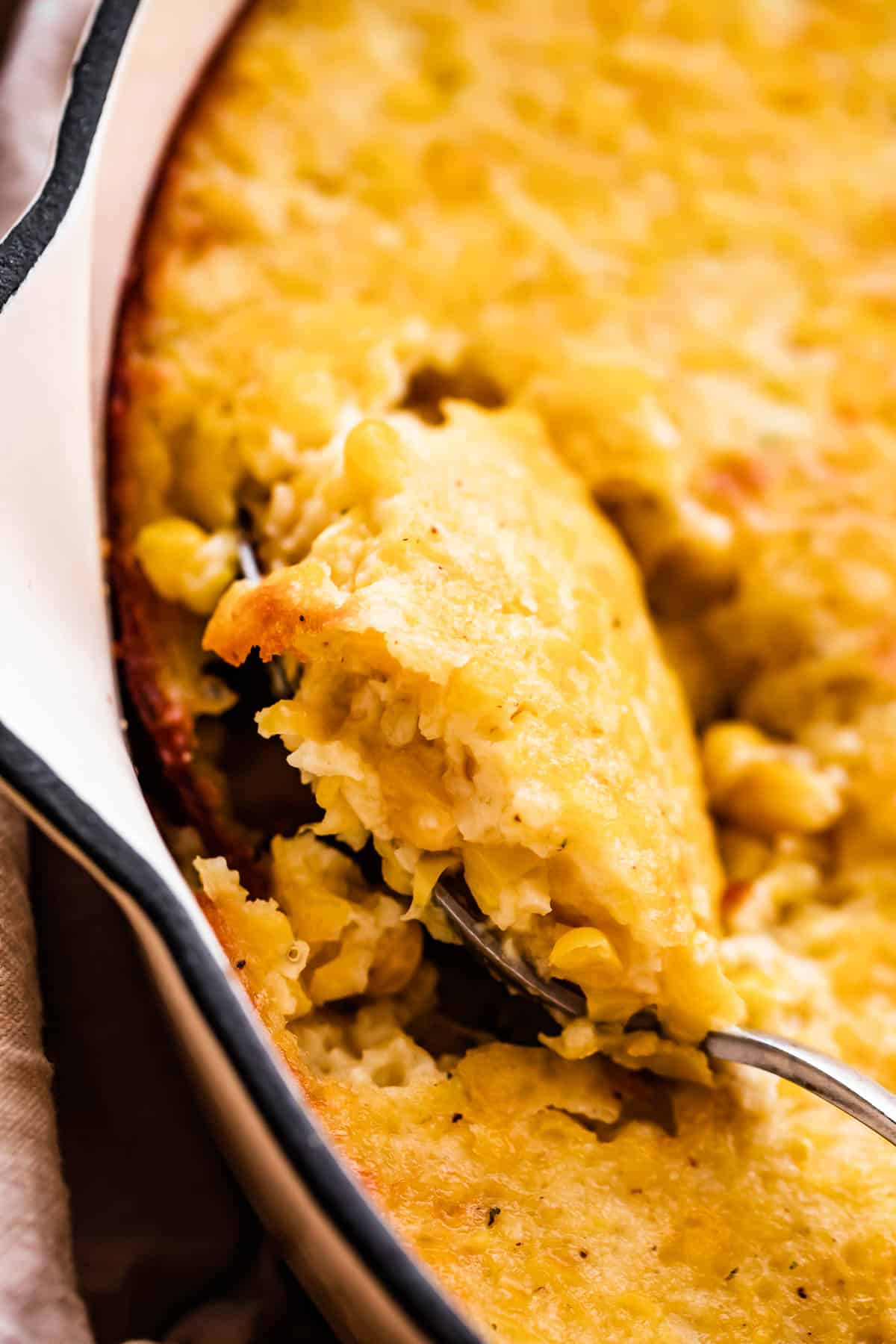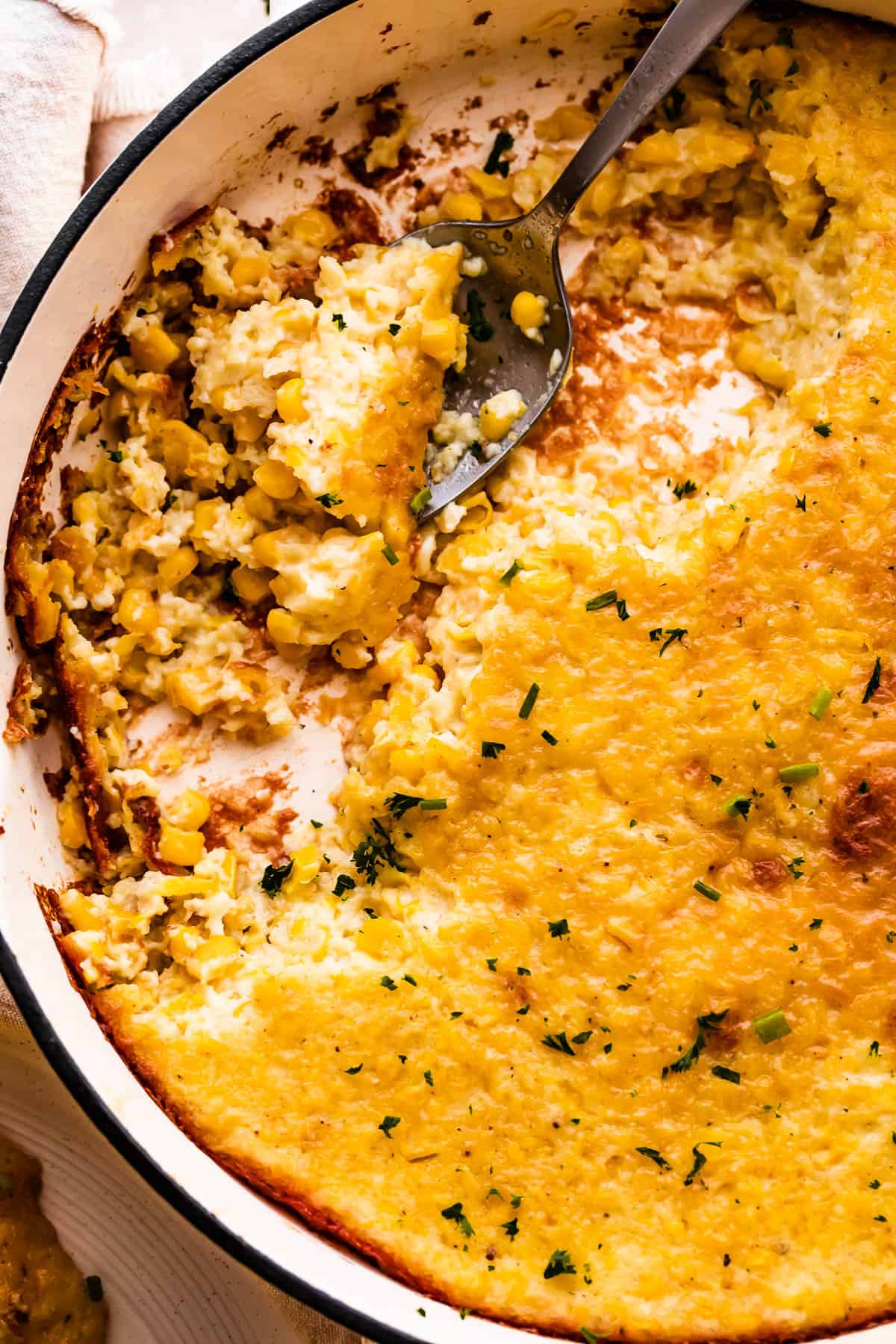 Tips and Tricks
Even though this recipe is so easy, I do have some helpful tips to share! These handy tips will ensure a delicious result, every time.
Make It More Savory: To make a less-sweet version, reduce the sugar and the nutmeg, and omit the vanilla entirely.
No Lumps: If you're concerned about the cornstarch clumping, use a fork to whisk it into the cream and get it smooth before adding it to the corn mixture.
Temperature Adjustment: What if your corn pudding and other dishes need to bake at different temperatures? No worries! You can also bake this dish at lower temperatures. Just lengthen the cooking time as needed.
What Do You Serve with Creamed Corn Pudding?
I like to serve this as part of a traditional holiday spread, so all of my favorite dishes to serve with corn pudding are Christmasy favorites! Here are just a few, for inspiration:
Ham: Christmas Ham with Brown Sugar Glaze goes with basically everything, but I think it's particularly nice with sunny corn pudding. So festive!
Green Bean Casserole: Who doesn't love this creamy dish? This recipe for The Best Green Bean Casserole is extra-yummy thanks to bacon and Brussels sprouts.
Cranberry Sauce: Honestly, I could eat this year-round. Homemade Cranberry Sauce is always welcome on my table, especially this orange-scented version that's absolutely mouthwatering, and oh-so-easy to make.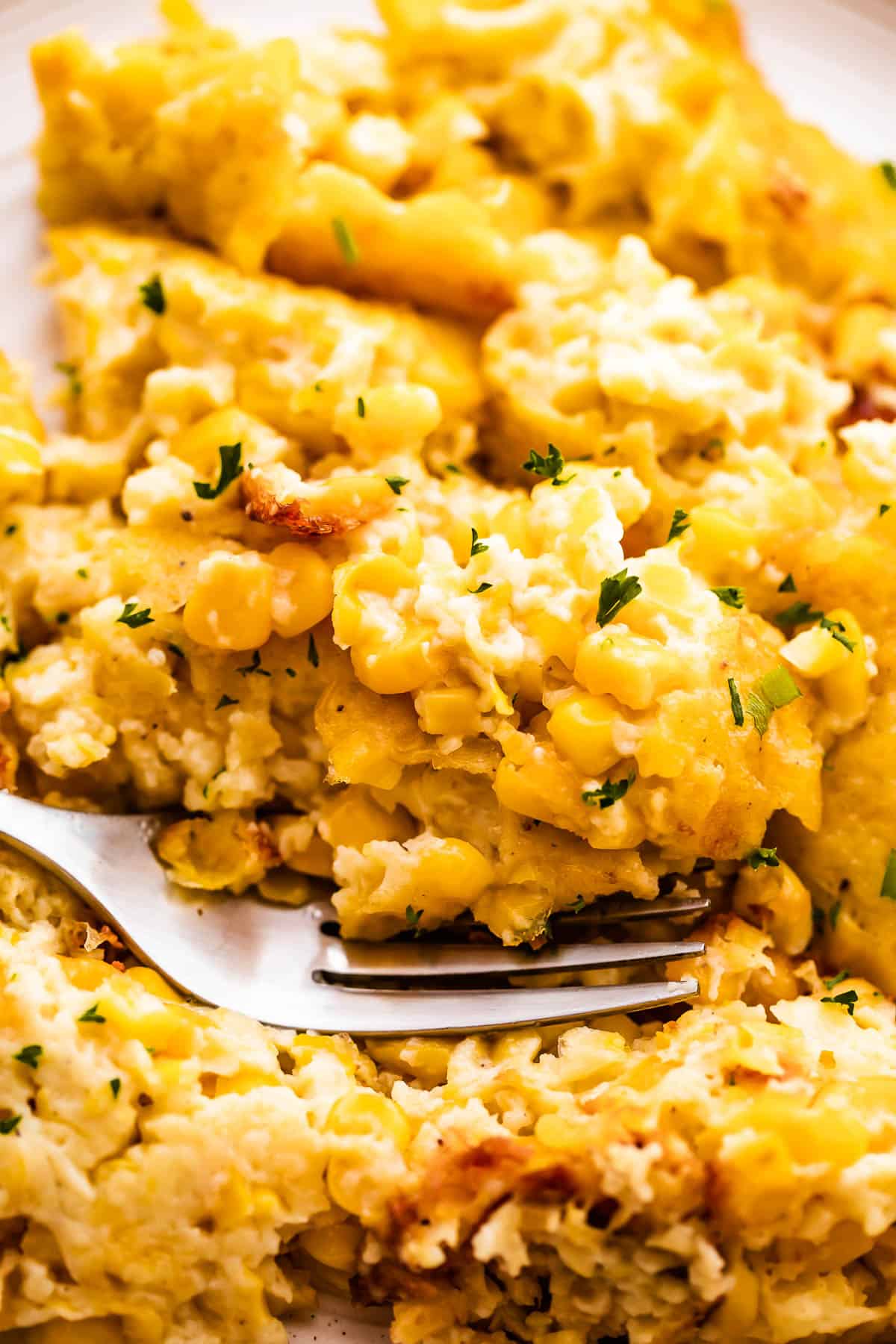 Make-Ahead Instructions
You can make this dish several days in advance, and refrigerate it until you're ready to reheat and serve.
Reheat in the oven at 400°F for 10 to 20 minutes, or until it is hot all the way through.
Do not store corn pudding for more than 4 days, total.
Storing and Reheating the Leftovers
To store creamed corn pudding, cover the casserole dish tightly with plastic wrap, or spoon the leftovers into food storage containers.
Keep in the refrigerator for 3 to 4 days.
Don't freeze, as the custard doesn't freeze and thaw very well.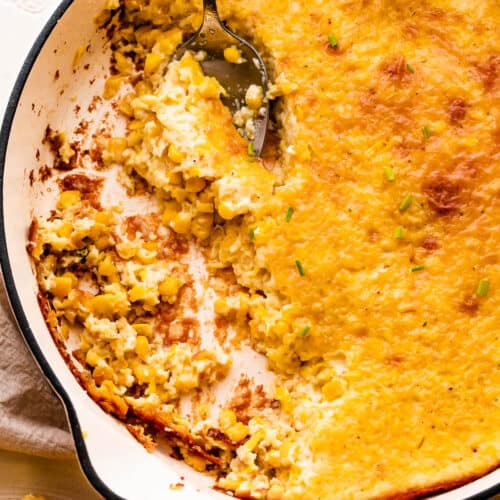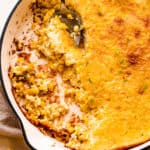 Print Recipe
Creamed Corn Pudding
This quick, one-bowl Creamed Corn Pudding recipe takes only a few minutes to pull together before baking it to a perfect golden brown. It's a sweet and salty side dish perfect for holiday meals or weekend dinners!
Instructions
Preheat the oven to 400°F.

Grease a 9×13 baking pan with butter or oil.

In a large bowl, whisk together the eggs, butter, heavy cream, and sugar.

Add the cornstarch, vanilla extract, and nutmeg. Mix well until combined.

Add the whole kernel corn and cream-style sweet corn, and mix well.

Pour the mixture into the prepared baking pan, and bake for 40 minutes, or until the top is golden-brown.

Let stand for 10 to 15 minutes before serving.
Nutrition
Calories:
370
kcal
|
Carbohydrates:
45
g
|
Protein:
6
g
|
Fat:
20
g
|
Saturated Fat:
12
g
|
Polyunsaturated Fat:
2
g
|
Monounsaturated Fat:
6
g
|
Trans Fat:
1
g
|
Cholesterol:
133
mg
|
Sodium:
465
mg
|
Potassium:
261
mg
|
Fiber:
2
g
|
Sugar:
17
g
|
Vitamin A:
787
IU
|
Vitamin C:
7
mg
|
Calcium:
30
mg
|
Iron:
1
mg
More Beloved Holiday Recipes