Creamy Parmesan Gnocchi with Shrimp is a quick and easy meal that tastes like something from your favorite Italian restaurant! Tender, juicy shrimp and pillowy gnocchi mingle in a velvety homemade cream sauce, simply flavored with Parmesan and fresh garlic.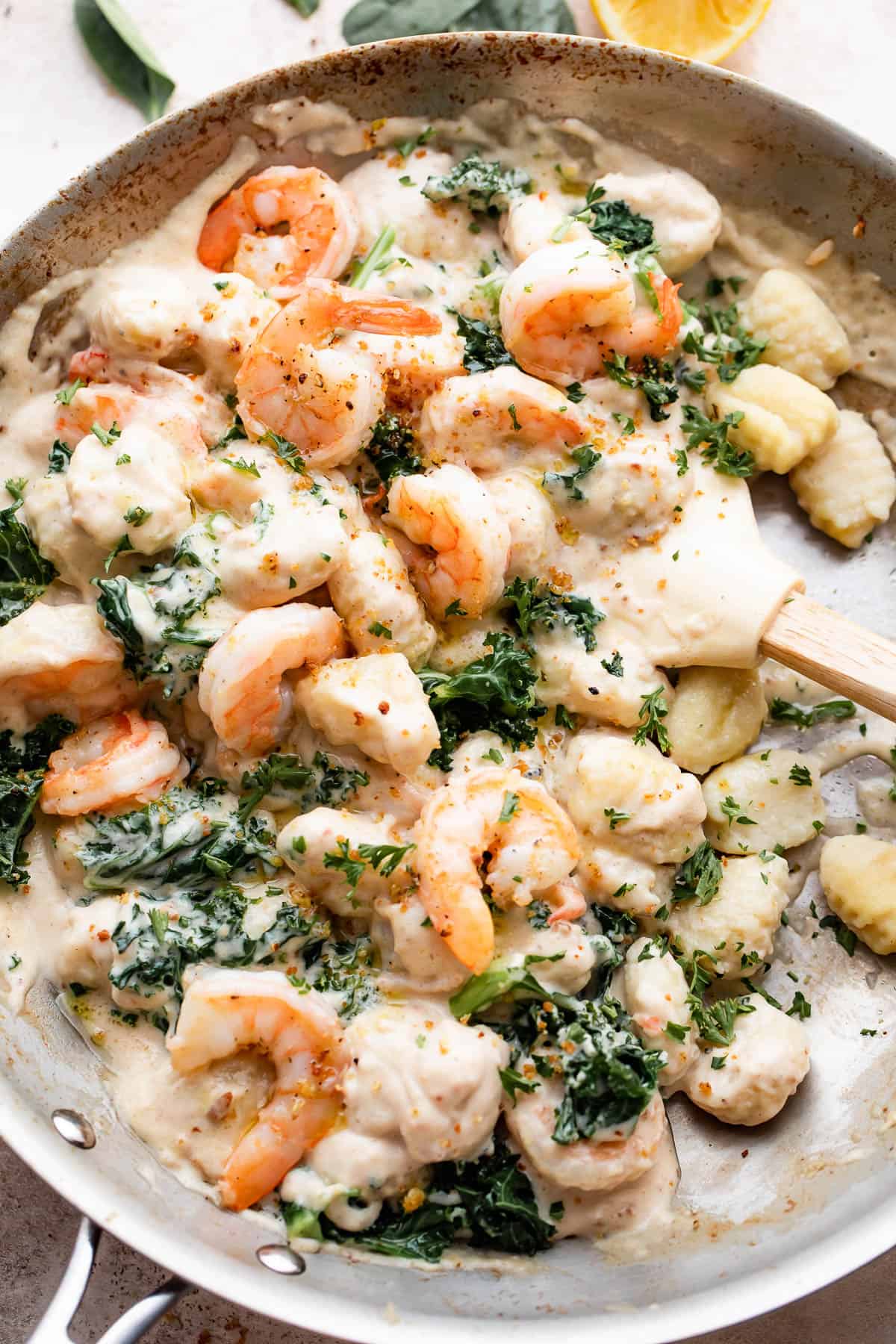 A Simple Skillet Dinner with Store-Bought Gnocchi
Okay, so it's no secret that I'm a fan of sheet pan meals, crock-pot recipes, Instant Pot cooking, and all of that good stuff. But, would it be a stretch for me to say I love skillet meals with a passion?
Nope, not a stretch! I do love a good skillet dinner. There's just something about picking up one pan, throwing things in it, and turning out a satisfying meal that just makes me happy! And, this skillet meal is particularly good, because it's different: instead of the usual pasta, we're going with potato gnocchi. And instead of chicken or beef, it's shrimp!
So you've got the ease of your favorite "helper" style meal, but with a couple of easy twists that make this meal feel fancy.
This isn't technically a one-pot (or pan) meal, because we do have to boil water to cook the gnocchi, but to me that doesn't really count. The cleanup is so easy, and the gnocchi are really going to get their flavor and final cooking in the skillet. So… it's an almost-one-pan meal! That's good enough, amirite?
What Are Gnocchi?
You may not be familiar with gnocchi, but once you try them, you'll be hooked! Gnocchi are little potato-based dumplings, a staple of Italian cooking. They are cooked in boiling water like pasta, and if properly made, they are light, yet filling. You can serve gnocchi in soups, or with sauces like this easy shrimp sauce!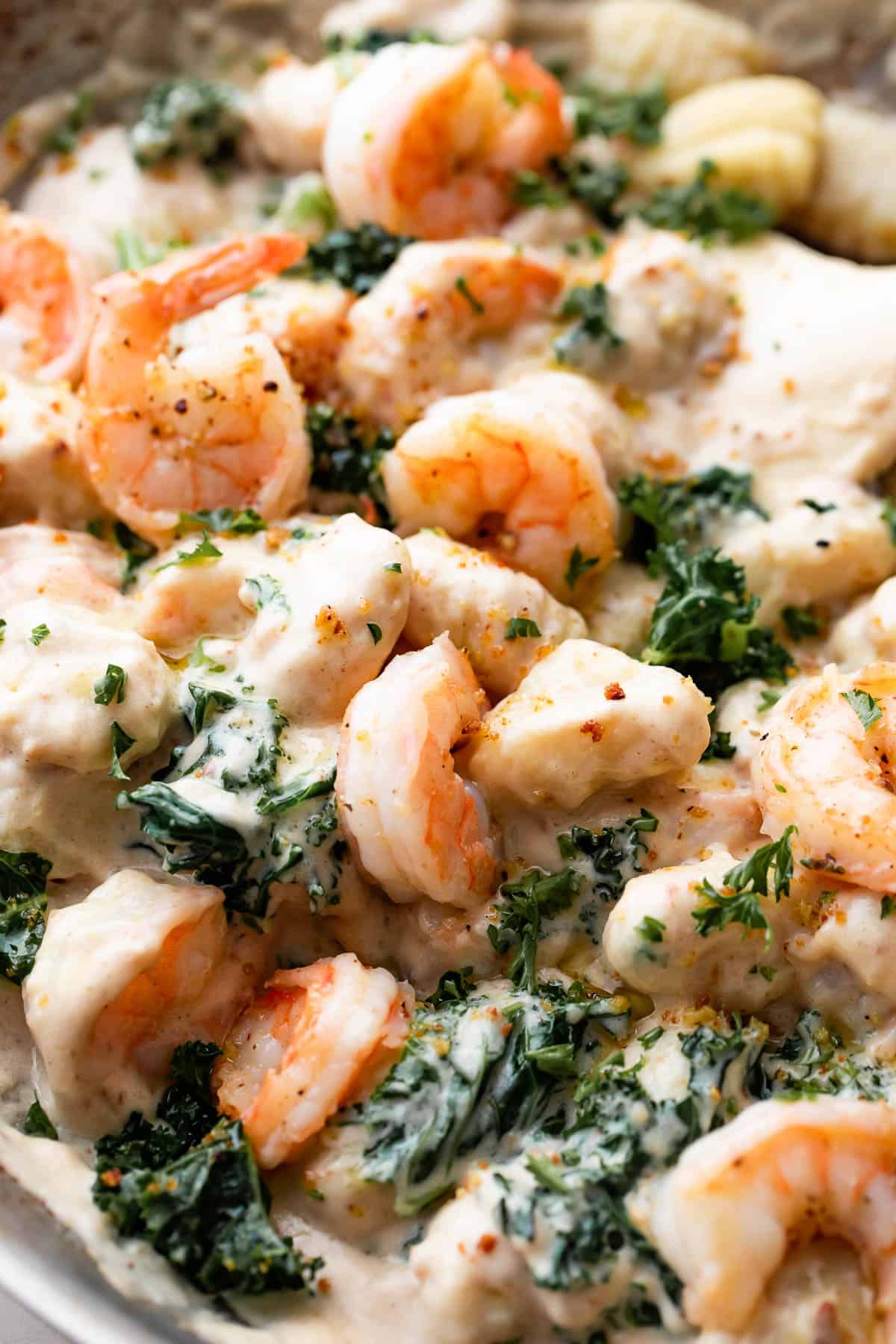 The Ingredients List
What ingredients will you need to make shrimp with gnocchi? Only a few basics, most of which you probably already have! Let's take a closer look:
For the Shrimp and Gnocchi
Gnocchi: You'll need one package (usually about one pound) of prepared, store-bought gnocchi.
Olive Oil and Butter: A little of each, for cooking the shrimp.
Shrimp: If the shrimp aren't already peeled and deveined, make sure to peel and devein them before you start cooking, or you will have to stop in the middle of cooking to do it.
Salt and Pepper: To season the shrimp.
Greens: Totally optional, but kale or baby spinach are a great addition.
For the Creamy Parmesan Sauce
Butter: A little more butter blends with the flour to thicken the sauce.
Garlic: Fresh garlic gives the brightest flavor. Mince or press it.
Flour: You'll need a little all-purpose flour to thicken the sauce, or you could use cornstarch if you prefer.
Half and Half: Half and half makes a rich, creamy sauce, but milk is also good! You can also use your favorite dairy-free milk, although the sauce may change slightly in flavor and thickness.
Parmesan: Freshly-grated is usually best, but I have seen some grated parmesan in jars that does not contain any added ingredients, and gives a good flavor.
Salt and Pepper: To taste.
Parsley: Optionally, chop up some fresh parsley for a pretty, flavorful garnish.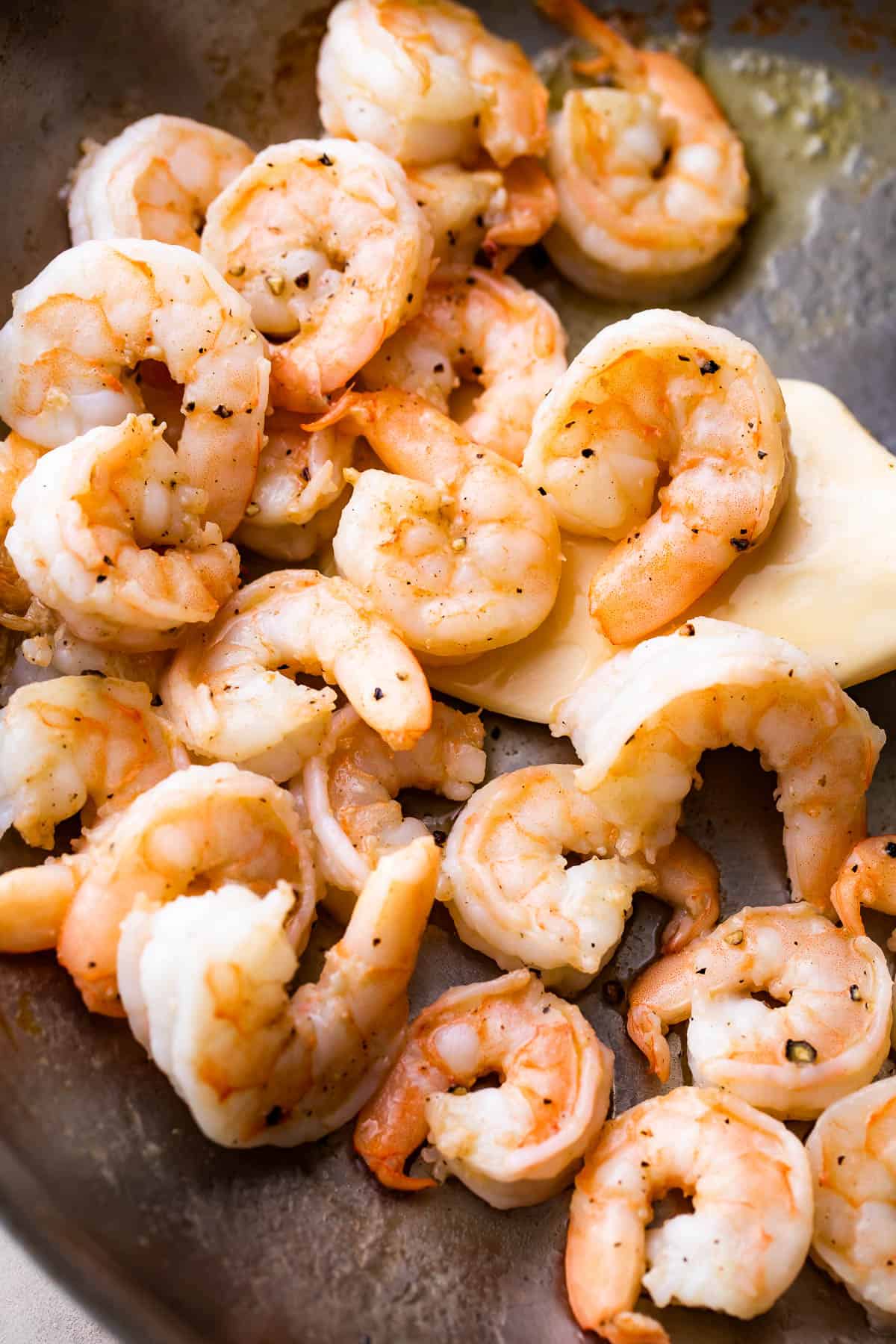 What Kind of Shrimp Should I Use?
You can use fresh or frozen shrimp, whichever is of higher quality in your area. Make sure that the shrimp are thawed, if you use frozen, and that there is no heavy odor or ammonia smell — that indicates spoiled shrimp.
They should be peeled and deveined before using, with the tails removed, if you prefer.
As far as size, it's up to you! Jumbo shrimp can be pleasantly indulgent, but large or medium shrimp also cook up nicely with pasta.
Let's Make Gnocchi with Shrimp!
Okay, so just what is the process for making this uber-satisfying skillet meal? I'm glad you asked! It's very simple to do! If you've ever made spaghetti, you can definitely make this! Here's how you do it:
Boil the Gnocchi. Following the instructions on the package, boil the gnocchi, and then drain out the cooking water, just like you would do with pasta.
Cook the Shrimp. While the gnocchi is boiling, set a large skillet over medium-high heat. Add one tablespoon of butter and a tablespoon of olive oil to the skillet, and let the butter melt. Next, lay the shrimp in the skillet, sprinkle with salt and pepper, and cook them for a few minutes until they turn pink. Turn them once during cooking.
Make the Roux with Garlic. Set the shrimp on a plate, and set them aside for now. Melt two more tablespoons of butter in the skillet, and add in the garlic, cooking for 20 seconds or so to release the fragrance.Sprinkle the flour into the skillet and stir well with a whisk, to make a smooth paste. Cook this for one minute, or until it begins to turn a pale gold color.
Add the Liquids. Slowly pour the half and half into the skillet with one hand, whisking gently with the other, to make a creamy sauce. Simmer the sauce for a couple of minutes to thicken, whisking the whole time to smooth out any lumps.
Finish the Dish. Once the cream sauce is smooth, stir in the parmesan, and then season it to taste with salt and pepper. Finally, remove the sauce from the heat, and add the shrimp and gnocchi, tossing everything to coat.
Enjoy! Serve warm, garnished with parsley if desired.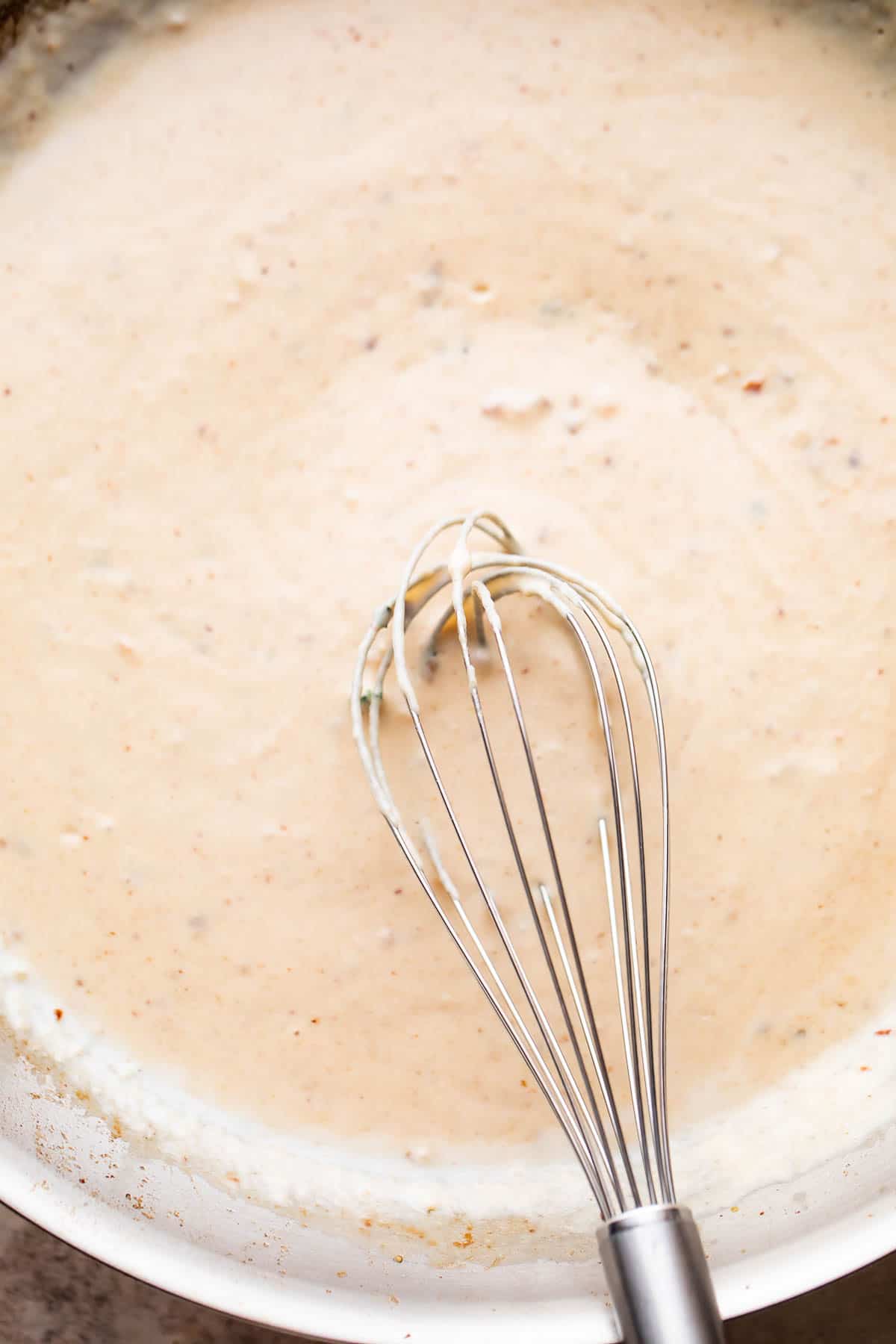 Tips and Tricks for Making This Dish
And there you have it! A simple weeknight dinner, made in no time at all, with a gourmet feel that'll leave you feeling happy and full. Serve it with a glass of wine, and mangia bene!
Keep reading, because these helpful tips are guaranteed to make it even more delicious.
Watch the Salt: Store-bought gnocchi may be salty enough on its own, so avoid salting the cooking water. You can always add more salt to the gnocchi and sauce afterward, if needed.
Skillet Gnocchi: Want to skip a step? Who doesn't! If you can find skillet gnocchi at your grocery store, grab that instead of the regular gnocchi – it doesn't have to be boiled before cooking in the skillet.
Shrimp Shortcuts: Another time-saving strategy – look for shrimp that are already peeled and deveined. Sometimes this means using cooked shrimp. If so, add them to the sauce last, just to heat through, so they don't overcook and become tough.
Add Veggies: Up the nutrition content of your meal by adding veggies to the gnocchi water! Asparagus pieces, broccoli florets, peas, and sliced carrots are all great options.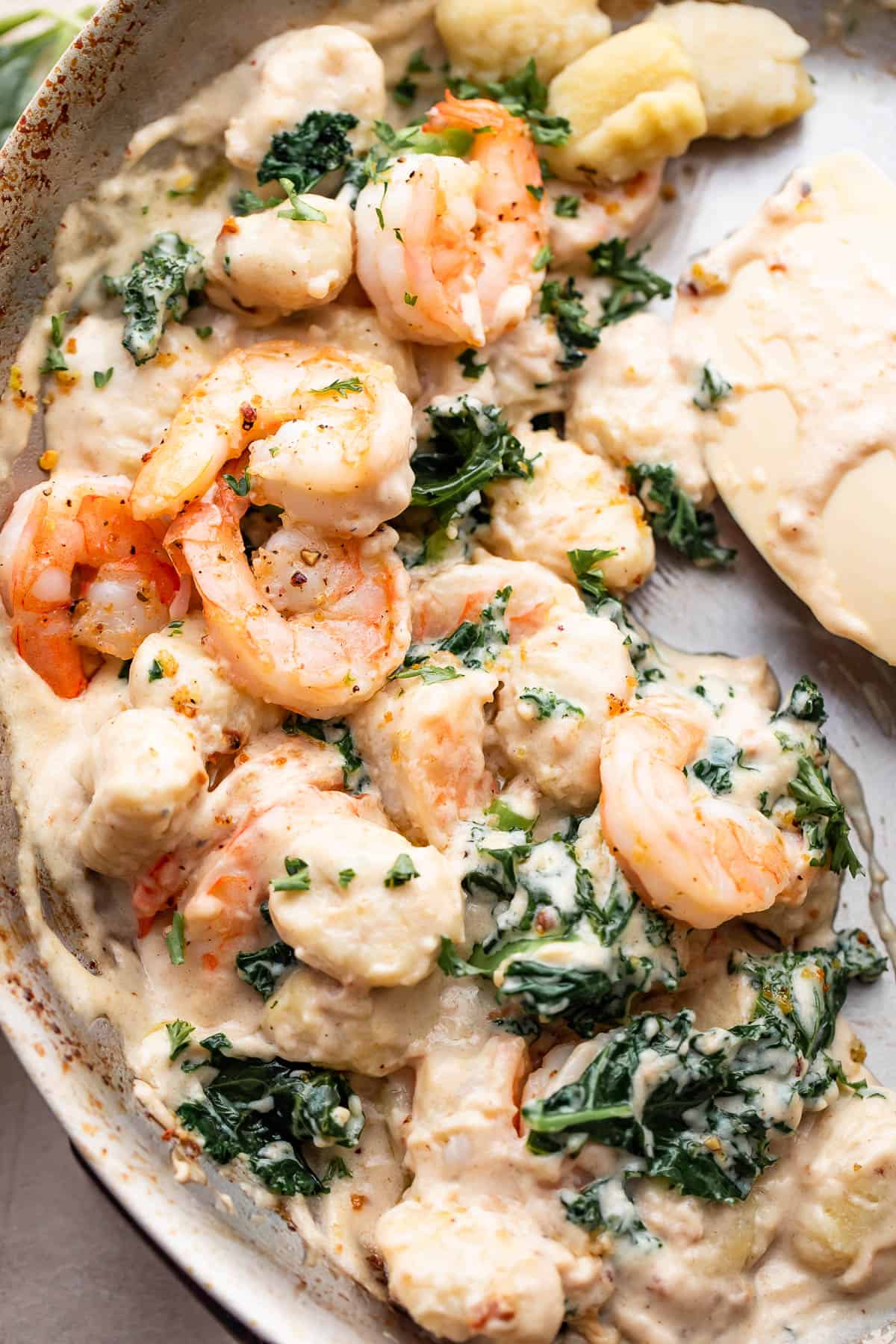 My Favorite Serving Ideas
To serve this creamy pasta, I like to have a bright green veggie and maybe some crusty bread. Here are some great recipe ideas for inspiration! Happy cooking!
Sugar Snap Peas: Bright green sugar snap peas and slices of red onion add a pop of color and flavor to any meal! You'll love how easy it is to make flavorful Roasted Sugar Snap Peas at home.
Brussels Sprouts and Radishes: Another ravishing color combo, Roasted Brussels Sprouts and Radishes bring loads of color, texture, and (most importantly) flavor to the menu! You'll love how these crisp-tender veggies turn out after a quick savory roast.
Arisan Bread: This no-hassle recipe for No Knead Dutch Oven Bread is so simple, you'll want to make it all the time! And the thick, rustic slices are perfect for toasting and serving with this saucy gnocchi.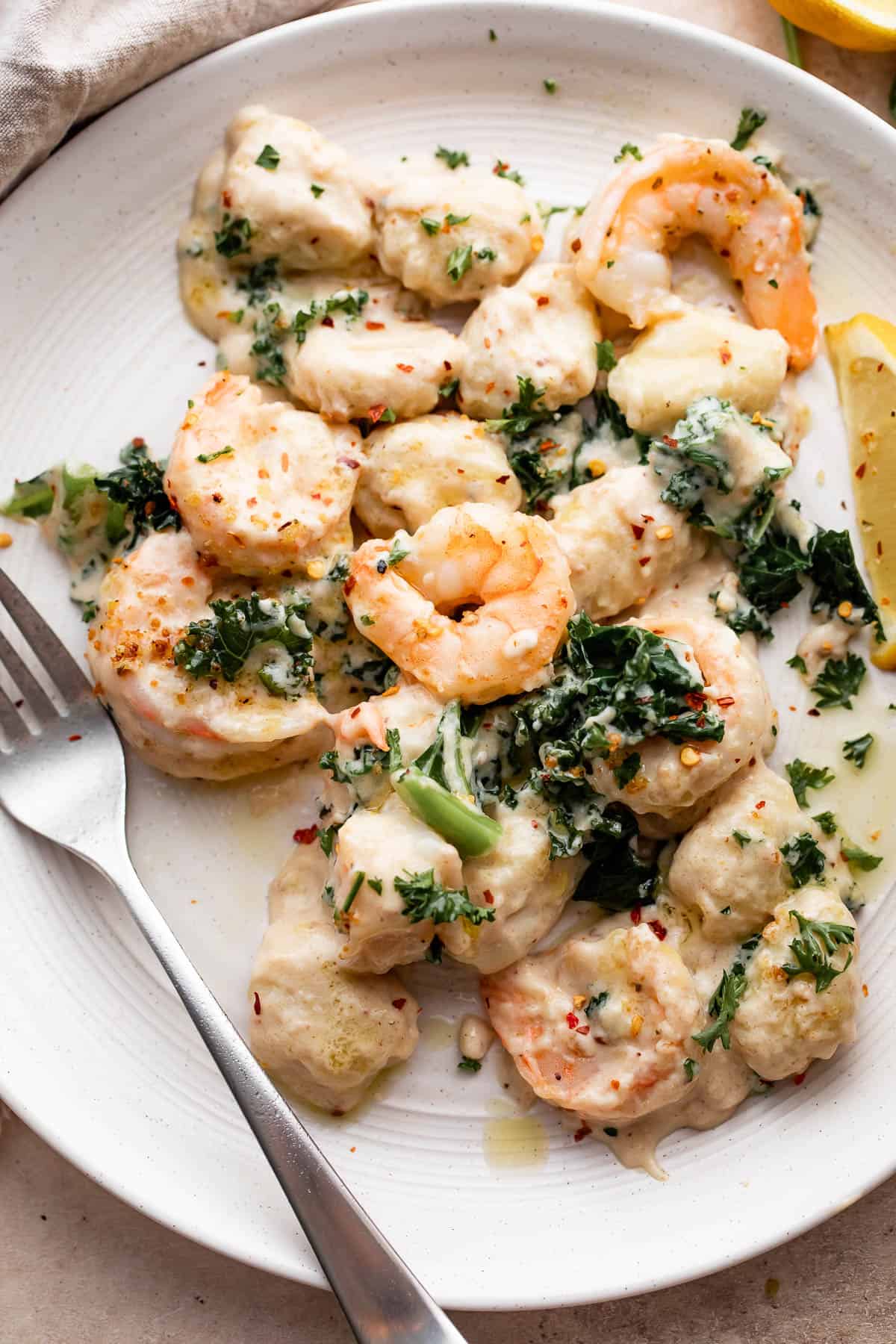 How to Store Leftover Gnocchi with Shrimp
To refrigerate, place leftover gnocchi with shrimp into airtight containers, and keep in the refrigerator for up to 2 days.
To reheat, place the desired portion in a covered saucepan or skillet, over low heat. Allow the dish to heat until the gnocchi and shrimp are piping hot all the way through, stirring occasionally. Do not overcook or the shrimp will be tough.
Can I Freeze This?
Yes, you can! Because the creamy sauce was made with a roux and some cheese, it usually freezes just fine.
Simply place your cooled leftovers in freezer bags, pressing out as much air as possible before sealing. Then freeze the leftovers for up to 6 weeks.
Thaw overnight in the fridge before reheating.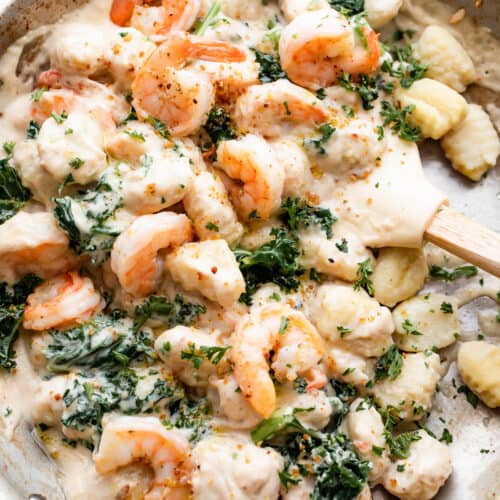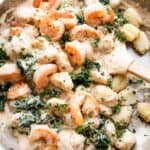 Print Recipe
Creamy Parmesan Gnocchi with Shrimp
Tender, juicy shrimp and pillowy gnocchi mingle in a velvety homemade cream sauce, simply flavored with Parmesan and fresh garlic.
Instructions
Cook gnocchi according to the package directions; drain.

In the meantime, heat up 1 tablespoon olive oil and melt 1 tablespoon butter in a large skillet set over medium-high heat.

Add shrimp; season with salt and pepper and cook for 2 to 3 minutes, or until pink.

Remove shrimp from skillet and set aside.

Return skillet to heat and add in the baby spinach or kale, if using; cook for 2 to 3 minutes, or until wilted. Add more olive oil, if needed.

Remove greens from skillet and set them aside.

Return skillet to medium heat and melt 2 tablespoons butter.

Add the garlic and cook for about 20 seconds, or until fragrant, stirring constantly. Don't burn the garlic.

Stir in the flour and cook for 1 minute, or until golden.

Slowly whisk in the Half & Half; bring to a simmer and cook for 1 to 2 minutes, or until thickened. Whisk and stir frequently; if any lumps form, whisk them into the sauce.

Stir in the parmesan cheese.

Season with salt and pepper.

Remove from heat.

To the sauce, stir in the shrimp, greens, and gnocchi; toss to combine.

Garnish with parsley.

Serve.
Nutrition
Calories:
379
kcal
|
Carbohydrates:
34
g
|
Protein:
18
g
|
Fat:
19
g
|
Saturated Fat:
10
g
|
Polyunsaturated Fat:
1
g
|
Monounsaturated Fat:
6
g
|
Trans Fat:
1
g
|
Cholesterol:
141
mg
|
Sodium:
864
mg
|
Potassium:
306
mg
|
Fiber:
2
g
|
Sugar:
1
g
|
Vitamin A:
2484
IU
|
Vitamin C:
7
mg
|
Calcium:
216
mg
|
Iron:
4
mg
More Easy Shrimp Recipes