This creamy Creole Blackened Chicken Pasta is bursting with flavor! Its satisfying sauce, juicy blackened chicken, cherry tomatoes and fresh green beans will tempt your appetite and tickle your taste buds! Let the good times roll!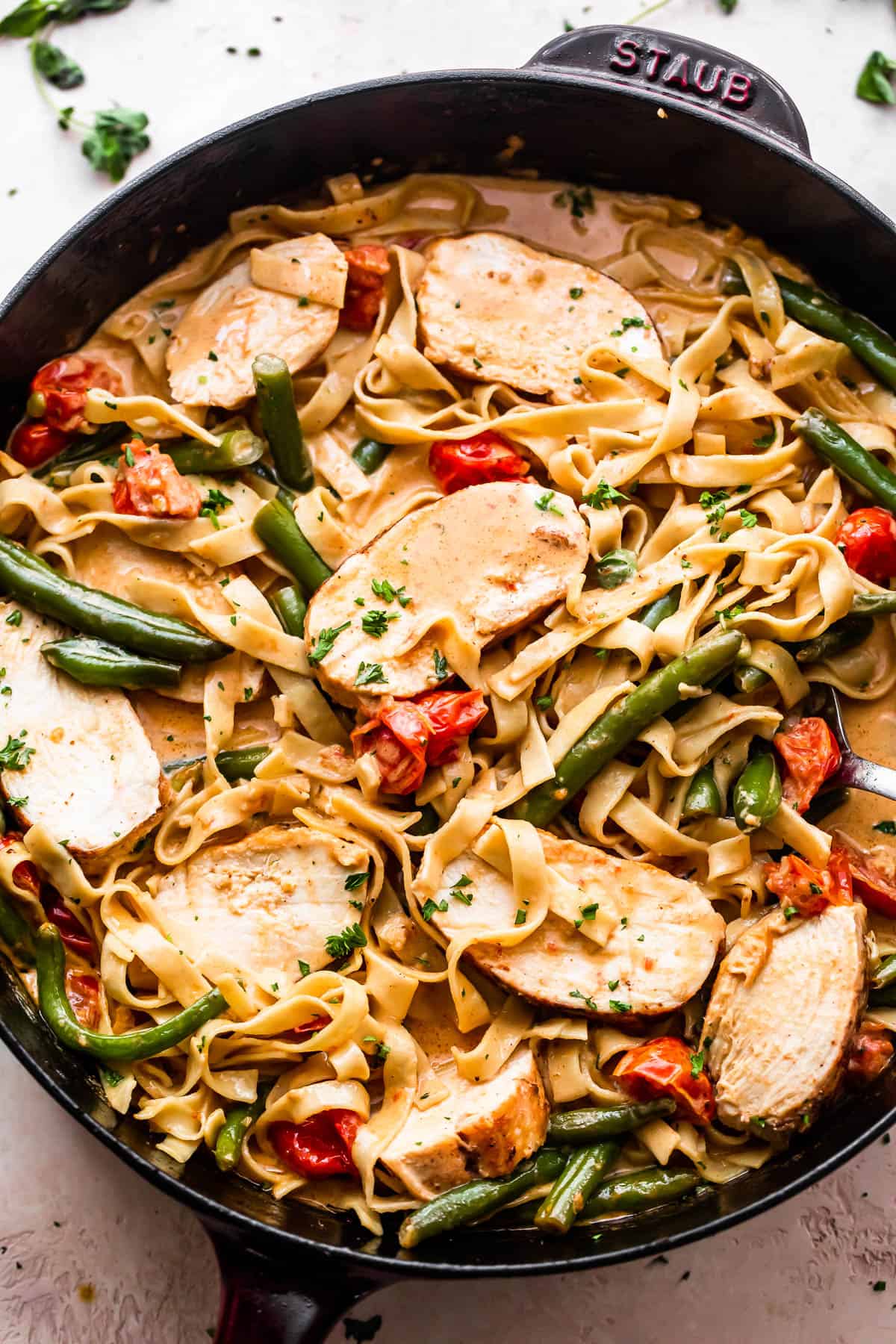 Easy One Pot Blackened Chicken Pasta
Don't you just love one pot recipes? They're easy to make, and they have very little clean up afterward, which is great for busy families. That's what we have here today! An easy one-pot recipe for one of my very favorite dishes: blackened chicken pasta!
This recipe is extra tasty, because the creamy pasta is not only topped with juicy blackened chicken breast, it's also dotted with juicy cherry tomato halves. We'll be adding some healthy fresh green beans, too. It's such a great veggie, especially with this very simple Alfredo-style sauce.
So let's dive in! We'll cover the ingredients, the method, and finally some tips and serving suggestions to go with this lovely Creole pasta dish. Get ready for deliciousness!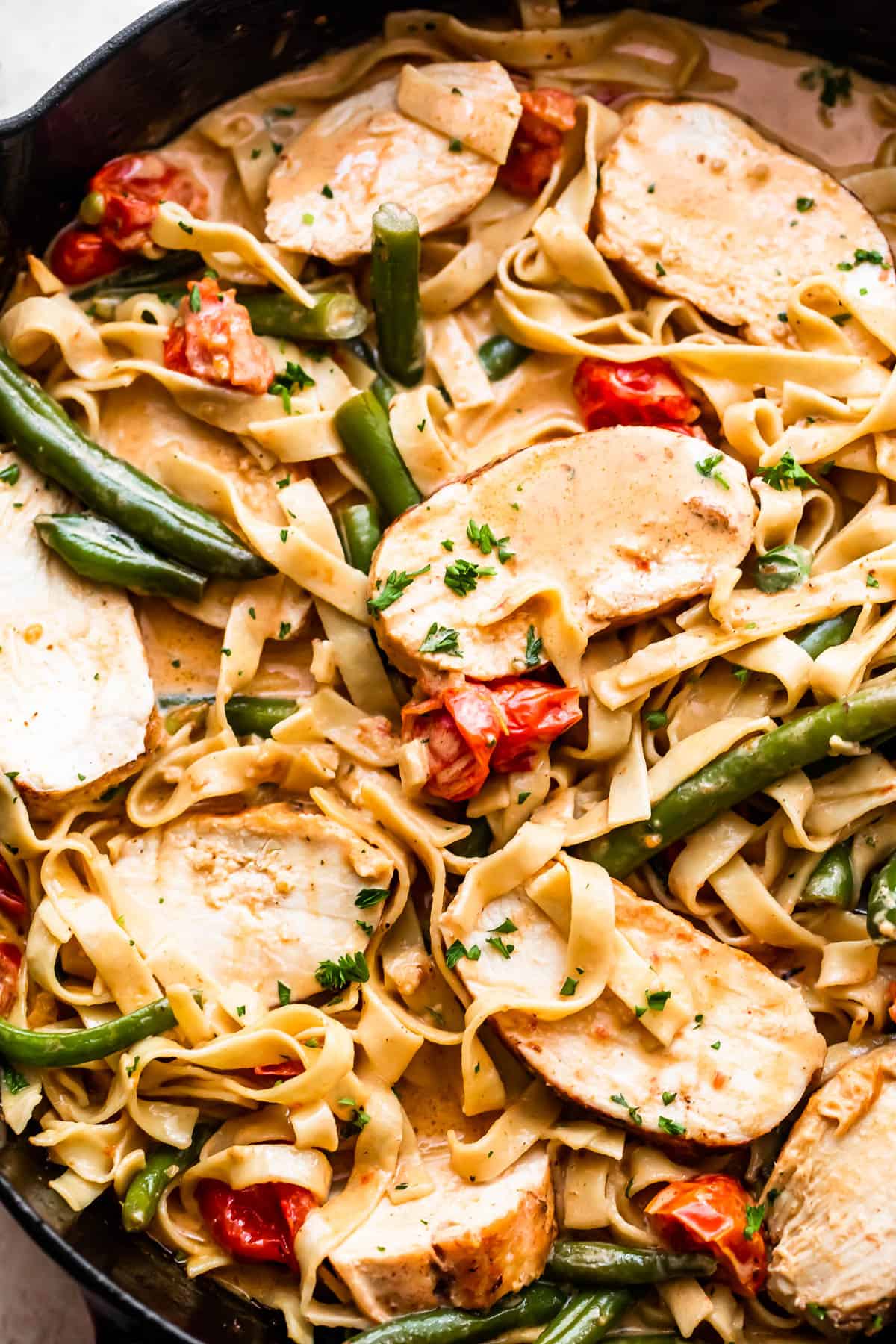 What Makes this Recipe Creole? And What is Blackened Chicken?
You may be wondering what the deal is with the "Creole" part of this dish. Just what is Creole food, exactly? And what in the world is "blackened" chicken?
Well, Creole food is the cuisine that grew out of the diverse culture in Louisiana. Over time, people with African, French, Native American, English and Spanish ancestry gathered in Louisiana. Their cultures mixed and mingled, and they gradually formed a unique culture with its own language, a form of French known as "Creole." And the area's cuisine, with its amazing mix of traditional ingredients and techniques, became known as Creole food.
It was a celebrity chef named Paul Prudhomme who sparked international interest in Louisiana's cooking in the 1970's and 1980's. One technique that he popularized (and some say invented) was "blackening."
It's a super easy way to make spicy, juicy meat with a certain amount of delicious char. The spice-crusted outside appears to be blackened, almost as if it were cooked on a grill. The inside is tender and moist. You can blacken just about anything, but fish and chicken are the most popular.
To blacken our chicken, we'll essentially rub the chicken well with a spice mixture, and then pan-fry it until it's cooked through and juicy. The spices will almost char and take on a delicious flavor!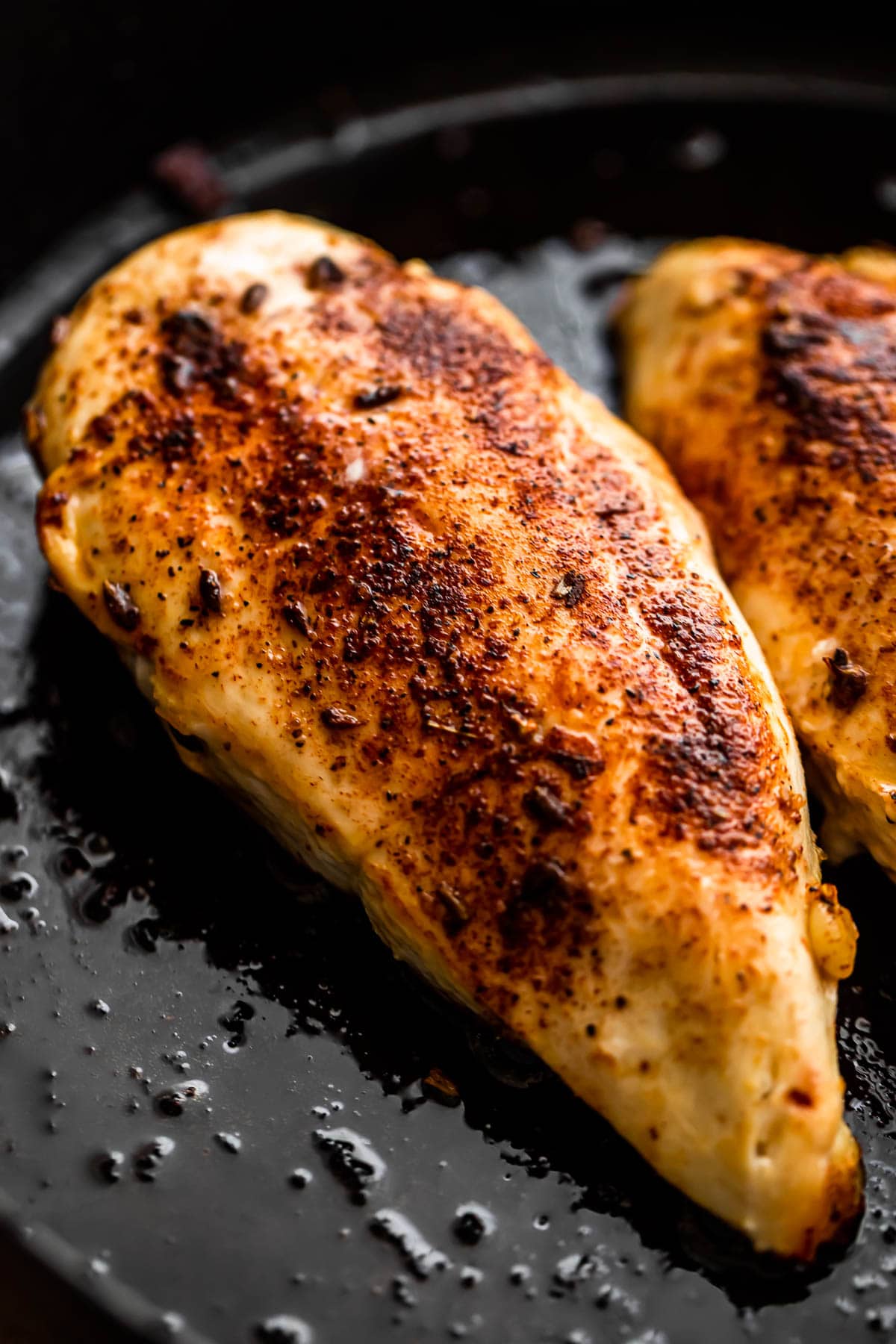 Ingredients
You need two special seasonings here: blackened seasoning and Creole seasoning. But don't worry if you can't find those at your local grocery store. If necessary, you can blend your own. See the tips below for instructions!
Chicken: For this tasty pasta recipe, I use about 1 pound of boneless, skinless chicken breasts.
Blackening Spices: Buy pre-blended, or make your own (see tips below).
Olive Oil: You'll need 3 tablespoons, divided.
Fresh Garlic: Mince or press 4 garlic cloves.
Cherry Tomatoes: The cherry tomatoes should be halved.
Green Beans OR Asparagus: Remove the tough ends, and cut the veggies in half.
Heavy Cream: I use heavy cream to make the creamiest Creole sauce.
Chicken Broth: You'll need chicken broth for the sauce, but vegetable broth is okay to use.
Parmesan: This recipe uses ¼ cup of parmesan cheese, shredded, in the sauce, plus extra for topping.
Creole Seasoning: To taste.
Pasta: Have pasta at the ready, cooked according to package directions, and drained.
Chopped Fresh Parsley: For garnish.
How to Make Blackened Chicken Pasta
We'll be pan-frying our beautiful chicken breasts and making the savory sauce in the same skillet. Easy!
Pan-Fry Chicken: In a skillet over medium heat, begin heating 2 tablespoons of olive oil. Rub the chicken breasts all over with the blackening seasoning. Then, pan-fry the chicken until cooked through, about 6 to 8 minutes per side. The thinner the chicken, the quicker it will cook through. Chicken is done when the internal temperature reaches 165°F.
Set the chicken aside. Once it has cooled a bit, slice it into strips.
Cook Veggies: While the chicken is cooling, add the remaining olive oil to the skillet, and then the minced garlic. Saute for about 30 seconds. Then, add the cherry tomato halves and the green beans pieces, sauteing for about two more minutes.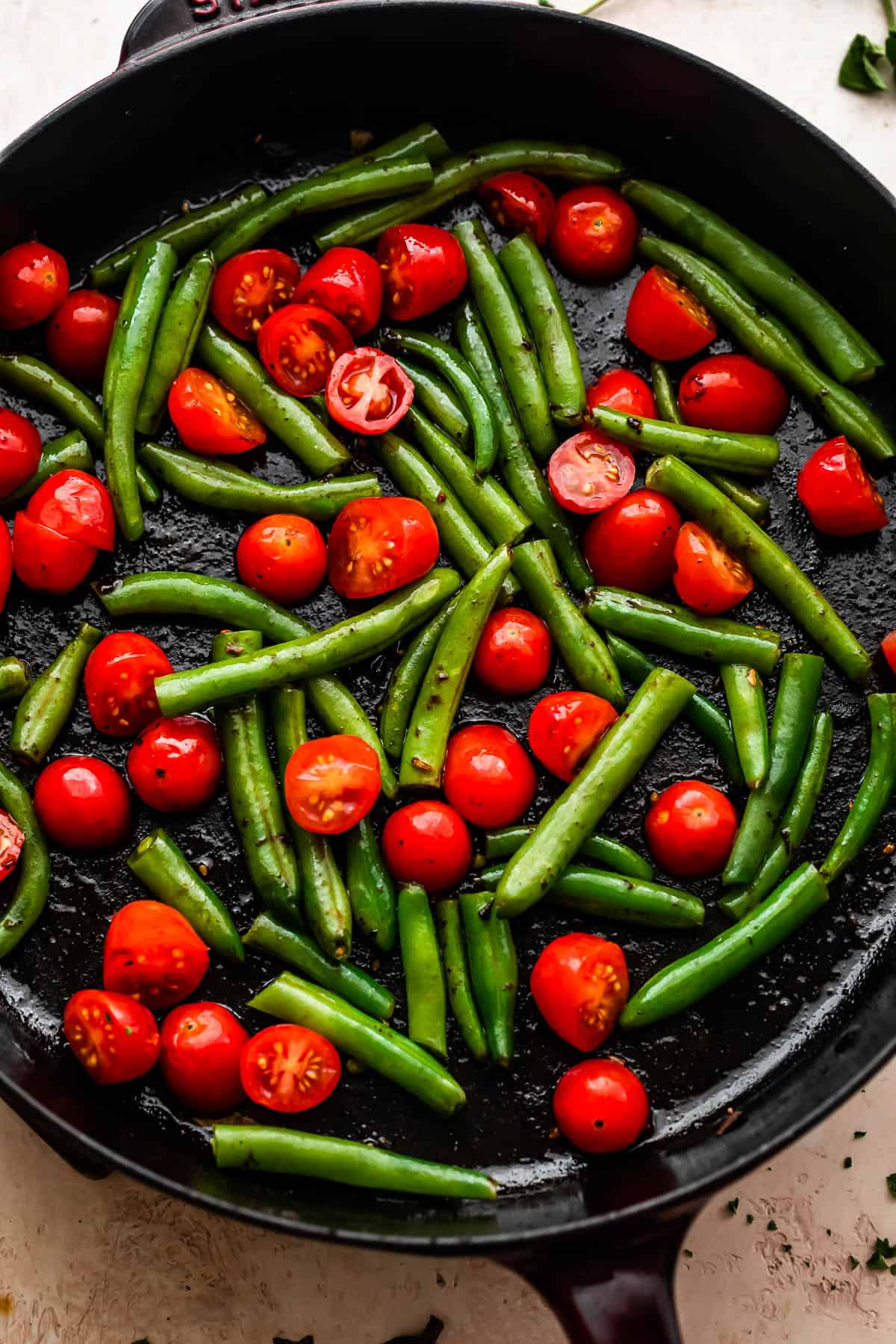 Make Sauce: Lower the heat to medium and pour in the broth & heavy cream. Add the parmesan cheese and Creole seasoning, stirring well as the cheese melts. Simmer the sauce for 5 minutes, or until it has slightly thickened.
Assemble Pasta Dish: Add the cooked penne pasta to the sauce, stirring gently to combine. Remove from the heat, top with blackened chicken strips, and garnish with fresh parsley and parmesan.
Tips for the Best Pasta
Here are some of my favorite tips to help you as you make your own Creole blackened chicken pasta. I hope you love this dish as much as I do!
DIY Blackening Seasoning: Make your own blackening seasoning by combining 2 tablespoons of paprika, 1 tablespoon each of garlic powder, onion powder and thyme, and 1 teaspoon each of coarse ground black pepper, cayenne pepper and dried oregano. Feel free to reduce or even omit the cayenne if you need a less spicy mix.
DIY Creole Seasoning: Make Creole seasoning from scratch by combining 3 tablespoons of paprika, 2 tablespoons of garlic powder, and 1 tablespoon each of cayenne pepper, black pepper, white pepper, oregano, basil and thyme. Again, you can reduce or even omit the cayenne, as needed.
Don't Rinse the Pasta: Drain, but don't rinse the pasta. This allows you to use the pasta's natural starch to create a better sauce consistency.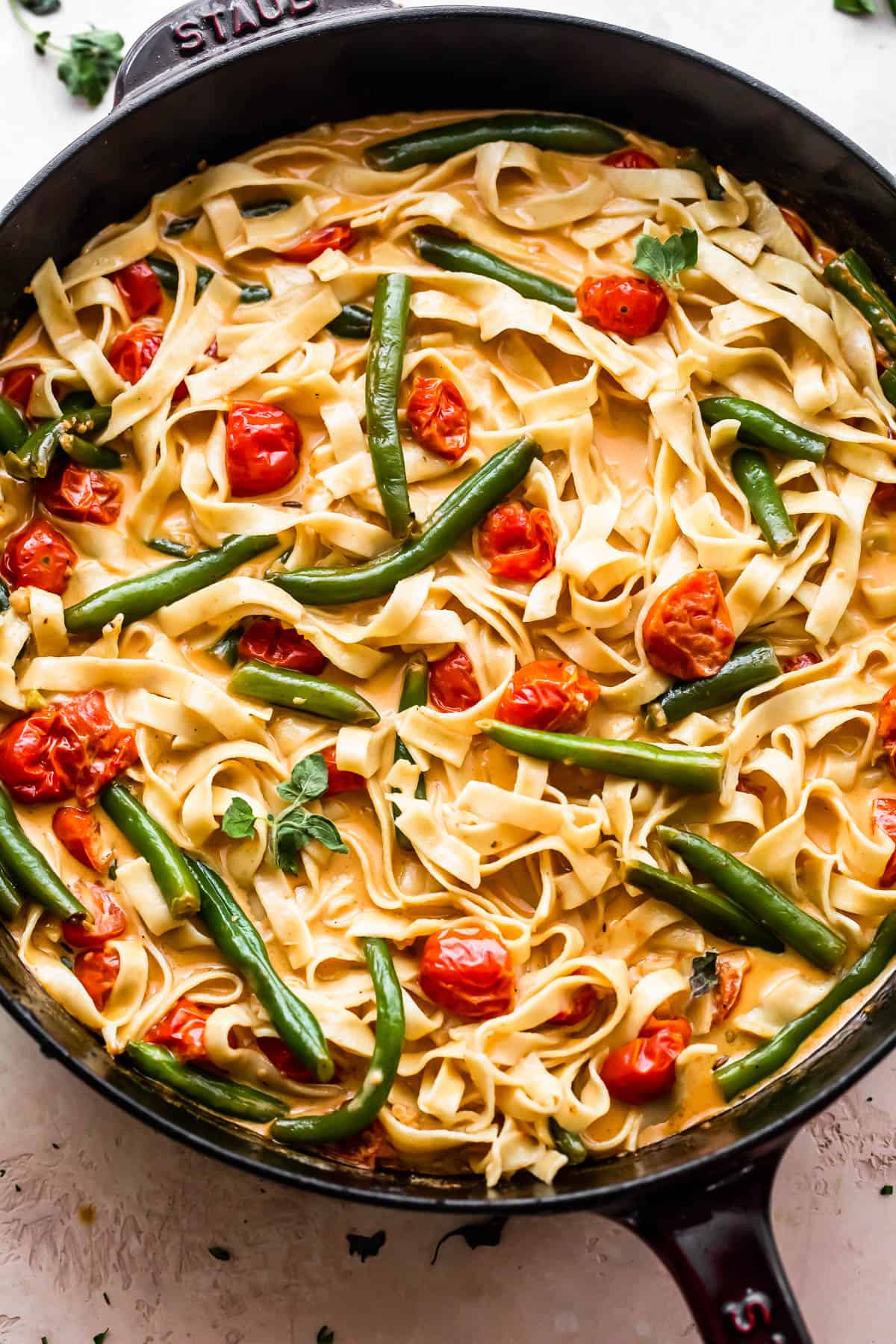 Serving Suggestions
So what side dishes go well with this flavorful dish? Honestly, almost everything! But these particular sides and appetizers pair nicely with the creamy sauce and the bold taste of blackened chicken.
Fresh Bread: I've always been a bread person. This Cheesy Garlic Pull-Apart Bread is one of my favorite ways to serve it. You'll love how its warm, cheesy goodness complements your meal!
Sugar Snap Peas: The crunchy sweetness of my Roasted Sugar Snap Peas brings out the flavor of the blackened chicken and homemade sauce. It's a match made in heaven!
Carrots: Another sweet veggie, I like to prepare these in the oven for extra deliciousness. These Honey Balsamic Roasted Carrots are so good, they practically steal the show!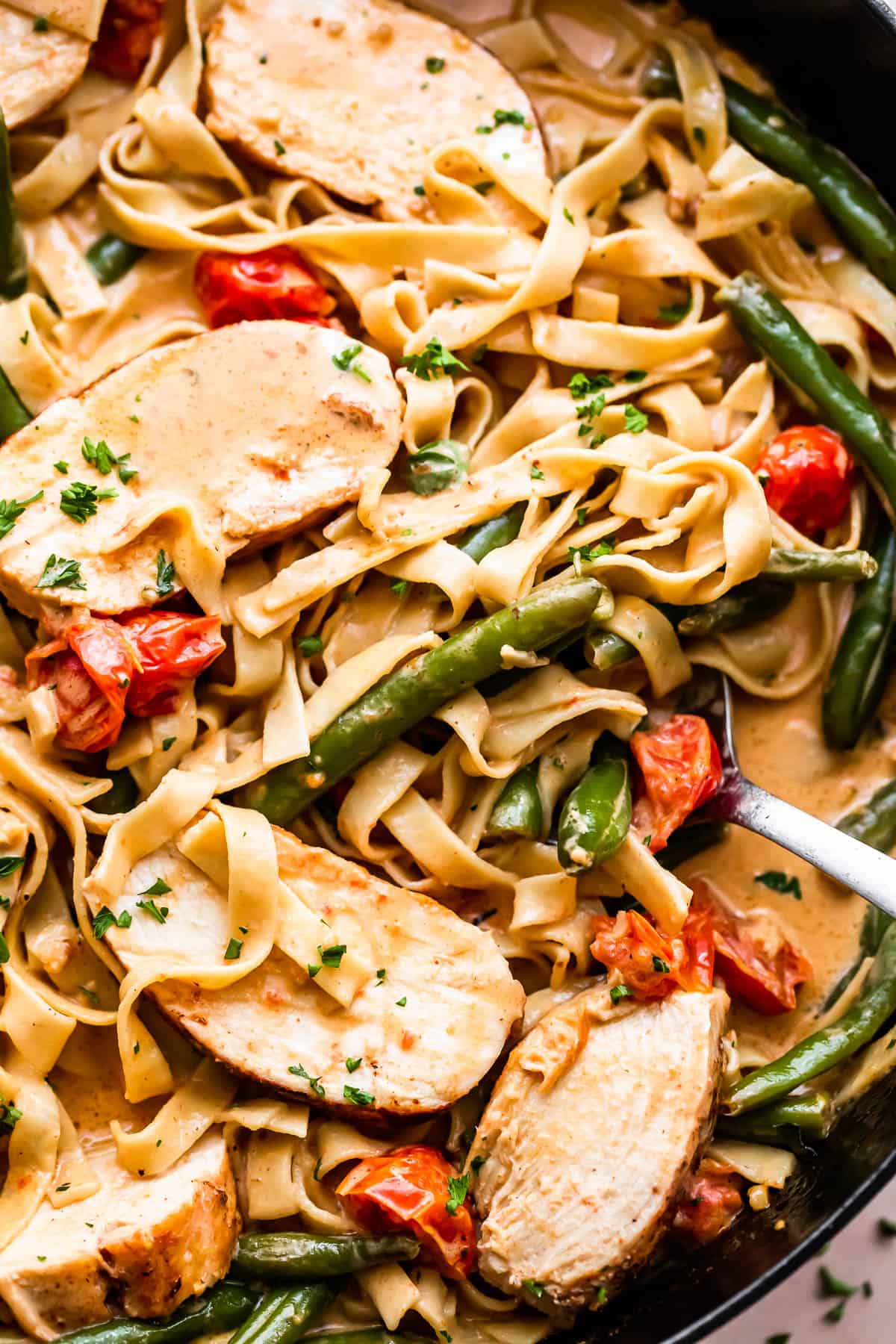 How to Store and Reheat Leftovers
If you have leftover chicken pasta, be sure to follow these simple tips for storing and reheating your meal.
To Refrigerate: Place your leftovers in airtight containers or resealable bags and store them in the fridge. They'll keep this way for up to two days.
To Freeze: Place leftovers in airtight containers or freezer bags, and freeze for up to three months. Thaw in the refrigerator overnight before reheating.
To Reheat: Place leftovers in a covered skillet over low heat, until heated through. You may need to add a couple of tablespoons of milk or cream if it looks too dry.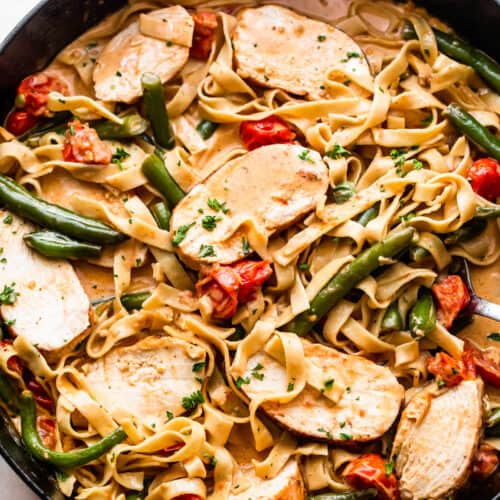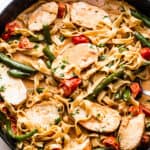 Print Recipe
Creole Blackened Chicken Pasta
This creamy Creole Blackened Chicken Pasta is bursting with flavor! Its satisfying sauce, juicy blackened chicken, cherry tomatoes and fresh asparagus will tempt your appetite and tickle your taste buds!
Ingredients
1

pound

boneless, skinless chicken breasts

2

tablespoons

blackened seasoning

3

tablespoons

olive oil,

divided

4

garlic cloves,

minced

2

cups

cherry tomatoes,

halved

12

ounces

green beans,

ends trimmed and beans halved

1

cup

heavy cream

1 ½

cup

chicken broth

¼

cup

shredded Parmesan cheese,

plus more for garnish

Creole seasoning,

to taste

10

ounces

pasta,

cooked according to package directions, and drained

Chopped fresh parsley,

for garnish
Instructions
Rub the chicken breasts with the blackened seasoning.

In a skillet set over medium high heat, add 2 tablespoons olive oil and allow to heat up.

Pan-fry the chicken breasts until golden brown and cooked through, about 6 to 8 minutes per side, or until internal temperature registers at 165˚F. Cooking time depends on the thickness of the chicken breasts.

Remove cooked chicken from the skillet, allow to cool for 5 to 8 minutes, and slice into strips.

Add the remaining olive oil to the skillet and add the garlic. Cook for 15 seconds.

Add the cherry tomatoes and asparagus, and sauté for 2 minutes.

Lower the heat to medium and pour in the heavy cream and chicken broth.

Add the Parmesan cheese and creole seasoning and simmer for 5 to 8 minutes, or until sauce is slightly thickened.

Add the pasta and stir to combine well. Remove from heat.

Top the pasta with the blackened chicken slices, chopped fresh parsley, and extra Parmesan cheese.
Nutrition
Calories:
469
kcal
|
Carbohydrates:
41
g
|
Protein:
27
g
|
Fat:
22
g
|
Saturated Fat:
9
g
|
Polyunsaturated Fat:
2
g
|
Monounsaturated Fat:
9
g
|
Trans Fat:
1
g
|
Cholesterol:
127
mg
|
Sodium:
682
mg
|
Potassium:
686
mg
|
Fiber:
3
g
|
Sugar:
4
g
|
Vitamin A:
1108
IU
|
Vitamin C:
23
mg
|
Calcium:
119
mg
|
Iron:
2
mg
More Pasta Recipes to Try
Need more easy dinner recipes for busy weeknights? These dishes will be perfect!