Skip the fast food restaurant – these golden, juicy Air Fryer Chicken Tenders are way better! You'll be amazed how fast and easy they are to make, complete with a crispy seasoned breading. Low carb option included!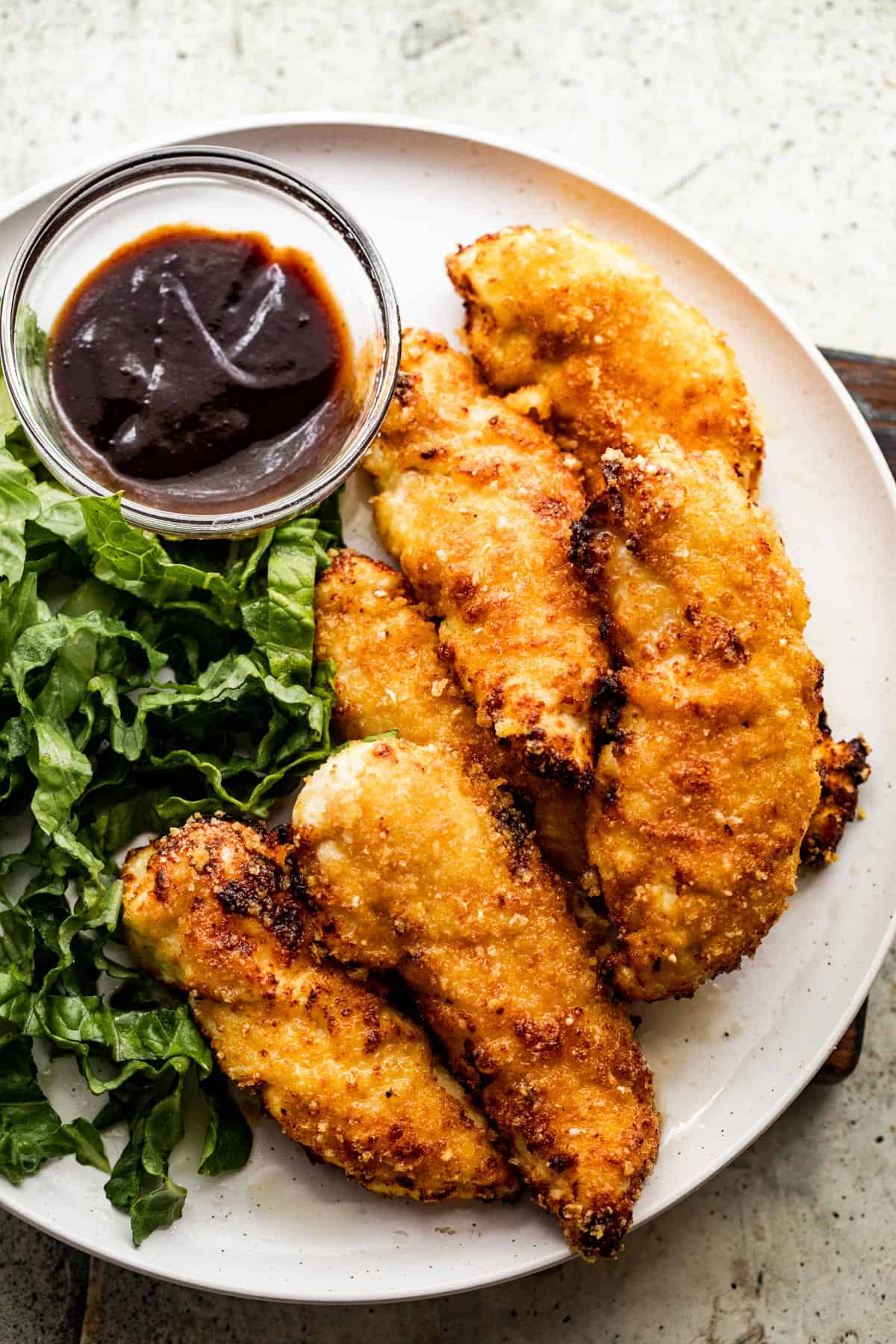 Healthy Homemade Chicken Strips in the Air Fryer
If there's one recipe that's universally popular, it's got to be chicken tenders. Even the pickiest eater can't resist chicken strips; fried golden-brown and crispy on the outside, with juicy white meat on the inside. And, foodies love them too!
Plus, they go with all kinds of sides and sauces, from a garden salad with some ranch to a heap of mashed potatoes with savory brown gravy. Not to mention fries and honey mustard – you know I had to mention those!
The only problem with chicken tenders is, well, frying them. Baked chicken tenders are a great solution, but if you really love that deep-fried flavor, then this recipe might just be your perfect option for homemade chicken strips. Thanks to the magic of the air fryer – and they are truly magical – you can whip up your own breaded and "fried" chicken strips in just minutes, and thy taste exactly like the real thing!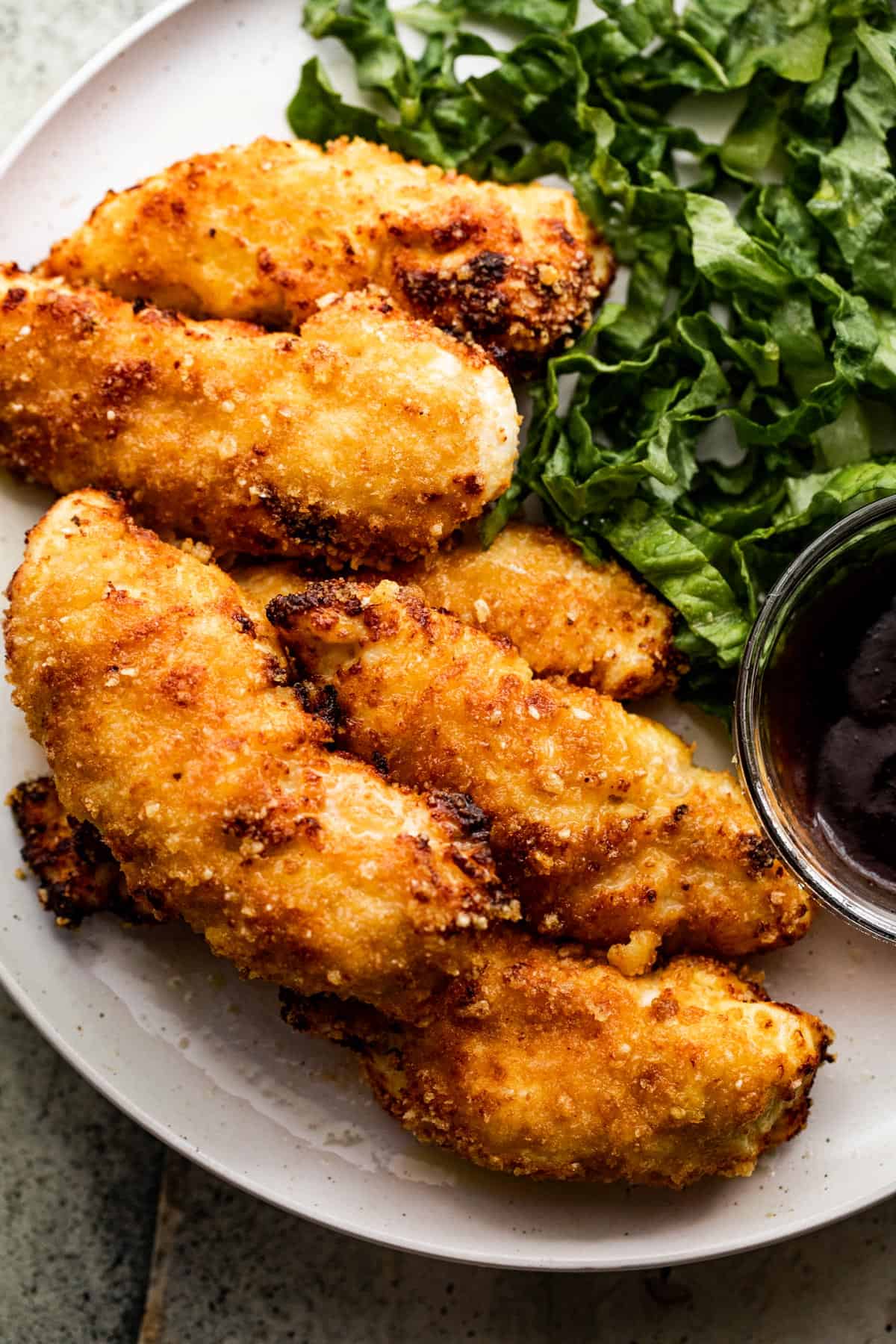 What You'll Need
To make air fryer chicken tenders, you'll need the chicken and a few items to make the breading mixture. This recipe includes a couple of keto-friendly options, so feel free to use those if you're avoiding those carbs!
Chicken Tenders: Look for chicken tenderloins, which are slightly different from regular chicken breast.
Flour: All-purpose flour is fine, or you can substitute coconut flour.
Panko Crumbs: Again, you can use regular crumbs, or use a low-carb substitute. In this case, I recommend pork rind crumbs.
Salt and Pepper
Buttermilk: Just a little bit of buttermilk gives a great flavor and helps the chicken cook up tender and juicy.
Eggs: You can use large, whole eggs, or just use egg whites if you prefer.
Dipping Sauce(s): Ketchup, bbq sauce, honey mustard, ranch, sweet and sour, and other sauces are perfect for serving your homemade chicken tenders. Mmmm. 😋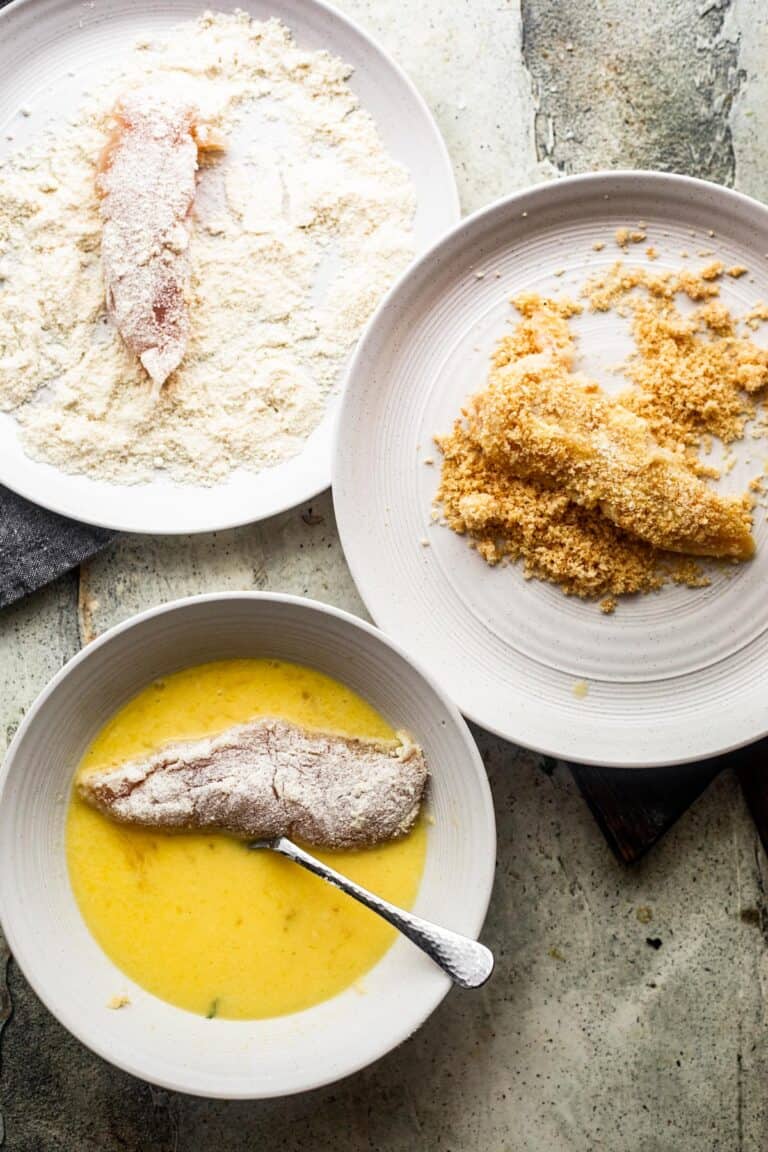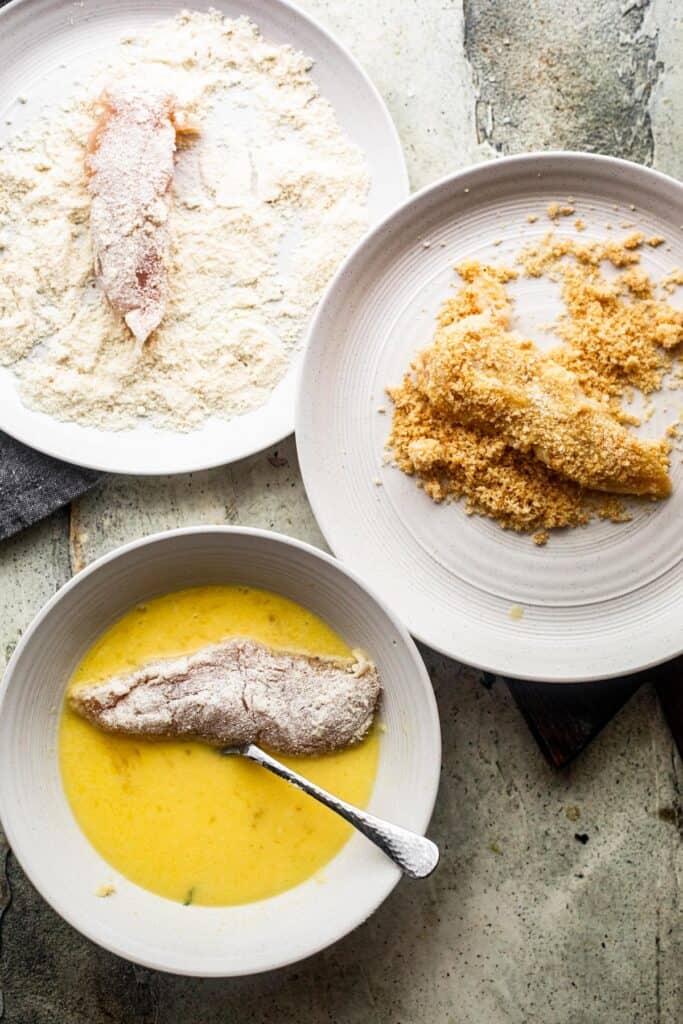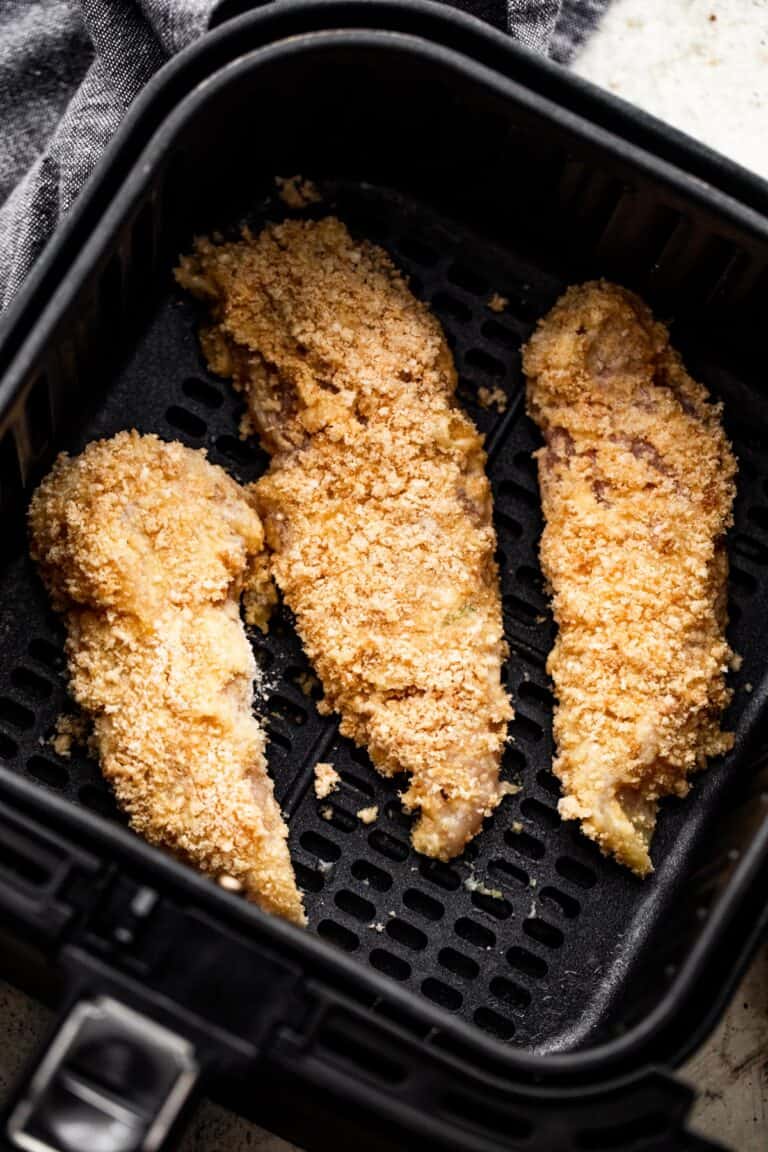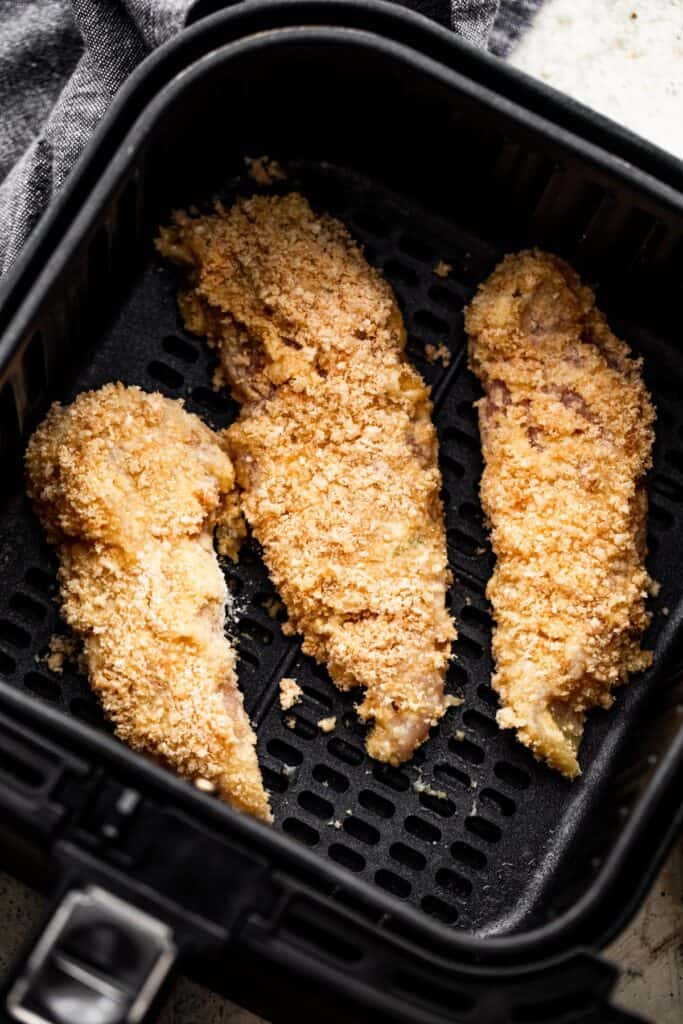 How to Make Air Fryer Chicken Tenders
Whether you're deep-frying, shallow-frying, or air-frying, it's helpful to set up your "breading station" ahead of time. Having a couple of damp paper towels or kitchen towels is nice, too, for wiping your fingers.
Prep the Breading Station. First of all, pat dry the chicken tenders with paper towels and set them aside on a clean plate. Then set out three shallow bowls. Place the flour in one, the crumbs in another, and beat the buttermilk and eggs in the third.
Bread the Chicken Tenders and Arrange in the Basket. Preheat your air fryer to 400˚F, and lightly grease the air fryer basket with cooking spray. Then take one chicken tender at a time and dip it in the breading mixtures: first the flour, then the egg, and finally the crumbs. Put each tender in the basket as you go until the basket is full, but NOT crowded.
Air Fry. Air fry the chicken for 5 minutes, and then flip each piece over. Air-fry for another 5 minutes, or until golden-brown and cooked through. Place the hot chicken tenders on a plate.
Finish Cooking the Rest of the Chicken. At this point, depending on the size of the air fryer, you may still have another batch of chicken to bread and fry. If so, finish breading and frying those in exactly the same way.
Enjoy! Serve your chicken strips with your favorite sides and sauces.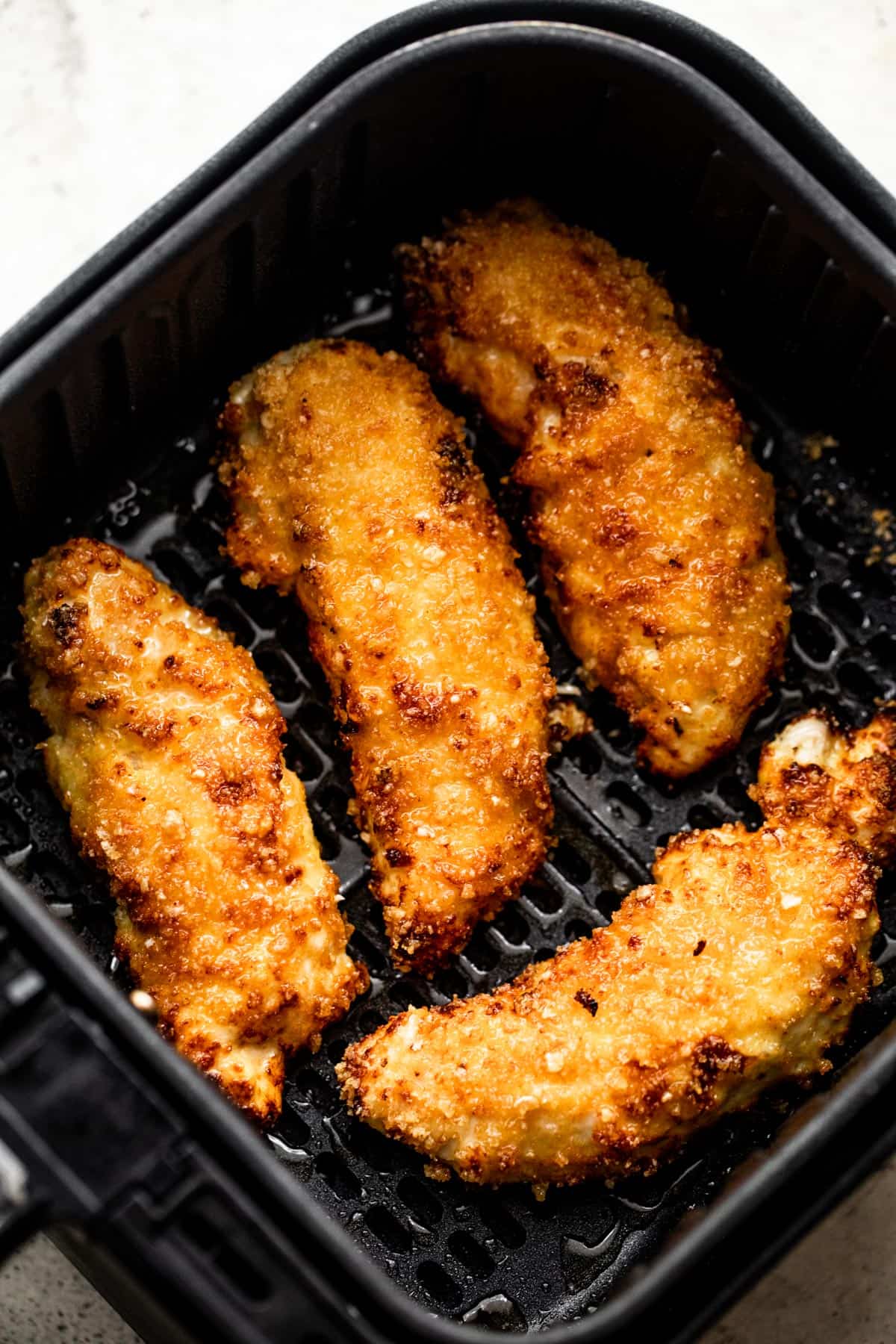 Do You Have to Preheat an Air Fryer?
There are different opinions on this, but in general, I think it's best to preheat. Air fryers are essentially tiny convection ovens that work very efficiently to circulate hot air all around your food. Since they're so small, it's often fine to skip the preheating step. That tiny oven will heat up in practically no time, unlike a large oven which takes more time to go from cold to hot.
However, I still think food cooks best when it's put into a heated oven, large or small, so I recommend preheating. Just know that this only takes a minute or two.
Can You Put Aluminum Foil in an Air Fryer?
If you'd like to line your air fryer basket with foil to minimize cleanup, that will totally work. Parchment liners can work too, although you should check the temperature limits on it if you are cooking at very high heat.
The main rule of thumb to remember is to keep the parchment or foil INSIDE the basket – no loose ends poking out or into the air fryer's heating elements. The second thing to know is that you should poke plenty of holes into the foil or parchment with a sharp knife, so that air can still circulate all around your food.
Tips for Success
I hope you're inspired to try making your own chicken tenders at home, in your air fryer! If so, check out these helpful tips. They'll ensure a perfectly delicious result, every time.
Don't Crowd the Air Fryer: While it might be tempting to load up the air fryer basket, the chicken won't cook evenly or get crunchy that way. Instead, make sure to leave a room around each piece of chicken, so that the air can circulate and crisp up every bite. Cook it in batches if necessary.
Avoid Aerosol: To get the most out of your Air Fryer, avoid using aerosol-powered oil sprays. The chemicals in the aerosol can damage your air fryer's finish over time. Instead, opt for 100% oil in manual spray bottles.
Double the Recipe: This recipe serves four, but because the cook time is so fast, you could easily double it and cook in batches, to serve a crowd.
Adjust the Seasoning: This simple recipe is scrumptious as-is, but you can definitely tweak it to add extra spices, such as garlic, onion, and herbs, according to your taste.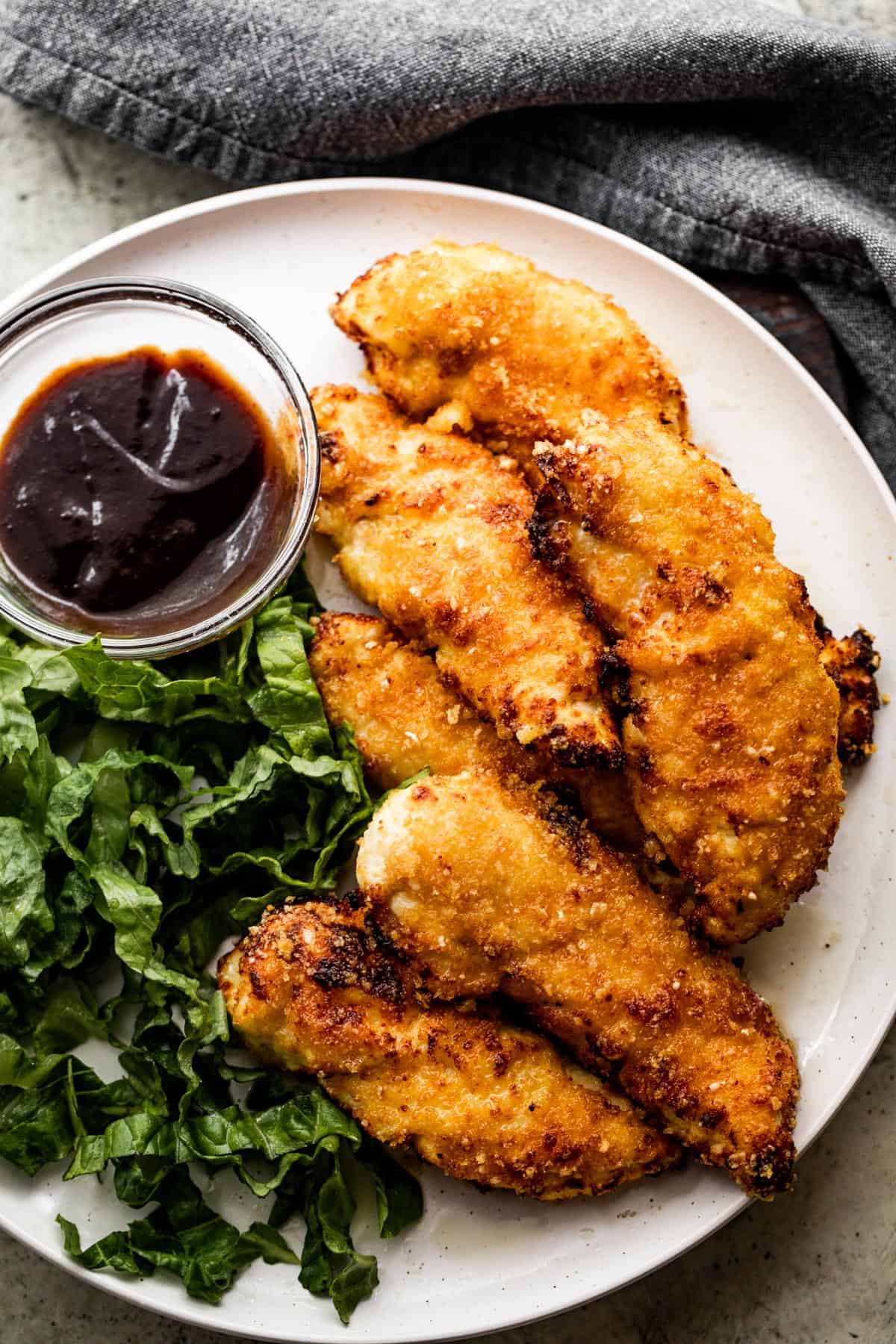 Yummy Serving Suggestions
Air fryer chicken tenders make a great appetizer, but they also make a fantastic dinner. All you need are a few hearty sides to round things out. Need inspiration? Check out these easy recipes:
Potato Wedges: As much as I love fries, I might just love potato wedges more – especially these perfectly-seasoned Grilled Potato Wedges. Throw them on your outdoor grill, or a grill pan on your stove.
Stuffed Avocado: This is an amazing "side salad" that's loaded with healthy fat and tons of flavor. Caprese Stuffed Avocado is everything you love in caprese salad, and more!
Macaroni Salad: This flavorful, creamy, and colorful Macaroni Salad has plenty of crunch and lots of tender elbow pasta. Also, you can make it a day or so ahead and store it in the fridge, which means that dinner is even more convenient.
Storing and Reheating Air Fryer Chicken Tenders
To store leftover chicken strips, just put them in a zip-top bag or an airtight container, and slide them into the fridge. They'll keep for three to four days.
To reheat, briefly air-fry the chicken strips again, or bake them in a 375˚F oven until heated through.
Can I Freeze Homemade Chicken Strips?
Yes, you can freeze chicken tenders cooked, or uncooked. Here's how:
To freeze raw, breaded chicken tenders, just lay each breaded tender on a parchment-lined baking sheet one by one. Place them in the freezer for an hour or so, until frozen solid. Then transfer them to a freezer bag, and freeze for up to one month. You can air-fry these (or bake them) directly from frozen. Just increase the cooking time as needed
To freeze cooked chicken tenders, follow the same procedure. Place them on a baking sheet, freeze for an hour or so, and then move them to a freezer container and store in the freezer. Cooked, frozen chicken keeps for about four months in the freezer. I recommend thawing these before reheating, so they don't overcook and dry out. However, you can reheat directly from frozen if you like!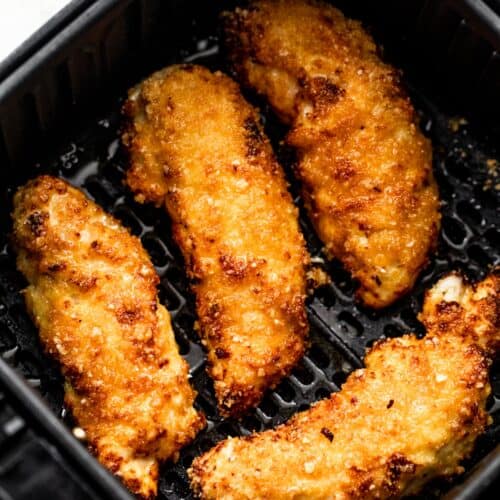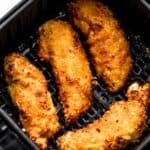 Print Recipe
Crispy Air Fryer Chicken Tenders
Skip the fast food restaurant, these golden, juicy Air Fryer Chicken Tenders are way better! You'll be amazed how fast and easy they are to make, complete with a crispy seasoned breading.
Instructions
Pat dry the chicken tenders with paper towels; set aside.

Place the flour in a large shallow bowl.

Place the crumbs in a separate shallow bowl.

Whisk together the buttermilk and eggs; place them in a third bowl.

Lightly grease the air fryer basket with cooking spray.

Working with one chicken tender at a time, dip in the flour, then in the egg mixture, and finally dip the chicken in the crumbs.

Heat the air fryer to 400˚F.

Arrange the chicken tenders inside the air fryer basket. Do not crowd the basket; you can cook them in batches.

Cook the chicken tenders for 5 minutes; flip them over and continue to cook for 5 more minutes.

Serve with your favorite dipping sauces.
Nutrition
Calories:
481
kcal
|
Carbohydrates:
37
g
|
Protein:
53
g
|
Fat:
12
g
|
Saturated Fat:
4
g
|
Polyunsaturated Fat:
1
g
|
Monounsaturated Fat:
2
g
|
Trans Fat:
0.03
g
|
Cholesterol:
206
mg
|
Sodium:
503
mg
|
Potassium:
730
mg
|
Fiber:
1
g
|
Sugar:
1
g
|
Vitamin A:
202
IU
|
Vitamin C:
2
mg
|
Calcium:
49
mg
|
Iron:
3
mg
More Easy Chicken Recipes