Juicy, tender chicken doesn't have to be complicated! These Grilled Chicken Thighs just need a short soak in my tangy-savory marinade, and a quick cook on the grill. Then you'll be looking at a whole platter of golden-brown, crispy perfection!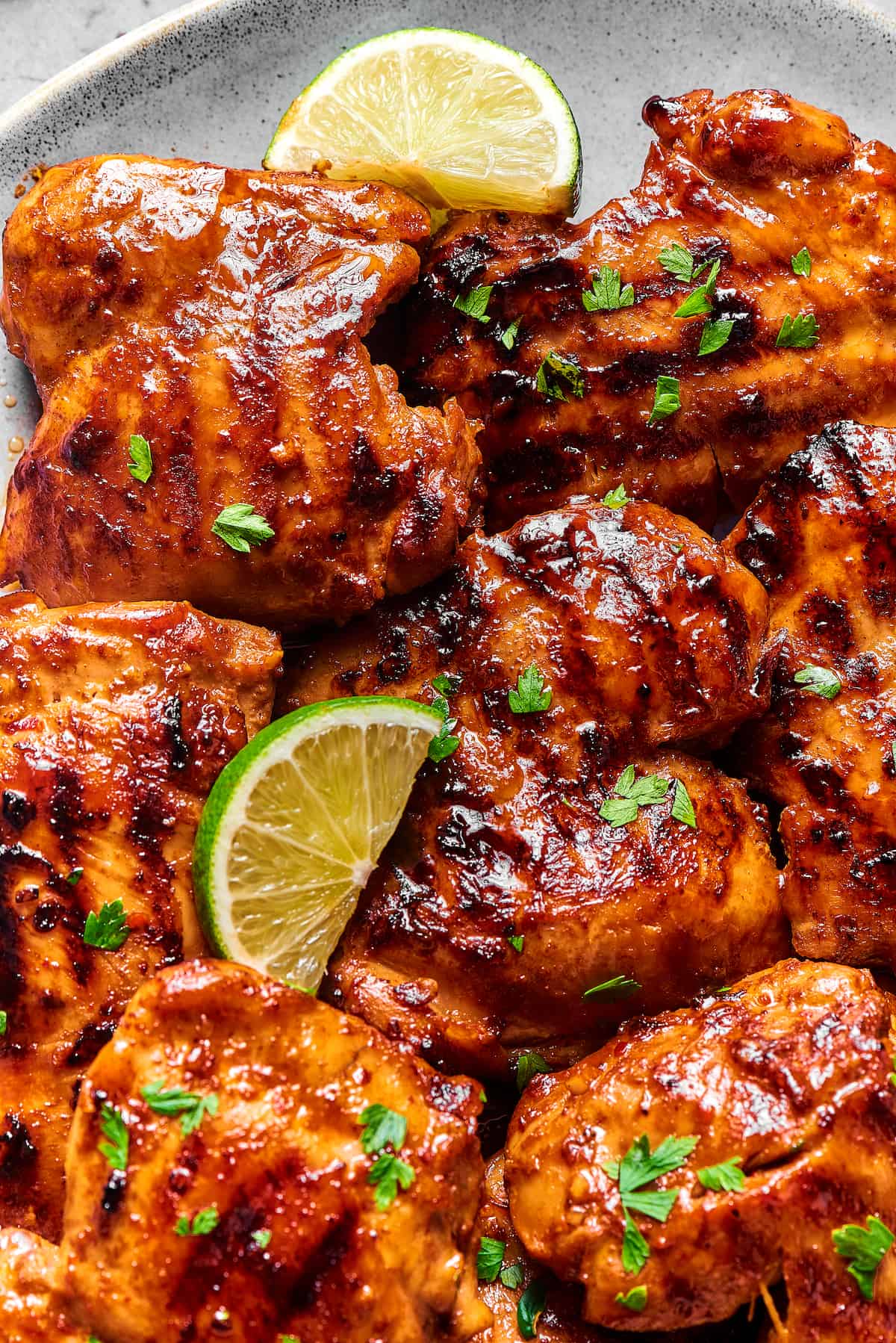 Simple Marinated Chicken Thighs on the Grill
What can I say about chicken thighs on the grill? One word: Yum. 🤤 Especially when they're coated in a savory, sticky, tangy, ever-so-slightly-sweet marinade! This one is a keeper, you guys. Even picky eaters will be tempted by the sight of this golden-brown, crispy, moist chicken, with appetizing grill marks.
Plus, it's a versatile option. You can serve it with rice, noodles, a salad, anything you like. It's guaranteed to cook up moist and tender, no dry or tough meat here. The marinade and quick cooking time make sure of that. Grilled chicken thighs are just about the perfect meal for weeknights, weekends, or anytime.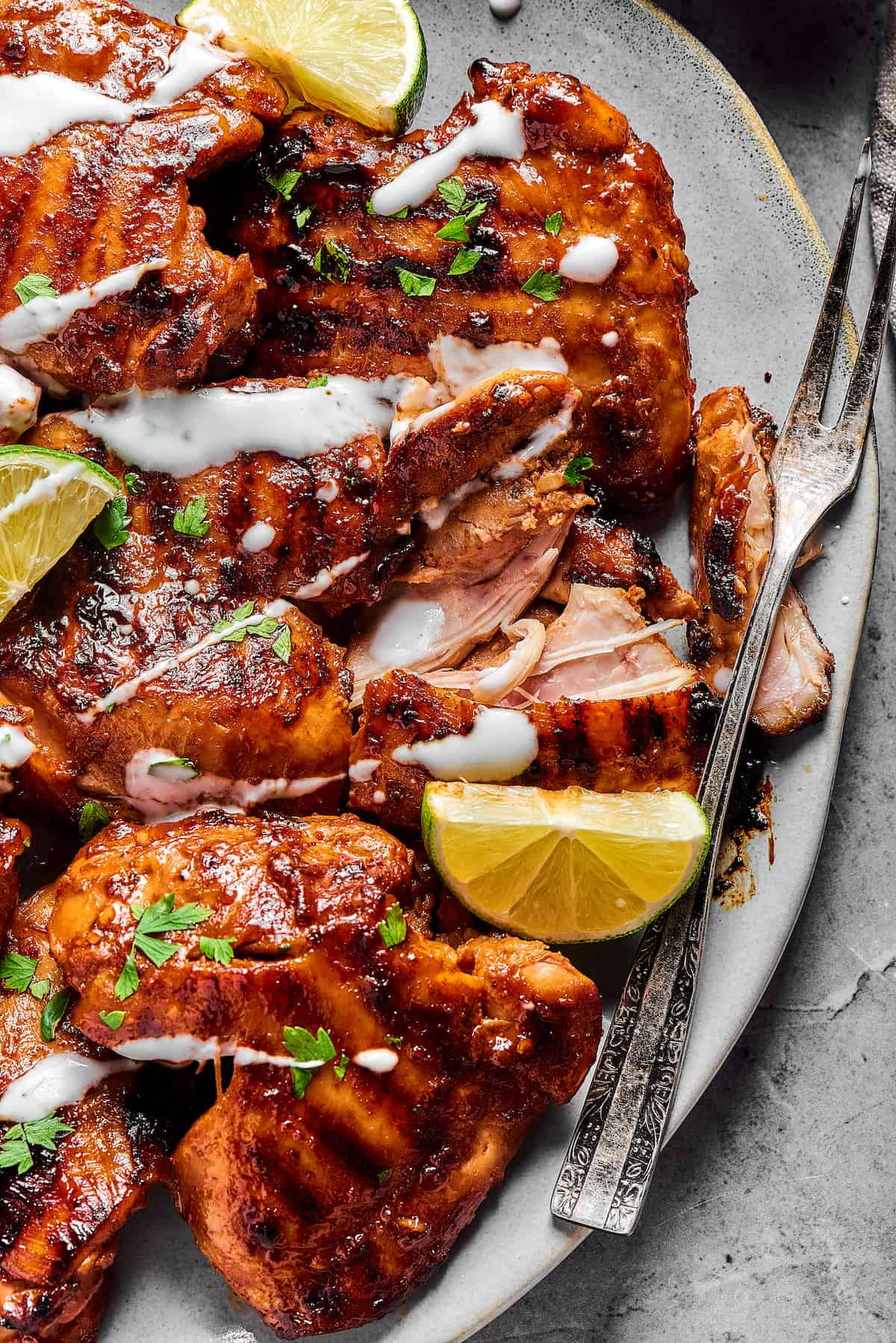 Ingredients
The magic is in the marinade here. It's a perfectly-balanced combination of sweet and tangy, spicy and mild, with plenty of umami goodness from soy sauce and the chicken itself. Here's what you'll need:
Chicken Thighs: Look for boneless, skinless thighs. They're easy to cook and only take a short time on the grill.
Olive Oil
Soy Sauce: If you don't want to use soy sauce, tamari sauce or coconut aminos will also work.
Rice Vinegar: This delicate vinegar is just so good! If you don't have rice vinegar, plain white vinegar or apple cider vinegar are fine, too.
Ketchup: So much flavor in such an easy ingredient. \
Honey: For a touch of sweetness. Maple syrup or brown sugar would also be great.
Dijon Mustard: The wine-like flavor of Dijon is great in this recipe.
Garlic: Fresh minced garlic is my go-to, but garlic powder would also be good (and it's faster).
Chili Flakes: These are a little different than crushed red pepper, adding flavor but not as much heat. If you dont' have them, leave them out or substitute a little minced pimiento.
Cayenne Pepper: Ground cayenne pepper adds heat to the dish. I use about a teaspoon, but you could reduce the amount or leave it out altogether for a milder dish.
Salt and Pepper
Lime: Zest half a lime, and squeeze the juice from that half as well. (You can save the remaining half for squeezing, or for another recipe.)
Optional Garnishes: Chopped fresh parsley and plain yogurt.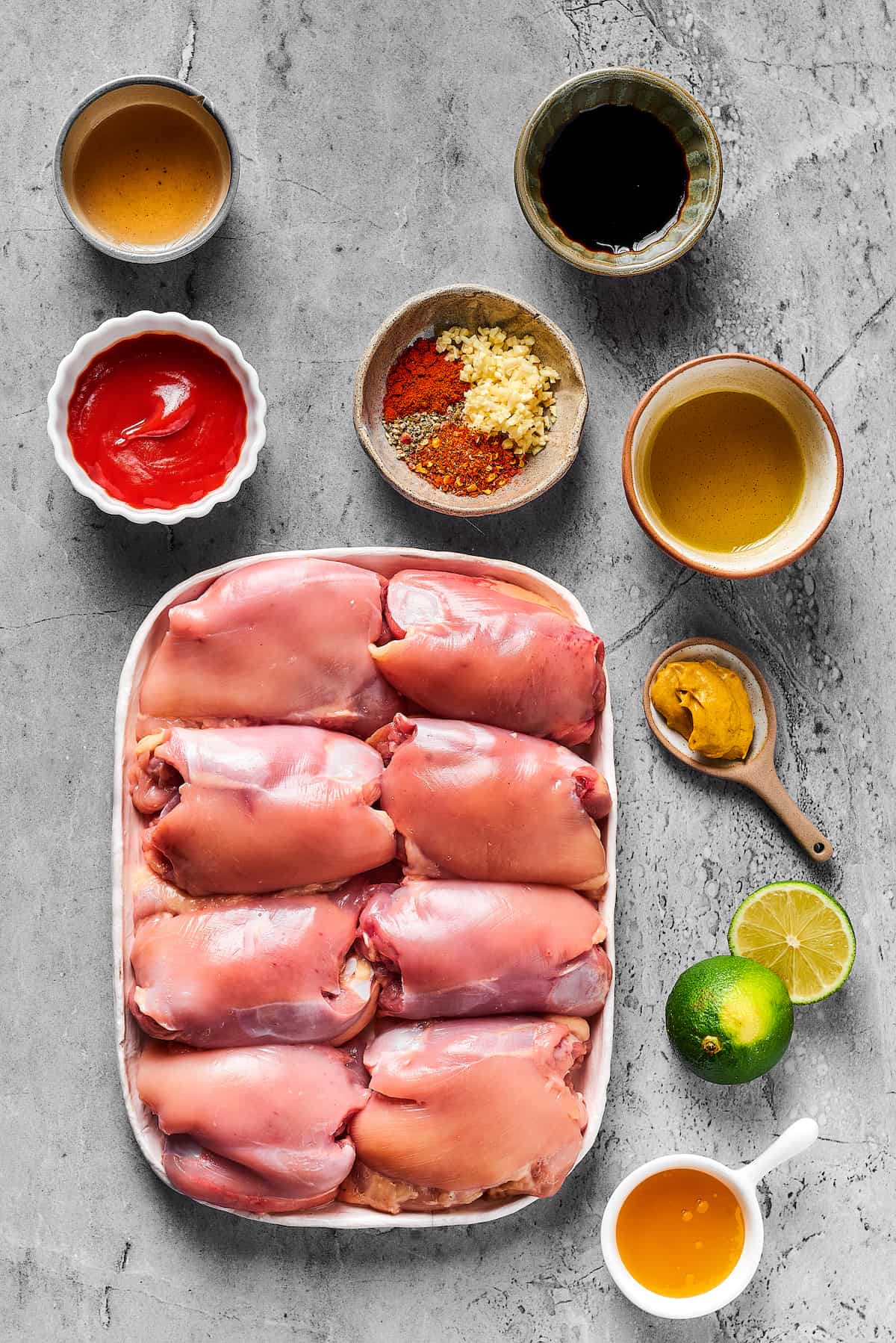 Can I Use Bone-In, Skin-On Thighs?
Yes, you can, but you will need to adjust the cooking time and the grill heat. First, you'll grill skin-side down for 5 to 7 minutes over direct heat, until the skin is crispy. Then, turn the thighs skin-side up, move them to indirect heat, cover, and let them cook for another 20 to 30 minutes. Because of the bone and the additional thickness, these take a lot longer to cook through.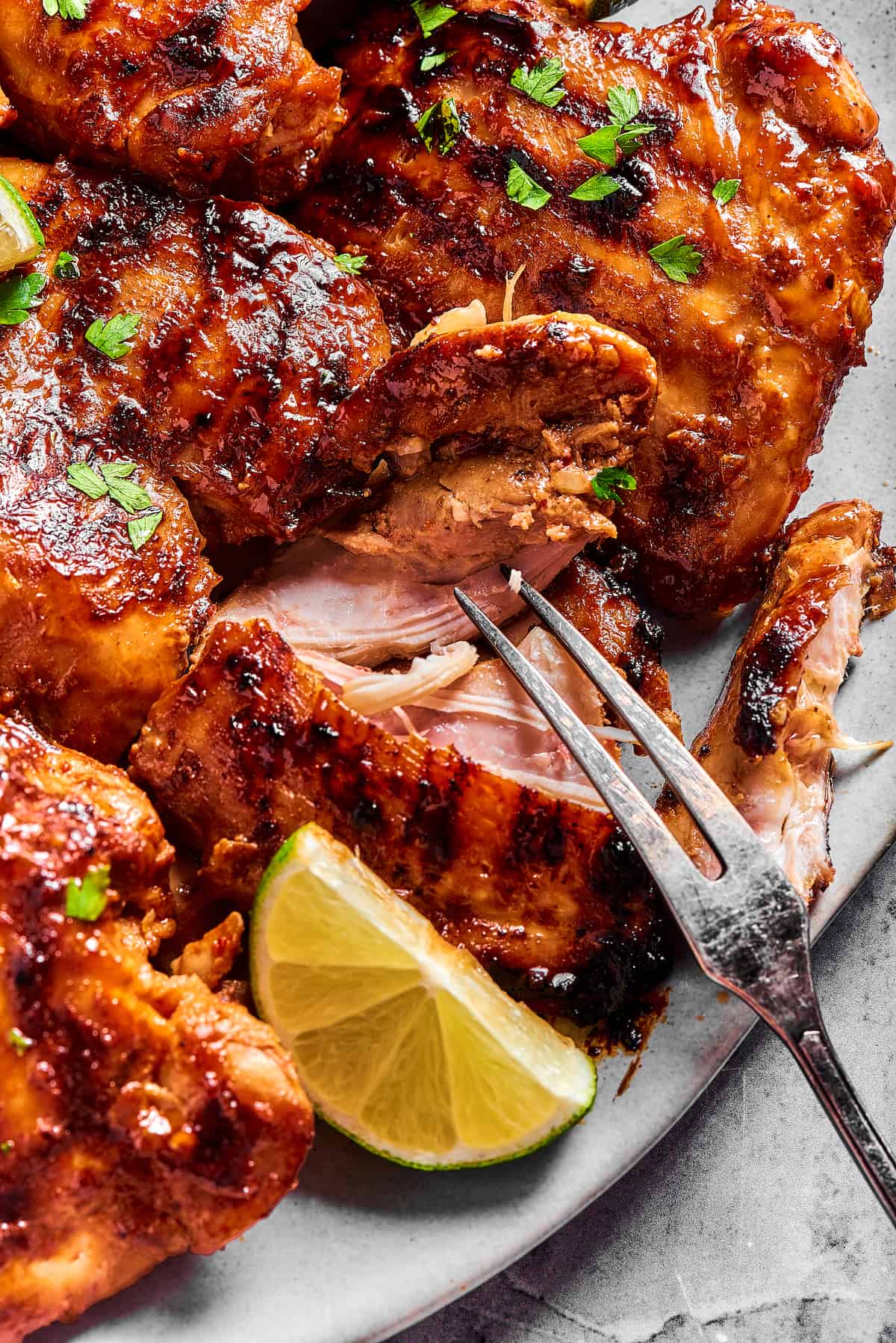 Let's Grill Some Chicken!
The method for this dish is incredibly simple. All you really have to do is marinate the chicken, and then toss it onto a preheated grill for a few minutes. Here's how to do it, step by step.
Marinate the Chicken. First, combine all of your ingredients except the chicken and the optional garnishes, and whisk to combine. Pour the mixture into a zip-top bag, and add the chicken thighs to the bag as well. Seal the bag and massage it to coat the chicken thoroughly. Set this aside to marinate for 2 hours in your fridge.
Grill the Chicken. Once the chicken is done marinating, preheat a grill to medium-high heat. Take the chicken pieces out of the marinade, shake off any excess marinade, and lay the chicken thighs on the hot grill. They should cook for about 5 – 7 minutes per side.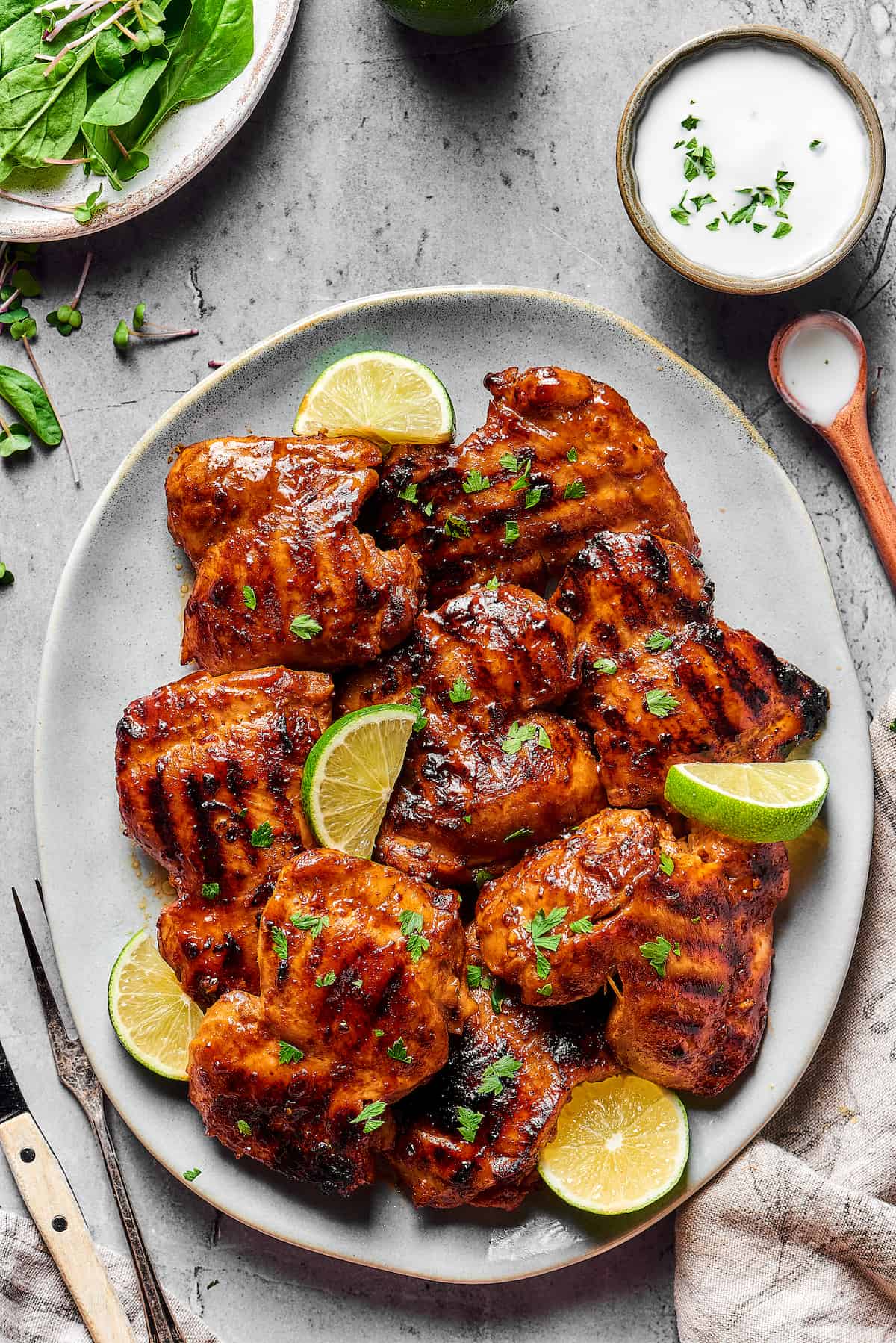 Check for Doneness. Once the chicken pieces are golden-brown with nice grill marks on both sides, use a meat thermometer to check for doneness. The chicken is done when the internal temperature registers at 165°F.
Enjoy! Serve the chicken thighs warm, with a drizzle of yogurt and sprinkling of chopped parsley (if desired).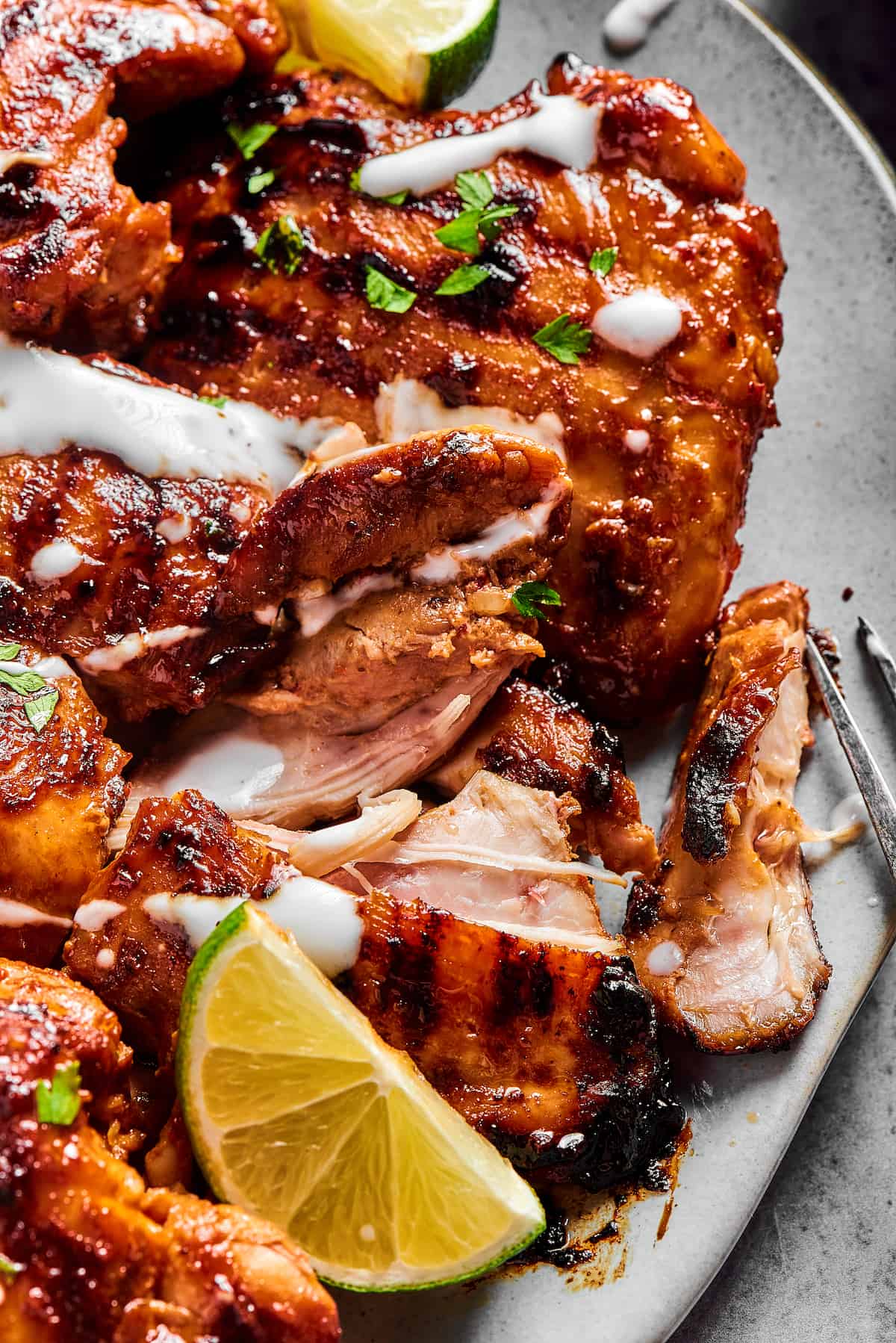 Tips for Success
When it comes to grilling chicken thighs, there are a few helpful hints I'd like to share. These easy tips will help you make the most of this juicy, moist cut of chicken. Enjoy!
Use a Thermometer: Everyone loves chicken thighs because they're hard to overcook, but the converse of that means that sometimes they're easy to undercook. Avoid the dreaded undercooked problem by using a meat thermometer, preferably an instant-read thermometer with a digital display. Chicken is done when it reaches an internal temperature of 165°F in the thickest part of the meat.
Get the Right Texture: Even when chicken thighs are done, they can sometimes have an unpleasantly rubbery texture due to the connective tissue in the meat. I recommend testing a piece with a knife and fork. If it cuts easily, then it's good to go! If you feel like the meat is still a bit rubbery, give it another minute or two on the grill.
Use Chicken Breast: If you want, you can make this recipe using chicken breast instead of chicken thighs. It will probably not need quite as much time to cook through, so watch it carefully! Again, use that instant-read thermometer for the best results.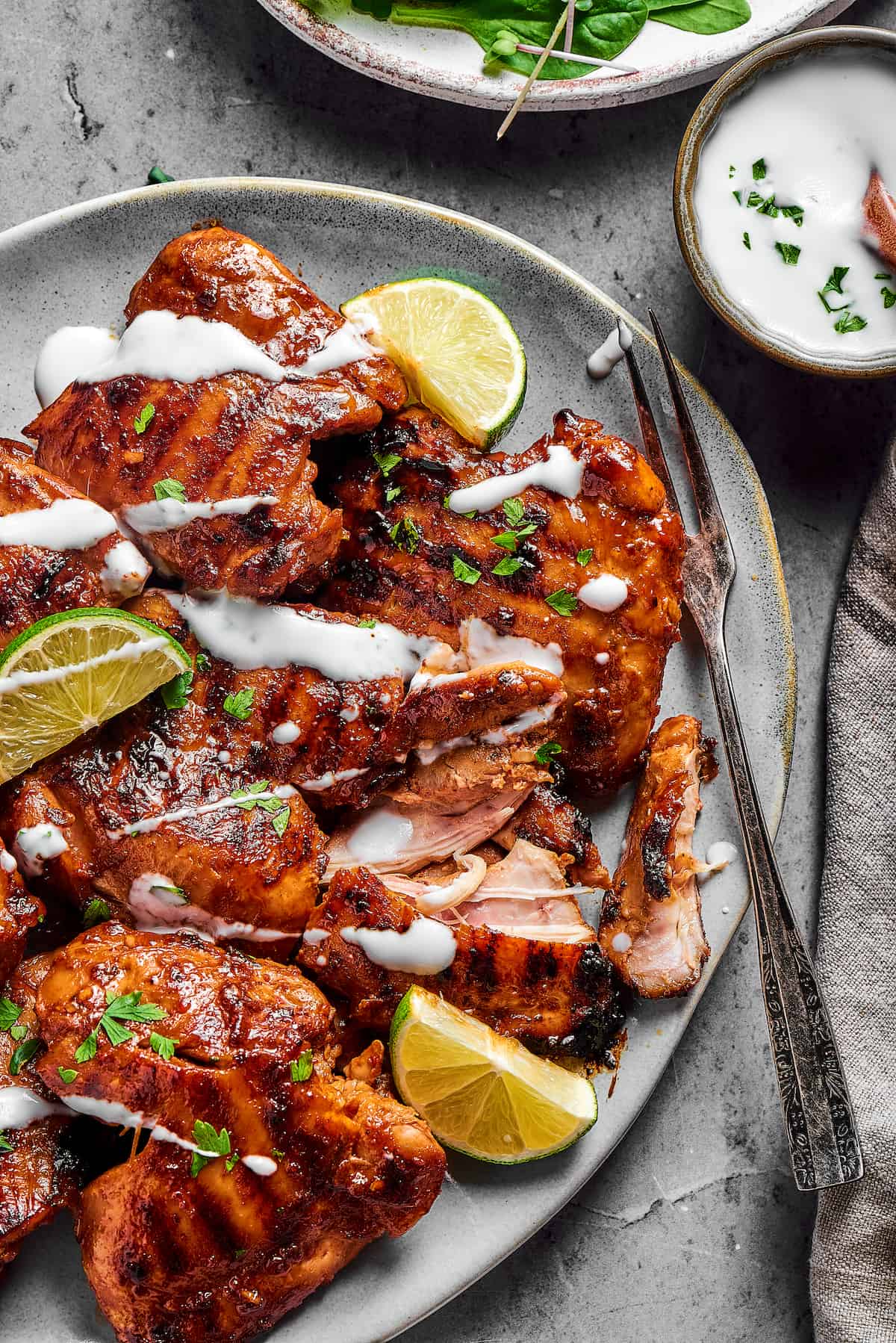 Side Dish Ideas
To serve your grilled chicken thighs, just pair with your favorite garden salad or serve over a bed of rice. Need more side dish inspo? You know I've got you covered!
Potato Wedges: If there's room on your grill, you've got to try these perfectly-seasoned Grilled Potato Wedges. They make a bold, yet comforting side dish that kids (and grownups) love! No room on the grill? You can also throw them on your trusty cast-iron skillet.
Pasta Salad: Everyone loves a creamy pasta salad, and this easy and colorful Macaroni Salad is the creamiest around! It also has plenty of crunch, thanks to raw chopped veggies. Make it in advance for a super-easy dinner!
Grilled Veggies: Another favorite grilling recipe, these mouthwatering Grilled Summer Squash Kebabs are healthy, easy, and loaded with flavor thanks to a tangy marinade/dressing.
Storing and Reheating
To store any leftover grilled chicken, just place it in a zip-top bag or airtight container, and refrigerate. Properly stored, it will keep for about 3 to 4 days.
To reheat, place the chicken in a covered skillet over low heat. Allow the chicken to heat until it's warmed through, but do not overcook or it may become dry.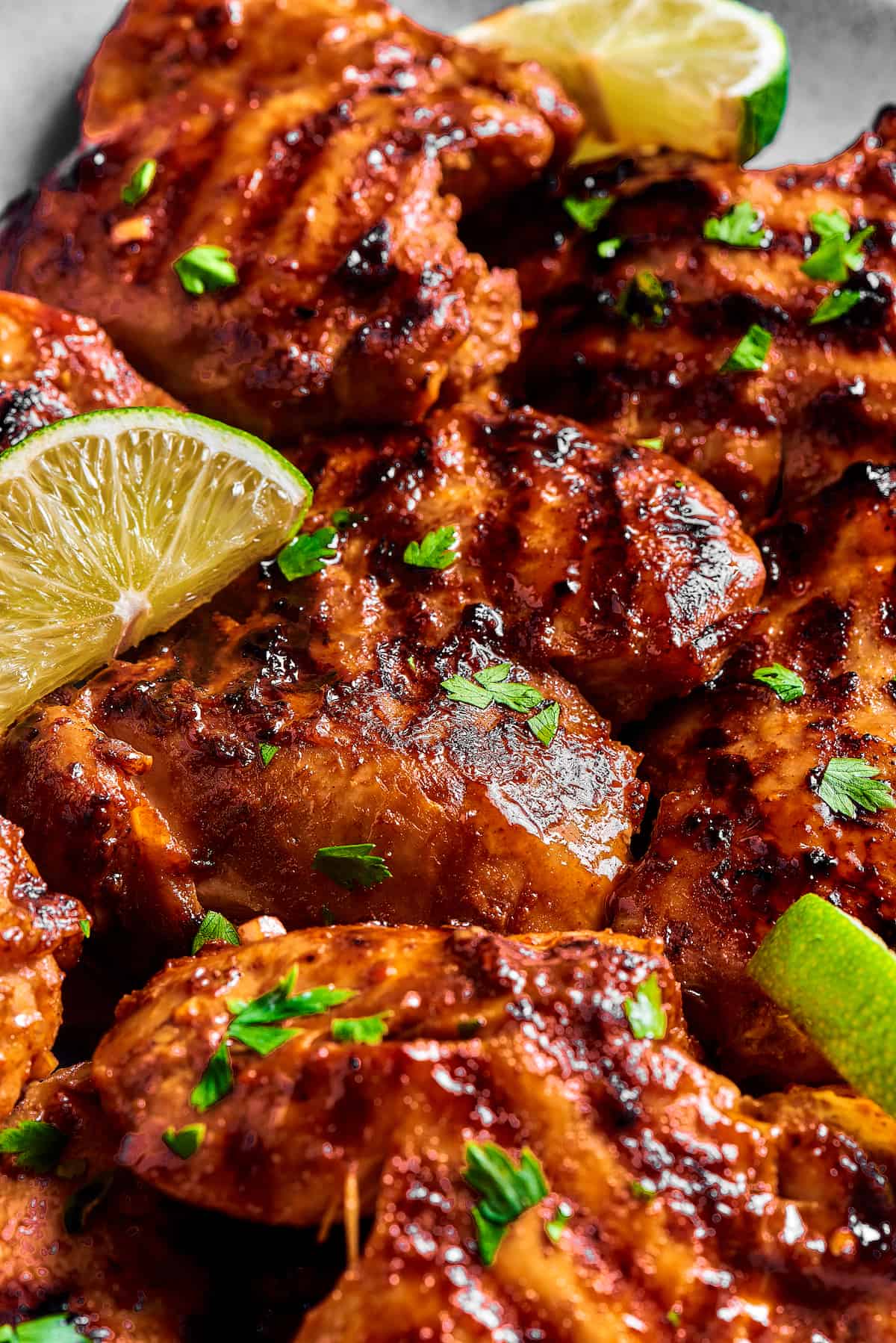 Can I Freeze This Dish?
Yes, you can! After cooling the chicken down (don't leave it out for more than two hours though, for food safety), go ahead and freeze it.
I recommend freezing in zip-top freezer bags, so you can squeeze as much of the air out as possible before sealing. Grilled chicken thighs will keep in the freezer for up to 3 months.
Thaw in the fridge before reheating.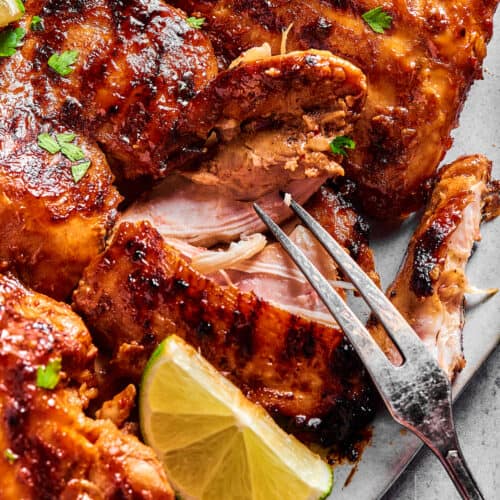 Print Recipe
Perfect Grilled Chicken Thighs
These Grilled Chicken Thighs just need a short soak in a tangy-savory marinade, and a quick cook on the grill.
Instructions
Add all of the marinade ingredients to a bowl; whisk until well-combined. Pour the marinade into a large, zip-top bag.

Add the chicken thighs to the bag, seal, and massage the bag to thoroughly coat the chicken in the marinade.

Cover and set aside to marinate for 2 hours in the fridge.

Preheat a grill to medium-high heat.

Once the grill is hot, arrange the chicken thighs on the grill grates. Let them cook for 5 to 7 minutes per side, or until golden-brown with dark grill marks.

Chicken is done when the internal temperature registers at 165°F.

Remove from grill and set aside for a few minutes.

Serve the chicken thighs warm, with a drizzle of yogurt and sprinkling of chopped parsley (if desired).
Nutrition
Calories:
287
kcal
|
Carbohydrates:
5
g
|
Protein:
30
g
|
Fat:
16
g
|
Saturated Fat:
3
g
|
Polyunsaturated Fat:
2
g
|
Monounsaturated Fat:
9
g
|
Trans Fat:
0.03
g
|
Cholesterol:
144
mg
|
Sodium:
523
mg
|
Potassium:
424
mg
|
Fiber:
0.4
g
|
Sugar:
3
g
|
Vitamin A:
276
IU
|
Vitamin C:
1
mg
|
Calcium:
22
mg
|
Iron:
2
mg
More Great Chicken Recipes