Everyone's favorite, these Easy Ground Beef Tacos are full of Tex-Mex flavor and come together in just a few minutes. Hearty ground beef and savory spices are the perfect base for all of your favorite toppings!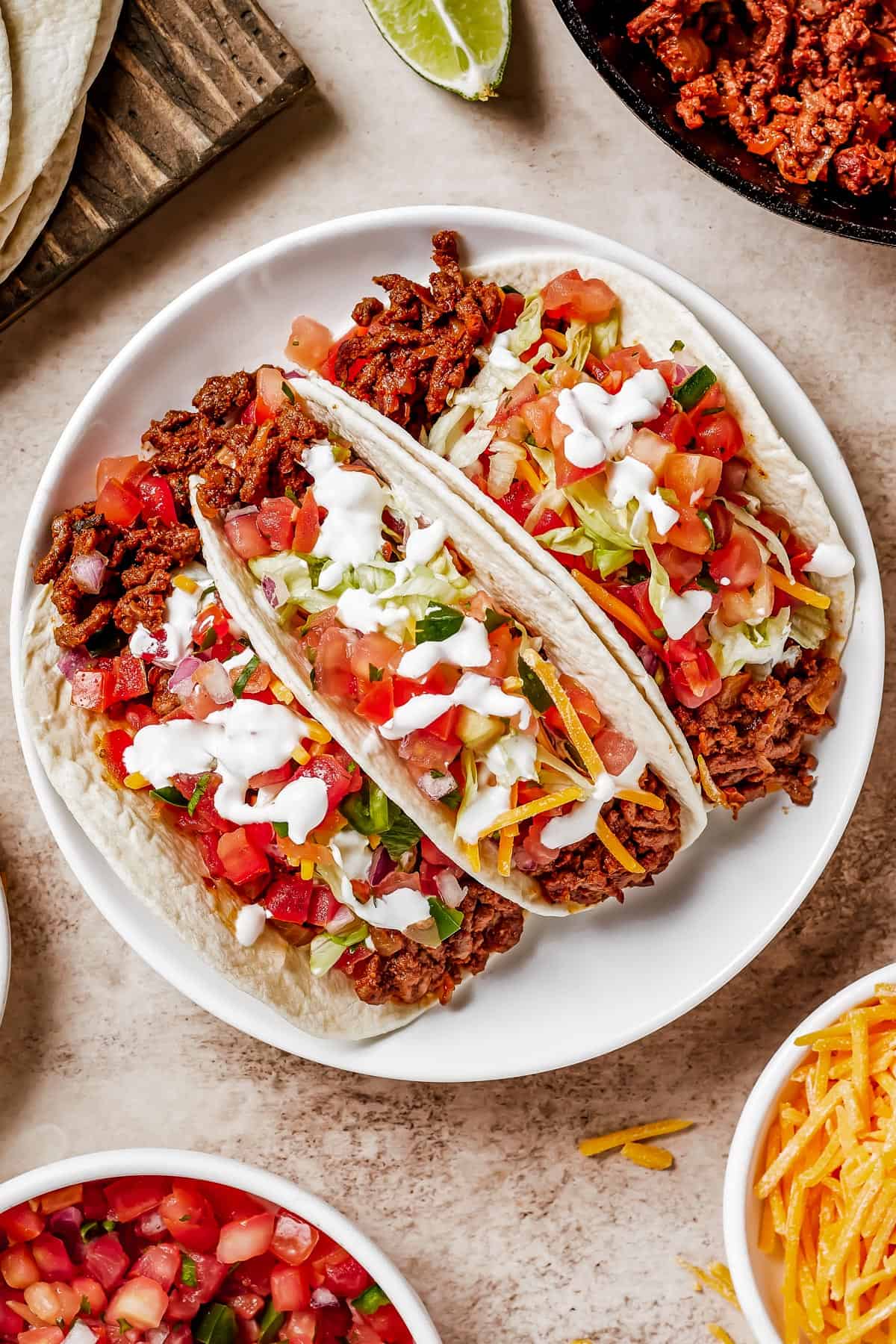 Ground Beef Tacos Made from Scratch!
Want to see smiles around the dinner table? There are certain meals that are just guaranteed to please, and this is one of my absolute favorites: tacos! Classic ground beef tacos are bold, flavorful, kid-friendly, and easy to make – perfect for a busy weeknight.
This recipe is all about making them simple, and from scratch. No pre-packaged seasoning necessary.
This recipe is also a great base for tweaking to your own preferences. Want more garlic? Go for it! Add some diced bell pepper, or a little extra sweetness? No problem! Or you can just keep it simple and follow the recipe as written. You won't be disappointed.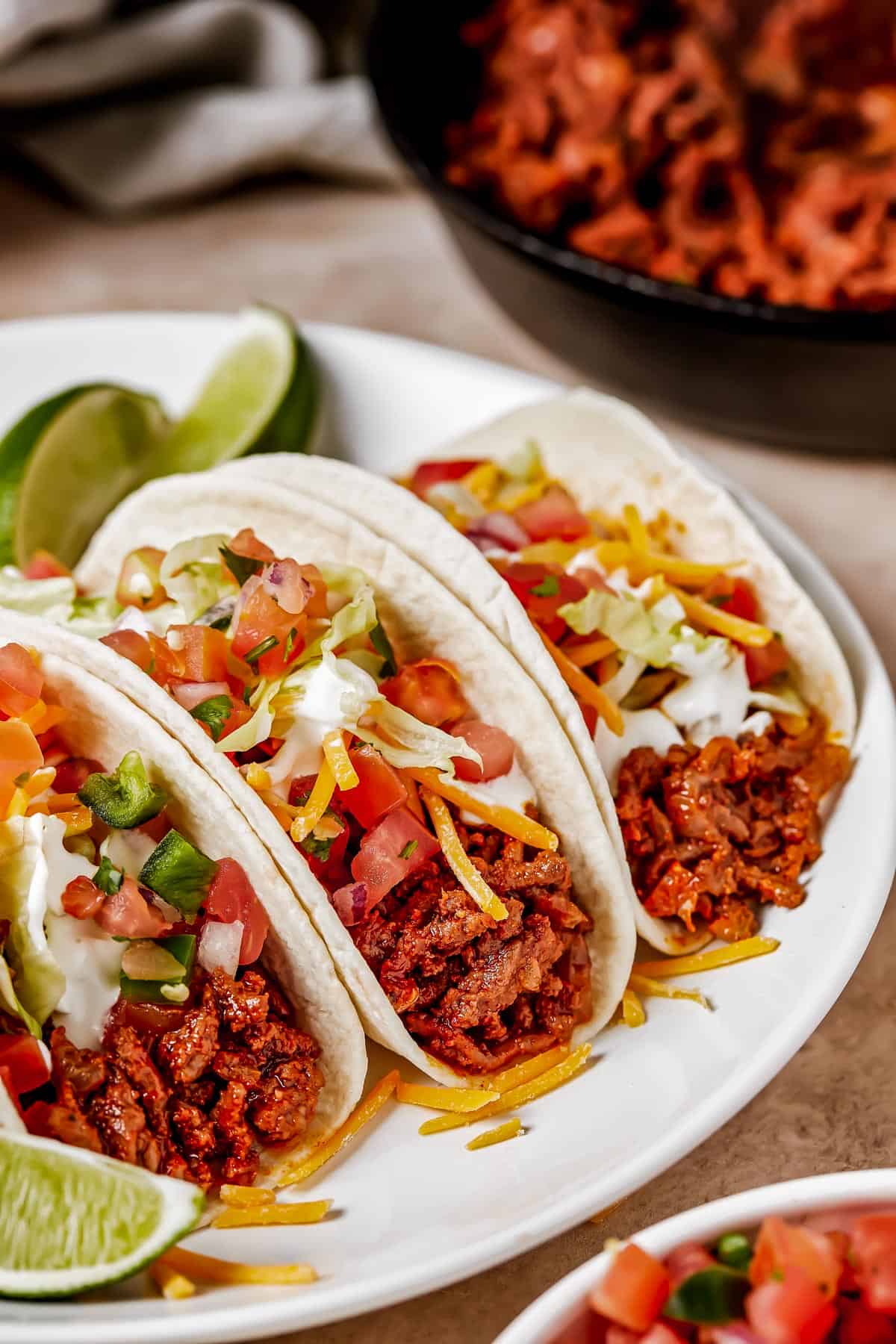 What You'll Need
To make these tacos, you really don't need much! The main ingredients are beef, onion, and tortillas, and the remaining ingredients are mostly spices and seasonings you probably already have on hand. Here's the list:
Oil: Canola or avocado oil is great for frying the onions in this recipe, but any high-heat oil will work.
Onion: Finely chop one medium onion. I use white onion for this recipe, but you could also use yellow, sweet, or red onion.
Tomato Paste: Tomato paste is great for adding depth of flavor and a bold, umami note.
Garlic: Mince or press the garlic, or use garlic powder if that's easier.
Spices: To create a well-rounded taco flavor, we'll be using chili powder, cumin, and paprika.
Salt and Pepper
Brown Sugar: A small amount of sugar helps to balance the flavor of this dish.
Oregano: Oregano gives a light, woodsy, herbal flavor. Dried is fine, but fresh is even better if you have it!
Beef: Using 90% lean ground beef saves a step, because you don't have to drain the fat! However, you can use any beef you like, and drain it before seasoning.
Water: A little bit of water makes this dish saucy and satisfying.
Tortillas: Six-inch tortillas are perfect for making tacos.
Which Ground Beef is Best for Tacos?
In general, using lean beef is helpful because you don't have to drain the grease – but on the other hand, 80% or even 70% ground beef can be more tender and flavorful. Grassfed beef is great and very nutritious, but keep in mind that it is usually less tender and may have a stronger flavor than ordinary commercial ground beef.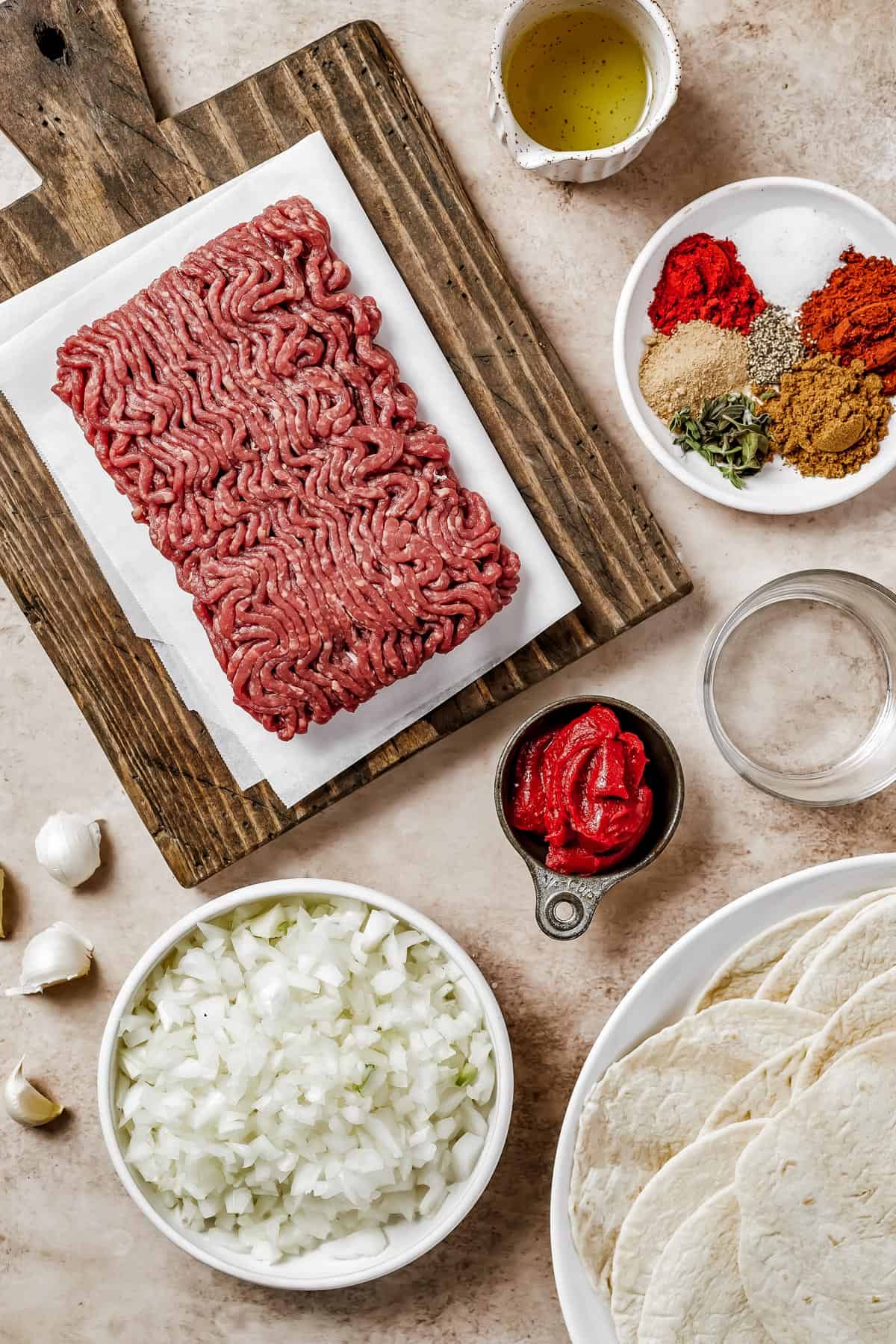 How to Make Them
If you're familiar with making tacos, then you know how easy the cooking method is! The only thing that's different in this recipe is that you need to pre-cook the onions in a little oil, before adding the beef and then the seasonings. Here's how you do it:
Cook the Onion. Heat the oil in a large pan over medium heat, until it's shimmering, and then add the onion. Cook the onion, stirring often, for several minutes to soften it.
Add the Tomato Paste, Garlic, and Seasonings. Add the tomato paste, and cook it for 30 seconds, stirring constantly to prevent it from sticking and burning. This brings out the flavor. Now add the garlic, along with all of the spices, the sugar, the oregano, and the pepper. Stir this mixture quickly for 30 seconds.
Add the Beef. Now add the ground beef to the skillet, and brown it, breaking it up with your cooking utensil as it cooks. This should take around seven minutes, give or take a minute.
Add the Water. Finally, pour in the water, stir thoroughly to combine, and make the beef saucy. Let this simmer for a minute or two to thicken a little bit. Carefully taste, and add salt as needed.
Serve. Serve the beef immediately with tortillas and toppings.
Tips for Success
When it comes to making tacos with ground beef, everyone has their own tips and tricks for getting that perfect texture and great flavor. These are some easy ideas for tweaking and perfecting the recipe to your taste!
Boil the Ground Beef: To make the ground beef even leaner and finer, you can boil it lightly instead of browning it in the skillet. Drain it well before you season it and add the other ingredients.
Microwave Option: You can also soften your tortillas in the microwave, lightly covered with a paper towel.
Use Onion Powder: To make things even faster, substitute a tablespoon of onion powder instead of a chopped onion. The flavor will be less bright, but still savory and tasty.
Add Citrus: A little lime or lemon juice is perfect for brightening up the flavors in this recipe.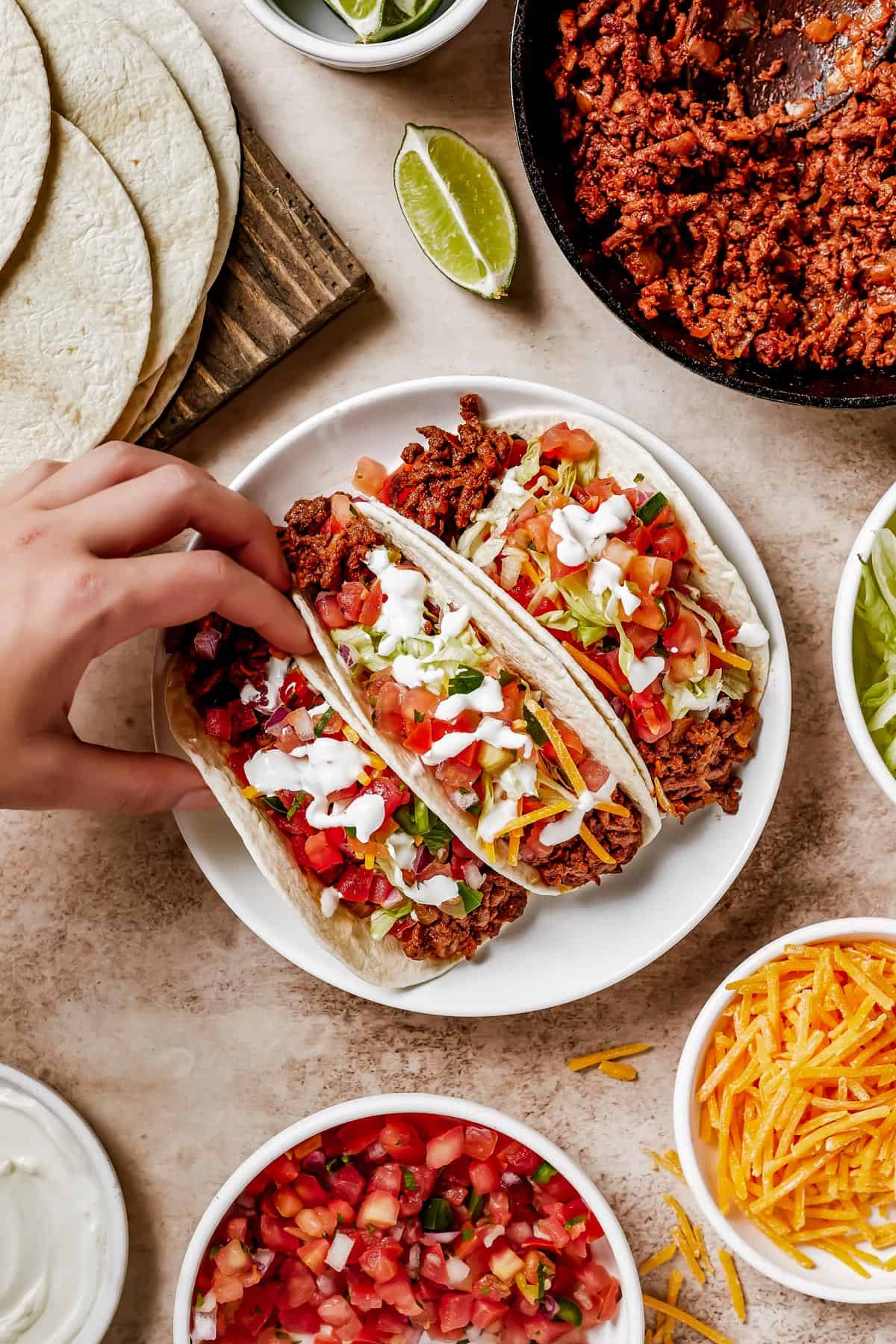 Good Toppings for Tacos
What are your favorite taco toppings? Topping your taco is the best part of taco night! These toppings are some that we love, but the sky's the limit!
Sour cream
Sliced black olives
Shredded lettuce
Diced tomatoes
Pickled jalapenos
Shredded or crumbled cheese
Salsa
Tomatillo salsa (salsa verde)
Hot sauce
Lime wedges
Yummy Ideas for Serving
To serve these tacos, you really don't have to have side dishes, but if you would like to make some, these are some great options!
Cowboy Caviar: This is as good for a side dish as it is for a topping! You can use it however you like. With black beans, corn, diced veggies, and a killer combo of flavorful seasonings, Cowboy Caviar is a Tex-Mex classic.
Mexican Rice: Perfectly spiced and flavored with tomato, this savory red rice is super easy to make using your pressure cooker! Instant Pot Mexican Rice is sure to become a weekly staple!
Grilled Pineapple: One of my very favorite sides, these mouthwatering Tequila Grilled Pineapple skewers are equally good made on a grill, or on a grill pan.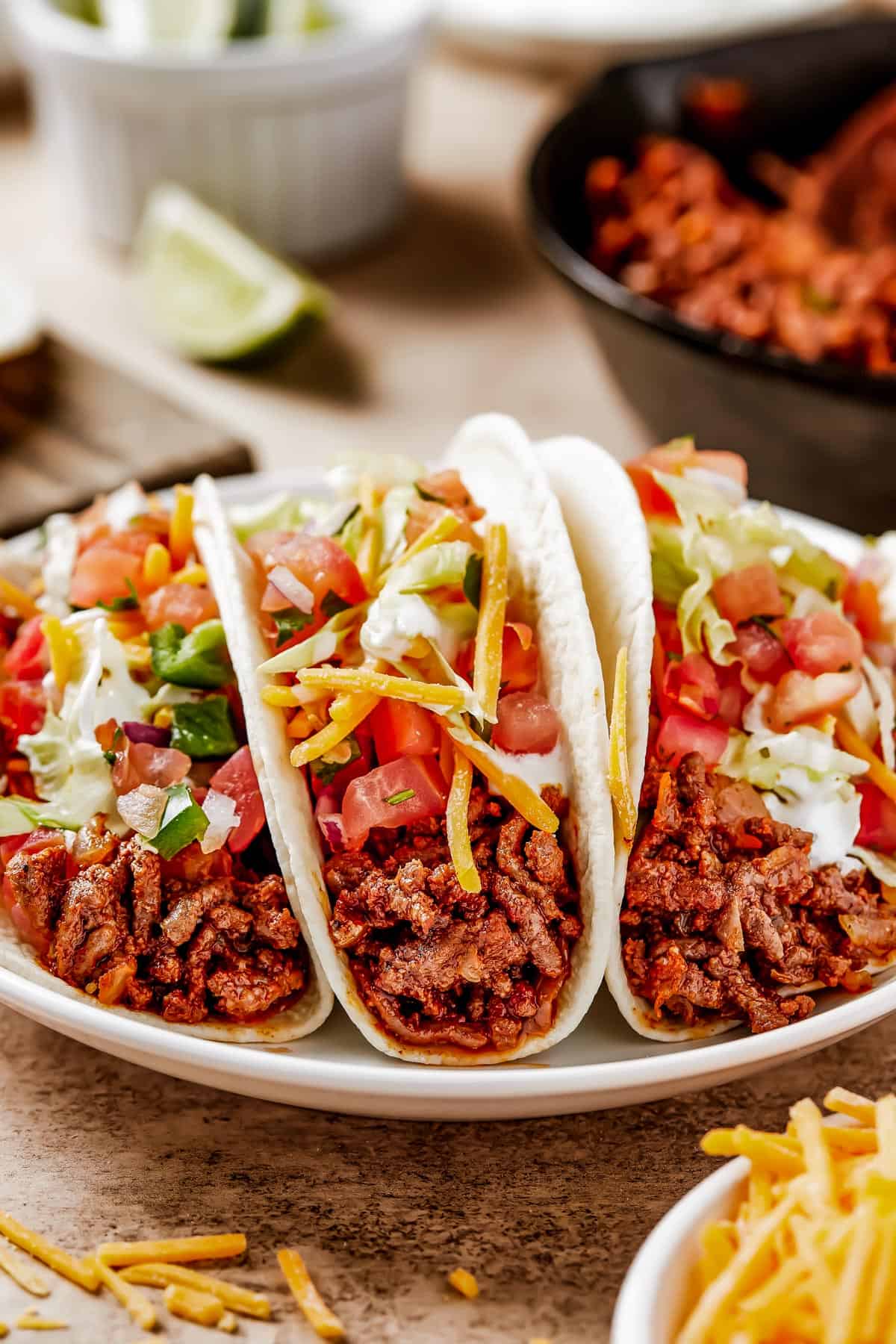 How to Store and Reheat Leftovers
Store leftover taco meat in the fridge, covered well or placed in an airtight container.
It will keep for 3 to 4 days.
Can I Freeze Tacos?
Yes, you can! I recommend freezing the taco meat in freezer bags. Lay them flat for easy storage, and keep in the freezer for up to three months.
Reheat from frozen.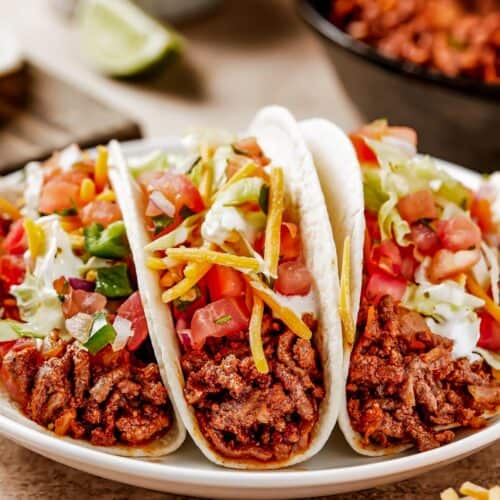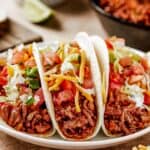 Print Recipe
Easy Ground Beef Tacos
These Easy Ground Beef Tacos are full of Tex-Mex flavor and come together in just a few minutes. Hearty ground beef and savory spices are the perfect base for all of your favorite toppings!
Ingredients
3

tablespoons

canola oil,

or avocado oil

1

medium white onion,

finely chopped

2

tablespoons

tomato paste

4

cloves

garlic,

minced

2

teaspoons

chili powder

2

teaspoons

ground cumin

1

teaspoon

salt

1

teaspoon

paprika

1

teaspoon

brown sugar

½

teaspoon

dried oregano

¼

teaspoon

ground black pepper

1

pound

ground beef,

90% lean

½

cup

water

10

to 12

tortillas,

6-inch

Optional toppings:

sour cream, shredded cheese, salsa, hot sauce, lettuce, lime wedges
Instructions
Heat a large pan over medium heat, and add oil. Once the oil is heated and shimmering, add the onion. Cook for 3 to 4 minutes, or until softened.

Add the tomato paste, and cook for 30 seconds, stirring constantly to prevent burning.

Add garlic, chili powder, cumin, salt, paprika, brown sugar, oregano, and ground black pepper. Stir constantly until fragrant, about 30 seconds.

Add ground beef and cook for 6 to 8 minutes, or until no longer pink, breaking it into small chunks as it browns.

Pour in the water and mix well. Cook until some of the liquid has evaporated, and the beef is slightly saucy, about 1 to 2 minutes.

Taste and add more salt, if desired.

Serve immediately with tortillas and toppings.
Nutrition
Calories:
776
kcal
|
Carbohydrates:
105
g
|
Protein:
33
g
|
Fat:
24
g
|
Saturated Fat:
5
g
|
Polyunsaturated Fat:
5
g
|
Monounsaturated Fat:
13
g
|
Trans Fat:
1
g
|
Cholesterol:
47
mg
|
Sodium:
1832
mg
|
Potassium:
685
mg
|
Fiber:
6
g
|
Sugar:
11
g
|
Vitamin A:
455
IU
|
Vitamin C:
3
mg
|
Calcium:
237
mg
|
Iron:
9
mg
More Easy Dinner Ideas