With no-boil pasta, a quick homemade meat sauce, and plenty of cheese, this hearty Slow Cooker Lasagna is a no-fail family favorite.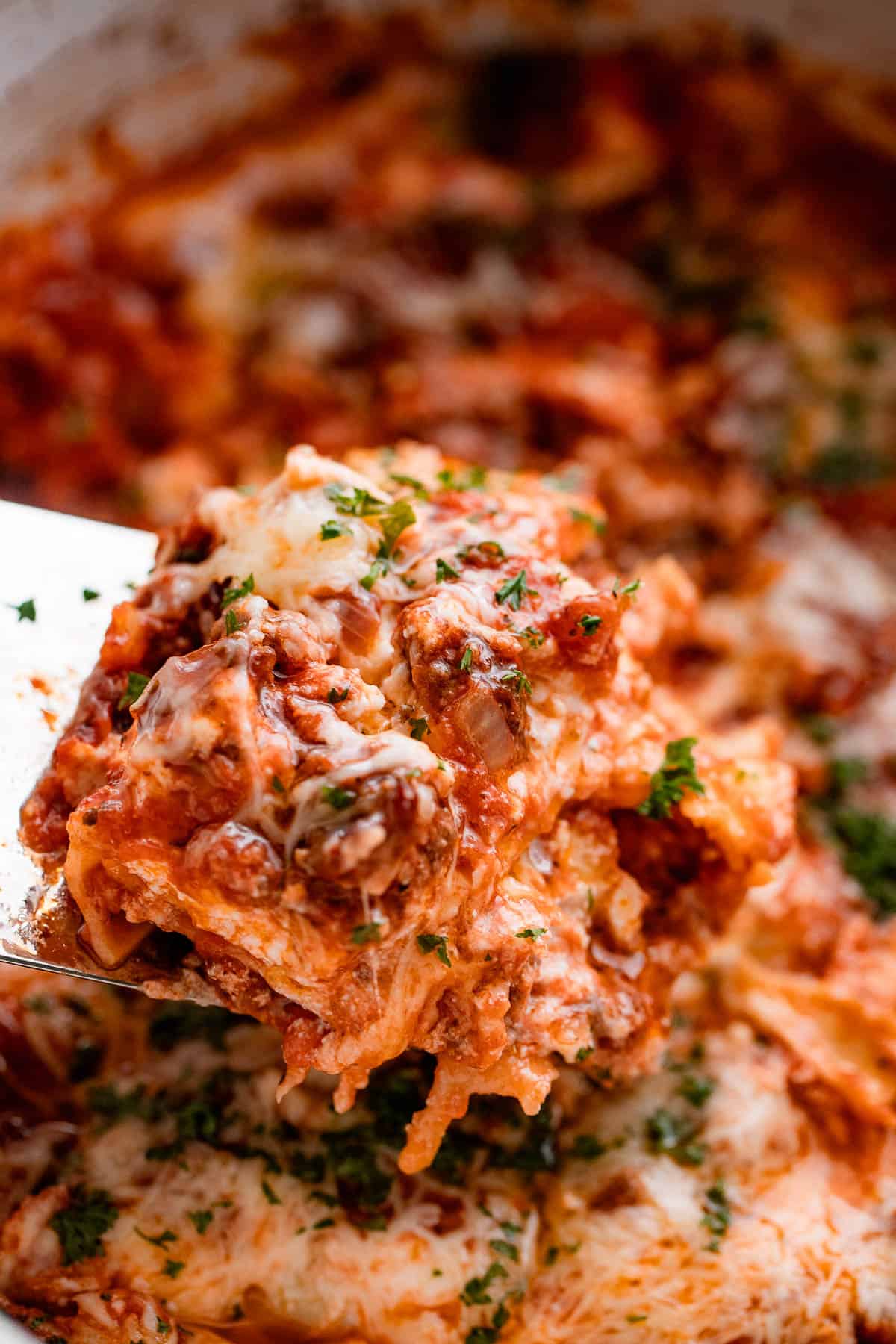 And Easy and Cozy Crockpot Classic
Do you need a hands-off meal that's kid-friendly and cozy? This super-simple slow cooker lasagna is loaded with tender ground beef, flavorful red sauce, and three kinds of melted cheese. It's a snap to layer into your slow cooker, and from there, you let it simmer away until dinnertime.
Another great thing about this recipe is that it makes a great base for tweaking to your own preferences. Turkey instead of beef? Sure! Jarred pasta sauce instead of homemade? Why not! Make this one your own. (See the "Tips" section for more on that!)
So get out that Crockpot and make dinner easy this week. In fact, maybe this recipe will make it into your list of family favorites!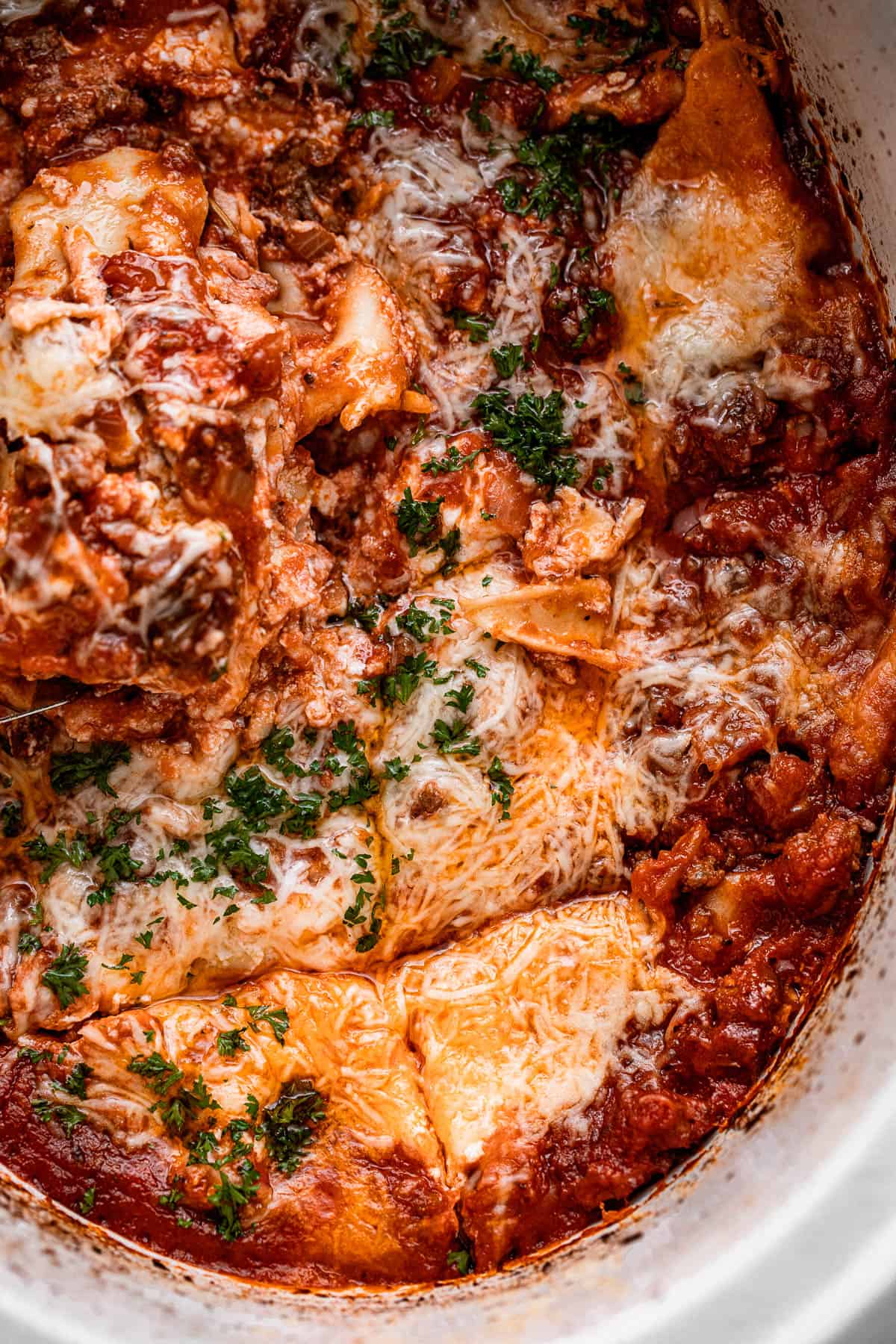 What You'll Need
This recipe is so simple to pull together, even with the homemade sauce! Each ingredient is a basic pantry or fridge staple. Here's the list:
Oil: My go-to choice is olive oil, of course. You only need a little bit, for sautéing, and it's fine if you substitute a different cooking oil instead.
Onion: Dice up one onion. You can use a yellow, white, or sweet onion.
Garlic: Mince or press several cloves of garlic.
Ground Beef: You can use any ground beef. If it's very fatty, drain off the excess grease before adding the sauce ingredients.
Tomato Sauce: You can also use strained tomatoes.
Water
Herbs: I use Italian Seasoning blend, and some extra thyme and rosemary.
Salt and Black Pepper
Cheese: This recipe uses a mixture of ricotta, feta, Parmesan, and mozzarella.
Lasagna Noodles: For best results, go for No-Boil Lasagna Noodles.
Can I Put Dry Pasta in My Slow Cooker?
Yes, you can! However, I much prefer to use no-boil noodles here. They cook up softer and more tender than dry pasta typically does. No-boil lasagna noodles are also sold as "Oven-Ready."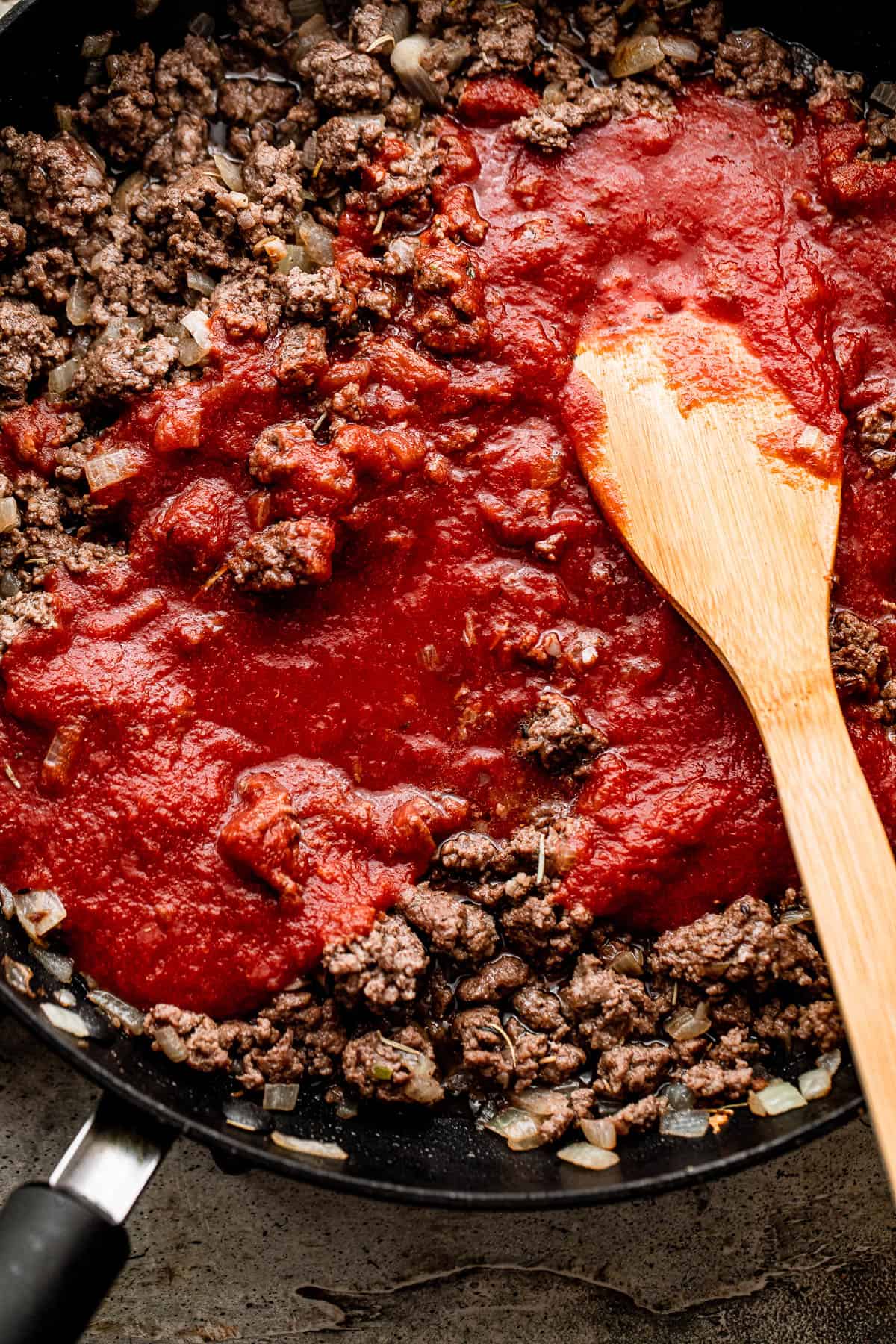 How to Make Lasagna in a Crockpot
While you do have to pre-cook the meat sauce for this recipe, after that, it's layer and go! Let's take a closer look at the steps.
Prep the Crockpot and Cook the Beef Mixture. First, make sure to grease the insert of your slow cooker with cooking spray or a little bit of oil, and then set it aside. Next, heat the olive oil in a large skillet, over medium-high heat. Saute the onions for about 3 minutes, and then add the garlic and cook for about 1 more minute. Finally, add the beef, and cook it until it's no longer pink, crumbling it as you go.
Make the Sauce. To the cooked ground beef mixture, add the tomato sauce, water, and seasonings. Let this cook for two minutes or so, and then take it off the heat.
Make the First Layers of Lasagna. Start adding the ingredients to your slow cooker insert, in layers. Start with ¼ of the meat sauce on the bottom. Top that with 3 lasagna noodles, breaking them up so they fit. Next, mix the feta and ricotta in a small bowl, and spread ⅓ of this on top of the pasta, and then sprinkle with ¼ cup Parmesan and ½ cup mozzarella.
Repeat. Repeat these layers two more times. Finally, finish the Lasagna layers with the last of the meat sauce. Reserve the last ½ cup of mozzarella for later. with 2 more layers, finishing with the beef-tomato sauce layer on top, and reserve ½ cup shredded mozzarella cheese for later.
Slow Cook. Cover the lasagna with a lid, and cook on LOW for four hours. The noodles should be tender by that time. If they need more time, cover the lasagna again and let it cook for another 20 minutes or so before checking again.
Top with Cheese. When the lasagna is done, take off the lid and sprinkle with the last bit of mozzarella. Put the lid back on for a few more minutes so the cheese melts, and then turn off the heat and let the lasagna stand, uncovered, to firm up for ten to fifteen minutes.
Enjoy! Cut the lasagna and serve.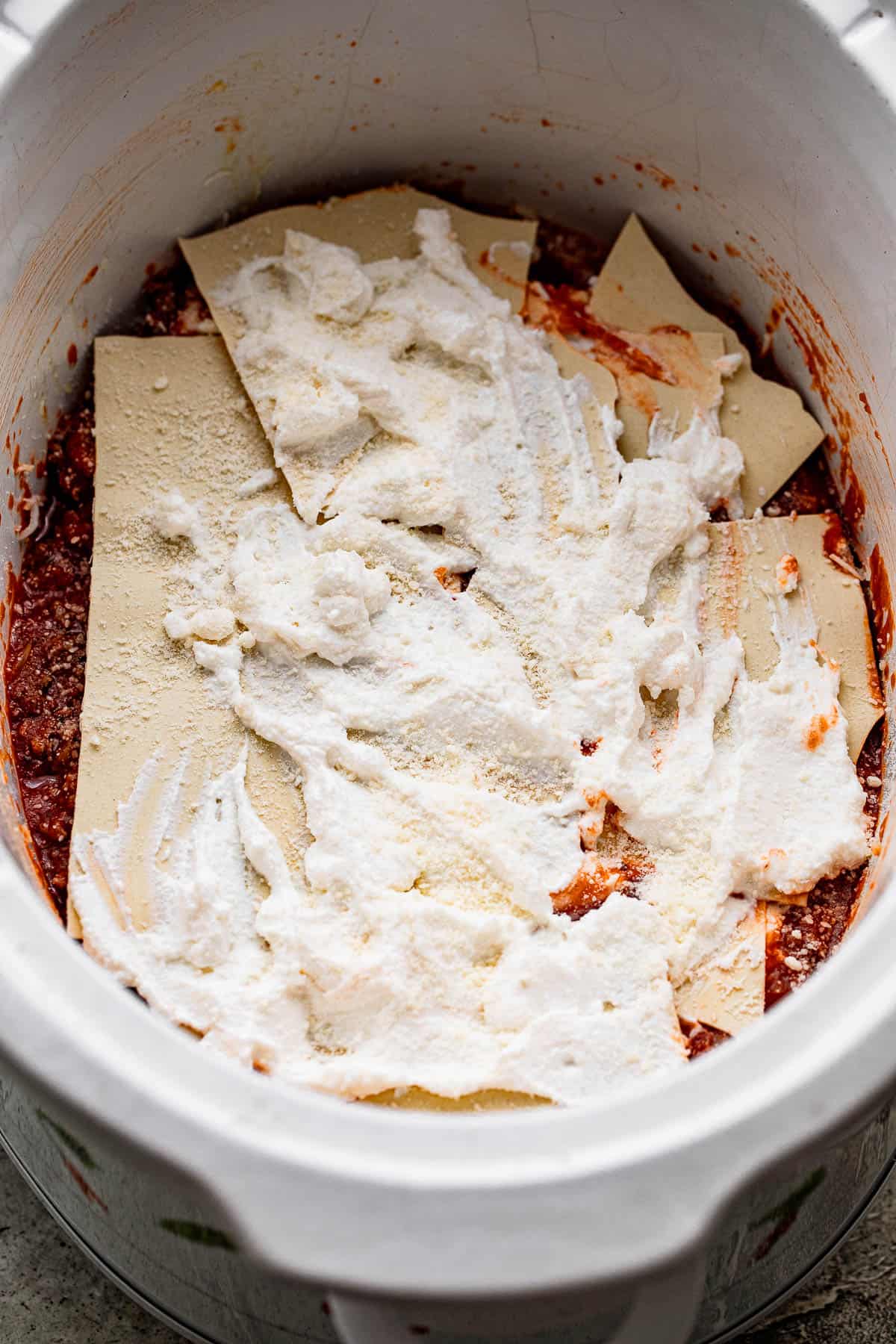 Tips and Hacks
There's so much you can do with slow cooker lasagna! I really hope you'll give it a try, and make whatever changes work for you! Here are some easy ideas for making it your own:
Pasta Possibilities: You can use regular lasagna noodles in this recipe if you prefer, but do taste them toward the end of cooking, and give them extra time if they are not soft enough.
Added Veggies: This versatile recipe works beautifully with almost any cooked veggie, from wilted spinach to sautéed mushrooms. Layer them right in!
Veggies Only: You can also omit the beef entirely, and replace it with couple cups of your favorite cooked veggies, for a satisfying vegetarian meal.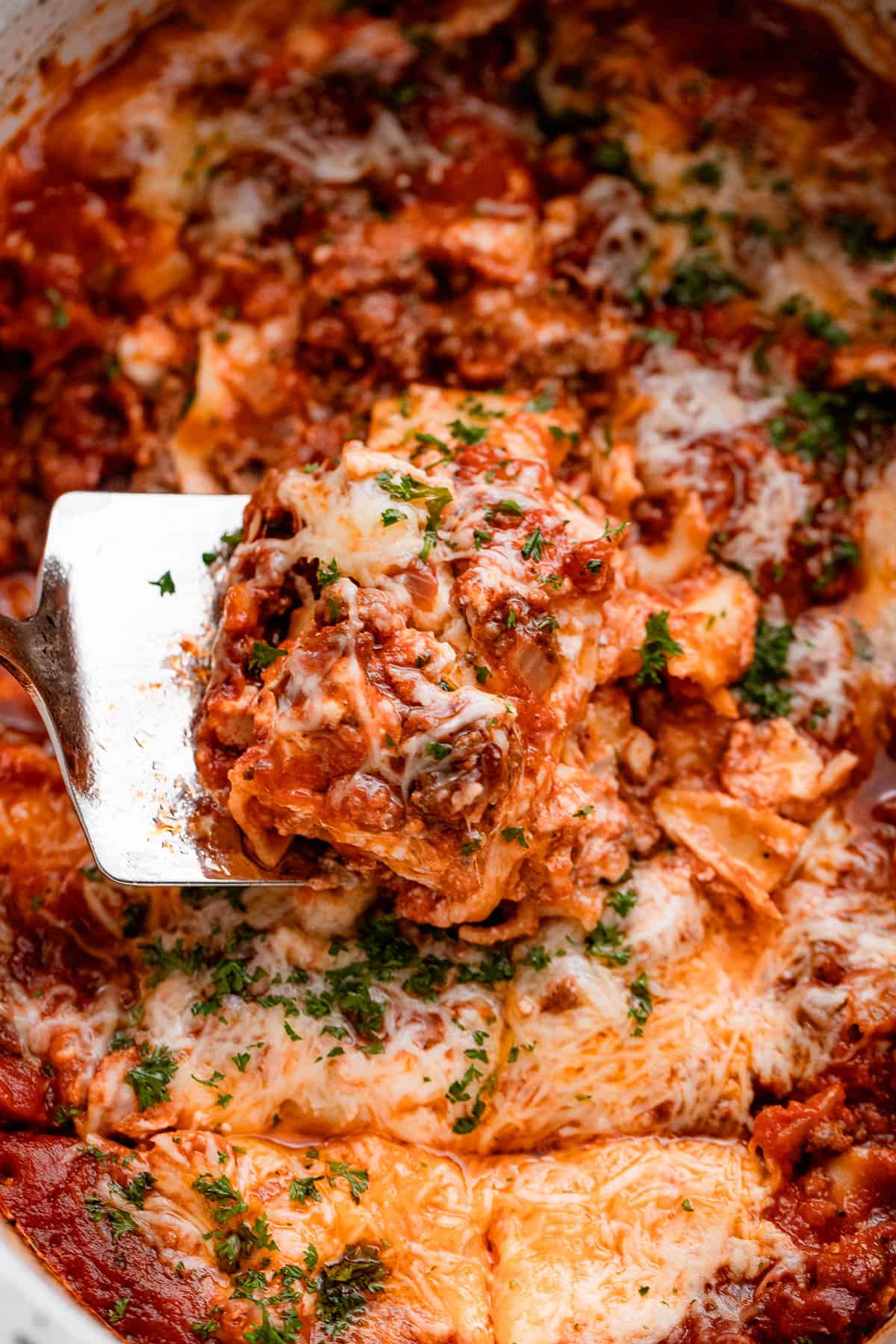 Easy Ideas for Serving
Slow cooker lasagna is perfect for serving with a fresh green salad and crusty bread. Of course, it also goes well with lots of other sides! Here are just a few ideas for inspiration:
Roasted Vegetables: A pan of Roasted Brussels Sprouts and Radishes makes a healthy, easy side dish for any meal! You'll love their crispy, caramelized flavor.
Garlic Knots: If you love garlic bread, you'll love these soft and zesty Garlic Knots! Buttery, garlicky, and oh-so-easy.
Stuffed Avocado: These little Caprese Stuffed Avocado halves are bursting with fresh, tangy, umami taste and ultra-creamy decadence. Yum!
Storing and Reheating Leftovers
You should store any leftover lasagna in the refrigerator, well covered. Storing in airtight containers is best. It will keep fresh for 3 to 5 days.
To reheat, place the desired portion in an ovenproof dish covered with foil, and bake at 350˚F until piping hot all the way through.
Can I Freeze Lasagna?
Yes! There are two ways to freeze it:
As a Dump-and-Go Freezer Meal: Just pre-cook the meat, cool, and then put all the ingredients into a large freezer bag. Freeze for up to three months. Thaw in the fridge overnight before dumping into the crockpot the next day! (Note: you won't have layers this way, but it will still be delicious.)
As Frozen Leftovers: Cook the slow cooker lasagna as instructed, and cool. Divide into portions, and freeze the portions separately in freezer bags for 2 to 3 months. Reheat directly from frozen.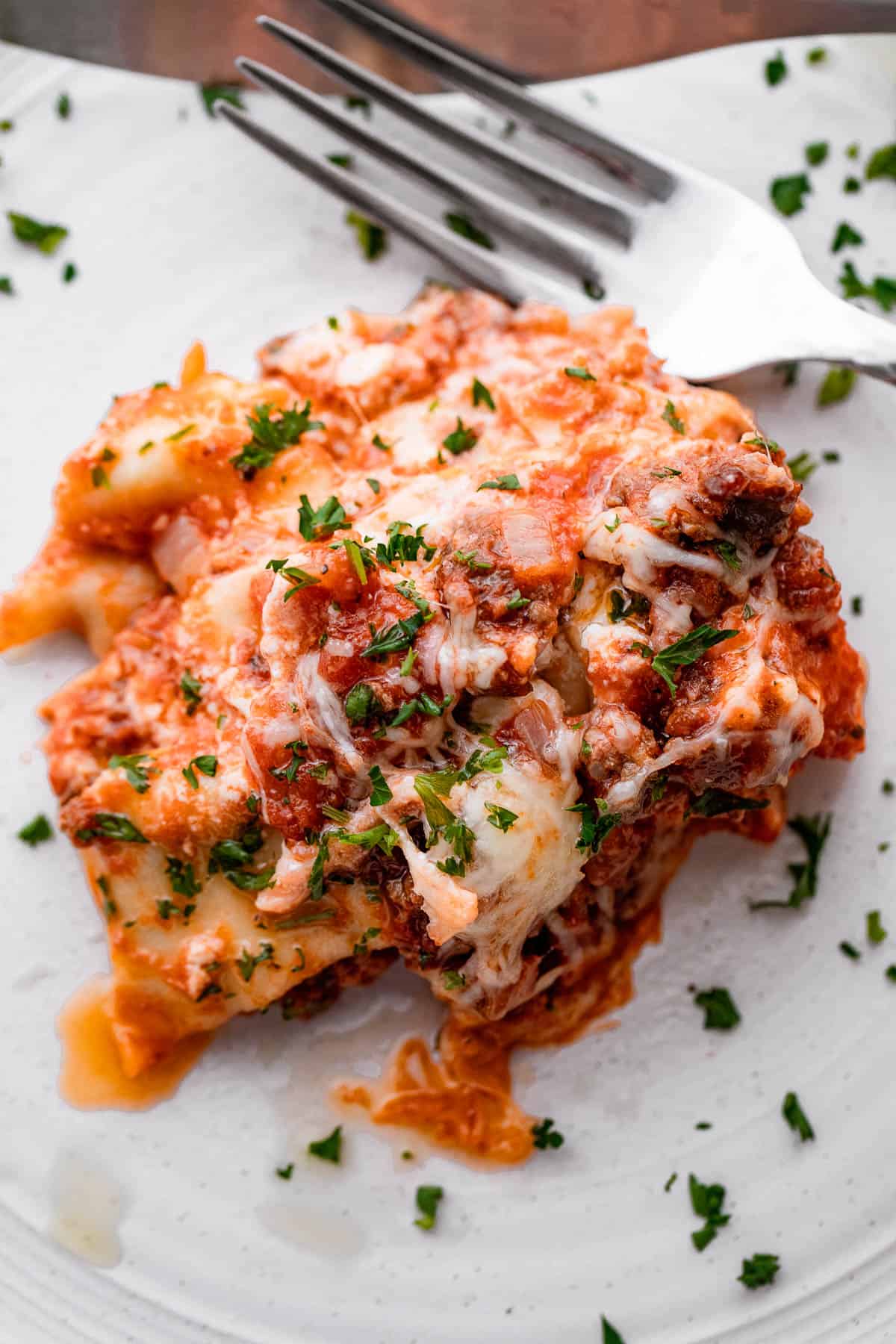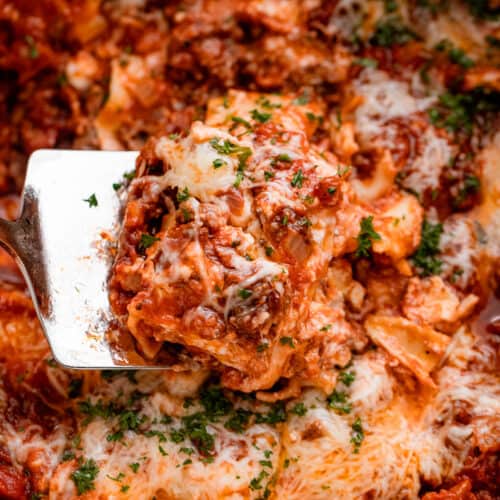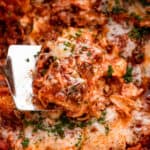 Print Recipe
Slow Cooker Lasagna
With no-boil pasta, a quick homemade meat sauce, and plenty of cheese, this hearty Slow Cooker Lasagna is a no-fail family favorite.
Instructions
Grease the insert of the slow cooker with cooking spray. Set aside.

Heat up the olive oil in a large skillet set over medium-high heat.

Add the onions and cook for 3 minutes, stirring frequently.

Stir in the garlic and cook for 30 seconds, or until fragrant.

Add in the ground beef and continue to cook until no longer pink.

Stir in the tomato sauce.

Add the water, and season with thyme, rosemary, Italian seasoning, salt, and pepper.

Cook for 2 more minutes and remove from heat.

Layer a quarter (¼) of the meat sauce on the bottom of the slow cooker insert.

Top with 3 lasagna noodles, breaking them up so they fit.

In a small bowl combine the ricotta and feta cheese; stir until incorporated.

Spread ⅓ of the ricotta on top of the noodles; sprinkle with ¼ cup parmesan and ½ cup mozzarella cheese.

Repeat the entire process with 2 more layers, finishing with the beef-tomato sauce layer on top, and reserve ½ cup shredded mozzarella cheese for later.

Cook on LOW for 4 hours, or until noodles are tender.

Remove lid and sprinkle the remaining shredded mozzarella cheese on top; cover and continue to cook for 4 more minutes, or until the cheese is melted.

Turn off heat, remove lid, and let stand about 10 to 15 minutes.

Cut and serve.
Nutrition
Calories:
365
kcal
|
Carbohydrates:
6
g
|
Protein:
30
g
|
Fat:
24
g
|
Saturated Fat:
14
g
|
Polyunsaturated Fat:
1
g
|
Monounsaturated Fat:
8
g
|
Trans Fat:
1
g
|
Cholesterol:
108
mg
|
Sodium:
569
mg
|
Potassium:
328
mg
|
Fiber:
1
g
|
Sugar:
2
g
|
Vitamin A:
580
IU
|
Vitamin C:
2
mg
|
Calcium:
436
mg
|
Iron:
2
mg
More Slow Cooker Dinner Recipes